The GM's Office:

Dayton Moore
October, 17, 2014
10/17/14
9:20
AM ET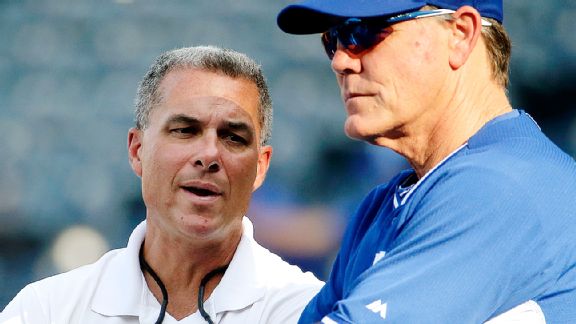 AP Photo/Charlie RiedelIt took eight years, but Royals GM Dayton Moore has built an AL pennant winner in Kansas City.
It's time for
Kansas City Royals
GM Dayton Moore and his entire baseball operations department to stand and take a bow.
Their blueprint worked. It might have taken a few years longer than they preferred, but it worked.
Moore was hired as Royals GM on June 8, 2006, and eight years and fourth months later, he has helped bring the franchise an American League pennant. Kansas City had a losing record for the first seven years of his tenure there. In fact, none of his teams had won more than 75 games in a season until last season, when the Royals went 86-76. This year they went 89-73, but they had to settle for a wild-card spot. Obviously they've made the most of their first trip to the playoffs in 29 years.
Eight years might seem like a long time, but when you look at the history of other small-market teams who have succeeded, such as Oakland, Montreal/Washington, Tampa Bay and Minnesota, history shows it does take six to eight years, if done properly.
September, 27, 2013
9/27/13
11:12
AM ET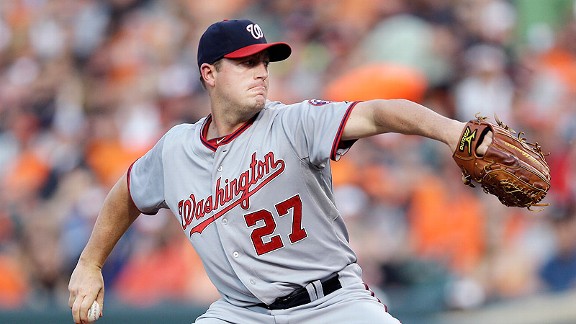 AP Photo/Patrick SemanskyJordan Zimmermann emerged as Washington's ace, which bodes well for 2014.
With the introduction of a second wild-card team in 2012, teams are in the postseason hunt later and longer than ever. Three teams in particular were expected to contend for a playoff berth but fell short for various reasons. What sets them apart is their potential to reach the postseason in 2014.
The
Washington Nationals
,
Kansas City Royals
and
Baltimore Orioles
have the pieces to get there next season, but so do the
Cleveland Indians
and
Texas Rangers
. However, the fates of the latter two teams are still pending, so for the purposes of this exercise, I didn't include them.
So let's examine what went wrong for these three teams this year and why they should eclipse their 2013 performances in 2014.
To continue reading this article you must be an Insider
April, 26, 2013
4/26/13
11:15
AM ET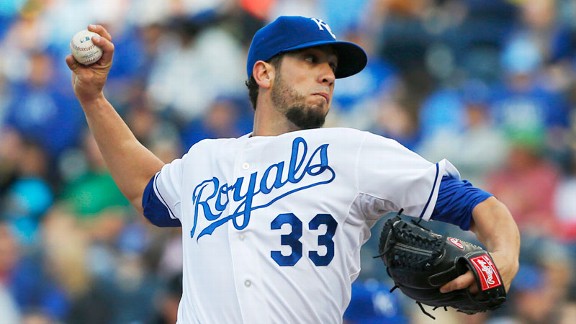 AP Photo/Orlin WagnerJames Shields has embraced the role as the Royals' staff ace.
Call it early, call it April, tell me there are still 143 games left in the 162-game schedule, but the fact is that the
Kansas City Royals
have developed into a legitimate wild-card contender.
They're off to a relatively fast 11-8 start. They sit perched atop the American League Central. Some might say they're just keeping the seat warm until the
Detroit Tigers
figure out their closer situation and
Victor Martinez
starts to swing the bat.
Well, if the Royals aren't a first-place team yet, they sure can play with the second- and third-best teams in any division of the AL, which means they're good enough for a possible wild-card berth.
Why am I so confident that this team, which has produced only one above-.500 season since 1995, can actually make the playoffs this season? They finally have pitching.
Amazingly, they've had this start while most of their top young hitters have struggled. Third baseman
Mike Moustakas
is hitting just .154. Both first baseman
Eric Hosmer
and catcher
Salvador Perez
have yet to hit a home run; designated hitter
Billy Butler
, a career .299 hitter, is batting an uncharacteristic .254.
The Royals' offense has been here before to start a season. But their rebuilt starting rotation is the main reason the Royals are in first place.
To continue reading this article you must be an Insider
April, 24, 2013
4/24/13
10:35
AM ET
John Schuerholz spent 26 years as a general manager with the
Kansas City Royals
and
Atlanta Braves
, the last 17 of those with his Atlanta until he was named club president in the fall of 2007.
His success with the Braves is well documented, but less known is the line of succession he had in place. During Schuerholz's last few years in Atlanta, his scouting director was Dayton Moore, who Schuerholz hoped would eventually take his place as GM. The two were so tight that Moore was nicknamed John Schuerholz Jr. by many of the Braves' employees. However, instead of waiting for Schuerholz to get promoted, Moore took the first GM opportunity he received, accepting an offer from the Royals to be their GM in 2006.
Enter Frank Wren. Wren served as GM of the
Baltimore Orioles
in 1999 after serving as assistant GM for the Marlins from 1991-1998. After a rocky relationship with Orioles owner Peter Angelos, they parted ways, but not until Bud Selig had to get involved to
make sure Wren got paid for his services
. Wren quickly landed on his feet, as he was hired by Schuerholz as assistant GM, a position he would hold for eight seasons.
To continue reading this article you must be an Insider
January, 14, 2013
1/14/13
11:35
AM ET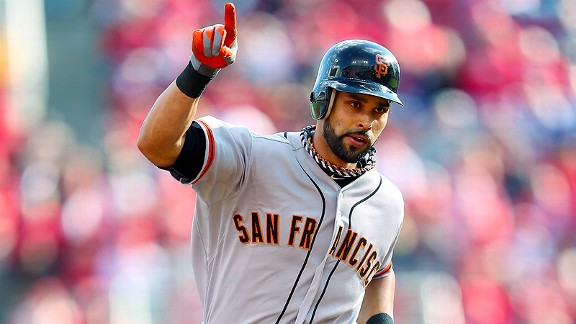 Andy Lyons/Getty ImagesAngel Pagan has never shown the consistency to warrant the contract he earned this offseason.
Recall the saying "it seemed like a good idea at the time" and you'll be able to apply it to a number of baseball's 30 teams. Indeed, most general managers would love to call a mulligan or two during their careers. As such, the following five players are, in my opinion, the most likely to end up as someone's mulligan. Their contracts are simply more than they are worth, whether it be dollars or number of years, and thus could very easily backfire on the general manager.
---
Contract:
Four years, $40 million |
AAV:
$10 million

Giants senior vice president/general manager Brian Sabean is one of the best in the business, with two world championships in the past three years. That doesn't mean he doesn't make his fair share of mistakes on long-term contracts, such as
Barry Zito
's seven-year, $126 million deal or
Aaron Rowand
's five-year, $60 million albatross. Sabean's history also includes being loyal to players (read: overpaying) who helped him win rings. After winning the World Series in 2010, he overpaid
Aubrey Huff
by re-signing him to a two-year, $20 million deal.
To continue reading this article you must be an Insider
January, 8, 2013
1/08/13
2:06
PM ET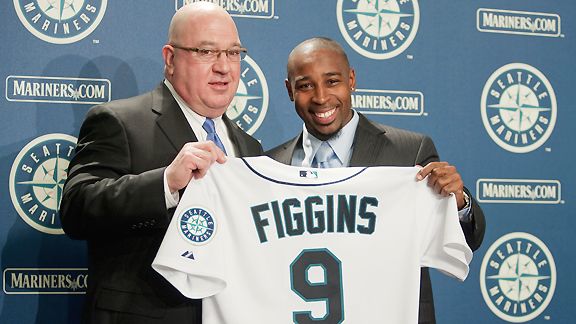 Ben VanHouten/MLB Photos/Getty ImagesSigning Chone Figgins wasn't one of Mariners GM Jack Zduriencik's better moves.
For the most part, major league general managers have enjoyed relative stability and continuity over the last few seasons. However, with so much turnover in managerial positions the last couple of years, there's the likelihood that some general managers will lose their jobs soon, especially those who already have gone through multiple managers during their tenure.
Sure, the following general managers could prosper in 2013 and earn contract extensions, but each knows that his job could be in jeopardy if his club doesn't prosper. Here are the five general managers who will feel the heat the most, according to multiple industry sources:
---
1. Neal Huntington | Pittsburgh Pirates | Start Date: Sept. 25, 2007
Record during tenure:
377-472
Notable moves:
Drafting Jameson Taillon and Gerrit Cole; trading for
Jeff Karstens
,
James McDonald
and
Wandy Rodriguez
To continue reading this article you must be an Insider
December, 15, 2012
12/15/12
2:54
PM ET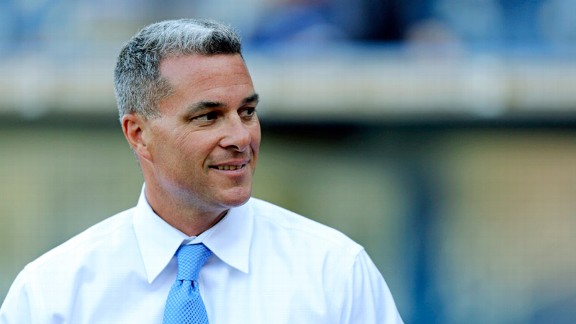 Ed Zurga/Getty ImagesRoyals GM Dayton Moore rebuilt his rotation and expects his team to contend in 2013.
Consider the following about the American League Central:
- Its division champion, the
Detroit Tigers
, won just 88 games.
- It was the only five-team division with three teams with losing records.
- The second-place
Chicago White Sox
won 85 games despite its lowest attendance since 2004.
- The
Minnesota Twins
won 66 games -- actually an improvement on 63 in 2011.
- The
Cleveland Indians
have not had a winning record in five years.
- The
Kansas City Royals
last won the division in 1985.
The AL Central was the weakest division in baseball last season, and it has been for some time. The Royals haven't had sustained success since the days of Dick Howser, George Brett and
Bret Saberhagen
. The Indians fired manager Manny Acta and long for the days of Mike Hargrove,
Kenny Lofton
and
Carlos Baerga
, while the Twins can't seem to shake the injury bug.
When the best days of three of its teams are in the rearview mirror, there's a problem.
Though it might be the weakest division in baseball, it's had arguably the strongest offseason. Each team has made significant progress toward heading back to respectability and, in the Tigers' case, perhaps back to the World Series.
Here is a quick look at how the AL Central teams have already improved this offseason:
To continue reading this article you must be an Insider
November, 30, 2012
11/30/12
11:50
AM ET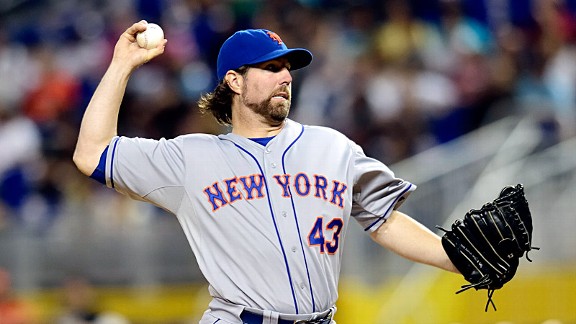 Steve Mitchell/US PresswireJim Bowden thinks the New York Mets will end up trading R.A. Dickey at the winter meetings.
Despite my being a veteran of countless winter meetings, baseball's annual gathering still manages to surprise me. Whether it's a blockbuster trade or an out-of-the-blue free-agent signing, the winter meetings always provide a handful of happenings.
However, experience does offer me a little insight into what could happen. Last year, we saw the
Los Angeles Angels
reel in
Albert Pujols
and
C.J. Wilson
, and the
Miami Marlins
signed
Mark Buehrle
,
Jose Reyes
and
Heath Bell
. And, well, we know how that turned out. So here are my five bold predictions for the winter meetings:

1. The New York Mets will trade R.A. Dickey
With the Mets extending third baseman
David Wright
for
eight years for about $138 million
, I expect them to then turn around and trade right-hander R.A. Dickey to the
Kansas City Royals
or the
Los Angeles Dodgers
or Angels for two good prospects. Wright is the face of their franchise, their version of
Chipper Jones
or
Derek Jeter
, and it was essential they get him locked up. With the Tampa Bay Rays' extension of
Evan Longoria
this past month and the Washington Nationals'
Ryan Zimmerman
sewn up, as well, this was a relatively simple negotiation for general manager Sandy Alderson. In regards to Dickey, it's more about selling high on an overachieving pitcher and being realistic on when the Mets will be ready to contend. Although the public thinks it could be sooner, realistically, the Mets won't be contending until at least 2015.

2. The Cleveland Indians will make more trades than any other team
The Indians are waiting for the top free agents to sign. Once that happens, teams that lose out will be calling them to make deals. The Indians have the highest-quality tradable players currently on the market. Right fielder
Shin-Soo Choo
is one of the most underrated right fielders in baseball. He's a complete player and is about to enter his free-agent walk year. He is represented by Scott Boras, which means it's unlikely he'll sign a contract extension before testing the open market. Therefore, once
Josh Hamilton
,
Cody Ross
and
Nick Swisher
have inked deals, the clubs that missed out will attempt to trade for Choo.
Several teams are pursuing shortstop
Asdrubal Cabrera
, including the
Arizona Diamondbacks
,
Detroit Tigers
and
Oakland Athletics
. If anyone of those teams puts together the right package of young starting pitching, it might be able to pry him loose. Closer
Chris Perez
is well respected throughout the game as a straight shooter who speaks his mind without filter, which is fine unless you're always bashing the ownership, the front office and the fans. His trade value is at an all-time high, and now is the best time to get the best return. With starting pitching always at a premium, the Tribe also will listen to offers for
Justin Masterson
and
Ubaldo Jimenez
. The bottom line is the Indians will be an interesting team to watch in Nashville.

3. The Miami Marlins will sign a free agent and give him a full-no trade clause
The Marlins' trades of Buehrle, Reyes and Bell this offseason have left agents with such a bad taste in their mouths that many of them are saying they won't even talk to the Marlins on behalf of their clients. Interestingly, a year ago, the Marlins all but had
Albert Pujols
signed, but their refusal to include a no-trade clause allowed him to make the right choice and sign with the Angels. If he had signed with the Marlins, he probably would be with the
Toronto Blue Jays
today. The Marlins are under scrutiny from the commissioner's office and the players' association to spend rather than pocketing what look to be significant revenue-sharing gains the next few years. The Marlins need to step up and surprise baseball by adding a significant free agent and will have no choice this time but to change their policy and give a full no-trade clause so players they sign won't have to worry about being dealt in a year.

4. The Royals will finally trade for an elite starter, and fans will rebel
Royals general manager Dayton Moore is in a Catch-22 situation. Royals fans have been begging for the team to trade for a top-of-the-rotation starter instead of their continued plan of back-of-the-rotation innings eaters such as
Jeremy Guthrie
,
Bruce Chen
,
Ervin Santana
and
Luke Hochevar
. But it will cost Moore one of the young, talented position players he has. Moore definitely feels the pressure and is doing everything possible to make such a trade this coming week in Nashville. Even though I think the best move would be to sign a free agent such as
Kyle Lohse
or
Anibal Sanchez
and keep his position players intact, I predict that the Royals are going to trade Wil Myers,
Alex Gordon
or
Eric Hosmer
to get their top-of-rotation young starter. If and when they do this, Royals fans will show their disapproval. Damned if you do, damned if you don't.

5. The Texas Rangers will re-sign Josh Hamilton to a four-year contract
Some believe Hamilton and Rangers definitely will part ways, but I'm making the bold prediction that he'll stay. Despite all the reports that the Rangers won't go more than three years on a deal for Hamilton, I fully expect them to give him a fourth year with a club option for a fifth at an average annual value of approximately $23 million. There has been interest in Hamilton from several teams, including the Red Sox,
Philadelphia Phillies
,
Milwaukee Brewers
,
Seattle Mariners
, and
Baltimore Orioles
.
His family lives in the Dallas/Fort Worth area and plans to stay there regardless. Having been to two World Series in the past three years, Hamilton and the Rangers have unfinished business of bringing a world championship to Rangers fans, and both parties know the best way to accomplish that is for them to try again together rather than apart.
October, 30, 2012
10/30/12
11:30
AM ET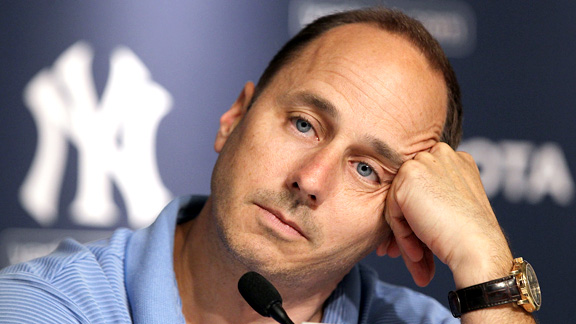 Jim McIsaac/Getty ImagesYankees GM Brian Cashman has an exhausting task ahead of him this offseason.
Even though the offseason has only just commenced for the
San Francisco Giants
and
Detroit Tigers
, general managers of 28 other teams already have been pondering their futures for some time.
For five GMs in particular, their jobs for the next three months are uniquely difficult, perhaps the most difficult in baseball. A variety of obstacles stand in their way of effectively making over their teams. They will have to hurdle those obstacles in order to improve their teams, and that's easier said than done.
Here are the five general managers who have the toughest jobs this winter. For the Giants and Tigers, it's finally time to rest. For these guys, their work has already started.

1. Brian Cashman, New York Yankees
Hands down, Cashman has the most difficult path facing him of any general manager of baseball. Perhaps it just comes with the territory of being the GM of baseball's uber-team, but this offseason is especially difficult. With the Yankees' mandate of "anything less than a World Series is failure" hovering over him, the fixes Cashman faces are not easy. Additionally, the Yankees are trying to get under the luxury tax threshold by 2014, and their best prospects are not close to contributing.
The Yankees have never had the luxury of going with a full-scale youth movement -- they are expected to contend every year, so Cashman must resolve the situation with
Alex Rodriguez
, whose declining skills, massive contract and no-trade clause make him nearly impossible to move. Picking up the contract options for
Robinson Cano
and
Curtis Granderson
was a good first step, but
Mariano Rivera
might retire and
Rafael Soriano
might opt out of his deal. And then you have
Derek Jeter
returning from injury, and who knows what to expect from
Michael Pineda
?
In other words, Cashman must retool a World Series contender with limited money, a fallow farm system and an aging roster rife with no-trade clauses. Toughest job, indeed.

2. Dayton Moore, Kansas City Royals
Moore can position the Royals as 2013's version of the
Baltimore Orioles
or Oakland A's. Position players
Mike Moustakas
,
Eric Hosmer
,
Alex Gordon
and
Billy Butler
are all ready to lead a playoff team. But Moore must completely rebuild his starting rotation, and to do that, he will have to make some uncomfortable decisions, including trading one of the aforementioned players.
Moore has talked about 2014 as the Royals' year to compete. But he has the talent to win now, and he should start by acknowledging the failure of
Luke Hochevar
. Dumping him would serve as a philosophical change for a club that has become enamored with "stuff" rather than results. While
Danny Duffy
and
Jake Odorizzi
are good pitching prospects, the majority of them have been way overhyped. Their only way to improve the rotation so quickly is to bring back
Zack Greinke
or sign
Kyle Lohse
or
Anibal Sanchez
and trade one of those young hitters. I know Moore has gone down this free-agent pitching path before, with the disastrous
Gil Meche
signing, but he can't keep waiting for 2014. It's time to win now.

3. Ben Cherington, Boston Red Sox
The fact is, nearly every move Cherington made last season did not work. From hiring Bobby Valentine, to trading
Jed Lowrie
to Houston and
Kevin Youkilis
to Chicago and
Josh Reddick
to Oakland, to the failed conversion of
Daniel Bard
to the starting rotation, it was a rough rookie year for Cherington.
However, what did work was the massive trade with the
Los Angeles Dodgers
that shed the Red Sox of
Adrian Gonzalez
,
Josh Beckett
,
Carl Crawford
and
Nick Punto
. That move shaved approximately $58 million in 2013 payroll alone. And with the acquisition of manager John Farrell, Cherington is effectively starting from scratch. And he's on the clock now, too.
Cherington's a bright guy and he will have ample opportunity to show what he can do with what almost amounts to a clean slate. He will have some cornerstones such as
Dustin Pedroia
and
Will Middlebrooks
, but he has to also hope
Jon Lester
and Bard return to form in their respective roles. His priority will be to figure out what to do with
Jacoby Ellsbury
, who is a free agent in 2013 and is represented by Scott Boras, so it won't be an easy negotiation. Cherington's team has plenty of holes, and he will have some financial freedom, so there will be opportunities to show last season's disaster was an aberration.

4. GM Mike Hill, president Larry Beinfest, Miami Marlins
It is a difficult situation when you're the general manager of a ballclub, but not really the general manager, or when you're the president of a ballclub, but not really the president. Essentially, owner Jeffrey Loria calls the shots on all personnel decisions and managers, and Ozzie Guillen was the latest casualty. Don't be surprised if outspoken outfielder
Logan Morrison
is next.
Of course, Guillen wasn't without fault here, alienating the Cuban section of the Marlins' fan base early last season. But after signing
Heath Bell
last winter and then trading him to Arizona, free agents will pause before going to Miami. So will managers who see no job security in South Beach -- in a span of six years, three managers (Joe Girardi, Fredi Gonzalez and Guillen) have held the job.
The Marlins will be competing with a resurgent
Philadelphia Phillies
team that still boasts the best rotation in the National League. The
New York Mets
will have lots of money coming off the books in time for the 2014 offseason and the
Atlanta Braves
and
Washington Nationals
are both built to compete for the next five years. But the Fish have some core pieces to work with, namely
Mark Buehrle
,
Jose Reyes
and
Giancarlo Stanton
, as well as some good youngsters in
Rob Brantly
,
Jacob Turner
and Nathan Eovaldi, as well as prospects
Jose Fernandez
and Christian Yelich. If Hill and Beinfest can do something this offseason with some autonomy, they could compete in the NL East.

5. Chris Antonetti, Cleveland Indians
When I say Cashman doesn't have any money and is restricted by his payroll, remember the Yankees' yearly payroll is near $200 million. Cleveland's 2012 Opening Day payroll was $65 million.
So Antonetti really doesn't have any money, nor does he have much of anything else to work with. His hiring of Terry Francona as manager is a step in the right direction. But a manager will only win if he has winning players. The "best" pitching pieces he has to trade are
Ubaldo Jimenez
and
Justin Masterson
, who don't have a ton of value right now. His farm system is below average at best, with the exception of shortstop Francisco Lindor.
Shin-Soo Choo
, arguably Antonetti's best player, is a free agent after 2013, and Boras is his agent. Antonetti simply can't let Choo walk away for only draft-pick compensation.
Further, the AL Central is surprisingly deep with Detroit's dominance, Chicago's surprise and the Royals' rise. Exacerbating things is his team and fan base seem to have lost faith in the front office, with closer
Chris Perez
openly criticizing him in the media. A rough road lies ahead for Antonetti and team president Mark Shapiro, whose own deal is up after 2013.
January, 4, 2012
1/04/12
11:28
AM ET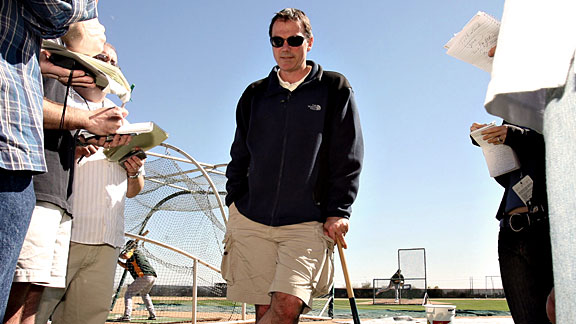 Icon SMIIn dealing Gonzalez, Cahill and Bailey, Oakland GM Billy Beane did well for the A's long-term future.
In examining those teams that are built to win now, conversely there are those teams for whom it will take some time to become competitive again. In several instances, they are the very teams that just emptied their big league clubs to those "win now" teams. However, it is a simple fact of baseball's cyclical nature that teams must reload and rebuild, or, in some cases, continue to build. And these five general managers have done the best jobs this offseason to better position their teams long-term.

Beane has walked this ground before. Payroll issues forced him to trade his "Big Three" of
Tim Hudson
,
Mark Mulder
and
Barry Zito
. However, this time around he got a much better return after dealing
Gio Gonzalez
to the Nationals and
Trevor Cahill
to the Diamondbacks. Pitching prospects
Jarrod Parker
and
Brad Peacock
could be potential No. 2 or No. 3 starters; Tom Milone should be a solid No. 5 starter and is big league-ready now. But 19-year-old A.J. Cole might have the biggest upside of all. However, he is four years away if he stays healthy and develops properly.
Collin Cowgill
is a definite upgrade in the outfield, and while catcher Derek Norris might only be average behind the plate, he has a chance to be a 25- to 30-home run hitter. No doubt it is tough to trade two 15-game winners like Gonzalez and Cahill, but the return was so large on both fronts the A's have improved their long-term future more than any team in baseball this offseason.
To continue reading this article you must be an Insider
November, 7, 2011
11/07/11
4:45
PM ET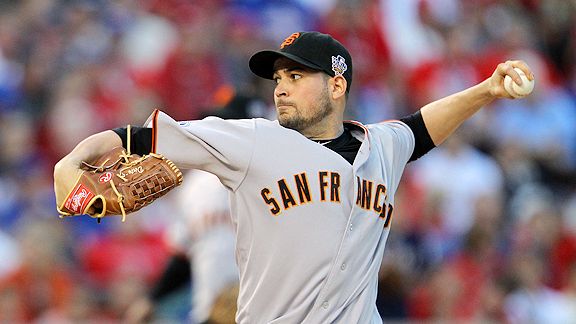 Ronald Martinez/Getty ImagesDespite his strong arm and upside, the Giants cut bait on left-hander Jonathan Sanchez.
The
San Francisco Giants
could not wait any longer for left-hander
Jonathan Sanchez
to live up to his potential, sending him and minor leaguer Ryan Verdugo to the
Kansas City Royals
in exchange for center fielder
Melky Cabrera
.
Call it an underachieving pitcher for a second-division center fielder.
The flame-throwing Sanchez has long intrigued baseball people for his arm, displaying flashes of brilliance with a devastating slider and a mid-90s darting fastball. The problem is that his fastball has darted out of the strike zone more often than in it. In 708 career innings, Sanchez has struck out 736 men but also walked 376. The Royals liked him enough to trade their starting center fielder for him.
Cabrera enjoyed a good season, hitting .305 with 18 homers and 87 RBIs and showed some of the promise the Yankees thought they would see at some point after he made his big league debut in 2005. Like Sanchez, Cabrera has largely disappointed during his career so far, but he seemed to have turned a corner in 2011 and matured into a decent division outfielder. Verdugo has tremendous makeup and is a left-handed pitcher who pounds the zone and attacks hitters. He was put in the rotation last year with the intent of improving the quality of his pitches and struck out 9.2 men per nine innings for Double-A Richmond. However, the Royals see Verdugo as a quality left-handed setup reliever in the future for them.
To continue reading this article you must be an Insider