The GM's Office:

David Wright
January, 19, 2015
Jan 19
11:30
AM ET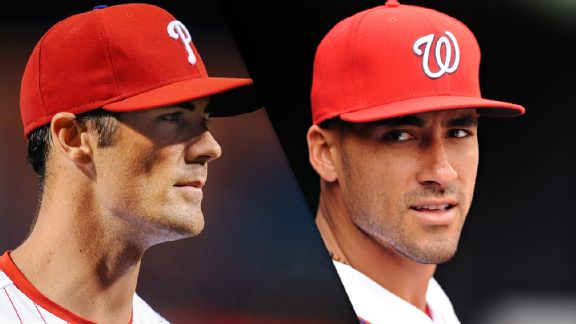 Getty ImagesWho are the front-runners to trade for Cole Hamels, and will the Nationals trade Ian Desmond?
The latest on
Cole Hamels
,
James Shields
, a few key Nationals players, Yoan Moncada and others …
Hamels trade talks
The
Boston Red Sox
,
San Diego Padres
,
St. Louis Cardinals
and
Texas Rangers
are not the only teams in the mix for Hamels, as teams such as the Blue Jays, Cubs, Astros and Dodgers also have kicked the tires -- at varying levels of interest -- and have stayed in touch with the Phillies this offseason.
The Red Sox and Padres are considered the front-runners for him because they have the best match prospect-wise for the Phillies.
November, 6, 2014
11/06/14
10:25
AM ET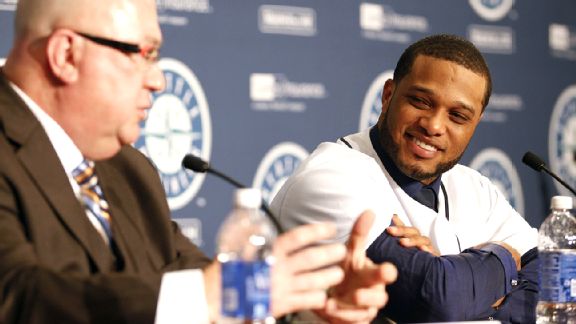 Joe Nicholson/USA TODAY SportsBowden's spoiler alert: GM Jack Zduriencik, Robinson Cano and Co. will make the playoffs in 2015.
The
Seattle Mariners
,
Cleveland Indians
and
New York Mets
fell short of the playoffs this season. In fact, the Mets fell well short.
But I predict all three of these teams will make the playoffs in 2015.
Granted, these early predictions are based on the assumption that all three organizations will add the necessary two to three pieces they need this offseason, because all three are
that
close to playing October baseball, just as the
Kansas City Royals
,
Washington Nationals
and
Baltimore Orioles
were at this time a year ago, when
I predicted all three would make the playoffs
(which they did).
The Mariners, Indians and Mets have more in common than you might realize. First of all, they all have the starting rotations in place to win next year without having to make a single move this winter. Second, they all need more offense in the middle of their lineups and have the trade weapons and/or cash to make these necessary acquisitions. Third, they all have enough in their farm systems to withstand in-season injuries or to trade to fill their needs.
So let's examine what went wrong for these three teams this year and why they should eclipse their 2014 performances in 2015:
---
Seattle Mariners

The Mariners made huge strides in 2014, finishing with a record of 87-75, only one game out of the second wild-card spot and just two games behind the eventual AL pennant winner Royals.
The Mariners' pitching staff led the American League in ERA and opponents' batting average-against while also finishing in the top five in WHIP, saves and strikeouts.
To continue reading this article you must be an Insider
November, 30, 2012
11/30/12
11:50
AM ET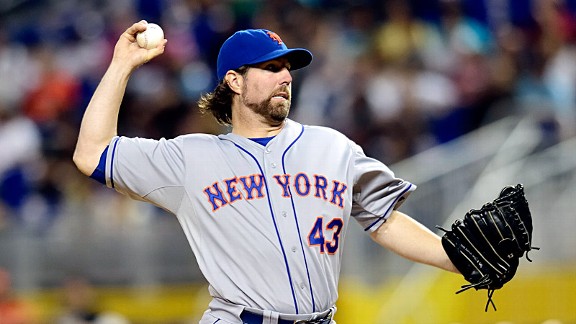 Steve Mitchell/US PresswireJim Bowden thinks the New York Mets will end up trading R.A. Dickey at the winter meetings.
Despite my being a veteran of countless winter meetings, baseball's annual gathering still manages to surprise me. Whether it's a blockbuster trade or an out-of-the-blue free-agent signing, the winter meetings always provide a handful of happenings.
However, experience does offer me a little insight into what could happen. Last year, we saw the
Los Angeles Angels
reel in
Albert Pujols
and
C.J. Wilson
, and the
Miami Marlins
signed
Mark Buehrle
,
Jose Reyes
and
Heath Bell
. And, well, we know how that turned out. So here are my five bold predictions for the winter meetings:

1. The New York Mets will trade R.A. Dickey
With the Mets extending third baseman
David Wright
for
eight years for about $138 million
, I expect them to then turn around and trade right-hander R.A. Dickey to the
Kansas City Royals
or the
Los Angeles Dodgers
or Angels for two good prospects. Wright is the face of their franchise, their version of
Chipper Jones
or
Derek Jeter
, and it was essential they get him locked up. With the Tampa Bay Rays' extension of
Evan Longoria
this past month and the Washington Nationals'
Ryan Zimmerman
sewn up, as well, this was a relatively simple negotiation for general manager Sandy Alderson. In regards to Dickey, it's more about selling high on an overachieving pitcher and being realistic on when the Mets will be ready to contend. Although the public thinks it could be sooner, realistically, the Mets won't be contending until at least 2015.

2. The Cleveland Indians will make more trades than any other team
The Indians are waiting for the top free agents to sign. Once that happens, teams that lose out will be calling them to make deals. The Indians have the highest-quality tradable players currently on the market. Right fielder
Shin-Soo Choo
is one of the most underrated right fielders in baseball. He's a complete player and is about to enter his free-agent walk year. He is represented by Scott Boras, which means it's unlikely he'll sign a contract extension before testing the open market. Therefore, once
Josh Hamilton
,
Cody Ross
and
Nick Swisher
have inked deals, the clubs that missed out will attempt to trade for Choo.
Several teams are pursuing shortstop
Asdrubal Cabrera
, including the
Arizona Diamondbacks
,
Detroit Tigers
and
Oakland Athletics
. If anyone of those teams puts together the right package of young starting pitching, it might be able to pry him loose. Closer
Chris Perez
is well respected throughout the game as a straight shooter who speaks his mind without filter, which is fine unless you're always bashing the ownership, the front office and the fans. His trade value is at an all-time high, and now is the best time to get the best return. With starting pitching always at a premium, the Tribe also will listen to offers for
Justin Masterson
and
Ubaldo Jimenez
. The bottom line is the Indians will be an interesting team to watch in Nashville.

3. The Miami Marlins will sign a free agent and give him a full-no trade clause
The Marlins' trades of Buehrle, Reyes and Bell this offseason have left agents with such a bad taste in their mouths that many of them are saying they won't even talk to the Marlins on behalf of their clients. Interestingly, a year ago, the Marlins all but had
Albert Pujols
signed, but their refusal to include a no-trade clause allowed him to make the right choice and sign with the Angels. If he had signed with the Marlins, he probably would be with the
Toronto Blue Jays
today. The Marlins are under scrutiny from the commissioner's office and the players' association to spend rather than pocketing what look to be significant revenue-sharing gains the next few years. The Marlins need to step up and surprise baseball by adding a significant free agent and will have no choice this time but to change their policy and give a full no-trade clause so players they sign won't have to worry about being dealt in a year.

4. The Royals will finally trade for an elite starter, and fans will rebel
Royals general manager Dayton Moore is in a Catch-22 situation. Royals fans have been begging for the team to trade for a top-of-the-rotation starter instead of their continued plan of back-of-the-rotation innings eaters such as
Jeremy Guthrie
,
Bruce Chen
,
Ervin Santana
and
Luke Hochevar
. But it will cost Moore one of the young, talented position players he has. Moore definitely feels the pressure and is doing everything possible to make such a trade this coming week in Nashville. Even though I think the best move would be to sign a free agent such as
Kyle Lohse
or
Anibal Sanchez
and keep his position players intact, I predict that the Royals are going to trade Wil Myers,
Alex Gordon
or
Eric Hosmer
to get their top-of-rotation young starter. If and when they do this, Royals fans will show their disapproval. Damned if you do, damned if you don't.

5. The Texas Rangers will re-sign Josh Hamilton to a four-year contract
Some believe Hamilton and Rangers definitely will part ways, but I'm making the bold prediction that he'll stay. Despite all the reports that the Rangers won't go more than three years on a deal for Hamilton, I fully expect them to give him a fourth year with a club option for a fifth at an average annual value of approximately $23 million. There has been interest in Hamilton from several teams, including the Red Sox,
Philadelphia Phillies
,
Milwaukee Brewers
,
Seattle Mariners
, and
Baltimore Orioles
.
His family lives in the Dallas/Fort Worth area and plans to stay there regardless. Having been to two World Series in the past three years, Hamilton and the Rangers have unfinished business of bringing a world championship to Rangers fans, and both parties know the best way to accomplish that is for them to try again together rather than apart.
June, 8, 2012
6/08/12
10:15
AM ET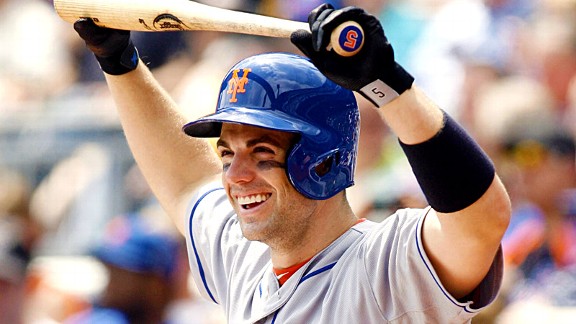 Charles LeClaire/US PresswireFree of injuries, Wright has returned to his All-Star form.
After two months of the season, there are already some clear and obvious choices for the 2012 All-Star Game. But there are also some intriguing names as possible first-time All-Stars, too.
The fans will vote the starters in; managers will pick their favorites. So while the best players in baseball are supposed to be representing both leagues, due to the process, some great players often don't start or even make the team.
So free from any variables like that, here are my first-guess picks for the National League All-Star team. This includes the starting lineup, the bench and the pitching staff. To view my first-guess picks for the American League roster, click here. On Saturday we will follow up with the 10 most intriguing possible All-Stars from both rosters.
Leave a comment and tell me who you think should be on the 2012 All-Star teams.
National League starting lineup
First base: Joey Votto, Cincinnati Reds
With the departures of
Albert Pujols
,
Prince Fielder
and
Adrian Gonzalez
to the AL the last few years, Votto has separated himself as clearly the best in the NL both offensively and defensively.
To continue reading this article you must be an Insider
April, 26, 2012
4/26/12
10:30
AM ET
Earlier this week,
Los Angeles Dodgers
general manager Ned Colletti said he's already talked to the team's new ownership about a
contract extension for outfielder
Andre Ethier
. At 30, Ethier is a two-time All-Star, has earned Gold Glove and Silver Slugger awards and is in the prime of his career. He currently leads the majors in RBIs with 23. He also leads a list of seven players who should be signed to contract extensions now. Most of these players are in or are entering their most productive years, or perhaps are talented young players whose stardom is easily projectable. So it might behoove teams to stay ahead of the market and lock them in now.

1. Andre Ethier, RF
With the Dodgers' $2 billion sale from Frank McCourt to the group led by Magic Johnson, Stan Kasten and Mark Walter -- the CEO of Guggenheim Partners -- officially closing in less than a week, one of the team's first orders of business should be to extend Ethier. He is the only legitimate protection for Matt Kemp the Dodgers have in the middle of their lineup. And with a farm system that will offer very little offensive help, this is an important signing. Further, the Dodgers' new ownership might also want to have a conversation with Cy Young Award winner Clayton Kershaw. They control his rights through 2015 but might want to start talks with him to stay ahead of a rapidly ballooning market for starting pitching.

To continue reading this article you must be an Insider
April, 11, 2012
4/11/12
12:00
PM ET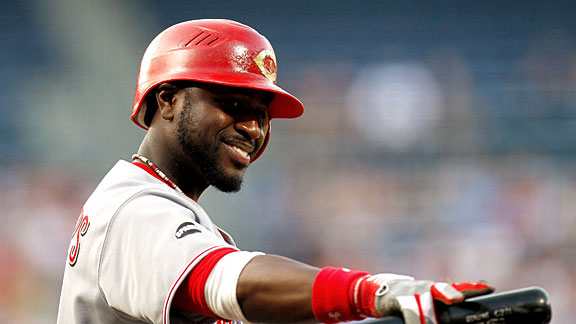 Kevin C. Cox/Getty ImagesBrandon Phillips was likely all smiles after inking an extension, and his agents had a lot to do with it.
In the end, the town and fans won out over the money.
On Tuesday, the
Cincinnati Reds
signed second baseman
Brandon Phillips
to a six-year, $72.5 million contract extension, which will keep Phillips in the Queen City through the 2017 season and will make him the first second baseman guaranteed to earn at least $12 million in a season at age 36.
Not bad for a guy who the Reds acquired for a Player to be Named Later. It's like layaway for baseball players.
The Phillips deal is fairly similar to the one agreed to earlier the same day by Rangers second baseman
Ian Kinsler
for five years and $82 million. Both contracts run through 2017, with Phillips' deal replacing his current one-year team option for 2012, whereas Kinsler's contract kicks in after the 2012 season.
Phillips obviously knew what the Kinsler deal was going to be before signing his own and what that meant in terms of standards. Kinsler was able to get a little more in terms of overall dollars because he is a year younger and has been a key player on two straight AL pennant winners. But beyond money, Phillips also knew he wanted to stay in Cincinnati and this was the best deal he was going to get from them. Phillips probably could have gotten more had he tested the free-agent waters when he would have been the best second baseman on the market, but the Cincinnati community was too important to him; the people mattered.
Phillips is represented by Seth and Sam Levinson of ACES Sports Management, which flies under the radar relative to more high-profile agents. But for 25 years, ACES quietly has been one of the leaders in the industry. The agency got its start with Keith Miller, who was once a top prospect of the Mets and entrusted his career to the Levinson brothers. They have been together ever since. Miller eventually made the transition from player to agent and became one of the pillars of the company. He's helped the Levinsons recruit clients, and being a former player helps significantly in that regard. You may not have heard of ACES, but it represents many of baseball's best players of late, including Phillips,
David Wright
,
Dustin Pedroia
,
Jonathan Papelbon
,
Nelson Cruz
,
Scott Rolen
and
Jorge Posada
, among others.
To continue reading this article you must be an Insider
March, 28, 2012
3/28/12
10:00
AM ET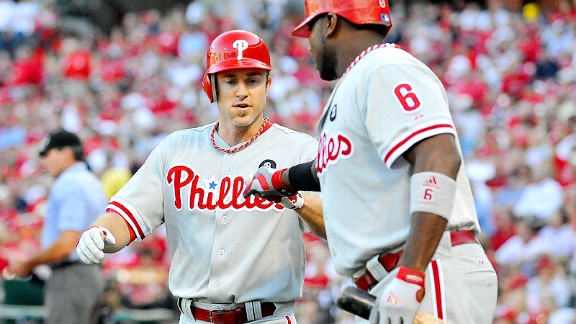 Jeff Curry/US PresswireWith Chase Utley and Ryan Howard out indefinitely, the Phillies' playoff streak is in jeopardy.
With the season beginning today in Japan, it's that time of year when everyone is making predictions. I figure it's about time that I get in on the act.
1. The Philadelphia Phillies will not make the playoffs.
With
Roy Halladay
,
Cliff Lee
and
Cole Hamels
fronting the game's strongest rotation, how can I go against them? Well, here's why: Last year the
San Francisco Giants
failed to make the playoffs with a rotation just as an impressive at the top with
Tim Lincecum
,
Matt Cain
and
Madison Bumgarner
. However, injuries and lack of offense led to their downfall. The Phillies will have the same problem with injuries to
Ryan Howard
and
Chase Utley
, not to mention aging veterans all over the diamond. The
Miami Marlins
and
Washington Nationals
are much improved and it looks like the Phillies are heading back toward the pack.
2. Neftali Feliz will save more games than Joe Nathan.
To continue reading this article you must be an Insider
February, 22, 2012
2/22/12
10:35
AM ET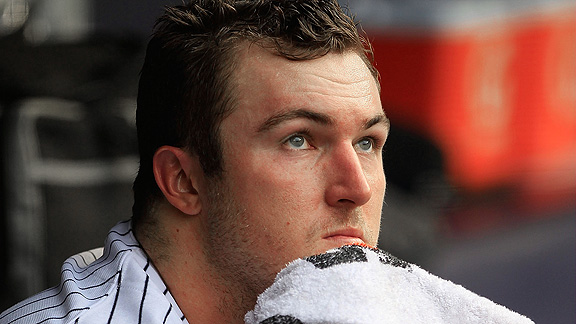 Chris Trotman/Getty ImagesThe Yankees and their fans are hoping Phil Hughes can regain his 18-win form from 2010.
Heading into spring training, every general manager has a list of questions that he wants answered. Whether that's seeing if a player has rebounded from surgery or if an aging veteran has any gas left in the tank. It might be a position battle that needs resolving or which youngster might step up and make the team. Here's a look at all 30 teams and what remains the biggest question for each. We'll start with the American League.
American League

Baltimore Orioles
This team has plenty of questions, including whether any of its young players will develop any further. But after trading pitcher Jeremy Guthrie, the rotation is nothing but question marks. What will it look like come Opening Day? If guys like Brian Matusz can't figure it out, this could easily be a 100-loss team.


Boston Red Sox
Although there are questions regarding the back end of the starting rotation and bullpen, right field and the health of Carl Crawford, the most pressing concern is shortstop. Can rookie Jose Iglesias hit enough to win the starting job?
To continue reading this article you must be an Insider
December, 5, 2011
12/05/11
12:16
PM ET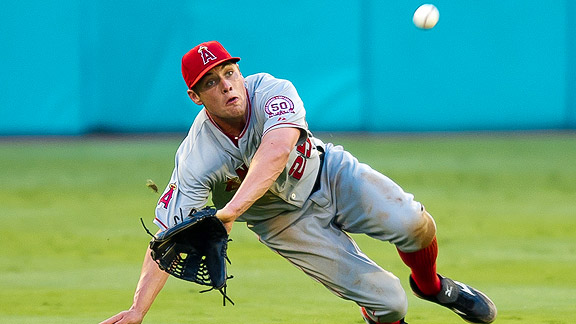 Steve Mitchell/US PresswireWould the Angels part with rangy center fielder Bourjos? For David Wright they might.
With free-agent shortstop
Jose Reyes
signing with the
Miami Marlins
, the winter meetings have begun with a bang.
• The Marlins are not done, either, as one top-ranking team official insists that Miami is still in on left-hander
Mark Buehrle
(No. 6 on my
free-agent value rankings
) and first baseman
Albert Pujols
. Signing Pujols after adding Reyes and
Heath Bell
would equal the Miami Heat's coup two years ago when they signed LeBron James and Chris Bosh.
• New Angels general manager Jerry Dipoto will be busy this week. He is targeting starting pitcher
C.J. Wilson
and closer
Ryan Madson
, the two best hurlers in their respective markets. He also might be in the market for a third baseman, and the Mets match up well with the Angels. With Reyes leaving the Mets, it only makes sense for Mets GM Sandy Alderson to trade
David Wright
now and begin the rebuilding mode in earnest. The Mets might be able to get a package of
Peter Bourjos
and
Hank Conger
for Wright. Wright would solve the Angels' nagging third-base problem, and they could insert prospect
Mike Trout
in center field.
• It would be shocking if the
Washington Nationals
did not land Buehrle or Wilson. They prefer Buehrle because they feel they can get him for three years rather than the five years it will take to get Wilson. And like the Marlins, the Nationals feel they are well in the hunt for Pujols or
Prince Fielder
. The Nationals also have interest in Bourjos, as they continue to search for a center fielder. They've talked to the Rays about
B.J. Upton
, but the likeliest target is Yoenis Cespedes. Still, they're not convinced that they want to meet Cespedes' asking price, which is in the $50 million neighborhood.
To continue reading this article you must be an Insider
May, 24, 2011
5/24/11
5:05
PM ET
Fred Wilpon is well respected as a gentleman and professional, so most were surprised when the New York Mets' owner's comments were released Monday morning in The New Yorker magazine, ripping star players
Jose Reyes
,
David Wright
and
Carlos Beltran
. In an e-mail to the media, Wright excused Wilpon: "Fred is a good man and is obviously going through some difficult times." Wright was referring to Wilpon's professional, financial and legal issues, including a countersuit against a trustee to recover funds from the Bernard Madoff's Ponzi scheme and the Mets needing a loan from Major League Baseball to meet obligations.
As a former GM, the first reaction is damage control. I had this happen to me on multiple occasions in my career, especially during the Marge Schott era of the mid-'90s. Quick communication with the players helped put the issue to bed, and most players considered the source. However, this case is different. This isn't the Bronx or the Yankees. It's not George Steinbrenner or Marge Schott. It's Fred Wilpon, and it wasn't his normal behavior. But while Wright came to Wilpon's defense, I'm not buying it.
Here's what Wilpon was saying through his New Yorker interview: If the major league payroll is no longer affordable and needs to be reduced, then trades must be made. Instead of shocking the fans in July, prepare them now.
To continue reading this article you must be an Insider