The GM's Office:

Dave Dombrowski
March, 24, 2014
3/24/14
8:24
AM ET
For those who weren't interested in the Dodgers-Diamondbacks series in Australia -- and the latest
Yasiel Puig
controversy -- the big story of the weekend was the
Detroit Tigers
' announcement that
Max Scherzer
has turned down a "substantial" contract extension, and that talks will be tabled until next winter.
The offer was reportedly worth a little more than $25 million per season over six years, for a total value of $150 million or so. Scherzer supposedly wanted something closer to
Clayton Kershaw
's recent seven-year, $215 deal. With the two sides so far apart, it's no surprise they decided to call off negotiations.
The Boras factor
It's no secret that Scott Boras, Scherzer's agent, prefers to take his clients to free agency, believing that is how he can maximize their value. And while he may have misread the market for players such as
Kendrys Morales
and
Stephen Drew
this winter, his strategy generally works for players at the top end of the market, such as Scherzer.
Now, once in a while, a player will overrule Boras and take a deal that is below market value if he is in a situation he likes. A prime example is
Jered Weaver
, who surprised a lot of people by signing a five-year, $85 million extension in 2011.
February, 7, 2014
2/07/14
11:55
AM ET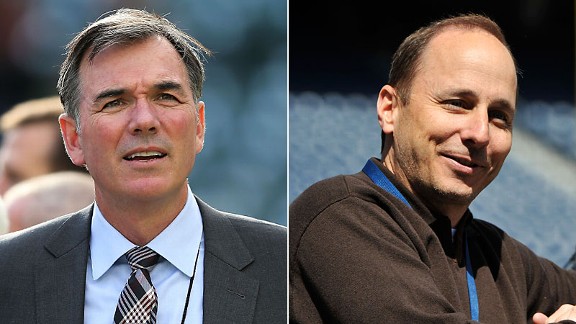 Getty Images, AP PhotoBilly Beane and Brian Cashman enjoyed very fruitful offseasons.
I'm all packed with spring training just days away. So before I depart I thought it was time to give my offseason awards and hand out some hardware to the general managers for their offseason work.
BEST OFFSEASON -- BIG-MARKET GM: Brian Cashman | New York Yankees

It was the most expensive free-agent spending spree in baseball history when the Yankees committed a combined $438 million for 22 years of contracts to
Masahiro Tanaka
,
Jacoby Ellsbury
,
Brian McCann
and
Carlos Beltran
. The Yankees quickly rebuilt their outfield, catching and starting pitching with All-Star caliber players and imported the best overall talent of any team in baseball this offseason. They also get credit for walking away from
Robinson Cano
by refusing to acquiesce to 10 years and approximately $240 million for a player in his 30s.
Runners-up:
Jon Daniels, Texas Rangers:
To continue reading this article you must be an Insider
December, 9, 2013
12/09/13
8:00
AM ET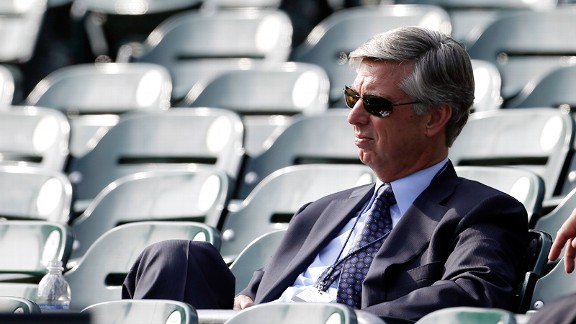 AP Photo/Paul SancyaDave Dombrowski has made some odd moves, but they will likely work out.
LAKE BUENA VISTA, Fla. -- The hot stove season typically doesn't get white-hot until the winter meetings, but general managers decided to break the rules this year and we've seen tons of action already, with the
Robinson Cano
contract and
Prince Fielder
-
Ian Kinsler
trade being the most notable.
As we head into the winter meetings, I thought it would be a good idea to take a step back and reflect on what has happened thus far. Here are three key takeaways from everything we've seen leading up to the winter meetings.
Lesson No. 1: The Tigers improved despite being on the wrong end of two big trades
Detroit Tigers
GM Dave Dombrowski is no stranger to blockbuster trades, and he made a pair of surprising deals this winter that left many in the industry puzzled.
First, he sent Fielder and $30 million in cash to Texas for Kinsler. Fielder is younger and a much more potent hitter, and despite a down year, he hasn't shown the same kind of decline Kinsler has over the last couple of seasons.
The other deal was sending right-hander
Doug Fister
to the
Washington Nationals
for lefty reliever
Ian Krol
, utilityman
Stephen Lombardozzi
and lefty pitching prospect Robbie Ray. Again, a light return even if you think Ray is a solid prospect, which he is.
To make matters worse, this was the worst time to trade Fister.
To continue reading this article you must be an Insider
July, 22, 2013
7/22/13
11:54
PM ET
In the face of apparently overwhelming evidence,
Ryan Braun
has relented.
Major League Baseball suspended the
Milwaukee Brewers
left fielder on Monday for the remainder of the 2013 seasons, which amounts to 65 games. He avoided suspension in 2012 when it was revealed his urine sample that had tested positive was mishandled.
That sliver of doubt was enough for Braun to win his appeal, but Braun's quick compliance with Bud Selig's decision Monday and the seemingly contrite language in his official statement say a lot about the amount of evidence confronting Braun and more than 20 other players possibly involved with the Biogenesis scandal.
Also telling is the length of Braun's suspension. Had he appealed and dragged out the process, we have no idea how severe the suspension could have been. The leverage possessed by MLB must have convinced Braun to settle quickly, and it could compel the other players whose names have surfaced in connection with the Biogenesis scandal, such as
Texas Rangers
outfielder
Nelson Cruz
and
Detroit Tigers
shortstop
Jhonny Peralta
, to do the same.
But what of Cruz and Peralta's teams? Unlike Braun's Brewers, both Peralta's Tigers and Cruz's Rangers are legitimate World Series contenders. Should Cruz and Peralta follow Braun's lead, their absences will leave massive holes.
For general managers Jon Daniels (Rangers) and Dave Dombrowski (Tigers), what they do in the eight days remaining before MLB's July 31 trade deadline could make or break their teams' seasons.
To continue reading this article you must be an Insider
June, 7, 2013
6/07/13
12:08
PM ET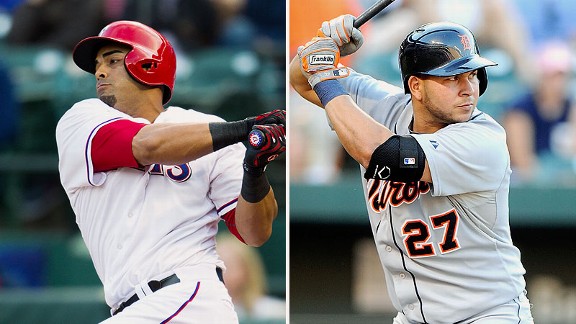 Getty ImagesWith Nelson Cruz and Jhonny Peralta possibly facing suspension, their GMs must prepare now.
It isn't hyperbole to suggest that the ripples from baseball's most recent performance-enhancing drug scandal could have an impact on the World Series.
This week, ESPN's T.J. Quinn, Mike Fish and Pedro Gomez
reported on "Outside the Lines"
that Major League Baseball is seeking to suspend approximately 20 players connected to Biogenesis, the Miami-area clinic that is accused of manufacturing and distributing PEDs.
The scandal could affect pennant races just as a serious injury, a trade or a minor league call-up would. The problem that general managers face right now is they do not know the names of all the players involved, and they don't know how successful MLB will be in its pursuit of suspensions. General managers of contending teams cannot ignore the specter of perhaps one of their key players being on that list.
Quite simply, they've got to prepare for the worst. But with the trade deadline just a month and half away, that makes the timing awkward. Take, for example, the
San Francisco Giants
last season.
To continue reading this article you must be an Insider
May, 31, 2013
5/31/13
2:15
PM ET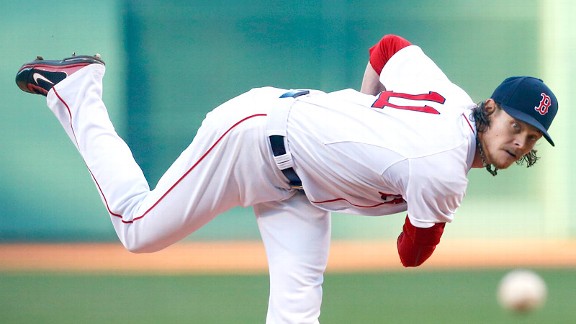 AP Photo/Michael DwyerCould teams unearth another Clay Buchholz with their competitive balance picks?
For the first time in the history of Major League Baseball's amateur draft, teams own the ability to trade draft picks.
They are the draft picks resulting from the Competitive Balance Lottery, which took place last July. In other sports you can trade any draft pick, but in MLB's draft only the competitive balance picks can be traded. It's a new wrinkle that will shake up the draft a little bit.
To continue reading this article you must be an Insider
October, 29, 2012
10/29/12
12:00
AM ET
While the
Detroit Tigers
and their fans are obviously feeling a bit blue Sunday night, they will soon come to realize that the 2012 season was a huge success. They won the AL Central, swept the
New York Yankees
in the American League Championship Series and appeared in the World Series.
Of course, the club's weaknesses were exposed a bit in losing to the
San Francisco Giants
, but they are in a great position to improve their club this winter. Here are five ways I expect GM Dave Dombrowski to try to improve the club this winter.
1. So long, Delmon
Delmon Young
was fantastic in the ALCS and was named MVP of the series, but as a DH/left fielder he's a below-average player, as evidenced by his .267/.296/.411 line this year. He is a free agent, and the club will gladly let him walk, as they will have
Victor Martinez
coming back from a knee injury that cost him the 2012 season. Martinez will be an upgrade at DH, so the team is getting better without doing anything.
2. Bye-bye, Valverde
[+] Enlarge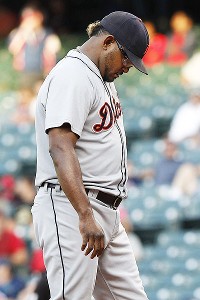 David Maxwell/Getty ImagesAfter repeated postseason failures, Jose Valverde will not be back in 2012.
Speaking of impending free agents,
Jose Valverde
will also be one, and the Tigers, who didn't trust him to pitch in any high-leverage spots in the World Series, won't bring him back. He made $9 million this year, so that will bring some salary relief. Detroit's bullpen was not a strength, and I could see them making a play for
Rafael Soriano
, who will almost certainly opt out of his deal with the Yankees, and would be an upgrade. Yes, he'd be pricey, but owner Mike Illitch has made it clear that he's willing to spend to try to win a World Series, and the club has roughly $90 committed for 2013 as of today. In other words, they have some money to spend.
I could also see the club trying to rebuild their pen by shopping
Rick Porcello
, who is still fairly well-regarded and will turn 24 in December. But as a ground ball pitcher on a team with a bad infield defense, he's a terrible fit. They should shop him to the National League or to clubs with good outfield defense in search of bullpen help. I could see San Diego, Minnesota and Pittsburgh as fits. Maybe Porcello for
Joel Hanrahan
, or possibly to Kansas City for someone such as
Aaron Crow
.
3. Retain Peralta and Sanchez
Jhonny Peralta
has a $6 million option for 2013, and the club will certainly pick that up.
Anibal Sanchez
is set to be a free agent, and he will have suitors, and that's one guy the club will want to make a play for. He has shown this October that he's a solid mid-rotation starter, and if he's paired with
Justin Verlander
,
Max Scherzer
and
Doug Fister
the Tigers will have one of the best rotations in the league.
Further, Sanchez is a strikeout pitcher, which makes him a great fit for the Tigers, as he's less-reliant on his defense, which will always be a team weakness as long as they build their lineup around
Miguel Cabrera
and
Prince Fielder
.
4. Upgrade the outfield corners
Quintin Berry
and
Andy Dirks
are decent role players, but they are not everyday guys. The Tigers have moved top prospect Nick Castellanos from third base to right field because of Miggy, and he could be up some time in the second half of next year. (And one day, don't be surprised if Castellanos is at third with Cabrera in left, a position he played when he came up with the Marlins.)
In the other outfield corner, I could see them making a play for
Nick Swisher
, as he has been one of baseball's most consistent performers over the past few seasons. The Tigers' lineup lacks depth -- something the Giants exposed -- and Swisher would provide that. Again, he won't come cheap, but the Tigers have money. A less pricey alternative would be
Angel Pagan
, who is also a free agent and could be a great No. 2 hitter while upgrading the outfield defense in left.
While they wait for Castellanos, I expect
Avisail Garcia
to man one corner with Berry and/or Dirks on the bench.
5. One more year of Leyland
Manager Jim Leyland's contract is up, and you have to think he wants to get a ring in Detroit. However, at 67 years old, who knows how much longer he will want to manage? I'd bring him back on a one-year deal and let him know that he can have the job as long as he wants it, but at this stage of his career I'd go year-to-year.
Even if they don't do much, the Tigers are probably AL Central favorites. And since Dombrowski will have some payroll flexibility, I could see him turning the Tigers into the dominant AL team next year.
October, 22, 2012
10/22/12
12:45
PM ET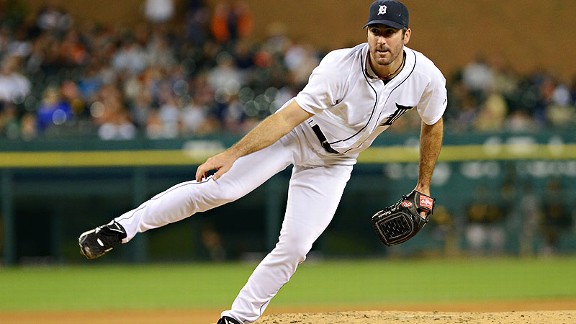 Mark Cunningham/Getty ImagesDrafting Justin Verlander in 2004 served as the bedrock move for this year's AL Central champs.
Getting to the World Series is difficult and requires not only shrewd personnel decisions but also a little luck. For the
Detroit Tigers
, their moves have culminated in back-to-back AL Central Division titles and their first appearance in the Fall Classic since 2006.

Let's take a look at the five pivotal moves made by Detroit Tigers president/general manager Dave Dombrowski and Tigers owner Mike Ilitch and their front-office staff that got the Tigers to where they are today.
A room full of Tigers scouts sighed with relief when the
San Diego Padres
selected Mission Bay (Calif.) H.S. shortstop
Matt Bush
with the first overall pick in the 2004 draft, as that allowed Detroit to take Old Dominion flamethrower Justin Verlander with No. 2 pick.
The Tigers' leadership, led by Dombrowski, had previously worked for the Marlins, and they felt they were able to accomplish the same thing when they took
Josh Beckett
with the second overall pick in 1999. To build a championship-caliber team, you have to start with an ace -- and that's exactly what the Tigers accomplished with Verlander, who is both a Cy Young Award winner and an AL MVP.
The Tigers shocked the baseball world in December 2007 when they were able to get one of the game's best bats, Cabrera, along with
Dontrelle Willis
for a package of five prospects, including overrated former first-round selections
Cameron Maybin
and
Andrew Miller
, among others. None of the five prospects is still with the Marlins, and only Maybin has made any sort of impact at the major league level. Cabrera has hit .323/.401/.579 with an average of 37 homers per year since coming to Detroit. It was one of the most lopsided trades in generations.
The game's biggest three-team trade in the last decade was orchestrated by Dombrowski, as he entertained everyone at the 2009 winter meetings in Indianapolis. By dealing the team's most popular player,
Curtis Granderson
, to the
New York Yankees
, and right-handed starter
Edwin Jackson
to the Diamondbacks, the Tigers got Coke and Jackson from the Yankees, as well as Scherzer and LHP
Daniel Schlereth
, while the Yankees got Granderson and shipped
Ian Kennedy
to the Diamondbacks.
The deal worked for all three teams and, interestingly, each club has enjoyed times when it has gotten the best of the trade. However, the real winner in this triangular transaction is the Tigers. Without this move, they're not playing in the World Series. Jackson has developed into a Gold Glove-caliber center fielder who can run it down in the gaps while providing the Tigers with a legitimate leadoff hitter. Scherzer has become arguably their second-best starter behind Verlander, and Coke became their closer this postseason; his 0.00 ERA in the ALCS shut the door on the team that traded him -- the Yankees.
Tigers manager Jim Leyland was told last offseason the team didn't have enough money to sign an additional bullpen arm that would have cost them approximately $1 million. A week later he was informed that Ilitch -- who made his money as founder of the Little Caesar's franchise -- had approved a nine-year, $214 million contract for Prince Fielder.
Of course, it was the injury to DH
Victor Martinez
that opened the door for the Fielder signing. Nonetheless, the signing sent shockwaves throughout the industry. Many teams weren't willing to give more than five years, let alone nine. Owners throughout the game bristled at the contract. Without Fielder the Tigers are not in the World Series, and Little Caesars Pizza never tasted better.
Ilitch wants to a win a World Series so bad that he was willing to pull the trigger on this magnificent power-hitting first baseman who brought leadership, production and a winning attitude from Milwaukee. Fielder helped former teammate
Ryan Braun
win the NL MVP in 2011, and this year gave the same protection to Cabrera, who won the Triple Crown. And although a lot of risk remains for the latter three years of this contract, the investment was made so Ilitch could have the best possible chance to win a World Series. And he's now just four wins away.
The Tigers made another lopsided trade just before the deadline in 2011, when they sent
Charlie Furbush
, Francisco Martinez,
Casper Wells
and
Chance Ruffin
to the
Seattle Mariners
in exchange for Doug Fister and
David Pauley
. Fister was by far the best player in the deal and gave the Tigers the No. 3 starter they so desperately needed. His nasty sinker and ability to pound the strike zone and pitch in big games has made him incredibly valuable. Fister has gone 18-11 with a 2.95 ERA since joining the Tigers, with an impressive WHIP of 1.08.
June, 29, 2012
6/29/12
10:31
AM ET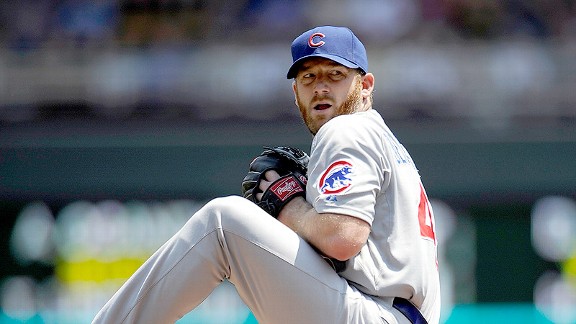 Hannah Foslien/Getty ImagesTheo Epstein and Jed Hoyer will be busy fielding inquiries for Ryan Dempster.
When
Detroit Tigers
president/general manager Dave Dombrowski acquired right-hander
Doug Fister
nearly a year ago, the trade came with mixed reviews.
When Dombrowski acquired outfielder
Delmon Young
a couple of weeks later, some thought Young's history of unfulfilled potential would come to haunt the Tigers.
Dombrowski, however, simply saw two players who could help his team get to the postseason. Fister subsequently went 8-1 with a 1.70 ERA and minuscule 0.84 WHIP the rest of the 2011 season. Young also flourished, hitting .274 with eight homers. Without both of them, it's unlikely the Tigers would reach the American League Championship Series.
Point is, a GM can't be afraid to make a decision this time of year that might be deemed unpopular. Whether you are a buyer or a seller, you need to be able to make bold deals that you think are best for your franchises, even if that might mean giving up a top prospect or trading a star as part of a rebuilding strategy.
With that in mind, here's a look at five GMs whose phone will be ringing off the hook this July and will have the most on the line.
To continue reading this article you must be an Insider
January, 25, 2012
1/25/12
11:41
AM ET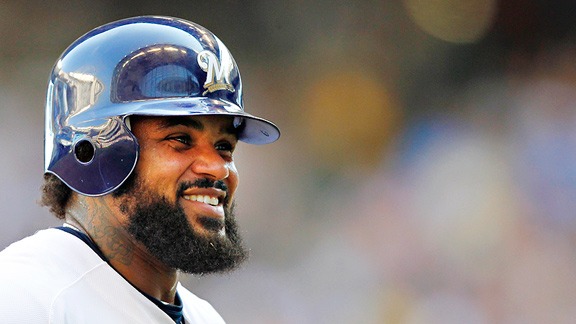 AP Photo/Jeffrey PhelpsHe's headed to the team his father played for, but Prince will leave his own footprint.
While Cecil Fielder launched home runs for the
Detroit Tigers
from 1990-96, legend has it his 12-year-old son, Prince, hit a home run into the upper deck of cavernous Tiger Stadium.
Of course, legends are embellished, and Prince's shot merely went over the fence and not into the upper deck. However, after signing a reported nine-year deal with the Tigers worth $214 million yesterday (remarkably close to
our projections
), it's time a new legend of Prince began in Detroit.
It was a deal that came together quickly, not unlike how the
Los Angeles Angels
rocked baseball's winter meetings by signing the top free-agent hitter in
Albert Pujols
and the top free-agent pitcher in
C.J. Wilson
.
It also was a deal that might never have happened were it not for
Victor Martinez
.
To continue reading this article you must be an Insider
January, 18, 2012
1/18/12
10:05
AM ET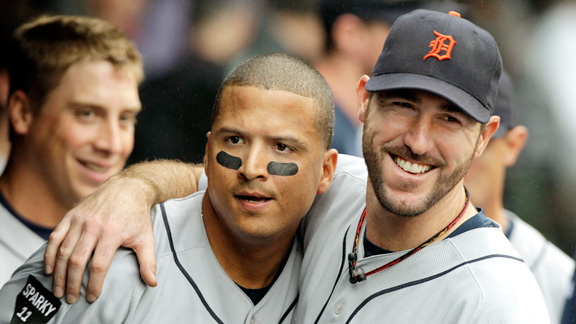 AP Photo/Mark DuncanThe Tigers will miss Martinez's bat and his affect on teammates like Justin Verlander.
After designated hitter
Victor Martinez
tore his ACL during offseason workouts
, the
Detroit Tigers
are in the market for another established hitter.
However, that doesn't mean the Tigers are going to break the bank for
Prince Fielder
. Rather, general manager Dave Dombrowski will dip into the pool of decent hitters still looking for jobs. Though the Tigers likely won't be able to completely replace the 33-year-old Martinez's production from 2011, when he hit .330 with 103 RBIs, certainly the designated hitter/part-time first baseman role is one of the easier positions to fill. And it will be equally as challenging to find a clubhouse presence such as Martinez, who excelled at keeping the team loose and happy.
Here are the top five candidates the Tigers should consider to replace Martinez:
1. Yoenis Cespedes
This would be the best option to replace Martinez. Cespedes is an all-around player who could take over left field and allow the Tigers to move
Delmon Young
back to the DH position. This would improve the Tigers defensively in left and provide the necessary protection for
Miguel Cabrera
so teams don't pitch around him while Martinez is out. Don't put too much stock in Cespedes' inauspicious debut in winter ball. He hasn't seen game action for a while, and teams remain high on him.
To continue reading this article you must be an Insider
September, 24, 2011
9/24/11
10:29
AM ET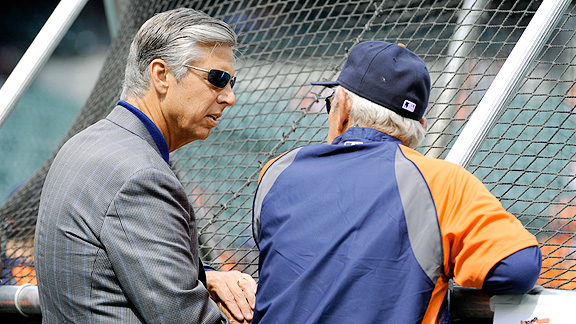 Diamond Images/Getty ImagesDave Dombrowski and Jim Leyland are looking for a second World Series championship together.
After leading the
Atlanta Braves
to 14 straight National League East Division titles, there is little debate that John Schuerholz and Bobby Cox formed one of the best, if not the best, general manager/manager teams in the last 30 years. The duo worked together from 1990 through 2007, and their 14 straight divisional titles is a feat that's never been matched in any of the major sports. The pair also won four NL pennants and a World Series championship in 1995. Both are high-class, high-character individuals, and someday both will be enshrined in baseball's Hall of Fame.
However, with both Schuerholz and Cox now enjoying retirement, the best active duo is found in the Motor City --
Detroit Tigers
GM Dave Dombrowski and manager Jim Leyland. Dombrowski and Leyland have reputations as being straight-forward and honest, earning respect throughout baseball. Likewise, they respect each other and are able to express their thoughts to one another. The Dombrowski/Leyland team has worked so well because the two do not have any major philosophical differences. That doesn't mean they agree on everything, but they also both recognize each other's responsibilities and areas of influence -- lines over which neither has ever crossed.
To continue reading this article you must be an Insider