The GM's Office:

Curtis Granderson
May, 14, 2014
5/14/14
9:22
AM ET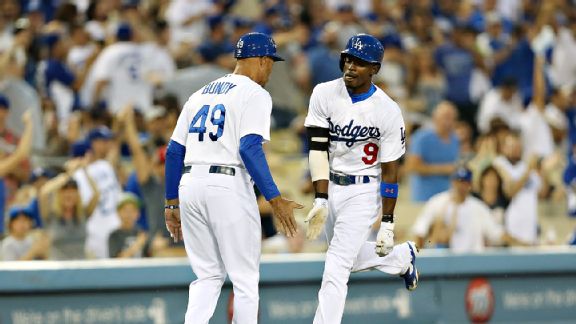 Victor Decolongon/Getty ImagesDee Gordon has transformed himself into a dynamic leadoff threat for the Dodgers.
MLB teams have now played approximately 25 percent of their regular-season games, and as much as we'd like to think you can just multiply their wins or statistics by four to see how the season will play out, we all know better.
We do have, though, a pretty good indication by now of who the contending teams are, which players are having breakout seasons and those who have begun their decline. Some players are going to get better, some are going to come back to reality and some are going to fall apart. So what should you believe and not believe after the first six weeks of the season?
Here's my look at a few players and teams off to surprisingly good (and bad) starts, and why you should buy into their performances or not.
Believe this

1. Dee Gordon | 2B | Los Angeles Dodgers
Gordon, 26, is the most improved player in baseball this season.
February, 21, 2014
2/21/14
10:30
AM ET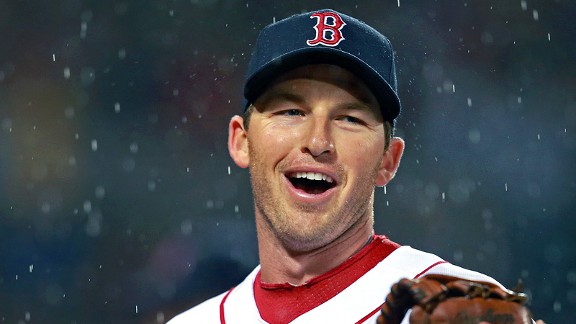 Jim Davis/The Boston Globe via Getty ImagesStill searching for a home this spring, Stephen Drew would fit perfectly with the Mets.
Over the past few years, the
New York Mets
have made great strides in improving the franchise. Under the leadership of general manager Sandy Alderson, they've had a productive offseason and are cultivating a healthy crop of young pitching in their farm system.
However, despite all the moves Alderson has made this offseason, the Mets' one glaring weakness remains at shortstop. The Mets have left no stone unturned in searching outside the organization for an upgrade at the position. Indeed, there was little available on both the free agent or trade markets -- just ask the
St. Louis Cardinals,
who had to turn to free agency, finally overpaying shortstop
Jhonny Peralta
with a four-year deal worth $53 million.
That said, one player who matches up perfectly with the Mets' needs is free agent
Stephen Drew
. Unlike Peralta, Drew received a qualifying offer, which has crushed the demand for his services because he will cost the team that signs him a draft pick.
However, circumstances have aligned perfectly for the Mets, who should step up and sign Drew, offering a contract in the neighborhood of two years at $22 million (with no limited no-trade clause or opt-out clause). Alderson and Drew's agent, Scott Boras, should put their egos aside and get this deal done. Let's take a look at why.
Drew versus Tejada
Right now, the Mets' starting shortstop (by default) is light-hitting
Ruben Tejada
. At the plate, he's done little to prove he's the Mets' long-term solution, and his numbers bear that out, posting a weak 2013 slash line of .202/.259/.260.
Conversely, Drew finally is completely healthy and as such, his projected production is in.265/.330/.440 range, with 12-15 homers.
To continue reading this article you must be an Insider
January, 10, 2014
1/10/14
11:45
AM ET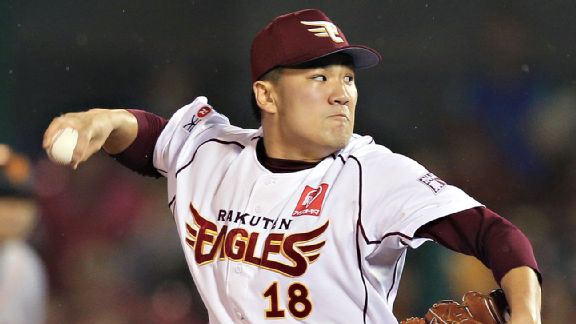 AFP/Getty ImagesCan Masahiro Tanaka put the Yankees into playoff contention? We asked some GMs.
Being a former general manager, I know full well what this period in the offseason is like. There's a lot of waiting and posturing by players, teams and agents. And everyone is sizing up exactly what the competition has done or still needs to do.
So I thought it would be interesting to ask some current general managers what they thought of some of the offseason moves thus far, and what other things they think still need to be done. Here's what they had to say, as well as my take on each issue. (The GMs have been granted anonymity so they can be a bit more candid.)
1. Which available free agent immediately puts his team into playoff contention?
AL GM:
"Masahiro Tanaka I think would make us instant playoff contenders.
To continue reading this article you must be an Insider
November, 27, 2013
11/27/13
9:30
AM ET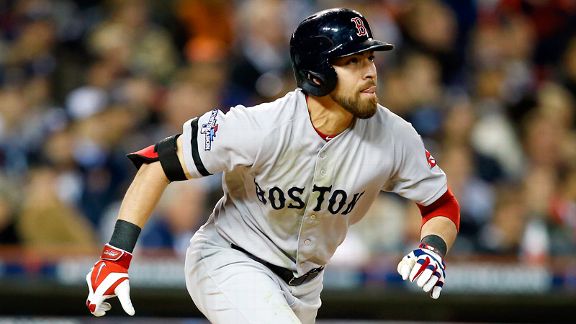 Rick Osentoski/USA TODAY SportsWhere Jacoby Ellsbury lands might determine where other free agent outfielders end up.
Perhaps the most intriguing aspect of the free-agent class is the outfielders, because the future of each player is somewhat dependent on the others. While
Jacoby Ellsbury
seems to be the top outfielder available, signing any of them is liable to force teams to make successive moves.
Beyond waiting to see which team will pony up the dollars for Ellsbury, there are a number of intriguing subplots developing.
For starters, two rebuilding clubs, the
Seattle Mariners
and
New York Mets
, are playing the market but quickly discovering they will have to overpay a big-name outfielder, just as the
Washington Nationals
had to do with
Jayson Werth
in 2011.
The other complicating factor with this is that agent Scott Boras is holding the cards on the top two free-agent outfielders in Ellsbury and
Shin-Soo Choo
, and he doesn't seem to be in a hurry. That could delay
Carlos Beltran
and
Curtis Granderson
from finding homes because they might wait to see where Ellsbury and Choo sign.
Further, the Dodgers have also thrown a wrench into the outfield market because they've told teams they'll at least listen to offers on
Matt Kemp
,
Andre Ethier
and
Carl Crawford
. The Dodgers would love to get out from under some of the financial exposure of their outfielders. As Dodgers general manager Ned Colletti told me, he wants his outfield to get younger, and with top prospect Joc Pederson possibly ready for the majors in August, the Dodgers can afford to trade one outfielder. Most clubs are trying to pry away Kemp, but he's really the only legitimate center fielder the Dodgers have, so they're more likely to deal Ethier.
So where are all these guys going? I've been talking with a lot of executives and agents over the past week, and based on those conversations, here is my best estimate of where these free-agent outfielders will land:
To continue reading this article you must be an Insider
November, 19, 2013
11/19/13
10:45
AM ET
May, 24, 2013
5/24/13
9:44
AM ET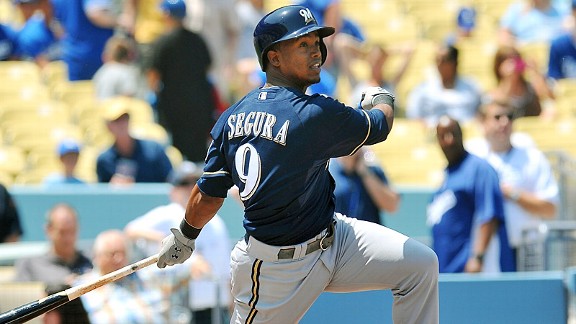 Gary A. Vasquez/USA TODAY SportsJean Segura has made believers out of those who scoffed after the Brewers traded for him.
Sparky Anderson once told me he didn't believe in anything he saw on the field until June 1. Only after two months of baseball could he have confidence a player or team's performance was legitimate.
With June just around the corner, there are several teams and players who I believe and don't believe in. Last week I wrote about how the
Seattle Mariners
have what it takes
to contend all season. Then Monday I wrote about how the
Cleveland Indians
can't even be considered
as a wild-card contender unless they acquire more pitching help. In that same vein, here are five other performances I think will either hold up for the rest of the season or won't.
To continue reading this article you must be an Insider
March, 30, 2013
3/30/13
9:24
AM ET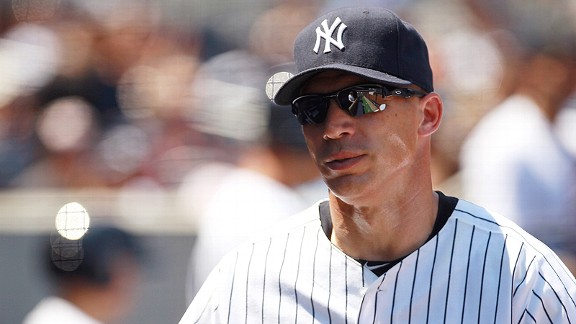 Mike Stobe/Getty ImagesIs Yankees skipper Joe Girardi staring at a last-place finish in 2013?
With Friday's news of right-hander
Justin Verlander
and the
Detroit Tigers
agreeing to a record-setting contract, the drama of whether baseball's best pitcher would see free agency in two years came to an end.
Some could say it was predictable in a sense. After all, the Tigers would look extremely foolhardy to allow Verlander to walk via free agency after his current contract expires after 2014. Saying Verlander was going to sign an extension at some point isn't going out very far on that proverbial limb. It's just not a
bold prediction
.
So, what craziness could happen in 2013? With Opening Day just around the corner, here are my 10 bold predictions for the 2013 baseball season:
1. New York Yankees finish last in AL East.

It hasn't happened in 22 years, since the Yankees finished 67-95 and seven games in back of the
Milwaukee Brewers
, but the Yankees could very easily go from first in 2012 to worst in 2013. And, with the American League's largest payroll, there is additional pressure to win in addition to their own high standards of success.
To continue reading this article you must be an Insider
October, 22, 2012
10/22/12
12:45
PM ET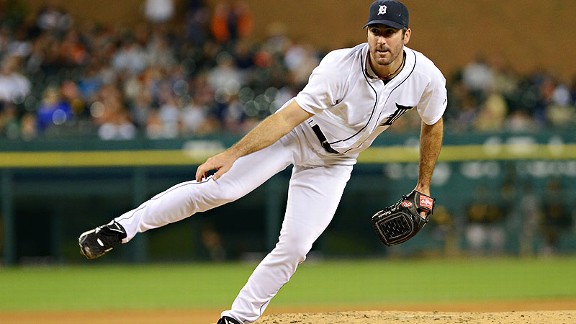 Mark Cunningham/Getty ImagesDrafting Justin Verlander in 2004 served as the bedrock move for this year's AL Central champs.
Getting to the World Series is difficult and requires not only shrewd personnel decisions but also a little luck. For the
Detroit Tigers
, their moves have culminated in back-to-back AL Central Division titles and their first appearance in the Fall Classic since 2006.

Let's take a look at the five pivotal moves made by Detroit Tigers president/general manager Dave Dombrowski and Tigers owner Mike Ilitch and their front-office staff that got the Tigers to where they are today.
A room full of Tigers scouts sighed with relief when the
San Diego Padres
selected Mission Bay (Calif.) H.S. shortstop
Matt Bush
with the first overall pick in the 2004 draft, as that allowed Detroit to take Old Dominion flamethrower Justin Verlander with No. 2 pick.
The Tigers' leadership, led by Dombrowski, had previously worked for the Marlins, and they felt they were able to accomplish the same thing when they took
Josh Beckett
with the second overall pick in 1999. To build a championship-caliber team, you have to start with an ace -- and that's exactly what the Tigers accomplished with Verlander, who is both a Cy Young Award winner and an AL MVP.
The Tigers shocked the baseball world in December 2007 when they were able to get one of the game's best bats, Cabrera, along with
Dontrelle Willis
for a package of five prospects, including overrated former first-round selections
Cameron Maybin
and
Andrew Miller
, among others. None of the five prospects is still with the Marlins, and only Maybin has made any sort of impact at the major league level. Cabrera has hit .323/.401/.579 with an average of 37 homers per year since coming to Detroit. It was one of the most lopsided trades in generations.
The game's biggest three-team trade in the last decade was orchestrated by Dombrowski, as he entertained everyone at the 2009 winter meetings in Indianapolis. By dealing the team's most popular player,
Curtis Granderson
, to the
New York Yankees
, and right-handed starter
Edwin Jackson
to the Diamondbacks, the Tigers got Coke and Jackson from the Yankees, as well as Scherzer and LHP
Daniel Schlereth
, while the Yankees got Granderson and shipped
Ian Kennedy
to the Diamondbacks.
The deal worked for all three teams and, interestingly, each club has enjoyed times when it has gotten the best of the trade. However, the real winner in this triangular transaction is the Tigers. Without this move, they're not playing in the World Series. Jackson has developed into a Gold Glove-caliber center fielder who can run it down in the gaps while providing the Tigers with a legitimate leadoff hitter. Scherzer has become arguably their second-best starter behind Verlander, and Coke became their closer this postseason; his 0.00 ERA in the ALCS shut the door on the team that traded him -- the Yankees.
Tigers manager Jim Leyland was told last offseason the team didn't have enough money to sign an additional bullpen arm that would have cost them approximately $1 million. A week later he was informed that Ilitch -- who made his money as founder of the Little Caesar's franchise -- had approved a nine-year, $214 million contract for Prince Fielder.
Of course, it was the injury to DH
Victor Martinez
that opened the door for the Fielder signing. Nonetheless, the signing sent shockwaves throughout the industry. Many teams weren't willing to give more than five years, let alone nine. Owners throughout the game bristled at the contract. Without Fielder the Tigers are not in the World Series, and Little Caesars Pizza never tasted better.
Ilitch wants to a win a World Series so bad that he was willing to pull the trigger on this magnificent power-hitting first baseman who brought leadership, production and a winning attitude from Milwaukee. Fielder helped former teammate
Ryan Braun
win the NL MVP in 2011, and this year gave the same protection to Cabrera, who won the Triple Crown. And although a lot of risk remains for the latter three years of this contract, the investment was made so Ilitch could have the best possible chance to win a World Series. And he's now just four wins away.
The Tigers made another lopsided trade just before the deadline in 2011, when they sent
Charlie Furbush
, Francisco Martinez,
Casper Wells
and
Chance Ruffin
to the
Seattle Mariners
in exchange for Doug Fister and
David Pauley
. Fister was by far the best player in the deal and gave the Tigers the No. 3 starter they so desperately needed. His nasty sinker and ability to pound the strike zone and pitch in big games has made him incredibly valuable. Fister has gone 18-11 with a 2.95 ERA since joining the Tigers, with an impressive WHIP of 1.08.
September, 13, 2011
9/13/11
10:22
AM ET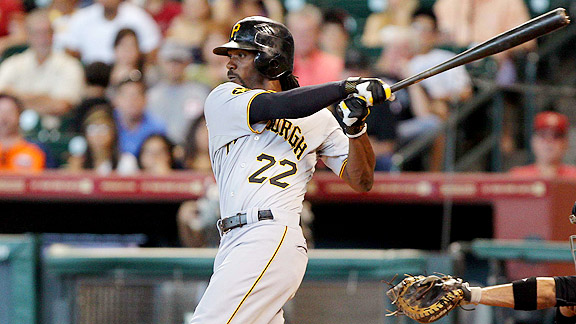 Troy Taormina/US PresswireIt might be best for Andrew McCutchen and the Pirates to wait before inking a long-term contract.
It's been reported throughout the year that the
Pittsburgh Pirates
would like to sign
Andrew McCutchen
to a long-term deal of five or six years that would buy out his arbitration years, as well as a year or two of potential free agency. McCutchen and his agent have engaged in these talks, but from what I'm hearing both sides continue to be far apart.
Negotiations like these can be tricky because McCutchen won't hit the open market until after the 2015 season, and -- unlike with a free agent -- there is no need to strike a deal. The Pirates have their highest leverage this year because McCutchen is not yet eligible for arbitration. Based on the rules of the collective bargaining agreement, he will get a slight raise from the $452,500 he is earning this year. The leverage shifts to McCutchen next offseason if he continues to stay healthy and his production continues to rise. That's because he could be in line for a huge raise via arbitration. The
Colorado Rockies
waited a year too long to extend
Carlos Gonzalez
and it ended up costing them a seven-year, $80 million deal. The
Los Angeles Dodgers
will pay a price this winter or next for not having
Matt Kemp
locked up long-term when they had a chance last offseason.
To continue reading this article you must be an Insider