The GM's Office:

Colby Rasmus
December, 20, 2013
12/20/13
10:45
AM ET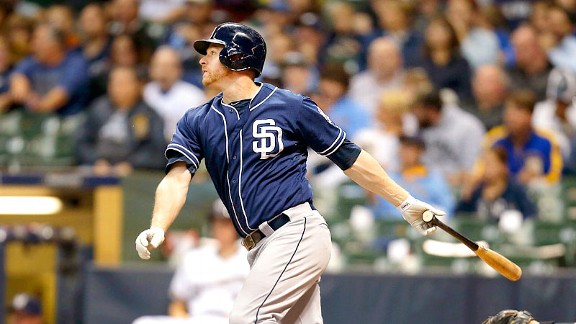 Mike McGinnis/Getty ImageThe tough competition in the NL West should force the Padres to trade Chase Headley.
Next year's free-agent class is top-heavy, and features three of baseball's best starting pitchers in
Clayton Kershaw
,
Max Scherzer
and
Jon Lester
. While seen some big-name players traded a year before free agency, that won't happen with any of these guys because their teams have a shot at the World Series and they all play for big-market clubs that can afford to re-sign them.
In fact, don't be surprised if these guys get contract extensions before hitting the market next winter, with Kershaw being the most likely of the three to get a new deal.
However, there are five players who will be eligible for free agency next fall who probably should have already been traded since they haven't been locked up to multiyear deals. Some of these players are on contending teams, but none of which are large markets and really can't afford to let them walk as a free agent and receive only a draft pick as compensation.
Here is the breakdown of the five players I think should be traded by Opening Day if they are not given a contract extension.
1. Chase Headley, 3B | San Diego Padres

Headley, 29, had 31 doubles and 31 homers in 2012 and finished in the top five in NL MVP voting. His power numbers were down this year (.400 slugging), but he still plays a position where there is a lot more demand than supply and could fetch a lot in a trade.
The Angels, Dodgers, Marlins and Yankees all started the offseason with needs at third base and could have matched up well in a deal for the Padres, though the Angels and Dodgers have patched that hole for at least the next couple of years with
David Freese
and
Juan Uribe
, respectively.
February, 22, 2012
2/22/12
10:35
AM ET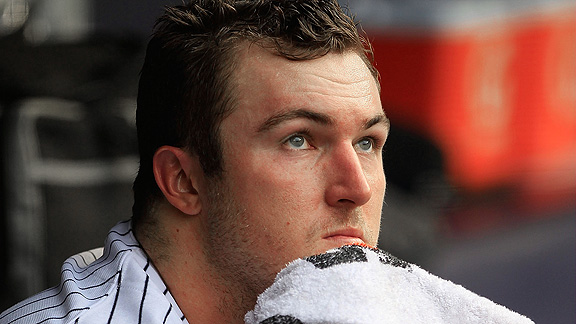 Chris Trotman/Getty ImagesThe Yankees and their fans are hoping Phil Hughes can regain his 18-win form from 2010.
Heading into spring training, every general manager has a list of questions that he wants answered. Whether that's seeing if a player has rebounded from surgery or if an aging veteran has any gas left in the tank. It might be a position battle that needs resolving or which youngster might step up and make the team. Here's a look at all 30 teams and what remains the biggest question for each. We'll start with the American League.
American League

Baltimore Orioles
This team has plenty of questions, including whether any of its young players will develop any further. But after trading pitcher Jeremy Guthrie, the rotation is nothing but question marks. What will it look like come Opening Day? If guys like Brian Matusz can't figure it out, this could easily be a 100-loss team.


Boston Red Sox
Although there are questions regarding the back end of the starting rotation and bullpen, right field and the health of Carl Crawford, the most pressing concern is shortstop. Can rookie Jose Iglesias hit enough to win the starting job?
To continue reading this article you must be an Insider
February, 21, 2012
2/21/12
10:50
AM ET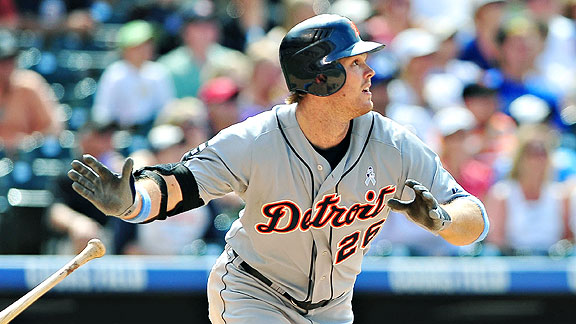 Andrew B. Fielding/US PresswireWith an injury-free season, Boesch could put up some good numbers in 2012.
Armed with sunscreen, sunglasses and a long list of prospects and players to watch, I'm all ready for spring training. For sure, 2012 will be an interesting year after such an exciting offseason. Though there will be many players who could excel, here are seven who I think are poised to really open some eyes this year and take their game to new heights. All of them have the talent, maturity and ability to make a name for themselves in 2012 and be pleasant surprises for their respective major league clubs. I'll be watching them all very closely this spring.

1. Brennan Boesch, RF
Boesch is poised for a breakout year after two solid seasons at the plate for the Tigers. Last year, Boesch hit .283/.341/.458 with 25 doubles, 16 home runs and 54 RBIs. He's projected to hit second in the Tigers' lineup, ahead of Miguel Cabrera and Prince Fielder. That should mean a steady diet of fastballs and pitches to hit. As the 26-year-old learns to become more disciplined at the plate and waits for the one pitch he can drive, don't be surprised if he hits 25-30 home runs. The raw power has always been there, it's just his inconsistency and occasional long swing that has kept him from more sweet-spot contact and more usable power. His defense is improving, and he's adequate in right field.

To continue reading this article you must be an Insider
December, 29, 2011
12/29/11
10:00
AM ET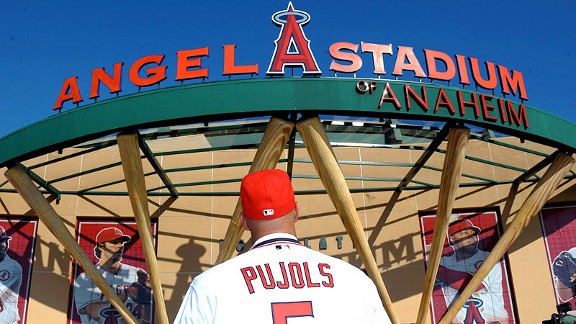 Kirby Lee/US PresswireIn 2011, Pujols found greener pastures in a land bathed in Angels red, not Cardinals.
Albert Pujols' name already is often mentioned among a trio of baseball legends – Babe Ruth, Hank Aaron and
Barry Bonds
. His prodigious career thus far has earned him that nod of respect, as well as a mammoth 10-year, $254 million contract in December from the
Los Angeles Angels
, which is justifiably the 2011 Transaction of the Year.
The speed with which the deal was completed, as well as the sheer financial numbers turned baseball's annual winter meetings on its head. But there also was symmetry; Pujols left the only team he's ever known, similar to Ruth, Aaron and Bonds. And as the sport's best active player his departure was made all the more curious by St. Louis' zeal to sign teammate
Matt Holliday
to an extension rather than Pujols. Despite his accolades and production Pujols never felt he got a full market value offer from the Cardinals. Likewise, the
Pittsburgh Pirates
knew Bonds would leave after the 1992 season, seemingly too expensive to re-sign.
To many, the historical significance of his deal was on par with Boston's selling of Ruth's contract to the
New York Yankees
in 1919, if not equal to Bonds leaving for San Francisco or an aging Aaron traded from Atlanta. Indeed, there's little doubt Pujols eventually will rank among that trio of home run hitters, so perhaps it was a move destined to happen.
---
Honorable mention:
1. Colby Rasmus traded to the Toronto Blue Jays
In a complex, three-team trade that involved 11 players, the Cardinals netted several players who were integral to their World Series championship run. On July 27, they sent former No. 1 pick Rasmus to Toronto, which had coveted the 24-year-old Rasmus for some time. Knowing that the departures of Pujols and manager Tony La Russa were distinct possibilities after the season, trading a talent like Rasmus was worth the risk to try and win now. Without role players such as
Edwin Jackson
,
Octavio Dotel
, Mark Rzepczynski, the Cardinals' run might never have reached the heights that it eventually would.
2. Doug Fister traded to the Detroit Tigers
Tigers President/CEO and general manager Dave Dombrowski's main intent in acquiring right-hander Doug Fister on July 30 from the
Seattle Mariners
was to improve his team's fifth starter. Production from that slot in the first half of the season had proven disastrous. In Fister, however, they got a No. 3 starter. With Fister's off-balance approach, the Tigers said good bye to the rest of the American League Central and said hello to the playoffs. Like the Cardinals, it is likely their postseason run would never have started without this trade.
3. Hunter Pence traded to the Philadelphia Phillies
The
Houston Astros
were selling, and the Phillies needed another right-handed bat. Pence had always been an above-average player, but after he arrived in Philadelphia on July 30, he completely changed the offense and became one of the team's best players. Even more significant was the fact the Phillies did not surrender either No. 1 prospect
Domonic Brown
or emerging right-handed starter
Vance Worley
. Instead, the Phillies gave up a decent package including pitcher Jarred Cosart and first baseman Jonathan Singleton.
December, 20, 2011
12/20/11
1:40
AM ET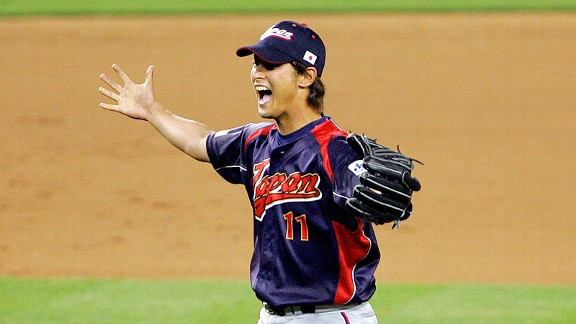 Gary A. Vasquez/US PresswireYu should be happy: Darvish potentially will cost $125 million.
Move over
Los Angeles Angels
and Miami Marlins; it looks like the
Texas Rangers
have a blockbuster move of their own.
Major League Baseball announced late Monday night the winning bid accepted by the Hokkaido Nippon-Ham Fighters was for $51.7 million from the Texas Rangers.
The Rangers now have 30 days to sign Darvish, and all indications are that it will be a relatively easy negotiation since most clubs knew what the framework would be for a deal prior to submitting their bids. The deal is expected to be five or six years with annual salaries in the range of $12-15 million, close to what former Rangers pitcher
C.J. Wilson
got from the Angels earlier this month.
This type of signing is the highest possible risk with the highest possible reward. Frankly, it's the type of move that can make or break a general manager's career. Between the posting fee and Darvish's contract, the Rangers will be committing between approximately $120 million and $150 million for a pitcher who has never pitched to a single batter in the majors. It's a gamble from which most people would walk away. Therefore, you have to give credit to Texas Rangers general manager Jon Daniels for having the conviction to land a potential ace in order to keep up with their AL West rival Angels.
To continue reading this article you must be an Insider