The GM's Office:

Chris Perez
December, 31, 2013
12/31/13
8:00
AM ET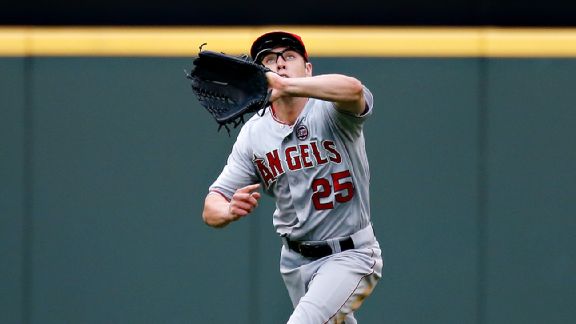 Otto Greule Jr/Getty ImagesPeter Bourjos is a much better defender than Jon Jay, St. Louis' incumbent center fielder.
While most of the discussion this winter has focused on the big-money deals given to the likes of
Robinson Cano
and
Jacoby Ellsbury
, there have been plenty of smaller moves that will shift pennant races in 2014.
Here are seven moves that I think have been the most underrated of the offseason.

1. St. Louis Cardinals trade for CF Peter Bourjos
The Cardinals were in obvious need of a defensive upgrade in center field and Bourjos is among the best defensive outfielders in the game. He's so good, in fact, that his former manager, Mike Scioscia, often played him in center field instead of
Mike Trout
. Bourjos has tremendous range in the gaps and there is not a ball he can't outrun.
To get Bourjos, the Cardinals gave up third baseman
David Freese
and reliever
Fernando Salas
, while also getting outfield prospect
Randal Grichuk
from Los Angeles.
June, 19, 2013
6/19/13
12:40
PM ET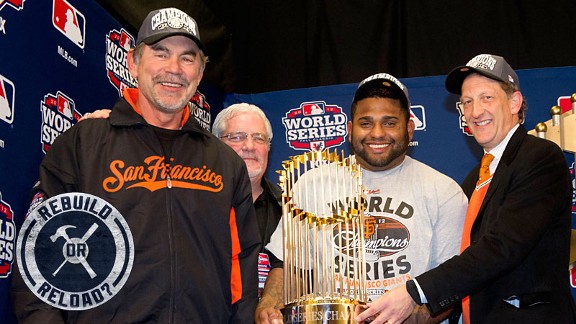 Ron Vesely/MLB Photos/Getty ImagesIf the Giants want to win their third title in four years they must make some moves.
With the addition of an extra wild-card team, it's becoming increasingly difficult for GMs to decide whether their team is a contender, so I've decided to do it for them.
Over the next two days I will be looking at six teams on the edge of contention, and explain whether they should reload for 2013 or take a long-term view and eschew 2013 contention in favor of rebuilding.
The following three teams are in "reload" mode because they all possess a strong enough core of players that will allow them to compete this year if they add a couple of complementary parts. For each club I have outlined their trade deadline strategy, trade chips and targets, as well as their dream deal.
To continue reading this article you must be an Insider
November, 30, 2012
11/30/12
11:50
AM ET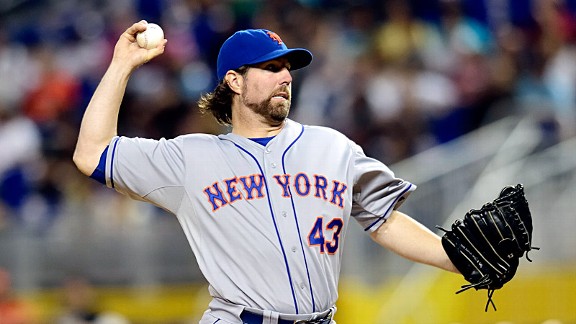 Steve Mitchell/US PresswireJim Bowden thinks the New York Mets will end up trading R.A. Dickey at the winter meetings.
Despite my being a veteran of countless winter meetings, baseball's annual gathering still manages to surprise me. Whether it's a blockbuster trade or an out-of-the-blue free-agent signing, the winter meetings always provide a handful of happenings.
However, experience does offer me a little insight into what could happen. Last year, we saw the
Los Angeles Angels
reel in
Albert Pujols
and
C.J. Wilson
, and the
Miami Marlins
signed
Mark Buehrle
,
Jose Reyes
and
Heath Bell
. And, well, we know how that turned out. So here are my five bold predictions for the winter meetings:

1. The New York Mets will trade R.A. Dickey
With the Mets extending third baseman
David Wright
for
eight years for about $138 million
, I expect them to then turn around and trade right-hander R.A. Dickey to the
Kansas City Royals
or the
Los Angeles Dodgers
or Angels for two good prospects. Wright is the face of their franchise, their version of
Chipper Jones
or
Derek Jeter
, and it was essential they get him locked up. With the Tampa Bay Rays' extension of
Evan Longoria
this past month and the Washington Nationals'
Ryan Zimmerman
sewn up, as well, this was a relatively simple negotiation for general manager Sandy Alderson. In regards to Dickey, it's more about selling high on an overachieving pitcher and being realistic on when the Mets will be ready to contend. Although the public thinks it could be sooner, realistically, the Mets won't be contending until at least 2015.

2. The Cleveland Indians will make more trades than any other team
The Indians are waiting for the top free agents to sign. Once that happens, teams that lose out will be calling them to make deals. The Indians have the highest-quality tradable players currently on the market. Right fielder
Shin-Soo Choo
is one of the most underrated right fielders in baseball. He's a complete player and is about to enter his free-agent walk year. He is represented by Scott Boras, which means it's unlikely he'll sign a contract extension before testing the open market. Therefore, once
Josh Hamilton
,
Cody Ross
and
Nick Swisher
have inked deals, the clubs that missed out will attempt to trade for Choo.
Several teams are pursuing shortstop
Asdrubal Cabrera
, including the
Arizona Diamondbacks
,
Detroit Tigers
and
Oakland Athletics
. If anyone of those teams puts together the right package of young starting pitching, it might be able to pry him loose. Closer
Chris Perez
is well respected throughout the game as a straight shooter who speaks his mind without filter, which is fine unless you're always bashing the ownership, the front office and the fans. His trade value is at an all-time high, and now is the best time to get the best return. With starting pitching always at a premium, the Tribe also will listen to offers for
Justin Masterson
and
Ubaldo Jimenez
. The bottom line is the Indians will be an interesting team to watch in Nashville.

3. The Miami Marlins will sign a free agent and give him a full-no trade clause
The Marlins' trades of Buehrle, Reyes and Bell this offseason have left agents with such a bad taste in their mouths that many of them are saying they won't even talk to the Marlins on behalf of their clients. Interestingly, a year ago, the Marlins all but had
Albert Pujols
signed, but their refusal to include a no-trade clause allowed him to make the right choice and sign with the Angels. If he had signed with the Marlins, he probably would be with the
Toronto Blue Jays
today. The Marlins are under scrutiny from the commissioner's office and the players' association to spend rather than pocketing what look to be significant revenue-sharing gains the next few years. The Marlins need to step up and surprise baseball by adding a significant free agent and will have no choice this time but to change their policy and give a full no-trade clause so players they sign won't have to worry about being dealt in a year.

4. The Royals will finally trade for an elite starter, and fans will rebel
Royals general manager Dayton Moore is in a Catch-22 situation. Royals fans have been begging for the team to trade for a top-of-the-rotation starter instead of their continued plan of back-of-the-rotation innings eaters such as
Jeremy Guthrie
,
Bruce Chen
,
Ervin Santana
and
Luke Hochevar
. But it will cost Moore one of the young, talented position players he has. Moore definitely feels the pressure and is doing everything possible to make such a trade this coming week in Nashville. Even though I think the best move would be to sign a free agent such as
Kyle Lohse
or
Anibal Sanchez
and keep his position players intact, I predict that the Royals are going to trade Wil Myers,
Alex Gordon
or
Eric Hosmer
to get their top-of-rotation young starter. If and when they do this, Royals fans will show their disapproval. Damned if you do, damned if you don't.

5. The Texas Rangers will re-sign Josh Hamilton to a four-year contract
Some believe Hamilton and Rangers definitely will part ways, but I'm making the bold prediction that he'll stay. Despite all the reports that the Rangers won't go more than three years on a deal for Hamilton, I fully expect them to give him a fourth year with a club option for a fifth at an average annual value of approximately $23 million. There has been interest in Hamilton from several teams, including the Red Sox,
Philadelphia Phillies
,
Milwaukee Brewers
,
Seattle Mariners
, and
Baltimore Orioles
.
His family lives in the Dallas/Fort Worth area and plans to stay there regardless. Having been to two World Series in the past three years, Hamilton and the Rangers have unfinished business of bringing a world championship to Rangers fans, and both parties know the best way to accomplish that is for them to try again together rather than apart.
May, 10, 2011
5/10/11
1:01
PM ET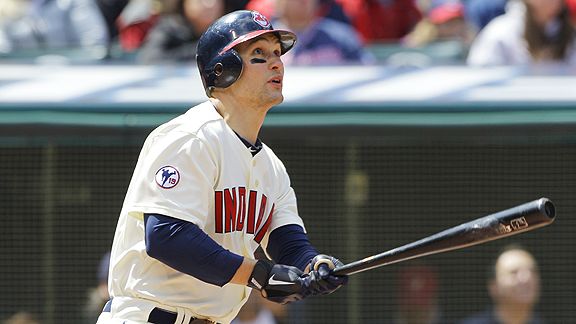 AP Photo/Mark DuncanGrady Sizemore's return has provided a big boost -- offensively and defensively.
The
Cleveland Indians
were quiet this past offseason. No sexy free-agent signings, no wheeling and dealing. When I arrived to Indians camp in spring training, I spent considerable time with rookie GM Chris Antonetti and second-year manager Manny Acta. Both were convinced that if everything went as planned the Indians could contend as early as this season -- even though this was a team that hadn't had a winning record since 2007 and had lost 93 games in 2010 and 97 in 2009. Contending? Really? How?
Antonetti, one of the youngest and brightest GMs in baseball, broke it down this way for me on that hot Arizona March day: "To contend we need the following to happen: (1) We need our key players to get healthy, specifically
Grady Sizemore
,
Carlos Santana
,
Asdrubal Cabrera
and
Travis Hafner
; (2) We need our other young players on the roster to continue their development with meaningful contributions on the field. This list of players includes
Justin Masterson
,
Carlos Carrasco
,
Josh Tomlin
,
Chris Perez
,
Michael Brantley
,
Matt LaPorta
and our young bullpen arms; (3) We need our veterans to contribute and provide leadership on the field and in the clubhouse, including
Orlando Cabrera
, Sizemore and Hafner."
Check, check and check, Mr. Antonetti.
This Indians team is not only contending but has the best record in the American League. Are they for real? Yes, they're for real. I'm not saying they're going to win the division, but what I am saying is that if they stay healthy, this team will contend into September and should win more games than they lose. The main reason this team is for real is the pitching and defense. The starting pitching is solid, the bullpen underrated and the infield defense is the best the Indians have seen since
Jim Thome
,
Roberto Alomar
,
Omar Vizquel
and
Travis Fryman
played together.
[+] Enlarge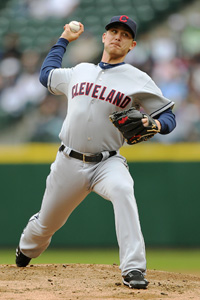 Otto Greule Jr/Getty ImagesJosh Tomlin is 4-1 with a 2.43 ERA and a 0.81 WHIP through six starts this season.
The starting rotation is led by
Fausto Carmona
, who won 13 games last year and is capable of winning 13-16 again this season. Masterson, one of the pitchers acquired in the
Victor Martinez
trade with Boston, is emerging as a solid No. 2 behind Carmona. Masterson has great size and stuff. His four-seam fastball goes up to 97 mph while the two-seamer sits between 89-94. He mixes in a slider and change from a deceptive lower arm angle and has great downward bite. His command in the lower part of the strike zone has improved due to the fact he solidified his delivery. Most importantly, Masterson continues to develop the understanding of how to best utilize his stuff to attack left-handed hitters, a weakness throughout his career. Masterson has quickly become one of the better pitchers in the league, starting 5-0 with a 2.11 ERA.
Carrasco just spent time on the DL for the first time in his career, but the Indians are not concerned as he is set to return to the rotation this week. In my discussions with
Shin-Soo Choo
, Santana and Acta, they raved about Carrasco's potential. They think he'll develop into a 15-game winner. That brings us to Josh Tomlin, who wins everywhere he goes. His minor league career record is 54-21 and his major league career record is 10-5, including 4-1 this year. Here is Antonetti's scouting report on Tomlin that he gave me this week: "Great competitor. Won't beat himself. Pounds the zone. Good four-pitch mix. Understands how to pitch and get hitters out." No argument from me. He might not chalk up a lot of strikeouts each night, but he'll get the groundballs and get the outs to win games.
That brings us to the infield defense. When you have a rotation that pounds the lower part of the strike zone, but doesn't always miss bats, then you better catch the ball in the infield with range. This infield catches the ball with range.
Jack Hannahan
, the journeyman infielder, has done a tremendous job defensively at third base, catching everything with soft hands and an accurate arm. Asdrubal Cabrera is quickly becoming one of the best all-around shortstops in the American league, a very good offensive and defensive shortstop with power, quick hands and feet and a strong arm from the hole. He also has great baseball instincts. He exchanges the ball from glove to release as quickly as anyone. Orlando Cabrera was the one major free-agent signed by Antonetti this offseason and here's his assessment of Cabrera: "He has made an impact both on the field and in the clubhouse. He has great baseball intelligence and understands what it takes to win." In fact, it seems wherever Cabrera goes his teams win (see: Reds, Twins, Red Sox).
Behind the plate Santana has helped lead the Indians' staff to the third-best ERA in the AL. He has well above-average arm strength and eventually will be able to stop the running game when he gets more experience. He's off to a slow start with the bat, but he can hit and hit with power from both sides of the plate. He's a legit future All-Star.
The outfield defense matches the infield defense. Choo is one of the best right fielders in baseball. He gets great jumps, angles on balls and has a strong arm. He can also hit and hit with power. Sizemore is back diving for baseballs and Brantley covers everything in left field like a center fielder. Not a lot of balls are going to be falling in the the gaps at Progressive Field this summer.
The Indians' starting pitchers are pitching deep into games, their offense has put up quality at-bats and has manufactured runs in a variety of ways, thanks to the shrewd managing of Acta, and the bullpen has done a great job of closing games when they get leads as closer Chris Perez has saved 10 of 11 opportunities while
Tony Sipp
,
Vinnie Pestano
and
Rafael Perez
all have ERAs under 2 setting him up.
To continue reading this article you must be an Insider