The GM's Office:

Chris Antonetti
May, 22, 2013
5/22/13
10:25
AM ET
What a difference one offseason can make.
On May 22, 2012, the
Cleveland Indians
found themselves atop the American League Central, sporting a surprising 23-18 record. Today, the Indians again sit in first place with an equally surprising 26-18 record.
But the Indians are a completely different team in 2013.
They've been the best story in the AL this season. Outside of the
New York Yankees
' cast of reclamation projects, the Indians arguably have been the most fun team to watch in the league. New manager Terry Francona has injected the franchise with his positive energy and motivational skills. His championship-winning background earned him instant respect and credibility, from the players all the way to the front office. Teaming with general manager Chris Antonetti and president Mark Shapiro, the trio did a good job of addressing most of the team's needs.
So it is nearly June, and the Indians lead the division favorite
Detroit Tigers
by a game and a half. Indians fans should enjoy it while they can. Despite the team being significantly better than last season's squad, it simply does not have enough starting pitching to keep pace with the Tigers in the AL Central. And without some extra pitching help, the Indians can't even be considered a legitimate wild-card contender.
January, 14, 2013
1/14/13
11:35
AM ET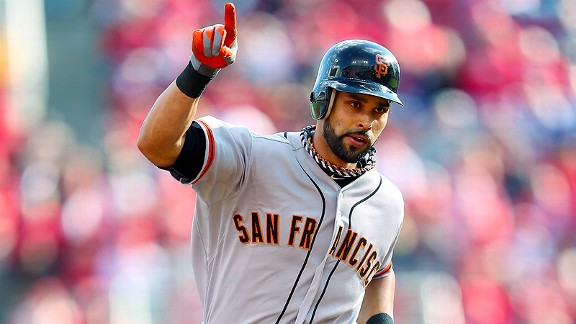 Andy Lyons/Getty ImagesAngel Pagan has never shown the consistency to warrant the contract he earned this offseason.
Recall the saying "it seemed like a good idea at the time" and you'll be able to apply it to a number of baseball's 30 teams. Indeed, most general managers would love to call a mulligan or two during their careers. As such, the following five players are, in my opinion, the most likely to end up as someone's mulligan. Their contracts are simply more than they are worth, whether it be dollars or number of years, and thus could very easily backfire on the general manager.
---
Contract:
Four years, $40 million |
AAV:
$10 million

Giants senior vice president/general manager Brian Sabean is one of the best in the business, with two world championships in the past three years. That doesn't mean he doesn't make his fair share of mistakes on long-term contracts, such as
Barry Zito
's seven-year, $126 million deal or
Aaron Rowand
's five-year, $60 million albatross. Sabean's history also includes being loyal to players (read: overpaying) who helped him win rings. After winning the World Series in 2010, he overpaid
Aubrey Huff
by re-signing him to a two-year, $20 million deal.
To continue reading this article you must be an Insider
January, 8, 2013
1/08/13
2:06
PM ET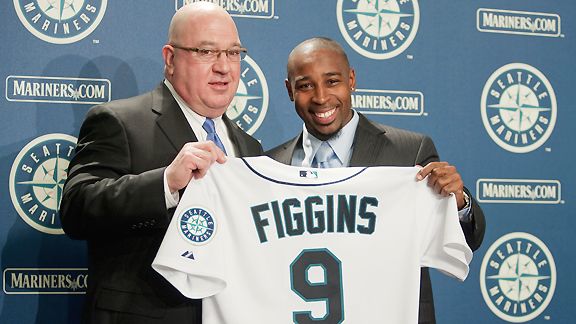 Ben VanHouten/MLB Photos/Getty ImagesSigning Chone Figgins wasn't one of Mariners GM Jack Zduriencik's better moves.
For the most part, major league general managers have enjoyed relative stability and continuity over the last few seasons. However, with so much turnover in managerial positions the last couple of years, there's the likelihood that some general managers will lose their jobs soon, especially those who already have gone through multiple managers during their tenure.
Sure, the following general managers could prosper in 2013 and earn contract extensions, but each knows that his job could be in jeopardy if his club doesn't prosper. Here are the five general managers who will feel the heat the most, according to multiple industry sources:
---
1. Neal Huntington | Pittsburgh Pirates | Start Date: Sept. 25, 2007
Record during tenure:
377-472
Notable moves:
Drafting Jameson Taillon and Gerrit Cole; trading for
Jeff Karstens
,
James McDonald
and
Wandy Rodriguez
To continue reading this article you must be an Insider
October, 30, 2012
10/30/12
11:30
AM ET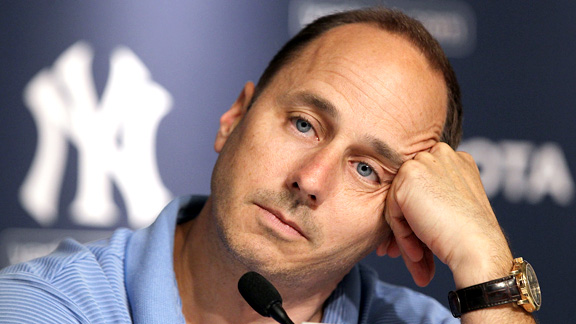 Jim McIsaac/Getty ImagesYankees GM Brian Cashman has an exhausting task ahead of him this offseason.
Even though the offseason has only just commenced for the
San Francisco Giants
and
Detroit Tigers
, general managers of 28 other teams already have been pondering their futures for some time.
For five GMs in particular, their jobs for the next three months are uniquely difficult, perhaps the most difficult in baseball. A variety of obstacles stand in their way of effectively making over their teams. They will have to hurdle those obstacles in order to improve their teams, and that's easier said than done.
Here are the five general managers who have the toughest jobs this winter. For the Giants and Tigers, it's finally time to rest. For these guys, their work has already started.

1. Brian Cashman, New York Yankees
Hands down, Cashman has the most difficult path facing him of any general manager of baseball. Perhaps it just comes with the territory of being the GM of baseball's uber-team, but this offseason is especially difficult. With the Yankees' mandate of "anything less than a World Series is failure" hovering over him, the fixes Cashman faces are not easy. Additionally, the Yankees are trying to get under the luxury tax threshold by 2014, and their best prospects are not close to contributing.
The Yankees have never had the luxury of going with a full-scale youth movement -- they are expected to contend every year, so Cashman must resolve the situation with
Alex Rodriguez
, whose declining skills, massive contract and no-trade clause make him nearly impossible to move. Picking up the contract options for
Robinson Cano
and
Curtis Granderson
was a good first step, but
Mariano Rivera
might retire and
Rafael Soriano
might opt out of his deal. And then you have
Derek Jeter
returning from injury, and who knows what to expect from
Michael Pineda
?
In other words, Cashman must retool a World Series contender with limited money, a fallow farm system and an aging roster rife with no-trade clauses. Toughest job, indeed.

2. Dayton Moore, Kansas City Royals
Moore can position the Royals as 2013's version of the
Baltimore Orioles
or Oakland A's. Position players
Mike Moustakas
,
Eric Hosmer
,
Alex Gordon
and
Billy Butler
are all ready to lead a playoff team. But Moore must completely rebuild his starting rotation, and to do that, he will have to make some uncomfortable decisions, including trading one of the aforementioned players.
Moore has talked about 2014 as the Royals' year to compete. But he has the talent to win now, and he should start by acknowledging the failure of
Luke Hochevar
. Dumping him would serve as a philosophical change for a club that has become enamored with "stuff" rather than results. While
Danny Duffy
and
Jake Odorizzi
are good pitching prospects, the majority of them have been way overhyped. Their only way to improve the rotation so quickly is to bring back
Zack Greinke
or sign
Kyle Lohse
or
Anibal Sanchez
and trade one of those young hitters. I know Moore has gone down this free-agent pitching path before, with the disastrous
Gil Meche
signing, but he can't keep waiting for 2014. It's time to win now.

3. Ben Cherington, Boston Red Sox
The fact is, nearly every move Cherington made last season did not work. From hiring Bobby Valentine, to trading
Jed Lowrie
to Houston and
Kevin Youkilis
to Chicago and
Josh Reddick
to Oakland, to the failed conversion of
Daniel Bard
to the starting rotation, it was a rough rookie year for Cherington.
However, what did work was the massive trade with the
Los Angeles Dodgers
that shed the Red Sox of
Adrian Gonzalez
,
Josh Beckett
,
Carl Crawford
and
Nick Punto
. That move shaved approximately $58 million in 2013 payroll alone. And with the acquisition of manager John Farrell, Cherington is effectively starting from scratch. And he's on the clock now, too.
Cherington's a bright guy and he will have ample opportunity to show what he can do with what almost amounts to a clean slate. He will have some cornerstones such as
Dustin Pedroia
and
Will Middlebrooks
, but he has to also hope
Jon Lester
and Bard return to form in their respective roles. His priority will be to figure out what to do with
Jacoby Ellsbury
, who is a free agent in 2013 and is represented by Scott Boras, so it won't be an easy negotiation. Cherington's team has plenty of holes, and he will have some financial freedom, so there will be opportunities to show last season's disaster was an aberration.

4. GM Mike Hill, president Larry Beinfest, Miami Marlins
It is a difficult situation when you're the general manager of a ballclub, but not really the general manager, or when you're the president of a ballclub, but not really the president. Essentially, owner Jeffrey Loria calls the shots on all personnel decisions and managers, and Ozzie Guillen was the latest casualty. Don't be surprised if outspoken outfielder
Logan Morrison
is next.
Of course, Guillen wasn't without fault here, alienating the Cuban section of the Marlins' fan base early last season. But after signing
Heath Bell
last winter and then trading him to Arizona, free agents will pause before going to Miami. So will managers who see no job security in South Beach -- in a span of six years, three managers (Joe Girardi, Fredi Gonzalez and Guillen) have held the job.
The Marlins will be competing with a resurgent
Philadelphia Phillies
team that still boasts the best rotation in the National League. The
New York Mets
will have lots of money coming off the books in time for the 2014 offseason and the
Atlanta Braves
and
Washington Nationals
are both built to compete for the next five years. But the Fish have some core pieces to work with, namely
Mark Buehrle
,
Jose Reyes
and
Giancarlo Stanton
, as well as some good youngsters in
Rob Brantly
,
Jacob Turner
and Nathan Eovaldi, as well as prospects
Jose Fernandez
and Christian Yelich. If Hill and Beinfest can do something this offseason with some autonomy, they could compete in the NL East.

5. Chris Antonetti, Cleveland Indians
When I say Cashman doesn't have any money and is restricted by his payroll, remember the Yankees' yearly payroll is near $200 million. Cleveland's 2012 Opening Day payroll was $65 million.
So Antonetti really doesn't have any money, nor does he have much of anything else to work with. His hiring of Terry Francona as manager is a step in the right direction. But a manager will only win if he has winning players. The "best" pitching pieces he has to trade are
Ubaldo Jimenez
and
Justin Masterson
, who don't have a ton of value right now. His farm system is below average at best, with the exception of shortstop Francisco Lindor.
Shin-Soo Choo
, arguably Antonetti's best player, is a free agent after 2013, and Boras is his agent. Antonetti simply can't let Choo walk away for only draft-pick compensation.
Further, the AL Central is surprisingly deep with Detroit's dominance, Chicago's surprise and the Royals' rise. Exacerbating things is his team and fan base seem to have lost faith in the front office, with closer
Chris Perez
openly criticizing him in the media. A rough road lies ahead for Antonetti and team president Mark Shapiro, whose own deal is up after 2013.
October, 1, 2012
10/01/12
12:15
PM ET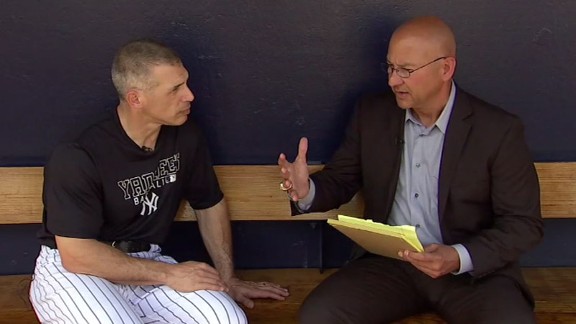 ESPN.comEven as part of the media Terry Francona often has found himself back in the dugout.
Like so many former managers, Terry Francona's preference is to be back in the dugout.
He spent this season in front of the TV camera, and there's little doubt in my mind that if Francona chose to remain as a broadcaster he would be just as successful as he was as the manager of the
Boston Red Sox
. However, based on my conversations with him this year, I got the firm impression that if he had the right opportunity, he would return to managing.
That team would need to have two prerequisites:
1. A team with which he felt he could win in the near future
2. A front office with which he felt he could have a good working relationship
I think both elements exist with the
Cleveland Indians
.
To continue reading this article you must be an Insider
July, 31, 2011
7/31/11
6:07
PM ET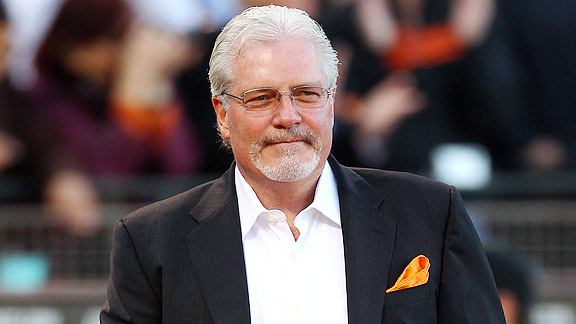 Brad Mangin/MLB Photos/Getty ImagesGiants GM Brian Sabean had to be happy after making deals that improved his championship team.
Now that the non-waiver trade deadline has passed, I have ranked the top five general managers in two categories -- those who were making deals to win now, and those who were building for the future.
TRYING TO WIN NOW
1. Brian Sabean, San Francisco Giants
: Sabean made three deals, including a deal for the best available hitter (
Carlos Beltran
) and two minor deals that added infield depth (
Jeff Keppinger
and
Orlando Cabrera
).
To continue reading this article you must be an Insider
May, 10, 2011
5/10/11
1:01
PM ET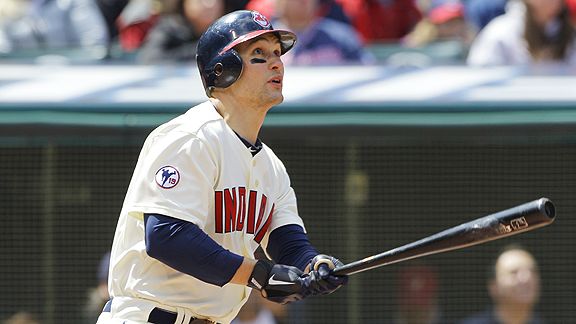 AP Photo/Mark DuncanGrady Sizemore's return has provided a big boost -- offensively and defensively.
The
Cleveland Indians
were quiet this past offseason. No sexy free-agent signings, no wheeling and dealing. When I arrived to Indians camp in spring training, I spent considerable time with rookie GM Chris Antonetti and second-year manager Manny Acta. Both were convinced that if everything went as planned the Indians could contend as early as this season -- even though this was a team that hadn't had a winning record since 2007 and had lost 93 games in 2010 and 97 in 2009. Contending? Really? How?
Antonetti, one of the youngest and brightest GMs in baseball, broke it down this way for me on that hot Arizona March day: "To contend we need the following to happen: (1) We need our key players to get healthy, specifically
Grady Sizemore
,
Carlos Santana
,
Asdrubal Cabrera
and
Travis Hafner
; (2) We need our other young players on the roster to continue their development with meaningful contributions on the field. This list of players includes
Justin Masterson
,
Carlos Carrasco
,
Josh Tomlin
,
Chris Perez
,
Michael Brantley
,
Matt LaPorta
and our young bullpen arms; (3) We need our veterans to contribute and provide leadership on the field and in the clubhouse, including
Orlando Cabrera
, Sizemore and Hafner."
Check, check and check, Mr. Antonetti.
This Indians team is not only contending but has the best record in the American League. Are they for real? Yes, they're for real. I'm not saying they're going to win the division, but what I am saying is that if they stay healthy, this team will contend into September and should win more games than they lose. The main reason this team is for real is the pitching and defense. The starting pitching is solid, the bullpen underrated and the infield defense is the best the Indians have seen since
Jim Thome
,
Roberto Alomar
,
Omar Vizquel
and
Travis Fryman
played together.
[+] Enlarge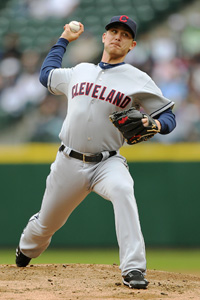 Otto Greule Jr/Getty ImagesJosh Tomlin is 4-1 with a 2.43 ERA and a 0.81 WHIP through six starts this season.
The starting rotation is led by
Fausto Carmona
, who won 13 games last year and is capable of winning 13-16 again this season. Masterson, one of the pitchers acquired in the
Victor Martinez
trade with Boston, is emerging as a solid No. 2 behind Carmona. Masterson has great size and stuff. His four-seam fastball goes up to 97 mph while the two-seamer sits between 89-94. He mixes in a slider and change from a deceptive lower arm angle and has great downward bite. His command in the lower part of the strike zone has improved due to the fact he solidified his delivery. Most importantly, Masterson continues to develop the understanding of how to best utilize his stuff to attack left-handed hitters, a weakness throughout his career. Masterson has quickly become one of the better pitchers in the league, starting 5-0 with a 2.11 ERA.
Carrasco just spent time on the DL for the first time in his career, but the Indians are not concerned as he is set to return to the rotation this week. In my discussions with
Shin-Soo Choo
, Santana and Acta, they raved about Carrasco's potential. They think he'll develop into a 15-game winner. That brings us to Josh Tomlin, who wins everywhere he goes. His minor league career record is 54-21 and his major league career record is 10-5, including 4-1 this year. Here is Antonetti's scouting report on Tomlin that he gave me this week: "Great competitor. Won't beat himself. Pounds the zone. Good four-pitch mix. Understands how to pitch and get hitters out." No argument from me. He might not chalk up a lot of strikeouts each night, but he'll get the groundballs and get the outs to win games.
That brings us to the infield defense. When you have a rotation that pounds the lower part of the strike zone, but doesn't always miss bats, then you better catch the ball in the infield with range. This infield catches the ball with range.
Jack Hannahan
, the journeyman infielder, has done a tremendous job defensively at third base, catching everything with soft hands and an accurate arm. Asdrubal Cabrera is quickly becoming one of the best all-around shortstops in the American league, a very good offensive and defensive shortstop with power, quick hands and feet and a strong arm from the hole. He also has great baseball instincts. He exchanges the ball from glove to release as quickly as anyone. Orlando Cabrera was the one major free-agent signed by Antonetti this offseason and here's his assessment of Cabrera: "He has made an impact both on the field and in the clubhouse. He has great baseball intelligence and understands what it takes to win." In fact, it seems wherever Cabrera goes his teams win (see: Reds, Twins, Red Sox).
Behind the plate Santana has helped lead the Indians' staff to the third-best ERA in the AL. He has well above-average arm strength and eventually will be able to stop the running game when he gets more experience. He's off to a slow start with the bat, but he can hit and hit with power from both sides of the plate. He's a legit future All-Star.
The outfield defense matches the infield defense. Choo is one of the best right fielders in baseball. He gets great jumps, angles on balls and has a strong arm. He can also hit and hit with power. Sizemore is back diving for baseballs and Brantley covers everything in left field like a center fielder. Not a lot of balls are going to be falling in the the gaps at Progressive Field this summer.
The Indians' starting pitchers are pitching deep into games, their offense has put up quality at-bats and has manufactured runs in a variety of ways, thanks to the shrewd managing of Acta, and the bullpen has done a great job of closing games when they get leads as closer Chris Perez has saved 10 of 11 opportunities while
Tony Sipp
,
Vinnie Pestano
and
Rafael Perez
all have ERAs under 2 setting him up.
To continue reading this article you must be an Insider