The GM's Office:

Chase Headley
December, 20, 2013
12/20/13
10:45
AM ET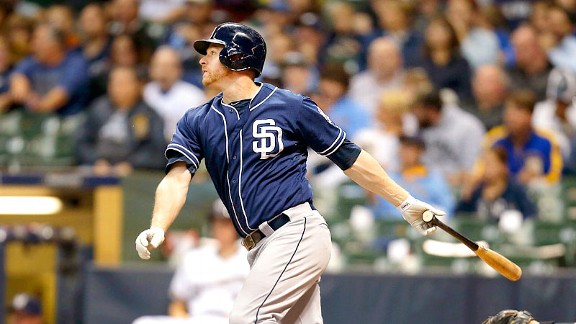 Mike McGinnis/Getty ImageThe tough competition in the NL West should force the Padres to trade Chase Headley.
Next year's free-agent class is top-heavy, and features three of baseball's best starting pitchers in
Clayton Kershaw
,
Max Scherzer
and
Jon Lester
. While seen some big-name players traded a year before free agency, that won't happen with any of these guys because their teams have a shot at the World Series and they all play for big-market clubs that can afford to re-sign them.
In fact, don't be surprised if these guys get contract extensions before hitting the market next winter, with Kershaw being the most likely of the three to get a new deal.
However, there are five players who will be eligible for free agency next fall who probably should have already been traded since they haven't been locked up to multiyear deals. Some of these players are on contending teams, but none of which are large markets and really can't afford to let them walk as a free agent and receive only a draft pick as compensation.
Here is the breakdown of the five players I think should be traded by Opening Day if they are not given a contract extension.
1. Chase Headley, 3B | San Diego Padres

Headley, 29, had 31 doubles and 31 homers in 2012 and finished in the top five in NL MVP voting. His power numbers were down this year (.400 slugging), but he still plays a position where there is a lot more demand than supply and could fetch a lot in a trade.
The Angels, Dodgers, Marlins and Yankees all started the offseason with needs at third base and could have matched up well in a deal for the Padres, though the Angels and Dodgers have patched that hole for at least the next couple of years with
David Freese
and
Juan Uribe
, respectively.
To continue reading this article you must be an Insider
December, 7, 2013
12/07/13
9:00
AM ET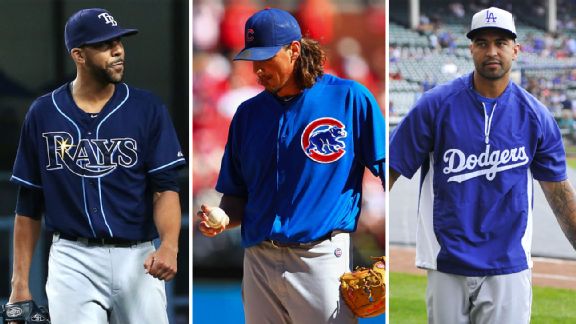 Getty ImagesDavid Price, Jeff Samardzija and Matt Kemp will keep the rumor mill churning.
General managers have been feasting this offseason on blockbuster trades and huge free-agent acquisitions. Some of the game's biggest names --
Prince Fielder
,
Ian Kinsler
,
Jacoby Ellsbury
, and
Brian McCann
-- have new homes, as do major players such as
Jim Johnson
,
David Freese
,
Doug Fister
,
Ricky Nolasco
,
Phil Hughes
and
Joe Nathan
.
However, consider that the appetizer. The main course awaits at baseball's annual winter meetings in Orlando. Expect to see another slew of big names swap teams. Here are eight players who are most likely to be on the move.
1. David Price | LHP | Tampa Bay Rays

I think the Rays most likely will trade Price during the winter meetings. While they have the option of waiting until next July's trade deadline or even next offseason if they don't get the prospect package they're looking for, their history says he's gone.
The Rays will likely be in the pennant race by July so it will be difficult to trade Price at that point. The 2014 offseason is just too late to trade him considering Price's value would be much lower because his new club would only control him for one season and thus net a correspondingly lower trade package. And an extension simply is cost prohibitive based on the present market.
But where will he go? After acquiring
Wil Myers
in the deal for
James Shields
last year, executive vice president of baseball operations Andrew Friedman will insist on a prospect of at least the same caliber, but this time around will prefer a starting pitching prospect who could develop into a No. 1 starter.
To continue reading this article you must be an Insider
August, 30, 2013
8/30/13
11:00
AM ET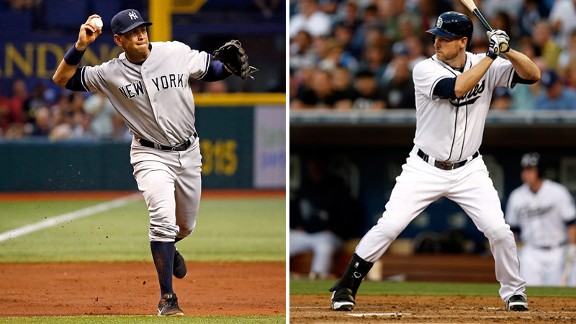 Getty ImagesCould Chase Headley be a long-term solution to replace Alex Rodriguez at third base?
The
New York Yankees
should be pleased with how
Alex Rodriguez
has played since his return from hip surgery and the disabled list. His bat speed and ability to hit a good fastball have improved considerably compared to where he was at the end of the 2012 season.
However, the team also realizes that Rodriguez possibly will start the 2014 season on the suspended list for
his involvement in the Biogenesis scandal
, pending his appeal. If the appeal doesn't succeed, how long will the suspension be -- 50, 100, or the full 211 games originally handed down?
Therefore, general manager Brian Cashman must make preparations to start the 2014 season without Rodriguez -- either with a stopgap measure or long-term solution at third base. Cashman clearly knows the answer for either time frame is not in the Yankees' farm system. Though
Kevin Youkilis
(on the DL after back surgery) and
Mark Reynolds
might still be options, Cashman has to wonder if Youkilis will ever perform at a high level again, and is likely concerned about Reynolds' below-average defense at third and his strikeout ratio.
That means there are just two viable avenues Cashman can take -- trade or free agency. Cashman's scouts should be out in force during September, bearing down on their evaluations of Rodriguez's possible replacements.
In the following list, I grouped players by trade or free-agency targets and categorized them as long-, medium- or short-term solutions, depending on how long I think each player might fit with the Yankees. Long-term players would completely replace Rodriguez beyond his return from even a 211-game suspension. Medium-term solutions would replace Rodriguez from anything beyond 100 games and below 211. Short-term players fill the gap until Rodriguez returns from a 50- or 100-game suspension.
Here is a quick look at how the third-base market currently stands for the Yankees this offseason.
To continue reading this article you must be an Insider
July, 23, 2013
7/23/13
10:55
AM ET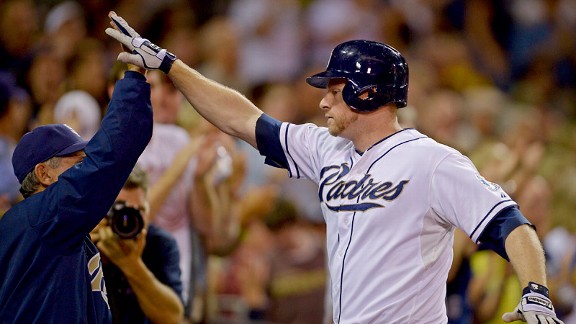 Andy Hayt/San Diego Padres/Getty ImagesThe Padres say they won't move Chase Headley before the deadline, but that could change.
While the
Matt Garza
trade that went down on Monday night created a buzz throughout the industry, it was far from a surprise. In fact, everyone knew Garza was going to be dealt, it was just a matter of where.
But every so often we get surprised at the trade deadline, with a big name getting traded that no one expects, like when the
St. Louis Cardinals
sent
Colby Rasmus
to the
Toronto Blue Jays
just before the 2011 deadline.
There is a possibility -- albeit slim -- that one of these five players that no one is expecting will get traded in a blockbuster over the next week.

Chase Headley 3B, | San Diego Padres
The Padres have told me that they're not trading Headley or signing him to an extension before July 31. Perhaps they think there will be more of a market at the winter meetings, or that the price will come down considerably after his subpar season.
To continue reading this article you must be an Insider
May, 17, 2013
5/17/13
11:22
AM ET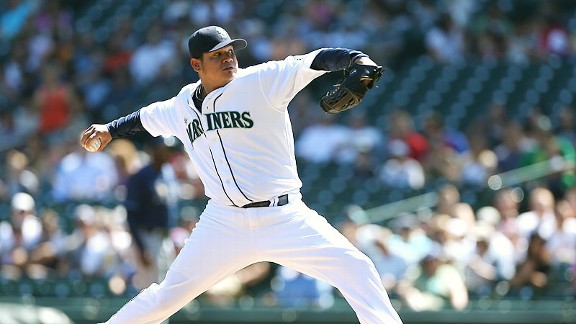 Otto Greule Jr/Getty ImagesLed by Felix Hernandez, the Seattle Mariners have the pitching to contend for a wild-card berth.
After another win in the Bronx last night, the
Seattle Mariners
are just a game below .500 and in second place in the AL West. This club was built on pitching and defense, and it's strong in both areas. However, with an offense that ranks 14th in the AL in runs, there are some issues.
The good news for the Mariners is that they have one of the deepest farm systems in the majors and can fix some of those problems from within via promotions and by trading some of that depth. When I look around the American League, I don't see any team that is going to run away with a wild-card berth. And while I don't think the Mariners can catch the Rangers in the AL West, I expect them to compete for a playoff spot all summer. They just need to make a few key adjustments.
To continue reading this article you must be an Insider
May, 8, 2013
5/08/13
11:00
AM ET
No, it isn't a very happy time in Southern California.
SoCal fans just watched as the Lakers and Clippers got bounced out of the NBA playoffs in the first round, while the Dodgers and Angels have looked like they might not even make the playoffs.
Coming into 2013, both Los Angeles baseball teams boasted the largest payrolls in their respective divisions, hoping big offseason spending meant getting to the postseason. And on paper, their rosters are good enough to make the playoffs. However, both teams have been beset by injury and ineffectiveness, and as a result, postseason appearances are hardly assured. However, it's not too late for the L.A. teams to save their seasons, although both clubs will have to make some major adjustments between now and the July 31 trade deadline.
Here's why both the Angels and Dodgers are struggling and how they can turn their seasons around:
To continue reading this article you must be an Insider
April, 10, 2013
4/10/13
11:40
AM ET
Baseball is witnessing the most competitive balance in more than two decades. As a result, general managers of contending teams already are preparing and targeting potential trade partners for the July 31 trade deadline. All the same, non-contenders are scouting the top prospects in the contenders' farm system and noting their own trade targets.
For that reason, even 120 days out from the July 31 trade deadline, it isn't at all too early to be thinking about possible trades.
Thus, here are 10 players I think will most likely be traded by July 31. Early on, GMs have identified the
Miami Marlins
,
Houston Astros
,
Chicago Cubs
and
Minnesota Twins
as the four teams most likely to be quickly out of the race, which is why this list has eight players from those teams.
1. Chase Headley | 3B

After Headley's breakout 2012 season, the Padres and Headley engaged in a few conversations about a long-term contract. However, when Headley's representatives compared him to
Ryan Zimmerman
,
Evan Longoria
and
David Wright
, the conversation quickly died. The Padres felt Headley needed to show the same production for a longer period of time than just a single season to be paid in the range of Zimmerman, Wright and Longoria. And they were right. However, Headley fractured his left thumb in spring training and is out until at least mid-April. If Padres are in the pennant race in July, they'll keep Headley and try to sign him in the offseason. However, if they're out of it by the end of July, then a deal is a real possibility.
Trade partners:
Atlanta Braves
,
Los Angeles Dodgers
,
New York Yankees
,
Pittsburgh Pirates
,
Philadelphia Phillies
, Chicago Cubs
To continue reading this article you must be an Insider
February, 5, 2013
2/05/13
2:30
PM ET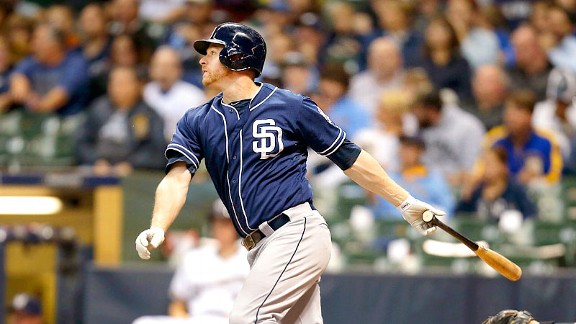 Mike McGinnis/Getty ImageThe Padres should maximize Chase Headley's value and trade him by Opening Day.
In early December 2011, the
San Diego Padres
traded right-hander
Mat Latos
, their No. 1 starter, to the
Cincinnati Reds
in exchange for a prospect package that included two former first-round picks and major league right-hander
Edinson Volquez
.
While the Padres don't stand to get the same return on third baseman
Chase Headley
, they should seriously think about trading Headley sometime during spring training. Although Headley and the Padres avoided arbitration last week by agreeing to a one-year deal worth $8.75 million, he told the media shortly after the deal was announced that he and the Padres had only one discussion about a multiyear contract and that the two sides were so far apart it wasn't even worth having another discussion. So they concentrated on the one-year deal.
Right now, the free agent and arbitration markets are at an all-time high. With third basemen such as
David Wright
,
Ryan Zimmerman
and
Evan Longoria
already signed to long-term deals, Headley's trade value is the best among the third baseman who could be available.
It doesn't take a rocket scientist to realize the small-market Padres might not be able to afford a long-term extension, and if they can't sign him they should trade him now.
To continue reading this article you must be an Insider
October, 20, 2012
10/20/12
11:30
AM ET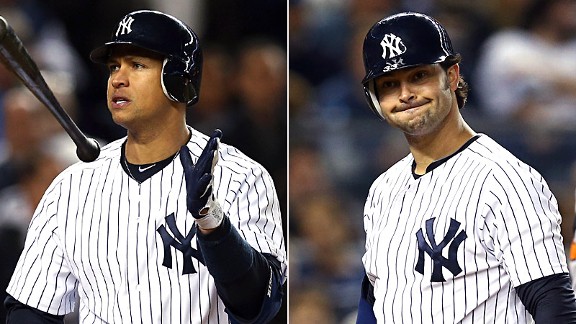 Getty ImagesThe Yankees must resolve the Alex Rodriguez issue and upgrade over Nick Swisher.
Let's consider these facts from ESPN's Stats & Information department regarding the
New York Yankees
' historically poor performance in the American League Championship Series:
• The Yankees' .188 batting average in the 2012 postseason is the lowest in MLB postseason history by any team that played at least seven games. They scored just 22 runs in nine games, for an average of 2.4 runs per game. That's the fourth-fewest runs per game in a single postseason by any team that played at least seven games.
• The Yankees had played 36 consecutive postseason series without being swept -- that was the longest streak in MLB history. This is the first time they've been swept in any series since the 1980 ALCS, when the Royals swept them in a best-of-five series. The last time the Yankees were swept in a best-of-seven series was in the 1976 World Series, when the Reds beat them.
• The Yankees enter an offseason filled with uncertainty. Although they're almost certain to exercise a pair of club options for 2013 on
Robinson Cano
($14 million) and
Curtis Granderson
($13 million), the key players who are eligible for free agency are
Mariano Rivera
,
Andy Pettitte
,
Nick Swisher
,
Ichiro Suzuki
,
Hiroki Kuroda
and
Russell Martin
.
Add the fact that
Rafael Soriano
also has an opt-out clause in his deal, so he is no lock to return.
With all that uncertainty on their roster and questions about things, I've come to one conclusion: It's time to blow up the Yankees.
It's time for the Yankees to get younger and more athletic. For this storied franchise, anything less than a World Series championship is considered a failure. The team is built to withstand a 162-game season in which an aging lineup can routinely feast on fourth and fifth starters. But in the postseason, when those same aging bats see the absolute best pitching in a short series, as the statistics above indicate, they fall short. Outside of
Derek Jeter
and Cano, the lineup's holes and weaknesses were exposed.
But the only way to rebuild and win now is for Hal Steinbrenner to take a page out of his father's strategy -- which sometimes worked, sometimes did not -- and that means spend money and trade prospects.
Start with Rodriguez
The most prudent thing to do is to try to persuade
Alex Rodriguez
to waive his no-trade clause. The Yankees likely would have to pay nearly all of his salary with the exception of perhaps a few million. This would come with the stipulation that the Yankees would pay only if Rodriguez plays and is on an active roster.
There's simply no hiding or denying Rodriguez's decline. As
Dan Szymborski pointed out
, it has been coming for years. Rodriguez at 37 might still be a serviceable player capable of hitting .260 with 20 home runs, but the Yankees would do well to turn the page. Ideally, it would be best to cut ties and pay his salary and move on. But if they cannot, the next move is to convert him to designated hitter.
The Yankees have a track record of leading aging sluggers out to pasture by converting them to designated hitters. In the footsteps of
Bernie Williams
, Paul O'Neill,
Hideki Matsui
,
Jason Giambi
,
Jorge Posada
, Rodriguez should follow suit and join
Raul Ibanez
in what could be turn out to be an effective lefty-righty platoon, albeit perhaps the most expensive DH combination in baseball history.
Resolving Rodriguez would free up the Yankees to chase, well,
Chase Headley
, the Kansas City Royals'
Mike Moustakas
or Washington Nationals prospect Anthony Rendon. To acquire someone like Headley, Yankees general manager Brian Cashman will have to do that which he most despises: trade prospects.
Frankly, I say empty the farm system to get whatever pieces they need. New York's farm system took a hit this year with the poor performance of top pitching prospect Manny Banuelos, and he is going to miss the 2013 season after undergoing Tommy John surgery. Still, the Yankees could get this kind of deal done if they were willing to part with outfield prospect Mason Williams and catching prospect Gary Sanchez. George Steinbrenner never had a problem sacrificing prospects, and New York needs to be aggressive.
Cashman has said repeatedly that he wants complete players, and Headley, for example, is exactly that. Even with Petco Park as his home field, switch-hitting Headley batted .286 with 31 home runs, stole 17 bases and led the NL with 115 RBIs while playing very solid defense. At 28, he enters 2013 in his prime and is about to get very expensive in arbitration. The Padres have built an incredibly deep farm system, and if they sell high on Headley, they can further fortify their farm while freeing payroll to lock up some of their top youngsters.
To get Headley, it probably will take a prospect package similar to what the
Cincinnati Reds
forked over to San Diego for pitcher
Mat Latos
in December.
Buy, buy, buy
Outfielder
Josh Hamilton
will be by far the biggest name on the free-agent market. Fittingly, the team in the biggest market should be the one to reel him in.
Hamilton fits Cashman's proclivity for "complete" players, and his left-handed swing is tailor-made for Yankee Stadium. They Yankees need a better postseason hitter than Swisher, who has been exposed in October, hitting .169 in the playoffs in his career.
Likewise, the Yankees should pursue speedster
Michael Bourn
. Signing Bourn would free Cashman to trade or decline the club option ($2 million buyout) on Granderson and his 195 strikeouts and move
Brett Gardner
to left field. Bourn also would serve as the leadoff man the Yankees desperately need and, once again, add some much-needed speed.
On the mound, Pettitte will announce soon whether he will return in 2013. Outside of
CC Sabathia
, and perhaps Hughes, the rest of the rotation is simply not World Series caliber.
Michael Pineda
should be back from shoulder surgery and could be an upgrade, but there is no way the Yankees can assume he will be an impact player in 2013.
Re-signing Kuroda will help, but signing
Zack Greinke
or
Kyle Lohse
will be necessary to deepen the Yankees' starting rotation. None of the prospects they have will do that, and the Yankees can't afford to wait for kids.
I know there has been talk about the Yankees wanting to avoid the luxury tax, but they're the Yankees -- they should be paying the luxury tax. And let's be honest, George Steinbrenner would have been this aggressive.
Bring back Russell Martin?
As our own Buster Olney suggests, the Yankees
loved Martin's toughness and winning attitude
, but a long-term contract just wouldn't work.
If the Yankees miss out on Hamilton or Greinke, they might think about turning to
Minnesota Twins
catcher
Joe Mauer
. The Twins probably would love the chance to shed Mauer's huge contract, and the Yankees are one of the few teams that can afford him. As noted, the Yankees could end up clearing a lot of payroll this year if Soriano opts out, Swisher leaves and Granderson's option is declined.
As with Hamilton, Mauer's swing is perfect for Yankee Stadium. The Twins are desperate to rebuild their pitching staff, and giving some prospects might appeal to them.
To be sure, the Yankees can't make all of these moves, but the point I'm making is that the team needs to think aggressively. The Yankees have been relatively inactive the past couple of winters, but it's time for them to channel some of The Boss' bold mentality. They are baseball's uber-team, and they should be prepared to lose draft picks and pay the luxury tax. The Yankees have never settled for mediocrity, and they shouldn't now. The time has come for Hal to become George for just a few years to get the Yankees back to where they belong.
September, 6, 2012
9/06/12
11:11
AM ET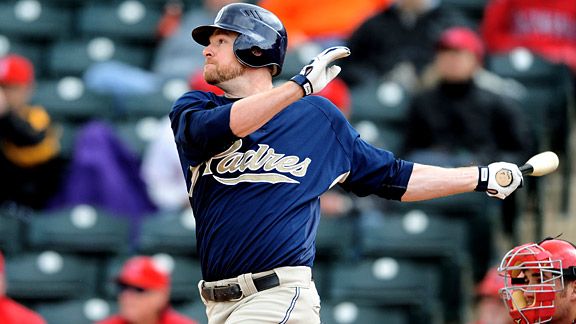 Mark J. Rebilas/US PresswireThe Phillies should acquire Chase Headley if Chase Utley isn't moved to third base in the offseason.
As the pennant races come down the stretch, many teams already have set their sights on 2013. There are three that stand out to me as poised to make a quick turnaround. In fact, two of the three teams won their division in 2011, and all three have set themselves up well -- whether by acquiring players or jettisoning them at the July 31 trade deadline -- for 2013. With just a couple of additional pieces, as well as some star players returning to form and a precocious prospect or two, these three teams will be in the postseason hunt next year.

Arizona's 94-68 record and NL West title in 2011 were driven mainly by MVP candidate
Justin Upton
and Cy Young Award candidate
Ian Kennedy
. Only a year later, however, both have struggled mightily. Arizona might not even finish .500, leaving management no recourse but to retool. As such, the left side of the infield has been traded, with
Ryan Roberts
sent to the
Tampa Bay Rays
and
Stephen Drew
to the
Oakland Athletics
. But that retooling also has left the Diamondbacks in great position to jump right back in the race in 2013.
To continue reading this article you must be an Insider
August, 3, 2012
8/03/12
12:21
PM ET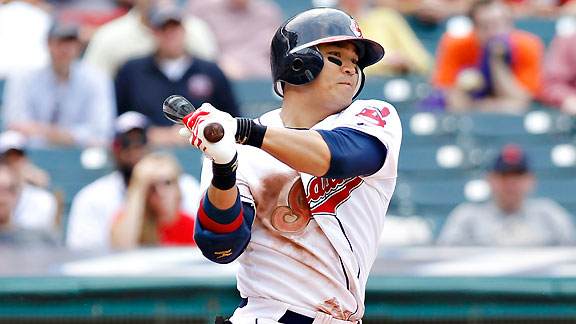 Joe Robbins/Getty ImagesChoo would have solidified the Pirates' lineup with his speed, proven bat and solid glove.
It was one of the busiest July 31 non-waiver trade deadlines in recent memory, but what about a handful of trades that did not happen but should have? These were deals that made a lot of sense, even perhaps got discussed between teams, yet never materialized. They could be
the one deal
that makes the difference between the postseason and sitting at home this fall.
Here are five trades that should have happened but didn't. But who knows? They might still have a chance of happening in August or the offseason.
To continue reading this article you must be an Insider
July, 18, 2012
7/18/12
12:15
PM ET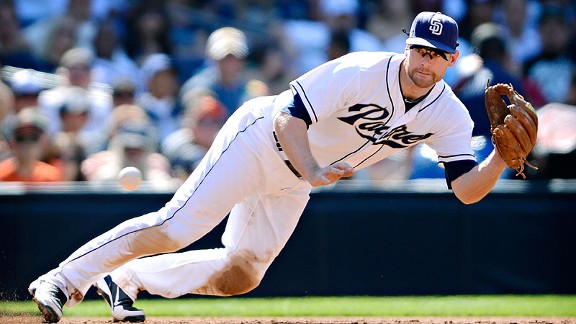 Andy Hayt/Getty ImagesThe Dodgers area looking to upgrade at third base and Headley could be one of their targets.
Conventional wisdom approaching this year's July 31 trade deadline said there would be more buyers than sellers. While that has indeed turned out to be the case, a couple of factors have complicated many possible trade scenarios.
First, the new Collective Bargaining Agreement no longer affords draft-pick compensation for players acquired in an in-season trade who are also free agents at season's end. Thus, a team acquiring
Zack Greinke
this year will receive no compensatory draft picks if they are unable to retain him after the season.
It was supposed to be a seller's market, but buyers have been reluctant to forfeit their futures knowing they might have absolutely nothing to show for it. In other words, teams have to recalibrate their expectations of what they can get back for a rental player.
Secondly, one would have thought the establishment of a second wild-card berth in both leagues would motivate some teams on the lip of the postseason to drive the market. However,
these same teams have been leery of trading for a "rental" player because of the architecture of the wild-card series; it's only one game. To mortgage the future for one nine-inning elimination game just doesn't make sense for teams that are realistically only contending for a wild-card berth.
Therefore, the teams most likely to make a trade for a top-tier "rental" player are clubs that believe they can win the division. A one-game wild card playoff combined with no draft-pick compensation forces a club to realize that renting on Park Place for a couple of months might not be worth the long-term cost.
---
Buzz around the league
• The
Philadelphia Phillies
are prepared to offer
Cole Hamels
a
Matt Cain
-type deal, but if that doesn't work, general manager Ruben Amaro is prepared to trade him. The most likely landing places are the
Texas Rangers
and
Los Angeles Dodgers
.
To continue reading this article you must be an Insider