The GM's Office:

Bruce Bochy
October, 18, 2014
10/18/14
1:49
PM ET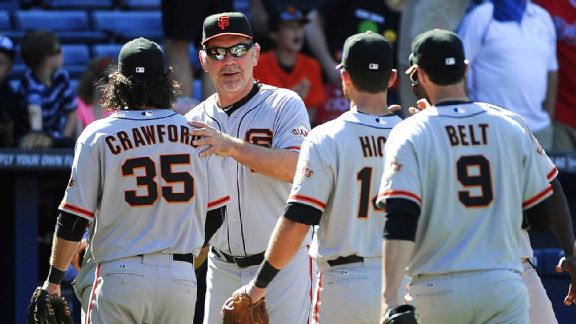 AP Photo/David TulisManager Bruce Bochy has exemplified loyalty in his leadership of the San Francisco Giants.
The
San Francisco Giants
hired Brian Sabean as their senior vice president and general manager on Sept. 30, 1996. Since then, he has led the Giants to seven postseason berths and, with this year's team, four World Series appearances, including two world championships and counting. He is presently the longest-tenured GM in the sport.
One of his best moves was made almost exactly a decade after he took the job -- on Oct. 26, 2006, he hired Bruce Bochy away from the
San Diego Padres
to be the manager of the Giants. Together they have become this generation's best general manager-manager combination. They have a strong working relationship, but most importantly, are closest of friends both on and off the field.
They represent the stability and continuity that every major league owner strives for.
March, 8, 2013
3/08/13
11:00
AM ET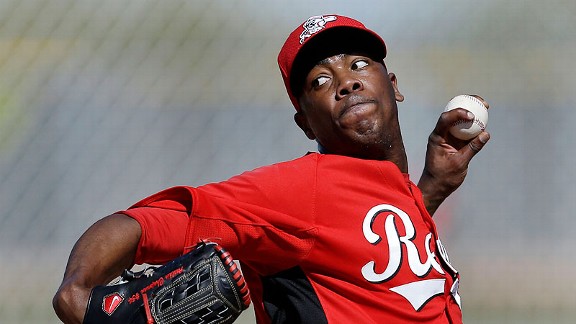 AP Photo/Paul SancyaHas Aroldis Chapman's role this season caused a rift between Dusty Baker and the front office?
GOODYEAR, Ariz -- Dusty Baker has been here before. It's not the first time he's heard people say he and his general manager don't see eye to eye on a particular issue. As manager of the
Chicago Cubs
, Baker was accused of playing over-the-hill veterans instead of prospects despite the wishes of the front office.

The veterans gave him the best chance to win, he'd say to the media.
Now at the helm of the
Cincinnati Reds
, Baker is convinced leaving flame-throwing left-hander
Aroldis Chapman
as his closer gives him the best chance to win. Most of the players and staff think Chapman should close, too.
However, Reds general manager Walt Jocketty is convinced his team is better with Chapman starting. Pitching coach Bryan Price agrees.
Normally the manager makes the call on a player's role. And understand, Baker will ultimately do what the organization wants. But it's clear there's something of a schism pertaining to Chapman's role. Could this be the start of another
Stephen Strasburg
/innings limit-type controversy we witnessed last season?
To continue reading this article you must be an Insider
November, 1, 2012
11/01/12
10:55
AM ET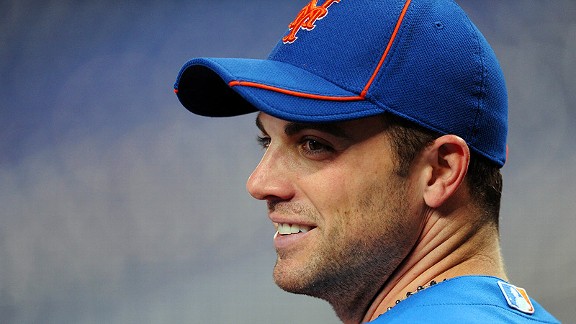 Steve Mitchell/US PresswireDavid Wright is the face of the Mets, but it's feasible that he could be somewhere else next season.
After the
New York Mets
picked up
David Wright
's $16 million club option for 2013 earlier this week, the club is officially on the clock. The Mets have exactly one year of control left to lock down the face of their franchise. In essence, Wright is to the team what
Derek Jeter
is to the
New York Yankees
or
Chipper Jones
was to the
Atlanta Braves
.
However, Wright's long-term future in New York is hardly guaranteed.
First, discussions between Wright's agents -- Sam and Seth Levinson -- and the Mets have been slow and grinding. Most negotiations with this team usually plod along, but the Mets also have shown the same cavalier attitude they demonstrated in the failed
Jose Reyes
negotiations in 2011. Not a good sign.
Second, for those who think the Mets won't let the face of the franchise walk away, remember that current Mets general manager Sandy Alderson is the one who said goodbye to future Hall of Famer
Trevor Hoffman
while in San Diego. Alderson also allowed then-Padres manager Bruce Bochy to depart for the NL West rival
San Francisco Giants
, where he would go on to win two World Series titles. In 1992, Alderson also traded
Jose Canseco
to the
Texas Rangers
in a blockbuster that was headlined by
Ruben Sierra
. Arguably the best trade of Alderson's career might end up being the swap of All-Star outfielder
Carlos Beltran
to the Giants at the July 2011 trade deadline for top pitching prospect Zack Wheeler, who should join the Mets' starting rotation in 2013.
Needless to say, Alderson isn't afraid to trade star players.
That said, I still think the Mets and Wright will have a news conference sometime between now and the winter meetings next month in Nashville, Tenn., to announce a seven-year extension in the range of $18 million per season. If the Mets aren't willing to commit, they don't need to worry because most other teams will be. To trade Wright, the assignee club would have to ask for a window to sign him first because no team will fork over top prospects to the Mets without the assurance that Wright will sign a long-term deal.
Just in case the negotiations fall apart with the Mets, here are five trade partners that would make sense for Alderson.

The Red Sox have money off the books after trading
Carl Crawford
,
Josh Beckett
and
Adrian Gonzalez
to the
Los Angeles Dodgers
in August. Wright's swing would be ideal for Fenway Park, and he would instantly change the culture with his leadership ability. He would give the Red Sox a new, fresh franchise face to go with
Dustin Pedroia
and
David Ortiz
. The discussion by Alderson would have to start with young third-base prospect
Will Middlebrooks
and one of Boston's top starting pitching prospects, such as Allen Webster, who recently was acquired from the Dodgers, or Matt Barnes, the Red Sox's first-round selection in 2011 out of the University of Connecticut.

This conversation would have to commence with top first-base prospect C.J. Cron, a middle-of-the-lineup bat who was the Angels' first-round selection in the 2011 draft out of the University of Utah. Cron possesses incredible power and has a chance to be an impact bat with the ability to drive in 100 runs. The second player in the deal would have to be fleet-footed outfielder
Peter Bourjos
, who became expendable with the emergence of
Mike Trout
. Bourjos has Gold Glove defensive ability with special range. However, how much he's going to hit is still debatable. Of course, with a deal like this, the Mets would then have to try to trade incumbent first baseman
Ike Davis
for another need.

The Diamondbacks have tremendous depth in young starting pitchers. The roll call is impressive:
Tyler Skaggs
,
Trevor Cahill
,
Patrick Corbin
,
Daniel Hudson
,
Wade Miley
and
Ian Kennedy
. Therefore, they might be willing to make former No. 1 pick
Trevor Bauer
available for Wright, especially given that some of the Arizona field staff is frustrated with Bauer's stubbornness and work plan.
Bauer has struggled with his command and control in the zone, and it might take time before he reaches his full, unlimited potential. To acquire an arm of this caliber and team it with
Matt Harvey
and Wheeler would establish an impressive young rotation capable of competing with the Washington Nationals' elite young starters. The Mets should ask for a second player, as well, possibly center fielder
Adam Eaton
, a player who's not blessed with special tools but can hit and really play the game with blue-collar grittiness.

The Royals could use a veteran leader in the clubhouse to develop all of their great young players such as
Eric Hosmer
,
Salvador Perez
and
Alex Gordon
. Wright would bring them that leadership. Alderson could start the conversation asking for young third baseman
Mike Moustakas
, who could give the Mets a minimum of 20 home runs and 80 RBIs at third base for minimal cost.
However, a second player in the deal would be the key. Although Kansas City can't afford to trade any of its top young pitching prospects or top position prospect Wil Myers (unless it was getting front-line pitching back), the Royals might be willing to include Cheslor Cuthbert or 2010 first-rounder Christian Colon to make a deal like this. However, given that the Royals' only real need is starting pitching, it is doubtful they would want to spend this type of money -- or trade this kind of talent -- on anything but starting pitching.

I know this does not look like a fit because the Rangers already have the best overall third baseman in baseball in
Adrian Beltre
. However, if
Josh Hamilton
and
Mike Napoli
leave in free agency, Texas will have to add another impact bat for the middle of its lineup. The Rangers have never been afraid to ask players to change positions -- just ask
Michael Young
-- so it's probably worth making the phone call to see whether they would consider a
Mike Olt
,
Derek Holland
and
Craig Gentry
type of deal for Wright. Olt would solve third base; Holland would improve the rotation; and Gentry would give them a tremendous defensive center fielder with blazing speed and a bat that is still developing.
To be sure, the possibility of any of these five trade ideas actually coming to fruition is slim. Indeed, 98 percent of all deals that are discussed are never made, but the Mets must do their due diligence and Alderson must do himself that favor and explore all possibilities to maximize Wright's value and price tag. If Wright's value is highest by returning to the Mets -- and I think he'll re-sign when all is said and done -- you can count on that price tag to be in the neighborhood of seven years and $126 million.
And for Mets fans, who can't stand the thought of the face of their favorite franchise in another uniform, that's a bargain.
June, 15, 2012
6/15/12
11:43
AM ET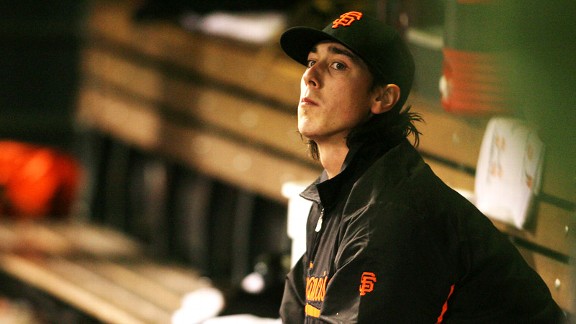 Chris Humphreys/US PresswireLincecum's struggles are baffling his manager, GM and pitching coach.
On May 30,
San Francisco Giants
right-hander
Tim Lincecum
had what used to be a routine outing. His line: seven innings pitched, one earned run and six strikeouts.
For a guy who's won two National League Cy Young Awards, been a four-time All-Star and recorded more than 1,200 strikeouts, that line sounds pretty standard. However, he also walked a season-high five batters. On the season, he's walking 4.9 men per nine, well above his career average of 3.4.
It gets worse.
The Giants are 2-11 when Lincecum starts and have lost eight straight when he pitches. Conversely, the Giants are 34-17 when he doesn't take the hill. Currently at 2-7 with a 6.00 ERA, one of the game's most dominant pitchers over the past four years now ranks among the worst starting pitchers in baseball in terms of ERA, WHIP and losses.
Problem is, no one can figure it out. What is wrong with Lincecum?
To continue reading this article you must be an Insider
April, 19, 2012
4/19/12
12:15
PM ET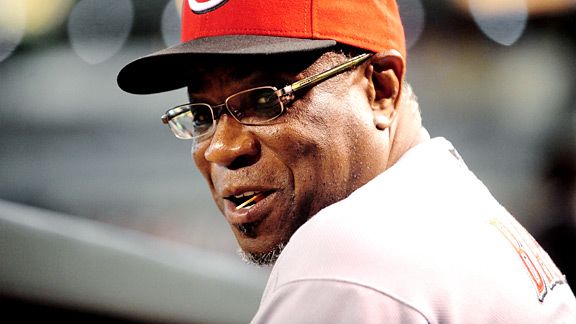 Mark J. Rebilas/US PresswireBaker isn't panicking yet, but he certainly is looking over his shoulder these days.
Big league managers have a hard enough time contending with things they can control, let alone things they can't. A 162-game season is never a cakewalk, but when there are distractions and concerns early in the season, it doesn't portend for smooth sailing for any skipper.
Some skippers are already contending with some unpleasant variables just two weeks into the season. Some came into spring training shouldering issues, while others might have made them with certain personnel decisions. But the kicker to it all is managers don't play the game, so they're somewhat at the mercy of player performance, which means they're really not in control of as much as they think.
Below are five managers and what is distracting each of them. Are they panicking? Perhaps not yet, but they certainly should be feeling the heat.

Dusty Baker
Baker is in the last year of his contract, and despite winning the division in 2010, his contract hasn't been extended yet, though the club has signed general manager Walt Jocketty, first baseman
Joey Votto
and second baseman
Brandon Phillips
to long-term deals. So Baker remains somewhat of a lame duck manager. With the shadows of both Terry Francona and Tony La Russa looming, as well as Hall of Famer
Barry Larkin
, there is a growing sense that Baker must win to keep his job, or else one of those three will replace him. It is not a healthy position for Baker, and he will manage with more immediacy rather than over the long haul of 162 games.
To continue reading this article you must be an Insider
March, 5, 2012
3/05/12
12:50
PM ET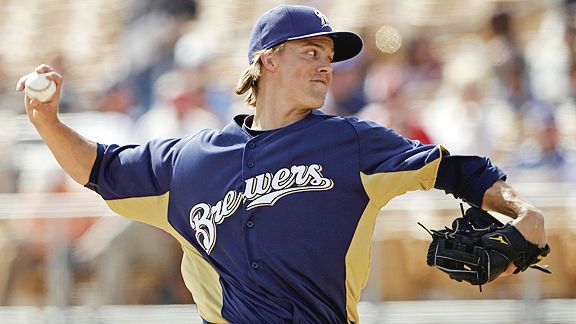 AP Photo/Morry GashThe Brewers are hoping to lock up ace Zack Greinke before Opening Day.
PHOENIX -- In the Cactus League, the weather is basically sunny and 75 degrees every day, and the best part is the short commute to all of the ballparks, which differs greatly from the Grapefruit League in Florida, where the ballparks are spread out across the state. With exhibition games having started this past weekend, here's a look at five things I've seen around camps thus far that stand out to me.
1. The attitude in the Los Angeles Angels' clubhouse


The Angels' clubhouse already has that special karma that you usually find with teams on the cusp of doing great things. Manager Mike Scioscia already has set the tone by making camp fun, yet serious when they need to be. This team has come together quick and has the best feel of all the camps I've visited so far. And the presence of Albert Pujols has definitely impacted the club already.

Angels closer Jordan Walden told me: "It seems so surreal, I keep pinching myself thinking this is just a dream."

To continue reading this article you must be an Insider