The GM's Office:

Brian Cashman
December, 4, 2013
Dec 4
10:30
AM ET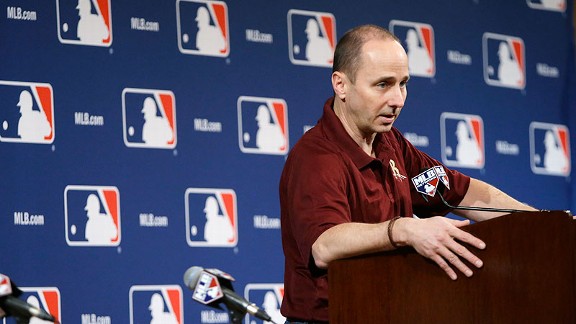 AP Photo/Mark HumphreyExpect Brian Cashman at the podium sometime during the Winter Meetings.
Baseball's annual winter meetings in Orlando, Fla., don't commence until Sunday, Dec. 8, but several general managers already have made waves this offseason.
Tigers president/GM Dave Dombrowski has made the biggest splash of the offseason so far after dealing first baseman
Prince Fielder
and right-hander
Doug Fister
, and signing free-agent closer
Joe Nathan
.
But
St. Louis Cardinals
GM John Mozeliak isn't far behind after trading for center fielder
Peter Bourjos
and signing free-agent shortstop
Jhonny Peralta
. Likewise,
Minnesota Twins
GM Terry Ryan has been active, bolstering his starting rotation by signing free-agent pitchers
Ricky Nolasco
and
Phil Hughes
to long-term deals.
However, 12 out of the top 15 free agents this offseason are still without homes, and there are several prominent players being mentioned in trade rumors, including
David Price
and
Jeff Samardzija
.
So let's take a look at some of the GMs who could join Dombrowski, Mozeliak and Ryan in making a huge splash of their own at the winter meetings.
Brian Cashman | Needs: starting pitching, second base, closer

I know what you are thinking: Cashman already made a splash by signing
Brian McCann
to a five-year, $85 million contract and
Jacoby Ellsbury
to a seven-year pact. But as I see it, that was just the appetizer.
Cashman remains focused on second baseman
Robinson Cano
, and once CAA and RocNation move a little closer to Cashman's numbers, an eight-year, $200 million deal could get done before Cashman leaves the winter meetings.
To continue reading this article you must be an Insider
November, 1, 2013
Nov 1
11:20
AM ET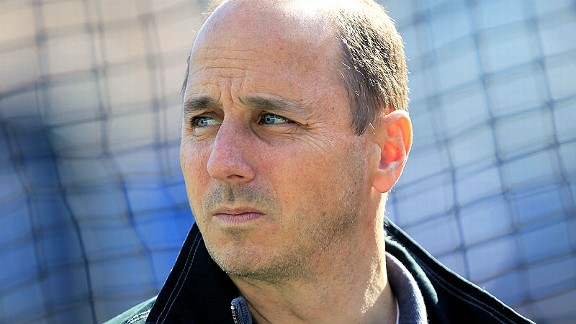 John Munson/The Star-Ledger/US PresswireBrian Cashman has a laundry list of issues to address in what looks like a long offseason.
Most assume the general managers of baseball's small-market teams have the toughest jobs in baseball. After all, when you're hamstrung by limited finances, it can be tough to win.
However, it's the general managers of teams in baseball's biggest markets who have the toughest jobs this offseason. They are the ones who are hamstrung, not by limited finances, but by their fan bases or an impatient ownership group that refuses to wait five years. Rather than rebuild, they continually retool.
After years of following this model, four large-market teams find themselves saddled with large, overpriced rosters filled with declining players and few tradable assets, as well as weak farm systems. They are heavily compromised going into free agency, so instead of enjoying huge financial advantages, they will have to compete with teams that have more free-agent appeal because their chances to win over the next few years are much better.
Here is a look at four of the toughest GM jobs in baseball this offseason:
To continue reading this article you must be an Insider
October, 8, 2013
Oct 8
11:11
AM ET
With his contract with the
New York Yankees
due to expire Oct. 31, Joe Girardi sits in the catbird seat, as the
Chicago Cubs
,
Washington Nationals
,
Cincinnati Reds
and
Seattle Mariners
are all posting "help wanted" signs.
Girardi fits well with several clubs for various reasons, but the overarching and most important reason he chooses a team will be his family. Girardi has said continuously that his family will be the deciding factor, and it's believed that his wife, Kim, and three children are happy living in the New York suburbs.
Let's examine all the potential landing spots for Girardi to see which one is the best fit.
To continue reading this article you must be an Insider
August, 30, 2013
Aug 30
11:00
AM ET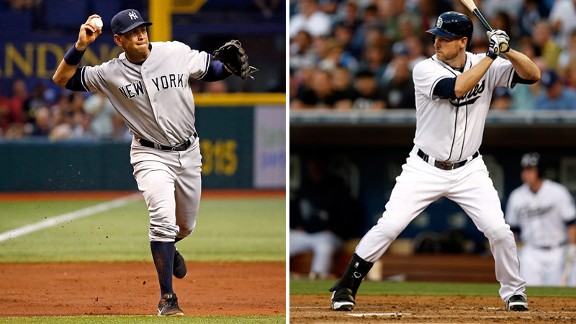 Getty ImagesCould Chase Headley be a long-term solution to replace Alex Rodriguez at third base?
The
New York Yankees
should be pleased with how
Alex Rodriguez
has played since his return from hip surgery and the disabled list. His bat speed and ability to hit a good fastball have improved considerably compared to where he was at the end of the 2012 season.
However, the team also realizes that Rodriguez possibly will start the 2014 season on the suspended list for
his involvement in the Biogenesis scandal
, pending his appeal. If the appeal doesn't succeed, how long will the suspension be -- 50, 100, or the full 211 games originally handed down?
Therefore, general manager Brian Cashman must make preparations to start the 2014 season without Rodriguez -- either with a stopgap measure or long-term solution at third base. Cashman clearly knows the answer for either time frame is not in the Yankees' farm system. Though
Kevin Youkilis
(on the DL after back surgery) and
Mark Reynolds
might still be options, Cashman has to wonder if Youkilis will ever perform at a high level again, and is likely concerned about Reynolds' below-average defense at third and his strikeout ratio.
That means there are just two viable avenues Cashman can take -- trade or free agency. Cashman's scouts should be out in force during September, bearing down on their evaluations of Rodriguez's possible replacements.
In the following list, I grouped players by trade or free-agency targets and categorized them as long-, medium- or short-term solutions, depending on how long I think each player might fit with the Yankees. Long-term players would completely replace Rodriguez beyond his return from even a 211-game suspension. Medium-term solutions would replace Rodriguez from anything beyond 100 games and below 211. Short-term players fill the gap until Rodriguez returns from a 50- or 100-game suspension.
Here is a quick look at how the third-base market currently stands for the Yankees this offseason.
To continue reading this article you must be an Insider
January, 30, 2013
Jan 30
11:00
AM ET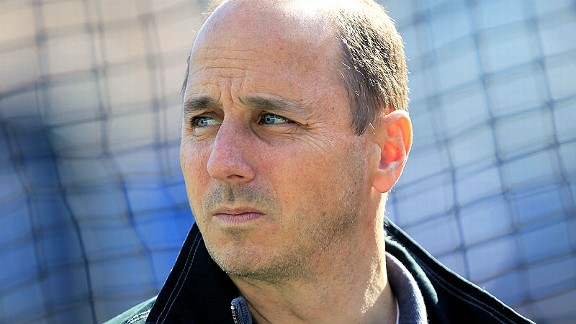 John Munson/The Star-Ledger/US PresswireBrian Cashman is trying to clear payroll in preparation for potential monster 2014 free agent class.
The
New York Yankees
have been relatively inactive this offseason, but that doesn't mean general manager Brian Cashman hasn't been busy.
Fans might wonder why their team, which has historically used free agency to fortify its roster, would limit spending and hold off on signing the big free agents this year and instead just bring back veterans such as
Andy Pettitte
,
Mariano Rivera
and
Hiroki Kuroda
after the Yankees' disappointing 2012 campaign. But Cashman has been adamant to get his payroll below $189 million by 2014, and for good reason.
Most important is the Yankees' luxury tax goes up to 50 percent for every dollar over $189 million in 2014. The Yankees are the only team in baseball in that situation, because they've been over the threshold limit three times in a row. If they stay under the $189 million in 2014, they won't pay a tax that year and they get to restart their luxury tax history. By restarting that history, the tax rate reverts to just 17.5 percent the next time they exceed it, which we should all expect to be 2015.
As the Yankees get below the luxury tax threshold, Cashman will have lined up his team for a possible bonanza free-agent haul – specifically starting pitchers -- in 2014 and perhaps 2015. The timing could not be better for the Yankees over the next two years. Here are several reasons why it should surprise no one if the Yankees blitz the 2014 offseason with a major spending spree.
Best free-agent class ever?
To continue reading this article you must be an Insider
January, 24, 2013
Jan 24
2:00
PM ET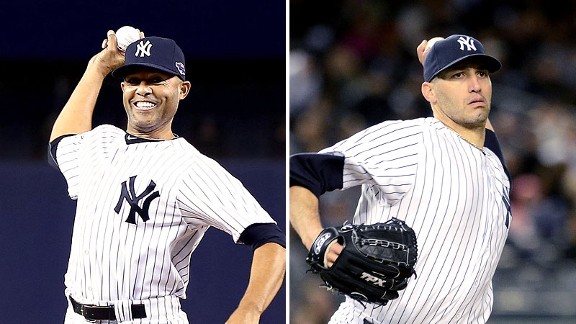 Getty ImagesWith Rivera and Pettitte back, the Yanks can contend. But so can everone else in the AL East.
During my entire 15-year career in baseball as a GM and through today, commissioner Bud Selig has emphasized improving the game's competitive balance.
He said his goal was for all 30 clubs' fan bases to have "hope and faith" on Opening Day that their team would be able to contend for a postseason berth. However, full parity has eluded one division for more than a decade. The American League East stood as an example of how wide the chasm can be between winning and losing teams.
To continue reading this article you must be an Insider
October, 30, 2012
10/30/12
11:30
AM ET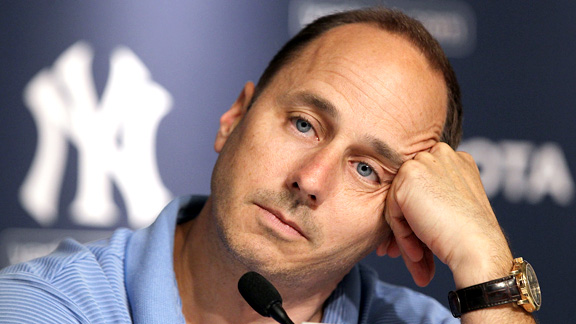 Jim McIsaac/Getty ImagesYankees GM Brian Cashman has an exhausting task ahead of him this offseason.
Even though the offseason has only just commenced for the
San Francisco Giants
and
Detroit Tigers
, general managers of 28 other teams already have been pondering their futures for some time.
For five GMs in particular, their jobs for the next three months are uniquely difficult, perhaps the most difficult in baseball. A variety of obstacles stand in their way of effectively making over their teams. They will have to hurdle those obstacles in order to improve their teams, and that's easier said than done.
Here are the five general managers who have the toughest jobs this winter. For the Giants and Tigers, it's finally time to rest. For these guys, their work has already started.

1. Brian Cashman, New York Yankees
Hands down, Cashman has the most difficult path facing him of any general manager of baseball. Perhaps it just comes with the territory of being the GM of baseball's uber-team, but this offseason is especially difficult. With the Yankees' mandate of "anything less than a World Series is failure" hovering over him, the fixes Cashman faces are not easy. Additionally, the Yankees are trying to get under the luxury tax threshold by 2014, and their best prospects are not close to contributing.
The Yankees have never had the luxury of going with a full-scale youth movement -- they are expected to contend every year, so Cashman must resolve the situation with
Alex Rodriguez
, whose declining skills, massive contract and no-trade clause make him nearly impossible to move. Picking up the contract options for
Robinson Cano
and
Curtis Granderson
was a good first step, but
Mariano Rivera
might retire and
Rafael Soriano
might opt out of his deal. And then you have
Derek Jeter
returning from injury, and who knows what to expect from
Michael Pineda
?
In other words, Cashman must retool a World Series contender with limited money, a fallow farm system and an aging roster rife with no-trade clauses. Toughest job, indeed.

2. Dayton Moore, Kansas City Royals
Moore can position the Royals as 2013's version of the
Baltimore Orioles
or Oakland A's. Position players
Mike Moustakas
,
Eric Hosmer
,
Alex Gordon
and
Billy Butler
are all ready to lead a playoff team. But Moore must completely rebuild his starting rotation, and to do that, he will have to make some uncomfortable decisions, including trading one of the aforementioned players.
Moore has talked about 2014 as the Royals' year to compete. But he has the talent to win now, and he should start by acknowledging the failure of
Luke Hochevar
. Dumping him would serve as a philosophical change for a club that has become enamored with "stuff" rather than results. While
Danny Duffy
and
Jake Odorizzi
are good pitching prospects, the majority of them have been way overhyped. Their only way to improve the rotation so quickly is to bring back
Zack Greinke
or sign
Kyle Lohse
or
Anibal Sanchez
and trade one of those young hitters. I know Moore has gone down this free-agent pitching path before, with the disastrous
Gil Meche
signing, but he can't keep waiting for 2014. It's time to win now.

3. Ben Cherington, Boston Red Sox
The fact is, nearly every move Cherington made last season did not work. From hiring Bobby Valentine, to trading
Jed Lowrie
to Houston and
Kevin Youkilis
to Chicago and
Josh Reddick
to Oakland, to the failed conversion of
Daniel Bard
to the starting rotation, it was a rough rookie year for Cherington.
However, what did work was the massive trade with the
Los Angeles Dodgers
that shed the Red Sox of
Adrian Gonzalez
,
Josh Beckett
,
Carl Crawford
and
Nick Punto
. That move shaved approximately $58 million in 2013 payroll alone. And with the acquisition of manager John Farrell, Cherington is effectively starting from scratch. And he's on the clock now, too.
Cherington's a bright guy and he will have ample opportunity to show what he can do with what almost amounts to a clean slate. He will have some cornerstones such as
Dustin Pedroia
and
Will Middlebrooks
, but he has to also hope
Jon Lester
and Bard return to form in their respective roles. His priority will be to figure out what to do with
Jacoby Ellsbury
, who is a free agent in 2013 and is represented by Scott Boras, so it won't be an easy negotiation. Cherington's team has plenty of holes, and he will have some financial freedom, so there will be opportunities to show last season's disaster was an aberration.

4. GM Mike Hill, president Larry Beinfest, Miami Marlins
It is a difficult situation when you're the general manager of a ballclub, but not really the general manager, or when you're the president of a ballclub, but not really the president. Essentially, owner Jeffrey Loria calls the shots on all personnel decisions and managers, and Ozzie Guillen was the latest casualty. Don't be surprised if outspoken outfielder
Logan Morrison
is next.
Of course, Guillen wasn't without fault here, alienating the Cuban section of the Marlins' fan base early last season. But after signing
Heath Bell
last winter and then trading him to Arizona, free agents will pause before going to Miami. So will managers who see no job security in South Beach -- in a span of six years, three managers (Joe Girardi, Fredi Gonzalez and Guillen) have held the job.
The Marlins will be competing with a resurgent
Philadelphia Phillies
team that still boasts the best rotation in the National League. The
New York Mets
will have lots of money coming off the books in time for the 2014 offseason and the
Atlanta Braves
and
Washington Nationals
are both built to compete for the next five years. But the Fish have some core pieces to work with, namely
Mark Buehrle
,
Jose Reyes
and
Giancarlo Stanton
, as well as some good youngsters in
Rob Brantly
,
Jacob Turner
and Nathan Eovaldi, as well as prospects
Jose Fernandez
and Christian Yelich. If Hill and Beinfest can do something this offseason with some autonomy, they could compete in the NL East.

5. Chris Antonetti, Cleveland Indians
When I say Cashman doesn't have any money and is restricted by his payroll, remember the Yankees' yearly payroll is near $200 million. Cleveland's 2012 Opening Day payroll was $65 million.
So Antonetti really doesn't have any money, nor does he have much of anything else to work with. His hiring of Terry Francona as manager is a step in the right direction. But a manager will only win if he has winning players. The "best" pitching pieces he has to trade are
Ubaldo Jimenez
and
Justin Masterson
, who don't have a ton of value right now. His farm system is below average at best, with the exception of shortstop Francisco Lindor.
Shin-Soo Choo
, arguably Antonetti's best player, is a free agent after 2013, and Boras is his agent. Antonetti simply can't let Choo walk away for only draft-pick compensation.
Further, the AL Central is surprisingly deep with Detroit's dominance, Chicago's surprise and the Royals' rise. Exacerbating things is his team and fan base seem to have lost faith in the front office, with closer
Chris Perez
openly criticizing him in the media. A rough road lies ahead for Antonetti and team president Mark Shapiro, whose own deal is up after 2013.
May, 24, 2012
5/24/12
12:07
PM ET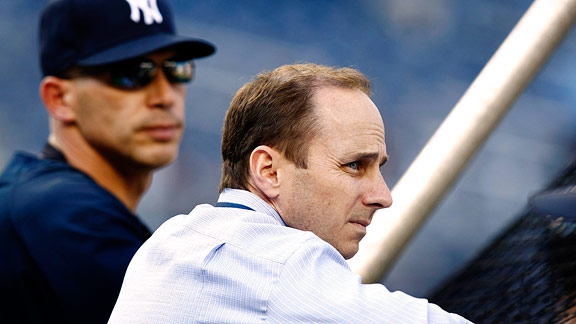 Joe Robbins/Getty ImagesTrimming payroll is not something Brian Cashman and the Yankees are accumstomed to.
On March 1, Brian Cashman's job got a lot more difficult.
That's when the
New York Yankees
' general manager was reading the headlines Yankees owner Hal Steinbrenner made when he said the Yankees would get their payroll below $189 million by 2014. They would do this despite spending at least $200 million every year since 2007.
Indeed, payroll reduction plans were always in place when George Steinbrenner was running the club, but they never seemed to materialize. For Cashman to continue the Yankees' winning ways, they might want to delay that decreasing plan for some time.
With a farm system that lacks major league-ready players and a rapidly aging big league roster, the standard of success the Yankees have enjoyed for nearly two decades will be difficult to maintain with a payroll shrinking in the manner Hal Steinbrenner suggests it will. The only way they can continue competing and simultaneously rebuilding the team's cumulative talent pool -- especially their cleanup hitter -- is to continue to spend.
To continue reading this article you must be an Insider
January, 14, 2012
1/14/12
2:13
AM ET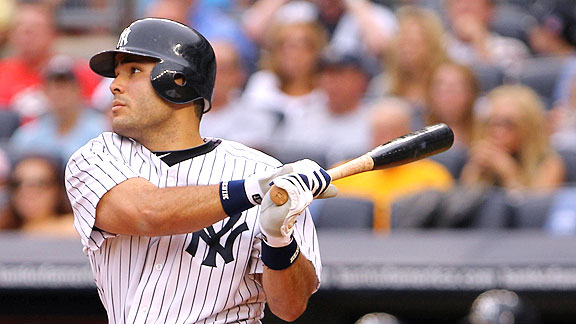 Anthony Gruppuso/US PresswireJesus Montero is going to hit with plenty of power for Seattle.
Trust New York to liven things up on a Friday night.
After staying largely silent throughout the offseason, the
New York Yankees
awoke from their slumber by acquiring right-hander
Michael Pineda
and farmhand Jose Campos from the
Seattle Mariners
in exchange for catcher
Jesus Montero
and pitcher
Hector Noesi
. Indeed, Yankees GM Brian Cashman again proved why he is one of the best general managers in baseball. Often he's not given due credit because he's had the game's highest payroll throughout his career. However, in a matter of hours, Cashman rebuilt the Yankees' starting rotation.
What they got
Yankees:
Pineda should slot in as the Yankees' No. 2 starter, between
C.C. Sabathia
and
Ivan Nova
. But make no mistake -- the 22-year-old right-hander is destined to lead a rotation at some point in the future. He went just 9-10 with a 3.74 ERA with Seattle last year, displaying an overpowering fastball that sat in the 95-100 mph range and that looks even harder and gets on hitters quicker because of his 6-foot-7 frame with late, explosive, four-seam movement. His slider is nasty, too, and as with his fastball, he possesses uncanny command of the pitch in the zone. He also backdoors the slider to lefties, putting it on the black at will. His changeup has good deception and arm speed.
The Yankees also get a promising prospect in Campos, 19. At 6-4, 200 pounds, Campos owns an electric 93-96 mph fastball with downward plane. His slider probably is his best breaking pitch, but his 12-6 curveball rarely makes the strike zone. However, a young man with this type of arm is no throw-in.
To continue reading this article you must be an Insider
December, 28, 2011
12/28/11
10:40
AM ET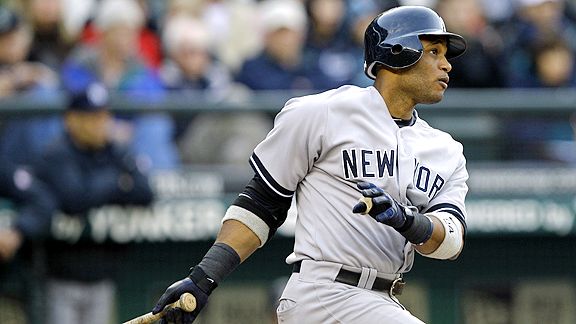 AP Photo/Elaine ThompsonWhen compared to his production, Robinson Cano's contract is a bargain.
It is really difficult to compare the best contracts in baseball based on the present salary infrastructure. To compare and rank them, you have to take into account arbitration eligibility, free-agent years and non-arbitration years. In addition, one must compare each year within arbitration eligibility separately, because a player with three years of eligibility can be worth millions more than a player with one or two years of eligibility.
Keep in mind that these rankings must assume that the player stays relatively healthy through the length of the contract.
When you factor in a player's production against his cost -- by total cost of the contract or by year (average annual value) -- it's easy to see why these are the 10 best contracts in baseball right now.

Hands down, Cano is one of the top five players in the American League right now. For all the great work that Yankees general manager Brian Cashman has done for the Yankees -- signing free agents
CC Sabathia
and
Mark Teixeira
and trading for
Curtis Granderson
or drafting players like
Phil Hughes
-- he doesn't get enough credit for his foresight in shrewd multiyear deals like Cano's.
---
To continue reading this article you must be an Insider
December, 4, 2011
12/04/11
3:00
PM ET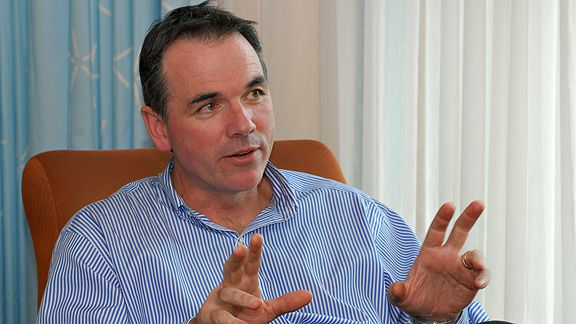 AP Photo/Phelan M. EbenhackBilly Beane has used the winter meetings to get deals done or start dialogues for deals.
During baseball's offseason, there's no better place to get face time with a potential trade partner than the winter meetings.
Major League Baseball's winter meetings have evolved considerably since the days when teams used the meetings solely as way for team personnel to gather with their counterparts on other teams and exchange ideas and feedback. Media relations people, traveling secretaries, trainers and, of course, baseball operations personnel all used the winter meetings to discuss the industry with little fanfare.
These days, those same people still meet, but the winter meetings have become a major event.
Inside the Hotel Anatole in Dallas, each team is settting up its general manager's suite as the nerve center of information and interaction. It is every team's war room to perhaps begin talks with teams or agents or to pull off a deal. On average, each club will have about 20 baseball operations personnel ranging from the team president and owner, general manager and assistant general manager, scouting director, farm director, AL and NL scouts, traveling secretary, media relations and medical staff.
To continue reading this article you must be an Insider
November, 22, 2011
11/22/11
11:13
AM ET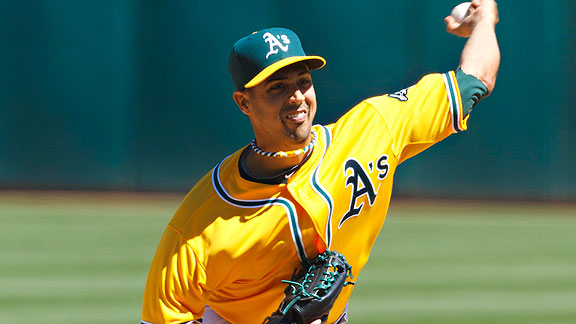 Jason O. Watson/US PresswireThe Yankees could be in the mix for Gio Gonzalez if they are willing to part with a top pitching prospect.
• The
New York Yankees
have been reluctant to move top pitching prospects Manny Banuelos and
Dellin Betances
for all the right reasons. However, if Oakland shops southpaw
Gio Gonzalez
, who has one of the best left-handed breaking balls in the AL, Yankees general manager Brian Cashman will adjust and include at least one of the two in the right package. Cashman is also pursuing
Jair Jurrjens
from the Braves, dangling shortstop
Eduardo Nunez
, but so far will not give up either Banuelos or Betances for Jurrjens.
To continue reading this article you must be an Insider
October, 31, 2011
10/31/11
11:41
PM ET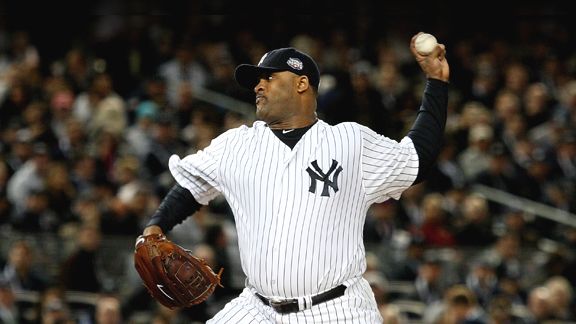 Jim McIsaac/Getty ImagesIn the end, CC Sabathia and the Yankees were each other's best fits.
It isn't often the
New York Yankees
find themselves with their backs against the wall. And yet, that is exactly what happened when facing the possibility of life without left-hander
CC Sabathia
.
The Yankees' ace could have opted out of his contract, which would have allowed him to become a free agent, but Sabathia agreed Monday to a one-year $25 million contract extension plus a $5 million buyout. Added onto the four years and $92 million he had remaining on his deal, Sabathia is effectively sewn up as a Yankee through 2016. The deal also features a $25 million option for 2017 that vests if he avoids serious shoulder problems in 2016.
Why this move?
Credit Sabathia's agent, Greg Genske, with leveraging the Yankees in 2008 by having the moxie to insist on an opt-out clause and the foresight to know what starting pitching in this year's free agent market was going to look like. With starting pitching the Yankees' main area of need going into this off-season Yankees general manager Brian Cashman simply didn't have a choice but to accommodate Sabathia's wishes.
To continue reading this article you must be an Insider
September, 24, 2011
9/24/11
10:29
AM ET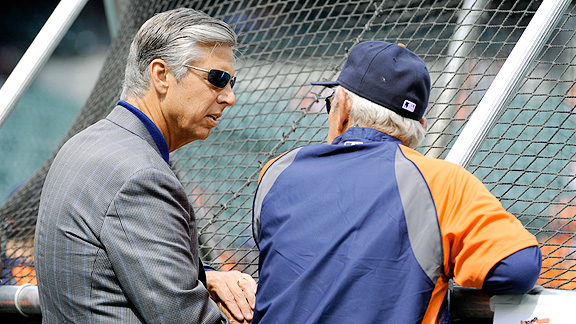 Diamond Images/Getty ImagesDave Dombrowski and Jim Leyland are looking for a second World Series championship together.
After leading the
Atlanta Braves
to 14 straight National League East Division titles, there is little debate that John Schuerholz and Bobby Cox formed one of the best, if not the best, general manager/manager teams in the last 30 years. The duo worked together from 1990 through 2007, and their 14 straight divisional titles is a feat that's never been matched in any of the major sports. The pair also won four NL pennants and a World Series championship in 1995. Both are high-class, high-character individuals, and someday both will be enshrined in baseball's Hall of Fame.
However, with both Schuerholz and Cox now enjoying retirement, the best active duo is found in the Motor City --
Detroit Tigers
GM Dave Dombrowski and manager Jim Leyland. Dombrowski and Leyland have reputations as being straight-forward and honest, earning respect throughout baseball. Likewise, they respect each other and are able to express their thoughts to one another. The Dombrowski/Leyland team has worked so well because the two do not have any major philosophical differences. That doesn't mean they agree on everything, but they also both recognize each other's responsibilities and areas of influence -- lines over which neither has ever crossed.
To continue reading this article you must be an Insider