The GM's Office:

Ben Cherington
July, 31, 2014
7/31/14
6:46
PM ET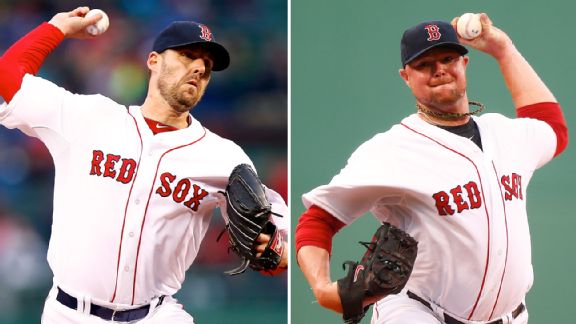 Jared Wickerham/Getty ImagesThe Red Sox still have work to do following the John Lackey and Jon Lester trades to retool for 2015.
The
Boston Red Sox
didn't trade
Jon Lester
and
John Lackey
on Thursday with a "rebuild" in mind.
Given its core of veteran talent, this is not a team that needs to rebuild. Instead, Red Sox general manager Ben Cherington's objective in
trading Lester
and
Jonny Gomes
to the
Oakland Athletics
for
Yoenis Cespedes
and Oakland's competitive balance draft pick, and then trading
Lackey to the Cardinals
for
Allen Craig
and
Joe Kelly
, is to retool and get back to competing for a division title next year. That's what management and Red Sox fans expect.
And frankly, I think he did a phenomenal job doing that.
November, 4, 2013
11/04/13
11:15
AM ET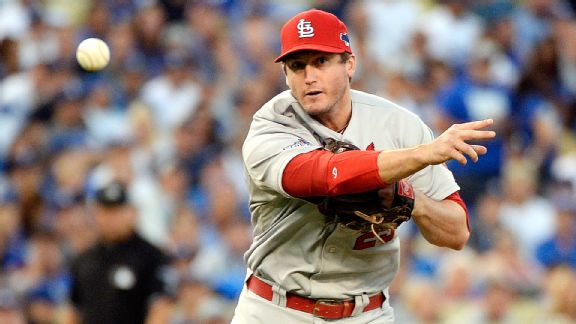 Richard Mackson,USA TODAY SportsThe Cardinals' depth would allow them to trade David Freese in the offseason.
In the offseason, teams bid for the same free agents, try to negotiate trades for many of the same players, and even vie for the same players in December's Rule 5 draft at the annual winter meetings. However, that doesn't mean the teams are on a level playing field as they compete for those players. Some teams will have definite advantages going into the offseason, and not simply because of financial wherewithal.
Indeed, the teams that are best-positioned for the offseason already have gone to great lengths to ensure they have trade assets on their major league rosters and in their farm systems as well as adequate money to spend on free agents. And these teams usually feature a general manager who's ready to wheel and deal. The teams that have this positioning usually are the ones that are playing deep into October.
On Friday we discussed which
general managers had the toughest jobs this offseason
. Let's take a look at the four teams best-positioned for this offseason. I evaluated them using five categories: major league roster, farm system, payroll/money to spend, trade bait and needs (plus a quick look at the GM's priorities).
To continue reading this article you must be an Insider
November, 2, 2013
11/02/13
9:00
AM ET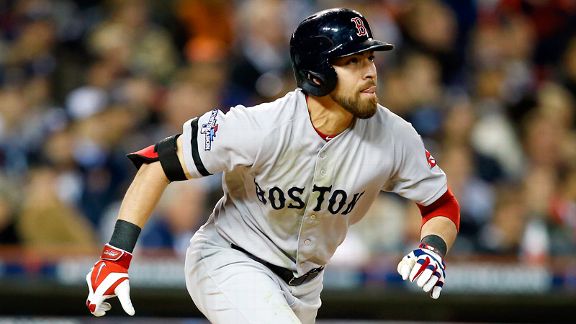 Rick Osentoski/USA TODAY SportsIt's hard to envision the Red Sox ponying up the kind of deal Jacoby Ellsbury is seeking.
Right now, the most pressing thing for the
Boston Red Sox
is the parade celebrating their World Series championship -- the first won in Fenway Park since 1918.
However, once all the celebrations are completed, the Red Sox will begin the same arduous offseason campaign 29 other teams will be engaged in -- preparing for the 2014 season by addressing some significant baseball issues facing them this winter.
Here is a quick look at what Boston must do to repeat.
To continue reading this article you must be an Insider
October, 30, 2012
10/30/12
11:30
AM ET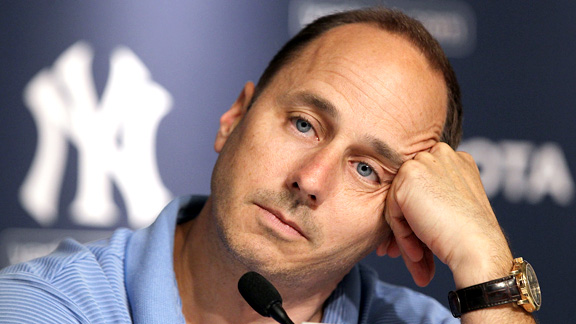 Jim McIsaac/Getty ImagesYankees GM Brian Cashman has an exhausting task ahead of him this offseason.
Even though the offseason has only just commenced for the
San Francisco Giants
and
Detroit Tigers
, general managers of 28 other teams already have been pondering their futures for some time.
For five GMs in particular, their jobs for the next three months are uniquely difficult, perhaps the most difficult in baseball. A variety of obstacles stand in their way of effectively making over their teams. They will have to hurdle those obstacles in order to improve their teams, and that's easier said than done.
Here are the five general managers who have the toughest jobs this winter. For the Giants and Tigers, it's finally time to rest. For these guys, their work has already started.

1. Brian Cashman, New York Yankees
Hands down, Cashman has the most difficult path facing him of any general manager of baseball. Perhaps it just comes with the territory of being the GM of baseball's uber-team, but this offseason is especially difficult. With the Yankees' mandate of "anything less than a World Series is failure" hovering over him, the fixes Cashman faces are not easy. Additionally, the Yankees are trying to get under the luxury tax threshold by 2014, and their best prospects are not close to contributing.
The Yankees have never had the luxury of going with a full-scale youth movement -- they are expected to contend every year, so Cashman must resolve the situation with
Alex Rodriguez
, whose declining skills, massive contract and no-trade clause make him nearly impossible to move. Picking up the contract options for
Robinson Cano
and
Curtis Granderson
was a good first step, but
Mariano Rivera
might retire and
Rafael Soriano
might opt out of his deal. And then you have
Derek Jeter
returning from injury, and who knows what to expect from
Michael Pineda
?
In other words, Cashman must retool a World Series contender with limited money, a fallow farm system and an aging roster rife with no-trade clauses. Toughest job, indeed.

2. Dayton Moore, Kansas City Royals
Moore can position the Royals as 2013's version of the
Baltimore Orioles
or Oakland A's. Position players
Mike Moustakas
,
Eric Hosmer
,
Alex Gordon
and
Billy Butler
are all ready to lead a playoff team. But Moore must completely rebuild his starting rotation, and to do that, he will have to make some uncomfortable decisions, including trading one of the aforementioned players.
Moore has talked about 2014 as the Royals' year to compete. But he has the talent to win now, and he should start by acknowledging the failure of
Luke Hochevar
. Dumping him would serve as a philosophical change for a club that has become enamored with "stuff" rather than results. While
Danny Duffy
and
Jake Odorizzi
are good pitching prospects, the majority of them have been way overhyped. Their only way to improve the rotation so quickly is to bring back
Zack Greinke
or sign
Kyle Lohse
or
Anibal Sanchez
and trade one of those young hitters. I know Moore has gone down this free-agent pitching path before, with the disastrous
Gil Meche
signing, but he can't keep waiting for 2014. It's time to win now.

3. Ben Cherington, Boston Red Sox
The fact is, nearly every move Cherington made last season did not work. From hiring Bobby Valentine, to trading
Jed Lowrie
to Houston and
Kevin Youkilis
to Chicago and
Josh Reddick
to Oakland, to the failed conversion of
Daniel Bard
to the starting rotation, it was a rough rookie year for Cherington.
However, what did work was the massive trade with the
Los Angeles Dodgers
that shed the Red Sox of
Adrian Gonzalez
,
Josh Beckett
,
Carl Crawford
and
Nick Punto
. That move shaved approximately $58 million in 2013 payroll alone. And with the acquisition of manager John Farrell, Cherington is effectively starting from scratch. And he's on the clock now, too.
Cherington's a bright guy and he will have ample opportunity to show what he can do with what almost amounts to a clean slate. He will have some cornerstones such as
Dustin Pedroia
and
Will Middlebrooks
, but he has to also hope
Jon Lester
and Bard return to form in their respective roles. His priority will be to figure out what to do with
Jacoby Ellsbury
, who is a free agent in 2013 and is represented by Scott Boras, so it won't be an easy negotiation. Cherington's team has plenty of holes, and he will have some financial freedom, so there will be opportunities to show last season's disaster was an aberration.

4. GM Mike Hill, president Larry Beinfest, Miami Marlins
It is a difficult situation when you're the general manager of a ballclub, but not really the general manager, or when you're the president of a ballclub, but not really the president. Essentially, owner Jeffrey Loria calls the shots on all personnel decisions and managers, and Ozzie Guillen was the latest casualty. Don't be surprised if outspoken outfielder
Logan Morrison
is next.
Of course, Guillen wasn't without fault here, alienating the Cuban section of the Marlins' fan base early last season. But after signing
Heath Bell
last winter and then trading him to Arizona, free agents will pause before going to Miami. So will managers who see no job security in South Beach -- in a span of six years, three managers (Joe Girardi, Fredi Gonzalez and Guillen) have held the job.
The Marlins will be competing with a resurgent
Philadelphia Phillies
team that still boasts the best rotation in the National League. The
New York Mets
will have lots of money coming off the books in time for the 2014 offseason and the
Atlanta Braves
and
Washington Nationals
are both built to compete for the next five years. But the Fish have some core pieces to work with, namely
Mark Buehrle
,
Jose Reyes
and
Giancarlo Stanton
, as well as some good youngsters in
Rob Brantly
,
Jacob Turner
and Nathan Eovaldi, as well as prospects
Jose Fernandez
and Christian Yelich. If Hill and Beinfest can do something this offseason with some autonomy, they could compete in the NL East.

5. Chris Antonetti, Cleveland Indians
When I say Cashman doesn't have any money and is restricted by his payroll, remember the Yankees' yearly payroll is near $200 million. Cleveland's 2012 Opening Day payroll was $65 million.
So Antonetti really doesn't have any money, nor does he have much of anything else to work with. His hiring of Terry Francona as manager is a step in the right direction. But a manager will only win if he has winning players. The "best" pitching pieces he has to trade are
Ubaldo Jimenez
and
Justin Masterson
, who don't have a ton of value right now. His farm system is below average at best, with the exception of shortstop Francisco Lindor.
Shin-Soo Choo
, arguably Antonetti's best player, is a free agent after 2013, and Boras is his agent. Antonetti simply can't let Choo walk away for only draft-pick compensation.
Further, the AL Central is surprisingly deep with Detroit's dominance, Chicago's surprise and the Royals' rise. Exacerbating things is his team and fan base seem to have lost faith in the front office, with closer
Chris Perez
openly criticizing him in the media. A rough road lies ahead for Antonetti and team president Mark Shapiro, whose own deal is up after 2013.
April, 24, 2012
4/24/12
5:22
PM ET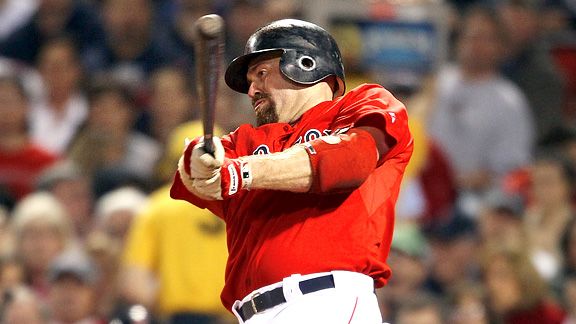 Elsa/Getty ImagesTrading Kevin Youkilis wouldn't be popular, but he could fetch some youth and pitching.
The basement is an unappetizing venue for the
Boston Red Sox
.
At 5-10, they sit at the bottom of the American League East behind a number of excellent teams. But unlike last year, when the club also started 5-10, the 2012 team is not good enough to make a dramatic turnaround as last year's team did when it went on a torrid 45-25 run from May through July. Coupled with manager
Bobby Valentine's media miscues last week
, pressure is mounting for rookie general manager Ben Cherington to make a move to help his ballclub.
Valentine is getting blamed for everything, but the fact is this team came into the season with major flaws in the outfield, starting rotation and bullpen. The Red Sox also had areas that needed upgrades at shortstop and catcher. They also have incurred major injuries. But most importantly, this team simply cannot pitch right now. And when your team can't pitch, all the other problems become magnified.
So here are five moves that could solve some of those problems and help the Red Sox climb out of the AL East cellar. The overwhelming theme here is that with each move, the Red Sox not only get better, but they also get depth for the bullpen, starting rotation and outfield positions -- something they've sorely lacked and a major reason for their late-season collapse in 2011.
To continue reading this article you must be an Insider
December, 3, 2011
12/03/11
5:27
PM ET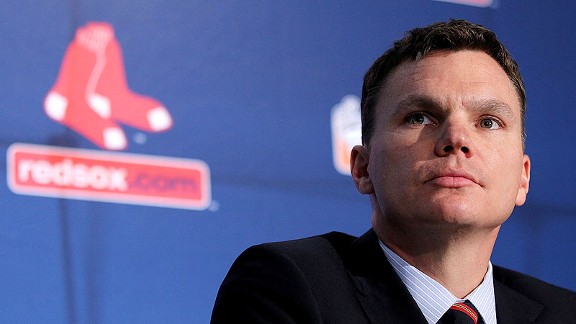 Jim Rogash/Getty ImagesAt his first winter meetings as a GM, Ben Cherington will have his hands full.
Most are expecting an active winter meetings this year, so don't be surprised if Dec. 5-8 lives up to those expectations. For seven general managers, this year will be unique. Most of them assuredly are veterans of the winter meetings, perhaps having attended in other various capacities. But this year they will be dealing with new teams and new roles at these winter meetings. Here's a description of each and what moves they could end up making.

Quick profile:
For Ryan, even though he's technically a "new" GM, this will be old hat. It's his second go-round as the Twins' GM, having replaced Bill Smith, who replaced him four years ago. Ryan is quiet, professional and scouting-oriented. He doesn't like trading prospects and believes in building a club through scouting and player development. However, his first two moves were signing high-character players like infielder
Jamey Carroll
and catcher/1B
Ryan Doumit
. Both moves improve the bench and clubhouse.
Possible moves:
Ryan has a lot of work to do, but he certainly was the right hire, as his prior track record speaks for itself. He will try to retain
Michael Cuddyer
and/or
Jason Kubel
, while searching for ways to improve the rotation, bullpen and middle infield defense. He might not have the luxury to wait for the farm system, which means he could have to be aggressive on the trade front. But it won't all happen at the meetings.
---

Quick profile:
Cherington is well-prepared for this opportunity and boasts a good balance of scouting, statistical analysis and understanding of the importance of makeup and character. He's smart, organized and calculated and surrounded by a strong staff, including former Royals GM Allard Baird. However, his cautious and meticulous nature, which is usually advantageous, has seemed to limit him thus far in the offseason. As a GM, he will learn he often must make faster decisions or they'll miss out on an opportunity. At his first winter meetings as a GM, he might learn that lesson soon enough.
To continue reading this article you must be an Insider
November, 21, 2011
11/21/11
1:24
PM ET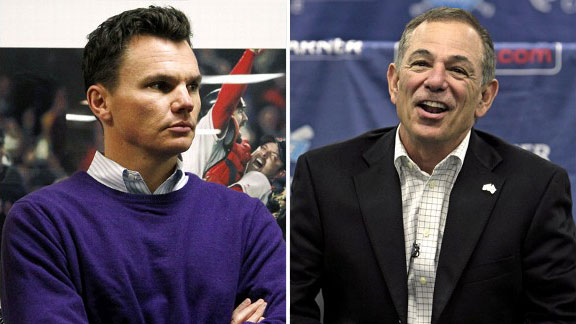 AP PhotoBen Cherington and Bobby Valentine could work well in Boston
The search for a new manager has not gone as smoothly as the
Boston Red Sox
would have liked.
They've seen a whole host of candidates come through Yawkey Way, including Gene Lamont, Pete Mackanin,
Sandy Alomar Jr.
and Torey Lovullo. New Boston general manager Ben Cherington fought over Dale Sveum with former colleagues Theo Epstein and Jed Hoyer -- who now work for the
Chicago Cubs
-- even having Sveum in for a second interview. But Sveum chose to set up shop at Wrigley Field instead of Fenway Park.
With the Red Sox's front office seemingly indifferent to the candidates it has already talked to, it has now turned its attention to Bobby Valentine, who is in Boston Monday for an interview.
By letting Epstein and Terry Francona go in October, the Red Sox put themselves in a precarious situation. Most assumed the respected Red Sox leadership of John Henry, Tom Werner and Larry Lucchino had options already established, otherwise why let go your GM and manager? They did not and now find themselves scrambling. By hiring Valentine, they can also hire someone who they can groom underneath Valentine as his bench coach and avoid putting themselves in this position again the next time they make a change.
Valentine, 61, is clearly the most qualified among all remaining manager candidates with experience. He guided the
New York Mets
to the World Series in 2000 and helped the Chiba Lotte Marines to a Japan Series championship in 2005. He's a proven winner with big-market experience. His leadership, motivational and organizational skills are exceptional. He owns a high baseball IQ and the type sense of humor and media savvy it takes to succeed in a pressurized market like Boston.
To continue reading this article you must be an Insider