The GM's Office:

B.J. Upton
February, 26, 2014
Feb 26
10:00
AM ET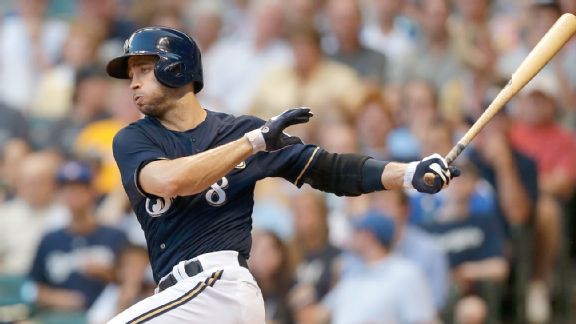 Mike McGinnis/Getty ImagesDespite the Biogenesis scandal, don't forget about Ryan Braun, who could put up big numbers.
Most fantasy baseball players are going to have the usual suspects atop their draft boards:
Mike Trout
,
Miguel Cabrera
,
Andrew McCutchen
.
However, to "win" drafts, the key is to find the undervalued players. Perhaps a player is coming off of an injury-plagued campaign. Or he has perennially flown under the radar like Baltimore's
Chris Davis
did for a couple of years before breaking out in 2013.
The one thing these undervalued targets all have in common is they're coming off relatively poor seasons so a shrewd fantasy player could nab one or two at a lower draft slot than that player has traditionally had.
Here is a list of 10 players who I think will have significantly better seasons than they did in 2013. If you select them at the right spot, they could become difference-makers for your team.
1. Ryan Braun | RF | Milwaukee Brewers

Braun is coming off his worst season after being suspended for his involvement in the Biogenesis scandal. Certainly there are reasons to be concerned -- we don't know if his career numbers were influenced by PED use, and he's also switching positions.
I don't think Braun's success was a product of PEDs and believe he wants to prove that to the world.
October, 17, 2013
10/17/13
12:30
PM ET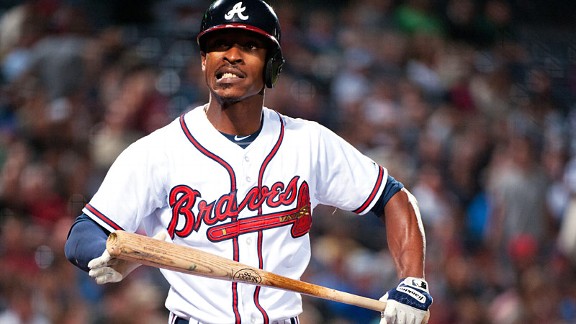 Kevin Liles/Getty ImagesThe Braves might like a mulligan on signing the disappointing B.J. Upton.
In 2008, the
Toronto Blue Jays
shocked the baseball world when they signed outfielder
Vernon Wells
to a seven-year, $126 million deal. His career .319 OBP and a dismal 2009 season and perceived decline as well as a base salary that escalated to $21 million quickly made Wells' contract such an albatross that no one thought Wells could ever be traded.
However, Wells actually was traded ... twice. First he was traded to the
Los Angeles Angels
in 2011 for
Mike Napoli
and
Juan Rivera
, then again this past March to the
New York Yankees
for minor leaguers.
There are two ways an "immovable" contract can be, well, moved. A team can do what the Angels did and assume a majority of the remaining salary; they paid $28.1 million to the Yankees, leaving just $12.9 million for the Yankees to pay in 2013 and 2014. Or a team can trade a bad contract for another bad contract, as the
New York Mets
and Angels did in 2001, when they swapped first baseman
Mo Vaughn
for right-hander
Kevin Appier
.
And swapping gargantuan contracts can sometimes benefit both teams. Such was the case in August 2012 when the
Los Angeles Dodgers
and
Boston Red Sox
made a blockbuster deal that transformed both clubs into legitimate World Series contenders. The Dodgers got the big-name player they wanted (
Adrian Gonzalez
) while the Red Sox got the financial freedom they needed to rebuild.
Also, when clubs don't have trade chips in either their farm system or major league club, and don't like the cost of the present free-agent market, they might take a chance on a bad contract because it's the only way they can make their team better, just as the Yankees did with Wells.
So, teams can trade some "immovable" contracts. Let's take a look at the present market for them. I've categorized them into somewhat likely and unlikely, as some have a better possibility of being moved than others, but no matter what it will take a couple of very motivated teams on both sides to get a deal done.
To continue reading this article you must be an Insider
October, 8, 2013
10/08/13
12:21
PM ET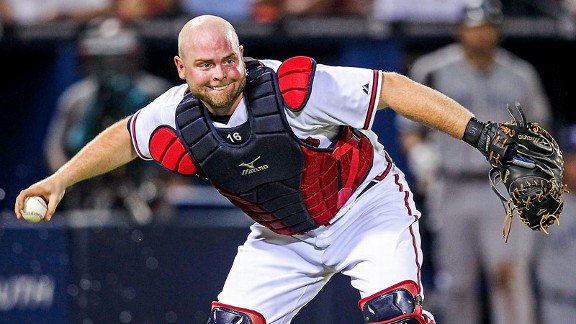 Daniel Shirey/USA TODAY SportsThe best thing for the Braves is to let Brian McCann walk away as a free agent.
The
Atlanta Braves
ran away with the National League East by winning 96 games and finishing 10 games ahead of the preseason favorite
Washington Nationals
, only to get eliminated by the
Los Angeles Dodgers
in four games in the NLDS.
One thing we know about the Braves organization is they are not complacent, and in order to improve their club they will now have to work on a new plan for second base, catcher and possibly a top-of-the-rotation impact starter.
Here is what's next for the Braves:
To continue reading this article you must be an Insider
September, 18, 2013
9/18/13
10:45
AM ET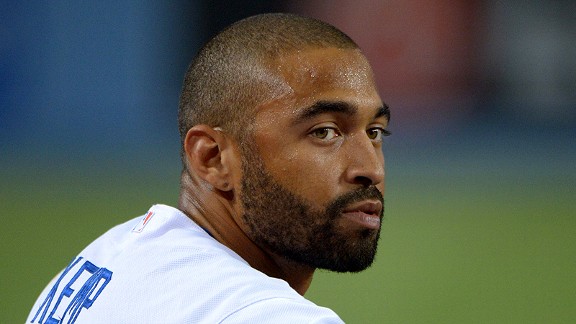 Kirby Lee/USA TODAY SportsMatt Kemp has endured a nightmare 2013, but all signs point to a resurgent 2014.
Teams can rely on offseason trades and free agency to supplement their teams for the next season. But one of the easiest and most gratifying methods is simply having an important player return to form.
In 2013, baseball has witnessed the comebacks of a number of players who have had a direct impact on their teams' success this season.
Pitchers bouncing back from lackluster 2012 seasons include
Ubaldo Jimenez
(
Cleveland Indians
),
Francisco Liriano
(
Pittsburgh Pirates
),
Jorge De La Rosa
(
Colorado Rockies
),
John Lackey
(
Boston Red Sox
) and
Ervin Santana
(
Kansas City Royals
).
Bounce-back position players who made the biggest impacts include
Jayson Werth
(
Washington Nationals
),
Eric Hosmer
(Royals),
Shane Victorino
(Red Sox),
Hanley Ramirez
(
Los Angeles Dodgers
),
Jacoby Ellsbury
(Red Sox) and
James Loney
(
Tampa Bay Rays
).
Forecasting how well these players will bounce back can be tricky, but based on a player's track record and work ethic, general managers often will take gambles based on hunches. They often are the best offseason acquisitions because they cost nothing in terms of trade assets or signing values.
Here are seven players who I believe will have bounce-back seasons in 2014 after subpar 2013 seasons:
---
1. Matt Kemp | CF | Los Angeles Dodgers

Kemp's injury-plagued 2013 season was nothing short of a nightmare. Early in the season he didn't display his typical power, and while the team maintained he was healthy, most observers attributed his lack of power to a surgically repaired shoulder. He also was hampered by a sore right hamstring in May, then again in June.
To continue reading this article you must be an Insider
May, 10, 2013
5/10/13
10:30
AM ET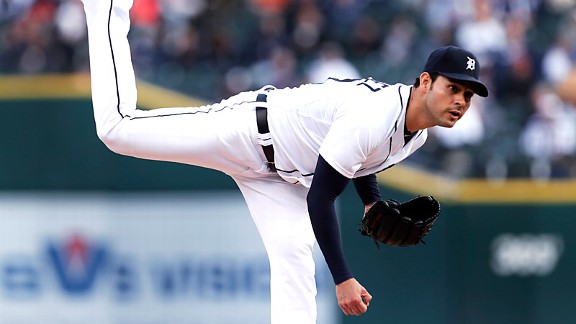 AP Photo/Paul SancyaAnibal Sanchez has helped give the Tigers arguably the best rotation in baseball.
The cream of the 2013 free-agent crop was obvious and expensive.
Teams entered the offseason flush with cash and spent prodigiously. Outfielder
Josh Hamilton
was the best position player, while
B.J. Upton
and
Michael Bourn
followed not far behind. Right-hander
Zack Greinke
was clearly the top free-agent pitcher available. All together, the four top free agents signed multiyear contracts worth close to $300 million.
And what do those teams have to show for it? The trio of outfielders has hit a combined .205 with a paltry nine home runs, five stolen bases and 93 strikeouts. Greinke added a lone win and a broken collarbone.
Conversely, there are a number of lower-priced free agents who are more than earning their paychecks. Since the top four free agents haven't lived up to their usual performance levels, which free agents have been the best bargains in baseball so far? Here's a ranking of the top 10 so far:
Note: Performance to date, salary and long-term commitment were all considered for this ranking.
To continue reading this article you must be an Insider
November, 28, 2012
11/28/12
11:05
AM ET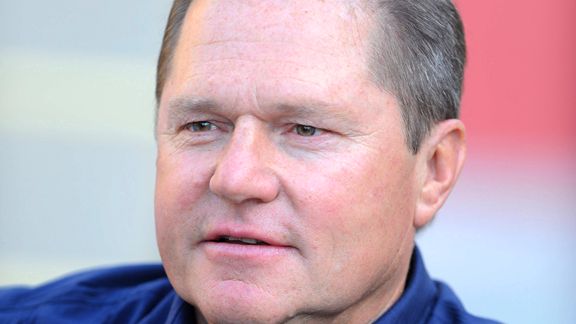 Kirby Lee/Image of Sport/US PresswireScott Boras won't be the only agent to watch at baseball's annual Winter Meetings this weekend.
Make no mistake -- Scott Boras is always the headliner among agents at baseball's annual winter meetings.
He loves the limelight and will make sure to walk by the media area at optimum times and hold court. He's always entertaining, and his strong and often controversial opinions make the TV cameras' red lights go on and writers fill their notepads. This year will be no different with his representation of free agents
Michael Bourn
,
Kyle Lohse
and
Rafael Soriano
, among many others.
However, there's been a not-so-subtle changing of the guard. For decades, high-profile agents like Tom Reich and Adam Katz, Ron Shapiro, Jim Bronner and Bob Gilhooley and Randy and Alan Hendricks often stood front and center with Boras, dominating the meetings from behind the scenes. But now, larger corporations such as CAA and SFX have taken over a lot of the game's player representations.
Regardless, the game's top power brokers will gather this weekend at the Gaylord Opryland Hotel in Nashville, Tenn. Here is a quick glance at some of this year's most important agents to watch:
---
Excel Sports Management | Lead agent: Casey Close
Top free agent
:
Zack Greinke
| Others:
Andy Pettitte
,
Scott Hairston
,
Jeremy Guthrie
(recently signed three-year, $25M deal with Royals),
Casey Kotchman
,
Jamey Wright
Greinke's likely suitors:
Los Angeles Dodgers
,
Texas Rangers
,
Los Angeles Angels
and
Washington Nationals
Background brief:
After beginning his career at IMG and accruing 20 years of experience, Close joined Excel in 2011, partnering up with Jeff Schwartz and Mark Steinberg. Their client list is cross-sport, ranging from
Derek Jeter
and
Clayton Kershaw
to the NBA's Paul Pierce, Blake Griffin and Deron Williams, as well as golf's Tiger Woods.
Style/strategy:
They are well-prepared, engaging and have a tremendous track record. They operate in a very private and professional manner and seem to attract the kind of players who handle their own business the same way. Excel is particularly good at recognizing its clients' value and market and often gets top dollar for its clients. Excel's honest, straightforward approach has gained the respect of the industry.
Problems/barriers in negotiations:
There are not a lot of clubs that have the financial wherewithal to play on Greinke.
---
MVP Sports Group | Lead Agent: Dan Lozano
Top free agent:
Nick Swisher
| Others:
Brian Wilson
,
Jonny Gomes
(recently signed two-year, $10M deal with Boston)
Swisher's likely suitors:
Boston, Atlanta, Philadelphia and Texas
Background brief:
Lozano boasts 24 years of experience, negotiating some of the game's largest deals, including
Albert Pujols
' $240 million deal with the Angels last December and
Joey Votto
's $225 million contract extension with the
Cincinnati Reds
during spring training. The two deals totaled more than half a billion dollars, a record for any agency in any one offseason.
Style/strategy:
Lozano and his staff are hard-working, loyal, passionate and treat their clients like family. His firm uses a stealth approach, as demonstrated by the Albert Pujols negotiations last December, when the Angels swooped in to get him at the last minute. Lozano doesn't play games, preferring direct and straightforward negotiations with club executives. He always comes extremely prepared with top-notch communication skills.
Problems/barriers in negotiations:
Swisher's poor postseason performance could undermine the fact he's had eight straight years of 20-plus home runs.
---
Reynolds Sports Management | Lead agent: Larry Reynolds
Top free agent:
B.J. Upton
(recently signed a five-year, $75 million deal with Atlanta) | Others:
Torii Hunter
(recently signed a two-year, $26M deal with Detroit)
Upton's likely suitors:
Atlanta, Philadelphia, mystery team
Background brief:
Reynolds possesses 28 years of experience as an agent, and prior to negotiating Hunter's recent two-year deal, he got him a five-year, $90 million contract with the Angels in 2007, which was then the largest contract in club history.
Style/strategy:
Reynolds makes a concerted effort to tailor each negotiation to the player and club he is dealing with. He spends a great deal of time studying the negotiating styles of the club executives in order to formulate the best plan to maximize the player's compensation. Reynolds has a wide array of knowledge of the collective bargaining rights, performance comparables and how to stretch the present market. Negotiations can get adversarial and difficult depending on the situation. At the same time, Reynolds always tries to be reasonable and isn't afraid to close deals earlier in the process than most agents.
Problems/barriers in negotiations:
Getting a sixth year for Upton could be difficult.
---
Paragon Sports International | Lead agent: Brian Grieper
Top free agent:
Mike Napoli
Napoli's likely suitors:
Red Sox, Rangers and Mariners
Background brief:
Paragon is a medium-sized baseball agency with offices in Miami, Los Angeles and Chicago and represents some of baseball's top young talent and prospects. Grieper has cultivated relationships with club officials at all levels over a decade in the agent business. Many of these officials have gone on to become GMs, assistant GMs and scouting directors.
Style/strategy:
Grieper stresses open dialogue, intense preparation and creative analytical and statistical analysis. He develops personal relationships with clients through trust and loyalty. The quality of representation was best illustrated when Grieper made Napoli -- who he has represented since high school -- the highest paid catcher during arbitration, earning him a one-year deal worth $9.4 million. His raise of $3.6 million is the second highest in the history of third- or fourth-time eligible hitters, ranking behind only
Prince Fielder
. Grieper is very direct and accurate with information, and he negotiates in a respectful and professional manner.
Problems/barriers in negotiations:
Napoli is best suited with an American League team because of his value being able to DH along with playing first base and catcher. Obviously this could limit the number of teams that bid on Napoli's services.
For more on Michael Moye, who is representing Josh Hamilton, check out
Jerry Crasnick's piece today
.
November, 19, 2012
11/19/12
11:20
AM ET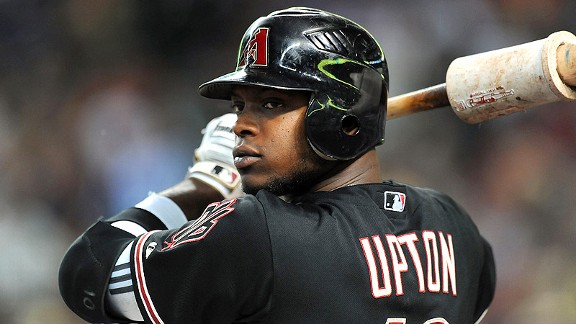 Norm Hall/Getty ImagesWhich trade option will fetch the Diamondbacks a maximum return on Justin Upton?
As early as two years ago the
Arizona Diamondbacks
had already made it public they were open to listening to offers for outfielder
Justin Upton
. They never got an offer they liked, so they held on to him. That decision paid off in 2011 when Upton hit .289 with 39 doubles, 31 home runs and helped lead the D-backs to an NL West championship while finishing fourth in the NL MVP voting.
However, that was then, this is now.
A year later, after Upton hit .280 with just 17 home runs, the club is back listening to offers. Although the team says it'll listen on all players, the fact this has become as public as it has is no coincidence. The team has been aggressively trying to trade its 24-year-old talent and will surely be seeking a long-term solution at shortstop, third base and/or pitching help. While Arizona's ownership is now
trying to downplay the likelihood
of an Upton trade, we know the club is shopping him, and a deal should not surprise anyone.
Here is a look at five teams that might have the players that fit the Diamondbacks' long-term needs. D-backs general manager Kevin Towers certainly should target them for an Upton trade.
Trade option No. 1: SS Elvis Andrus or SS Jurickson Profar


This is one scenario that is already making the rounds, although the Rangers have told the Diamondbacks that they will not move either Andrus or Profar in a deal for Upton. Towers will be patient and meticulously work on persuading Rangers GM Jon Daniels, because the only way the Rangers get Upton is to swap him for one of the talented middle infielders. If Josh Hamilton signs elsewhere, that might force Daniels to change his mind. However, my intel says the Rangers aren't going to change their minds.

Option No. 2: 3B Mike Olt and LHP Martin Perez

If the Rangers really want Upton, they can try to convince Arizona to accept a package of Olt and Perez for Upton. This trade would work well for Texas because Adrian Beltre is signed long-term and with Matt Harrison, Derek Holland, Alexi Ogando and Yu Darvish, Perez is expendable. The problem is although Towers is a fan of Olt, he might not be good enough to be the centerpiece of an Upton deal. While it seems like Upton has been around forever, he is only a year older than Olt.

Detroit Tigers | Trade targets: 3B Nick Castellanos and RF Avisail Garcia



This is probably the best fit for Towers. Castellanos has the potential to be an impact bat who should develop into an average defender at third base, but he is blocked in the big leagues by the AL MVP, which is why the Tigers have tried him in the outfield, where he has less value. Garcia is a good athlete with bat control who should be an asset as a big league regular down the line.

The move would make the Diamondbacks younger and a high-ceiling player like Castellanos would fit their long-term plans. The Tigers, on the other hand, would have three above-average defenders in Torii Hunter, Austin Jackson and Upton and would have arguably the best lineup one through six in the American League with Jackson, Hunter, Miguel Cabrera, Prince Fielder, Upton and Victor Martinez.

Tampa Bay Rays | Trade targets: RHP Jeremy Hellickson and OF Drew Vettleson



The Diamondbacks would like to get another proven starter and Hellickson is one of the better young pitchers in baseball. Hellickson, 25, has a career ERA of 3.06 and a 1.19 WHIP. Vettleson, 21, is a pure hitter with great plate discipline and the ability to use the whole field. His power finally showed up this year at low Class A Bowling Green when the 2010 supplemental first-rounder belted 24 doubles and 15 homers in 132 games.

Cleveland Indians | Trade targets: SS Asdrubal Cabrera, RHP Vinnie Pestano



The Indians need a complete makeover after they went 68-94 last year. They took a step in the right direction with the hiring of two-time world champion manager Terry Francona. However, the next step is to rebuild the starting rotation and the middle of the lineup. The team's best prospect is 18-year old Francisco Lindor, who the Indians feel will be their long-term solution at shortstop.

This might allow them to think about moving Cabrera in the right deal. The Diamondbacks, desperate for a long-term solution of their own at shortstop, would have to at least entertain the thought of an Upton-Cabrera move. Upton would give the Indians a much-needed cleanup hitter and middle-of-the-order bat that could anchor the lineup for years. And with Shin-Soo Choo set to be a free agent next winter, Upton could occupy right field for Cleveland. Knowing that Towers hates making deals without getting a bullpen arm in return, he might as well also ask for Pestano in this major trade.

Atlanta Braves | Trade targets: RHP Julio Teheran, SS Nick Ahmed



The Braves are set at shortstop for years to come with the exciting Andrelton Simmons. He is about as untouchable as any prospect in the organization, and that makes Ahmed expendable. (Word is the Rangers tried to use Olt to get Simmons in hopes of flipping him, Andrus or Profar for Upton, but the Braves wouldn't do it.)

Ahmed, 22, was the Braves' second-round selection in the 2011 draft and had a solid year at high Class A Lynchburg, both offensively and defensively while swiping 40 bases. Teheran remains the Braves' top pitching prospect and once his command and control arrive, he should be a solid No. 2 or No. 3 starter for years. For the Braves, Upton would fit nicely in left field while Martin Prado could be moved to third base to replace Chipper Jones. While the Braves are known for sticking to a strict payroll, they are taking Jones off the books this year, and Upton's contract would replace Jones' in the budget.

If I was in Towers' shoes I wouldn't trade Justin Upton. I would rather spend time trying to sign his brother, B.J., who could play center field next to him, and use Adam Eaton and A.J. Pollock as trade pieces and find lesser upgrades on the left side of the infield. I think both Uptons have the potential of playing at even a higher level than we've seen, especially if they are able to play together. Why not in Arizona?
November, 13, 2012
11/13/12
11:30
AM ET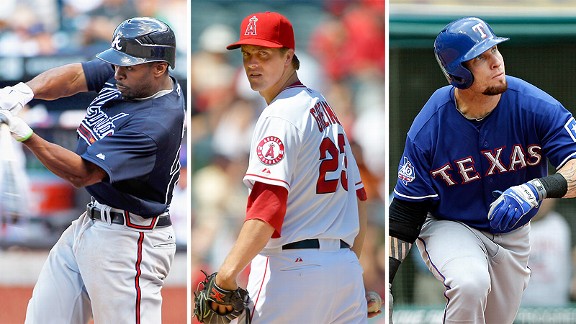 AP PhotoWith which team will Michael Bourn, Zack Greinke and Josh Hamilton sign?
Every team entering the offseason would love a shot at even one (if not several) of the top available players on the free-agent market. But that often only comes with a particular equilibrium of financial resources and baseball needs.
Below are 10 of the top available free agents, and I've ordered them based on
how much I think they will earn in their next contract
. I've also indicated where they fit best -- never listing a team more than once -- as well as how probable that signing might be.
(Check out the
Bowden Big Board
, which ranks the top 50 free agents based on what I expect them to earn on their next contact based on average annual value or AAV.)
Josh Hamilton | OF | Best fit: Texas Rangers
I won't be surprised if Hamilton's best offer comes from a surprise team like the
Seattle Mariners
,
Baltimore Orioles
or
Milwaukee Brewers
. But I think the best fit for Hamilton remains the Rangers. They are the most familiar with Hamilton and all the issues that come with him. They have a strong support team in place for him and are willing to give him a competitive average annual value. I don't think three years will get it done, and I'll be shocked if the Rangers don't go to a fourth or even a fifth year for him. Simply, the Rangers have been a much better team over the past three years with Hamilton in the lineup and he won't be easily replaced if he leaves.
Probability:
Medium
Zack Greinke | RHP | Best fit: Los Angeles Dodgers
Greinke might end up the highest-paid right-handed starting pitcher in baseball history by the time the winter meetings conclude in Nashville, Tenn., next month. The
Los Angeles Angels
, Dodgers and Rangers appear to be the teams with the most interest and wherewithal to make a play at this level, though the Nationals could be a dark horse.
I think Southern California is the best spot for Greinke, and he proved last September that he can handle the pressure of the large market. In fact, he pitched his best games against contending teams down the stretch. I think he ends up signing with the Angels because they're more likely than the Dodgers to give him an extra year. However, the Dodgers would be a tremendous fit for him, pitching alongside
Clayton Kershaw
at the top of the Dodgers' rotation. And by signing Greinke, the Dodgers certainly would assume sole possession of the highest payroll in baseball. West Coast
New York Yankees
, indeed.
Probability:
Medium
Michael Bourn | CF | Best fit: Washington Nationals
Bourn is the best leadoff hitter available on the free-agent market. Possible fits for the two-time Gold Glove Award winner include the
Philadelphia Phillies
,
Cincinnati Reds
and
Atlanta Braves
. However, he's potentially a postseason game-changer for the Nationals. They would love to move
Bryce Harper
to one of the outfield corners and put a defender in center field who can run down fly balls as well as anyone.
Offensively, having a leadoff hitter who can help manufacture runs with his speed would really improve the Nats' chances of winning the World Series, but general manager Mike Rizzo told me this week that
Adam LaRoche
is his top priority this offseason. If the Nationals re-sign him, they will probably keep Harper in center field until their top center field prospect, Brian Goodwin, is ready. It sounds like the only way they make a play on Bourn is if LaRoche signs with the
Boston Red Sox
, Rangers or Orioles.
Probability:
Low
B.J. Upton | CF | Best fit: Philadelphia Phillies
The Phillies' No. 1 priority this offseason is improving center field with a long-term solution and Upton is their No. 1 free-agent target. Upton would be an excellent fit with the Phillies because they need another right-handed bat to better balance their lineup, and his raw power should result in more than 30 home runs per season at Citizens Bank Park.
Upton would also give the team some much-needed speed, and he's a No. 2 or No. 6 hitter in a championship-caliber lineup. From my discussions with Rays manager Joe Maddon it sounds like Upton's really starting to mature. Sure, he's going to strike out 160 times, but with his power, speed and above-average defense, Upton would be a huge plus for the Phillies.
Probability:
Medium
Anibal Sanchez | RHP | Best fit: Baltimore Orioles
The Orioles made their mark in 2012 and are set up as a solid contender in the AL East for the next several years. However, to win the division or a wild-card berth next year, they'll have to count on their starting pitchers to repeat their 2012 success, which is easier said than done with so many first-year pitchers.
Sanchez would really help improve the Orioles' chances, and he looks like he's finally figured it out, as illustrated by his impressive postseason performances with the Tigers. Sanchez, 29, was throwing mostly 93-95 mph down the stretch with a nasty change, solid slider and decent curveball and his free-agent value might have soared more than any other free agent this past season.
Probability:
Medium
Rafael Soriano | RHP | Best fit: Los Angeles Angels
The Angels are not going to spend the kind of money Soriano's seeking on a closer because it's against the philosophy of GM Jerry DiPoto, who would prefer to fill the role with more inexpensive options like
Ernesto Frieri
or
Jordan Walden
. However, Soriano would be a perfect fit for the Angels, who suffered in 2012 without a lockdown closer. The Angels had a whopping 22 blown saves and would have made the playoffs if the bullpen was more effective protecting leads late in games.
Probability:
Low
Hiroki Kuroda | RHP | Best fit: New York Yankees
The Dodgers, Red Sox and Yankees all have strong interest in Kuroda, who I expect will either return to the Yankees or go back to Japan. Kuroda had a solid first year with the Yankees and handled New York like he'd pitched there his entire career. He had his best ground ball rate of his career in 2012 and developed a strong working relationship with Yankees pitching coach Larry Rothschild.
Probability:
High
Kyle Lohse | RHP | Best fit: Kansas City Royals
The Royals' early acquisitions of
Ervin Santana
and
Chris Volstad
were a start, but the Royals must be aggressive this offseason in building up their starting rotation. Lohse was the Cardinals' best starting pitcher in the regular season this year, going 16-3 with an ERA of 2.86 and he pounds the zone with the ability to keep it on the black on both sides of the plate and rarely misses in the middle.
Lohse will consider his family needs when making a choice, and it appears that the Royals and Kansas City fit that criteria. Seems like a solid fit for both Lohse and the Royals.
Probability:
Medium
Torii Hunter | RF | Best fit: Detroit Tigers
I expect Hunter to sign with the Tigers or another team before Thanksgiving. Hunter is a perfect fit for the Tigers, who can use his leadership and positive energy on the field, in the dugout and around their young players. With the Angels, Hunter was a great influence on
Mike Trout
,
Peter Bourjos
and
Mark Trumbo
, and would be a phenomenal teacher for the Tigers' young outfielders
Avisail Garcia
and
Austin Jackson
. Manager Jim Leyland told me that he'd like to add a 15-20 home run bat who can drive in 80 and play above-average defense on one of the corners. Obviously, Hunter fits the bill better than anyone else on the open market.
Probability:
High
Stephen Drew | SS | Best fit: St. Louis Cardinals
Drew is the best available free agent on the market at his position, and there isn't much else out there. He owns a strong arm and plus range to both sides. He has the ability to hit 20 home runs and should be close to 100 percent health by spring training. Drew's consistent play at shortstop and offensive game would be a significant upgrade.
With an aging
Rafael Furcal
trying to come back from injury, there is a high probability his decline will continue and include future injuries. If they can sign Drew and Furcal shows up to camp healthy, they can trade him during spring training. The Cardinals liked what they saw from
Pete Kozma
in September, but after his NLCS meltdown, I'm not so sure it wouldn't make sense to park him in Triple-A for a year and let him keep developing.
Probability:
Medium
October, 15, 2012
10/15/12
1:15
PM ET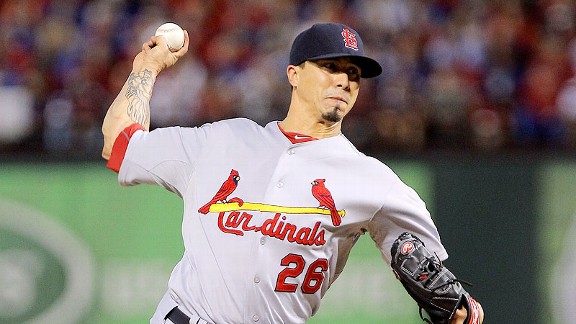 Doug Pensinger/Getty ImagesLohse might look good in a Washington Nationals or Baltimore Orioles uniform next season?
It was a summer of success for baseball's mid-Atlantic teams. After much losing over the past decade, both the
Baltimore Orioles
and
Washington Nationals
took their divisions by storm. One surprised, the other finally arrived, but both buoyed fan bases thirsting for a winner.
Considering the success of both teams, neither needs to do anything drastic this offseason. Both need to supplement their current roster with one big acquisition and perhaps a small tweak here and there. So what's next for the Nationals and Orioles?
To continue reading this article you must be an Insider
September, 11, 2012
9/11/12
11:55
AM ET
As end of the regular season approaches, every major league club that plans to delve into the free-agent market has its best scouts at the ballpark looking at the best guys who will be available during the offseason. They are evaluating every plate appearance and/or every pitch while the front office is using video technology to further evaluate prospective free agents. A club simply cannot do enough homework on a player's health, character, work ethic and makeup.
Taking an early look at this year's free-agent class, center field is clearly the position that offers the most depth and quality. However, there will be several quality pitchers available, too, both top-of-the-rotation types as well as closers.
Here is a list of the 11 best free agents -- in no particular order -- who will be on the market this November and with which team they might best fit. (You may notice that
Mariano Rivera
,
David Ortiz
and
Torii Hunter
are not listed here, and that's because I am almost certain they will re-sign with their current teams.)
Josh Hamilton, CF | Best fits: Rangers, Yankees
Hamilton is the best position player in this year's class, and the 31-year-old would like to get a deal in the range of what
Prince Fielder
and
Albert Pujols
received last year, which would mean a 10-year contract for more than $200 million. However, Hamilton's well-documented issues with addiction and nagging health issues will dissuade some teams. Remember, though, it only takes one team to set the market.
To continue reading this article you must be an Insider
August, 20, 2012
8/20/12
12:40
PM ET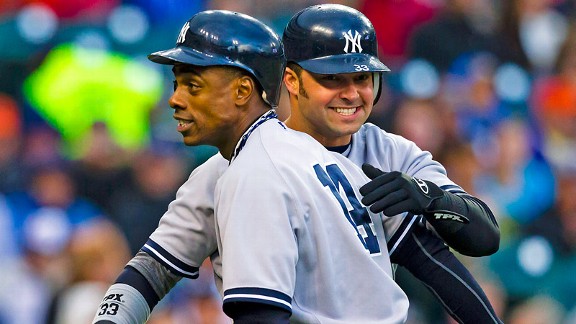 Rick Osentoski/US PresswireNick Swisher keeps his teammates loose and has produced consistently over the last six years.
For most people watching
San Francisco Giants
outfielder
Melky Cabrera
, his 2012 season so far seemed almost too good to be true. Turns out it was.
His dream season began in May when he earned the 100th hit of 2012 in his 291st plate appearance, breaking Willie Mays' 54-year-old team record of fewest plate appearances needed to achieve 100 hits. Cabrera then added All-Star Game MVP honors, and his offensive production helped keep the Giants in first place for much of the season.
The dream soured into a nightmare after Cabrera tested positive for performance enhancing drugs and was suspended for 50 games. He's exacerbated the situation with new reports that he paid a consultant to
create a phony website to fool the players' union and MLB
into believing he had accidentally ingested a supplement spiked with testosterone.
Investigations are ongoing, but the upshot of it all is that Cabrera had nearly paved the way for a potential contract in the range of five to six years between $12 and $15 million per season or a total package of $72 million-$90 million.
Not anymore. And the great beneficiary of this mess?
New York Yankees
outfielder
Nick Swisher
.
To continue reading this article you must be an Insider
July, 18, 2012
7/18/12
12:15
PM ET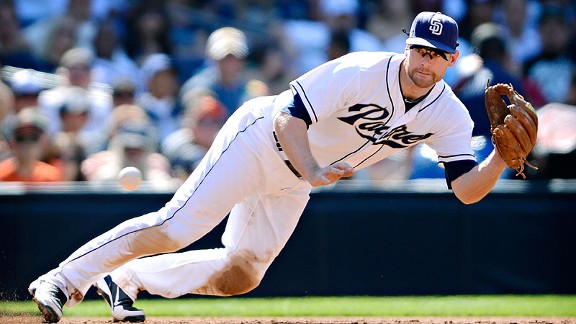 Andy Hayt/Getty ImagesThe Dodgers area looking to upgrade at third base and Headley could be one of their targets.
Conventional wisdom approaching this year's July 31 trade deadline said there would be more buyers than sellers. While that has indeed turned out to be the case, a couple of factors have complicated many possible trade scenarios.
First, the new Collective Bargaining Agreement no longer affords draft-pick compensation for players acquired in an in-season trade who are also free agents at season's end. Thus, a team acquiring
Zack Greinke
this year will receive no compensatory draft picks if they are unable to retain him after the season.
It was supposed to be a seller's market, but buyers have been reluctant to forfeit their futures knowing they might have absolutely nothing to show for it. In other words, teams have to recalibrate their expectations of what they can get back for a rental player.
Secondly, one would have thought the establishment of a second wild-card berth in both leagues would motivate some teams on the lip of the postseason to drive the market. However,
these same teams have been leery of trading for a "rental" player because of the architecture of the wild-card series; it's only one game. To mortgage the future for one nine-inning elimination game just doesn't make sense for teams that are realistically only contending for a wild-card berth.
Therefore, the teams most likely to make a trade for a top-tier "rental" player are clubs that believe they can win the division. A one-game wild card playoff combined with no draft-pick compensation forces a club to realize that renting on Park Place for a couple of months might not be worth the long-term cost.
---
Buzz around the league
• The
Philadelphia Phillies
are prepared to offer
Cole Hamels
a
Matt Cain
-type deal, but if that doesn't work, general manager Ruben Amaro is prepared to trade him. The most likely landing places are the
Texas Rangers
and
Los Angeles Dodgers
.
To continue reading this article you must be an Insider
December, 14, 2011
12/14/11
12:04
PM ET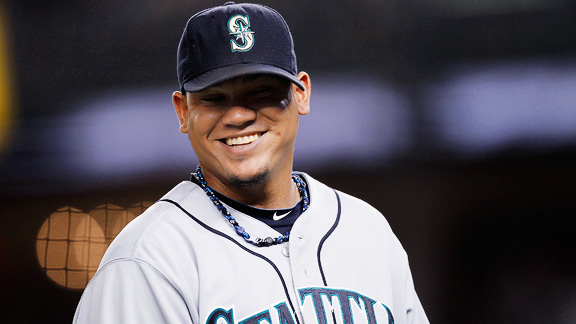 Jeff Zelevansky/Icon SMIBy trading Felix Hernandez, the Mariners could add young pitching and open up cash for a big bat.
Now that the winter meetings are over, there's a tendency to think that trade and free agency activity will downshift into a more sedate pace. However, here are five blockbuster trades I'd like to see that not only would be beneficial to both teams but also would kick the offseason back into overdrive.
Red Sox acquire
: LHP
Gio Gonzalez
A's acquire
: 3B Will Middlebrooks, RHP Anthony Ranaudo, OF
Ryan Kalish
The Red Sox would acquire one of the best young left-handed starters in the 26-year-old Gonzalez who went 16-12 last year with a 3.12 ERA thanks to one of the best curveballs in the league. The Athletics get their long-term solution at third base in Will Middlebrooks, who posted an .865 OPS last year for Double-A Pawtucket and would be the key to the deal for them. Ranaudo struck out almost a man per inning in his minor league debut and has some upside, while Kalish is a throw-in who will give the A's some help off the bench. The deal would improve the Red Sox's rotation enough to give them one of the best in the AL along with the
Los Angeles Angels
,
Detroit Tigers
and
Tampa Bay Rays
.
Yankees acquire
: RHP
Felix Hernandez
Mariners acquire
: RHP
Ivan Nova
, C
Jesus Montero
, RHP
Dellin Betances
To continue reading this article you must be an Insider
July, 31, 2011
7/31/11
3:19
AM ET
The 2011 trade deadline has arrived and the 30 major league clubs now have just a few more hours remaining to make one final trade that won't require trade waivers. It's the last chance for contending teams to make trades without any risk of getting blocked by other organizations.
This has been one of the busiest trade deadlines of recent memory, as we've seen contending clubs acquire the likes of All-Stars like
Ubaldo Jimenez
,
Carlos Beltran
and
Hunter Pence
while clubs that are now committed to rebuilding have acquired potential future stars like
Colby Rasmus
, Drew Pomeranz,
Alex White
, Zack Wheeler and Jarred Cosart.
The trading is not done, but here are five more deals that could be made today at the buzzer:
To continue reading this article you must be an Insider