The GM's Office:

Austin Jackson
December, 3, 2014
12/03/14
10:59
AM ET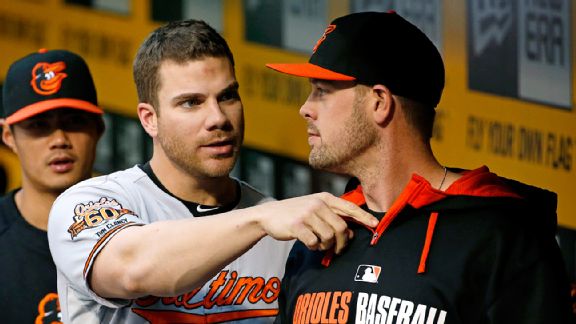 AP Photo/Gene J. PuskarChris Davis, center, and Matt Wieters, right, are both candidates to be traded in 2015.
Much of the talk these days is about the current crop of free agents, but what about next year's crop? Those players could be in demand via trade between now and the July 31 trade deadline. On Tuesday, we looked at top-10 pitchers set to be free agents after the 2015 season who could be traded, and here are the top 10 hitters set to be free agents 11 months from now who could be traded in the coming months.
1. Justin Upton, OF, Atlanta Braves
Braves general manager John Hart told me on my SiriusXM radio show Sunday that he hasn't made a single phone call about trading Upton and doesn't plan to. However, he also said he would listen like he does on all players. I can't imagine what the Braves would look like without Upton in the middle of their lineup, but if they can't extend him, they might have to trade him, just as they did with
Jason Heyward
: for a package of major league players they can control past this year and set them up for the opening of their new stadium in 2017.
---
2. Jason Heyward, RF, St. Louis Cardinals
Speaking of Heyward, the Cardinals plan on doing everything they can to sign him to a long-term deal after trading four years of control of
Shelby Miller
to the Braves.
October, 22, 2012
10/22/12
12:45
PM ET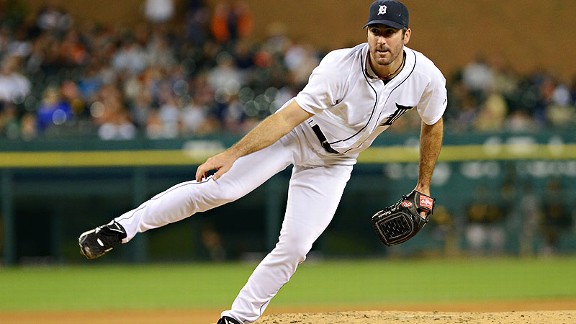 Mark Cunningham/Getty ImagesDrafting Justin Verlander in 2004 served as the bedrock move for this year's AL Central champs.
Getting to the World Series is difficult and requires not only shrewd personnel decisions but also a little luck. For the
Detroit Tigers
, their moves have culminated in back-to-back AL Central Division titles and their first appearance in the Fall Classic since 2006.

Let's take a look at the five pivotal moves made by Detroit Tigers president/general manager Dave Dombrowski and Tigers owner Mike Ilitch and their front-office staff that got the Tigers to where they are today.
A room full of Tigers scouts sighed with relief when the
San Diego Padres
selected Mission Bay (Calif.) H.S. shortstop
Matt Bush
with the first overall pick in the 2004 draft, as that allowed Detroit to take Old Dominion flamethrower Justin Verlander with No. 2 pick.
The Tigers' leadership, led by Dombrowski, had previously worked for the Marlins, and they felt they were able to accomplish the same thing when they took
Josh Beckett
with the second overall pick in 1999. To build a championship-caliber team, you have to start with an ace -- and that's exactly what the Tigers accomplished with Verlander, who is both a Cy Young Award winner and an AL MVP.
The Tigers shocked the baseball world in December 2007 when they were able to get one of the game's best bats, Cabrera, along with
Dontrelle Willis
for a package of five prospects, including overrated former first-round selections
Cameron Maybin
and
Andrew Miller
, among others. None of the five prospects is still with the Marlins, and only Maybin has made any sort of impact at the major league level. Cabrera has hit .323/.401/.579 with an average of 37 homers per year since coming to Detroit. It was one of the most lopsided trades in generations.
The game's biggest three-team trade in the last decade was orchestrated by Dombrowski, as he entertained everyone at the 2009 winter meetings in Indianapolis. By dealing the team's most popular player,
Curtis Granderson
, to the
New York Yankees
, and right-handed starter
Edwin Jackson
to the Diamondbacks, the Tigers got Coke and Jackson from the Yankees, as well as Scherzer and LHP
Daniel Schlereth
, while the Yankees got Granderson and shipped
Ian Kennedy
to the Diamondbacks.
The deal worked for all three teams and, interestingly, each club has enjoyed times when it has gotten the best of the trade. However, the real winner in this triangular transaction is the Tigers. Without this move, they're not playing in the World Series. Jackson has developed into a Gold Glove-caliber center fielder who can run it down in the gaps while providing the Tigers with a legitimate leadoff hitter. Scherzer has become arguably their second-best starter behind Verlander, and Coke became their closer this postseason; his 0.00 ERA in the ALCS shut the door on the team that traded him -- the Yankees.
Tigers manager Jim Leyland was told last offseason the team didn't have enough money to sign an additional bullpen arm that would have cost them approximately $1 million. A week later he was informed that Ilitch -- who made his money as founder of the Little Caesar's franchise -- had approved a nine-year, $214 million contract for Prince Fielder.
Of course, it was the injury to DH
Victor Martinez
that opened the door for the Fielder signing. Nonetheless, the signing sent shockwaves throughout the industry. Many teams weren't willing to give more than five years, let alone nine. Owners throughout the game bristled at the contract. Without Fielder the Tigers are not in the World Series, and Little Caesars Pizza never tasted better.
Ilitch wants to a win a World Series so bad that he was willing to pull the trigger on this magnificent power-hitting first baseman who brought leadership, production and a winning attitude from Milwaukee. Fielder helped former teammate
Ryan Braun
win the NL MVP in 2011, and this year gave the same protection to Cabrera, who won the Triple Crown. And although a lot of risk remains for the latter three years of this contract, the investment was made so Ilitch could have the best possible chance to win a World Series. And he's now just four wins away.
The Tigers made another lopsided trade just before the deadline in 2011, when they sent
Charlie Furbush
, Francisco Martinez,
Casper Wells
and
Chance Ruffin
to the
Seattle Mariners
in exchange for Doug Fister and
David Pauley
. Fister was by far the best player in the deal and gave the Tigers the No. 3 starter they so desperately needed. His nasty sinker and ability to pound the strike zone and pitch in big games has made him incredibly valuable. Fister has gone 18-11 with a 2.95 ERA since joining the Tigers, with an impressive WHIP of 1.08.
December, 7, 2011
12/07/11
10:50
AM ET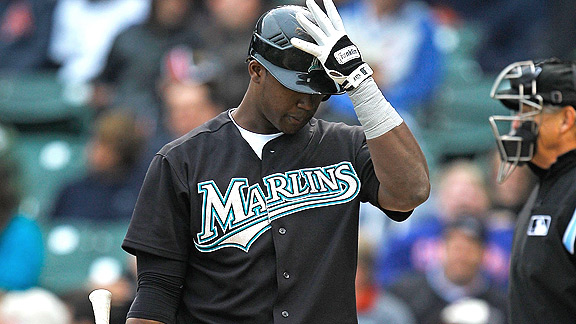 Jonathan Daniel/Getty ImagesHanley Ramirez is reportedly unhappy about switching positions, so what could the Marlins get for him in a trade?
With
Jose Reyes
now a Miami Marlin, one of the questions of the day has been what the franchise plans to do with incumbent shortstop
Hanley Ramirez
. While some have suggested the Marlins were working ahead of the curve and had already consulted Ramirez on a possible move to third base, we've also received hints that Ramirez wants no part of the "A-Rod demotion."
Alex Rodriguez
, of course, famously moved to third base upon joining the Yankees, even though he was a Gold Glove-caliber shortstop, ceding the position to
Derek Jeter
.
Ramirez isn't as capable at shortstop now as A-Rod was then, and Reyes represents a clear defensive upgrade. But that doesn't mean Ramirez wants to move. Reports from colleague Enrique Rojas of ESPN Deportes indicate Miami may have a tough time convincing Ramirez to move. Given the situation, I was asked to come up with a few trade scenarios that would get Ramirez on a team where he could stay at shortstop and get the Marlins some value in return. Again, there are no indications the Marlins have any intention to deal Ramirez. This is just a little exercise in MLB winter meetings deal-making.
Scenario 1: Ramirez to the Nationals for Ryan Zimmerman
To continue reading this article you must be an Insider
October, 4, 2011
10/04/11
2:48
PM ET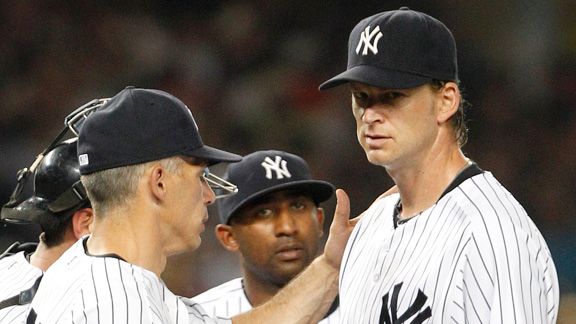 AP Photo/Frank Franklin IIYankees manager Joe Girardi will have tonight's starter, A.J. Burnett, on a short leash.
Here's what I'm looking for in Game 4 of the ALDS between the
New York Yankees
and
Detroit Tigers
, as well as Game 3 of the NLDS between the
Milwaukee Brewers
and
Arizona Diamondbacks
.
Yankees-Tigers
• Yankees right-hander
A.J. Burnett
looked like his old self during his last four starts of the regular season, as his fastball command returned, and he struck out 32 men in his final 23 2/3 innings. However, with the Yankees on the verge of elimination, Burnett will be on a short leash. His success tonight will depend on his curveball. If he can't get it over for strikes, he will be out of the game by the fourth inning. Detroit's plan will be to not offer at any curveballs, always taking them unless there are two strikes, and sit on Burnett's fastball, which he throws 60 percent of the time.
To continue reading this article you must be an Insider
August, 30, 2011
8/30/11
12:56
PM ET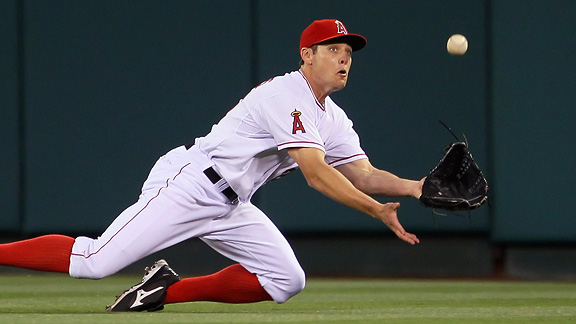 Jeff Gross/Getty ImagesTechnology now allows evaluators to quantify the true defensive impact of players like Peter Bourjos.
When I was first named general manager of the
Cincinnati Reds
on Oct. 16, 1992, I was proud of the computer databases we had developed and all of the information we had accumulated from our scouting reports, statistical analysis, medical information, financial history and personal background on every player in professional baseball.
It was amazing to see how far the industry had moved forward since my first year in a major league front office in 1984, when I worked for the
Pittsburgh Pirates
. At that time, there were no computers or video. Rather, there were just filing cabinets filled with years of scouting reports and handwritten paperwork. "The Baseball Register" was the general manager's source of statistics and his window to what other teams were doing. Between 40 and 50 newspapers were delivered and clipped by interns to get the latest rumors, injuries and insight from each team's beat writer. It was life before computers and the Internet.
Call me Fred Flintstone, but now looking back at 1992, and the progress that I thought the industry had made, reminds me of my childhood, when my parents tried to explain to me what life was like with black-and-white television sets, no microwave ovens or even refrigerators (they had iceboxes, or so my mom tells me to this day).
As
Jayson Stark writes today
, technology has truly changed the way front offices operate. In a short period of time, clubs have developed their own private metrics and complex algorithms, and more in-depth and detailed statistics, including Sabermetrics, have been added to conventional baseball statistics. Stats like
OPS
,
WAR
,
VORP
, WHIP, runs created,
PECOTA
,
BABIP
and
DIPS
have become the normal way to analyze and evaluate what players have accomplished, which way they're trending and what their future holds.
To continue reading this article you must be an Insider