The GM's Office:

Asdrubal Cabrera
May, 12, 2014
5/12/14
10:00
AM ET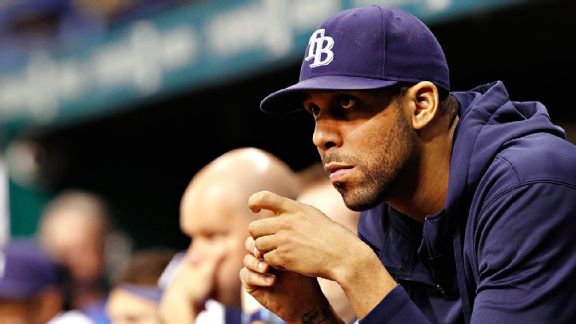 Kim Klement/USA TODAY SportsIn what has become a yearly refrain, David Price should be on the July 31 deadline trading block.
The July 31 trade deadline is a little less than three months away. While every team is focused primarily on the draft right now, they're also realizing that because of the sport's parity and competitive balance, there could be fewer "sellers" at this year's deadline than perhaps we've seen in decades.
In fact, there are just three teams more than 4 games out of the postseason: the
Houston Astros
,
Chicago Cubs
and
Arizona Diamondbacks
.
I expect that group of teams to grow between now and the middle of July, but it will be no larger than more than seven or eight teams. With so few sellers expected, the asking prices for top talent will be exorbitant.
Here is my early list of 10 trade candidates to watch:
1. David Price | LHP | Tampa Bay Rays

The Rays are hoping to be in a pennant race come the end of July, but after the season-ending injury to
Matt Moore
and a below .500 start, Price will have to be considered the early most sought after trade candidate in baseball. General manager Andrew Friedman knows that he'll get more value for Price at the July trade deadline than he will in the offseason with only one year left on Price's contract.
Further hurting Friedman's leverage is the fact that Price is off to a slow start, and he'll be hoping to get a haul similar to the one he received for
James Shields
prior to the 2013 season.
December, 20, 2013
12/20/13
10:45
AM ET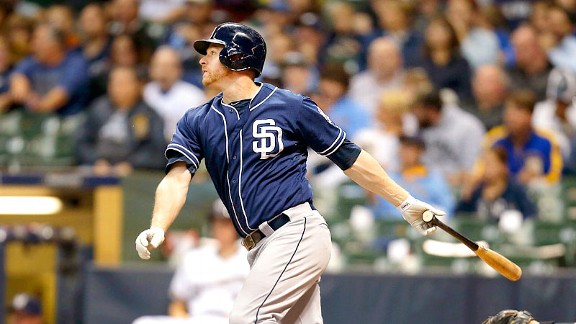 Mike McGinnis/Getty ImageThe tough competition in the NL West should force the Padres to trade Chase Headley.
Next year's free-agent class is top-heavy, and features three of baseball's best starting pitchers in
Clayton Kershaw
,
Max Scherzer
and
Jon Lester
. While seen some big-name players traded a year before free agency, that won't happen with any of these guys because their teams have a shot at the World Series and they all play for big-market clubs that can afford to re-sign them.
In fact, don't be surprised if these guys get contract extensions before hitting the market next winter, with Kershaw being the most likely of the three to get a new deal.
However, there are five players who will be eligible for free agency next fall who probably should have already been traded since they haven't been locked up to multiyear deals. Some of these players are on contending teams, but none of which are large markets and really can't afford to let them walk as a free agent and receive only a draft pick as compensation.
Here is the breakdown of the five players I think should be traded by Opening Day if they are not given a contract extension.
1. Chase Headley, 3B | San Diego Padres

Headley, 29, had 31 doubles and 31 homers in 2012 and finished in the top five in NL MVP voting. His power numbers were down this year (.400 slugging), but he still plays a position where there is a lot more demand than supply and could fetch a lot in a trade.
The Angels, Dodgers, Marlins and Yankees all started the offseason with needs at third base and could have matched up well in a deal for the Padres, though the Angels and Dodgers have patched that hole for at least the next couple of years with
David Freese
and
Juan Uribe
, respectively.
To continue reading this article you must be an Insider
June, 19, 2013
6/19/13
12:40
PM ET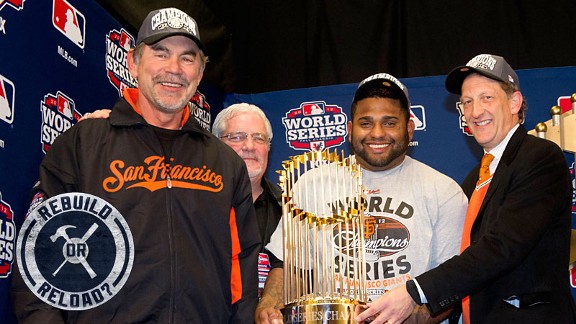 Ron Vesely/MLB Photos/Getty ImagesIf the Giants want to win their third title in four years they must make some moves.
With the addition of an extra wild-card team, it's becoming increasingly difficult for GMs to decide whether their team is a contender, so I've decided to do it for them.
Over the next two days I will be looking at six teams on the edge of contention, and explain whether they should reload for 2013 or take a long-term view and eschew 2013 contention in favor of rebuilding.
The following three teams are in "reload" mode because they all possess a strong enough core of players that will allow them to compete this year if they add a couple of complementary parts. For each club I have outlined their trade deadline strategy, trade chips and targets, as well as their dream deal.
To continue reading this article you must be an Insider
March, 30, 2013
3/30/13
9:24
AM ET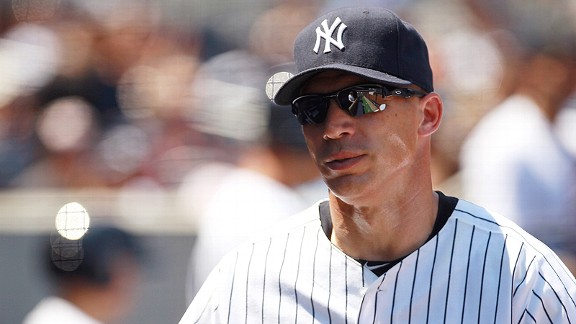 Mike Stobe/Getty ImagesIs Yankees skipper Joe Girardi staring at a last-place finish in 2013?
With Friday's news of right-hander
Justin Verlander
and the
Detroit Tigers
agreeing to a record-setting contract, the drama of whether baseball's best pitcher would see free agency in two years came to an end.
Some could say it was predictable in a sense. After all, the Tigers would look extremely foolhardy to allow Verlander to walk via free agency after his current contract expires after 2014. Saying Verlander was going to sign an extension at some point isn't going out very far on that proverbial limb. It's just not a
bold prediction
.
So, what craziness could happen in 2013? With Opening Day just around the corner, here are my 10 bold predictions for the 2013 baseball season:
1. New York Yankees finish last in AL East.

It hasn't happened in 22 years, since the Yankees finished 67-95 and seven games in back of the
Milwaukee Brewers
, but the Yankees could very easily go from first in 2012 to worst in 2013. And, with the American League's largest payroll, there is additional pressure to win in addition to their own high standards of success.
To continue reading this article you must be an Insider
December, 21, 2012
12/21/12
1:00
PM ET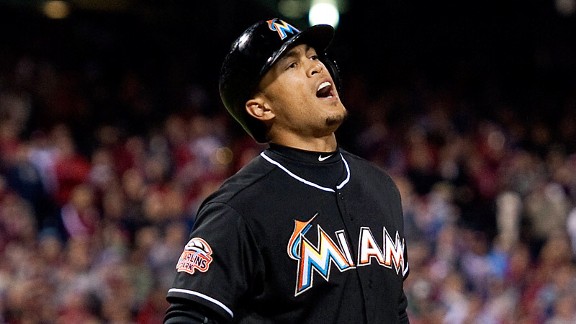 Howard Smith/US PresswireGet used to it, Giancarlo. Unless Stanton gets traded, life will be frustrating.
An emotional reaction was not a surprise and probably warranted. Shortly after the
Miami Marlins
' blockbuster trade of
Jose Reyes
,
Mark Buehrle
and
Josh Johnson
to the
Toronto Blue Jays
in November, Marlins outfielder
Giancarlo Stanton
sent out the following tweet:
@Giancarlo818: "Alright, I'm pissed off!!! Plain & Simple"
He watched as his team's management decimated the roster for a package of prospects. Now Stanton sits in the wreckage of what used to be a team most thought would contend for the National League East Division title. Now they'll be lucky not to lose 100 games.
Stanton has been very open about his desire to be traded, but the Marlins have control of his contract through 2016. The question now will be whether he gets his wish. If you believe the Marlins' front office, it's not happening.
When great players are stuck in bad situations, they must possess and display great character and intensity to perform at the same level as if they were on a contending team. Here are five examples of great players who will have to perform in bad situations in 2013, as well as a look at how these players might be able to get out of their current mess:
To continue reading this article you must be an Insider
December, 15, 2012
12/15/12
2:54
PM ET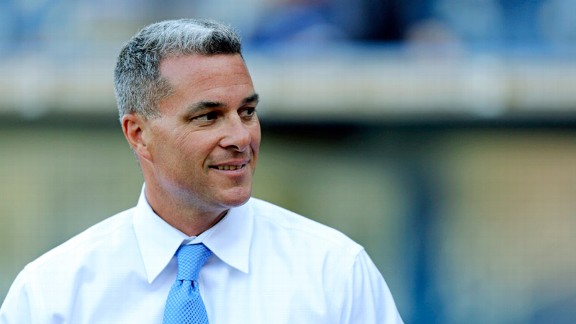 Ed Zurga/Getty ImagesRoyals GM Dayton Moore rebuilt his rotation and expects his team to contend in 2013.
Consider the following about the American League Central:
- Its division champion, the
Detroit Tigers
, won just 88 games.
- It was the only five-team division with three teams with losing records.
- The second-place
Chicago White Sox
won 85 games despite its lowest attendance since 2004.
- The
Minnesota Twins
won 66 games -- actually an improvement on 63 in 2011.
- The
Cleveland Indians
have not had a winning record in five years.
- The
Kansas City Royals
last won the division in 1985.
The AL Central was the weakest division in baseball last season, and it has been for some time. The Royals haven't had sustained success since the days of Dick Howser, George Brett and
Bret Saberhagen
. The Indians fired manager Manny Acta and long for the days of Mike Hargrove,
Kenny Lofton
and
Carlos Baerga
, while the Twins can't seem to shake the injury bug.
When the best days of three of its teams are in the rearview mirror, there's a problem.
Though it might be the weakest division in baseball, it's had arguably the strongest offseason. Each team has made significant progress toward heading back to respectability and, in the Tigers' case, perhaps back to the World Series.
Here is a quick look at how the AL Central teams have already improved this offseason:
To continue reading this article you must be an Insider
November, 30, 2012
11/30/12
11:50
AM ET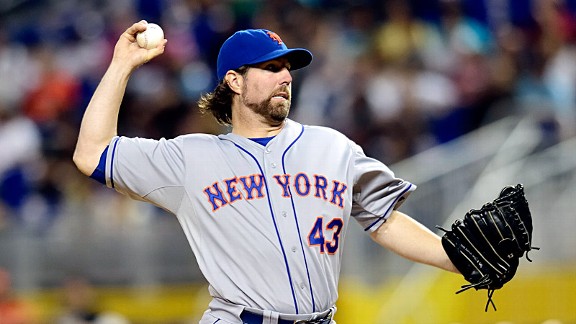 Steve Mitchell/US PresswireJim Bowden thinks the New York Mets will end up trading R.A. Dickey at the winter meetings.
Despite my being a veteran of countless winter meetings, baseball's annual gathering still manages to surprise me. Whether it's a blockbuster trade or an out-of-the-blue free-agent signing, the winter meetings always provide a handful of happenings.
However, experience does offer me a little insight into what could happen. Last year, we saw the
Los Angeles Angels
reel in
Albert Pujols
and
C.J. Wilson
, and the
Miami Marlins
signed
Mark Buehrle
,
Jose Reyes
and
Heath Bell
. And, well, we know how that turned out. So here are my five bold predictions for the winter meetings:

1. The New York Mets will trade R.A. Dickey
With the Mets extending third baseman
David Wright
for
eight years for about $138 million
, I expect them to then turn around and trade right-hander R.A. Dickey to the
Kansas City Royals
or the
Los Angeles Dodgers
or Angels for two good prospects. Wright is the face of their franchise, their version of
Chipper Jones
or
Derek Jeter
, and it was essential they get him locked up. With the Tampa Bay Rays' extension of
Evan Longoria
this past month and the Washington Nationals'
Ryan Zimmerman
sewn up, as well, this was a relatively simple negotiation for general manager Sandy Alderson. In regards to Dickey, it's more about selling high on an overachieving pitcher and being realistic on when the Mets will be ready to contend. Although the public thinks it could be sooner, realistically, the Mets won't be contending until at least 2015.

2. The Cleveland Indians will make more trades than any other team
The Indians are waiting for the top free agents to sign. Once that happens, teams that lose out will be calling them to make deals. The Indians have the highest-quality tradable players currently on the market. Right fielder
Shin-Soo Choo
is one of the most underrated right fielders in baseball. He's a complete player and is about to enter his free-agent walk year. He is represented by Scott Boras, which means it's unlikely he'll sign a contract extension before testing the open market. Therefore, once
Josh Hamilton
,
Cody Ross
and
Nick Swisher
have inked deals, the clubs that missed out will attempt to trade for Choo.
Several teams are pursuing shortstop
Asdrubal Cabrera
, including the
Arizona Diamondbacks
,
Detroit Tigers
and
Oakland Athletics
. If anyone of those teams puts together the right package of young starting pitching, it might be able to pry him loose. Closer
Chris Perez
is well respected throughout the game as a straight shooter who speaks his mind without filter, which is fine unless you're always bashing the ownership, the front office and the fans. His trade value is at an all-time high, and now is the best time to get the best return. With starting pitching always at a premium, the Tribe also will listen to offers for
Justin Masterson
and
Ubaldo Jimenez
. The bottom line is the Indians will be an interesting team to watch in Nashville.

3. The Miami Marlins will sign a free agent and give him a full-no trade clause
The Marlins' trades of Buehrle, Reyes and Bell this offseason have left agents with such a bad taste in their mouths that many of them are saying they won't even talk to the Marlins on behalf of their clients. Interestingly, a year ago, the Marlins all but had
Albert Pujols
signed, but their refusal to include a no-trade clause allowed him to make the right choice and sign with the Angels. If he had signed with the Marlins, he probably would be with the
Toronto Blue Jays
today. The Marlins are under scrutiny from the commissioner's office and the players' association to spend rather than pocketing what look to be significant revenue-sharing gains the next few years. The Marlins need to step up and surprise baseball by adding a significant free agent and will have no choice this time but to change their policy and give a full no-trade clause so players they sign won't have to worry about being dealt in a year.

4. The Royals will finally trade for an elite starter, and fans will rebel
Royals general manager Dayton Moore is in a Catch-22 situation. Royals fans have been begging for the team to trade for a top-of-the-rotation starter instead of their continued plan of back-of-the-rotation innings eaters such as
Jeremy Guthrie
,
Bruce Chen
,
Ervin Santana
and
Luke Hochevar
. But it will cost Moore one of the young, talented position players he has. Moore definitely feels the pressure and is doing everything possible to make such a trade this coming week in Nashville. Even though I think the best move would be to sign a free agent such as
Kyle Lohse
or
Anibal Sanchez
and keep his position players intact, I predict that the Royals are going to trade Wil Myers,
Alex Gordon
or
Eric Hosmer
to get their top-of-rotation young starter. If and when they do this, Royals fans will show their disapproval. Damned if you do, damned if you don't.

5. The Texas Rangers will re-sign Josh Hamilton to a four-year contract
Some believe Hamilton and Rangers definitely will part ways, but I'm making the bold prediction that he'll stay. Despite all the reports that the Rangers won't go more than three years on a deal for Hamilton, I fully expect them to give him a fourth year with a club option for a fifth at an average annual value of approximately $23 million. There has been interest in Hamilton from several teams, including the Red Sox,
Philadelphia Phillies
,
Milwaukee Brewers
,
Seattle Mariners
, and
Baltimore Orioles
.
His family lives in the Dallas/Fort Worth area and plans to stay there regardless. Having been to two World Series in the past three years, Hamilton and the Rangers have unfinished business of bringing a world championship to Rangers fans, and both parties know the best way to accomplish that is for them to try again together rather than apart.
November, 19, 2012
11/19/12
11:20
AM ET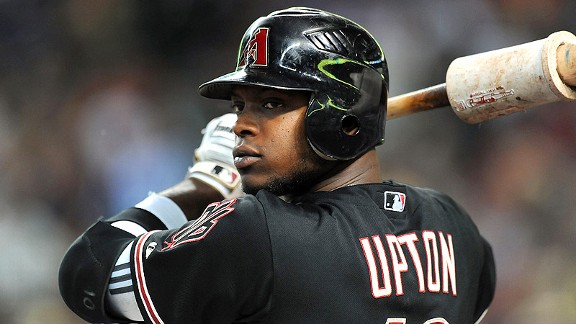 Norm Hall/Getty ImagesWhich trade option will fetch the Diamondbacks a maximum return on Justin Upton?
As early as two years ago the
Arizona Diamondbacks
had already made it public they were open to listening to offers for outfielder
Justin Upton
. They never got an offer they liked, so they held on to him. That decision paid off in 2011 when Upton hit .289 with 39 doubles, 31 home runs and helped lead the D-backs to an NL West championship while finishing fourth in the NL MVP voting.
However, that was then, this is now.
A year later, after Upton hit .280 with just 17 home runs, the club is back listening to offers. Although the team says it'll listen on all players, the fact this has become as public as it has is no coincidence. The team has been aggressively trying to trade its 24-year-old talent and will surely be seeking a long-term solution at shortstop, third base and/or pitching help. While Arizona's ownership is now
trying to downplay the likelihood
of an Upton trade, we know the club is shopping him, and a deal should not surprise anyone.
Here is a look at five teams that might have the players that fit the Diamondbacks' long-term needs. D-backs general manager Kevin Towers certainly should target them for an Upton trade.
Trade option No. 1: SS Elvis Andrus or SS Jurickson Profar


This is one scenario that is already making the rounds, although the Rangers have told the Diamondbacks that they will not move either Andrus or Profar in a deal for Upton. Towers will be patient and meticulously work on persuading Rangers GM Jon Daniels, because the only way the Rangers get Upton is to swap him for one of the talented middle infielders. If Josh Hamilton signs elsewhere, that might force Daniels to change his mind. However, my intel says the Rangers aren't going to change their minds.

Option No. 2: 3B Mike Olt and LHP Martin Perez

If the Rangers really want Upton, they can try to convince Arizona to accept a package of Olt and Perez for Upton. This trade would work well for Texas because Adrian Beltre is signed long-term and with Matt Harrison, Derek Holland, Alexi Ogando and Yu Darvish, Perez is expendable. The problem is although Towers is a fan of Olt, he might not be good enough to be the centerpiece of an Upton deal. While it seems like Upton has been around forever, he is only a year older than Olt.

Detroit Tigers | Trade targets: 3B Nick Castellanos and RF Avisail Garcia



This is probably the best fit for Towers. Castellanos has the potential to be an impact bat who should develop into an average defender at third base, but he is blocked in the big leagues by the AL MVP, which is why the Tigers have tried him in the outfield, where he has less value. Garcia is a good athlete with bat control who should be an asset as a big league regular down the line.

The move would make the Diamondbacks younger and a high-ceiling player like Castellanos would fit their long-term plans. The Tigers, on the other hand, would have three above-average defenders in Torii Hunter, Austin Jackson and Upton and would have arguably the best lineup one through six in the American League with Jackson, Hunter, Miguel Cabrera, Prince Fielder, Upton and Victor Martinez.

Tampa Bay Rays | Trade targets: RHP Jeremy Hellickson and OF Drew Vettleson



The Diamondbacks would like to get another proven starter and Hellickson is one of the better young pitchers in baseball. Hellickson, 25, has a career ERA of 3.06 and a 1.19 WHIP. Vettleson, 21, is a pure hitter with great plate discipline and the ability to use the whole field. His power finally showed up this year at low Class A Bowling Green when the 2010 supplemental first-rounder belted 24 doubles and 15 homers in 132 games.

Cleveland Indians | Trade targets: SS Asdrubal Cabrera, RHP Vinnie Pestano



The Indians need a complete makeover after they went 68-94 last year. They took a step in the right direction with the hiring of two-time world champion manager Terry Francona. However, the next step is to rebuild the starting rotation and the middle of the lineup. The team's best prospect is 18-year old Francisco Lindor, who the Indians feel will be their long-term solution at shortstop.

This might allow them to think about moving Cabrera in the right deal. The Diamondbacks, desperate for a long-term solution of their own at shortstop, would have to at least entertain the thought of an Upton-Cabrera move. Upton would give the Indians a much-needed cleanup hitter and middle-of-the-order bat that could anchor the lineup for years. And with Shin-Soo Choo set to be a free agent next winter, Upton could occupy right field for Cleveland. Knowing that Towers hates making deals without getting a bullpen arm in return, he might as well also ask for Pestano in this major trade.

Atlanta Braves | Trade targets: RHP Julio Teheran, SS Nick Ahmed



The Braves are set at shortstop for years to come with the exciting Andrelton Simmons. He is about as untouchable as any prospect in the organization, and that makes Ahmed expendable. (Word is the Rangers tried to use Olt to get Simmons in hopes of flipping him, Andrus or Profar for Upton, but the Braves wouldn't do it.)

Ahmed, 22, was the Braves' second-round selection in the 2011 draft and had a solid year at high Class A Lynchburg, both offensively and defensively while swiping 40 bases. Teheran remains the Braves' top pitching prospect and once his command and control arrive, he should be a solid No. 2 or No. 3 starter for years. For the Braves, Upton would fit nicely in left field while Martin Prado could be moved to third base to replace Chipper Jones. While the Braves are known for sticking to a strict payroll, they are taking Jones off the books this year, and Upton's contract would replace Jones' in the budget.

If I was in Towers' shoes I wouldn't trade Justin Upton. I would rather spend time trying to sign his brother, B.J., who could play center field next to him, and use Adam Eaton and A.J. Pollock as trade pieces and find lesser upgrades on the left side of the infield. I think both Uptons have the potential of playing at even a higher level than we've seen, especially if they are able to play together. Why not in Arizona?