The GM's Office:

Anibal Sanchez
October, 4, 2013
10/04/13
10:00
AM ET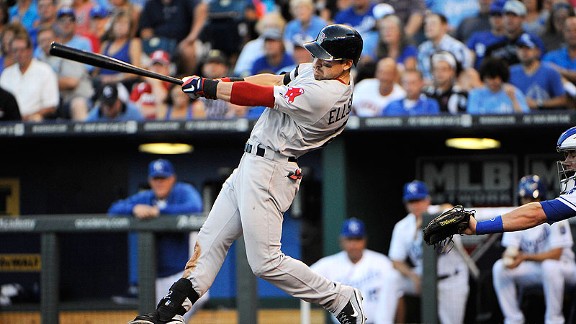 John Rieger/USA TODAY SportsWith a great postseason, Jacoby Ellsbury could see his free agent value rise.
Just a season ago,
Detroit Tigers
right-handed pitcher
Anibal Sanchez
entered the postseason with a 9-13 record, a 3.86 ERA and a track record that saw him post double-digit wins just twice in six previous seasons, all with the Marlins. At best, he was considered a middle-of-the-rotation, innings-eater type of pitcher. His market value going into the postseason was perhaps four years at $12 million per season.
However, after three big starts, a 1.77 ERA and 0.984 WHIP in the 2012 postseason, his value skyrocketed, allowing him to land a five-year, $88 million deal. In turn, the 29-year-old rewarded with a league-leading 2.57 ERA in the first year of a deal he wouldn't have gotten if it weren't for his stellar postseason performance.
Indeed, postseason performances can change the value of a potential free agent. Here are seven players from this postseason who could see their value improve.
May, 31, 2013
5/31/13
2:15
PM ET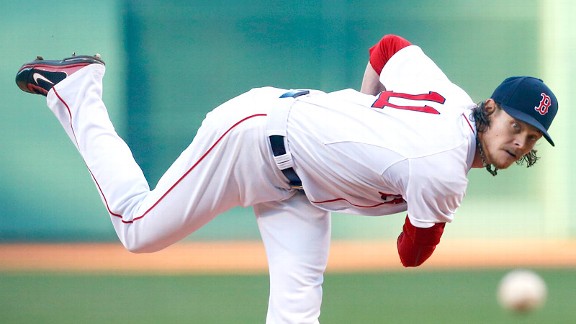 AP Photo/Michael DwyerCould teams unearth another Clay Buchholz with their competitive balance picks?
For the first time in the history of Major League Baseball's amateur draft, teams own the ability to trade draft picks.
They are the draft picks resulting from the Competitive Balance Lottery, which took place last July. In other sports you can trade any draft pick, but in MLB's draft only the competitive balance picks can be traded. It's a new wrinkle that will shake up the draft a little bit.
To continue reading this article you must be an Insider
May, 10, 2013
5/10/13
10:30
AM ET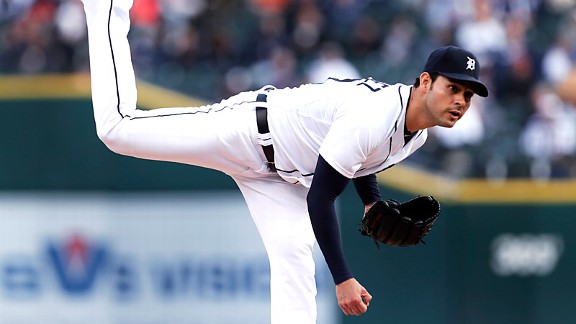 AP Photo/Paul SancyaAnibal Sanchez has helped give the Tigers arguably the best rotation in baseball.
The cream of the 2013 free-agent crop was obvious and expensive.
Teams entered the offseason flush with cash and spent prodigiously. Outfielder
Josh Hamilton
was the best position player, while
B.J. Upton
and
Michael Bourn
followed not far behind. Right-hander
Zack Greinke
was clearly the top free-agent pitcher available. All together, the four top free agents signed multiyear contracts worth close to $300 million.
And what do those teams have to show for it? The trio of outfielders has hit a combined .205 with a paltry nine home runs, five stolen bases and 93 strikeouts. Greinke added a lone win and a broken collarbone.
Conversely, there are a number of lower-priced free agents who are more than earning their paychecks. Since the top four free agents haven't lived up to their usual performance levels, which free agents have been the best bargains in baseball so far? Here's a ranking of the top 10 so far:
Note: Performance to date, salary and long-term commitment were all considered for this ranking.
To continue reading this article you must be an Insider
November, 13, 2012
11/13/12
11:30
AM ET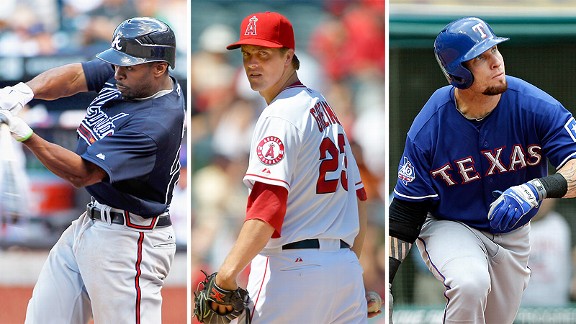 AP PhotoWith which team will Michael Bourn, Zack Greinke and Josh Hamilton sign?
Every team entering the offseason would love a shot at even one (if not several) of the top available players on the free-agent market. But that often only comes with a particular equilibrium of financial resources and baseball needs.
Below are 10 of the top available free agents, and I've ordered them based on
how much I think they will earn in their next contract
. I've also indicated where they fit best -- never listing a team more than once -- as well as how probable that signing might be.
(Check out the
Bowden Big Board
, which ranks the top 50 free agents based on what I expect them to earn on their next contact based on average annual value or AAV.)
Josh Hamilton | OF | Best fit: Texas Rangers
I won't be surprised if Hamilton's best offer comes from a surprise team like the
Seattle Mariners
,
Baltimore Orioles
or
Milwaukee Brewers
. But I think the best fit for Hamilton remains the Rangers. They are the most familiar with Hamilton and all the issues that come with him. They have a strong support team in place for him and are willing to give him a competitive average annual value. I don't think three years will get it done, and I'll be shocked if the Rangers don't go to a fourth or even a fifth year for him. Simply, the Rangers have been a much better team over the past three years with Hamilton in the lineup and he won't be easily replaced if he leaves.
Probability:
Medium
Zack Greinke | RHP | Best fit: Los Angeles Dodgers
Greinke might end up the highest-paid right-handed starting pitcher in baseball history by the time the winter meetings conclude in Nashville, Tenn., next month. The
Los Angeles Angels
, Dodgers and Rangers appear to be the teams with the most interest and wherewithal to make a play at this level, though the Nationals could be a dark horse.
I think Southern California is the best spot for Greinke, and he proved last September that he can handle the pressure of the large market. In fact, he pitched his best games against contending teams down the stretch. I think he ends up signing with the Angels because they're more likely than the Dodgers to give him an extra year. However, the Dodgers would be a tremendous fit for him, pitching alongside
Clayton Kershaw
at the top of the Dodgers' rotation. And by signing Greinke, the Dodgers certainly would assume sole possession of the highest payroll in baseball. West Coast
New York Yankees
, indeed.
Probability:
Medium
Michael Bourn | CF | Best fit: Washington Nationals
Bourn is the best leadoff hitter available on the free-agent market. Possible fits for the two-time Gold Glove Award winner include the
Philadelphia Phillies
,
Cincinnati Reds
and
Atlanta Braves
. However, he's potentially a postseason game-changer for the Nationals. They would love to move
Bryce Harper
to one of the outfield corners and put a defender in center field who can run down fly balls as well as anyone.
Offensively, having a leadoff hitter who can help manufacture runs with his speed would really improve the Nats' chances of winning the World Series, but general manager Mike Rizzo told me this week that
Adam LaRoche
is his top priority this offseason. If the Nationals re-sign him, they will probably keep Harper in center field until their top center field prospect, Brian Goodwin, is ready. It sounds like the only way they make a play on Bourn is if LaRoche signs with the
Boston Red Sox
, Rangers or Orioles.
Probability:
Low
B.J. Upton | CF | Best fit: Philadelphia Phillies
The Phillies' No. 1 priority this offseason is improving center field with a long-term solution and Upton is their No. 1 free-agent target. Upton would be an excellent fit with the Phillies because they need another right-handed bat to better balance their lineup, and his raw power should result in more than 30 home runs per season at Citizens Bank Park.
Upton would also give the team some much-needed speed, and he's a No. 2 or No. 6 hitter in a championship-caliber lineup. From my discussions with Rays manager Joe Maddon it sounds like Upton's really starting to mature. Sure, he's going to strike out 160 times, but with his power, speed and above-average defense, Upton would be a huge plus for the Phillies.
Probability:
Medium
Anibal Sanchez | RHP | Best fit: Baltimore Orioles
The Orioles made their mark in 2012 and are set up as a solid contender in the AL East for the next several years. However, to win the division or a wild-card berth next year, they'll have to count on their starting pitchers to repeat their 2012 success, which is easier said than done with so many first-year pitchers.
Sanchez would really help improve the Orioles' chances, and he looks like he's finally figured it out, as illustrated by his impressive postseason performances with the Tigers. Sanchez, 29, was throwing mostly 93-95 mph down the stretch with a nasty change, solid slider and decent curveball and his free-agent value might have soared more than any other free agent this past season.
Probability:
Medium
Rafael Soriano | RHP | Best fit: Los Angeles Angels
The Angels are not going to spend the kind of money Soriano's seeking on a closer because it's against the philosophy of GM Jerry DiPoto, who would prefer to fill the role with more inexpensive options like
Ernesto Frieri
or
Jordan Walden
. However, Soriano would be a perfect fit for the Angels, who suffered in 2012 without a lockdown closer. The Angels had a whopping 22 blown saves and would have made the playoffs if the bullpen was more effective protecting leads late in games.
Probability:
Low
Hiroki Kuroda | RHP | Best fit: New York Yankees
The Dodgers, Red Sox and Yankees all have strong interest in Kuroda, who I expect will either return to the Yankees or go back to Japan. Kuroda had a solid first year with the Yankees and handled New York like he'd pitched there his entire career. He had his best ground ball rate of his career in 2012 and developed a strong working relationship with Yankees pitching coach Larry Rothschild.
Probability:
High
Kyle Lohse | RHP | Best fit: Kansas City Royals
The Royals' early acquisitions of
Ervin Santana
and
Chris Volstad
were a start, but the Royals must be aggressive this offseason in building up their starting rotation. Lohse was the Cardinals' best starting pitcher in the regular season this year, going 16-3 with an ERA of 2.86 and he pounds the zone with the ability to keep it on the black on both sides of the plate and rarely misses in the middle.
Lohse will consider his family needs when making a choice, and it appears that the Royals and Kansas City fit that criteria. Seems like a solid fit for both Lohse and the Royals.
Probability:
Medium
Torii Hunter | RF | Best fit: Detroit Tigers
I expect Hunter to sign with the Tigers or another team before Thanksgiving. Hunter is a perfect fit for the Tigers, who can use his leadership and positive energy on the field, in the dugout and around their young players. With the Angels, Hunter was a great influence on
Mike Trout
,
Peter Bourjos
and
Mark Trumbo
, and would be a phenomenal teacher for the Tigers' young outfielders
Avisail Garcia
and
Austin Jackson
. Manager Jim Leyland told me that he'd like to add a 15-20 home run bat who can drive in 80 and play above-average defense on one of the corners. Obviously, Hunter fits the bill better than anyone else on the open market.
Probability:
High
Stephen Drew | SS | Best fit: St. Louis Cardinals
Drew is the best available free agent on the market at his position, and there isn't much else out there. He owns a strong arm and plus range to both sides. He has the ability to hit 20 home runs and should be close to 100 percent health by spring training. Drew's consistent play at shortstop and offensive game would be a significant upgrade.
With an aging
Rafael Furcal
trying to come back from injury, there is a high probability his decline will continue and include future injuries. If they can sign Drew and Furcal shows up to camp healthy, they can trade him during spring training. The Cardinals liked what they saw from
Pete Kozma
in September, but after his NLCS meltdown, I'm not so sure it wouldn't make sense to park him in Triple-A for a year and let him keep developing.
Probability:
Medium
October, 29, 2012
10/29/12
12:00
AM ET
While the
Detroit Tigers
and their fans are obviously feeling a bit blue Sunday night, they will soon come to realize that the 2012 season was a huge success. They won the AL Central, swept the
New York Yankees
in the American League Championship Series and appeared in the World Series.
Of course, the club's weaknesses were exposed a bit in losing to the
San Francisco Giants
, but they are in a great position to improve their club this winter. Here are five ways I expect GM Dave Dombrowski to try to improve the club this winter.
1. So long, Delmon
Delmon Young
was fantastic in the ALCS and was named MVP of the series, but as a DH/left fielder he's a below-average player, as evidenced by his .267/.296/.411 line this year. He is a free agent, and the club will gladly let him walk, as they will have
Victor Martinez
coming back from a knee injury that cost him the 2012 season. Martinez will be an upgrade at DH, so the team is getting better without doing anything.
2. Bye-bye, Valverde
[+] Enlarge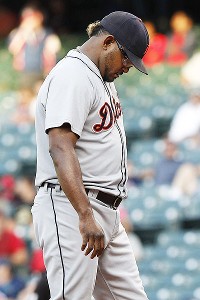 David Maxwell/Getty ImagesAfter repeated postseason failures, Jose Valverde will not be back in 2012.
Speaking of impending free agents,
Jose Valverde
will also be one, and the Tigers, who didn't trust him to pitch in any high-leverage spots in the World Series, won't bring him back. He made $9 million this year, so that will bring some salary relief. Detroit's bullpen was not a strength, and I could see them making a play for
Rafael Soriano
, who will almost certainly opt out of his deal with the Yankees, and would be an upgrade. Yes, he'd be pricey, but owner Mike Illitch has made it clear that he's willing to spend to try to win a World Series, and the club has roughly $90 committed for 2013 as of today. In other words, they have some money to spend.
I could also see the club trying to rebuild their pen by shopping
Rick Porcello
, who is still fairly well-regarded and will turn 24 in December. But as a ground ball pitcher on a team with a bad infield defense, he's a terrible fit. They should shop him to the National League or to clubs with good outfield defense in search of bullpen help. I could see San Diego, Minnesota and Pittsburgh as fits. Maybe Porcello for
Joel Hanrahan
, or possibly to Kansas City for someone such as
Aaron Crow
.
3. Retain Peralta and Sanchez
Jhonny Peralta
has a $6 million option for 2013, and the club will certainly pick that up.
Anibal Sanchez
is set to be a free agent, and he will have suitors, and that's one guy the club will want to make a play for. He has shown this October that he's a solid mid-rotation starter, and if he's paired with
Justin Verlander
,
Max Scherzer
and
Doug Fister
the Tigers will have one of the best rotations in the league.
Further, Sanchez is a strikeout pitcher, which makes him a great fit for the Tigers, as he's less-reliant on his defense, which will always be a team weakness as long as they build their lineup around
Miguel Cabrera
and
Prince Fielder
.
4. Upgrade the outfield corners
Quintin Berry
and
Andy Dirks
are decent role players, but they are not everyday guys. The Tigers have moved top prospect Nick Castellanos from third base to right field because of Miggy, and he could be up some time in the second half of next year. (And one day, don't be surprised if Castellanos is at third with Cabrera in left, a position he played when he came up with the Marlins.)
In the other outfield corner, I could see them making a play for
Nick Swisher
, as he has been one of baseball's most consistent performers over the past few seasons. The Tigers' lineup lacks depth -- something the Giants exposed -- and Swisher would provide that. Again, he won't come cheap, but the Tigers have money. A less pricey alternative would be
Angel Pagan
, who is also a free agent and could be a great No. 2 hitter while upgrading the outfield defense in left.
While they wait for Castellanos, I expect
Avisail Garcia
to man one corner with Berry and/or Dirks on the bench.
5. One more year of Leyland
Manager Jim Leyland's contract is up, and you have to think he wants to get a ring in Detroit. However, at 67 years old, who knows how much longer he will want to manage? I'd bring him back on a one-year deal and let him know that he can have the job as long as he wants it, but at this stage of his career I'd go year-to-year.
Even if they don't do much, the Tigers are probably AL Central favorites. And since Dombrowski will have some payroll flexibility, I could see him turning the Tigers into the dominant AL team next year.
August, 1, 2012
8/01/12
12:30
PM ET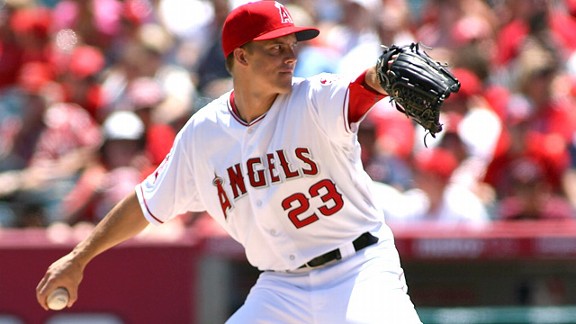 Jeff Golden/Getty ImagesBy acquiring right-hander Zack Greinke, the Angels are poised for a postseason run.
Now that baseball's July 31 trade deadline has come and gone, it's time to assess the aftermath. The flurry of activity up until the very end underscores just how many teams still feel they are in the hunt for postseason play, as well as some very shrewd moves (and non-moves) by both contenders and rebuilders.
Note: Teams that made no notable moves did not receive grades.
Notable additions:
RHP
Zack Greinke
Notable losses:
RHP John Hellweg, RHP Ariel Pena, IF
Jean Segura
Analysis:
The Angels clearly won the trade deadline with the acquisition of former American League Cy Young Award winner Greinke. Segura was expendable because of the long-term deals shelled out to
Howie Kendrick
and
Erick Aybar
. The Angels now have the best top four starters in the American League.
---
Notable additions:
3B
Hanley Ramirez
, OF
Shane Victorino
, LHP
Randy Choate
, RHP
Brandon League
Notable losses:
RHPs Ethan Martin, Nathan Eovaldi,
Josh Lindblom
Analysis:
The acquisition of Ramirez was a steal for the Dodgers, especially considering they will control him for two more years. Ramirez, 28, should benefit from the change of scenery and help protect
Matt Kemp
and
Andre Ethier
in the lineup. Victorino gives the Dodgers a table setter and a stolen base threat while improving their defense in left field. League and Choate improve their sixth- and seventh-inning relief corps.
---
To continue reading this article you must be an Insider