The GM's Office:

Andre Ethier
April, 29, 2014
Apr 29
11:01
AM ET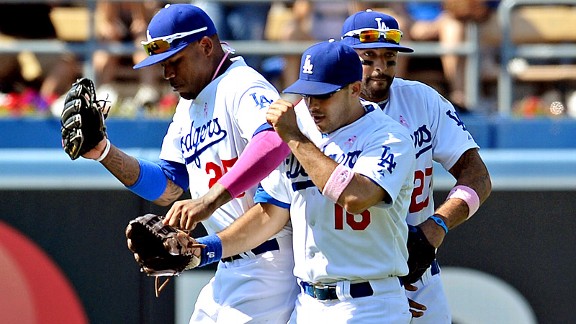 Jayne Kamin-Oncea/USA TODAY Sports Of Yasiel Puig, Carl Crawford and Andre Ethier, someone's getting traded. And it's not Puig.
The time has come for the Dodgers to trade one of their outfielders.
Dodgers general manager Ned Colletti had hoped to have his big four outfielders --
Yasiel Puig
,
Matt Kemp
,
Carl Crawford
and
Andre Ethier
-- all healthy at the same time, and that day finally arrived when Kemp came off the DL in early April.
The problem, however, is figuring out playing time for the group. The current rotation/platoon is not working, as none of them are producing anywhere close to their expected offensive production. Everyday players need to play every day to establish a rhythm. Sitting once, twice or three times a week certainly disrupts that rhythm and will affect each player's production.
If the foursome can remain healthy, though, there is no doubt that one will be dealt between now and the July 31 trade deadline.
March, 12, 2014
Mar 12
12:30
PM ET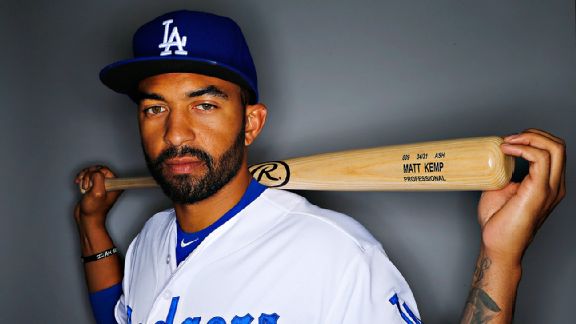 AP Photo/Paul SancyaMatt Kemp will break camp on the DL, but the Dodgers are stacked in the outfield.
Yesterday we looked at
three AL spring training camps in Arizona
and took stock of some of the buzz surrounding each one. The beauty of the Cactus League is the relative close proximity of all the team complexes to one another. It makes it very easy to jump from one camp to another and cover a lot of ground in a short amount of time.
Today, let's take a look at two NL teams in particular, the
Los Angeles Dodgers
and
San Francisco Giants
. The two franchises share a storied rivalry that dates back to their beginnings as the Brooklyn and New York teams, and followed them out to California. These teams are primed to reignite that rivalry again this season.
Los Angeles Dodgers

• For now, the Dodgers are committed to keeping all five of their outfielders. Their Opening Day alignment should be
Yasiel Puig
in right,
Andre Ethier
in center,
Carl Crawford
in left,
Matt Kemp
on the DL and Joc Pederson in Triple-A. Long-term, however, picture Puig, Pederson and Kemp from right to left.
It is wise to keep all of them now, even though at some point it will become a problem if all of them are healthy, because they all deserve to play.
To continue reading this article you must be an Insider
December, 7, 2013
12/07/13
9:00
AM ET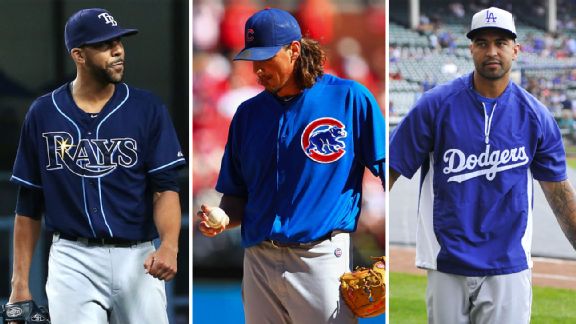 Getty ImagesDavid Price, Jeff Samardzija and Matt Kemp will keep the rumor mill churning.
General managers have been feasting this offseason on blockbuster trades and huge free-agent acquisitions. Some of the game's biggest names --
Prince Fielder
,
Ian Kinsler
,
Jacoby Ellsbury
, and
Brian McCann
-- have new homes, as do major players such as
Jim Johnson
,
David Freese
,
Doug Fister
,
Ricky Nolasco
,
Phil Hughes
and
Joe Nathan
.
However, consider that the appetizer. The main course awaits at baseball's annual winter meetings in Orlando. Expect to see another slew of big names swap teams. Here are eight players who are most likely to be on the move.
1. David Price | LHP | Tampa Bay Rays

I think the Rays most likely will trade Price during the winter meetings. While they have the option of waiting until next July's trade deadline or even next offseason if they don't get the prospect package they're looking for, their history says he's gone.
The Rays will likely be in the pennant race by July so it will be difficult to trade Price at that point. The 2014 offseason is just too late to trade him considering Price's value would be much lower because his new club would only control him for one season and thus net a correspondingly lower trade package. And an extension simply is cost prohibitive based on the present market.
But where will he go? After acquiring
Wil Myers
in the deal for
James Shields
last year, executive vice president of baseball operations Andrew Friedman will insist on a prospect of at least the same caliber, but this time around will prefer a starting pitching prospect who could develop into a No. 1 starter.
To continue reading this article you must be an Insider
November, 18, 2013
11/18/13
1:35
PM ET
The hot stove league is already fired up, as the
Philadelphia Phillies struck first
by signing outfielder
Marlon Byrd
last week. With such a weak free-agent class this offseason, teams will look heavily in the trade market.
Below you will find a proposed trade or free-agent signing that could help each National League team. On Tuesday I'll address the American League.
NL East
Atlanta Braves

The move:
Trade top pitching prospect Lucas Sims, shortstop Jose Peraza and
Alex Wood
to the
Tampa Bay Rays
in exchange for left-handed pitcher and former Cy Young Award winner
David Price
and outfield prospect Drew Vettleson.
To continue reading this article you must be an Insider
October, 18, 2013
10/18/13
11:50
PM ET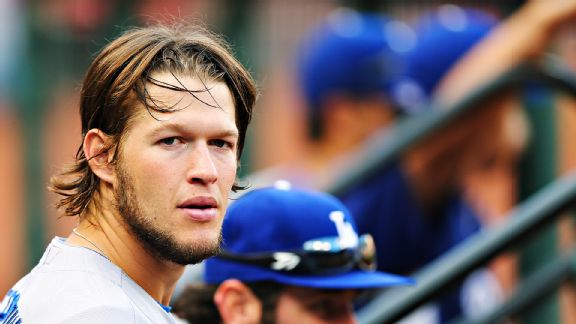 Elsa/Getty ImagesThe Dodgers must make sure that Clayton Kershaw is a Dodger for life.
The
Los Angeles Dodgers
' ownership group, led by Mark Walters, Magic Johnson and Stan Kasten, has to be pleased with how quickly it's been able to turn the Dodgers into a legitimate World Series contender, even if it took spending more than everyone else in the industry to do it.
And while the Dodgers' World Series bid fell short in 2013, losing to the
St. Louis Cardinals
in the National League Championship Series, they can point to injuries to
Matt Kemp
,
Hanley Ramirez
,
Andre Ethier
and
Chad Billingsley
as part of the reason they won't be visiting the White House. Had this team stayed healthy there might have been a better outcome.
That being said, there is still a lot of work ahead this offseason if the Dodgers want to bring a world championship back to Los Angeles in 2014.
Here are the issues that must be addressed this winter if the Dodgers want to take another step forward.
1. Give Kershaw a contract extension
Extending
Clayton Kershaw
, the best pitcher in baseball, is the team's top priority and it should be.
To continue reading this article you must be an Insider
July, 10, 2013
7/10/13
10:25
AM ET
With just 21 days left before baseball's trade deadline, there's already been a flurry of early activity.
The
Los Angeles Dodgers
acquired
Ricky Nolasco
, the
Baltimore Orioles
added
Scott Feldman
and the
Washington Nationals
traded for
Scott Hairston
.
A number of factors are compelling teams to try to close deals earlier: a dearth of sellers and surplus of buyers created by two extra playoff slots, new free-agent compensation rules, and international bonus slots that teams have been trading left and right.
Still, if trades made in the next 21 days are of the caliber and size of the aforementioned trio, this year's deadline will prove to be somewhat ... boring. So I've cooked up five potential blockbuster trades I'd like to see. They make sense for all the teams involved and might add a little spice to the deadline.
To continue reading this article you must be an Insider
July, 3, 2013
7/03/13
11:45
AM ET
When the
Los Angeles Dodgers
gave
Andre Ethier
a five-year, $85 million contract 13 months ago, it seemed like a decent enough idea at the time. Ethier had strung together a series of decent seasons punctuated by one career year, and it seemed like he would age gracefully enough to make the deal worthwhile.
But Ethier's production has declined. Combined with the emergence of super-rookie
Yasiel Puig
, Ethier has become the odd man out, and his contract looks like an albatross.
As a result, the Dodgers are quietly hoping they can find a taker for Ethier, although realistically they'll have to eat approximately $5 million per season to make any deal work. The Dodgers might have to wait to the offseason to make the Ethier deal, which will make for an awkward situation once
Carl Crawford
returns from the disabled list next week. Paying Ethier $18 million as a fourth outfielder is not what the Dodgers had in mind when they signed him. He has become expendable.
Likewise, several other teams are in similar situations and will soon be forced to trade expendable players in what might end up being "buyer" for "buyer"-type deals at this year's trade deadline. Here are five situations where arrivals of top prospects could create expendable players:
To continue reading this article you must be an Insider
June, 19, 2013
6/19/13
12:40
PM ET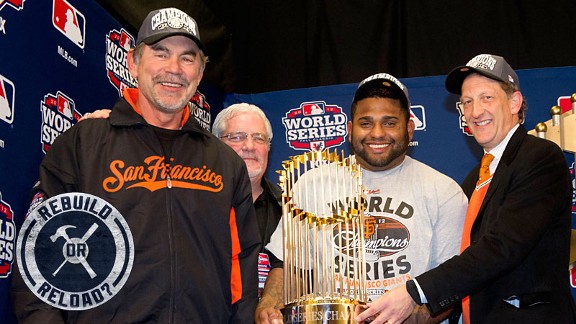 Ron Vesely/MLB Photos/Getty ImagesIf the Giants want to win their third title in four years they must make some moves.
With the addition of an extra wild-card team, it's becoming increasingly difficult for GMs to decide whether their team is a contender, so I've decided to do it for them.
Over the next two days I will be looking at six teams on the edge of contention, and explain whether they should reload for 2013 or take a long-term view and eschew 2013 contention in favor of rebuilding.
The following three teams are in "reload" mode because they all possess a strong enough core of players that will allow them to compete this year if they add a couple of complementary parts. For each club I have outlined their trade deadline strategy, trade chips and targets, as well as their dream deal.
To continue reading this article you must be an Insider
May, 8, 2013
5/08/13
11:00
AM ET
No, it isn't a very happy time in Southern California.
SoCal fans just watched as the Lakers and Clippers got bounced out of the NBA playoffs in the first round, while the Dodgers and Angels have looked like they might not even make the playoffs.
Coming into 2013, both Los Angeles baseball teams boasted the largest payrolls in their respective divisions, hoping big offseason spending meant getting to the postseason. And on paper, their rosters are good enough to make the playoffs. However, both teams have been beset by injury and ineffectiveness, and as a result, postseason appearances are hardly assured. However, it's not too late for the L.A. teams to save their seasons, although both clubs will have to make some major adjustments between now and the July 31 trade deadline.
Here's why both the Angels and Dodgers are struggling and how they can turn their seasons around:
To continue reading this article you must be an Insider
November, 9, 2012
11/09/12
9:30
AM ET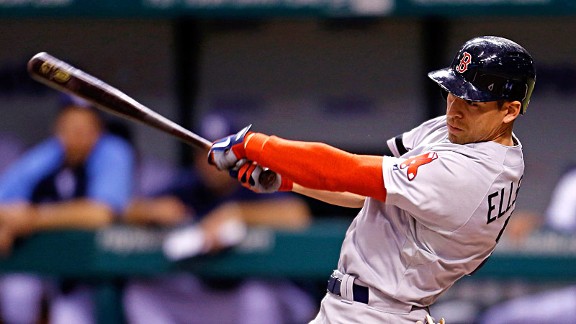 J. Meric/Getty ImagesThe Red Sox have several options with Jacoby Ellsbury.
It wasn't long ago that outfielder
Jacoby Ellsbury
looked like the face of the
Boston Red Sox
. His All-Star campaign in 2011 was highlighted by a .321 average, 32 home runs, 105 RBIs and 39 stolen bases. His five-tool prowess had finally developed, and he looked firmly entrenched as Boston's center fielder for years to come.
Only a season later, things have spun 180 degrees. Ellsbury slogged through an injury-marred 2012 season, still managing to hit .271 in just 303 at-bats, but that 2011 season now seems long ago. Further, Ellsbury is eligible for free agency in a year and is represented by agent Scott Boras, who owns a healthy track record of taking his clients to free agency to maximize their financial opportunities.
Considering that, it looks like the Red Sox have three options:
1.) Settle with Ellsbury on a one-year deal
2.) Take Ellsbury to arbitration, where he will make about $9.5 million on a one-year contract
3.) Trade Ellsbury
While Boston would love to sign Ellsbury to a long-term deal and keep him at Fenway Park, they most likely will have no choice but to test the trade waters to see what they can get for Ellsbury. With the Red Sox a couple seasons away from contention, this move makes sense.
But first, Red Sox general manager Ben Cherington must identify the teams that need a center fielder, would be willing to trade for a "rental" player and could afford to add a $9.5 million player to its payroll.
Because Ellsbury will be a one-year rental, Cherington probably knows he won't get equal return. However, he will start with a high asking price -- in some cases unreasonable -- and negotiate downward. And the Red Sox could have another shot at Ellsbury after the 2013 season since Boras will make certain he reaches the free agent market.
Here are seven conversations Cherington should have with teams:
1. Atlanta Braves | trade targets: SS Nick Ahmed, RHP Julio Teheran
The first place to look is the NL East, where the Braves,
Washington Nationals
and
Philadelphia Phillies
are all looking for short- and long-term solutions for center field. The Braves are set at shortstop for years to come with
Andrelton Simmons
, which makes Ahmed expendable. Ahmed, 22, was the Braves' second-round pick in the 2011 draft and had a solid year at high Class A Lynchburg both offensively and defensively. He stole 40 bases. Teheran remains the Braves' top pitching prospect, and once his command and control arrive, he should be a solid No. 2 or No. 3 starter for years to come.
If the Red Sox could add Teheran to the young starters they acquired in the blockbuster deal with the
Los Angeles Dodgers
last summer (Allen Webster and
Rubby De La Rosa
), it would be a huge step forward in their retooling. Ellsbury would take Bourn's spot in center field and keep the Braves primed for another postseason berth in 2013.
2. Los Angeles Angels | trade target: 1B C.J. Cron, OF Peter Bourjos
How about an Angels outfield of
Mike Trout
, Jacoby Ellsbury and
Mark Trumbo
, with all three combined making less than
Torii Hunter
made in 2011? The Red Sox would get their long-term solution to first base in Cron and a middle-of-the-order bat that they can count on for years to come. Bourjos would give them Gold Glove defense in center field, and perhaps his bat would develop enough to eventually hit at the top of the lineup. Ellsbury for Cron straight up might even be fair value.
3. Los Angeles Dodgers | trade target: OF Andre Ethier
This deal would give the Red Sox cost certainty and their long-term right fielder, as Ethier just signed a six-year $95.5 million deal through 2017 with a vesting option for 2018. The Red Sox have top center field prospect Jackie Bradley Jr. waiting in the wings to eventually take over the position long term. The Dodgers would then have an outfield of
Matt Kemp
, Ellsbury and
Carl Crawford
. When healthy, it would be the best in the National League with an incredible combination of speed and power. More importantly, the Dodgers would have their leadoff hitter.
4. St. Louis Cardinals | trade targets: RHP Trevor Rosenthal, OF Jon Jay
Rosenthal has ability and potential to be a
Craig Kimbrel
or
Aroldis Chapman
-type closer right now, and Jay could take over in center field in Boston. The Red Sox should stop dreaming about
Andrew Bailey
,
Daniel Bard
and
Alfredo Aceves
taking care of the final three outs of the game. Rosenthal can do that now with his 100-mph fastball. Odds are this discussion goes no further than the phone call, as the Cardinals love Rosenthal (who they might also try as a starter) and seem happy with Jay.
5. San Francisco Giants | trade targets: OF Gary Brown, RHP Heath Hembree
The Giants have a chance to win three World Series in four seasons, and Ellsbury would help that cause immensely. He would give them a dynamite leadoff hitter and table-setter for
Pablo Sandoval
,
Buster Posey
and
Hunter Pence
in the middle. He'll be able to run down balls in center field and will give them the additional power they have lacked. Brown is supposed to be their leadoff hitter of the future, but if they were willing to trade top pitching prospect Zach Wheeler for
Carlos Beltran
, they should consider this deal, too. The Red Sox should also ask for Hembree because he throws in the high 90s, and if his command in the zone ever arrives, he could be a candidate to be Boston's closer down the line.
6. Seattle Mariners | trade target: RHP Taijuan Walker
The Mariners have had the worst offense in the American League for three straight seasons, and they have approximately $30 million dollars to spend. Do they trade one of their top pitching prospects for offense as they did last year when they shipped
Michael Pineda
to the
New York Yankees
for catcher
Jesus Montero
? The Red Sox should ask for Walker, but my gut says Cherington would get a polite "no, thank you" from Mariners GM Jack Zdurinecik, who will then counter with an offer of one of lefties James Paxton or
Danny Hultzen
. If that happens, the Red Sox certainly should consider it.
7. Washington Nationals | trade targets: OF Brian Goodwin and RHP Alex Meyer
Goodwin has been wowing scouts in the Arizona Fall League with his range, defense and bat. Meyer was very impressive in his pro debut last season in A-ball, where he went a combined 10-6 with a 2.86 ERA in 25 starts. Meyer was the Nationals' first-round choice in 2011, and the Red Sox have been following him closely since they selected him the 20th round of the 2008 draft but weren't able to sign him. Ellsbury would allow the Nationals to put Bryce Harper in one of the corners with
Jayson Werth
. A deal of this magnitude would put them among the NL's early favorites to reach the World Series.
In the end, it's doubtful any of these trade discussions will end up in a deal. The most likely scenario is Ellsbury ends up with a one-year deal at $9.5 million, and the Red Sox will revisit the trade market for him at next July's trade deadline. That said, perhaps then we'll revisit these trade discussions again when the probability of one of them happening will have increased significantly.
April, 26, 2012
4/26/12
10:30
AM ET
Earlier this week,
Los Angeles Dodgers
general manager Ned Colletti said he's already talked to the team's new ownership about a
contract extension for outfielder
Andre Ethier
. At 30, Ethier is a two-time All-Star, has earned Gold Glove and Silver Slugger awards and is in the prime of his career. He currently leads the majors in RBIs with 23. He also leads a list of seven players who should be signed to contract extensions now. Most of these players are in or are entering their most productive years, or perhaps are talented young players whose stardom is easily projectable. So it might behoove teams to stay ahead of the market and lock them in now.

1. Andre Ethier, RF
With the Dodgers' $2 billion sale from Frank McCourt to the group led by Magic Johnson, Stan Kasten and Mark Walter -- the CEO of Guggenheim Partners -- officially closing in less than a week, one of the team's first orders of business should be to extend Ethier. He is the only legitimate protection for Matt Kemp the Dodgers have in the middle of their lineup. And with a farm system that will offer very little offensive help, this is an important signing. Further, the Dodgers' new ownership might also want to have a conversation with Cy Young Award winner Clayton Kershaw. They control his rights through 2015 but might want to start talks with him to stay ahead of a rapidly ballooning market for starting pitching.

To continue reading this article you must be an Insider
January, 31, 2012
1/31/12
1:01
PM ET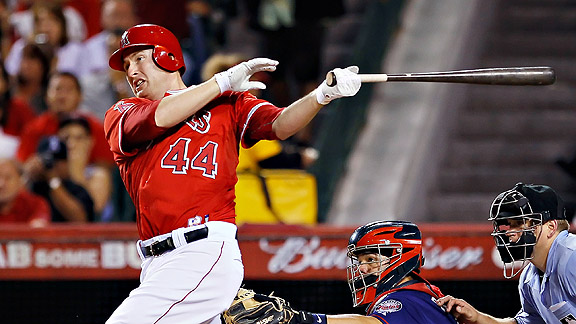 Jeff Gross/Getty ImagesThe Angels have depth at first base, and Mark Trumbo could fit well with the Rays.
This offseason we've witnessed some massive, industry-shaking signings and blockbuster trades. But even the teams that made major moves still have some problems. With that in mind, here are five deals that would go a long way toward boosting the chances of a number of contenders. In some cases, both clubs have World Series aspirations and could benefit by trading from depth.
After signing free agent
Prince Fielder
and announcing that
Miguel Cabrera
will move back to third base, the Tigers have basically admitted that their corner-infield defense will take a step back in 2012 and beyond. To compensate, the Tigers should look to upgrade their defense elsewhere. Left fielder
Delmon Young
does not come in on the ball well and is an overall poor defender.
To continue reading this article you must be an Insider
November, 16, 2011
11/16/11
4:00
PM ET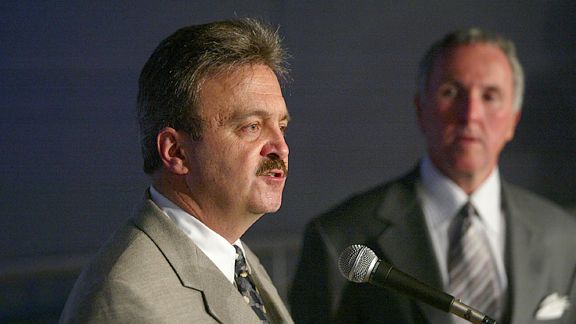 Larry Goren/Icon SMIFrank McCourt and the Dodgers' sale limits what moves GM Ned Colletti can make.
Let's face it. What was good for Frank McCourt hasn't always been good for the
Los Angeles Dodgers
.
The embattled owner allowed myriad personal problems and self-indulgence to impact one of the most storied franchises in baseball. This has left the franchise in an uncompromising position and severely hampers what moves general manager Ned Colletti can make to improve the club.
Going into the offseason, Colletti had three top priorities:
1. Lock up
Matt Kemp
to a long-term deal.
2. Either re-sign
Hiroki Kuroda
or somehow replace the 202 innings he pitched
3. Sign or trade for an impact bat in the middle of the lineup
Secondary to those was solving second base and acquiring a backup catcher. Colletti has already rolled up his sleeves and gotten to work, signing
Mark Ellis
to a two-year deal reportedly worth a little over $8 million. A second year for Ellis was debatable because of his age and a below-average bat, but he is a steady player. Colletti also signed
Matt Treanor
to serve as a third catcher and back up starter
A.J. Ellis
until top catching prospect Tim Federowicz is ready.
Colletti already took care of Kemp, which is huge for the franchise. But otherwise this offseason is one of treading water for Colletti and the Dodgers. The sale of the team leaves all major signings or trades in question. I've said that
Prince Fielder
would make the most sense for the Dodgers, but Colletti has stated publicly a signing like that is unlikely because of the sale.
Of course, that's up to McCourt.
To continue reading this article you must be an Insider
November, 14, 2011
11/14/11
5:20
PM ET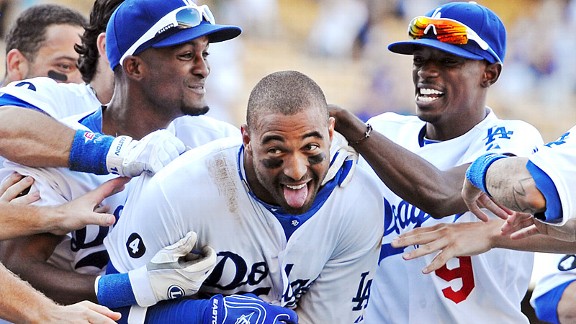 Jayne Kamin-Oncea/US PresswireMatt Kemp and his teammates should be smiling now that he's a Dodger for the next eight years.
For the
Los Angeles Dodgers
, priority No. 1 this offseason -- besides finding a new owner -- was signing All-Star outfielder
Matt Kemp
to a contract extension. From the sound of it, the Dodgers can scratch that off their offseason to-do list and Dodgers fans can breathe a sigh of relief, as it appears Kemp has agreed to an eight-year extension that will pay him $160 million.
Kemp is a classic five-tool player who fell one home run shy of joining the 40-40 club this year. The 27-year-old has tremendous power to all fields and can hit all types of pitches on both sides of the plate. On the bases, first-base coach Davey Lopes helped Kemp improve significantly at spotting pitchers' pickoff moves and with the general nuances of base stealing.
To continue reading this article you must be an Insider