The GM's Office:

Alex Rodriguez
February, 26, 2015
Feb 26
10:16
AM ET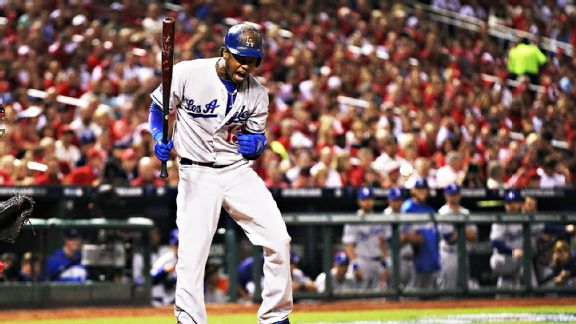 Dilip Vishwanat/Getty ImagesHanley Ramirez makes the move to left field in Boston this year.
Infielders and outfielders have joined pitchers and catchers at spring training in Arizona and Florida, and the drama is ongoing. We are already monitoring injuries, position changes, trade rumors, comebacks and players with new teams. Here are 12 infielders and outfielders to keep an eye on during spring training:
1. Hanley Ramirez, LF, Boston Red Sox | Position change

The Red Sox reunited with Ramirez this offseason when they signed him to a four-year, $88 million contract. Now they have to hope they can keep him healthy and on the field, something that has derailed Ramirez most of his career. However, the biggest question surrounding him will be his move to left field.
January, 13, 2014
1/13/14
9:00
AM ET
In my opinion,
Alex Rodriguez
has probably played his last major league game. When his suspension is up at the end of the 2014 season, I expect the
New York Yankees
to release him unconditionally and pay him the remaining $61 million of his contract. I also don't think there is an owner or GM in baseball who will sign him -- even for the league minimum.
While the Yankees have saved A-Rod's $25 million salary for 2014, they now have a glaring void at third base they need to fill. There are many that are expecting them to spend some of that money on the hot corner, I get the sense they'd prefer to spend the money on Masahiro Tanaka and/or bullpen help while staying below the $189 million luxury tax threshold. Therefore, a stop-gap approach to begin the 2014 season is the most likely direction that GM Brian Cashman will be going with the goal of solving it long term by next offseason.
With that in mind, I thought it would be a good idea to run down all of the Yankees' options at third base, both for 2014 and beyond.
1. Call on the Captain
The Yankees say they are comfortable with some type of platoon with players such as
Kelly Johnson
,
Scott Sizemore
,
Eduardo Nunez
,
Dean Anna
, Yangervis Solarte and
Corban Joseph
. Obviously, none of those guys are long-term solutions, and some will wonder if they are even viable short-term solutions.
If I'm Cashman, I would have a conversation with
Derek Jeter
to see if he would be willing to move over to third base.
To continue reading this article you must be an Insider
October, 17, 2013
10/17/13
12:30
PM ET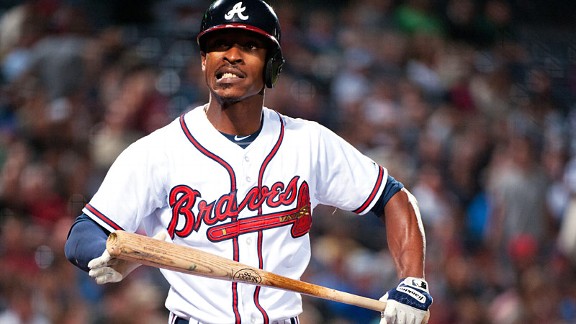 Kevin Liles/Getty ImagesThe Braves might like a mulligan on signing the disappointing B.J. Upton.
In 2008, the
Toronto Blue Jays
shocked the baseball world when they signed outfielder
Vernon Wells
to a seven-year, $126 million deal. His career .319 OBP and a dismal 2009 season and perceived decline as well as a base salary that escalated to $21 million quickly made Wells' contract such an albatross that no one thought Wells could ever be traded.
However, Wells actually was traded ... twice. First he was traded to the
Los Angeles Angels
in 2011 for
Mike Napoli
and
Juan Rivera
, then again this past March to the
New York Yankees
for minor leaguers.
There are two ways an "immovable" contract can be, well, moved. A team can do what the Angels did and assume a majority of the remaining salary; they paid $28.1 million to the Yankees, leaving just $12.9 million for the Yankees to pay in 2013 and 2014. Or a team can trade a bad contract for another bad contract, as the
New York Mets
and Angels did in 2001, when they swapped first baseman
Mo Vaughn
for right-hander
Kevin Appier
.
And swapping gargantuan contracts can sometimes benefit both teams. Such was the case in August 2012 when the
Los Angeles Dodgers
and
Boston Red Sox
made a blockbuster deal that transformed both clubs into legitimate World Series contenders. The Dodgers got the big-name player they wanted (
Adrian Gonzalez
) while the Red Sox got the financial freedom they needed to rebuild.
Also, when clubs don't have trade chips in either their farm system or major league club, and don't like the cost of the present free-agent market, they might take a chance on a bad contract because it's the only way they can make their team better, just as the Yankees did with Wells.
So, teams can trade some "immovable" contracts. Let's take a look at the present market for them. I've categorized them into somewhat likely and unlikely, as some have a better possibility of being moved than others, but no matter what it will take a couple of very motivated teams on both sides to get a deal done.
To continue reading this article you must be an Insider
August, 30, 2013
8/30/13
11:00
AM ET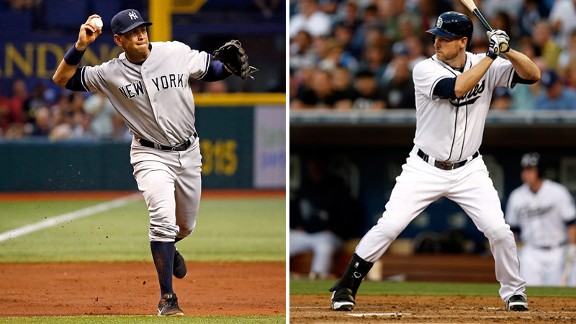 Getty ImagesCould Chase Headley be a long-term solution to replace Alex Rodriguez at third base?
The
New York Yankees
should be pleased with how
Alex Rodriguez
has played since his return from hip surgery and the disabled list. His bat speed and ability to hit a good fastball have improved considerably compared to where he was at the end of the 2012 season.
However, the team also realizes that Rodriguez possibly will start the 2014 season on the suspended list for
his involvement in the Biogenesis scandal
, pending his appeal. If the appeal doesn't succeed, how long will the suspension be -- 50, 100, or the full 211 games originally handed down?
Therefore, general manager Brian Cashman must make preparations to start the 2014 season without Rodriguez -- either with a stopgap measure or long-term solution at third base. Cashman clearly knows the answer for either time frame is not in the Yankees' farm system. Though
Kevin Youkilis
(on the DL after back surgery) and
Mark Reynolds
might still be options, Cashman has to wonder if Youkilis will ever perform at a high level again, and is likely concerned about Reynolds' below-average defense at third and his strikeout ratio.
That means there are just two viable avenues Cashman can take -- trade or free agency. Cashman's scouts should be out in force during September, bearing down on their evaluations of Rodriguez's possible replacements.
In the following list, I grouped players by trade or free-agency targets and categorized them as long-, medium- or short-term solutions, depending on how long I think each player might fit with the Yankees. Long-term players would completely replace Rodriguez beyond his return from even a 211-game suspension. Medium-term solutions would replace Rodriguez from anything beyond 100 games and below 211. Short-term players fill the gap until Rodriguez returns from a 50- or 100-game suspension.
Here is a quick look at how the third-base market currently stands for the Yankees this offseason.
To continue reading this article you must be an Insider
January, 24, 2013
1/24/13
2:00
PM ET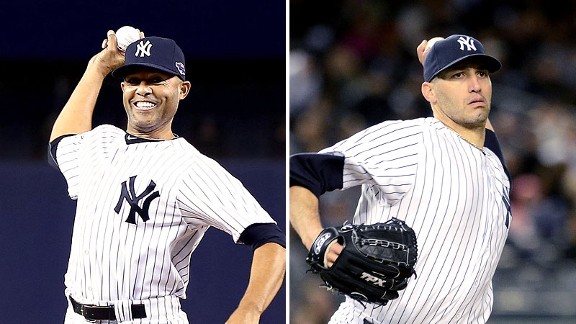 Getty ImagesWith Rivera and Pettitte back, the Yanks can contend. But so can everone else in the AL East.
During my entire 15-year career in baseball as a GM and through today, commissioner Bud Selig has emphasized improving the game's competitive balance.
He said his goal was for all 30 clubs' fan bases to have "hope and faith" on Opening Day that their team would be able to contend for a postseason berth. However, full parity has eluded one division for more than a decade. The American League East stood as an example of how wide the chasm can be between winning and losing teams.
To continue reading this article you must be an Insider
October, 30, 2012
10/30/12
11:30
AM ET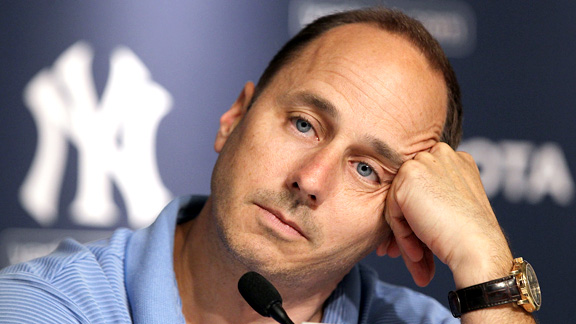 Jim McIsaac/Getty ImagesYankees GM Brian Cashman has an exhausting task ahead of him this offseason.
Even though the offseason has only just commenced for the
San Francisco Giants
and
Detroit Tigers
, general managers of 28 other teams already have been pondering their futures for some time.
For five GMs in particular, their jobs for the next three months are uniquely difficult, perhaps the most difficult in baseball. A variety of obstacles stand in their way of effectively making over their teams. They will have to hurdle those obstacles in order to improve their teams, and that's easier said than done.
Here are the five general managers who have the toughest jobs this winter. For the Giants and Tigers, it's finally time to rest. For these guys, their work has already started.

1. Brian Cashman, New York Yankees
Hands down, Cashman has the most difficult path facing him of any general manager of baseball. Perhaps it just comes with the territory of being the GM of baseball's uber-team, but this offseason is especially difficult. With the Yankees' mandate of "anything less than a World Series is failure" hovering over him, the fixes Cashman faces are not easy. Additionally, the Yankees are trying to get under the luxury tax threshold by 2014, and their best prospects are not close to contributing.
The Yankees have never had the luxury of going with a full-scale youth movement -- they are expected to contend every year, so Cashman must resolve the situation with
Alex Rodriguez
, whose declining skills, massive contract and no-trade clause make him nearly impossible to move. Picking up the contract options for
Robinson Cano
and
Curtis Granderson
was a good first step, but
Mariano Rivera
might retire and
Rafael Soriano
might opt out of his deal. And then you have
Derek Jeter
returning from injury, and who knows what to expect from
Michael Pineda
?
In other words, Cashman must retool a World Series contender with limited money, a fallow farm system and an aging roster rife with no-trade clauses. Toughest job, indeed.

2. Dayton Moore, Kansas City Royals
Moore can position the Royals as 2013's version of the
Baltimore Orioles
or Oakland A's. Position players
Mike Moustakas
,
Eric Hosmer
,
Alex Gordon
and
Billy Butler
are all ready to lead a playoff team. But Moore must completely rebuild his starting rotation, and to do that, he will have to make some uncomfortable decisions, including trading one of the aforementioned players.
Moore has talked about 2014 as the Royals' year to compete. But he has the talent to win now, and he should start by acknowledging the failure of
Luke Hochevar
. Dumping him would serve as a philosophical change for a club that has become enamored with "stuff" rather than results. While
Danny Duffy
and
Jake Odorizzi
are good pitching prospects, the majority of them have been way overhyped. Their only way to improve the rotation so quickly is to bring back
Zack Greinke
or sign
Kyle Lohse
or
Anibal Sanchez
and trade one of those young hitters. I know Moore has gone down this free-agent pitching path before, with the disastrous
Gil Meche
signing, but he can't keep waiting for 2014. It's time to win now.

3. Ben Cherington, Boston Red Sox
The fact is, nearly every move Cherington made last season did not work. From hiring Bobby Valentine, to trading
Jed Lowrie
to Houston and
Kevin Youkilis
to Chicago and
Josh Reddick
to Oakland, to the failed conversion of
Daniel Bard
to the starting rotation, it was a rough rookie year for Cherington.
However, what did work was the massive trade with the
Los Angeles Dodgers
that shed the Red Sox of
Adrian Gonzalez
,
Josh Beckett
,
Carl Crawford
and
Nick Punto
. That move shaved approximately $58 million in 2013 payroll alone. And with the acquisition of manager John Farrell, Cherington is effectively starting from scratch. And he's on the clock now, too.
Cherington's a bright guy and he will have ample opportunity to show what he can do with what almost amounts to a clean slate. He will have some cornerstones such as
Dustin Pedroia
and
Will Middlebrooks
, but he has to also hope
Jon Lester
and Bard return to form in their respective roles. His priority will be to figure out what to do with
Jacoby Ellsbury
, who is a free agent in 2013 and is represented by Scott Boras, so it won't be an easy negotiation. Cherington's team has plenty of holes, and he will have some financial freedom, so there will be opportunities to show last season's disaster was an aberration.

4. GM Mike Hill, president Larry Beinfest, Miami Marlins
It is a difficult situation when you're the general manager of a ballclub, but not really the general manager, or when you're the president of a ballclub, but not really the president. Essentially, owner Jeffrey Loria calls the shots on all personnel decisions and managers, and Ozzie Guillen was the latest casualty. Don't be surprised if outspoken outfielder
Logan Morrison
is next.
Of course, Guillen wasn't without fault here, alienating the Cuban section of the Marlins' fan base early last season. But after signing
Heath Bell
last winter and then trading him to Arizona, free agents will pause before going to Miami. So will managers who see no job security in South Beach -- in a span of six years, three managers (Joe Girardi, Fredi Gonzalez and Guillen) have held the job.
The Marlins will be competing with a resurgent
Philadelphia Phillies
team that still boasts the best rotation in the National League. The
New York Mets
will have lots of money coming off the books in time for the 2014 offseason and the
Atlanta Braves
and
Washington Nationals
are both built to compete for the next five years. But the Fish have some core pieces to work with, namely
Mark Buehrle
,
Jose Reyes
and
Giancarlo Stanton
, as well as some good youngsters in
Rob Brantly
,
Jacob Turner
and Nathan Eovaldi, as well as prospects
Jose Fernandez
and Christian Yelich. If Hill and Beinfest can do something this offseason with some autonomy, they could compete in the NL East.

5. Chris Antonetti, Cleveland Indians
When I say Cashman doesn't have any money and is restricted by his payroll, remember the Yankees' yearly payroll is near $200 million. Cleveland's 2012 Opening Day payroll was $65 million.
So Antonetti really doesn't have any money, nor does he have much of anything else to work with. His hiring of Terry Francona as manager is a step in the right direction. But a manager will only win if he has winning players. The "best" pitching pieces he has to trade are
Ubaldo Jimenez
and
Justin Masterson
, who don't have a ton of value right now. His farm system is below average at best, with the exception of shortstop Francisco Lindor.
Shin-Soo Choo
, arguably Antonetti's best player, is a free agent after 2013, and Boras is his agent. Antonetti simply can't let Choo walk away for only draft-pick compensation.
Further, the AL Central is surprisingly deep with Detroit's dominance, Chicago's surprise and the Royals' rise. Exacerbating things is his team and fan base seem to have lost faith in the front office, with closer
Chris Perez
openly criticizing him in the media. A rough road lies ahead for Antonetti and team president Mark Shapiro, whose own deal is up after 2013.
October, 20, 2012
10/20/12
11:30
AM ET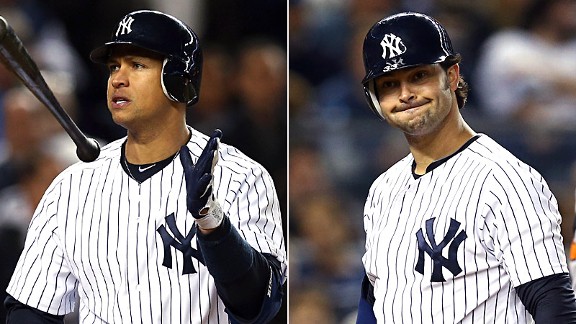 Getty ImagesThe Yankees must resolve the Alex Rodriguez issue and upgrade over Nick Swisher.
Let's consider these facts from ESPN's Stats & Information department regarding the
New York Yankees
' historically poor performance in the American League Championship Series:
• The Yankees' .188 batting average in the 2012 postseason is the lowest in MLB postseason history by any team that played at least seven games. They scored just 22 runs in nine games, for an average of 2.4 runs per game. That's the fourth-fewest runs per game in a single postseason by any team that played at least seven games.
• The Yankees had played 36 consecutive postseason series without being swept -- that was the longest streak in MLB history. This is the first time they've been swept in any series since the 1980 ALCS, when the Royals swept them in a best-of-five series. The last time the Yankees were swept in a best-of-seven series was in the 1976 World Series, when the Reds beat them.
• The Yankees enter an offseason filled with uncertainty. Although they're almost certain to exercise a pair of club options for 2013 on
Robinson Cano
($14 million) and
Curtis Granderson
($13 million), the key players who are eligible for free agency are
Mariano Rivera
,
Andy Pettitte
,
Nick Swisher
,
Ichiro Suzuki
,
Hiroki Kuroda
and
Russell Martin
.
Add the fact that
Rafael Soriano
also has an opt-out clause in his deal, so he is no lock to return.
With all that uncertainty on their roster and questions about things, I've come to one conclusion: It's time to blow up the Yankees.
It's time for the Yankees to get younger and more athletic. For this storied franchise, anything less than a World Series championship is considered a failure. The team is built to withstand a 162-game season in which an aging lineup can routinely feast on fourth and fifth starters. But in the postseason, when those same aging bats see the absolute best pitching in a short series, as the statistics above indicate, they fall short. Outside of
Derek Jeter
and Cano, the lineup's holes and weaknesses were exposed.
But the only way to rebuild and win now is for Hal Steinbrenner to take a page out of his father's strategy -- which sometimes worked, sometimes did not -- and that means spend money and trade prospects.
Start with Rodriguez
The most prudent thing to do is to try to persuade
Alex Rodriguez
to waive his no-trade clause. The Yankees likely would have to pay nearly all of his salary with the exception of perhaps a few million. This would come with the stipulation that the Yankees would pay only if Rodriguez plays and is on an active roster.
There's simply no hiding or denying Rodriguez's decline. As
Dan Szymborski pointed out
, it has been coming for years. Rodriguez at 37 might still be a serviceable player capable of hitting .260 with 20 home runs, but the Yankees would do well to turn the page. Ideally, it would be best to cut ties and pay his salary and move on. But if they cannot, the next move is to convert him to designated hitter.
The Yankees have a track record of leading aging sluggers out to pasture by converting them to designated hitters. In the footsteps of
Bernie Williams
, Paul O'Neill,
Hideki Matsui
,
Jason Giambi
,
Jorge Posada
, Rodriguez should follow suit and join
Raul Ibanez
in what could be turn out to be an effective lefty-righty platoon, albeit perhaps the most expensive DH combination in baseball history.
Resolving Rodriguez would free up the Yankees to chase, well,
Chase Headley
, the Kansas City Royals'
Mike Moustakas
or Washington Nationals prospect Anthony Rendon. To acquire someone like Headley, Yankees general manager Brian Cashman will have to do that which he most despises: trade prospects.
Frankly, I say empty the farm system to get whatever pieces they need. New York's farm system took a hit this year with the poor performance of top pitching prospect Manny Banuelos, and he is going to miss the 2013 season after undergoing Tommy John surgery. Still, the Yankees could get this kind of deal done if they were willing to part with outfield prospect Mason Williams and catching prospect Gary Sanchez. George Steinbrenner never had a problem sacrificing prospects, and New York needs to be aggressive.
Cashman has said repeatedly that he wants complete players, and Headley, for example, is exactly that. Even with Petco Park as his home field, switch-hitting Headley batted .286 with 31 home runs, stole 17 bases and led the NL with 115 RBIs while playing very solid defense. At 28, he enters 2013 in his prime and is about to get very expensive in arbitration. The Padres have built an incredibly deep farm system, and if they sell high on Headley, they can further fortify their farm while freeing payroll to lock up some of their top youngsters.
To get Headley, it probably will take a prospect package similar to what the
Cincinnati Reds
forked over to San Diego for pitcher
Mat Latos
in December.
Buy, buy, buy
Outfielder
Josh Hamilton
will be by far the biggest name on the free-agent market. Fittingly, the team in the biggest market should be the one to reel him in.
Hamilton fits Cashman's proclivity for "complete" players, and his left-handed swing is tailor-made for Yankee Stadium. They Yankees need a better postseason hitter than Swisher, who has been exposed in October, hitting .169 in the playoffs in his career.
Likewise, the Yankees should pursue speedster
Michael Bourn
. Signing Bourn would free Cashman to trade or decline the club option ($2 million buyout) on Granderson and his 195 strikeouts and move
Brett Gardner
to left field. Bourn also would serve as the leadoff man the Yankees desperately need and, once again, add some much-needed speed.
On the mound, Pettitte will announce soon whether he will return in 2013. Outside of
CC Sabathia
, and perhaps Hughes, the rest of the rotation is simply not World Series caliber.
Michael Pineda
should be back from shoulder surgery and could be an upgrade, but there is no way the Yankees can assume he will be an impact player in 2013.
Re-signing Kuroda will help, but signing
Zack Greinke
or
Kyle Lohse
will be necessary to deepen the Yankees' starting rotation. None of the prospects they have will do that, and the Yankees can't afford to wait for kids.
I know there has been talk about the Yankees wanting to avoid the luxury tax, but they're the Yankees -- they should be paying the luxury tax. And let's be honest, George Steinbrenner would have been this aggressive.
Bring back Russell Martin?
As our own Buster Olney suggests, the Yankees
loved Martin's toughness and winning attitude
, but a long-term contract just wouldn't work.
If the Yankees miss out on Hamilton or Greinke, they might think about turning to
Minnesota Twins
catcher
Joe Mauer
. The Twins probably would love the chance to shed Mauer's huge contract, and the Yankees are one of the few teams that can afford him. As noted, the Yankees could end up clearing a lot of payroll this year if Soriano opts out, Swisher leaves and Granderson's option is declined.
As with Hamilton, Mauer's swing is perfect for Yankee Stadium. The Twins are desperate to rebuild their pitching staff, and giving some prospects might appeal to them.
To be sure, the Yankees can't make all of these moves, but the point I'm making is that the team needs to think aggressively. The Yankees have been relatively inactive the past couple of winters, but it's time for them to channel some of The Boss' bold mentality. They are baseball's uber-team, and they should be prepared to lose draft picks and pay the luxury tax. The Yankees have never settled for mediocrity, and they shouldn't now. The time has come for Hal to become George for just a few years to get the Yankees back to where they belong.
May, 24, 2012
5/24/12
12:07
PM ET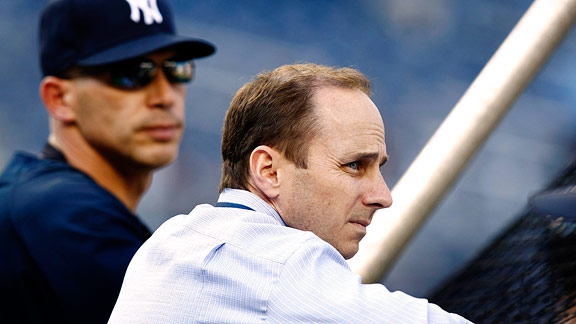 Joe Robbins/Getty ImagesTrimming payroll is not something Brian Cashman and the Yankees are accumstomed to.
On March 1, Brian Cashman's job got a lot more difficult.
That's when the
New York Yankees
' general manager was reading the headlines Yankees owner Hal Steinbrenner made when he said the Yankees would get their payroll below $189 million by 2014. They would do this despite spending at least $200 million every year since 2007.
Indeed, payroll reduction plans were always in place when George Steinbrenner was running the club, but they never seemed to materialize. For Cashman to continue the Yankees' winning ways, they might want to delay that decreasing plan for some time.
With a farm system that lacks major league-ready players and a rapidly aging big league roster, the standard of success the Yankees have enjoyed for nearly two decades will be difficult to maintain with a payroll shrinking in the manner Hal Steinbrenner suggests it will. The only way they can continue competing and simultaneously rebuilding the team's cumulative talent pool -- especially their cleanup hitter -- is to continue to spend.
To continue reading this article you must be an Insider
December, 5, 2011
12/05/11
12:51
AM ET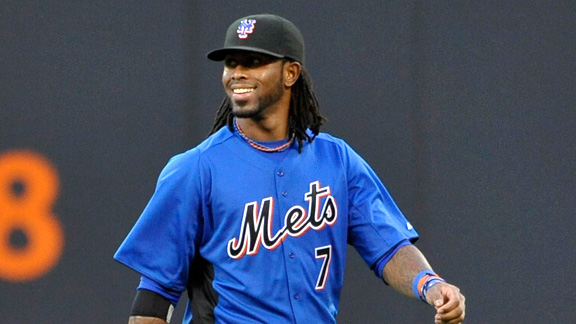 AP Photo/Kathy KmonicekJose Reyes will impact the Miami Marlins with his bat, glove and personality.
With the signing of free-agent
Jose Reyes
to a six-year, $106 million contract on Sunday, the
Miami Marlins
netted themselves the one of the best shortstops in baseball, second only to the
Colorado Rockies
'
Troy Tulowitzki
. It also gives the new-look Marlins much-needed dose of star power.
From a baseball sense, Reyes is a terrific fielder. He has great range to his left and boasts one of the strongest arms at the position. His high energy and enthusiasm will positively influence
Hanley Ramirez
on the field and in clubhouse. Though there has been talk that Ramirez would head to center field, a team source confirmed that Ramirez will go to third base, with
Emilio Bonafacio
and
Chris Coghlan
sharing time in center field. Reyes is also one of baseball's best leadoff hitters, and he should activate a lineup that has lacked decent pop and on-base percentage at the top of the lineup.
Risk? Certainly any time a team signs a player to a long-term contract there is some inherent risk in the latter years as the player ages. Reyes has already had a history of injury, but working in the Marlins' favor is the fact that Reyes is entering his prime years physically, so the next six years should be as good if not better than the first six.
To continue reading this article you must be an Insider