September, 29, 2014
Sep 29
12:03
PM ET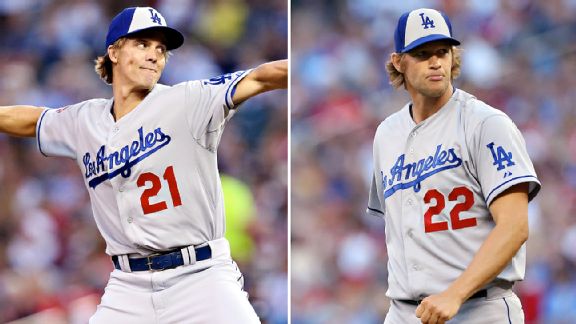 USA TODAY SportsZack Greinke and Clayton Kershaw anchor a formidable Dodgers rotation.
The most important element of every major league team in the playoffs is its starting rotation; it's the closest equivalent to a quarterback on an NFL team or the top three players on an NBA team. History has shown us that elite starting pitching has played a greater role in winning championships than any other aspect of a team's infrastructure.
Evaluating starting rotations for the postseason is much different than doing so for the regular season. During the regular season, you concentrate on the team's depth, even the Nos. 6 and 7 spots on the depth chart. In the postseason, you emphasize the top three starters on each team, with little weight given to the fourth starter and no weight to the fifth starter, who's normally in the bullpen. You especially focus on the team's No. 1 starter, who often pitches twice in a five-game series and as many as three times in a seven-game series. You also must factor in how much workload a pitcher has had in the regular season, how they've pitched at the end of the season and any signs of fatigue, something that's not controllable outside of a cortisone shot to lessen the inflammation in a shoulder or elbow.
History shows that pitchers who can miss bats and post higher strikeout rates often perform better in the postseason than contact pitchers. Why is this? Well, these hurlers are facing the game's best lineups, and they need to have the stuff and command to win those battles. Having impeccable command of all pitches in and out of the strike zone is a necessity, because many hitters on playoff teams don't have many weaknesses to exploit.
With that as a preface, here are my rankings of this year's postseason rotations based on scouting, statistical and sabermetric analysis, with specific matchups, workloads, trends and intangibles all factored in:
To continue reading this article you must be an Insider