November, 18, 2014
Nov 18
4:44
PM ET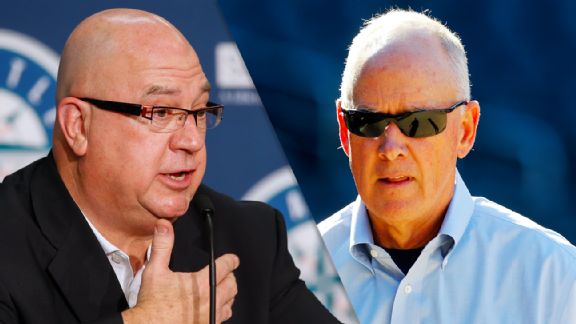 Getty ImagesGMs Jack Zduriencik (Mariners) and Sandy Alderson (Mets) have teams that are ready to contend.
As the offseason trades, signings and re-signings get underway, it behooves us to take a step back and lay out where each MLB team stands right now, what its current big-picture objective is. So here's the current landscape, division by division and team by team:
AL East
Baltimore Orioles: Working to repeat as AL East champs.
The Orioles made it all the way to the American League Championship Series and should have an even better team in 2015. Re-signing
Nick Markakis
and
Nelson Cruz
or acquiring similar players will be key to defending their division title.
Boston Red Sox: Retooling to contend again in 2015.
After going from first to last in the division this season, the Red Sox hope to reverse that in '15, and they have the bullpen, defense and lineup to do it. However, they must completely rebuild their starting rotation to be a legitimate threat again.
New York Yankees: Aspirations of contending, but currently a middle-of-division team.
The Yanks have a lot of question marks in their rotation, especially healthwise. They'll need guys like
Masahiro Tanaka
and
CC Sabathia
to bounce back, and will also need rebound years from
Carlos Beltran
,
Mark Teixeira
,
Jacoby Ellsbury
and
Brian McCann
to have any hope of making a playoff run.
Tampa Bay Rays: New leadership trying to maintain contender status.
The previous regime left the Rays in a good spot to contend, including a strong young rotation. But the team will need to hire a new manager who hits the ground running. Tampa Bay's long-term success will be dependent on an improved draft performance in June after a few years of below-average drafts.
Toronto Blue Jays: Trying to win now while still developing prospects.
They have a strong core of veterans (and just added one in
Russell Martin
) and were wise not to trade any of their talented young starting pitching at the trade deadline. They'll fill a few key positions with prospects --
Dalton Pompey
will start in center field and newly acquired Devon Travis will take over second base by at least midseason -- but likely will look to spend more this offseason.
---
AL Central
Chicago White Sox: Rebuilding, and probably two years away.
The White Sox have been building a strong core to their team (including
Jose Abreu
,
Avisail Garcia
and
Adam Eaton
), and they're now just waiting patiently for their top prospects, such as left-handed pitcher Carlos Rodon and shortstop Tim Anderson, to arrive.
Cleveland Indians: Ready to contend for a division title.
They had the second-youngest rotation in baseball in 2014, and yet it was the best in the majors in the second half, led by Cy Young Award winner
Corey Kluber
. But they need bounce-back years from
Jason Kipnis
,
Nick Swisher
and
Michael Bourn
if they're going to win the division. The arrive of Francisco Lindor will help.
Detroit Tigers: Keeping the window cracked for a playoff run, but also trying to get younger.
The offense is pretty much in place, especially after they re-signed
Victor Martinez
and traded for
Anthony Gose
to improve their defense in center field.
Jose Iglesias
' return will also help, although he and Gose are light-hitting players. But they might need to replace
Max Scherzer
, and that bullpen needs improvement.
Kansas City Royals: Stacked with enough young talent to be perennial contenders.
The Royals' position players grew up in the postseason, and
Yordano Ventura
and
Danny Duffy
are ready to take over the top of their rotation. The Royals are now the team to beat in the AL Central, not the Tigers.
Minnesota Twins: A last-place team desperately trying to build a starting rotation.
The Twins are waiting for young phenoms Byron Buxton, Eddie Rosario and Miguel Sano to arrive in Minnesota, but it won't matter in the win-loss column until they're able to build a starting rotation that is at least competitive.
---
AL West
Houston Astros: Only a year or two away from being contenders.
The Astros are making significant progress toward and should get at least close to .500 in 2015. Top-of-rotation prospect Mark Appel should arrive sometime in 2015, and when shortstop prospect Carlos Correa arrives sometime in 2016 or 2017, the Astros should be ready to be perennial contenders.
Los Angeles Angels: Legit World Series contenders.
The emergence of
Garrett Richards
and
Matt Shoemaker
filled out the rotation, and the lineup is just fine. They could use bounce-back years from
Josh Hamilton
and
C.J. Wilson
, though, and they're hoping
Tyler Skaggs
returns successfully from Tommy John surgery at some point in 2015.
Oakland Athletics: Still legit playoff contenders.
They've taken a beating via free agency, but that won't stop them from contending again in '15. They still have a strong, controllable starting rotation, and could get
Jarrod Parker
and
A.J. Griffin
back from their Tommy John surgeries in 2015. They just need a middle-of-the-order bat and a possible replacement for Jed Lowrie.
Seattle Mariners: Their time has finally arrived.
The Mariners are just one big impact bat -- to put between
Robinson Cano
and
Kyle Seager
-- away from being a playoff contender in 2015. Their starting rotation has a chance to be special, especially if
James Paxton
and
Taijuan Walker
live up to their potential.
Texas Rangers: Seeking to rebound in 2015.
No rebuilding here; the Rangers are simply hoping to have a healthy team next year after being decimated with injuries in 2014. They still need to upgrade in left field and behind the plate and need another starting pitcher, and they'll likely try to solve those deficiencies via trade rather than free agency.
To continue reading this article you must be an Insider