Six trades for David Price
November, 8, 2013
11/08/13
9:21
AM ET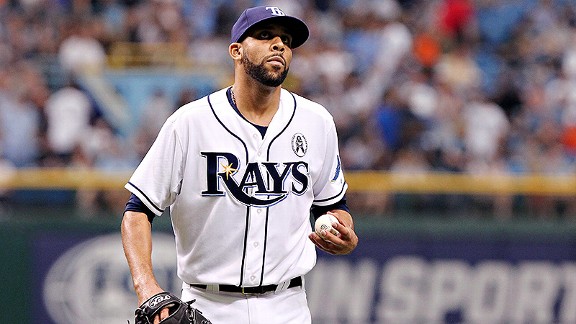 Kim Klement/USA TODAY SportsDavid Price might be wondering just where he'll land if he's traded this offseason.
There might be several quality free agent starting pitchers available this offseason, but the best pitcher on most teams' radars is a former Cy Young Award winner whose team simply can't afford him anymore.
Tampa Bay Rays
left-hander
David Price
has two more years left on his contract. With the cost of ace pitchers soaring toward $30 million per season and no new stadium deal in sight, the fiscally strapped Rays realize it's only a matter of time before they must deal Price.
To continue reading this article you must be an Insider
Insider
ABOUT THIS BLOG

Jim Bowden
Bowden, who served as the senior vice president and GM for the Cincinnati Reds and the Washington Nationals, is an analyst for ESPN.com. In 1992, Bowden became the youngest GM in MLB history when the Reds hired him at age 31. The Reds finished in first place twice during his 10 years as GM, and he was named MLB Executive of the Year by Baseball America in 1999. After working for ESPN in 2004, Bowden became the first GM of the Washington Nationals when the franchise relocated from Montreal to Washington, D.C., in 2005, working in that role until the 2009 season. Bowden co-hosts the "Inside Pitch" radio show on Sirius XM satellite radio. Follow on Twitter: @JimBowdenESPNxm.
JimBowdenESPNxm

JIM BOWDEN


Yankees also in discussions with Rockies involving Jorge De La Rosa who is red hot 3-0 with a 1.78 ERA and 1.105 Whip in July #Rockies #NYY
about 8 hours ago

JimBowdenESPNxm

JIM BOWDEN


Rays still listening on David Price despite having best record in AL East in the month of July #Rays
about 8 hours ago

JimBowdenESPNxm

JIM BOWDEN


Ian Kennedy in July is 3-0 with 2.53 ERA 1.188 Whip; Bartolo Colon in July is 1-2 with a 4.61 ERA and 1.098 Whip #AvailableStartingPitching
about 8 hours ago

JimBowdenESPNxm

JIM BOWDEN


One baseball exec just told me "what team who has an available starting pitcher is Brian Cashman not in trade discussions with?" #Yankees
about 8 hours ago

JimBowdenESPNxm

JIM BOWDEN


#Athletics #Angels #Mariners #Rangers #Astros Trade Deadline latest: http://t.co/RO2uVuSc8H
about 8 hours ago

JimBowdenESPNxm

JIM BOWDEN


Tomorrow on our show guests will include:Todd Frazier #Reds; Joe Maddon #Rays; Terry Francona #Indians; Paul Konerko #WhiteSox XM 89 2-6pmET
about 8 hours ago

JimBowdenESPNxm

JIM BOWDEN


Yankees & Padres discussing deal that would send Ian Kennedy to Yankees in exchange for Eric Jagielo and Ian Clarkin according to a source
about 8 hours ago

JimBowdenESPNxm

JIM BOWDEN


Trades I would like to AL West Teams make: http://t.co/HHwdziJ3Zu
about 11 hours ago

JimBowdenESPNxm

JIM BOWDEN


Indians not looking for rental trades rather trades for players with multi-year control
about 12 hours ago

JimBowdenESPNxm

JIM BOWDEN


Marlins not shopping any veteran players rather looking for deals to improve present and next year teams
about 12 hours ago

JimBowdenESPNxm

JIM BOWDEN


Dodgers continue to pursue set-up relievers but process difficult for them thanks to 3 of the games sellers being from the NL West
about 12 hours ago

JimBowdenESPNxm

JIM BOWDEN


The Twins have announced that they have traded Kendrys Morales to the Mariners in exchange for reliever Stephen Pryor
about 17 hours ago

JimBowdenESPNxm

JIM BOWDEN


Coming up on #InsidePitch guests will include: Huston Street #Angels; Matt Holliday #Cardinals; Bud Norris #Orioles and Joe Nathan #Tigers
about 18 hours ago

JimBowdenESPNxm

JIM BOWDEN


AL West Teams what to expect at the trade deadlines and trades I'd like to see happen: http://t.co/HHwdziJ3Zu
about 20 hours ago

JimBowdenESPNxm

JIM BOWDEN


Best non-move of 2014 trade deadline....Jays refusal to include Aaron Sanchez in Price or Smardizja deals #BlueJays
1 day ago

JimBowdenESPNxm

JIM BOWDEN


Clearly a sellers market as Rangers do great in getting both Thompson and Knebel in Soria deal #ESPN
1 day ago

JimBowdenESPNxm

JIM BOWDEN


#Nationals #Braves #Marlins #Mets #Phillies #PossibleTrades http://t.co/KCiZn8CbTi
1 day ago

JimBowdenESPNxm

JIM BOWDEN


Cardinals #1 Need a SP, monitoring C and could send Taveras back to minors in nxt 10 days according to GM Mozeliak: http://t.co/fwFzqoyQPh
1 day ago

JimBowdenESPNxm

JIM BOWDEN


Available Starting Pitching Market: Price, Hamels, De La Rosa, Kennedy, Lee, Colon Teams in need: NYY,Tor,LAA,Sea,STL,Milw,ATL,LAD,SF,Balt
1 day ago

JimBowdenESPNxm

JIM BOWDEN


John Mozeliak on David Price, Jake Peavy & Kurt Suzuki: http://t.co/Myzccb4wqi
1 day ago
BLOG ARCHIVE:
CATEGORIES: