The impact of trading draft picks
May, 31, 2013
5/31/13
2:15
PM ET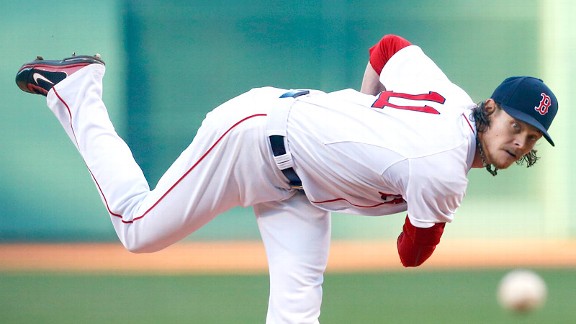 AP Photo/Michael DwyerCould teams unearth another Clay Buchholz with their competitive balance picks?
For the first time in the history of Major League Baseball's amateur draft, teams own the ability to trade draft picks.
They are the draft picks resulting from the Competitive Balance Lottery, which took place last July. In other sports you can trade any draft pick, but in MLB's draft only the competitive balance picks can be traded. It's a new wrinkle that will shake up the draft a little bit.
To continue reading this article you must be an Insider
Insider
ABOUT THIS BLOG

Jim Bowden
Bowden, who served as the senior vice president and GM for the Cincinnati Reds and the Washington Nationals, is an analyst for ESPN.com. In 1992, Bowden became the youngest GM in MLB history when the Reds hired him at age 31. The Reds finished in first place twice during his 10 years as GM, and he was named MLB Executive of the Year by Baseball America in 1999. After working for ESPN in 2004, Bowden became the first GM of the Washington Nationals when the franchise relocated from Montreal to Washington, D.C., in 2005, working in that role until the 2009 season. Bowden co-hosts the "Inside Pitch" radio show on Sirius XM satellite radio. Follow on Twitter: @JimBowdenESPNxm.
JimBowdenESPNxm

JIM BOWDEN


Best non-move of 2014 trade deadline....Jays refusal to include Aaron Sanchez in Price or Smardizja deals #BlueJays
about 4 hours ago

JimBowdenESPNxm

JIM BOWDEN


Clearly a sellers market as Rangers do great in getting both Thompson and Knebel in Soria deal #ESPN
about 6 hours ago

JimBowdenESPNxm

JIM BOWDEN


#Nationals #Braves #Marlins #Mets #Phillies #PossibleTrades http://t.co/KCiZn8CbTi
about 8 hours ago

JimBowdenESPNxm

JIM BOWDEN


Cardinals #1 Need a SP, monitoring C and could send Taveras back to minors in nxt 10 days according to GM Mozeliak: http://t.co/fwFzqoyQPh
about 8 hours ago

JimBowdenESPNxm

JIM BOWDEN


Available Starting Pitching Market: Price, Hamels, De La Rosa, Kennedy, Lee, Colon Teams in need: NYY,Tor,LAA,Sea,STL,Milw,ATL,LAD,SF,Balt
about 11 hours ago

JimBowdenESPNxm

JIM BOWDEN


John Mozeliak on David Price, Jake Peavy & Kurt Suzuki: http://t.co/Myzccb4wqi
about 12 hours ago

JimBowdenESPNxm

JIM BOWDEN


NL East - Trades I'd like to see and what will actually happen: http://t.co/6BTh7NC1We
about 12 hours ago

JimBowdenESPNxm

JIM BOWDEN


Jorge De La Rosa trade stock continues to rise as he punches out 10 Nationals this afternoon #Rockies #Yankees #Angels #Dodgers
about 12 hours ago

JimBowdenESPNxm

JIM BOWDEN


Direct #ESPN Video interview with John Mozeliak GM #Cards on his interest in David Price, Jake Peavy and Kurt Suzuki: http://t.co/fwFzqoyQPh
about 12 hours ago

JimBowdenESPNxm

JIM BOWDEN


John Mozeliak direct video on Cardinals interest in David Price, Jake Peavy and Kurt Suzuki #ESPN #GMsOffice http://t.co/Myzccb4wqi
about 12 hours ago

JimBowdenESPNxm

JIM BOWDEN


Andrew Friedman would not rule out "adding" at the trade deadline.and wouldn't rule out trading Price at the deadline XM 89 Sirius 209 #ESPN
about 13 hours ago

JimBowdenESPNxm

JIM BOWDEN


We have the latest on David Price why?because we have an exclusive live interview with #Rays GM Andrew Friedman next Sirius 209 XM 89 @Rays
about 13 hours ago

JimBowdenESPNxm

JIM BOWDEN


NL East Teams…what they need…who they are targeting and trades I'd like to see them make: http://t.co/ZhxMOITckU
about 14 hours ago

JimBowdenESPNxm

JIM BOWDEN


Coming up on #InsidePitch today guests will include:Andrew Friedman #Rays; Clint Hurdle #Pirates, Ron Washington #Rangers & Christian Yelich
about 16 hours ago

JimBowdenESPNxm

JIM BOWDEN


Trades I'd like to see happen for each NL East Teams: http://t.co/issZIA9kTD
about 18 hours ago

JimBowdenESPNxm

JIM BOWDEN


What to expect at the Trade Deadline for NL East Teams: http://t.co/ZhxMOITckU
about 18 hours ago

JimBowdenESPNxm

JIM BOWDEN


My thoughts on the Angels decision not to limit the innings of Garrett Richards: http://t.co/W8DxMQAvLB
1 day ago

JimBowdenESPNxm

JIM BOWDEN


Reds and Phillies continue trade talks regarding Marlon Byrd according to sources
1 day ago

JimBowdenESPNxm

JIM BOWDEN


Thanks to Billy Hamilton, Bruce Bochy, Mike Matheny and Brad Ausmus for joining us on our show today! Sirius 209 XM 89
1 day ago

JimBowdenESPNxm

JIM BOWDEN


Bruce Bochy told us that the Giants have not talked trade about David Price, Jake Peavy or Cliff Lee Sirius 209 XM 89
1 day ago
BLOG ARCHIVE:
CATEGORIES: