March, 18, 2015
Mar 18
10:42
AM ET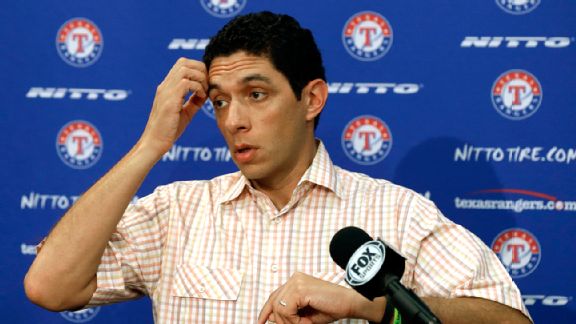 AP Photo/LM OteroRangers GM Jon Daniels has done a great job in Texas, but it's time for him to trade some veterans.
As I walked into the lobby of the
Texas Rangers
' spring training headquarters in Surprise, Arizona, last week, the first thing I noticed was a huge picture of two Rangers executives, a manager and a player celebrating their American League championship in 2011. Something immediately seemed off to me: The only person in the picture still with the franchise is president of baseball operations (and GM) Jon Daniels.
Josh Hamilton
, who was at the time their best player, is gone. Nolan Ryan, their CEO then? Gone. Ron Washington, their manager? Gone. Then I thought about all the other good players from those 2010 and '11 World Series teams that are gone, from
Ian Kinsler
to
Michael Young
to
Cliff Lee
,
C.J. Wilson
,
Nelson Cruz
,
Mike Napoli
,
Vladimir Guerrero
and
Darren O'Day
, among others. In just 3½ years, some of the team's braintrust and many of its best players have all moved on. Even though the Rangers were still good in 2012 and '13, it feels like it was eons ago they were celebrating AL titles. Injuries sunk this team in 2014. A lot of injuries, and to key players. But I have to wonder if their short-term thinking in terms of player moves -- in an attempt to stay on top in the AL West -- along with the departure of an owner, a CEO, a field manager and a bench coach has sent this team in the wrong direction for the first time since Daniels took over in October 2005. What the Rangers need to do now is look in the mirror and realize their run is over. Blame it on injuries, front-office departures or anything you want to, but it's
over
. It would be an unpopular decision, but the Rangers need to rebuild. We're talking a total shakeup, including trading away their best players. The good news is if they do it now and they do it right, they could be good again as soon as the second half of 2016. But if they don't, they could be looking at a three- to five-year process