December, 22, 2014
12/22/14
10:30
AM ET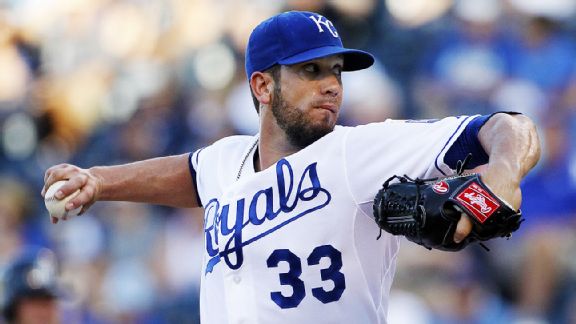 AP Photo/Colin E. BraleyJames Shields is beginning to make his rounds to determine where he'll call home next season.
James Shields
has pitched more than 200 innings and won double-digit games eight consecutive years with a 3.64 ERA during that time, and as the leader of the
Kansas City Royals
' pitching staff, he was instrumental in the development of many of their young successful pitchers. His intangibles are as strong as his durability, and that's why so many clubs covet him.
He did not pitch well in the 2014 postseason, but most teams will overlook that in part because, including spring training, he threw more than 270 innings on the season. His best fits, in my opinion, are the
San Francisco Giants
and
Boston Red Sox
, but they're not the only teams that have a chance to sign him.
1. San Francisco Giants

The world champions have had a difficult offseason after losing third baseman
Pablo Sandoval
to the
Boston Red Sox
(for basically the same offer they made) and then falling short on their bids for free agents
Jon Lester
,
Melky Cabrera
and
Chase Headley
. (They
were
able to retain reliever
Sergio Romo
, who signed for less to stay home.) However, they're still hard at work, and Shields is atop their wish list. They would love to be able to slot him behind
Madison Bumgarner
and
Matt Cain
and ahead of
Tim Hudson
and
Jake Peavy
in their rotation.
The fact that Shields takes the ball for 32-plus starts a year and you can pencil him in for 220-plus innings per season makes him a perfect fit for a team in need of starting-pitching innings, plus his leadership and winning attitude would fit nicely in a clubhouse that has three championships in five years. The Giants also aren't afraid to be the highest bidder here.
Odds they get him:
3-to-1
---
2. Boston Red Sox

The Red Sox failed in their attempt to bring Lester back to Boston, losing out to the Cubs by more than $20 million dollars. Given their unwillingness to spend a little extra on Lester, it's unlikely they would turn around and sign
Max Scherzer
for more years and money. Their best option on the trade market is
Cole Hamels
, but the prospect package it would take to get him makes that a reluctant option for Red Sox GM Ben Cherington.
Jordan Zimmermann
and
Johnny Cueto
also have been mentioned as trade options, but that's doubtful given that both of their clubs are potential playoff teams. Therefore, signing Shields might be the team's best option.
Shields would fill the pitching leadership void that has been vacant since the Lester deal; his mentorship of the Red Sox's young pitchers could make overpaying to get him worthwhile here. A rotation of Shields,
Clay Buchholz
,
Joe Kelly
,
Wade Miley
and
Rick Porcello
would make the Red Sox the favorites to win the AL East, in my mind. That said, this is the type of free agent the Red Sox normally offer at least one year less than other teams on the market, which could cost them Shields.
Odds:
5-to-1
---
3. Texas Rangers

The Rangers have quietly met with Shields and realize that he would not only be an important signing for them to place behind
Yu Darvish
and ahead of
Derek Holland
in their rotation, but he would also give them protection if Darvish, Holland,
Martin Perez
and/or
Colby Lewis
don't come back fully healthy. Like other teams, they also value his leadership and mentorship qualities.
The real question here is whether the Rangers are willing to spend the kind of money it's going to take to sign Shields after the dreadful results they had last year with their free-agent signing of
Shin-Soo Choo
and trade for
Prince Fielder
, who spent much of the season on the disabled list (making eight figures in the process). Rangers assistant GM Thad Levine told me they had a great meeting with Shields and his wife, but the team would have to make a trade or two to lower payroll in order to sign him. That lowers the odds, but it's still quite possible.
Odds:
7-to-1