March, 27, 2015
Mar 27
12:10
PM ET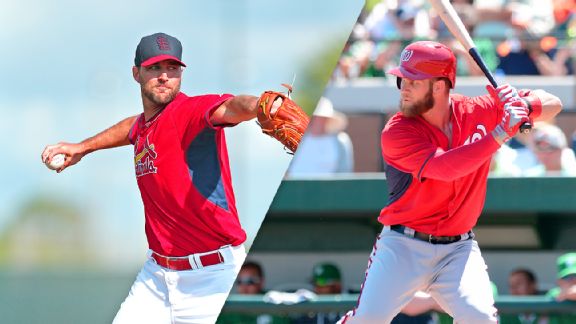 Getty ImagesAdam Wainwright and Bryce Harper hope to meet up in the 2015 NLCS.
After touring both Arizona and most recently Florida, I have come to a relatively easy conclusion that the two best teams in the National League -- at least on paper as well as from the scouting seats this spring -- are the
St. Louis Cardinals
and
Washington Nationals
. The Cardinals arrived in Jupiter, Florida, last month with a lot of questions surrounding their starting pitching mostly because of health reasons, but also because of the trade of
Shelby Miller
to the Braves in the offseason for right fielder
Jason Heyward
. Every single question has been answered positively.
Adam Wainwright
feels great and even clarified to me he is 100 percent.
Michael Wacha
looks like the Wacha of 2013 according to GM John Mozeliak.
John Lackey
and
Lance Lynn
look like the pitchers who helped the Cards win the division last year. In addition, all three starters fighting for the fifth job have pitched well enough to win the spot.
Jaime Garcia
has been the surprise of camp, not only completely healthy but pitching like he did when he was one of the league's best left-handed starters.
Carlos Martinez
has shown that his fastball command is improving and he could start, even though he is expected to return to the eighth-inning role by Opening Day.
Marco Gonzales
has developed by light years this spring, adding a two-seam sinker, a cutter and a curveball, three new pitches to a repertoire that already included a solid four-seam fastball up in the zone and a plus-plus changeup he can use to get right- and left-handed hitters out. Heyward has fit in nicely in the clubhouse, has shown his elite defensive skills and the Cardinals' brain trust is convinced it can get another level of talent out of Heyward's bat. With a completely healthy and happy clubhouse, this will be a tough team to beat, even for the ever-improving
Pittsburgh Pirates
. The Nationals entered spring training with MLB's best team on paper, but unlike the Cardinals, they have not been so fortunate healthwise. Center fielder
Denard Span
will start the year on the disabled list with a right core muscle injury and is not expected to return until sometime in May.
Anthony Rendon
, their best position player, is also likely to start the year on the DL with a knee injury. They are waiting to see if left fielder
Jayson Werth
is ready for Opening Day and are cautiously optimistic according to GM Mike Rizzo, but I highly doubt he'll be ready to go either. Even when he is activated there is a big question of how much power he'll have because of the type of shoulder surgery he had.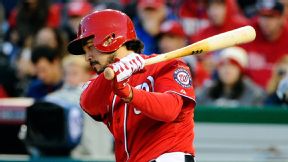 Brad Mills/USA TODAY SportsAnthony Rendon probably will start the year on the DL with a knee injury.
The best news is that their top six starters are relatively healthy, with
Stephen Strasburg
's sprained ankle tweak being the only minor injury so far. As good as this team is, they'll have to fight off strong competition from both the Marlins and Mets, who are way better than most people think and will give them a pennant race until the end. For the Nationals to live up to their potential, their two high-ceiling talents in outfielder
Bryce Harper
and Strasburg will have to take their games to elite status. Harper was recently
dubbed the most overrated player in baseball
by his peers in a recent ESPN The Magazine article. I can understand this because scouts and analysts like myself have been riding high on Harper's 40-home run power ceiling. However, MLB players haven't seen him do it yet nor have they seen a consistent professional approach like his teammate Rendon's. However, make no doubt about it, he will reach his ceiling and when he does, those who call him overrated will start focusing on another player who hasn't done it yet. Remember, Harper is just 22 years old. He also has to deal with more off-field drama than most players and it has been overwhelming for him. However, when he finally learns how to leave it at the clubhouse door and not think about it again until he heads home after the game, watch out because he will reach that potential. At least 30 home runs are needed this year for the Nats to win it all, and I think he'll provide it. Strasburg, on the other hand, has a chance to win the Cy Young Award, despite the fact he's the Nationals' third starter behind
Max Scherzer
and
Jordan Zimmermann
. I think Scherzer could be the key to Strasburg's success because Scherzer brings looseness, fun and happiness to the clubhouse and the tightly wound Strasburg will have to start having fun, especially with
Gio Gonzalez
and
Matt Thornton
on the same fun team as Scherzer. If the Nats can have a little more fun this year with their starting pitching, they should be facing the Cardinals in the NLCS.
---