March, 29, 2015
Mar 29
10:08
PM ET
By
ESPN Stats & Information
| ESPN.com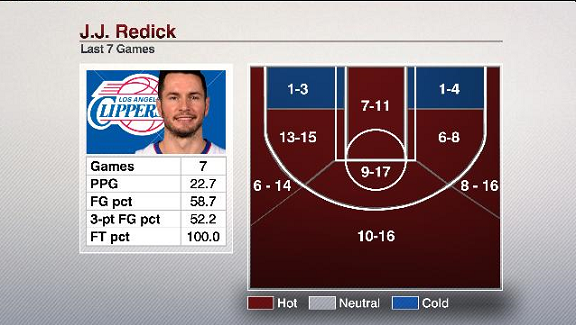 ESPN Stats & InformationJ.J. Redick is shooting great of late.

Sunday was a good day for Duke basketball and also for one particular Duke basketball alumnus.
Los Angeles Clippers guard J.J. Redick has taken full advantage of the team's soft schedule of late. Sunday was his best game yet, as he went 11-of-15 from the field for 27 points in an easy win over the Boston Celtics.
It's the best Redick has shot in an NBA game in which he took at least 15 shots and the fourth-best shooting performance in a game in which he has taken at least 10 shots. He was 11-of-13 from the field in a win over the Portland Trail Blazers earlier this season.
The Clippers have won seven straight games, though granted the past three have come against the New York Knicks, Philadelphia 76ers and Celtics, who are a combined 64-157 this season.
In this seven-game winning streak, Redick is shooting nearly 59 percent from the field (61-of-104) and 52 percent from 3-point range. He is shooting better than any other guard in the NBA since the streak began on March 17 and ranks 10th in the NBA in scoring (22.7 points per game) since that date.
The Clippers are 20-5 this season when Redick makes more than half his shots in a game.
Redick also has a noteworthy streak of his own going. He has made his last 36 free throw attempts, raising his free-throw percentage to 89.7 percent, fourth best in the NBA. Redick is trying to shoot 90 percent from the free-throw line in a season with at least 100 attempts for the fourth time in his career. He would become the 10th player in NBA history with four such seasons, a group whose names include Ray Allen, Reggie Miller and Rick Barry.
That free-throw shooting skill would have come in handy for DeAndre Jordan on Sunday.
Jordan was 3-of-15 from the free throw line. He's the fourth player in the last 50 seasons to make three or fewer free throws and attempt at least 15. The others are Wilt Chamberlain, Shaquille O'Neal and Chris Dudley.