Top 2015 targets: Pac-12
February, 6, 2014
Feb 6
9:00
AM ET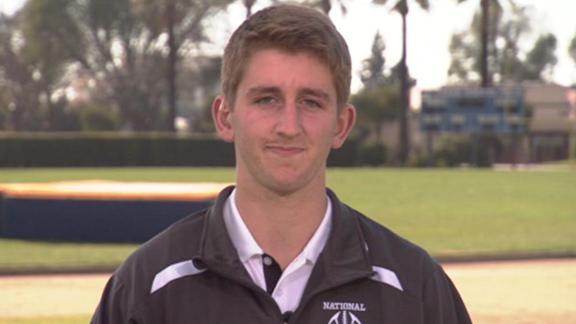 After several of the top 10 West region recruits from the Class of 2014 got away from Pac-12 teams, the conference will look to clean that up with the 2015 group. It's off to a strong start, as the only two committed prospects among the top 10 are headed to UCLA and USC. The 2015 class in the West region is loaded and there will be huge commitments from any of the 52
ESPN Junior 300
prospects in the West, but there's no surprise that the top five Pac-12 targets are the top five uncommitted prospects in the region.
To continue reading this article you must be an Insider
Welcome
!
We see that you are not an ESPN Insider. Upgrade today and gain access to our exclusive coverage.
ESPN The Magazine subscribers

Need more information?
STANFORD FB RECRUITING SCORECARD
Antigua Men's Stanford Cardinal Rose Bowl Bound Pique Xtra-Lite Cardinal Polo Shop »
StanfordFball

Stanford Football


RT @J_Martin71: Can already tell the 49ers have a great fan base #NinerNation
33 minutes ago

ESPN_Pac12blog

ESPN_Pac12blog


Video: USC coach Steve Sarkisian http://t.co/mGtZiwzMdh
about an hour ago

SanfordBSU

Coach Mike Sanford


RT @BSURecruits: #QB's#AttackTheFuture http://t.co/eonSkBe1Si
about 3 hours ago

ShayneSkov11

Shayne Skov


Watching Cosmos with @karissakellie and experiencing a massive Nerd *****
about 6 hours ago

ShayneSkov11

Shayne Skov


Nocturne is my favorite character but dam he sucks, scales absolutely terrible
about 9 hours ago

Pac12Networks

Pac-12 Networks


No. 5 @PepperdineMVB completes the season sweep over No. 7 @UCLAMensVB. Watch a recap of the match here: http://t.co/zmzL10kcS9
about 9 hours ago

CTcard44

Chase Thomas


RT @StanfordFball: RT if you're happy w/ tonight's trade for @J_Martin71 by the @49ers. #StanfordNFL
about 9 hours ago

StanfordFball

Stanford Football


RT if you're happy w/ tonight's trade for @J_Martin71 by the @49ers. #StanfordNFL
about 9 hours ago

ShayneSkov11

Shayne Skov


Anyone else out there finding it impossible to connect to LOL?
about 9 hours ago

maeubanks

Mike Eubanks


RT @StanfordFball: RT if you're now a @jaguars fan b/c they signed @Toby_Gerhart to a three-year contract. It's a #StanfordNFL thing.
about 9 hours ago

StanfordFball

Stanford Football


RT if you're now a @jaguars fan b/c they signed @Toby_Gerhart to a three-year contract. It's a #StanfordNFL thing.
about 9 hours ago

maeubanks

Mike Eubanks


#StanfordFamily: where @Seahawks and @49ers find common ground. #StanfordNFL RT @DougBaldwinJr: @J_Martin71 congrats homie!
about 9 hours ago

StanfordFball

Stanford Football


Bidding begins for the movie rights. #StanfordNFL RT @J_Martin71: Me and my bro @Michael31Thomas went and traded places lol
about 9 hours ago

Pac12Networks

Pac-12 Networks


.@PepperdineMVolley uses this Play of the Match to take the lead and never look back in 3-1 win over @UCLAMensVB: http://t.co/MZgkZj1pEP
about 9 hours ago

ShayneSkov11

Shayne Skov


RT @jimrome: Bynum comes back and rips 10 boards. Pacers snap losing streak. All he does is win. And quit. And bowl. And jack 3's. And…
about 10 hours ago

StanfordSports

Stanford Daily Sport


In tonight's biggest #StanfordNFL news, @SamHaammer photobombing CSN's cut to Andrew Luck at the Sharks Game. #ThoseWhoStayWillBeChampions
about 10 hours ago

ShayneSkov11

Shayne Skov


So I was gunna change my signature to just basically an SS and then I realized it looked exactly like the Schutzstaffel SMH
about 10 hours ago

StanfordFball

Stanford Football


RT @Owusu81: Congrats to Toby on his new contract! #StanfordNFL
about 10 hours ago

StanfordFball

Stanford Football


RT @DougBaldwinJr: @J_Martin71 congrats homie!
about 10 hours ago

StanfordSports

Stanford Daily Sport


RT @SJEarthquakes: And the @StanfordMSoccer grad @jjkoval sees his Quakes debut! #Quakes74 #SJvTOL
about 10 hours ago

Pac12Networks

Pac-12 Networks


Throw a no-hitter? That'll get you a Pac-12 Pitcher of the Week honor, Jace Fry. #pac12bsb http://t.co/YXJccJCurT
about 10 hours ago

SanfordBSU

Coach Mike Sanford


Almost as fired up for the debut release of #BroncoAllAccess as I am for Day 2 on The Blue. The legend @CMitch3505 releases it at 6PM MDT
about 10 hours ago

Pac12Networks

Pac-12 Networks


Does @UW_Baseball's Robert Pehl's cycle lead the #Pac12Report's top 12 plays of the week? You'll have to find out... http://t.co/u80paeRhfW
about 11 hours ago

maeubanks

Mike Eubanks


RT @J_Martin71: Opportunities are few in the NFL... Can't wait to get to work #9erEmpire
about 11 hours ago

maeubanks

Mike Eubanks


Timing also good for @J_Martin71 today... @stanford winter quarter final exams start in less than a week! #schoolproblems #gostanford
about 11 hours ago

StanfordSports

Stanford Daily Sport


Both moves should help the players involved -- Martin thrived under Harbaugh before, and Gerhart won't be behind, you know, Adrian Peterson.
about 11 hours ago

maeubanks

Mike Eubanks


Really happy for @J_Martin71 to get a fresh start @49ers, reunited with Harbaugh and #StanfordFamily down the road. #StanfordNFL
about 11 hours ago

StanfordSports

Stanford Daily Sport


Two big #StanfordNFL moves: 49ers trade for @J_Martin71, and @Toby_Gerhart signs with Jacksonville Jaguars.
about 11 hours ago

Pac12Networks

Pac-12 Networks


Piece by piece, the court at the @MGMGrandGarden is coming together. #pac12hoops http://t.co/D3Fbvv9vDv
about 11 hours ago

StanfordFball

Stanford Football


Big night for #StanfordNFL. Congrats Jon & @49ers! RT @J_Martin71: Opportunities are few in the NFL... Can't wait to get to work #9erEmpire
about 11 hours ago

Pac12Networks

Pac-12 Networks


How can the Pac-12's bubble teams play their way into a bid to the Big dance? The #Pac12Playbook crew opines. http://t.co/6H7kssxPRZ
about 11 hours ago

ShayneSkov11

Shayne Skov


"@imZurg: @ShayneSkov11 triple negatives messing with my head"No other way to fit it in 120 chars
about 11 hours ago

Pac12Networks

Pac-12 Networks


The floor is getting laid here at the @MGMGrandGarden! #pac12hoops http://t.co/0fHbqB21a7
about 11 hours ago

StanfordFball

Stanford Football


.@Toby_Gerhart gets paid, gets his chance: $10.5M / 3yrs from @jaguars w/ $4.5M guaranteed. Congratulations to Touchdown Toby! #StanfordNFL
about 11 hours ago

ShayneSkov11

Shayne Skov


Im far from perfect but i don't get how people cant get that some people just dont want "IT" whether it b athletics/professionally/academics
about 11 hours ago

ShayneSkov11

Shayne Skov


Sometimes my twitter grammar is awful lemme try that again
about 11 hours ago

StanfordFball

Stanford Football


RT @Toby_Gerhart: Want to thank @Vikings organization for a great 4 years... but I'm excited to get to work with the @jaguars next year! Fi…
about 11 hours ago

ShayneSkov11

Shayne Skov


I'm far from perfect but i don't how people can't comprehend some people just dong want "IT" whether it b athletics/professionally/academics
about 11 hours ago

maeubanks

Mike Eubanks


RT @Toby_Gerhart: Want to thank @Vikings organization for a great 4 years... but I'm excited to get to work with the @jaguars next year! Fi…
about 11 hours ago

maeubanks

Mike Eubanks


Congrats Toby! #StanfordNFL RT @MikeGarafolo: Three years, $10.5 million with $4.5 million in guarantees for @Toby_Gerhart from @jaguars.
about 11 hours ago

Pac12Networks

Pac-12 Networks


No. 7 @UCLAMensVB hosts No. 5 @PepperdineMVB at 7 PT in a high-powered matchup. Watch it on all networks: http://t.co/N1AumgjiGZ
about 12 hours ago

Pac12Networks

Pac-12 Networks


Lew Alcindor leads UCLA to a 1969 title tonight on #Pac12Classics. It's after volleyball tonight on all networks! http://t.co/FvPpORA16i
about 12 hours ago

Pac12Networks

Pac-12 Networks


Forget dunks of the week - today, we've got the top 5 dunks of the 2013-14 season. Adrenaline, we have it. http://t.co/2VNZ7u8aRx
about 12 hours ago

Pac12Networks

Pac-12 Networks


Get yourself set for the Pac-12 Tourney. The #Pac12Playbook crew gets you ready in just 10 minutes. http://t.co/CzDvnRQ5ml #pac12hoops
about 13 hours ago

Pac12Networks

Pac-12 Networks


Who should have made the All-Pac-12 First Team that didn't? We talk about that and more at 6 PT on #Pac12Playbook. http://t.co/Kp8cmF4hhc
about 13 hours ago

StanfordFball

Stanford Football


Think you understand NFL free agency? Read @DougBaldwinJr's eye-opening commentary: http://t.co/AjpfDTWpcg #StanfordNFL
about 13 hours ago

Pac12Networks

Pac-12 Networks


RT @CalAthletix: Hey, tune into @Pac12Networks for a replay of the @CalMensBBall game vs. Arizona happening RIGHT NOW. #YouKnowYouWantTo…
about 13 hours ago

Pac12Networks

Pac-12 Networks


Tick tock. Tick tock. #pac12hoops http://t.co/E3fVtsNCac http://t.co/4WVuAdaqll
about 13 hours ago

Pac12Networks

Pac-12 Networks


RT @pac12: .@StanfordWGym's Vaculik, @UtahGymnastics' Dabritz and @OregonStateGym's Gardiner earn this week gymnastics honors! http://t.co/…
about 13 hours ago

Pac12Networks

Pac-12 Networks


They might be rivals, but players from @StanfordWBB and @CalWBBall are teaming up for LGBT inclusion in sports. http://t.co/QCwm6GlUV4
about 14 hours ago

ESPN_Pac12blog

ESPN_Pac12blog


RT @thejackwang: So ... Jim Mora named FOUR guys who clocked sub-4.40 40-yard dash. Acknowledged that sounds "insane" but kept stressing "e…
about 15 hours ago

Pac12Networks

Pac-12 Networks


RT @MGMGrand: If our lion wore a jersey, what @pac12 team would he be on? #Pac12Hoops #LIVEatMGM http://t.co/b4wOt4aU4c
about 15 hours ago

Pac12Networks

Pac-12 Networks


RT @pac12: You have your tickets to #pac12hoops tourney yet? Sessions 3 & 5 are sold out and remaining sessions are going fast. http://t.co…
about 15 hours ago

Pac12Networks

Pac-12 Networks


Top 10 programs collide tonight in Westwood as @UCLAMensVB hosts @PepperdineMVB at 7 PT. http://t.co/rVTyfPiCRW
about 15 hours ago

Pac12Networks

Pac-12 Networks


With just hours left until tipoff in Las Vegas, we've got the @pac12 covered on Pac-12 Playbook at 6 PT. http://t.co/zMLhHzBNR4 #pac12hoops
about 16 hours ago

ESPN_Pac12blog

ESPN_Pac12blog


Video: Mailbag on Utah quarterbacks http://t.co/koVmvVysNw
about 16 hours ago

maeubanks

Mike Eubanks


RT @kristieahn: I mean, how many teams can boast that their 6 starters are top 40 in the nation? @StanfordWTennis #gostanford
about 16 hours ago

ShayneSkov11

Shayne Skov


OMG I AM IN LOOOVE😍😍😍😍😍😍😍😍https://t.co/YR0w4cBIGt
about 16 hours ago

Pac12Networks

Pac-12 Networks


RT @pac12: .@UA_Softball's Wilson & @ASUSoftball's Escobedo take home #pac12sb weekly honors: http://t.co/ddhOZxhySm http://t.co/7U7LwY7cwV
about 16 hours ago

khoagie8

Kevin Hogan


Happy Cow appreciation day! #CHICKFILA
about 16 hours ago

CTcard44

Chase Thomas


#Schweinsteiger
about 17 hours ago

Pac12Networks

Pac-12 Networks


We're on all day to get HOOPS. Our 2013 #pac12hoops marathon rolls on today on Pac-12 Networks. http://t.co/CxiYdAUmET
about 17 hours ago

Pac12Networks

Pac-12 Networks


#Pac12Report's top plays feature #pac12hoops tourney action, a no-no + big-time dunks. Video: http://t.co/ka7yVme8PM http://t.co/hnGutsurcn
about 17 hours ago

Pac12Networks

Pac-12 Networks


It's coming… #pac12hoops http://t.co/nDso6C0W8c
about 17 hours ago

StanfordFball

Stanford Football


Congratulations, Cole! #gostanford RT @cwood50: Today I was officially offered a position on @espn's production team. http://t.co/tnI3sxh5rf
about 17 hours ago

Pac12Networks

Pac-12 Networks


This block by @OregonStateMBB's Eric Moreland, though. Is it the #Pac12Report's play of the week? http://t.co/Z0GXSDFfmg #pac12hoops
about 18 hours ago

suathletics

Stanford Athletics


RT @brian_risso: Highlighting guest lineup for Tuesday at Jimmy V's: @madibugg22 from @StanfordWVB + @lyndslaxx22 from @StanfordWLax. http:…
about 18 hours ago

Pac12Networks

Pac-12 Networks


We're throwing it back to 1969 tonight on #Pac12Classics, and @UCLAMBB will be happy to see these guys at 8:30 PT. http://t.co/zAFImMyINk
about 18 hours ago

Pac12Networks

Pac-12 Networks


Forget days - we're counting in hours now. http://t.co/E3fVtsNCac #pac12hoops @MGMGrand http://t.co/csUrKek7Of
about 18 hours ago

Pac12Networks

Pac-12 Networks


Grabbing some lunch? Enjoy last year's Pac-12 Tournament with your sandwich. The marathon continues on Pac-12 Networks. #pac12hoops
about 18 hours ago

StanfordSports

Stanford Daily Sport


On Senior Day, @stanfordbball stopped its three-game skid with a win over Utah to close out its regular season. http://t.co/V1Z3D0cUo8
about 18 hours ago

ESPN_Pac12blog

ESPN_Pac12blog


Pac-12's lunch links http://t.co/UyEEPObFF8
about 19 hours ago

Pac12Networks

Pac-12 Networks


Fill in the blank: ______ is winning the Pac-12 Tournament. http://t.co/E3fVtsNCac #pac12hoops http://t.co/bI2UIUhUVn
about 19 hours ago

Pac12Networks

Pac-12 Networks


ICYMI: A Golden Bear and a Trojan are Februray's women's swimmer and diver of the month. http://t.co/9gP4eOSuMQ http://t.co/fsNt9LYmsA
about 20 hours ago

StanfordFball

Stanford Football


"Yankey didn't just match up against elite competition; he wrecked them." http://t.co/4r97kXDdP5 @papa_yank 29th to @Patriots? #StanfordNFL
about 20 hours ago

Pac12Networks

Pac-12 Networks


RT @spencergbird: Watching the replay of Utah vs Cal from last year on @Pac12Networks! Can't wait to fly to Vegas tomorrow! #goutes
about 20 hours ago

Pac12Networks

Pac-12 Networks


Can anything top Jace Fry's no-hitter for @Beaver_Baseball on the #Pac12Reports top 12 plays? Find out: http://t.co/7nkkWYavcA
about 20 hours ago

StanfordSports

Stanford Daily Sport


Faced with a tough top-10 slate in SoCal, @StanfordMVB rose to the occasion and came away with key MPSF victories. http://t.co/mfZnIOWW67
about 20 hours ago

Pac12Networks

Pac-12 Networks


Our 2013 Pac-12 Tournament marathon continues all day today! Relive the action on Pac-12 Networks. http://t.co/CxiYdAUmET
about 20 hours ago

StanfordSports

Stanford Daily Sport


David Nolan won his third consecutive title in the 200 IM as @stanfordmswim took second in the Pac-12 Championships. http://t.co/hP3k0v2HBq
about 20 hours ago

Pac12Networks

Pac-12 Networks


#whodunkeditbetter in our top play showdown: @SunDevilHoops McKissic or @WSUMensHoops Shelton: http://t.co/kPWDGU3MdX http://t.co/mKszNipapj
about 21 hours ago

ESPN_Pac12blog

ESPN_Pac12blog


Don't forget to submit questions for Cody Kessler. Chatting with him in about 45 minutes. ESPN CFB Spring Tour: USC http://t.co/ew2BVaVchK
about 21 hours ago

Pac12Networks

Pac-12 Networks


Can't wait until tomorrow? We've got you. Our 2013 Pac-12 Tournament marathon goes on all day on Pac-12 Networks. #pac12hoops
about 21 hours ago

Pac12Networks

Pac-12 Networks


There's no lack of intrigue around the Pac-12 Tourney. These are the storylines to keep an eye on. http://t.co/Cx5sQrwWCa #pac12hoops
about 21 hours ago

ESPN_Pac12blog

ESPN_Pac12blog


Spring position breakdown: Punters http://t.co/yJNbVyxWAA
about 21 hours ago

maeubanks

Mike Eubanks


RT @RSherman_25: @maeubanks @Earl_Thomas @StanfordFball @CoachAkina that is outstanding!!! Maybe he can get some DBs rolling out of the farm
about 22 hours ago

maeubanks

Mike Eubanks


Hey @RSherman_25 @Earl_Thomas - what do you think of @StanfordFball hiring @CoachAkina as our new DBs coach? #DBU #gostanford
about 22 hours ago

StanfordFball

Stanford Football


RT @RSherman_25: Geez by the looks of things.... Today is going to be one of the craziest free agency days to date....tuned in
about 22 hours ago

Pac12Networks

Pac-12 Networks


Want to relive the best of 2013-14? We're replaying the best games from your favorite teams on our regional networks. http://t.co/x006mkVYpB
about 22 hours ago

Pac12Networks

Pac-12 Networks


Get yourself ready for the Pac-12 Tourney by watching the entire 2013 Tournament today on Pac-12 Networks! http://t.co/CxiYdAUmET
about 22 hours ago

ESPN_Pac12blog

ESPN_Pac12blog


Kevin is at USC today from 9 am to 1 pm PT, & you can chat LIVE with him. What could be better? http://t.co/ew2BVaVchK
about 23 hours ago

Pac12Networks

Pac-12 Networks


Good morning! The #pac12hoops countdown continues. We tip off at noon tomorrow! http://t.co/E3fVtsNCac http://t.co/wEGWtz1eHp
about 23 hours ago

ESPN_Pac12blog

ESPN_Pac12blog


ESPN CFB Spring Tour: USC http://t.co/41A6FGO2pd
about 23 hours ago

ESPN_Pac12blog

ESPN_Pac12blog


New challenges await Sarkisian at USC http://t.co/GARjULgtH3
1 day ago

StanfordSports

Stanford Daily Sport


RT @AWilk32: In case you missed it last week! got a chance to put it on youtube. My vid abt concussions and why we still play. https://t.co…
1 day ago

Pac12Networks

Pac-12 Networks


Have you checked out this year's All-Pac-12 team? Who made it from your favorite school? http://t.co/Kp8cmF4hhc #pac12hoops
1 day ago

Pac12Networks

Pac-12 Networks


RT @OregonStateMBB: The Beavers made it to the MGM Grand in Las Vegas for the Pac-12 Tournament. #pac12hoops #gobeavs http://t.co/keSsspdK9H
1 day ago

SanfordBSU

Coach Mike Sanford


RT @BSURecruits: Spring Ball day 1 was good for the Broncos. #AttackTheFuture http://t.co/OoDnxaZ7Yz
1 day ago

SanfordBSU

Coach Mike Sanford


RT @BETO_slickrick: Good first day today. Always room for more improvement! #ATF
1 day ago
PAC-12 SCOREBOARD
Saturday, 12/21
Monday, 12/23
Tuesday, 12/24
Thursday, 12/26
Friday, 12/27
Saturday, 12/28
Monday, 12/30
Tuesday, 12/31
Wednesday, 1/1
Thursday, 1/2
Friday, 1/3
Saturday, 1/4
Sunday, 1/5
Monday, 1/6
BLOG ARCHIVE:
CATEGORIES: