Weekend recruiting wrap: Pac-12
February, 3, 2014
Feb 3
8:00
AM ET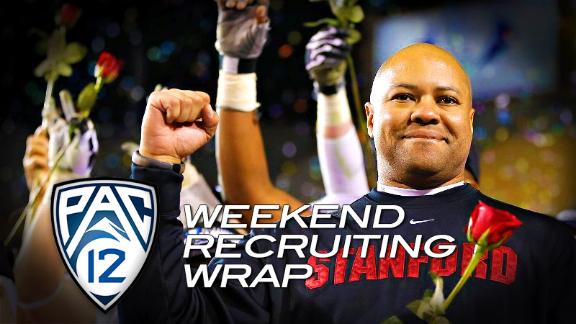 The countdown is on, as the final weekend before signing day comes to a conclusion. Monday begins the dead period before signing day, so phones will likely be ringing off the hook between now and Wednesday -- phone contact is allowed during a dead period, in-person contact is not -- as Pac-12 coaches look to finalize the 2014 class.
To continue reading this article you must be an Insider
Welcome
!
We see that you are not an ESPN Insider. Upgrade today and gain access to our exclusive coverage.
ESPN The Magazine subscribers

Need more information?
STANFORD FB RECRUITING SCORECARD
Antigua Men's Stanford Cardinal Rose Bowl Bound Pique Xtra-Lite Cardinal Polo Shop »
Pac12Networks

Pac-12 Networks


What do you think was the best moment from yesterday's games at the Pac-12 Tournament? http://t.co/E3fVtsNCac http://t.co/FNdwRPiJ2O
5 minutes ago

Pac12Networks

Pac-12 Networks


Good morning! ICYMI last night, our @AdamsonAshley and the mascots of the @pac12 took an epic selfie. #pac12hoops http://t.co/aShvVRFGDa
22 minutes ago

ESPN_Pac12blog

ESPN_Pac12blog


Winning the West means plenty in 2015 http://t.co/FvG7SalG9a
30 minutes ago

maeubanks

Mike Eubanks


RT @StanfordFball: Watch @Toby_Gerhart's presser in JAX: http://t.co/qzkXzpccn3 #StanfordNFL RT @jaguars: It's official! http://t.co/W47Ubt…
35 minutes ago

StanfordFball

Stanford Football


Watch @Toby_Gerhart's presser in JAX: http://t.co/qzkXzpccn3 #StanfordNFL RT @jaguars: It's official! http://t.co/W47UbtKDbb
36 minutes ago

maeubanks

Mike Eubanks


RT @PaulMyerberg: Fowler remaining the host of GameDay despite adding Saturday night duties is the best news of the day.
48 minutes ago

maeubanks

Mike Eubanks


Congrats @cbfowler and all CFB fans. @MikeHumesESPN: Chris Fowler extends deal thru 2023, adds SNF & Nat Champ game: http://t.co/t9kBmwIS2V
49 minutes ago

maeubanks

Mike Eubanks


RT @TyMontgomery2: "Pep talks don't work. Consequences do."-strength coach
about an hour ago

SanfordBSU

Coach Mike Sanford


RT @BSURecruits: Beautiful 1st day on the BLUE! Stay tuned for our all access shorts! #ATF #BleedBlue #boisestatefootball http://t.co/TNh0k…
about 2 hours ago

ESPN_Pac12blog

ESPN_Pac12blog


Petersen ready for any and all challenges http://t.co/dpIP4N4bEw
about 2 hours ago

suathletics

Stanford Athletics


RT @stanfordbball: All the details, stats, notes and quotes from tonight's 74-63 win: http://t.co/OiuEV6FhpI | Next: Arizona State in Thurs…
about 7 hours ago

StanfordSports

Stanford Daily Sport


If you're still up this late, read our recap of @stanfordbball beating Washington State in the #Pac12Hoops tourney. http://t.co/qpK2gZZR8Q
about 8 hours ago

Pac12Networks

Pac-12 Networks


Hey @theellenshow, how's this for a selfie? #mascotselfie #pac12hoops @MGMGrand http://t.co/xIqOxMx0k9
about 8 hours ago

maeubanks

Mike Eubanks


RT @jeffborzello: Stanford had to avoid a loss to Washington State to keep its at-large hopes -- and the Cardinal did. Poppin' Bubbles: htt…
about 9 hours ago

Pac12Networks

Pac-12 Networks


This is what it looks like when all 12 mascots and cheer squads invades a Vegas hotel. #pac12hoops http://t.co/apTWAo79Iv
about 9 hours ago

Pac12Networks

Pac-12 Networks


Ain't no party like a mascot party (because a mascot party doesn't stop). #pac12hoops http://t.co/SjtvSIHUWc
about 9 hours ago

Pac12Networks

Pac-12 Networks


NOW: @stanfordbball coach Johnny Dawkins and players' http://t.co/a72pOpWAXC live stream #pac12hoops
about 9 hours ago

Pac12Networks

Pac-12 Networks


Wilbur seems to have just touched off a pep rally in the @MGMGrand lobby! #pac12hoops http://t.co/iPnu6JXlal
about 9 hours ago

Pac12Networks

Pac-12 Networks


The final game of the night sends @stanfordbball to the quarterfinals! #pac12hoops http://t.co/KCiBnzjs4x
about 9 hours ago

Pac12Networks

Pac-12 Networks


.@stanfordbball beats WSU! Next vs @SunDevilHoops Thursday night at 8:30 p.m. PT on @FOXSports1 http://t.co/1Pf5xqBH9w
about 9 hours ago

Pac12Networks

Pac-12 Networks


RT @Mike_Yam: WSU and Stanford have combined for 1 bench FG and 4 points - recap of the day after the game on @Pac12Networks
about 9 hours ago

Pac12Networks

Pac-12 Networks


D.J. Shelton of @WSUMensHoops is having a MONSTER second half. Check out this putback slam against @stanfordbball: http://t.co/aONtaowCOE
about 9 hours ago

Pac12Networks

Pac-12 Networks


How can you sleep with @WSUMensHoops and @stanfordbball battling? Watch it on P12N! http://t.co/CM2K2K96lC http://t.co/vFskQj3I1p
about 10 hours ago

StanfordSports

Stanford Daily Sport


RT @stanfordbball: Tied at 50-50 with 7:58 remaining. Cardinal shooting 53% FG, Cougars 42.9%. Both teams have 20 rebounds and are 4-13 fro…
about 10 hours ago

Pac12Networks

Pac-12 Networks


.@Atlanta_Falcons Steven Jackson and Drew Davis talk about the Civil War rivalry with @GoDucks and @beaverathletics: http://t.co/MiwgbGGmyN
about 10 hours ago

Pac12Networks

Pac-12 Networks


We highly recommend getting to Pac-12 Networks now, for WSU and Stanford are tied with 10:34 left. http://t.co/CM2K2K96lC #pac12hoops
about 10 hours ago

Pac12Networks

Pac-12 Networks


DaVonte Lacy of @WSUMensHoops starts off the second half against @stanfordbball with a flash up and under bucket: http://t.co/7V2rBaWTQS
about 10 hours ago

Pac12Networks

Pac-12 Networks


D.J. Shelton smash! D.J. Shelton flex! (Nice biceps, man.) 2nd half is coming up on P12N. GIF: http://t.co/fpja84hLcF
about 10 hours ago

Pac12Networks

Pac-12 Networks


My goodness, D.J. Shelton. This rimrocker nearly brought down the MGM Grand. #pac12hoops http://t.co/Zllq9Uw4EA
about 10 hours ago

Pac12Networks

Pac-12 Networks


Halftime in Vegas. Winner gets ASU. Watch the 2nd half on Pac-12 Networks. http://t.co/CM2K2K96lC http://t.co/1o6hDuToYk
about 10 hours ago

Pac12Networks

Pac-12 Networks


Big time accomplishment for DaVonte. RT @WSUMensHoops: DaVonte Lacy just scored his 1,000th career point! #GoCougs
about 11 hours ago

Pac12Networks

Pac-12 Networks


Dwight Powell is doing everything he can to keep it close between @stanfordbball and @WSUMensHoops early:http://t.co/in8cYFFnGs #pac12hoops
about 11 hours ago

Pac12Networks

Pac-12 Networks


Mac's dad, Kyle Brennan, sent us this picture of him watching the Utes victory today. #pac12hoops http://t.co/Cnq0L9f2cz
about 11 hours ago

Pac12Networks

Pac-12 Networks


"Play hard for your brothers" is the message Mac Brennan, who's battling cancer at 8, sent to @runnin_utes today. http://t.co/l8KfZ20KC4
about 11 hours ago

Pac12Networks

Pac-12 Networks


If you're rooting for @WSUMensHoops, you'd best RT this! It's gametime on Pac-12 Networks. http://t.co/CM2K2K96lC http://t.co/X5KLRhqbY8
about 11 hours ago

Pac12Networks

Pac-12 Networks


RT this if your cheering for @stanfordbball tonight! It's game time on Pac-12 Networks. http://t.co/CM2K2K96lC http://t.co/DrCocgdHqy
about 11 hours ago

Pac12Networks

Pac-12 Networks


The nightcap is here! It's @stanfordbball and @WSUMensHoops and it's on Pac-12 Networks now. http://t.co/CM2K2K96lC http://t.co/pEaPVthLII
about 11 hours ago

Pac12Networks

Pac-12 Networks


NOW: Coach Dana Altman and @OregonMBB meets the media after their win. Watch it live: http://t.co/a72pOpWAXC #pac12hoops
about 11 hours ago

Pac12Networks

Pac-12 Networks


Next up for @OregonMBB: #2 @UCLAMBB tomorrow. #pac12hoops http://t.co/6mkqkEIjkK
about 11 hours ago

Pac12Networks

Pac-12 Networks


NOW: @OregonStateMBB's Craig Robinson talks to the media. http://t.co/a72pOpWAXC #pac12hoops
about 12 hours ago

ShayneSkov11

Shayne Skov


Would you rather be hated by 50% of world and loved by the other half or be unknown to almost all: having only 10 ppl love you & 10 hate you
about 12 hours ago

Pac12Networks

Pac-12 Networks


.@OregonMBB beats OSU and will face @UCLAMBB at 6 PT Thursday on Pac-12 Networks! http://t.co/UMj3rslkpG http://t.co/2kL0sbLxds
about 12 hours ago

ShayneSkov11

Shayne Skov


WYRW gunna start it off simpleAre you a 1in the hand?Or 2 in the bush kinda guy/lady?
about 12 hours ago

ShayneSkov11

Shayne Skov


At least most pitbull songs he tells you it's him or that he's on the track before the song starts. This new one is an auditory ambush
about 12 hours ago

Pac12Networks

Pac-12 Networks


This is why them call him Mighty Joe Young. @Oregonmbb takes a 73-61 lead over @OregonStateMBB in the second half: http://t.co/xNcbyVUg9E
about 12 hours ago

Pac12Networks

Pac-12 Networks


.@BennytheBeaver sees @TheOregonDuck and raises him a photobomb with @sj39. #itson #pac12hoops http://t.co/1LsEQKf6uv
about 12 hours ago

Pac12Networks

Pac-12 Networks


Oh @TheOregonDuck, what have you gotten yourself into? #pac12hoops (h/t @offensivelyfoul) http://t.co/3rmLUjl5Hk
about 12 hours ago

Pac12Networks

Pac-12 Networks


.@OregonMBB's Johnathan Loyd puts on the boosters to keep the Ducks ahead of OSU early in the second half" http://t.co/YHgeknahzM
about 12 hours ago

Pac12Networks

Pac-12 Networks


Jonathan Loyd of @oregonmbb puts on the boosters to keep the Ducks ahead of @OregonStateMBB early in the second half" http://t.co/YHgeknahzM
about 12 hours ago

Pac12Networks

Pac-12 Networks


Interesting stat heading into the 2nd half: Oregon has taken 32 shots to OSU's 19. Both have hit 14 field goals. #pac12hoops
about 13 hours ago

Pac12Networks

Pac-12 Networks


We see you, @sj39. #pac12hoops http://t.co/xFt0CEXfjR
about 13 hours ago

Pac12Networks

Pac-12 Networks


.@OregonStateMBB nails a bucket at the buzzer to draw the Beavers within 1 at the half! http://t.co/dN2tGwPqHR http://t.co/YbIjQxwvSs
about 13 hours ago

Pac12Networks

Pac-12 Networks


Daniel Gomis of @OregonStateMBB is doing his best to keep the Beavers within striking distance of @OregonMBB: http://t.co/kwTz4FBs5N
about 13 hours ago

Pac12Networks

Pac-12 Networks


Bench scoring thus far in this game: @OregonMBB 21, @OregonStateMBB 0. #pac12hoops
about 13 hours ago

ShayneSkov11

Shayne Skov


Another pitbull song on the radio. My expectation for mankind just dropped a little lower
about 13 hours ago

Pac12Networks

Pac-12 Networks


RT @DrewShiller: Jason Calliste (52% 3's) drills his first 3 of night. @pac12 should have created a 6th Man of Year Award this year just fo…
about 13 hours ago

StanfordFball

Stanford Football


One-month until the 2014 Cardinal & White Spring Game. Come watch us take it to the Next Level. https://t.co/sqkgxbRkOX #gostanford #CWSG14
about 14 hours ago

Pac12Networks

Pac-12 Networks


Tonight's game is in living color. Who wears it better: @OregonMBB in yellow or @OregonStateMBB in orange? http://t.co/MguXwpb7k8
about 14 hours ago

Pac12Networks

Pac-12 Networks


Mike Moser won't let @OregonMBB go down without a fight against rival @OregonStateMBB. Ducks down early: http://t.co/OJEJcmidas
about 14 hours ago

Pac12Networks

Pac-12 Networks


.@OregonStateMBB has jumped out to a quick 9-3 lead early. Are you watching? It's on Pac-12 Networks! http://t.co/dN2tGwPqHR
about 14 hours ago

Pac12Networks

Pac-12 Networks


RT this if you're cheering for @OregonStateMBB! Ducks/Beavers is underway on Pac-12 Networks. http://t.co/dN2tGwPqHR http://t.co/cewQGd4DoT
about 14 hours ago

Pac12Networks

Pac-12 Networks


Rooting for @OregonMBB? RT this! Ducks/Beavers is underway on Pac-12 Networks. http://t.co/dN2tGwPqHR http://t.co/sYRaA5Mkxd
about 14 hours ago

Pac12Networks

Pac-12 Networks


#pac12hoops continues with a huge rivalry! @OregonMBB and @OregonStateMBB tip at 6 PT. http://t.co/dN2tGwPqHR http://t.co/B8xIjzJybT
about 14 hours ago

Pac12Networks

Pac-12 Networks


.@CUBuffsMBB squeaked by @USC_Hoops 59-56 to live another day in the Pac-12 tournament. Highlights: http://t.co/efLV3STQ8Q
about 14 hours ago

Pac12Networks

Pac-12 Networks


ICYMI: @offensivelyfoul has the recap of the @runnin_utes victory over Washington. http://t.co/NP8ViSWzTf http://t.co/8LChI3FtJo
about 15 hours ago

Pac12Networks

Pac-12 Networks


42 minutes to tipoff. @OregonMBB is busy getting ready. It tips at 6 PT on P12N. #pac12hoops http://t.co/sbdE1BCGsq
about 15 hours ago

StanfordFball

Stanford Football


RT @Coach_Dawkins: Gameday #focus #40minuteFIGHT
about 15 hours ago

StanfordFball

Stanford Football


Good luck to @stanfordbball tonight and all week in the @pac12 Tournament in Las Vegas! #winandadvance #gostanford
about 15 hours ago

Pac12Networks

Pac-12 Networks


.@runnin_utes gets another shot at @APlayersProgram tomorrow, and Larry Krystkowiak digs the underdog role. http://t.co/h2McJbByk5
about 15 hours ago

Pac12Networks

Pac-12 Networks


Next up for @CUBuffsMBB - a date with @CalMensBBall tomorrow afternoon on Pac-12 Networks. http://t.co/E3fVtsNCac http://t.co/b3GFtvVeKH
about 15 hours ago

Pac12Networks

Pac-12 Networks


These gentlemen would love to provide you #pac12hoops analysis right now on Pac-12 Networks. http://t.co/x006mkVYpB http://t.co/Frv6AfIbfy
about 15 hours ago

Pac12Networks

Pac-12 Networks


.@CUBuffsMBB beats USC! Next: @CalMensBBall Thursday 2:30 p.m. PT/3:30 MT on Pac-12 Networks http://t.co/sgUl77QWko http://t.co/0Mxfi7LY38
about 15 hours ago

ShayneSkov11

Shayne Skov


RT @juliussharpe: People used to go all around the world for spices. That must have been underwhelming. "Guys, I've been gone three years a…
about 15 hours ago

suathletics

Stanford Athletics


RT @stanfordbball: An All-Pac-12 First Team pick, Chasson Randle's game speaks for itself. But he's just as impressive in the classroom: ht…
about 16 hours ago

StanfordFball

Stanford Football


RT @957thegame: .@mbloom11 on Jon Martin to SF: "He'll get the fresh start that he needs...Exactly what he needs--hes dying to get back to …
about 16 hours ago

Pac12Networks

Pac-12 Networks


.@CUBuffsMBB crawling back with a big three from Xavier Johnson to tie the game 49-49 against @USC_Hoops. Clip: http://t.co/gYE4PrF4Su
about 16 hours ago

mbloom11

Mike Bloomgren


RT @957thegame: .@mbloom11 on Jon Martin to SF: "He'll get the fresh start that he needs...Exactly what he needs--hes dying to get back to …
about 16 hours ago

ESPN_Pac12blog

ESPN_Pac12blog


Where does your team's coaching job rank? http://t.co/0VRskOziUW
about 16 hours ago

Pac12Networks

Pac-12 Networks


Byron Wesley gets buckets! This straightaway 3 gave @USC_Hoops the lead. #pac12hoopshttp://t.co/xChW5CWYIl
about 16 hours ago

Pac12Networks

Pac-12 Networks


USC and Colorado are in a dogfight. 40-40 with 11:41 left, and it's on Pac-12 Networks! http://t.co/rsospFfaOX http://t.co/g25kn5VNLm
about 16 hours ago

maeubanks

Mike Eubanks


Has anybody in CFB had bigger wins in Texas than @StanfordFball so far in 2014?@SollyThomas90@GoldenMongoose2@CoachAkina#gostanford
about 16 hours ago

Pac12Networks

Pac-12 Networks


Tommy and Chip = dance partners? RT @AdamsonAshley: Awkward dance party going on backstage during 2nd half of USC-CU. http://t.co/EoJfx1IArg
about 16 hours ago

Pac12Networks

Pac-12 Networks


The 2nd half between USC and Colorado is coming up! The Trojan band is fired up. #pac12hoops http://t.co/cR5XjLQnGx http://t.co/rsospFfaOX
about 16 hours ago

Pac12Networks

Pac-12 Networks


.@USC_Hoops's Omar Oraby had some monster blocks in the 1st half against @CUBuffsMBB. Clip: http://t.co/AMNsbR19Lu
about 17 hours ago

Pac12Networks

Pac-12 Networks


It's a tight one between #5 @CUBuffsMBB and #12 @USC_Hoops! Catch the second half on Pac-12 Networks. http://t.co/FIKWqkqQCk
about 17 hours ago

Pac12Networks

Pac-12 Networks


.@CUBuffsMBB's Askia Booker leading the Buffs to a 29-25 lead against @USC_Hoops with a sweet lay-up: http://t.co/i9SxOP3XgQ
about 17 hours ago

Pac12Networks

Pac-12 Networks


.@USC_Hoops's Omar Oraby is silencing @CUBuffsMBB offense with monster blocks: http://t.co/cZySqcOBgD
about 17 hours ago

Pac12Networks

Pac-12 Networks


A tight first half between USC and Colorado sees the Buffs up 5. Watch it right now on Pac-12 Networks. http://t.co/rsospFfaOX
about 17 hours ago

StanfordFball

Stanford Football


RT @CSNAuthentic: What do you think of the @49ers move to acquire former Stanford star Jonathan Martin? http://t.co/UyiQhKrzJN
about 17 hours ago

Pac12Networks

Pac-12 Networks


ICYMI: This late three pointer carried Utah into the next round this afternoon. Highlights: http://t.co/Ezt47KScKP http://t.co/Yh5az6HSxJ
about 17 hours ago

StanfordFball

Stanford Football


RT @957thegame: Stanford's Andrew Luck Director of Offense / fmr O-Line coach of Jonathan Martin Mike Bloomgren @mbloom11 joins us now!
about 17 hours ago

suathletics

Stanford Athletics


RT @stanfordbball: Everything you need to know, as Stanford (19-11) takes on Washington State (10-20) in Pac-12 Tournament opener: http://t…
about 17 hours ago

mbloom11

Mike Bloomgren


RT @957thegame: Stanford's Andrew Luck Director of Offense / fmr O-Line coach of Jonathan Martin Mike Bloomgren @mbloom11 joins us now!
about 17 hours ago

Pac12Networks

Pac-12 Networks


Time to get Game #2 started! @CUBuffsMBB and @USC_Hoops is underway. http://t.co/rsospFfaOX #pac12hoops http://t.co/ux6eZWiYJ4
about 17 hours ago

ESPN_Pac12blog

ESPN_Pac12blog


With new staff, health, Cal 'D' will improve http://t.co/xMCB7DG1jR
about 18 hours ago

Pac12Networks

Pac-12 Networks


Cheering for @USC_Hoops? RT this to show your love! Tipoff is at 2:30 PT on P12N. http://t.co/rsospFfaOX http://t.co/kmpOdFpTNf
about 18 hours ago

Pac12Networks

Pac-12 Networks


Next game up! RT this if you're backing @CUBuffsMBB! Tipoff at 2:30 PT/3:30 MT on P12N. http://t.co/rsospFfaOX http://t.co/A6qQnl5w9e
about 18 hours ago

Pac12Networks

Pac-12 Networks


RT @RyanMcGrady: The eleven 2013 @Pac12Networks tourney games were decided by an average of 5.9 points. This year's first tourney game deci…
about 18 hours ago

Pac12Networks

Pac-12 Networks


Well, that was quite a way to get the Pac-12 Tourney started! The Utes march on. #pac12hoops http://t.co/E3fVtsNCac http://t.co/zprKlBwMXp
about 18 hours ago

Pac12Networks

Pac-12 Networks


.@Runnin_Utes beat UW, next face No. 1 Arizona Thursday noon PT/1 p.m. MT on Pac-12 Networks! http://t.co/q3jVDRTHgG
about 18 hours ago
PAC-12 SCOREBOARD
Saturday, 12/21
Monday, 12/23
Tuesday, 12/24
Thursday, 12/26
Friday, 12/27
Saturday, 12/28
Monday, 12/30
Tuesday, 12/31
Wednesday, 1/1
Thursday, 1/2
Friday, 1/3
Saturday, 1/4
Sunday, 1/5
Monday, 1/6
BLOG ARCHIVE:
CATEGORIES: