ESPN Junior 300 analysis: Pac-12
November, 19, 2013
11/19/13
7:00
PM ET
By
erikmckinney
| ESPN Insider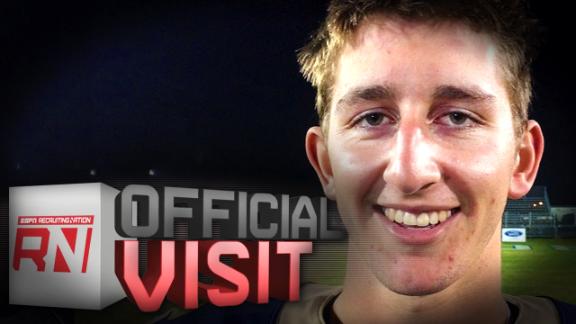 Tuesday saw the release of the
updated ESPN Junior 300
and Pac-12 targets are sprinkled heavily throughout the list. With a number of changes overall, we take a look at some of the movement up and down, as well as what the future holds for several of the West's top 2015 ESPN 300 prospects.
To continue reading this article you must be an Insider
Insider
Pac-12 Weekend Wrap: Jan. 27
Recruiting reporter Erik McKinney discusses top recruiting news from the Pac-12.
Pac-12 Weekend Wrap: Jan. 27
VIDEO PLAYLIST
STANFORD FB RECRUITING SCORECARD
Nike Men's Stanford Cardinal Rose Bowl Game Mascot T-shirt Shop »
Pac12Networks

Pac-12 Networks


Is it officially Super Bowl Sunday? http://t.co/JhVV5wZdWv
about 2 hours ago

KULABAFI

Stepfan Taylor


#MaximParty #WearItWell #kulabafi http://t.co/ZEe6hleCNN http://t.co/0ywuYhbCMC
about 2 hours ago

bryanharsin

Coach Bryan Harsin


Go Broncos! #Bo15seBound
about 3 hours ago

KULABAFI

Stepfan Taylor


The #ImPostedUpButImAboutToDance stance #kulabafi #kulafresh http://t.co/tkKBIBCUFA
about 4 hours ago

Pac12Networks

Pac-12 Networks


Head coach Steve Alford is live at the podium for @UCLAMBB. Watch right here: http://t.co/NdCrWqdR7A
about 4 hours ago

Pac12Networks

Pac-12 Networks


Coming up: @UCLAMBB's postgame press conference streaming live and free, right here: http://t.co/NdCrWqdR7A
about 4 hours ago

Pac12Networks

Pac-12 Networks


Q: How does Norman Powell get rid of static?A: With BOUNCE. His vicious jam is the #CUvsUCLA Play of the Game: http://t.co/QABsYzOnjh
about 4 hours ago

Pac12Networks

Pac-12 Networks


We like that boom-boom POWELL. @UCLAMBB rolls past the Buffs in Pauley! #8Clap http://t.co/CmJfASIZyy
about 4 hours ago

StanfordTennis

StanfordMTennis


Stanford takes down UNLV 6-1: http://t.co/wBdjXFB6Ai | Hard-fought doubles starts it off, Goldberg's fourth dual, Paige provides clincher.
about 4 hours ago

stanfordbball

Stanford Men\'s Hoops


Stanford falls 89-88 to Washington State: http://t.co/IZbHMRrL3P | Cardinal splits road trip. 6-3 at the turn best mark since 2008 (7-2).
about 4 hours ago

StanfordMVB

Men\'s Volleyball


.@StanfordMVB falls 25-14, 25-20, 25-19 at #8 UCSB tonight: http://t.co/PZWpJWGOjA | @mkhayden7 ties career high with 10 kills #GoStanford
about 5 hours ago

StanfordOnScout

Scout Cardinal


#Stanford Cougars Flip Script on Cardinal - Stanford can't pull off the Washington road sweep, as the Couga... http://t.co/M6u6LF7FuX
about 5 hours ago

Pac12Networks

Pac-12 Networks


"Vision without execution is hallucination." - @BillWalton #Waltonisms #CUvsUCLA
about 5 hours ago

jennberg

Jenn Berg


@Pac12Networks "What synchrodestiny!"
about 5 hours ago

NeumSamN

Sam Neumann


All of them. RT @Pac12Networks: What was your favorite #Waltonism from the first half of #CUvsUCLA? http://t.co/W2wD8Vbfw5
about 5 hours ago

Pac12Networks

Pac-12 Networks


What was your favorite #Waltonism from the first half of #CUvsUCLA? http://t.co/eokMtSneTF
about 5 hours ago

Pac12Networks

Pac-12 Networks


Watch the @WSUMensHoops postgame press conference streaming free right here: http://t.co/NdCrWqdR7A
about 6 hours ago

Pac12Networks

Pac-12 Networks


.@WSUMensHoops' DaVonte Lacy was cleared for takeoff by Pullman Regional Airport in this #STANvsWSU Play of the Game: http://t.co/1XyDhYpini
about 6 hours ago

Pac12Networks

Pac-12 Networks


They are certainly 'bout that action in the great state of Washington. #STANvsWSU http://t.co/1yc98O8DVZ
about 6 hours ago

Pac12Networks

Pac-12 Networks


#Pac12AfterDark ALERT: With :31 seconds left, Wazzu leads Stanford 85-83. Card have the rock. Watch it here: http://t.co/Es2YMB9DED
about 6 hours ago

Pac12Networks

Pac-12 Networks


Pauley is the backdrop for some #Pac12AfterDark.Watch #CUvsUCLA live: http://t.co/YfMNDX35dA http://t.co/FGvTuHDUfr
about 6 hours ago

Pac12Networks

Pac-12 Networks


Now THIS is a photograph (H/T @YogiRoth) #CUvsUCLA http://t.co/dmixZVOTJs
about 6 hours ago

Pac12Networks

Pac-12 Networks


CAAAAALLIFORNIA LOVE! #NFLMVP #BackThePac http://t.co/UIw8MHXaRG
about 6 hours ago

Pac12Networks

Pac-12 Networks


The 2nd half of #STANvsWSU is underway! Watch it live right here: http://t.co/YfMNDX35dA #Pac12AfterDark
about 7 hours ago

Pac12Networks

Pac-12 Networks


At the half in Pullman, @WSUMensHoops lead the Card 42-41. #STANvsWSU
about 7 hours ago

khoagie8

Kevin Hogan


Sharks v Hawks with the boy @davidabrams3 rockin the patty kane jersey. I think @bgoodrow23 @TyeMcGinn @jimmysheppard15 will silence him tho
about 7 hours ago

Pac12Networks

Pac-12 Networks


.@USC_Athletics is tied with none other than Notre Dame for most alumnae in the Pro Football Hall of Fame (12 players each).
about 7 hours ago

Pac12Networks

Pac-12 Networks


.@USC_Athletics legend Junior Seau has been posthumously inducted into the Pro Football Hall of Fame. #FightOn http://t.co/g4JzKjvyAI
about 8 hours ago

Pac12Networks

Pac-12 Networks


Are you old enough to remember when #PFHOF15 candidate John Lynch was doing THIS for @StanfordFball? http://t.co/sBNVBXVLht
about 8 hours ago

GoMightyCard

Go Mighty Card


@Pac12Networks @StanfordFball Yes.
about 8 hours ago

iltemprd_cbass

Ruben DiRado


@Pac12Networks @StanfordFball yes, and it was awesome
about 8 hours ago

Pac12Networks

Pac-12 Networks


Are you old enough to remember when #PFHOF15 candidate John Lynch was doing THIS for @StanfordFball? http://t.co/sBNVBXVLht
about 8 hours ago

CardWrestling

Stanford Wrestling


Recap of today's 28-6 win at Utah Valley: http://t.co/aszLyxebkf Up next, @BroncoSportsWRE tomorrow at 12 pm PT #gostanford #CardinalCaliber
about 8 hours ago

Pac12Networks

Pac-12 Networks


The Card and Cougs are in the tunnel. They're ready to square off.Watch #STANvsWSU: http://t.co/YfMNDX35dA http://t.co/u1429qZYLm
about 8 hours ago

GoStanford

Stanford Athletics


The roll continues for @StanfordBBall tonight in Pullman. Watch it on @Pac12Networks! http://t.co/qIahQSsc3K http://t.co/hIrmtjiXpB
about 9 hours ago

Pac12Networks

Pac-12 Networks


Will @RSherman_25 and @DougBaldwinJr put on for #NerdNation tomorrow? http://t.co/6TRNKqtmhG http://t.co/Ty7Bx3eagq
about 9 hours ago

Pac12Networks

Pac-12 Networks


Will @R_Sherman25 and @DougBaldwinJr put on for #NerdNation tomorrow? http://t.co/6TRNKqtmhG http://t.co/JzgXVKnMB3
about 9 hours ago

Pac12Networks

Pac-12 Networks


Bears > Huskies. High five! #UWvsCAL http://t.co/3pIiiugSzj
about 9 hours ago

Pac12Networks

Pac-12 Networks


This escalated quickly. Sydney and the Beavs roll over the Trojans in Corvallis for their ninth straight! #USCvsOSU http://t.co/o3NcCUxlK5
about 9 hours ago

maeubanks

Mike Eubanks


Awesome. RT @johnolilly: Wow! National Weather Service dropping in the Whitesnake lyrics. Amazing. http://t.co/cwryooRsZI
about 10 hours ago

CalWBBall

Cal Basketball


The second half is underway at Haas Pavilion! Catch the final 20 minutes on the @Pac12Networks Bay Area/Washington
about 10 hours ago

Pac12Networks

Pac-12 Networks


Will LGB be a world champ tomorrow?Check out our gallery of Pac-12 alums in #SB49: http://t.co/6TRNKqtmhG http://t.co/ESThuZchds
about 11 hours ago

Pac12Networks

Pac-12 Networks


Yeah, the game-winning bucket for @OregonWBB will earn you Play of the Game: http://t.co/q9dfvbwoKf
about 11 hours ago

Pac12Networks

Pac-12 Networks


Do Saturday things with our #Pac12hoops podcast. Download it on iTunes here: http://t.co/zJIC1c13Sk http://t.co/1AB7tq6TWN
about 11 hours ago

Pac12Networks

Pac-12 Networks


.@OregonWBB completes the comeback against UCLA in Eugene! http://t.co/CwU1IrfKGg
about 11 hours ago

Pac12Networks

Pac-12 Networks


Amber Orrange goes coast-to-coast in this Play of the Game: http://t.co/CvNT3QFfHM #WSUvsSTAN
about 11 hours ago

Pac12Networks

Pac-12 Networks


Our other 2:30 PT tip matches up some of the biggest stars in the league.Watch #UWvsCAL: http://t.co/YfMNDX35dA http://t.co/nV2hRHaMxM
about 11 hours ago

Pac12Networks

Pac-12 Networks


The next challenge for No. 7 OSU comes from SoCal.Watch #USCvsOSU live: http://t.co/YfMNDX35dA http://t.co/Ol9G5PGFc8
about 11 hours ago

Pac12Networks

Pac-12 Networks


No. 12 @StanfordWBB runs past Washington State on The Farm http://t.co/t9xiGtCQw2
about 11 hours ago

SanfordBSU

Coach Mike Sanford


Awesome to see great young men realize their dreams by becoming a part of #BroncoNation!!!#Bo15seBound
about 12 hours ago

bryanharsin

Coach Bryan Harsin


GO BRONCOS! Coast to coast the Broncos keep getting better! Person, Student, Athlete & Winner! #Bo15seBound
about 12 hours ago

nvr93

Neil Roberts


If you aren't watching the Cougs and Stanford, you're missing one heck of a game on @Pac12Networks
about 12 hours ago

Pac12Networks

Pac-12 Networks


Ever wondered what a Kevin O'Neill reality show would be like?Don't miss this weeks Basketball Podcast! http://t.co/zJIC1c13Sk
about 13 hours ago

Pac12Networks

Pac-12 Networks


If it's the Bruins and Ducks you fancy, they're up too!Watch #UCLAvsUO now: http://t.co/YfMNDX35dA http://t.co/hsZZ9Xc4fQ
about 13 hours ago

Pac12Networks

Pac-12 Networks


Want hoops all day? We've GOT hoops all day. It starts with #WSUvsSTAN: http://t.co/YfMNDX35dA http://t.co/WzIz6SyFj0
about 13 hours ago

KULABAFI

Stepfan Taylor


#HennessyLounge with @HennessyUS! http://t.co/IsXWaMhU4V
about 14 hours ago

GoStanford

Stanford Athletics


Maples will be rocking today for @stanfordwbb. Get there or watch us on @Pac12Networks. http://t.co/qIahQSsc3K http://t.co/9teHC4suVk
about 14 hours ago

stanfordwswim

Stanford W. Swimming


As usual, it's nearly perfect at Avery. Senior Day coming up vs. USC. Live results: http://t.co/ixaclOfKiv http://t.co/HnXtGtauf9
about 14 hours ago

iSingSV

iSing Silicon Valley


We are so excited for our performance of the National Anthem at the Women's Basketball game at 12:30! @GoStanford http://t.co/uuEiqr6ozn
about 14 hours ago

StanfordWBB

Stanford WBB


Gameday! Early tip in Maples between #GoStanford/WSU. @AnneMAnderson/@realmarymurphy have the call on @Pac12Networks. http://t.co/49b67qzw1Q
about 14 hours ago

ShayneSkov

Shayne Skov


Six flags Bday#soccermomming http://t.co/A1AipakDJX
about 14 hours ago

Pac12Networks

Pac-12 Networks


Want to know what your school's women's basketball coach is predicting for Groundhogs Day? We asked, they answered: http://t.co/IVzymMWaHC
about 14 hours ago

maeubanks

Mike Eubanks


Amen. RT @kevinburkhardt: Hoping today ends with my partner John Lynch in the Hall of Fame. That's where he belongs. #HOF
about 16 hours ago

GoStanford

Stanford Athletics


Want free Tacolicious for one year? Make a layup, free throw and three-pointer in 30 seconds: http://t.co/HAakoIRZXS http://t.co/Zjt4y4aCoV
about 18 hours ago

DougBaldwinJr

Doug Baldwin Jr


...The Preparation... http://t.co/gjFLnP2HEf
1 day ago

DougBaldwinJr

Doug Baldwin Jr


...The Preparation... http://t.co/gjFLnP2HEf
1 day ago

NWSBayArea

NWSBayArea


Downtown San Francisco on track for its 1st ever January with no measurable precip in 165 years of rainfall records! #cawx #SF #drought
1 day ago

Pac12Networks

Pac-12 Networks


Coming Up: Coach Sean Miller of @APlayersProgram takes the podium following the win in #OSUvsAZ: http://t.co/NdCrWqdR7A
1 day ago

Pac12Networks

Pac-12 Networks


Speaking of Bearing Down, RHJ earns #OSUvsAZ Play of the Game for what his court presence does to the competition: http://t.co/YuNd1ZjDeu
1 day ago

Pac12Networks

Pac-12 Networks


.@APlayersProgram drives past the competition in Tucson! #BearDown #OSUvsAZ http://t.co/uhEfCx7SHD
1 day ago

Pac12Networks

Pac-12 Networks


Can't get enough of Kevin O'Neill? Download our hoops podcast pronto: http://t.co/zJIC1c13Sk #NoFilter http://t.co/xU4MpJg1KN
1 day ago

Pac12Networks

Pac-12 Networks


Rondae Hollis-Jefferson chasing down the fast break like #OSUvsAZ http://t.co/41KQHUrjn5
1 day ago

Pac12Networks

Pac-12 Networks


.@BillWalton's first 'Phish' reference came just :22 seconds into the 2nd half; a new record for our man Bill.
1 day ago

Pac12Networks

Pac-12 Networks


At the half in Tucson, the 'Cats are looking keen. They lead the Beavs 24-13. OSU did not score in the last 7:45 of the half. #OSUvsAZ
1 day ago

Pac12Networks

Pac-12 Networks


WATCH: @HerbSendek is at the podium now for @SunDevilHoops. It's live and free, right here: http://t.co/NdCrWqdR7A
1 day ago

Pac12Networks

Pac-12 Networks


.@OregonMBB's Jordan Bell must dry his clothes with BOUNCE. His massive throwdown is the #UOvsASU Play of the Game: http://t.co/XzExXNRNu3
1 day ago

Pac12Networks

Pac-12 Networks


You know what time it is. #OSUvsAZ #SonoraDesert http://t.co/iuqPbLciPI
1 day ago

Pac12Networks

Pac-12 Networks


The Ducks quack the Sundevils in Tempe! #UOvsASU #GoDucks http://t.co/g6WhANgbNH
1 day ago

Pac12Networks

Pac-12 Networks


Meanwhile, in Tucson, #OSUvsAZ is tipping off on http://t.co/CQc6dzAImN.
1 day ago

Pac12Networks

Pac-12 Networks


We have a thriller in Tempe! #UOvsASU is headed to overtime. Watch now: http://t.co/btKPAgjAjE
1 day ago

Pac12Networks

Pac-12 Networks


Our nightcap features the powerful Cats and surging Beavers in Tucson!Watch #OSUvsAZ live: http://t.co/YfMNDX35dA http://t.co/Kr8c8gW5Zy
1 day ago

KULABAFI

Stepfan Taylor


Getting our bowl at NFL House #LuckyStrikes #octagon #kulabafi http://t.co/LlMPTVRv0C
1 day ago

maeubanks

Mike Eubanks


"Oh trust me coach, we know about their visit. Group chat."#cardclass15 is out of control. I love it... Off to @RWSandHill and then dinner!
1 day ago

OctagonFootball

Octagon Football


Octagon Football family having some fun at the NFL House at Lucky Strike #SB49 http://t.co/L8ppb7c83f
1 day ago

StanfordWTennis

StanfordWTennis


Stanford downs Saint Mary's 5-2: http://t.co/yHE8GDtK00 | Two home wins to start season. Gets tougher next week vs. Notre Dame, Ohio State.
1 day ago

Mdoyle76

Matt Doyle


Terrific podcast w/ @Stanford prof Sepp Gumbrecht & Andrew Luck on "beauty in sports": https://t.co/3SIjPTXOSI http://t.co/268AkvmyTi
1 day ago

Pac12Networks

Pac-12 Networks


Headed for the door on a Friday evening like http://t.co/Oysr3sRLtl
1 day ago

StanfordOnScout

Scout Cardinal


#Stanford Love commits to Stanford - WAKE FOREST, N.C. -- Bryce Love committed to Stanford on Friday aftern... http://t.co/XZs8xquqxf
1 day ago

Pac12Networks

Pac-12 Networks


Spend your Friday evening with the Ducks and Devils, won't you?Watch #UOvsASU live: http://t.co/YfMNDX35dA http://t.co/bbtJBwJm4m
1 day ago

TheSunDevils

Sun Devil Athletics


Don't let the @942Crew distract you. Watch @SunDevilHoops tonight on @Pac12Networks. http://t.co/QvjMlbQTh9 http://t.co/0f4V6tLtZp
1 day ago

CalWBBall

Cal Basketball


Brittany Boyd has been named to the Dawn Staley Award Watch List, which recognizes the nation's best guard! http://t.co/t5JUPG9Ds4
1 day ago

Pac12Networks

Pac-12 Networks


A runaway (or a swimaway?) in Berkeley. It's the No. 1 Bears as the victors! http://t.co/dKEe0W8ERL
1 day ago

StanfordFball

Stanford Football


Core board hip flexor stretch w/ partner RNT: https://t.co/0kh8qvwBP8 #TurleyTrained #gostanford @khoagie8 @Big_Blake4 @KevinPalma85
1 day ago

StanfordFball

Stanford Football


Core board hip flexor stretch w/ partner RNT: https://t.co/0kh8qvwBP8 #TurleyTrained #gostanford @khoagie8 @Big_Blake4 @KevinPalma85
1 day ago

Pac12Networks

Pac-12 Networks


.@CalWSwim finishing one-two-three in the 200 freestyle is worthy of our Moment of the Meet: http://t.co/jjXI8l2Qtu
1 day ago

kevinablue

Kevin Blue


For scholar-athletes who want to challenge themselves, coming to @gostanford an easy decision (ask Cory Booker): https://t.co/3Xdlg7dVFO
1 day ago

ESPN_Pac12blog

ESPN_Pac12blog


Mailbag: Vernon Adams not Ducky, and Utah's coordinator issues http://t.co/oyxEfIhV3T
1 day ago

Pac12Networks

Pac-12 Networks


Remember what happened last time @OregonStateMBB took on Arizona?The rematch is tonight. http://t.co/kdBTHVWiAY http://t.co/rxHMX7R8Bb
1 day ago

ESPN_Pac12blog

ESPN_Pac12blog


Two-star Scoobs: UCLA http://t.co/NJoW3vDjYq
1 day ago
BLOG ARCHIVE:
CATEGORIES: