ESPN Junior 300 analysis: Pac-12
November, 19, 2013
11/19/13
7:00
PM ET
By
erikmckinney
| ESPN Insider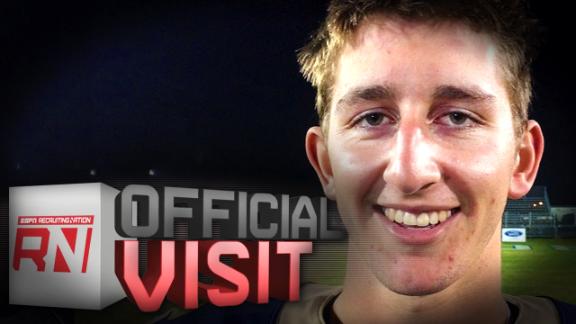 Tuesday saw the release of the
updated ESPN Junior 300
and Pac-12 targets are sprinkled heavily throughout the list. With a number of changes overall, we take a look at some of the movement up and down, as well as what the future holds for several of the West's top 2015 ESPN 300 prospects.
To continue reading this article you must be an Insider
Insider
Stanford Lands No. 4 QB-PP K.J. Costello
Recruiting reporter Erik McKinney breaks down the commitment of K.J. Costello, ranked No. 40 overall in the ESPN Junior 300, to the Cardinals' 2016 recruiting class.
Stanford Lands No. 4 QB-PP K.J. Costello
VIDEO PLAYLIST
STANFORD FB RECRUITING SCORECARD
Nike Youth Stanford Cardinal Grey Football Practice Legend T-shirt Shop »
Pac12Networks

Pac-12 Networks


Here comes @UCLAMBB! #BackThePac http://t.co/thQ8u3Db7x
13 minutes ago

Pac12Networks

Pac-12 Networks


At the half, @UCLAMBB trails Gonzaga, 28-35. We ask now for your emoji reaction to the first half! #BackThePac http://t.co/XG3i1feZdL
33 minutes ago

Pac12Networks

Pac-12 Networks


Batter up! @Cal_Baseball is in SLC to take on @utahbaseball live now on Pac-12 Networks: http://t.co/YfMNDWLu5w http://t.co/VLxPbtsndG
36 minutes ago

Pac12Networks

Pac-12 Networks


.@Utah_Softball's Kristen Stewart went Twilight on this two-RBI double! It's the #UTAHvsSTAN Play of the Game: http://t.co/QZaaEDZyFY
37 minutes ago

Pac12Networks

Pac-12 Networks


Batter up! @Cal_Baseball is in SLC to take on @utahbaseball live now on Pac-12 Networks: http://t.co/YfMNDWLu5w http://t.co/nzaCThqYQv
43 minutes ago

Pac12Networks

Pac-12 Networks


The Ducks and 'Cats are on the diamond. Tune into Pac-12 Networks or http://t.co/YfMNDWLu5w #UOvsAZ http://t.co/yKqIRBzGAu
49 minutes ago

Pac12Networks

Pac-12 Networks


The Utes of @Utah_Softball cut down the Trees on The Farm! #UTAHvsSTAN http://t.co/ZGU86BlqDP
51 minutes ago

Pac12Networks

Pac-12 Networks


Hailey Decker's walk-off two-run HR won the day for @OregonSB. It's the #UWvsUO Play of the Game: http://t.co/07wu182XUA
about an hour ago

Pac12Networks

Pac-12 Networks


.@OregonSB makes quick work of the Huskies in Eugene! http://t.co/jwRrDhPzAw
about an hour ago

Stanford

Stanford University


Under a new policy, parents with annual family incomes below $125,000 and typical assets will pay no tuition: http://t.co/2PENe07UQh
about an hour ago

Pac12Networks

Pac-12 Networks


It's pronounced "Gunzogga," right? #BackThePac
about an hour ago

CindyBrunsonAZ

Cindy Brunson


Come on @UCLAMBB Here's to being in an upset state of mind! #BackThePac
about an hour ago

geoffschwartz

Geoff Schwartz


Come on gutty little Bruins! Win for the #Pac12 #BackThePac
about an hour ago

Pac12Networks

Pac-12 Networks


#BackThePac
about an hour ago

Stanford

Stanford University


Congratulations to the 2,144 candidates - from 50 states and 77 countries - offered undergraduate admission today. http://t.co/ODIJR4DDFm
about an hour ago

Pac12Networks

Pac-12 Networks


#GetPumped Bruins fans. It's almost time for tip-off. See how @UCLAMBB got ready for Gonzaga. http://t.co/1l9hCAIQPe
about an hour ago

Pac12Networks

Pac-12 Networks


Pac-12 Networks' @amyvandyken says she's regained reflexes in her knees and ankles! More on her amazing recovery: http://t.co/DPgEfNY4fH
about 2 hours ago

Beaver_Baseball

Oregon St. Baseball


The life of Saturday's starter #gobeavs http://t.co/NCvL3TB6HL
about 2 hours ago

Pac12Networks

Pac-12 Networks


Dennis Mkrtchian's cross-court volley gets our nod for Play of the Match in @UCLAtennis' 4-0 win over UO. #UOvsUCLA http://t.co/s0WPrgwC6C
about 2 hours ago

Pac12Networks

Pac-12 Networks


Dennis Mkrtchian's cross-court volley gets our nod for Play of the Game in @UCLAMBB's 4-0 win over UO. #UOvsUCLA http://t.co/s0WPrgwC6C
about 2 hours ago

Pac12Networks

Pac-12 Networks


.@Utah_Softball takes on @StanfordSball on The Farm now on Pac-12 Networks. Watch: http://t.co/YfMNDWLu5w #UTAHvsSTAN http://t.co/AvV2NpM9Rl
about 2 hours ago

Pac12Networks

Pac-12 Networks


Top-20 clash with No. 2 @OregonSB hosting No. 19 @UWSoftball on pac-12 Networks. http://t.co/YfMNDWLu5w #UWvsUO http://t.co/0rTVrCQgdK
about 2 hours ago

ArizonaBaseball

Arizona Baseball


It's a beautiful day for baseball as some Cats get early work on the field. Game at 7 pm on @Pac12Networks #BearDown http://t.co/1Ue03IbuBn
about 2 hours ago

Pac12Networks

Pac-12 Networks


.@uclatennis made a clean sweep today in Westwood, shutting out Oregon 4-0. #UOvsUCLA http://t.co/YVMylJV9pf
about 3 hours ago

Utah_Football

Utah Football


Good luck to our @Runnin_Utes brothers tonight! #UteFamily #GoUtes #SweetSixteen #BeatDuke http://t.co/45TFAYKopY
about 3 hours ago

Pac12Networks

Pac-12 Networks


The @Runnin_Utes are one win away from the #Elite8. #GetPumped and relive their path to #Sweet16 vs. Duke tonight. http://t.co/7qhE1jozr1
about 3 hours ago

Pac12Networks

Pac-12 Networks


.@UCLAMBB fans #GetPumped. The Bruins are next up in the quest to get to the #Elite8. http://t.co/3sakE0s3P8
about 4 hours ago

Pac12Networks

Pac-12 Networks


Bruins take the doubles point heading into singles play LIVE now on Pac-12 Networks: http://t.co/YfMNDWLu5w #UOvsUCLA http://t.co/zHYb2ijsrC
about 4 hours ago

TheSunDevils

Sun Devil Athletics


It's @SunDevilWBB's Sweet 16 gameday!Thanks for the support, #SunDevilNation and #BackThePac!https://t.co/2Gn95xx6Mp
about 4 hours ago

utahathletics

Utah Athletics


All of the lights... #goutes #Sweet16 http://t.co/L32OECOXx2
about 4 hours ago

OregonMTennis

Oregon Men\'s Tennis


Ducks drop the doubles point, Bruins take the 1-0 lead in the match. Singles will be on the @Pac12Networks at 1 p.m. #GoDucks
about 4 hours ago

Pac12Networks

Pac-12 Networks


.@APlayersProgram is in. 2 more #pac12hoops teams look to go from sweet to elite. #BackThePac http://t.co/TXPN8Aejik
about 5 hours ago

OregonMBB

Oregon Basketball


76 years ago to the day, Oregon won the very first NCAA Men's Basketball national championship. http://t.co/8cuLjLbrma
about 5 hours ago

stanfordbball

Stanford Men\'s Hoops


No shock here: Stanford's best on the court are also among the Pac-12's best in the classroom: http://t.co/n7kXFcEWpE http://t.co/GZyytMWp7k
about 5 hours ago

uclatennis

UCLA Men\'s Tennis


Doubles will begin at Noon follows by live singles action on @Pac12Networks at 1PM http://t.co/1RlsCNrA4Q#GoBruins
about 5 hours ago

StanfordSports

Stanford Daily Sport


.@StanfordWBB takes on No. 1 seed ND in the Sweet 16 tonight in OKC. Check out our preview here: http://t.co/xNXVNEoL0q
about 6 hours ago

ESPN_Pac12blog

ESPN_Pac12blog


Texas A&M, Colorado set up series http://t.co/8oQ3BeZVr8
about 7 hours ago

StanfordOnScout

Scout Cardinal


#Stanford VIDEO: Costello Commits - RANCHO SANTA MARGARITA, Calif. -- Four-star junior quarterback K.J. Cos... http://t.co/zhBxknpqS9
about 7 hours ago

StanfordFball

Stanford Football


Proud to announce two promotions:Coord. Player Personnel @DjMosDev - http://t.co/ImtTHtJWo2Asst. DFO @CalJoySeid - http://t.co/Xl9uKkvKjR
about 7 hours ago

StanfordFball

Stanford Football


Proud to announce two promotions:Coord. Player Personnel @DjMosDev - http://t.co/ImtTHtJWo2Asst. DFO @CalJoySeid - http://t.co/Xl9uKkvKjR
about 7 hours ago

Cal_Baseball

Cal Baseball


Watch Chris Paul and The Bears All Weekend Long on @Pac12Networks #GoBears http://t.co/SRssrtmRny http://t.co/SiM455Zbyt
about 8 hours ago

CGano8

Courtney Gano


Go Dawgs! Tune in to the @Pac12Networks to watch us today! #ahhhb #GAMEDAY #tunein http://t.co/MLut3voLR1
about 8 hours ago

ESPN_Pac12blog

ESPN_Pac12blog


Busy week for USC, on field and off it http://t.co/veY1xj43Ns
about 11 hours ago

ESPN_Pac12blog

ESPN_Pac12blog


Stanford's off week sees future developments http://t.co/7VoceZBF4L
about 11 hours ago

Pac12Networks

Pac-12 Networks


Zews. He carries the team on his back* *Sometimes the other team. #BackThePac http://t.co/8z4Pl1KSil
about 19 hours ago

Pac12Networks

Pac-12 Networks


Highlights: Arizona escapes Xavier, marches on to Elite Eight. #BackThePac http://t.co/26eZfYwjxY
about 19 hours ago

Pac12Networks

Pac-12 Networks


Squad goals. http://t.co/DNraWJA03D
about 19 hours ago

Pac12Networks

Pac-12 Networks


Big day for @UCLAMBB and the @Runnin_Utes tomorrow!! Carry us home! #BackThePac http://t.co/beQsVI9QId
about 19 hours ago

Pac12Networks

Pac-12 Networks


These 'Cats are ELITE! TJ and @APlayersProgram march on to the Elite 8! #BackThePac http://t.co/r3dm6kMVjj
about 19 hours ago

Pac12Networks

Pac-12 Networks


Xavier has gone the last 7:17 without hitting a FG......Yeah, the Stanimal will do that to you. #BackThePac http://t.co/MWHt7txbnF
about 20 hours ago

tommayeeee

Tommy Salami


Let's go zona. #BackThePac
about 20 hours ago

LA_DodgHer

.


#BackThePac
about 20 hours ago

Pac12Networks

Pac-12 Networks


.@APlayersProgram has a 4-pt lead over Xavier with 3:51 to go!!! Tune into TBS now and #BackThePac! http://t.co/LrAmswDpfA
about 20 hours ago

Pac12Networks

Pac-12 Networks


Xavier isn't about the #Pac12AfterDark life... http://t.co/JCDlQzhD2s
about 20 hours ago

Pac12Networks

Pac-12 Networks


Halftime in Los Angeles, we are TIED at 28 in #XAVvsAZ!#BackThePac
about 21 hours ago

CardWrestling

Stanford Wrestling


Congrats to Jim Wilson for being voted the #GoStanford Student-Athlete of the Week for the 2nd time this season http://t.co/ADHUTFtkFd
about 21 hours ago

StanfordMVB

Men\'s Volleyball


Gabriel Vega and @StanfordMVB take on CSUN Friday. Check out the electrical engineering major's path to Stanford: http://t.co/cFgAD7tAg3
about 21 hours ago

TheRaceDraft

Racial Draft


Everyone go hit @SportsNation with the unfollow http://t.co/J2ffgpyqbL
about 21 hours ago

coreysmith_17

Corey Smith


Let's go Zona!!! #BackThePac
about 21 hours ago

Pac12Networks

Pac-12 Networks


Enjoying the game is what it's all about! #BallIsLife #BackThePac #XAVvsAZ http://t.co/AQnFwGmYZR
about 21 hours ago

Pac12Networks

Pac-12 Networks


What the opposition actually sees when RHJ comes back out on the floor... #BackThePac http://t.co/sInWUXxV0y
about 21 hours ago

Pac12Networks

Pac-12 Networks


Our thoughts are with @APlayersProgram's Rondae Hollis-Jefferson.
about 21 hours ago

APlayersProgram

Arizona Basketball


Found a working mic. Time to get going. #XAVvsAZ
about 22 hours ago

Pac12Networks

Pac-12 Networks


Waiting to #BackThePac for this Arizona game like http://t.co/IkNmQfM5ab
about 22 hours ago

StanfordRowing

Stanford Rowing


We are soooo excited to start racing at @Pac12Challenge. Story and video here http://t.co/z5xXLQEFjD http://t.co/3WuZGdXYXX
about 22 hours ago

Pac12Networks

Pac-12 Networks


Kelly Claes of @USCSandVball gets the #SMCvsUSC Play of the Match for this critical ace: http://t.co/c7Q1Zw8S5U
about 23 hours ago

GoldenDomers1

Here Come The Irish


RETWEET We're going the the Elite 8 🍀 http://t.co/hnaQ9BiX8Q
about 23 hours ago

Pac12Networks

Pac-12 Networks


Beach party in LA! @USCSandVball sweeps CSU Bakersfield AND St. Mary's! http://t.co/ECGTtaV0XE
about 23 hours ago

ShayneSkov

Shayne Skov


I think the Inception sound was recorded from @karissakellie after she consumed dairy
about 23 hours ago

SkyDigg4

Skylar Diggins


Irish looking ELITE (couldn't help myself)!
about 23 hours ago

Pac12Networks

Pac-12 Networks


WILSONNNN!!! COME BACK!!!! #SMCvsUSC http://t.co/ssa0CM1IDL
about 23 hours ago

Pac12Networks

Pac-12 Networks


IMPORTANT: Buying this superfly @BillWalton tee is the best way to show your #BackThePac love: http://t.co/mylMQMqxot http://t.co/pbMvIW6eDr
about 23 hours ago

stanfordmswim

Stanford Swimming


David Nolan steps onto the blocks. Goes 1:39.38 in the 200 IM. Fastest ever. NCAA title. Drops mic.
about 23 hours ago

Benioff

Marc Benioff


Calling other tech CEOs and tech industry leaders to please take a stand. http://t.co/Ghd7TcxfZf
1 day ago

TheKoriMonster

Kori Carter


"In life, when in doubt throw daps" -words of wisdom from @JeffreyTroj
1 day ago

AZATHLETICS

Arizona Athletics


✌️more hours. #BearDown http://t.co/aUxaBxExms
1 day ago

StanfordWGolf

Stanford WGolf


Show some love to @marissalmar and @LilaBarton, who qualified for the USGA Women's Four-Ball Championship. http://t.co/qljHV1QyB1
1 day ago

Pac12Networks

Pac-12 Networks


Time for the second half of our sand volleyball twin bill on Pac-12 Networks. Watch: http://t.co/YfMNDWLu5w #SMCvsUSC http://t.co/vNlu3Xzgua
1 day ago

USC_Athletics

USC Trojans


Happy birthday to the legendary @MarcusAllenHOF! #tbt #FightOn http://t.co/dOmApMCegM
1 day ago

AZATHLETICS

Arizona Athletics


Six hours until tip-off. @RondaeHJ23 and @iPass4Zona want to know if YOU are ready for tonight? http://t.co/JPp5m4TnCX
1 day ago

StanfordOnScout

Scout Cardinal


#Stanford Costello pulls the trigger - After going back and forth multiple times over the last few months, ... http://t.co/8kIK5eJK4q
1 day ago

ESPN_Pac12blog

ESPN_Pac12blog


Early Commit: QB K.J. Costello to Stanford http://t.co/WmVhjUONTq
1 day ago

CTcard44

Chase Thomas


@CTcard44: During a thrilling playoff hole... #ladyclutch @LilaBarton sunk a long birdie putt #ftw #OnToTheNextOne
1 day ago

CTcard44

Chase Thomas


During a thrilling playoff hole... #ladyclutch @LilaBarton sunk a long birdie putt #OnToTheNextOne
1 day ago

maeubanks

Mike Eubanks


Awesome day for @StanfordFball and #cardclass16! The Home of Champions is the home for leaders of leaders. #QBU http://t.co/ObDlULjP8e
1 day ago

ShayneSkov

Shayne Skov


I have no idea what the hell this is from, but enjoy:https://t.co/ojfkXXiLCk
1 day ago

WyndamMakowsky

Wyndam Makowsky


TRUE: https://t.co/SvxJsK9dNb TRUE: https://t.co/aItXUontFk TRUE: https://t.co/XzQX9FX2wB #QBU #GOSTANFORD
1 day ago

RuleofTree

Rule of Tree


Quarterback KJ Costello commits to Stanford. 4-star rated as the 33rd best player in the country
1 day ago

StanfordFball

Stanford Football


All Right Now! #cardclass16 #QBU http://t.co/sZaxsk0rdV
1 day ago

Pac12Networks

Pac-12 Networks


It's 90°F in LA. Time for a little sand volleyball on the Pac-12 Networks. Watch: http://t.co/YfMNDWLu5w #CSUBvsUSC http://t.co/OQXQhVxz0k
1 day ago

StanfordFball

Stanford Football


Super Bowl history is written by Stanford quarterbacks: 7 starts, 4 championships, 2 MVPs. #QBU #StanfordNFL #tbt http://t.co/vthozkfRXX
1 day ago

StanfordFball

Stanford Football


Super Bowl history is written by Stanford quarterbacks: 7 starts, 4 championships, 2 MVPs. #QBU #StanfordNFL #tbt http://t.co/vthozkfRXX
1 day ago

ShayneSkov

Shayne Skov


So is future house now the official genre for the recent music we were mislabeling as Deep House?
1 day ago

stanfordbball

Stanford Men\'s Hoops


Stanford's history at MSG includes nine visits + 17 games. Radio analyst John Platz explains: http://t.co/qjjvAzMPJm http://t.co/i64ryHGXCG
1 day ago

Pac12Networks

Pac-12 Networks


.@APlayersProgram's #Sweet16 presser started with some birthday wishes for T.J. Now on http://t.co/YfMNDWLu5w http://t.co/htOIuesHJD
1 day ago

hmcpeak1

Holly McPeak


My office today at USC is 90 degrees at the moment. We will have @USCSandVBall live at 3 and 4:30 on @Pac12Networks http://t.co/WFYy8y9Cjr
1 day ago

ShayneSkov

Shayne Skov


Have you wept for the death of Top Gear as we know it @Huey_85 ?
1 day ago

Pac12Networks

Pac-12 Networks


In 10 mins: Hear @APlayersProgram, @UCLAMBB + @Runnin_Utes talk about the #Sweet16 on NCAA Tournament Update show. http://t.co/YfMNDWLu5w
1 day ago

Pac12Networks

Pac-12 Networks


.@APlayersProgram's Miller & McConnell share a special bond + Pittsburgh roots. Read more: http://t.co/NZYM9Sf9LU http://t.co/AUgWa1xs7R
1 day ago
PAC-12 SCOREBOARD
Thursday, 9/3
Friday, 9/4
Saturday, 9/5
BLOG ARCHIVE:
CATEGORIES: