ESPN Junior 300 analysis: Pac-12
November, 19, 2013
11/19/13
7:00
PM ET
By
erikmckinney
| ESPN Insider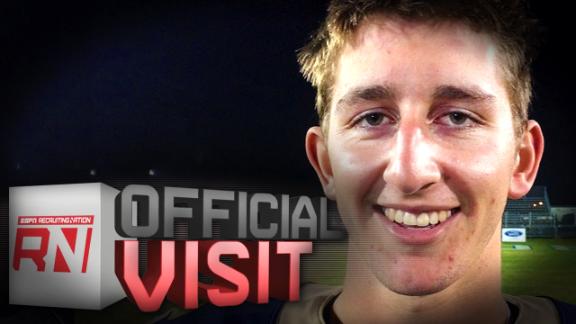 Tuesday saw the release of the
updated ESPN Junior 300
and Pac-12 targets are sprinkled heavily throughout the list. With a number of changes overall, we take a look at some of the movement up and down, as well as what the future holds for several of the West's top 2015 ESPN 300 prospects.
To continue reading this article you must be an Insider
Insider
Utah Edges Stanford In Double Overtime
Utah's third overtime game of the season saw the Utes escape from Stanford 20-17.
Utah Edges Stanford In Double Overtime
VIDEO PLAYLIST
CARDINALNATION RECRUITING NEWS
STANFORD FB RECRUITING SCORECARD
Nike Men's Stanford Cardinal Rose Bowl Game Mascot T-shirt Shop »
ESPN_Pac12blog

ESPN_Pac12blog


What we learned in the Pac-12: Week 13 http://t.co/2Uy2vDKWlU
2 minutes ago

SanfordBSU

Coach Mike Sanford


Honored to be a part of such a 1st Class program from top to bottom. Complete victory against a very well-coached team. #OnToTheNextOne #ATF
3 minutes ago

ESPN_Pac12blog

ESPN_Pac12blog


Bruins re-enter the national spotlight http://t.co/WL27cXIpMa
23 minutes ago

KTVBSportsGuy

Jay Tust


The #BoiseState defense had 5 sacks and 8 TFL's for tonight.
24 minutes ago

StanfordWVB

Stanford Volleyball


Recap & video from tonight's win over Colorado which set a program record for consecutive wins to start a season (28) http://t.co/Ge7RWMKsqF
30 minutes ago

stanfordbball

Stanford Men\'s Hoops


Several positives in 70-59 loss to No. 4/3 Duke. Randle now third all-time in scoring, Nastic double-double and more: http://t.co/41a9OElxgF
40 minutes ago

Pac12Networks

Pac-12 Networks


This Dwayne Washington 68-yard TD run is our #OSUvsUW Play of the Game presented by @iShares by @blackrock. http://t.co/xqsybFcIlj
about an hour ago

Pac12Networks

Pac-12 Networks


Congratulations @UW_Football. By beating the Beavers, you are now officially bowl eligible. http://t.co/cpwSMyCagy
about an hour ago

StanfordFball

Stanford Football


Stanford Runs For Axe!Story: http://t.co/edRheWDHVwPics: http://t.co/0vJyZunGFg #BeatCal #gostanford http://t.co/jukI88SLJp
about an hour ago

StanfordFball

Stanford Football


It was a great day to #BeatCal. Have a good night. #gostanford http://t.co/n7Csy2agQR
about an hour ago

Pac12Networks

Pac-12 Networks


UW is trying to pull away in Seattle!4th Quarter - Washington 30 -- Oregon State 13Watch http://t.co/Es2YMB9DED #OSUvsUW
about an hour ago

Pac12Networks

Pac-12 Networks


Not only did @StanfordFBall win the #BigGame, their fans are the winner of the @BankoftheWest Battle of the Tweets! http://t.co/qPm7eqwG6T
about 2 hours ago

Pac12Networks

Pac-12 Networks


What can occur during #Pac12AfterDark! Tune in now for the second half of the #UWvsOSU game on @Pac12Networks! http://t.co/Es2YMB9DED
about 2 hours ago

Pac12Networks

Pac-12 Networks


Narrow win for @USC_Athletics in tonight's @BankoftheWest Battle of the Tweets however. http://t.co/Kgcae1cVIa
about 2 hours ago

ESPN_Pac12blog

ESPN_Pac12blog


'Jesus, girls and Marcus Mariota': Sixth grader asks if Ducks QB is leaving http://t.co/VB7gCE7H04
about 2 hours ago

Pac12Networks

Pac-12 Networks


.@UCLAFootball controls its destiny. But if they lose next week... Scenarios: http://t.co/oeoD06rgzw http://t.co/D2uwbRU7Is
about 3 hours ago

ESPN_Pac12blog

ESPN_Pac12blog


Instant analysis: No. 9 UCLA 38, No. 19 USC 20 http://t.co/Sr3j6vXTp7
about 3 hours ago

papa_yank

David Yankey


The Axe stays at home for another year. Business as usual... #BeatCal #proudalum
about 3 hours ago

Pac12Networks

Pac-12 Networks


Brett Hundley's romp into the endzone is our #USCvsUCLA Play of the Game presented by @iShares by @blackrock. http://t.co/cA08fpb76d
about 3 hours ago

Pac12Networks

Pac-12 Networks


.@UCLAFootball is 1 win away from the Pac-12 Football Championship Game after taking down SC! http://t.co/EE0b9UoNnP http://t.co/0711aExbWV
about 3 hours ago

ESPN_Pac12blog

ESPN_Pac12blog


UCLA 38, USC 20. Final. The Bruins can lock up the Pac-12 South next week with a win at home against Stanford.
about 3 hours ago

ESPN_Pac12blog

ESPN_Pac12blog


Who would you take in a potential Oregon-UCLA Pac-12 title game? Vote here: http://t.co/dtHnRNA8po
about 4 hours ago

samfisher908

Sam Fisher


Really proud of all of @GoStanford this week. Great efforts from tons of student-athletes, coaches and staff. Let's keep it going!
about 4 hours ago

ESPN_Pac12blog

ESPN_Pac12blog


UCLA's eyeblack game is unrivaled http://t.co/oMQ4cqG5dh
about 4 hours ago

Pac12Networks

Pac-12 Networks


End of the 3rd quarter, UCLA leads USC, 38-14. #USCvsUCLA
about 4 hours ago

StanfordFball

Stanford Football


Stanford has allowed just three total touchdowns by Cal in the last three Big Games. #BeatCal #GoStanford http://t.co/aRvjk9aTul
about 4 hours ago

Pac12Networks

Pac-12 Networks


#Pac12AfterDark party on the lake. Beavs. Dawgs. Let's go. #OSUvsUW http://t.co/Es2YMB9DED http://t.co/hkapafPewL
about 4 hours ago

StanfordWVB

Stanford Volleyball


Shout out to @StanfordWSoccer & @StanfordFball players who are in the crowd tonight! Congrats on their big wins so far this weekend #family
about 4 hours ago

ESPN_Pac12blog

ESPN_Pac12blog


UCLA just pouring it on now. Bruins lead 38-14. 9:22, 3rd.
about 4 hours ago

ESPN_Pac12blog

ESPN_Pac12blog


Paul Perkins rushes for 10 yards and another UCLA TD. Bruins up 31-14. 11:48, 3rd. #USCvsUCLA
about 4 hours ago

StanfordFball

Stanford Football


There is no better feeling. Five years straight. #BeatCal #GoStanford http://t.co/hA3PIyr16j
about 4 hours ago

Pac12Networks

Pac-12 Networks


#Pac12AfterDark halftime power rankings:What are the best food spots on/around campus at #USC? Go.
about 4 hours ago

Pac12Networks

Pac-12 Networks


#Pac12AfterDark halftime power rankings:What are the best food spots on/around campus at #UCLA? Go.
about 5 hours ago

StanfordFball

Stanford Football


This is the 60th win by Stanford in the Big Game. Cardinal series record improves to 60-46-11. #BeatCal #GoStanford http://t.co/oTNPcEXeQn
about 5 hours ago

StanfordFball

Stanford Football


Stanford Runs For Axe!Story: http://t.co/edRheWDHVwPics: http://t.co/0vJyZunGFg #BeatCal #gostanford http://t.co/jukI88SLJp
about 5 hours ago

Pac12Networks

Pac-12 Networks


At the half, UCLA leads USC, 24-14. Will the Trojans turn it around and take home the Victory Bell? #USCvsUCLA
about 5 hours ago

ESPN_Pac12blog

ESPN_Pac12blog


Brett Hundley is in a groove now. He hits Massington for a 13-yard TD and the Bruins lead 24-14. 0:14, 2nd #USCvsUCLA
about 5 hours ago

ESPN_Pac12blog

ESPN_Pac12blog


Eric Kendricks' INT for UCLA stands after review. Good pressure from Deon Hollins to force Kessler into a bad throw.
about 5 hours ago

ESPN_Pac12blog

ESPN_Pac12blog


UCLA re-takes the lead on a 32-yard FG from Ka'imi Fairbiarn. UCLA 17, USC 14. 5:52, 2nd. #USCvsUCLA
about 5 hours ago

Pac12Networks

Pac-12 Networks


Safe to say #Pac12AfterDark is in full effect at the Rose Bowl. #USCvsUCLA http://t.co/S0cu4bnls4
about 5 hours ago

FlemmingDave

Dave Flemming


As I drive from Iowa city back to Chicago want to say congratulations to David Shaw and Stanford. Been a trying season great effort today
about 5 hours ago

ESPN_Pac12blog

ESPN_Pac12blog


USC stuffed on 4th and 2 at the UCLA 5.
about 5 hours ago

Pac12Networks

Pac-12 Networks


Marcus Mariota makes emotional exit at Autzen Stadium: http://t.co/R9baRCezEn http://t.co/VJZhs1IlCx
about 6 hours ago

ESPN_Pac12blog

ESPN_Pac12blog


Thomas Duarte with a 57-yard TD reception and UCLA has its first lead of the game. Bruins up 14-7, 8:01, 1st. #USCvsUCLA
about 6 hours ago

StanfordFball

Stanford Football


Perfect 5-0 Big Game record for our fifth-year seniors. #OurAxe is all we know. #BeatCal #GoStanford http://t.co/ROhhKZkACn
about 6 hours ago

StanfordFball

Stanford Football


Perfect 5-0 Big Game record for our fifth-year seniors. #OurAxe is all we know. #BeatCal #GoStanford http://t.co/ROhhKZkACn
about 6 hours ago

ESPN_Pac12blog

ESPN_Pac12blog


UCLA capitalizes: Hundley hits a wide-open Devin Lucien in the end zone. UCLA 7, USC 7. 8:40, 1st. #USCvsUCLA
about 6 hours ago

ESPN_Pac12blog

ESPN_Pac12blog


There's a break for UCLA. Agholor muffs the punt and the Bruins it at the USC 8.
about 6 hours ago

Pac12Networks

Pac-12 Networks


How does the Pac-12 South shake out going into #USCvsUCLA? Here are the scenarios: http://t.co/r1N52bUuuZ http://t.co/9NZFJgHFey
about 6 hours ago

ESPN_Pac12blog

ESPN_Pac12blog


Trojans strike first: Anthony Sarao picks off Hundley and returns it for a touchdown. USC 7, UCLA 0. 11:52, 1st. #USCvsUCLA
about 6 hours ago

ESPN_Pac12blog

ESPN_Pac12blog


Cody Kessler punts after USC's first drive stalls. Bruins will take over at their own 7.
about 6 hours ago

Pac12Networks

Pac-12 Networks


.@usc_Athletics and @UCLAFootball both donning the colors. One of the most beautiful sights in football. #USCvsUCLA http://t.co/aCyxpMDOjy
about 6 hours ago

AdamsonAshley

Ashley Adamson


.@UCLAFootball & @uscfootball about to kick in Pasadena. Brett Hundley trying to join Cade McNown as only Bruin QB to go 3-0 against USC.
about 6 hours ago

StanfordFball

Stanford Football


Who's house? C-House! #lockerroom #gostanford #BeatCal https://t.co/DarXVlboCa
about 6 hours ago

Pac12Networks

Pac-12 Networks


The sun goes down. A chill pierces the air.New to the game? Here's your #Pac12AfterDark #starterkit. http://t.co/sMx7YQS0zc
about 6 hours ago

ESPN_Pac12blog

ESPN_Pac12blog


Minutes away from kickoff between No. 19 USC and No. 9 UCLA at the Rose Bowl on ABC.
about 6 hours ago

roxybernstein

Roxy Bernstein


In position for #Pac12AfterDark! @OSUBeaversFB at @UW_Football 7:30 @Pac12Networks with @BigAntHerron & @GuyHaberman http://t.co/eobMdP8KyM
about 6 hours ago

StanfordFball

Stanford Football


.@Big_Blake4 was ready for the Big Game... http://t.co/ovyNrmgZKC
about 6 hours ago

Pac12Networks

Pac-12 Networks


Not only did @StanfordFBall win the #BigGame, their fans are the winner of the @BankoftheWest Battle of the Tweets! http://t.co/qPm7eqwG6T
about 6 hours ago

ESPN_Pac12blog

ESPN_Pac12blog


UCLA fan's mohawk presents a stiff challenge for haircut of the day http://t.co/nZRpwAYgZj
about 6 hours ago

ESPN_Pac12blog

ESPN_Pac12blog


Instant Analysis: No. 2 Oregon 44, Colorado 10 http://t.co/r8euPDgiKC
about 6 hours ago

ESPN_Pac12blog

ESPN_Pac12blog


Instant Analysis: Stanford 38, California 17 http://t.co/stEucxU1W0
about 6 hours ago

Pac12Networks

Pac-12 Networks


Battle of the Tweets time! Weigh in, Trojans and Bruins fans. It's presented by @BankoftheWest. #USCvsUCLA http://t.co/s6hs7J8Ec0
about 6 hours ago

Pac12Networks

Pac-12 Networks


In Berkeley, Remound Wright's 4th TD of the day is the #BigGame @ishares by @blackrock Play of the Game. http://t.co/46PmuEb2pe
about 7 hours ago

StanfordSports

Stanford Daily Sport


Over the 5-game win streak in the Big Game, Stanford has outscored Cal 201-75.
about 7 hours ago

StanfordFball

Stanford Football


There is no better feeling. Five years straight. #BeatCal #GoStanford http://t.co/hA3PIyr16j
about 7 hours ago

Pac12Networks

Pac-12 Networks


Marcus Mariota's historic TD is the #CUvsUO @ishares by @blackrock Play of the Game. http://t.co/CJ4YXqeRHo
about 7 hours ago

StanfordFball

Stanford Football


There is no better feeling. Five years straight. #BeatCal #GoStanford http://t.co/hA3PIyr16j
about 7 hours ago

ESPN_Pac12blog

ESPN_Pac12blog


Video: No. 15 Arizona 42, No. 17 Utah 10 http://t.co/Er1tYIWhGn
about 7 hours ago

StanfordSports

Stanford Daily Sport


None of Stanford's seniors will leave this school ever having lost the Big Game. Fifth straight claim to the Axe for your Cardinal.
about 7 hours ago

StanfordFball

Stanford Football


#OurAxe http://t.co/GrKb6Rj6JX
about 7 hours ago

Pac12Networks

Pac-12 Networks


The axe. It stays in Palo Alto. Full coverage: http://t.co/SSKQgUEqsT #BigGame http://t.co/tqQBUHGLgz
about 7 hours ago

StanfordSports

Stanford Daily Sport


Stanford is bowl-eligible with its sixth win of the season!
about 7 hours ago

StanfordFball

Stanford Football


The Axe is staying at Stanford! #GoStanford #BeatCal http://t.co/7QcfuT4t47
about 7 hours ago

StanfordSports

Stanford Daily Sport


And it's a final from California Memorial Stadium - Stanford 38, Cal 17 in the 117th Big Game.
about 7 hours ago

StanfordSports

Stanford Daily Sport


It's a senior victory formation for this Big Game - Eddie Plantaric, Ricky Seale, Jeff Trojan among the seniors out there.
about 7 hours ago

ESPN_Pac12blog

ESPN_Pac12blog


FINAL: Stanford 38, Cal 17. Cardinal beat the Bears for the 5th straight year.
about 7 hours ago

StanfordFball

Stanford Football


Frosh CB @Terrence_9 with the INT and 43-yard return. Turn off the lights. #BeatCal #GoStanford
about 7 hours ago

StanfordSports

Stanford Daily Sport


Stanford will just take knees to end the game instead of running up the score.
about 7 hours ago

StanfordSports

Stanford Daily Sport


There's turnover number 5 - an easy pick by Terrence Alexander. Almost a pick 6, but knocked out of bounds at the 4.
about 7 hours ago

Pac12Networks

Pac-12 Networks


Mariota makes history. The Ducks roll on to the #CivilWar. Full coverage: http://t.co/uivnppoFvh http://t.co/kPzvKUTzRa
about 7 hours ago

StanfordSports

Stanford Daily Sport


Gautam Krishnamurthi got in on that last drive for his final Big Game!
about 7 hours ago

StanfordFball

Stanford Football


Senior WR Gautam Krishnamurthi (#38) makes his collegiate debut in the Big Game. #BeatCal #GoStanford http://t.co/YjvXg6woM4
about 7 hours ago

Pac12Networks

Pac-12 Networks


STARING CONTEST, GOYOU WIN, YOU ALWAYS DO #BigGame http://t.co/8KchriQ4vF
about 7 hours ago

StanfordSports

Stanford Daily Sport


Lasco hits the perimeter and rolls in for the garbage-time touchdown. It's now a 38-17 ballgame.
about 7 hours ago

ESPN_Pac12blog

ESPN_Pac12blog


TD Daniel Lasco. Stanford 38, Cal 17 with 2:30 left in the game.
about 7 hours ago

StanfordSports

Stanford Daily Sport


Dallas Lloyd, Kodi Whitfield, Terrence Alexander, Ra'Chard Pippens and Alex Yazdi with a mass substitution on defense.
about 7 hours ago

StanfordSports

Stanford Daily Sport


Crower looking very Hogan-esque overthrowing a wide-open Hooper. Stanford will punt.
about 7 hours ago

StanfordSports

Stanford Daily Sport


And Ricky Seale gets into the backfield for his final Big Game as well.
about 7 hours ago

StanfordSports

Stanford Daily Sport


It's Crower time! Hogan with a pretty clean afternoon: 15-of-20 for 215 yards, 0 touchdowns, 1 interception.
about 7 hours ago

StanfordFball

Stanford Football


Readying at QB and C: @ecrower5 and @OscarMyrReihner. #BeatCal #GoStanford http://t.co/vVV8WpKX52
about 7 hours ago

StanfordSports

Stanford Daily Sport


Wright with a very vintage Stanford-esque stat line: 23 rushes, 92 yards, 4 TDs.
about 7 hours ago

StanfordFball

Stanford Football


#BeatCal #GoStanford RT @ToddHusak: .@Blaq_Cognizance ties Chuck Muncie & @Toby_Gerhart Big Game TD rushing record with his 4th on the day.
about 7 hours ago

Pac12Networks

Pac-12 Networks


Turn us on. Now. Oregon fans are going wild for Marcus Mariota. #CUvsUO http://t.co/YfMNDX35dA
about 7 hours ago

treeSIDjorge

Alan George


Remound Wright becomes sixth Cardinal ever with school-record four rushing touchdowns (Nelson, Vardell, Carter, Gerhart and Taylor)
about 7 hours ago

StanfordSports

Stanford Daily Sport


Stanford section giving Cal a healthy dose of "Na na na na, hey hey hey, goodbye"
about 7 hours ago

StanfordFball

Stanford Football


FOURTH touchdown today by @Blaq_Cognizance! 38-10, Cardinal. #BigGameLegend #BeatCal #GoStanford http://t.co/ewaqIK2cUc
about 7 hours ago

ESPN_Pac12blog

ESPN_Pac12blog


Stanford 38, Cal 10. 7:36 to play. Remound Wright has 4 rushing TDs.
about 7 hours ago

StanfordSports

Stanford Daily Sport


The mass exodus begins from the Cal sections of the stadium.
about 7 hours ago

StanfordSports

Stanford Daily Sport


Remound Wright plows through the pile for the touchdown. 38-10 Stanford. Card piling it on. That's 4 for Wright.
about 7 hours ago
BLOG ARCHIVE:
CATEGORIES: