ESPN Junior 300 analysis: Pac-12
November, 19, 2013
11/19/13
7:00
PM ET
By
erikmckinney
| ESPN Insider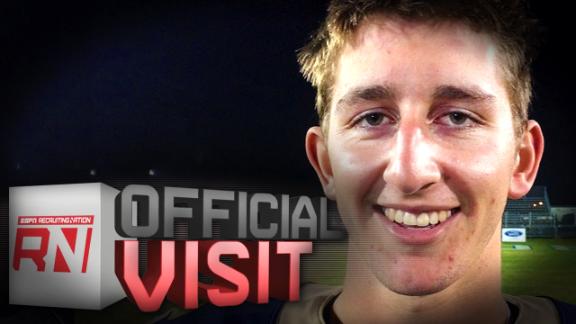 Tuesday saw the release of the
updated ESPN Junior 300
and Pac-12 targets are sprinkled heavily throughout the list. With a number of changes overall, we take a look at some of the movement up and down, as well as what the future holds for several of the West's top 2015 ESPN 300 prospects.
To continue reading this article you must be an Insider
Insider
Pac-12 Weekend Wrap: Sept. 30
Recruiting reporter Erik McKinney breaks down the top weekend storylines from the Pac-12.
Pac-12 Weekend Wrap: Sept. 30
VIDEO PLAYLIST
CARDINALNATION RECRUITING NEWS
STANFORD FB RECRUITING SCORECARD
Nike Men's Stanford Cardinal Rose Bowl Game Mascot T-shirt Shop »
StanfordFball

Stanford Football


See the target, pin the hip, shoot your gun & grab cloth.Learn angle tackling #StanfordSkills w/ Jordan Richards: https://t.co/Lp25YzVyTZ
about an hour ago

maeubanks

Mike Eubanks


Somebody hit "send" too soon at http://t.co/4mOaJ1jLbJ?#DeweyDefeatsTruman at the #TrumanSportsComplex. @Royals http://t.co/5NCIFXYJOd
about 2 hours ago

maeubanks

Mike Eubanks


It's now midnight in KC. Welcome to #BlueOctober. Don't let this stop @Royals!
about 2 hours ago

maeubanks

Mike Eubanks


YES!!!!!!! Royals win! Royals win! Royals WIN!!The #HuntForBlueOctober has STOLEN the night!
about 2 hours ago

maeubanks

Mike Eubanks


Before tonight, I cursed the wild card game; true MLB postseason needs a series. This game has given an ALDS worth of drama and heroics.
about 2 hours ago

Pac12Networks

Pac-12 Networks


What was the top #12Best play of September?Come on now. http://t.co/Z9WsZPUGue http://t.co/72ha2Ubez0
about 2 hours ago

maeubanks

Mike Eubanks


.@BretSabes = 21 years, 6 months, 0 days in 1985 @Royals postseason debut.@bfinny29 = 21 years, 5 months, 16 days.He's got next. #BeRoyal
about 3 hours ago

ScoutStanford

Scout Cardinal


#Stanford After scoreless third, Card and UW tied 13-13 - Here is a look at the third quarter of Stanford's... http://t.co/0w5OkoyOBo
about 3 hours ago

Pac12Networks

Pac-12 Networks


#NW: The newest edition of One-on-One featuring @CalCoachDykes and @CoachDavid Shaw.WATCH: http://t.co/YfMNDWLu5w http://t.co/046q0aUxWB
about 3 hours ago

maeubanks

Mike Eubanks


This one goes to eleven. #HuntForBlueOctober
about 3 hours ago

maeubanks

Mike Eubanks


The bandwagon hasn't been in use for 29 years. Welcome! #BeRoyal RT @richarddeitsch: I think I'm falling in love with the Royals.
about 3 hours ago

maeubanks

Mike Eubanks


This madness is beautiful. God bless the #HuntForBlueOctober.
about 3 hours ago

maeubanks

Mike Eubanks


Big nuts. Fast wheels.
about 3 hours ago

Pac12Networks

Pac-12 Networks


What went wrong with ASU's defense last Thursday? @DougHaller breaks it down in the links: http://t.co/RgbcEDziXK http://t.co/4CVjqvbSNu
about 3 hours ago

StanfordWLax

Stanford W Lacrosse


Our players making a difference today with our favorite @BAWSI girls!!! #cooperation #makeadifference http://t.co/3B5zLoqmu0
about 3 hours ago

Pac12Networks

Pac-12 Networks


#NW: @CalFootball takes out USC in 2003 in the latest edition of Pac-12 Classics.WATCH: http://t.co/YfMNDWLu5w http://t.co/Xe0qDI6D2t
about 4 hours ago

Pac12Networks

Pac-12 Networks


Go inside what it takes to coach a champion. One-on-One featuring @CoachDavidShaw is at 9 PT. http://t.co/83mEyUKilu http://t.co/FolN0JqTND
about 4 hours ago

Pac12Networks

Pac-12 Networks


Go inside what it takes to coach a champion. One-on-One featuring @CoachDavidShaw is at 9 PT. http://t.co/83mEyUKilu http://t.co/FolN0JqTND
about 4 hours ago

StanfordFball

Stanford Football


What does it take to coach a champion? Watch One-on-One tonight on @Pac12Networks. http://t.co/X4D5fkYlwL http://t.co/EhVmWAL6as
about 4 hours ago

Pac12Networks

Pac-12 Networks


Basketball season is right around the corner, so a chat with @UACoachMiller seems well timed. http://t.co/RgbcEDziXK http://t.co/6kg9BYxc4w
about 5 hours ago

maeubanks

Mike Eubanks


Noooo!
about 5 hours ago

Seahawks

Seattle Seahawks


Never captains at @StanfordFball, @RSherman_25 @DougBaldwinJr honored Sat at Husky Stadium. [http://t.co/8LqLRyiMDx] http://t.co/xJje5wAdgt
about 5 hours ago

Pac12Networks

Pac-12 Networks


A former UCLA TE, a sprained ankle and this adorable pup. We swear, it's a story. Links: http://t.co/RgbcEDziXK http://t.co/jiyB4BWOgB
about 5 hours ago

StanfordFH

Stanford FieldHockey


Stanford earned a program-best No. 5 national ranking and checked it at No. 8 in RPI this week. #gostanford | http://t.co/y7YpU0TykV
about 5 hours ago

Pac12Networks

Pac-12 Networks


.@utahwsoccer is unbeaten in 2014, and GK Lindsey Luke is a major reason why. Links: http://t.co/RgbcEDziXK http://t.co/ASc2QFunqE
about 6 hours ago

StanfordFball

Stanford Football


We appreciate his priorities. RT @darrenrovell: Andrew Luck tells @wingoz that he still uses his flip phone (6 yrs) http://t.co/ZM9BCPGjw0
about 6 hours ago

Pac12Networks

Pac-12 Networks


Go deep with @CalCoachDykes tonight on a brand new edition of One-on-One. http://t.co/83mEyUKilu http://t.co/AASP3PUkku
about 7 hours ago

maeubanks

Mike Eubanks


Let's do this! RT @RexHudler1: "Let's go #Royals" chant pre-game was awesome! Game on! #WildCard #TakeTheCrown http://t.co/ZroGOjXuZj
about 7 hours ago

EEstaris

EE


@Pac12Networks @AdamsonAshley @CoachNeuheisel Coach Neuheisel brings in a RINGER!
about 7 hours ago

ESPN_Pac12blog

ESPN_Pac12blog


It looks like UCLA's Ishmael Adams' pick six will win Play of the Week. How would you describe that play in 140 characters?
about 7 hours ago

Pac12Networks

Pac-12 Networks


CAPTION THIS: @AdamsonAshley and @CoachNeuheisel record the newest Pac-12 Networks Football Podcast. http://t.co/DPskrLhkZp
about 7 hours ago

ESPN_Pac12blog

ESPN_Pac12blog


There's a new No. 1 in the Pac-12 QB Power Rankings. Say hello to Cal's Jared Goff. http://t.co/JWBzC4te6M http://t.co/4U5PAKUnbc
about 7 hours ago

Pac12Networks

Pac-12 Networks


A certain @CBSSports writer thinks Marcus Mariota is the frontrunner for the Heisman. Roundup: http://t.co/RgbcEDziXK http://t.co/e2FUJiDOPb
about 8 hours ago

StanfordFball

Stanford Football


In wild & talented @Pac12 this year, Stanford stands apart on defense.6.5 ppg allowed vs. 26.5 ppg allowed by other 11 teams. #gostanford
about 8 hours ago

StanfordFball

Stanford Football


In wild & talented @Pac12 this year, Stanford stands apart on defense.6.5 ppg allowed vs. 26.5 ppg allowed by other 11 teams. #gostanford
about 8 hours ago

ESPN_Pac12blog

ESPN_Pac12blog


ICYMI: Did Stanford stumble upon a solution for its stumbling offense late vs. Washington? http://t.co/bjIrdhjrgT http://t.co/WzT0aUdQEA
about 8 hours ago

Pac12Networks

Pac-12 Networks


See what happens when you tweet #12Best? You could end up on TV like @JordanTruppner. http://t.co/Z9WsZPUGue http://t.co/k9sv3mMpZw
about 8 hours ago

SeniorBowlPhil

Phil Savage


On The Farm @StanfordFball, will see Cardinal @seniorbowl prospects in afternoon practice. Worked @Ravens w/ @CoachDavidShaw early 2000's.
about 9 hours ago

StanfordRivals

Andy Drukarev


David Shaw said Stanford needs to get WR Michael Rector more touches. Rector has 0 catches in last two games: "I'm sick about it."
about 9 hours ago

ESPN_Pac12blog

ESPN_Pac12blog


Pac-12 by the numbers: Week 6 http://t.co/rnbVRuuXcR
about 9 hours ago

Pac12Networks

Pac-12 Networks


Don't forget: Tonight's new Pac-12 Classics looks at @CalFootball's 2003 win over the Trojans. http://t.co/mAfYhumulp http://t.co/u3AuYDGo0Y
about 9 hours ago

ESPN_Pac12blog

ESPN_Pac12blog


A Heisman debate between the Pac-12 and SEC. Make the case for Marcus Mariota or Todd Gurley. http://t.co/pA5ylqbxuk http://t.co/IuFFExXEcK
about 9 hours ago

Pac12Networks

Pac-12 Networks


Both @uscwomensvolley and @UWVolleyball will be looking for a key win tomorrow in Seattle. http://t.co/hjOl2YY4oI http://t.co/Eo33pDrCyM
about 9 hours ago

StanfordFball

Stanford Football


The nation's top passing defense at Stanford:11 plays of 10+ yds (t-1st)2 plays of 20+ yds (1st)0 plays of 30+ yds (t-1st)#gostanford
about 9 hours ago

Pac12Networks

Pac-12 Networks


TONIGHT: @CalCoachDykes and @CoachDavidShaw sit down in debut of a brand new One-on-One. http://t.co/83mEyUKilu http://t.co/YOSmz7qvaN
about 10 hours ago

UCLAMSoccer

UCLA Men\'s Soccer


Coming in at No. 2 in the #12Best of September countdown on @Pac12Networks is Leo Stolz's amazing 78-yard goal: http://t.co/ZP0zxwBhCi
about 10 hours ago

ESPN_Pac12blog

ESPN_Pac12blog


Each week, ESPN will unveil a campaign poster for a CFP hopeful. This week: the UCLA Bruins. http://t.co/Z02v4jy2HT http://t.co/jjCfZzyM61
about 10 hours ago

Pac12Networks

Pac-12 Networks


Apropos of our last tweet, it's never a bad time to hear @CoachNeuheisel sing about Ed Orgeron. http://t.co/FXHLhkYAc7
about 10 hours ago

Pac12Networks

Pac-12 Networks


After a stirring run last year at USC, could Ed O be next up at Kansas? Links: http://t.co/RgbcEDziXK http://t.co/EhNKsI7J1l
about 10 hours ago

StanfordFball

Stanford Football


#StanfordNFL RT @Colts: This week's "Player Play-By-Play" looks at @Coby's catches. WATCH: http://t.co/k2nYoG93mK http://t.co/Xe2OkDMZjZ
about 10 hours ago

pac12

Pac-12 Conference


#pac12msoc heats up this week as Conference play begins: http://t.co/nHssOqT7vb
about 10 hours ago

maeubanks

Mike Eubanks


Forecast high of 52 & rain on Saturday in South Bend. 80s & sunshine on The Farm this weekend, so let's take care of business and get home.
about 11 hours ago

ESPN_Pac12blog

ESPN_Pac12blog


Vote for the Pac-12 Play of the Week: Montgomery, Mayle, Lasco, Adams or Haily Mary 2.0. http://t.co/cxY28h5Lwe http://t.co/L0chOKAuBq
about 11 hours ago

ESPN_Pac12blog

ESPN_Pac12blog


USC QB commit Ricky Town was at the Trojans' win Saturday with a couple of other prospects. http://t.co/0SaRLKfG4o http://t.co/RiDQvb35lH
about 11 hours ago

stanfordmag

Stanford Magazine


.@CoachDavidShaw to #Raiders? "Flattering, but I think everyone knows I am dedicated here, I love it here."
about 11 hours ago

Pac12Networks

Pac-12 Networks


.@WinTheDay is going pink for Kay Yow on Thursday. What do you think? https://t.co/9AP7SYdDV7 http://t.co/rt2Ssgxyi0
about 11 hours ago

ArizonaFBall

Arizona Football


Austin Hill behind-the-scenes with @AdamsonAshley @Pac12Networks. He still smiles watching #HillMary. #BearDown http://t.co/5dBfgBDdyS
about 11 hours ago

StanfordFball

Stanford Football


.@BlakeLueders discusses being a Notre Dame commit; hasn't looked back since choosing to attend @Stanford #gostanford #NerdNation
about 11 hours ago

StanfordFball

Stanford Football


"He's a very mobile QB but his arm is really dangerous, too. He can run but really wants to throw... He's a special player." - @BlakeLueders
about 11 hours ago

StanfordFball

Stanford Football


"Life's unfair, football's unfair." - Kevin Hogan, calmly reflecting on 2012 loss at Notre Dame and moving on
about 11 hours ago

StanfordFball

Stanford Football


"I've been looking forward to this game for a while. I'll have about 20 (friends & family) there." - @BlakeLueders #gostanford
about 11 hours ago

StanfordFball

Stanford Football


"I want to do something in education policy... when football ends I want to get my masters and then do something with that." -Richards
about 11 hours ago

StanfordFball

Stanford Football


"He tells us that offense are always telling a story and we just have to pick up the book and read it" -Richards on @CoachAkina teachings
about 11 hours ago

StanfordFball

Stanford Football


Richards notes that he can't wait to get onto the field each game with 100 of his best friends to represent @Stanford #gostanford
about 12 hours ago

StanfordFball

Stanford Football


Jordan Richards says defense goes out (onto field) when called upon and wants to get off field in three plays or less. #gostanford
about 12 hours ago

StanfordFball

Stanford Football


"Life's unfair, football's unfair." - Kevin Hogan, calmly reflecting on 2012 loss at Notre Dame and moving on
about 12 hours ago

ESPN_Pac12blog

ESPN_Pac12blog


ICYMI: USC's defense redeemed itself in a big way against Oregon State. http://t.co/6Yj1gD7qDo http://t.co/9XIEgs5N28
about 12 hours ago

Pac12Networks

Pac-12 Networks


Picture perfect, @USC_Athletics.The week in social: http://t.co/eof9Wl1tTy http://t.co/Fcpn6ZNhYi
about 12 hours ago

StanfordFball

Stanford Football


.@khoagie8 says it will be special going to Notre Dame with many family connections there. Saw 7-8 games there growing up #gostanford
about 12 hours ago

StanfordFball

Stanford Football


.@khoagie8 had a career-high 14 rushes last week; spoke about going through progressions, taking what good defense allows
about 12 hours ago

StanfordSports

Stanford Daily Sport


We break down the crucial play from @StanfordFball 's win over Washington. http://t.co/elMuAtlVqO
about 12 hours ago

ShayneSkov

Shayne Skov


It's all one big oddity
about 12 hours ago

StanfordFball

Stanford Football


.@CoachDavidShaw wants to get more touches for @TyMontgomery2; Ty is also a great blocker; ran over three tacklers on TD catch last week
about 12 hours ago

ShayneSkov

Shayne Skov


Try to remind myself as much as possible where you are in life is transient, for the better and for the worse
about 12 hours ago

StanfordFball

Stanford Football


.@CoachDavidShaw says that Kalambayi is on a good progression to get on field. Sophomore is very conscientious of teammates, study
about 12 hours ago

ShayneSkov

Shayne Skov


"@loleu: Sion's new skills. #leagueoflegends #lol #sion https://t.co/ANtk8eWiGj"😳😱😬😈
about 12 hours ago

StanfordFball

Stanford Football


It took 22 min to be asked about Oakland job. Shaw flattered but work here is unfinished; love for school well known. Has not been contacted
about 12 hours ago

StanfordFball

Stanford Football


Program has longstanding concussion study in place with high-tech cameras, mouth guards with sensor chips. #NerdNation
about 12 hours ago

StanfordFball

Stanford Football


.@CoachDavidShaw says program has a heightened awareness of concussions & protocols in place. Stanford at forefront of concussion studies
about 12 hours ago

StanfordFball

Stanford Football


.@CoachDavidShaw says Vaughters played his best game on Sat.; benefitted from rotation with Kalambayi, who was @pac12 Def. Player of week
about 12 hours ago

StanfordFball

Stanford Football


.@CoachDavidShaw says running back rotation continues to be situational. Every game could feature a different player leading team in carries
about 12 hours ago

StanfordFball

Stanford Football


.@CoachDavidShaw says team has been efficient in running the ball. Turnovers, penalties and missed FGs have hurt production thus far.
about 12 hours ago

Pac12Networks

Pac-12 Networks


Benny90X RT @BennytheBeaver: @Pac12Networks Lots of log lifts!
about 12 hours ago

StanfordFball

Stanford Football


.@CoachDavidShaw says staff has recruited very well, believes program has several elite pass rushers among youngsters, incl. Kalambayi
about 12 hours ago

StanfordFball

Stanford Football


.@CoachDavidShaw says that Peat is healthy and will play; same for Hemschoot. Whitfield will not play.
about 12 hours ago

Pac12Networks

Pac-12 Networks


Have you been working out, @BennyTheBeaver?Watch this week's #SportsReport Mascot Challenge: http://t.co/1ESUqBSFQZ http://t.co/aeTNpU80X8
about 12 hours ago

StanfordFball

Stanford Football


"He's a phenomenal student … He's still learning a lot." - @CoachDavidShaw on OLB @Doggnasty34, who had three sacks last week #gostanford
about 13 hours ago

ESPN_Pac12blog

ESPN_Pac12blog


Week 5 Pac-12 QB Power Rankings http://t.co/3qr3s10nz8
about 13 hours ago

StanfordFball

Stanford Football


"He's a phenomenal student … He's still learning a lot." @CoachDavidShaw on ILB @Doggnasty34, who had three sacks last week #gostanford
about 13 hours ago

StanfordFball

Stanford Football


"The perfect game for me is running for 250 and passing for 250… and being balanced." @CoachDavidShaw on proliferation of passing offense
about 13 hours ago

StanfordFball

Stanford Football


"What we found out was that we have a lot of leadership on that unit… These guys just play really, really hard."- @CoachDavidShaw on defense
about 13 hours ago

StanfordFball

Stanford Football


"Right now we have not been efficient down there (in the red zone). We don't have to make wholesale changes." - @CoachDavidShaw #gostanford
about 13 hours ago

StanfordFball

Stanford Football


"I think Remound has given us consistency (at RB)." - @CoachDavidShaw when asked about @Blaq_Cognizance's style. #gostanford
about 13 hours ago

Pac12Networks

Pac-12 Networks


Guess who's still #1 in the @ustfccca men's cross-country poll? http://t.co/tCxoPBIFDk http://t.co/2WJHeE9hAL
about 13 hours ago

GoMightyCard

Go Mighty Card


Honestly, I could watch this all day long. https://t.co/p531ijSUy3
about 13 hours ago

Pac12Networks

Pac-12 Networks


Forget #TBT, we're flashing back on a Tuesday night with this @CalFootball classic game: http://t.co/mAfYhumulp http://t.co/ed7ajY1EOj
about 14 hours ago

StanfordSports

Stanford Daily Sport


An impressive road trip for @StanfordFH includes a victory over No.2 Connecticut for first time in program history. http://t.co/AkL3C9KQh3
about 14 hours ago

maeubanks

Mike Eubanks


September is too early to start the coaching carousel, CFB or NFL. Barring conduct, 4 games isn't significant new data beyond what you knew.
about 14 hours ago

StanfordFball

Stanford Football


Come tackle the latest edition of #StanfordSkills with Jordan Richards: http://t.co/fpQJMgjygK http://t.co/v64MlS2ePm
about 14 hours ago

Pac12Networks

Pac-12 Networks


Still basking in the glow of the ASU win, @UCLAFootball fans? #TheDrive returns tomorrow. http://t.co/iw30Afz4Gg http://t.co/QgAZRoLOnD
about 15 hours ago
PAC-12 SCOREBOARD
Thursday, 10/2
Saturday, 10/4
BLOG ARCHIVE:
CATEGORIES: