ESPN Junior 300 analysis: Pac-12
November, 19, 2013
11/19/13
7:00
PM ET
By
erikmckinney
| ESPN Insider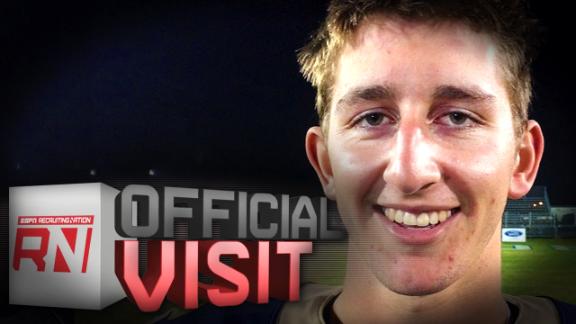 Tuesday saw the release of the
updated ESPN Junior 300
and Pac-12 targets are sprinkled heavily throughout the list. With a number of changes overall, we take a look at some of the movement up and down, as well as what the future holds for several of the West's top 2015 ESPN 300 prospects.
To continue reading this article you must be an Insider
Insider
Shaw Plans To Remain At Stanford
Adam Schefter has the latest on coach David Shaw, who plans to remain with Stanford despite major interest from the NFL.
Shaw Plans To Remain At Stanford
VIDEO PLAYLIST
CARDINALNATION RECRUITING NEWS
STANFORD FB RECRUITING SCORECARD
Nike Men's Stanford Cardinal Rose Bowl Game Mascot T-shirt Shop »
CardWrestling

Stanford Wrestling


Full recap & results of @CardWrestling in the #RenoTOC http://t.co/5U5JuemjFN Wilson wins title, 7 placewinners overall #CardinalCaliber
about 3 hours ago

SanfordBSU

Coach Mike Sanford


Awesome watching my guy Stepfan Taylor aka @KULABAFI on the very field that we will be battling for a @FiestaBowl trophy in 10 days! #ATF
about 8 hours ago

Pac12Networks

Pac-12 Networks


This gourmet jam from @wsumenshoops' Que Johnson is our #SJSUvsWSU Play of the Game: http://t.co/ey4aOQUVbA
about 9 hours ago

Pac12Networks

Pac-12 Networks


Coach Kent and the Cougs win big in Pullman!#SJSUvsWSU postgame coverage: http://t.co/ajq5euT6HH http://t.co/3QaCNUsZvW
about 9 hours ago

Pac12Networks

Pac-12 Networks


Louisville came away the victor in its battle with the Bears in Berkeley. #LOUvsCAL http://t.co/Cl6KzD9CkF
about 11 hours ago

Pac12Networks

Pac-12 Networks


Get your Sunday evening started with the Spartans and Cougs from Pullman. #SJSUvsWSUhttp://t.co/YfMNDX35dA http://t.co/C0s4OnWtdU
about 11 hours ago

Pac12Networks

Pac-12 Networks


Monday on #SportsReport, @WinTheDay defensive coordinator Don Pellum discusses Ifo Ekpre-Olomu's injury. Preview: http://t.co/HYXLR3XC3K
about 12 hours ago

Bill_Nye_Tho__

BILL_NYE_THO


hahaha llamas look silly as hell b http://t.co/ctWCoNLwsO
about 12 hours ago

ShayneSkov

Shayne Skov


I actually like brussel sprouts now... Holy crap I'm getting old
about 12 hours ago

TheWeapon13

Jeremy McNichols


Congrat to my big brother for declaring for the 2015 draft.Enjoyed watching you do work this year.We still got 1more! http://t.co/ku5uaZUdOk
about 12 hours ago

K_Ridd

Kent Riddle


Honored for the opportunity to work with @JayTrain27 for a year! Congrats on realizing a lifelong goal! We are all proud of you! #ATF #NFL
about 12 hours ago

SanfordBSU

Coach Mike Sanford


Fired up for one more opportunity for us to ride the @JayTrain27 down in Glendale. You've earned this shot at the next level! #ATNFL
about 12 hours ago

Pac12Networks

Pac-12 Networks


Brianna Barrett's three the old fashioned way is your #OKSTvsUSC Play of the Game: http://t.co/0tviWSleqR
about 13 hours ago

Pac12Networks

Pac-12 Networks


It was a fight to the finish, but @USCWBB fell short to Oklahoma State. Continuing coverage: http://t.co/brAm3RAU8w http://t.co/YdRIv8rcea
about 14 hours ago

Pac12Networks

Pac-12 Networks


This one's big. A top 25 showdown in Berkeley awaits for @CalWBBall. #LOUvsCAL http://t.co/YfMNDX35dA http://t.co/9UFRWNEKyg
about 14 hours ago

Pac12Networks

Pac-12 Networks


With under a minute left, @uscwbb is in a BATTLE with Oklahoma State. Watch it: http://t.co/YfMNDX35dA
about 14 hours ago

KTVBSportsGuy

Jay Tust


After picking up a BSU record 2,225 yards from scrimmage as a junior, #BoiseState RB Jay Ajayi is entering NFL Draft. http://t.co/u5OkTN4e1s
about 14 hours ago

Pac12Networks

Pac-12 Networks


High noon in LA means @uscwbb and No. 19 Oklahoma State at Galen. #OKSTvsUSC http://t.co/YfMNDX35dA http://t.co/cyNqZf1lDH
about 16 hours ago

StanfordFball

Stanford Football


Final practice is a wrap, everybody heading home for Christmas break with their families! #gostanford #happyholidays http://t.co/tfVsImHelb
about 16 hours ago

StanfordSports

Stanford Daily Sport


.@StanfordWVB's season ended Thursday in the nat'l semifinal at the hands of the eventual champions, @PennStateVBALL. http://t.co/VkrNVg6bkL
about 17 hours ago

StanfordFball

Stanford Football


Good luck to David in his debut. #StanfordNFL RT @MasterStrib: Rookie guard @papa_yank active for the first time this season. #Vikings
about 18 hours ago

StanfordFball

Stanford Football


"@CoachDavidShaw plans to stay as Stanford coach, shun NFL coaching opportunities" - http://t.co/m734DQHJK9 via @AdamSchefter #gostanford
about 19 hours ago

StanfordFball

Stanford Football


David Shaw plans to stay as Stanford Cardinal coach, shun NFL coaching opportunities - http://t.co/m734DQHJK9 via @AdamSchefter #gostanford
about 19 hours ago

treeSIDjorge

Alan George


Year of the Cardinal ... http://t.co/L7Y5vUb0Fs #GoStanford #FearTheTree #NerdNation
about 19 hours ago

StanfordFball

Stanford Football


Last practice this morning before all head home. #LockerRoom #MerryChristmas #GoStanford http://t.co/gYlDUyVFe8
about 19 hours ago

StanfordFball

Stanford Football


Last practice this morning before all head home. #LockerRoom #MerryChristmas #GoStanford http://t.co/gYlDUyVFe8
about 19 hours ago

StanfordOnScout

Scout Cardinal


#Stanford Card Come Close, Cougars Get Win - Stanford has a close call in Provo, but BYU escapes with the v... http://t.co/9vi0GuKOl5
1 day ago

StanfordSports

Stanford Daily Sport


79-77 is your final from Provo after a furious comeback falls barely short at the end. Card get No. 9 Texas in Austin next. Tough draw.
1 day ago

StanfordSports

Stanford Daily Sport


Card looked sloppy and lost at times, but this team's resiliency is really something else. Just won't go away easily.
1 day ago

StanfordSports

Stanford Daily Sport


Stanford and Randle got the looks that they wanted at the end, and the shots just didn't fall. That happens, not much you can do about that.
1 day ago

StanfordSports

Stanford Daily Sport


Card get the ball back down 79-77 with 4.8 to go, and Randle misses the buzzer-beater. BYU wins by that final score.
1 day ago

StanfordSports

Stanford Daily Sport


Randle misses the long 3 on a clean look. Stanford will get the ball back with a chance.
1 day ago

StanfordSports

Stanford Daily Sport


Travel. Stanford down 2, gets the ball back and can kill the clock.
1 day ago

StanfordSports

Stanford Daily Sport


Randle with the clutch 3! We have a two-point game, 79-77 with just under a minute to go. ESPNU. Don't miss this ending.
1 day ago

StanfordSports

Stanford Daily Sport


Two forced turnovers later, it's back to a 77-72 game. Stanford doing whatever it can to stick around.
1 day ago

StanfordSports

Stanford Daily Sport


Stanford playing sloppy ball, BYU playing clean, foul-free ball on the other end. It's 72-59 Cougars, who have opened it up with 5 to play.
1 day ago

StanfordSports

Stanford Daily Sport


Miscues and sloppy passing from Stanford cue another BYU run, and the lead is back to 9 at 68-59 with 6 minutes to go.
1 day ago

StanfordSports

Stanford Daily Sport


Stanford cuts the lead to 61-57 with 7:25 to play. Card stubbornly hanging around against a quality opponent.
1 day ago

StanfordSports

Stanford Daily Sport


Sanders sinks the breakaway transition 3 to pull the BYU lead back down to 6 and kill some momentum. Stanford hanging around. 61-55 Cougars.
1 day ago

StanfordSports

Stanford Daily Sport


Sanders and Allen check in with the Card trailing by 9. A run from BYU opens up the lead again.
1 day ago

StanfordSports

Stanford Daily Sport


Freshman forward Reid Travis already has a career-high 15 points.
1 day ago

StanfordSports

Stanford Daily Sport


After trailing the Cougars throughout the first half, Stanford within 3 at 52-49 BYU midway through the second half.
1 day ago

Pac12Networks

Pac-12 Networks


.@SunDevilHoops' Savon Goodman hurt the rim with this right-handed slam, our Play of the Game: http://t.co/ifLgHRi2yi
1 day ago

Pac12Networks

Pac-12 Networks


Lehigh prevails over @SunDevilHoops in 3OT http://t.co/EksEKruXFH
1 day ago

Pac12Networks

Pac-12 Networks


---> RT @UO_Kwade @Pac12Networks #Pac12AfterDark
1 day ago

Pac12Networks

Pac-12 Networks


How about five more minutes of #LEHvsASU? TRIPLE OVERTIME on all 7 networks and here: http://t.co/btKPAgjAjE
1 day ago

Pac12Networks

Pac-12 Networks


EXTRA EXTRA BASKETBALL in Tempe! We head into 2OT tied at 68. #LEHvsASU http://t.co/YfMNDX35dA
1 day ago

Pac12Networks

Pac-12 Networks


EXTRA BASKETBALL in Tempe! #LEHvsASU heads into OT on all 7 networks with a 64-64 finish in regulation. http://t.co/YfMNDX35dA
1 day ago

Pac12Networks

Pac-12 Networks


#LEHvsASU is a two-point game with just over two minutes left. WATCH the end here: http://t.co/YfMNDX35dA
1 day ago

Pac12Networks

Pac-12 Networks


Hello, large dancing chicken man: http://t.co/HaA6r0pZ82[BRICK]#LEHvsASU http://t.co/YfMNDX35dA
1 day ago

Pac12Networks

Pac-12 Networks


#LEHvsASU is heating up on all 7 networks with under 10 minutes left . @SunDevilHoops is surging! WATCH: http://t.co/YfMNDX35dA
1 day ago

StanfordFball

Stanford Football


We kick off 10 days from now at @LevisStadium. #lockerroom #gostanford http://t.co/D2CEysBkyx
1 day ago

IDS_BroncoBeat

Bronco Beat


Four of the six teams in the Mountain West Mountain Division now have at least 10 wins.
1 day ago

SanfordBSU

Coach Mike Sanford


Huge congrats to both @AFFootball and @USUFootball on winning big bowl games today and getting to 10 wins. #MWC
1 day ago

maeubanks

Mike Eubanks


.@ZERTZ_86 (24y,41d) is the 2nd youngest player in NFL history w/ 15+ receptions in a game (@IsaacBruce80 23y,44d). #StanfordNFL #TightEndU
1 day ago

StanfordFball

Stanford Football


.@ZERTZ_86 is just the 21st player in NFL history w/ a 15-reception game. Joins HOFs Largent @Andre_Reed83 @JerryRice Winslow. #StanfordNFL
1 day ago

StanfordFball

Stanford Football


.@ZERTZ_86 is just the 21st player in NFL history w/ a 15-reception game. Joins HOFs Largent @Andre_Reed83 @JerryRice Winslow. #StanfordNFL
1 day ago

Pac12Networks

Pac-12 Networks


A Patriot League/Pac-12 soiree is about to tip off in the desert. #LEHvsASU http://t.co/YfMNDX35dA http://t.co/ojP9kIi77k
1 day ago

Pac12Networks

Pac-12 Networks


Devontae Booker is something else. His 60-yd sprint to the house for @Utah_Football is our #lvbowl Play of the Game: http://t.co/K5buwNdph0
1 day ago

Pac12Networks

Pac-12 Networks


Devontae Booker, @Utah_Football's all-time leading rusher, will not go down. He's got your #lvbowl Play of the Game: http://t.co/lIzNFAM5W7
1 day ago

ESPN_Pac12blog

ESPN_Pac12blog


Instant Analysis: Utah 45, Colorado State 10 http://t.co/be3I1vD91w
1 day ago

stanfordbball

Stanford Men\'s Hoops


Stanford visiting Provo for first time since 1970, taking on BYU tonight (8 p.m. PT, ESPNU): http://t.co/HHhgVXvl8S http://t.co/pnhGFpgQqT
1 day ago

StanfordFball

Stanford Football


#StanfordNFL RT @ESPNStatsInfo: .@ZERTZ_86's 15 receptions = most by an Eagles player since merger; NFL's last 15-reception game was 2012
1 day ago

StanfordFball

Stanford Football


"How many times does @ZERTZ_86 have to catch the ball before Jim Haslett double teams him?" 14 catches. #PHIvsWAS #StanfordNFL #TightEndU
1 day ago

StanfordFball

Stanford Football


Lucky 13 catches + 98 yards for @ZERTZ_86 w/ the @Eagles driving at two-minute warning. Tune @nflnetwork. #PHIvsWAS #StanfordNFL #TightEndU
1 day ago

Pac12Networks

Pac-12 Networks


Jackpot, Utes! #BackThePac #lvbowlContinuing coverage: http://t.co/tCVuLeu445 http://t.co/GF6sHrIxBP
1 day ago

StanfordFball

Stanford Football


"The Redskins have no answer right now for @ZERTZ_86." Career-high ninth reception and another first down. #PHIvsWAS #StanfordNFL #TightEndU
1 day ago

Pac12Networks

Pac-12 Networks


The #Utes are makin' it rain in Vegas! Touchdown, Bubba Poole. #BackThePac #lvbowl
1 day ago

Pac12Networks

Pac-12 Networks


#BackThePac
1 day ago

StanfordFball

Stanford Football


.@ZERTZ_86 has tied his career high with six receptions today - before halftime. Second half underway. #PHIvsWAS #StanfordNFL #TightEndU
1 day ago

maeubanks

Mike Eubanks


Reminder that the greatest win margin over UCLA is held by @stanfordbball. I'll never forget the Massacre at Maples: http://t.co/t93PgMTxiU
1 day ago

Pac12Networks

Pac-12 Networks


At the half in Sin City, the Utes lead Colorado St, 24-10, in the #lvbowl. Here are your 1st half at-a-glance stats: http://t.co/QK8LM0GqIc
1 day ago

StanfordFball

Stanford Football


#StanfordNFL RT @Redskins: Injury Update: OLB @TMurphy_93 (hand) is QUESTIONABLE to return. #PHIvsWAS
1 day ago

StanfordFball

Stanford Football


#StanfordNFL RT @Redskins: INJURY UPDATE: OLB Trent Murphy (hand) is QUESTIONABLE to return. #PHIvsWAS
1 day ago

Pac12Networks

Pac-12 Networks


The Ducks fly by the Hornets in Eugene. #DSUvsUO Continuing coverage: http://t.co/gaA2td8Vc8 http://t.co/kvC45vE1jm
1 day ago

Pac12Networks

Pac-12 Networks


Who's ready for one of the greatest college basketball comebacks of all time? #UKvsUCLA
1 day ago

StanfordFball

Stanford Football


Best of luck to @CTcard44 today, promoted to @49ers active roster for #SDvsSF! #NinersNation #StanfordNFL http://t.co/C1P9rmXipv
1 day ago

Pac12Networks

Pac-12 Networks


It's like @serial of basketball recruiting, and Kevin O'Neill is our Sarah Koenig. Subscribe: http://t.co/JvA18j5ge7 http://t.co/l87fAC7znW
1 day ago

Pac12Networks

Pac-12 Networks


21! #Utes #BackThePac #lvbowl
1 day ago

Pac12Networks

Pac-12 Networks


#Utes all day. #BackThePac
1 day ago

Pac12Networks

Pac-12 Networks


Remember: Show your love for the conference across all 8 bowl games by tweeting with #BackThePac.
1 day ago

Pac12Networks

Pac-12 Networks


It's time.RT this if you're ready to #BackThePac and get behind @utah_football at the #lvbowl! http://t.co/2RQ9qj1oHE
1 day ago

Pac12Networks

Pac-12 Networks


Right this way to @utah_football's game notes for today's #lvbowl. #BackThePac http://t.co/7rvdM8oiKq http://t.co/EFdd7rTtfb
1 day ago

Pac12Networks

Pac-12 Networks


.@UCLAMBB gets its chance to challenge No. 1 Kentucky this afternoon in Chicago. Preview: http://t.co/1J5uQeQiD7 http://t.co/EYQVudGT72
1 day ago

StanfordWGym

Stanford Gymnastics


Check out @beckywing92 & @JennaFrowein final projects from fall quarter! #scholarathletes http://t.co/4yVYvTkj9h http://t.co/3rvC3ZhpaD
1 day ago

Pac12Networks

Pac-12 Networks


Get yourself ready for the #lvbowl with @AlexEspinozaIV's preview: http://t.co/fe7n9wLwIt http://t.co/9QlbJGGl3y
1 day ago

Pac12Networks

Pac-12 Networks


.@stanfordwbb. Tennessee. It's a rivalry that resumes this morning in Knoxville. http://t.co/297n0TzM8w http://t.co/GlMebp2lLY
1 day ago

douthitt_m

Matt Douthitt


Good luck to @utahathletics today in the @LasVegasBowl #backthepac #beattherams
1 day ago

AMarkhamRivals

Alex Markham


#UteNation, go to @Pac12Networks to watch a bunch of the Utes' big wins--an hour each--leading up to the Las Vegas Bowl. #GoUtes
1 day ago

Pac12Networks

Pac-12 Networks


It wasn't easy, but @APlayersProgram is 12-0 after scraping out a win over UTEP last night. http://t.co/ptUxFlrgRt http://t.co/hfzP00rHsw
1 day ago

spencergbird

Spencer Bird


Gearing up for the @LasVegasBowl by watching the football in 60 Utah editions on the @Pac12Networks right now! #GoUtes
1 day ago

Pac12Networks

Pac-12 Networks


Look alive! The first ever Pac-12 Networks Basketball Podcast is in iTunes! Subscribe: http://t.co/JvA18j5ge7 http://t.co/f9clWlsdE7
1 day ago

Pac12Networks

Pac-12 Networks


Good morning! Who's ready to #BackThePac today? #lvbowl @Utah_Football
1 day ago

ESPN_Pac12blog

ESPN_Pac12blog


#1QFor128: Coaches weigh in on playoff http://t.co/XuQxmdLgLv
1 day ago

ESPN_Pac12blog

ESPN_Pac12blog


Recruit and return: Utah http://t.co/pbydZXD0Ni
1 day ago

Pac12Networks

Pac-12 Networks


Christian Behrens got a tech for hanging on the rim after the #EWUvsCAL Play of the Game. Whatever. #WorthIt http://t.co/BKZlc5W6pi
2 days ago

Pac12Networks

Pac-12 Networks


No, you da man! Christian Behrens' career-high 20 pts propels @CalMensBball to victory: http://t.co/VoxWUSZZIb http://t.co/SoZIiYlS4g
2 days ago
PAC-12 SCOREBOARD
Saturday, 12/20
Monday, 12/22
Tuesday, 12/23
Wednesday, 12/24
Friday, 12/26
Saturday, 12/27
Monday, 12/29
Tuesday, 12/30
Wednesday, 12/31
Thursday, 1/1
Friday, 1/2
Saturday, 1/3
Sunday, 1/4
Monday, 1/12
BLOG ARCHIVE:
CATEGORIES: