Getting to know Jashon Cornell
April, 18, 2014
Apr 18
10:00
AM ET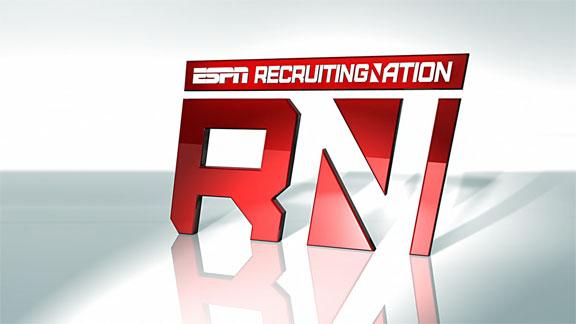 Throughout this recruiting cycle, RecruitingNation will profile a number of ESPN 300 prospects in the 2015 class, including an inside look at the prospect, his recruitment, a scouting report and what college program could benefit when he ultimately makes his decision.
When you attend a school as prestigious as Cretin-Derham Hall, as No. 16-ranked recruit
Jashon Cornell
does, you are bound to have connections. The Minnesota school has produced its share of college and NFL players over the years, including associate dean of students Marcus Freeman, who played for Notre Dame.
To continue reading this article you must be an Insider
Insider
Drive Through: Top Early Games of the Season
Highlighted by the top ten matchup between Oregon and Michigan State in week two, Chris Low and Cary Chow look at the best of the best games to start the college football season.
Drive Through: Top Early Games of the Season
VIDEO PLAYLIST
CARDINALNATION RECRUITING NEWS
STANFORD FB RECRUITING SCORECARD
Nike Men's Stanford Cardinal Rose Bowl Game Mascot T-shirt Shop »
StanfordFball

Stanford Football


It's now 10 days until the Cardinal season kicks off!Good night. #gostanford
47 minutes ago

ShayneSkov

Shayne Skov


Give her your shiny Charizard so that she knows that it's realSIIIIIIIKE no way would I ever give that to a girl, she can have my Pidgeot
about an hour ago

Pac12Networks

Pac-12 Networks


What changes have new head coach Chris Petersen made at @UW_Football? Canoe races? VIDEO: http://t.co/e8FaQBYCwV http://t.co/27Gha8dgbm
about 2 hours ago

Pac12Networks

Pac-12 Networks


Tune in tomorrow night at 9 p.m. PT on Pac-12 Networks to catch Football Training Camp's visit to @USC_Athletics. http://t.co/qe8Sf6RXD1
about 2 hours ago

maeubanks

Mike Eubanks


4 out of 5 doctors disagree. RT @FtblSickness: RT @JuMosq: Re-watching #StanfordOregon is bad for my health. http://t.co/UI6iYwsy1J
about 3 hours ago

StanfordMSoccer

StanfordMen'sSoccer


Stanford blanks Bakersfield 1-0 in the first of two exhibitions this week. @eddiebob goal leads an 18-shot barrage: http://t.co/OVwTOYVrMJ
about 3 hours ago

StanfordFball

Stanford Football


ICYMI: our Open House together with our fans on Saturday was awesome. WATCH: https://t.co/E81ywQWdkw #gostanford http://t.co/HeFoKmnOFr
about 3 hours ago

Pac12Networks

Pac-12 Networks


#NW: It's time to bow down to @UW_Football. The Huskies Training Camp special is on now!Watch it on air or at http://t.co/YfMNDWur3w.
about 3 hours ago

Pac12Networks

Pac-12 Networks


Fill in the blank: @UW_Football's game against ____ is the most important one in 2014. http://t.co/ouWMIPU0LD
about 4 hours ago

ShayneSkov

Shayne Skov


I think it only fair that I be allowed to rock my recovery tights without pants
about 4 hours ago

Pac12Networks

Pac-12 Networks


What's it like to get coached up by @WSUCougarSoccer's John Harvey? http://t.co/o7TrL13e9Q http://t.co/uF1mrurzf6
about 5 hours ago

StanfordFball

Stanford Football


.@GrahamShuler draws upon the wisdom of his Stanford center forefathers. #TunnelWorkersUnion #gostanford #cardcamp14 http://t.co/B07kMkCTvE
about 5 hours ago

StanfordFball

Stanford Football


.@GrahamShuler draws upon the wisdom of his Stanford center forefathers. #TunnelWorkersUnion #gostanford #cardcamp14 http://t.co/B07kMkCTvE
about 5 hours ago

Pac12Networks

Pac-12 Networks


ICYMI: Five #pac12msoc players are on the @csoccernews preseason All-American list. http://t.co/waxRmOvqLB http://t.co/En5HRh8gsS
about 6 hours ago

LilaBarton

Lila Barton


This is great! A mic'd up @T_J_E_83 during the @49ers game featuring @CTcard44 #whitechocolate #chucknorris http://t.co/cxCqn34gzq
about 6 hours ago

ShayneSkov

Shayne Skov


Oh hell noRT @karissakellie: They count phone games #candycrush "@SanFranciscoVC: Adult Women Gamers Now More Numerous Than Under-18 Boys"
about 6 hours ago

Pac12Networks

Pac-12 Networks


Reminder: We want to see photos of your pets dressed to the Pac-12 nines! http://t.co/Ru5GgCSmSy http://t.co/kUC94GyBMX
about 6 hours ago

StanfordFball

Stanford Football


Bill Walsh Legacy Kids Free GameFree for kids 8th grade & under 8.30.14, 1 PM vs. UC Davishttp://t.co/vtQXNHo3eO http://t.co/99NYRz1dBW
about 6 hours ago

Pac12Networks

Pac-12 Networks


No pun intended, but @FootballASU thinks their new unis are hot. http://t.co/CLRP4NlGAu http://t.co/mrHiXIr15k
about 7 hours ago

Pac12Networks

Pac-12 Networks


.@RyanMcGrady would like to have a word (well, many words) with you about @UW_Football. http://t.co/AMy7TvZDo2 http://t.co/jfRt0303BJ
about 7 hours ago

ESPN_Pac12blog

ESPN_Pac12blog


ICYMI: Washington Huskies preseason preview capsule. http://t.co/2H8Wkwvfnz
about 7 hours ago

Pac12Networks

Pac-12 Networks


YES! MT @bigtenconf: #B1G Commissioner Jim Delany accepted @pac12 Larry Scott's #ALSIceBucketChallenge & donated http://t.co/tCMphsTPh6
about 8 hours ago

saxyrunner

Saxyrunner


.@Pac12Networks @WSUCougars Spyro, though canine by birth, has rightly chosen to support the #cougs #GoCougs http://t.co/b3kW3jOBiR
about 8 hours ago

ESPN_Pac12blog

ESPN_Pac12blog


Terrance Kelly's legacy lives on in movie http://t.co/NvcSuGqoFZ
about 8 hours ago

ScoutStanford

Scout Cardinal


Camp Report: Stanford Develops Cohesion http://t.co/YKaaHDd1Fd #Stanford
about 8 hours ago

ESPN_Pac12blog

ESPN_Pac12blog


ICYMI: In the loaded Pac-12, it can be easy to forget how good QBs Kevin Hogan and Taylor Kelly are. http://t.co/G749XgTZHx
about 9 hours ago

ESPN_Pac12blog

ESPN_Pac12blog


Taylor Kelly's only offer was from Nevada coming out of high school until Arizona State came in for him late. http://t.co/hkFM90mvJD
about 9 hours ago

Pac12Networks

Pac-12 Networks


A handful of top #pac12msoc players are on the @csoccernews preseason All-American teams. http://t.co/waxRmOvqLB http://t.co/Z8ie1MUlfR
about 10 hours ago

HardingHart

Christine


@Pac12Networks #fearthetree #pac12fb #kennydog #gostanford #nerdnation http://t.co/kpHYhOHFXU
about 10 hours ago

Pac12Networks

Pac-12 Networks


Seriously, we can't stop looking at these photos of your dogs wearing your Pac-12 team gear. Please don't stop. http://t.co/qwG4AVm6z1
about 11 hours ago

Pac12Networks

Pac-12 Networks


This is a dog named Autzen wearing a @goducks collar. RT @joncavanagh: @Pac12Networks Autzen - http://t.co/daGOVG7vY4
about 11 hours ago

bpratt07

Bryan Pratt


@Pac12Networks @RunRalphieRun Bart is always wearing his black and gold #gobuffs http://t.co/t8PmokAdnr
about 11 hours ago

AtomicUdubDawg

Al Schmid


@Pac12Networks Jake http://t.co/PwBzDQr7B5
about 11 hours ago

AlexysGarcia

Alexys Garcia


@Pac12Networks Go Cougs!! #Pac12fb http://t.co/klfTNQNyA9
about 11 hours ago

sundevilscott

Scott Williams


@Pac12Networks Here is Tillman and he can't wait for the season to start!! Go Devils!! @FootballASU http://t.co/zb8AhRQUb6
about 11 hours ago

eephus

garrett


@Pac12Networks Zooey is ready for kickoff down on The Farm #pac12fb #gostanford http://t.co/l3K4UH7y23
about 11 hours ago

Pac12Networks

Pac-12 Networks


You all have sent some awesome photos of your pets in Pac-12 team gear! Let's take a look at some, shall we?
about 11 hours ago

StanfordFball

Stanford Football


"Marxism - we have to contain it!"@kanderson48 after frosh FB Daniel Marx trucks two defenders on 3rd & 1 for 6 yds #cardcamp14 #gostanford
about 11 hours ago

StanfordFball

Stanford Football


"Marxism - we have to contain it!"@kanderson48 after frosh FB Daniel Marx trucks two defenders on 3rd & 1 for 6 yds #cardcamp14 #gostanford
about 11 hours ago

ESPN_Pac12blog

ESPN_Pac12blog


Better know a Pac-12 QB: Travis Wilson http://t.co/Kv75O084O3
about 11 hours ago

Pac12Networks

Pac-12 Networks


Oh, man. We totally meant to tag @UW_Spirit in our last tweet. (Wisconsin, you're cool and all, but today's all about Washington.)
about 12 hours ago

Pac12Networks

Pac-12 Networks


Tonight on the @UW_Football Training Camp show: @UWCheer members meet live fish! GIF: http://t.co/HMou02KbHI http://t.co/tBDWb30wd6
about 12 hours ago

OregonVB

Oregon Volleyball


The season opener against Ohio State (Aug. 29) will now be on @Pac12Networks! Here's how the team reacted. #GoDucks http://t.co/c6U19LVGbE
about 12 hours ago

maeubanks

Mike Eubanks


"They like fighters...sportsmen...guys who don't quit."Don't let your season end. When it does: http://t.co/TDNytEcSx0 #coachescanbeheroes
about 12 hours ago

Pac12Networks

Pac-12 Networks


What's cooler than showing how much your pet loves the Pac-12? Tweet us your pics! http://t.co/Ru5GgCSmSy http://t.co/JYWj2fuiNj
about 12 hours ago

StanfordAlumni

Stanford Alumni


Hewlett to Hoffman: @businessinsider profiles Stanford alumni tech stars http://t.co/Wc2OJUkfFD http://t.co/mUjk3S2HKs
about 12 hours ago

RyanMcGrady

Ryan McGrady


How will @UW_Football replace the legends they've lost. Here's how in the @Pac12Networks stat pack #GoDawgs #BowDown http://t.co/RPedqaxbHr
about 13 hours ago

ESPN_Pac12blog

ESPN_Pac12blog


ICYMI: Thanks to Arizona State, college football finally has "anthracite" uniforms. http://t.co/HPKYUPHbPw http://t.co/ITH8haAidz
about 13 hours ago

Mike_Yam

Michael Yam


A story of perseverance is part of the @Pac12Networks training camp show at 9pst @UWAthletics @UW_Football http://t.co/Hlfa3Ro0mg
about 13 hours ago

Pac12Networks

Pac-12 Networks


NEW: @UCLAMSoccer is the coaches' pick to win the Pac-12 this season. #pac12msoc http://t.co/cVelEiLDRN http://t.co/TmsMpvqgqI
about 13 hours ago

Pac12Networks

Pac-12 Networks


Adversity has only made @UW_Football's @DCoop_32 stronger. http://t.co/JevnqhSzWa http://t.co/w8peQ9SiUi
about 14 hours ago

ESPN_Pac12blog

ESPN_Pac12blog


Better know a Pac-12 QB: Connor Halliday http://t.co/Wq59iS3Rtf
about 14 hours ago

Pac12Networks

Pac-12 Networks


RT if you think @StanfordFBall will repeat as Pac-12 Champs! Follow them on Pac-12 Networks. http://t.co/XLGp1Fw7b7 http://t.co/QBO4q4lXjv
about 14 hours ago

Pac12Networks

Pac-12 Networks


RT if you think @StanfordFBall will repeat as Pac-12 Champs! Follow them on Pac-12 Networks. http://t.co/XLGp1Fw7b7 http://t.co/QBO4q4lXjv
about 14 hours ago

ESPN_Pac12blog

ESPN_Pac12blog


Don't forget, Arizona State's Taylor Kelly was second-team Pac-12 last year, not Brett Hundley or Sean Mannion. http://t.co/hkFM90mvJD
about 14 hours ago

pac12

Pac-12 Conference


Hear what the #pac12hoops all-stars had to say about their first taste of China. Video + pics: http://t.co/ZmejYSjQHQ http://t.co/REIn20lqax
about 14 hours ago

StanfordFball

Stanford Football


Live football action...great fun in the stadium. Saturday's Open House brought our fans & team together: https://t.co/E81ywQWdkw #gostanford
about 14 hours ago

Pac12Networks

Pac-12 Networks


Who's jacked that we're 9 days to kickoff? @BigAntHerron is! http://t.co/nF4vUbWOmb http://t.co/JEIMPpTnet
about 15 hours ago

StanfordFball

Stanford Football


Have 3 min? Relive Saturday's open house with another fun video from @CardinalChannel http://t.co/Xxm29CLhRr http://t.co/7JYhPNEYGU
about 15 hours ago

StanfordFball

Stanford Football


"We run the same stuff they do." - Card DC @CoachL_Anderson on @49ers DC #LordFangio http://t.co/3s0sdQdhKf #gostanford (via @wilnerhotline)
about 15 hours ago

Pac12Networks

Pac-12 Networks


Getting your kids ready for school right now? Here's a little @cubuffs humor for you! http://t.co/P85Js0TOiQ http://t.co/iTzocPkUuF
about 16 hours ago

ESPN_Pac12blog

ESPN_Pac12blog


ICYMI: The Pac-12 blog is looking at returning QBs all this week. Here's @Kevin_Gemmell on Stanford's Kevin Hogan. http://t.co/3x8vOGaFFz
about 16 hours ago

suathletics

Stanford Athletics


ICYMI, our @Stanford_AD contributed to #ALSIceBucketChallenge while being mindful of #drought conditions: http://t.co/8jDrQv2Wru #gostanford
about 16 hours ago

PaloAltoPolice

Palo Alto Police


Traffic reminder: all public schools in Palo Alto start today! Please be extra safe on your commute. http://t.co/G2jM7h9yoe
about 16 hours ago

ESPN_Pac12blog

ESPN_Pac12blog


LB Shaq Thompson headlines a Washington defense that returns plenty of talent. http://t.co/2H8Wkwvfnz http://t.co/4lmrekPPUU
about 16 hours ago

BroncoSports

BroncoSports


Hey @QMikell27, you ready to watch Grant Hedrick and the Broncos take on Ole Miss in nine days? #AttackTheFuture http://t.co/GuYR9XKsTM
about 17 hours ago

ESPN_Pac12blog

ESPN_Pac12blog


Washington State Cougars season preview http://t.co/8CezgIwRtq
about 17 hours ago

ESPN_Pac12blog

ESPN_Pac12blog


The summer Pac-12 recruiting scorecard is in. The cliff's notes version: Arizona good; Utah bad. http://t.co/dSBEM2rUiz
about 17 hours ago

StanfordFball

Stanford Football


#gostanford RT @osmattmurschel: Stanford ranked No. 6 in the @orlandosentinel college FB countdown. http://t.co/nsP3Pqq82p
about 17 hours ago

ESPN_Pac12blog

ESPN_Pac12blog


Which top schools play freshmen most? http://t.co/gRH3lHC1pD
about 18 hours ago

ESPN_Pac12blog

ESPN_Pac12blog


ICYMI: Utah officially named Travis Wilson as its starting quarterback. http://t.co/BquuzQU17p http://t.co/EyFsjWMC2S
about 18 hours ago

ESPN_Pac12blog

ESPN_Pac12blog


Oregon game looms large for Spartans http://t.co/helmHogTI9
about 18 hours ago

ESPN_Pac12blog

ESPN_Pac12blog


Washington CB Marcus Peters will be asked to carry an otherwise inexperienced Husky secondary. http://t.co/2H8Wkwvfnz http://t.co/jibxZdspl1
about 18 hours ago

ESPN_Pac12blog

ESPN_Pac12blog


ICYMI: Arizona is the hottest Pac-12 team on the recruiting trail right now after a wildly productive summer. http://t.co/dSBEM2rUiz
about 19 hours ago

ESPN_Pac12blog

ESPN_Pac12blog


Better Know A Pac-12 QB: Arizona State's Taylor Kelly. http://t.co/hkFM90mvJD http://t.co/E110nJax3s
about 19 hours ago

ESPN_Pac12blog

ESPN_Pac12blog


Pac-12 morning links http://t.co/GahkMhU928
about 19 hours ago

ESPN_Pac12blog

ESPN_Pac12blog


ICYMI: In today's Pac-12 links, Oregon's Byron Marshall reveals who he's playing for in 2014. http://t.co/ONVqgUEIqF http://t.co/aGmdHdszRi
1 day ago

ESPN_Pac12blog

ESPN_Pac12blog


He's no Andrew Luck, but Kevin Hogan has done just fine for Stanford. http://t.co/3x8vOGaFFz http://t.co/MHUXJG8DF2
1 day ago

ESPN_Pac12blog

ESPN_Pac12blog


ICYMI: We're trying something new with Pac-12 links. In today's edition, Steve Sarkisian wants to speed up USC. http://t.co/ONVqgUEIqF
1 day ago

ESPN_Pac12blog

ESPN_Pac12blog


The Pac-12 recruiting scorecard is in. Who are the biggest remaining targets for each team? http://t.co/dSBEM2rUiz
1 day ago

ESPN_Pac12blog

ESPN_Pac12blog


Thanks to Arizona State, college football finally has "anthracite" uniforms. http://t.co/HPKYUPHbPw http://t.co/AuNqD2NA6T
1 day ago

ESPN_Pac12blog

ESPN_Pac12blog


In a league of such extraordinary QBs, Kevin Hogan and Taylor Kelly can be underappreciated. http://t.co/G749XgTZHx http://t.co/yaclH1pQ4f
1 day ago

ESPN_Pac12blog

ESPN_Pac12blog


Washington is strong up defensively with the likes of Danny Shelton, but Qs remain on offense. http://t.co/2H8Wkwvfnz http://t.co/VJV0uSa5RJ
1 day ago

ESPN_Pac12blog

ESPN_Pac12blog


ICYMI: We're examining Pac-12 QBs this week. First up: Arizona State's Taylor Kelly. http://t.co/hkFM90mvJD http://t.co/feL8W1NXBl
1 day ago

ESPN_Pac12blog

ESPN_Pac12blog


Take a look at Arizona State's new uniforms. http://t.co/HPKYUPHbPw http://t.co/dXDRPMFZFV
1 day ago

ESPN_Pac12blog

ESPN_Pac12blog


In expected news, Utah officially announced Travis Wilson as its starting QB on Monday. http://t.co/BquuzQU17p http://t.co/PpDW9ouGy4
1 day ago

bryanharsin

Coach Bryan Harsin


FAMILY! #ATF http://t.co/T7jdyGCIUU
1 day ago

Pac12Networks

Pac-12 Networks


Another year, another trip to Camp T for fans of @FootballASU. http://t.co/CeFJm260Rk http://t.co/IEuj9f5tDJ
1 day ago

ESPN_Pac12blog

ESPN_Pac12blog


In a league of such extraordinary QBs, Kevin Hogan and Taylor Kelly can be underappreciated. http://t.co/G749XgTZHx http://t.co/4D9xcsedKP
1 day ago

ESPN_Pac12blog

ESPN_Pac12blog


Pac-12 morning links gathers AP Top 25 reaction. Is Washington's inclusion a reflection of the new coach in charge? http://t.co/ONVqgUEIqF
1 day ago

ESPN_Pac12blog

ESPN_Pac12blog


ICYMI: Nearly 90 recruits have committed to Pac-12 schools since early June. Who's leading the way? http://t.co/dSBEM2rUiz
1 day ago

Pac12Networks

Pac-12 Networks


.@StanfordMSoccer would like to remind you that the season starts SOON. #headsweat http://t.co/P85Js0TOiQ http://t.co/nELoAFHviH
1 day ago

ESPN_Pac12blog

ESPN_Pac12blog


Pac-12 preseason capsules: Washington Huskies begin 2014 with a new coach in Chris Petersen. http://t.co/2H8Wkwvfnz http://t.co/KgiPlmL3v0
1 day ago

Pac12Networks

Pac-12 Networks


.@CalCoachDykes. @CuonzoMartin. Selfie. What else do you need, Cal fans? http://t.co/P85Js0TOiQ http://t.co/f2vX8sqiUX
1 day ago

ESPN_Pac12blog

ESPN_Pac12blog


In today's edition of Pac-12 morning links, Steve Sarkisian wants to speed up USC's offense. http://t.co/ONVqgUEIqF http://t.co/gK5EJ9Vis7
1 day ago

StanfordFball

Stanford Football


Cardinal in two of CFB's 25 most intriguing games of 2014. First one @ Stanford Stadium in 19 days: http://t.co/6lOy7xsh8a (via @YahooForde)
1 day ago

Pac12Networks

Pac-12 Networks


We can't get enough of this photo of @wsumenshoops' DaVonte Lacy in China. That Kermit shirt. http://t.co/P85Js0TOiQ http://t.co/bH5zHPf2n0
1 day ago

ESPN_Pac12blog

ESPN_Pac12blog


Arizona is the hottest Pac-12 team on the recruiting trail right now after a wildly productive summer. http://t.co/dSBEM2rUiz
1 day ago

Pac12Networks

Pac-12 Networks


WHEEEEE! @OSUBeaversFB practice sure looks like a dandy time. Links: http://t.co/J2HexQSjn7 http://t.co/EfL4Q0YYiY
1 day ago
PAC-12 SCOREBOARD
Thursday, 8/28
Friday, 8/29
Saturday, 8/30
BLOG ARCHIVE:
CATEGORIES: