Getting to know Jashon Cornell
April, 18, 2014
4/18/14
10:00
AM ET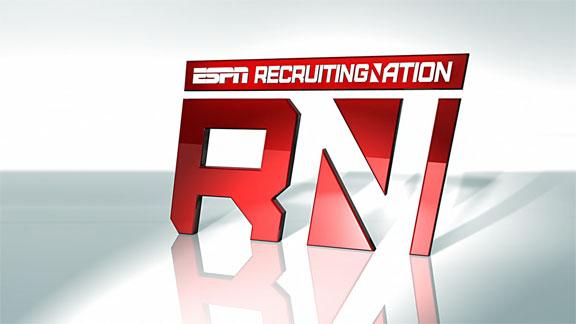 Throughout this recruiting cycle, RecruitingNation will profile a number of ESPN 300 prospects in the 2015 class, including an inside look at the prospect, his recruitment, a scouting report and what college program could benefit when he ultimately makes his decision.
When you attend a school as prestigious as Cretin-Derham Hall, as No. 16-ranked recruit
Jashon Cornell
does, you are bound to have connections. The Minnesota school has produced its share of college and NFL players over the years, including associate dean of students Marcus Freeman, who played for Notre Dame.
To continue reading this article you must be an Insider
Insider
Pac-12 Weekend Wrap: Jan. 27
Recruiting reporter Erik McKinney discusses top recruiting news from the Pac-12.
Pac-12 Weekend Wrap: Jan. 27
VIDEO PLAYLIST
STANFORD FB RECRUITING SCORECARD
Nike Men's Stanford Cardinal Rose Bowl Game Mascot T-shirt Shop »
pac12

Pac-12 Conference


ICYMI: 12 former Pac-12 student-athletes are projected to start in the Super Bowl--5 more than any other conference http://t.co/5aNQ17gFQn
8 minutes ago

toppscards

Topps Company


What a shot @PhxChildrens @clzonephx with @OhMyGodItsGil and @KULABAFI http://t.co/ahJsPquxlQ
9 minutes ago

toppscards

Topps Company


We've got @isaiahacoata50 @KULABAFI @OhMyGodItsGil making memories @PhxChildrens @clzonephx http://t.co/N7P6VhSYKk
9 minutes ago

toppscards

Topps Company


We are here at the @PhxChildrens @clzonephx hanging with @KULABAFI and friends http://t.co/75CJSlWNUQ
9 minutes ago

toppscards

Topps Company


Who's going to win??! @KULABAFI or Chris ? @clzonephx http://t.co/1Uv4EBAIuu
9 minutes ago

Pac12Networks

Pac-12 Networks


Today's lunchtime discussion:Who's the #pac12hoops Coach of the Year so far? Is it this guy? http://t.co/jnT5227IPP http://t.co/GH2n746LHU
14 minutes ago

StanfordFball

Stanford Football


Eleven (11) pre-med scholar-athletes on our Cardinal Football roster. Another great one on the way to Stanford! #CardClass15 #OnlyAtStanford
33 minutes ago

StanfordFball

Stanford Football


Eleven (11) pre-med scholar-athletes on our Cardinal Football roster. Another great one on the way to Stanford! #CardClass15 #OnlyAtStanford
33 minutes ago

maeubanks

Mike Eubanks


Leland Stanford Junior University! #cardclass15
39 minutes ago

Pac12Networks

Pac-12 Networks


It's the same goals but with a new face on the sidelines for @calwlacrosse in 2015. http://t.co/fqgFVt4wfz http://t.co/ZWaNcjtjdk
40 minutes ago

ESPN_Pac12blog

ESPN_Pac12blog


Who will lead the Pac-12 in rushing yards? http://t.co/RIH4xiHlCA
42 minutes ago

Pac12Networks

Pac-12 Networks


What's it mean to be @APlayersProgram?Let @UACoachMiller tell you in a #TheDrive exclusive: http://t.co/HngKcquxuk http://t.co/jn5wqPGPOY
about an hour ago

Pac12Networks

Pac-12 Networks


Focus is the key for @SunDevilHoops and @HerbSendek.#TheDrive digital exclusive: http://t.co/NLDuHPB2ZE http://t.co/P4prbAJQlM
about an hour ago

OregonMBB

Oregon Basketball


Bill Walton letting Coach Altman know to "Throw it down" tonight. Ducks vs. Wildcats at 7pm PST. @Pac12Networks http://t.co/EEs6uCMF9t
about an hour ago

ESPN_Pac12blog

ESPN_Pac12blog


Two-star Scoobs: California http://t.co/SdZ3f0CIzr
about an hour ago

ESPN_Pac12blog

ESPN_Pac12blog


100 days, 100 players: No. 9 Andrus Peat http://t.co/U3hBwMy2PL
about an hour ago

Pac12Networks

Pac-12 Networks


ICYMI: Five #pac12sb teams highlight the preseason @ASAUSASoftball poll. http://t.co/MfnbUnZeT3 http://t.co/7oD8swIFJy
about 2 hours ago

APlayersProgram

Arizona Basketball


#APlayersProgram will be wearing the white with red trim today. #Nike http://t.co/zfYAnMT0rN
about 2 hours ago

QuackCave

QuackCave


Don't forget to watch @OregonMBB take on No. 6 Arizona - 7PT on the @Pac12Networks tonight #GoDucks http://t.co/bzXza691bn
about 2 hours ago

Pac12Networks

Pac-12 Networks


This has been @oregonstatembb's best start since 1989-90. That roll takes them to Tempe. http://t.co/Bm5XzRBohx http://t.co/5LVckgHv7F
about 2 hours ago

JLRowing

JL Racing


West coast, best coast with the women of @StanfordRowing #wintertraining http://t.co/52fUSTwrjv
about 2 hours ago

ESPN_Pac12blog

ESPN_Pac12blog


Position that needs improvement: Stanford http://t.co/xLxahSqJS0
about 2 hours ago

Pac12Networks

Pac-12 Networks


When you're the #1 gymnast in America and earn an all-around W, you made the #12Best. Fact. http://t.co/Xc2uDfKshB http://t.co/KDRSXh1dMr
about 3 hours ago

UtahGymnastics

Utah Gymnastics


Amanda Borden and Jim Watson of @Pac12Networks recap Utah's 196.725-194.725 win over UCLA in front of 14,873 fans. http://t.co/MXR1oppydg
about 3 hours ago

GoStanford

Stanford Athletics


.@Lili_Thompson's Snapchat takeover has started. Add 'gostanford' to see a day in the life of a student-athlete. http://t.co/XRj9vFMZTb
about 3 hours ago

BSURecruits

BSURecruits


One week until National Signing Day! Time to #RaiseTheBar in 2015! #NextClassUp #NSD2015 #Bo15seBound http://t.co/JWKJO7lBEk
about 3 hours ago

Pac12Networks

Pac-12 Networks


The links in Tucson belonged to Max Rotluff and @asumensgolf at the Arizona Intercollegiate. http://t.co/pKA6Hh4rAJ http://t.co/xbg2dXxsWQ
about 3 hours ago

OregonStateMBB

Oregon State Hoops


GAMEDAY! The Beavers will go for the season sweep against Arizona State. Catch the game on @Pac12Networks. #gobeavs http://t.co/qEIpAgXUda
about 3 hours ago

ESPN_Pac12blog

ESPN_Pac12blog


Pac-12 Quarterback Power Rankings: No. 3 http://t.co/pU1oeuIPWV
about 3 hours ago

AMSanford23

AnneMarie Sanford


Our favorite plays of the year http://t.co/BuN58aHHaL @sanfordbsu "Murica"
about 3 hours ago

Pac12Networks

Pac-12 Networks


No reason for Wednesday to be a drag.Take it on with force and power! http://t.co/cJN2cXzA7B
about 3 hours ago

ESPN_Pac12blog

ESPN_Pac12blog


Our favorite plays of the year http://t.co/wzav8p1UCn
about 4 hours ago

JB_Long

JB Long


Joe Young @OregonMBB averaging 19+ pts while shooting 90+% FT. @Pac12Networks will recognized last P12 guy to do so. http://t.co/XYyRmvbLwf
about 4 hours ago

Pac12Networks

Pac-12 Networks


.@RSherman_25 has been making an impact on the game since his days with @stanfordfball. http://t.co/hC7abnSOW8 http://t.co/uNeoDVm7dj
about 4 hours ago

pachoopsab

Adam Butler


I'm really pumped for tonight's debut of The Drive. @Pac12Networks is so sound with production. They'll make practice look inspiring
about 4 hours ago

ESPN_Pac12blog

ESPN_Pac12blog


Position that needs improvement: Oregon State http://t.co/Qgvn4hfW6H
about 4 hours ago

ESPN_Pac12blog

ESPN_Pac12blog


Malzahn leads list of best play-callers http://t.co/u9Zycasg55
about 5 hours ago

ESPN_Pac12blog

ESPN_Pac12blog


Pac-12 morning links http://t.co/n78NsT6wXX
about 6 hours ago

Pac12Networks

Pac-12 Networks


.@uclasandvb is among 4 Pac-12 squads in the first ever @digmagazine poll. http://t.co/wiRvwOVQDd http://t.co/xvuFJC7qBX
about 15 hours ago

BroncoSports

BroncoSports


Huge shout out to the 250+ scholar student-athletes being recognized at tonight's game for their academic success! http://t.co/lum2mpCpDX
about 15 hours ago

Pac12Networks

Pac-12 Networks


Brittany Boyd's deft move to the bucket earned a #12Best nod for @CalWBBall. http://t.co/Xc2uDfKshB http://t.co/DGgOS5QbhX
about 15 hours ago

patrickskov24

Patrick Skov


Salman Khan Academy is the best resource available. Daps to that guy
about 15 hours ago

Pac12Networks

Pac-12 Networks


That's a wrap from Pauley Pavilion. Pepperdine sweeps UCLA in a top-10 showdown: http://t.co/BuHeozKMKU http://t.co/IfmoiFXvGI
about 16 hours ago

Pac12Networks

Pac-12 Networks


This #12Best play, in acronyms:OMG RHJ BRB http://t.co/f40FpkmnuW http://t.co/fuD3fLbBoT
about 16 hours ago

Pac12Networks

Pac-12 Networks


The Drive hits the hardwood. Check out all 12 schools on The Drive starting Jan. 28. http://t.co/uYqxmXmF1X http://t.co/OzBPf8W9jO
about 16 hours ago

UCLAMVB

UCLA M. Volleyball


A Bruin error ends Set 2, UCLA 20 Pepp 25. The Waves lead the match 2-0. #vbscores #BattleBackBruins
about 16 hours ago

Pac12Networks

Pac-12 Networks


.@ZachLavine in the #NBASlamDunk contest!This feels familiar... http://t.co/sDFlhCoAU7
about 17 hours ago

Pac12Networks

Pac-12 Networks


A power move from @uw_wbb's Chantel Osahor gave her a spot on #12Best this week. http://t.co/Xc2uDfKshB http://t.co/zwjqCe4y0U
about 17 hours ago

Pac12Networks

Pac-12 Networks


A top 10 match-up is up next. Look alive, @AVCAVolleyball.Watch #PEPPvsUCLA: http://t.co/YfMNDX35dA http://t.co/QARfvH7cQm
about 17 hours ago

Pac12Networks

Pac-12 Networks


ICYMI: #Pac12NSD is coming, and Pac-12 Networks is all over it next Wednesday. http://t.co/NWCI7jnVLG http://t.co/Kp6ztAM3QX
about 18 hours ago

stanfordrec

Stanford Recreation


1 more day until he hits the Farm! @NIRSAlive @GoStanford @Stanford Get ready! #RecMan #goStanford #stanfordrec http://t.co/I98rQ0EA7C
about 18 hours ago

Pac12Networks

Pac-12 Networks


#NW: The freshest edition of #FBWeekly with @Mike_Yam, @CoachNeuheisel and @YogiRoth is up!Watch it live: http://t.co/YfMNDX35dA
about 18 hours ago

StanfordFball

Stanford Football


"I need some evidence."@DougBaldwinJr debates with @DeionSanders on Super Bowl Tonight: http://t.co/bFxVrb2v5l @nflnetwork #StanfordNFL
about 18 hours ago

TrishaHendricks

Trisha Hendricks


.@KULABAFI It was nice meeting you too! Here's the link to our story: #NFL gives back during #SuperBowl: http://t.co/qiqEIsebmu @12news #AZ
about 19 hours ago

ESPN_Pac12blog

ESPN_Pac12blog


Two-star Scoobs: Arizona State http://t.co/FQWfH597wq
about 19 hours ago

UWAthletics

Washington Huskies


Unconventional path leads Nicolas Cypro to excel with @UWHuskyCrew. Read: http://t.co/JW8wzO4266 #UWHuskies http://t.co/tHkHzVsT4X
about 19 hours ago

StanfordSports

Stanford Daily Sport


Stanford swimming and diving completed a sweep of the Arizona schools this past weekend.http://t.co/qoNCH8swaF
about 19 hours ago

Pac12Networks

Pac-12 Networks


Focus is the key for @sundevilhoops, @HerbSendek stresses.#TheDrive exclusive: http://t.co/NLDuHPB2ZE http://t.co/aOyxildKsp
about 19 hours ago

Mike_Yam

Michael Yam


Clearly @APlayersProgram should be thanking @ArizonaFBall Will Parks who joins us on @Pac12Networks at 6pst https://t.co/v8dmoNgjo9
about 20 hours ago

StanfordSports

Stanford Daily Sport


Star freshman forward Reid Travis is set to return to practice this week for Stanford men's basketball.http://t.co/SDbVYM03Zf
about 20 hours ago

Pac12Networks

Pac-12 Networks


.@OregonMBB's Dwayne Benjamin didn't even need to SEE the rim to earn top honors in #12Best. http://t.co/Xc2uDfKshB http://t.co/CqkrdPpIpS
about 20 hours ago

BillWalton

Bill Walton


Heading out to the Sonora desert ring of fire..... Saying bye to Cortez http://t.co/2sRJuD5eF9
about 20 hours ago

Pac12Networks

Pac-12 Networks


.@OregonMBB's Dwayne Benjamin didn't even need to SEE the rim to earn the top spot on #12Best. http://t.co/Xc2uDfKshB http://t.co/d3dIVpte6N
about 20 hours ago

ESPN_Pac12blog

ESPN_Pac12blog


Top 2014 performances: Nelson Agholor http://t.co/QII2zYBcpO
about 20 hours ago

StanfordSports

Stanford Daily Sport


Stanford men's gymnastics nearly upset the top-ranked Oklahoma Sooners over the weekend.http://t.co/xIJw11Z0t1
about 20 hours ago

Pac12Networks

Pac-12 Networks


So, we're currently 567 followers away from 100,000. That's pretty neat.Should we do anything cool to celebrate the milestone?
about 21 hours ago

GoStanford

Stanford Athletics


Get ready for @Lili_Thompson's takeover by following 'gostanford' Snapchat. Just snap a photo of this pic in the app. http://t.co/pYQpMWPaBn
about 21 hours ago

Pac12Networks

Pac-12 Networks


.@utahgymnastics stirring start to the year is one of many things happening around #pac12gym. http://t.co/JyJRFsDtoI http://t.co/fXtBugTNUs
about 21 hours ago

CTcard44

Chase Thomas


Happy 3 year anniversary to my beautiful woman, who's love and support is unparalleled. I love you… http://t.co/48miIggDpP
about 21 hours ago

BSURecruits

BSURecruits


In 8 days it's time to #RaiseTheBar with the Class of 2015! #NextClassUp #Bo15seBound http://t.co/dHD7UeGplz
about 21 hours ago

Pac12Networks

Pac-12 Networks


Step 1) Update @snapchatStep 2) Snap a picture of this image within the app to automatically follow usStep 3) 👋 http://t.co/Usz1onsryu
about 21 hours ago

StanfordOnScout

Scout Cardinal


#Stanford Next Stanford travels to the northwest - After a three game homestand the Cardinal hit the road t... http://t.co/MIkJ3Lr9ag
about 21 hours ago

StanfordSports

Stanford Daily Sport


Cameron Miller argues that the NCAA's drug testing policy denies athletes their right to privacy.http://t.co/9BgbLJgBCG
about 21 hours ago

cubuffs

Colorado Buffaloes


AD @RickGeorgeCU with a Folsom Field construction update, featuring the 27,000 sqft Sports Medicine & Performance Ctr http://t.co/ufGsfLNuhy
about 22 hours ago

StanfordWBB

Stanford WBB


Snapchat takeover tomorrow! Add 'gostanford' for a behind-the-scenes look with @Lili_Thompson. #GoStanford http://t.co/mxFlO2ogjl
about 22 hours ago

ESPN_Pac12blog

ESPN_Pac12blog


Take Two: Is Oregon a preseason top-10 team? http://t.co/BWjIus8Fk4
about 22 hours ago

ArizonaFBall

Arizona Football


Will Parks catches up with @Mike_Yam on @Pac12Networks Campus Cam. Watch Football Weekly tonight @ 7pm MST. #BearDown http://t.co/CvzZbD0A4z
about 22 hours ago

StanfordOnScout

Scout Cardinal


Watch these awesome player profiles and see the next big stars of Stanford football in action! http://t.co/r2JX29GB4n http://t.co/YoAf3juvdd
about 22 hours ago

maeubanks

Mike Eubanks


Nothing like the big stage. RT @StaceyJGarcia: A bird's eye view of Media Day. #SuperBowl #Seahawks #Patriots 🏈🏆 http://t.co/8Gd8fEdwH2
about 22 hours ago

RSherman_25

Richard Sherman


Media day was a amazing..... Love to see my teammates in these moments.... Will never forget this time.... I'm thankful
about 23 hours ago

Pac12Networks

Pac-12 Networks


.@UCLAMVB has a big challenge tonight with No. 5 Pepperdine paying a visit. http://t.co/Xb0lZBBSOD http://t.co/8uArxZMQ9T
about 23 hours ago

Pac12Networks

Pac-12 Networks


What's it mean to be a Wildcat?@UACoachMiller talks in this #TheDrive digital exclusive. http://t.co/HngKcquxuk http://t.co/UGBczTTctK
about 23 hours ago

Pac12Networks

Pac-12 Networks


Intrepid reporter @MikeBerco RT @MikeBerco Just talked to Tom Brady about hair products #BrotherFromAnotherMother http://t.co/nA5pM4nnEs
about 23 hours ago

jack909

jim Y


@Pac12Networks Goff all the way.... #fbweekly
about 23 hours ago

Juice27Diaz

27J.Diaz


@Pac12Networks Kevin Hogan and its not even close..two Rose Bowl appearances and won the PAC-12 twice! #GoStanford #FearTheTree
about 23 hours ago

Bill_N1

Bill N


@Pac12Networks Kessler did extremely well in 2014 with an inexperienced OL; he will be truly amazing in 2015 with a better OL. Fight On!
about 23 hours ago

Sundevilinsa

Sundevilinsa


@Pac12Networks ASU's Bercovici, has the best arm and went 2-1 vs ranked teams last year as starter.
about 23 hours ago

crazedbeaverRam

jackson clarke


@Pac12Networks Luke Del Rio from Oregon State. You did not say "returning STARTING quarterback"
about 23 hours ago

Pac12Networks

Pac-12 Networks


Lots of chatter about this @USC_Athletics fellow as the best returning QB in 2015. Keep your tweets coming! #FBWeekly http://t.co/q2vDlG3uov
about 23 hours ago

AZJoshM

Josh (AKA Josh)


@Pac12Networks How man freshman led their teams to a big 6 bowl? Only @anu_solomon. There's your answer.
about 23 hours ago

rjcunni19

Ryan Cunningham


@Pac12Networks only one returning qb has played in the pac12 championship game. That's Anu Solomon.
about 23 hours ago

mtmaltbyasu

Matthew Maltby


@Pac12Networks Kessler. No question.
about 23 hours ago

BoaltBear

Mike Esser


@Pac12Networks Statistically it is Goff by a healthy margin.
about 23 hours ago

seavox

Tim Williams


@Pac12Networks How can it be other than @khoagie8? Let's compare records with any others.
about 23 hours ago

UCLAspencer44

SS


@Pac12Networks Goff and it's not even close
about 23 hours ago

Snootbutt

Tom Wimmer


@Pac12Networks Kessler or Goff. Kessler has more talent/weapons surrounding him so he has the edge.
about 23 hours ago

matt_villanueva

Matt Villanueva


.@Pac12Networks @MikeBerco all the way! #ForksUp
about 23 hours ago

billyosier

#GoBears


@Pac12Networks Not even up for debate. Jared Goff
about 23 hours ago

sndjabbari

Saman Djabbari


@Pac12Networks definitely @CodyKessler6
about 23 hours ago
BLOG ARCHIVE:
CATEGORIES: