March, 26, 2015
Mar 26
8:36
PM ET
[+] Enlarge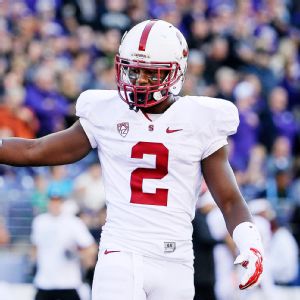 AP Photo/Elaine ThompsonEx-Stanford cornerback Wayne Lyons is the first, and likely only, former Jim Harbaugh player who is reuniting with his old coach now that he has returned to the college ranks.
Former Stanford cornerback Wayne Lyons will be finishing his career with his old head coach, Jim Harbaugh, at Michigan, Wolverines assistant Mike Zordich said.
Lyons, a Florida native who was recruited to Stanford by Harbaugh when he was in Palo Alto, has been an expected arrival in Ann Arbor since February. He is the first, and likely only, former Harbaugh player who is reuniting with his old coach now that he has returned to the college ranks.
Zordich said the fifth-year transfer was on campus this past weekend and would be joining the team this summer.
"There are three guys coming in in the secondary," Zordich said. "One coming from Stanford and two freshmen."
Zordich said he spent time with Lyons over the weekend and watched his film.
"I think he's the right kind of body, a bigger body ... a lot of length. He's a pretty good corner," Zordich said.
March, 26, 2015
Mar 26
7:10
PM ET
When it comes to quarterback recruiting for the Pac-12, things have changed dramatically from last year.

In the 2015 class, ESPN 300 quarterbacks littered the California landscape and few Pac-12 programs even thought about venturing outside of the West region for their quarterback targets.

This year, the region hasn't been especially kind to the conference at the quarterback position in the early going, despite No. 40 overall prospect K.J. Costello announcing his commitment to Stanford on Thursday afternoon.
March, 26, 2015
Mar 26
6:51
PM ET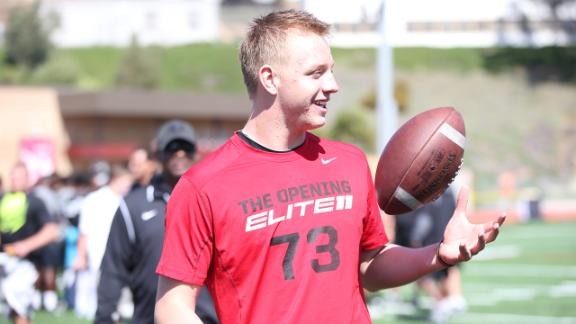 Stanford
needed to win the recruitment of ESPN Junior 300 quarterback
K.J. Costello
on Thursday. The reason is simple, the Cardinal did not sign a quarterback in the
2015 class
. David Shaw and his staff placed a huge checkmark next to the quarterback position Thursday when Costello committed to Stanford in front of teammates and media at Santa Margarita Catholic.
To continue reading this article you must be an Insider
March, 26, 2015
Mar 26
6:44
PM ET
The quarterback dominoes in the 2016 class continued to fall Thursday, as No. 4 pocket passer K.J. Costello announced his commitment to Stanford.
Costello, the nation's No. 40 overall prospect, had narrowed his choices to Michigan, Stanford and USC in recent weeks, and had been close to making a commitment since the beginning of the month, finally feeling comfortable enough with his final choice to do it Thursday.
This is a significant recruiting win for Stanford, as the Cardinal elected not to take a scholarship quarterback in the 2015 class after missing on top targets Ricky Town and Brandon Wimbush. In the 2016 class, the Cardinal focused all their attention at the position on Costello and did not make an offer to any other signal-caller.
Costello broke onto the scene as a sophomore, throwing for 1,478 yards and 13 touchdowns for Santa Margarita Catholic High School in Coto de Caza, California. His first offer came the following April as Florida State came calling. Costello then raised his game as a junior, passing for 3,123 yards and 23 touchdowns.
Grabbing a commitment from Costello means David Shaw and staff don't have to regroup and begin recruiting other quarterbacks in earnest, and it should give the Cardinal an in-state recruiting bump. Costello is the biggest name at the position in state, and is good friends with ESPN Junior 300 wide receiver and teammate Dylan Crawford, who also holds a Stanford offer.
Cardinal coaches also earn some recruiting bragging rights with the commitment, as Costello's mother attended USC and the 6-foot-4, 216-pound quarterback has said he grew up very familiar with the Trojans' program. Stanford also beat out Michigan, where coach Jim Harbaugh undoubtedly used his success with the Cardinal as a recruiting pitch for the Wolverines.
Costello is commitment No. 2 in the 2016 class for Stanford, joining defensive tackle Bo Peek
March, 26, 2015
Mar 26
4:00
PM ET
We're in the midst of the NCAA tournament, that time of the year when upset wins (and losses, depending on one's perspective) define the month's sporting calendar. To mark the occasion, Ted Miller ranked the top 10 Pac-12 football bracket busters since the turn of the century.
Stanford's 24-23 shocker at USC was technically the biggest upset of them all -- the Cardinal were 41-point underdogs -- but which surprise was the most memorable?
Kevin Gemmell: No. 14 Stanford 17, No. 2 Oregon 14, 2012
Of the "Pac-12" era, you'd be hard-pressed to find a more memorable upset than Stanford's 17-14 overtime win over Oregon in Eugene in 2012.
You had the Zach Ertz touchdown catch (or non-catch … talk amongst yourselves). You had a Stanford team adjusting to life after Andrew Luck and Kevin Hogan making his first career road start and just his second start overall. You had an Oregon team that had scored at least 42 points in 13 consecutive games. You had Jordan Williamson's Fiesta Bowl redemption and you had a Stanford defense that was downright brilliant.
Oh, did we mention that Oregon was ranked No. 1 in the country (coaches' poll)?
Stanford's win busted the two-team BCS bracket wide open. And depending which lines you looked at, Oregon was favored by as many as 21.5 with an over-under of 64.5. The Cardinal couldn't beat the Ducks the year before … at home … with Luck! … so why on earth would they do it on the road with a green quarterback?
Not only was the outcome surprising, but the way the game played out was equally unexpected. The previous three years, the winner had scored at least 50 points and the loser at least 30. In 2009, Stanford won 51-42. The next two years, Oregon won 52-31 and 53-30, respectively. The 2012 edition rewrote the playbook for how teams attacked Oregon.
Everything about that game was thrilling. And Oregon fans are probably still left wondering what would have been if De'Anthony Thomas had just thrown a block?
Ted Miller: Washington 29, No. 3 Washington State 26, 2002
I covered four of our top-10 upsets but for a myriad of reasons none left a bigger impression than Washington's shocking 29-26 victory over third-ranked Washington State in the 2002 Apple Cup.
First of all, 2002 was an interesting year. For one, check out the preseason AP poll. Colorado is No. 7, Washington is No. 9 and Washington State is No. 11. Oregon and USC are Nos. 15 and 20. Yeah, that seems a bit weird. The Huskies imploded at Michigan in the season opener, tearing defeat from the jaws of victory, and never really recovered. Washington State bounced back from a loss at Ohio State to roll through the Pac-10, the signature victory over USC punctuated by a sliding Drew Dunning after he kicked the game-winning field goal. You might recall the Pete Carroll era at USC picked up after that.
Oh, and the Rick Neuheisel and Mike Price eras ended at Washington and Washington State after this season for very different reasons, though both would end up in a sort of coaching purgatory by the beginning of 2003.
As for the game, it was a remarkable back-and-forth affair, with a talented Huskies team finally playing to its potential against a Washington State team that was obviously much better. Yet you could feel Martin Stadium gasp with worry when Cougars QB Jason Gesser got hurt. If Gesser didn't get hurt, the Cougs would have coasted home, but if wishes were fishes then cows would fly.
While the game was exciting for all four-plus hours, which included three overtimes, the ending and aftermath was most remarkable (here's my column from after the game). It was decided by a controversial call that required referee Gordon Riese to explain himself on the field. That didn't go well. Cougars fans started pelting the field with bottles and anything else they could get their hands on. It was an ugly scene.
That said, I still talk about this game with Huskies and Cougars alike. Everyone who witnessed has a take on it. Some Cougs tell me they still aren't over it. And Huskies know that their program pretty much fell into an extended spiral down the toilet after this season. Their next winning campaign didn't come until 2010.
Chantel Jennings: Arizona 31, No. 2 Oregon 24, 2014
This was a pretty easy choice for me for two reasons.
First, it's the only upset on the list that I saw in person. And let's be honest: As great as it is to watch games from the comfort of your living room with friends, it doesn't come close to being able to see the thing in real life.
Second, it was the second straight year this happened. It's like the old "fool me once, shame on you; fool me twice, shame on me" adage. Only it's "Upset a team once, it's surprising; upset a team in back-to-back years, and it doesn't seem like much of an upset anymore."
Would we even be having a debate like this if any of the other upsets had happened twice in a row? Can you imagine the chaos that would've broken loose if Stanford had beaten USC again in 2008? (Instead, the Cardinal lost by 22.) Or, what if the Beavers came back in 2009 and beat up on the then-fourth-ranked Trojans again? (They almost did, only losing by six.)
Hands down, those would be memorable, right? Because there's something so great about that moment in which an upset or a second upset spurns a rivalry and the game is never the same. Every junior on Oregon's roster this season is going to be telling the freshmen and sophomores about how they've never beaten the Wildcats in the regular season. Every senior is going to be telling the underclassmen how they want to leave Eugene without the stigma of allowing Arizona to be a stumbling block in the regular season. The difference between avenging a loss and making the same "mistake" twice is something that never leaves these players.
If Oregon had come back and smacked Arizona last year during the regular season, that wouldn't be the case.
David Lombardi: Stanford 24, No. 2 USC 23, 2007
This was my first foray to the Coliseum, and it happened to feature the largest point spread (41) ever overcome in college football history.
I spoke with only one optimistic Stanford supporter before the game, and that happened to be Jim Harbaugh's fiancée (now wife), Sarah.
The USC dynasty was flying high -- the Trojans still had two more Rose Bowl championships on the way, including one later that season. It seemed as if Stanford hadn't advanced past its 1-11 nadir the year prior. In fact, a week before their trip to Los Angeles, the Cardinal had been blown out 41-3 at home by Arizona State. To further stretch out a long injury list, starting quarterback T.C. Ostrander had suffered a seizure during the week. So Stanford threw skinny sophomore backup Tavita Pritchard to the lions of the Coliseum for his first career start.
Just a few months earlier, Harbaugh had already verbally chest-bumped Pete Carroll, who was then the bully on the Pac-10 block. "We bow to no man, we bow to no program here at Stanford University," the Cardinal's new coach had said to conclude a war of words between the two men, which began when Harbaugh publicly speculated on Carroll's future at USC.
In short, all context suggested that the Trojans would administer a beatdown to put Harbaugh and his overmatched squad in its place.
At halftime, though, USC only led 9-0, and the crowd booed the home team off the field after Stanford had stuffed a fourth-down attempt at the goal line. That was the first in a series of dominoes that fell the Cardinal's way.
Every single break proved instrumental in the upset. Trojan quarterback John David Booty, who remained in the game despite breaking his finger, threw four critical interceptions. Richard Sherman (yes, that Richard Sherman, still a wide receiver playing for Harbaugh and not Carroll back then) converted a do-or-die fourth-and-20 by a millimeter or two.
That set the table for the decisive fourth-and-goal fade, in which Pritchard found Mark Bradford -- whose father had recently passed away -- for the score that pushed Stanford to a 24-23 victory. The Cardinal had sucked the air out of the Coliseum in a shocker that might have cost USC a national title shot in 2007 and ignited the Harbaugh-Carroll rivalry.
March, 25, 2015
Mar 25
11:00
PM ET
Dominating Florida is always critical for Florida State, but another secret to the Seminoles' success is doing well in Virginia, and highly-coveted corner
Levonta Taylor
could be the Noles' next big get from the state.
Will Be Making My College Choice April 3rd! @ Ocean Lakes High School 6pm... Anyone Can Come, No Charge Decision, Decisions, & Decisions.=­

— Levonta Taylor (@iamlevonta) March 24, 2015
To continue reading this article you must be an Insider
March, 25, 2015
Mar 25
7:00
PM ET
Happy mailbag Wednesday. Follow me here on Twitter.
To the notes!
Greeny in Boston writes: You guys keep saying six Pac-12 teams are going to be ranked or should be ranked. Give me a "buy/sell" on each team, just for arguments sake.
Kevin Gemmell: Sure! Buy/sells are fun this time of year because it's pure speculation at this point. I actually think it should be seven. Others among us might disagree. But here are some quick thoughts on the seven I believe should be ranked (or will be ranked at some point throughout the season):
Arizona: A lot of talent coming back on offense. But we need to see how quickly the offensive line comes together.
Arizona State: Smooth quarterback transition and a defense that surged at times last year. Might be my dark horse for the South. Still thinking about that one.
Oregon: A perennial contender that should again have the strongest rushing attack in the conference. The quarterback question is the obvious selling point.
Stanford: Finished the year as strong as any team in the country. Another dark horse team I'm considering. But the depth at defensive line -- for the first time in a long time -- is the selling point.
UCLA: Should be one of the better defenses nationally and the Bruins return the league's leading rusher from last year. Same selling point as Oregon -- what happens at quarterback?
USC: On paper, this is a top-10 team. But as I wrote last week, the Trojans struggled against some of the top-tier teams. That provides enough pause before completely buying in.
Utah: Really good defense. Really good special teams. Really good running back. Is this the year we see some consistent quarterback play?
You'll notice that five of these teams are in the South, which again will beat itself up en route to the Pac-12 title game. It's likely not all seven will be ranked at the same time. But at some point during the year, my guess is that all seven will appear in the Top 25.
---
Dimond Mike in Oakland writes
: I think the blog has given
Jared Goff
plenty of love, but as a fan who has seen the real deal (Aaron Rodgers) and poseur (Kyle Boller), Jared Goff is a no doubt about it starting NFL QB in years to come. He'll have the numbers to back it up, so shouldn't that get him on more national radars, or is it solely about getting 10+ wins?
Kevin Gemmell: Depends on what kind of national radar you're looking for. If we're talking Heisman, then yes, 10-plus wins would certainly help. There were four quarterbacks who threw more touchdowns than Goff last season -- and one of them won the Heisman. But that's also because he ran for 15 on top of his 42 passing. Goff had zero rushing touchdowns.
Unfortunately, the en vogue Heisman candidate does more than just throw touchdowns. He's a dual-threat guy who is praised or criticized for his team's success. And when you play for the team that ranked 120th in scoring defense in 2014, well, you do the math.
Remember Colby Cameron? He was Sonny Dykes' quarterback his last year at Louisiana Tech. He tossed 31 touchdowns to just five interceptions and completed 68.8 percent of his throws for 4,147 yards. Pretty darn good numbers. I believe he plays in Japan now. It's unfortunate, but quarterbacks in throw-heavy systems get labeled as "system" quarterbacks. Well, guess what: Every single quarterback is a "system" quarterback. Marcus Mariota was a system quarterback. Andrew Luck was a system quarterback. It's a dumb label. Tangent ...
As to his NFL future, I'm not a scout. But a lot of scouts and coaches I've talked to seem to think he's a budding star. I've seen him make all the throws he has to make at the next level. But as always, a lot of it depends on where he goes, how much time he sits or is forced to play. Who is his coach/position coach/coordinator, etc. I think he'll end up getting drafted. But a lot of his success will come down to where he lands.
---
Al in Tempe, Ariz. writes
:
I liked the Travis Haney story on coaching bargains
. But do we still have to keep referring to Graham as a program hopper?
Kevin Gemmell: Let me first thank you for being an Insider. With your subscription, Ted can keep the air conditioning on for another week.
I'm not sure the stigma will ever leave him. Which is wildly unfair given the commitment he's made at ASU. He owns a home. He's donated half a mill to improving facilities. He also won a Pac-12 South title and is 2-1 in bowl games.
In Travis' defense, he did say "all jokes aside," meaning he wasn't going to make one. But still, the fact that the national media still goes there when thinking about Todd Graham is unfair at this point. While he left Pitt under bad circumstances, he's also owned it a 1,000 times over, calling it a mistake to go there in the first place. And let's be honest, do you really want a coach who doesn't want to be there?
Per the good folks at Arizona State, here's a list of all the coaches from that hiring class. You'll note that 11 have already moved on or been dismissed.
2011 coaching hires
Urban Meyer, Ohio State (38-3)
Jim Mora, UCLA (29-11)
Kevin Sumlin, Texas A&M (28-11)
Todd Graham, Arizona State (28-12)
Tim DeRuyter, Fresno State (26-14)
Rich Rodriguez, Arizona (26-14)
Matt Campbell, Toledo (25-13)
Hugh Freeze, Mississippi (24-15)
Kyle Flood, Rutgers (23-16)
Larry Fedora, North Carolina (21-17)
Justin Fuente, Memphis (17-20)
Curtis Johnson, Tulane (12-25)
Tim Beckman, Illinois (12-25)
Mike Leach, Washington State (12-25)
Terry Bowden, Akron (11-25)
Bob Davie, New Mexico (11-26)
Norm Chow, Hawaii (8-29)
Coaching changes (11): Arkansas (John L. Smith), Arkansas State (Gus Malzahn), Colorado State (Jim McElwain), FAU (Carl Pellini), Houston (Tony Levin), Kansas (Charlie Weis), UMASS (Charley Molnar), Penn State (Bill O'Brien), Pitt (Paul Chryst), Southern Miss (Ellis Johnson), UAB (Garrick McGee)
Graham isn't going anywhere. And even if he does … he gave ASU three good years and a lot of wins (and counting). Can anyone really complain at this point?
March, 25, 2015
Mar 25
1:00
PM ET
You remember the three-headed monster, right? It's about returning production that will scare -- terrify! -- opponents. Or not.
On offense, it's elite combinations at quarterback, running back and receiver.
On defense, it's elite combinations of a leading tackler, a leader in sacks and leader in interceptions.
We're breaking it down by division. Yesterday, we handled North and South offenses. Now, we move to the other side of the ball. As you'll read below, the Pac-12 North must replace a tremendous amount of defensive production in 2015.
1. Oregon
LB Joe Walker, DL DeForest Buckner, CB Chris Seisay
The skinny: The Ducks did lose defensive firepower, but they've also retained some of their big guns. Buckner is a future NFL talent who led the team with 13 tackles for loss (four sacks) last year, while Walker's 49 solo tackles were the most from the linebacking corps. The biggest production vacuum comes in the secondary, where Erick Dargan's conference-best seven interceptions have vanished. Seisay filled in for Ifo Ekpre-Olomu late, so he has big shoes to fill.
2. Stanford
LB Blake Martinez, LB Peter Kalambayi, CB Ronnie Harris
The skinny: The Pac-12's best defense for three years running faces a daunting reloading effort. Cardinal defensive coordinator Lance Anderson remains bullish about much of his roster's talent, though. Martinez returns 101 tackles, the most from the 2014 team, while Kalambayi's speed rush netted 6.5 sacks last season. The secondary saw a heavy load of departures -- Harris is now the elder statesman in the midst of youngsters. The hinge point of Stanford defensive success, though, will likely be the performance of its new-look defensive line.
3. Cal
LB Michael Barton, LB Devante Downs, S Griffin Piatt
The skinny: The Bears return their leading tackler in Barton, who finished with 80 stops last season. Barton also paced the team with 7.5 tackles for loss. Downs came off the bench to top the roster with three sacks, but Cal needs to pressure the quarterback much more effectively to succeed defensively in 2015 -- as a team, they accumulated only 16 total sacks. There's an influx of fresh talent coming into the secondary (the Bears need it to stay healthy this time around), but Piatt grabbed three interceptions in just six games before going down with a season-ending injury.
4. Washington
LB Travis Feeney, S Budda Baker, CB Sidney Jones
The skinny: There's a lot of individual star power to replace in Seattle. Hau'oli Kikaha's boatload of sacks are gone, as are John Timu's tackles and Danny Shelton's mind-boggling numbers from the nose tackle slot. Feeney is the most experienced returning starter. He recorded 4.5 tackles for loss last year for a Washington team that has lost a staggering 60.5 tackles for loss and 44 sacks to graduation. Baker brings back 80 stops -- third most on last year's team -- while Sidney Jones should benefit from having a trial-by-fire freshman year under his belt.

5. Washington State
LB Kache Palacio, LB Jeremiah Allison, CB Charleston White
The skinny: Xavier Cooper has declared for the NFL draft, so Palacio is the Cougars' most productive returner. He led the team with 6.5 sacks last season. Allison's 71 stops in 2014 make him the top returning tackler. Washington State defensive backs finished with only one interception throughout all of last season -- yes, you read that right. It belonged to White, so he earns the mention here, although there are still plenty of questions left to answer.
6. Oregon State
DE Lavonte Barnett, CB Larry Scott, S Justin Strong
The skinny: The Beavers must replace nine defensive starters. Their top six tacklers are all gone, and not a single one of the team's 11 interceptions in 2014 is returning. So finding a strong three-headed nucleus is a tough task at this point. Barnett led the team with 4.5 sacks last year, so there's that. Scott and Strong both racked up tackles in the secondary, but there's not much else to write home about when it comes to proven talent in Corvallis.
March, 25, 2015
Mar 25
10:00
AM ET
And the capital of Nebraska is Lincoln!
March, 24, 2015
Mar 24
5:30
PM ET
So, how's your bracket looking? Of course you picked Georgia State over Baylor and UAB over Iowa State. I'm sure you had Villanova going down to N.C. State and Virginia falling to Michigan State because you are just so smart.
Upsets are the joyous agitation of March Madness. Yet smashed brackets are such an accepted part of the NCAA basketball tournament that they are almost a cliche -- the ole "Bracket Busters!" We might not see them coming but we always know they will.
In college football, we don't see huge upsets coming. So they are much different than in tournament hoops. Not saying they're better, just more "You've got to be kidding."
Which leads us to today's topic: Biggest Pac-12 upsets since the turn of the century.
Note: This isn't of all time. So no Oregon State over Washington in 1985 or Stanford over Notre Dame in 1990 or Arizona State over Nebraska in 1996. We also require Pac-12/10 membership, so Utah over Alabama in the 2009 Sugar Bowl, though we surely have adopted it when debating relative conference strength (cough, cough), doesn't count, nor does Colorado over Oklahoma in 2007.
Further, because we're not looking to spread misery, we're not bringing up upset non-conference losses. So, Oregon State, we won't even mention that game against Sacramento State in 2010.

10. Washington 29, No. 3 Washington State 26, 2002: There were so many subplots and plot twists to this one, the most controversial of Apple Cups, that it's impossible to succinctly encapsulate here. This is a great review of just how nutty this high-stakes game was. It started with the Cougars as national title contenders -- yes, you read that correctly -- and ended after three overtimes and four-plus hours and a borderline call with a hail of bottles hurled to the field by the outraged Martin Stadium crowd. It was Rick Neuheisel's last great moment at Washington and Mike Price's last regular season game at Washington State. It also was the last Apple Cup that featured two winning teams until 2013.
9. Stanford 20, Washington 3, 2006: Fair to say that from 2003-2008, Washington suffered its worst six-season stretch in program history. This game just nipped the 27-23 loss at Arizona in 2003 for the Huskies' most bumbling, humiliating upset defeat. Washington was a 15 point favorite in Tucson, where the Wildcats were riding a 13-game Pac-10 home losing streak, but the Huskies, despite being unranked, were an eye-popping 18.5-point favorite against this Walt Harris-coached Stanford team, which appeared to be on its way to becoming the Pac-10's first 0-12 squad. The Cardinal, which ended a program-worst 11-game losing streak with this win, would score only 127 points all season, and this was one of just two games in which they eclipsed 17 points. Defense? Ranked 113th in the country, yet it dominated the listless Huskies. Stanford finished 1-11 with losses to San Jose State and Navy. Though the Huskies only went 5-7, and this game capped a six-game losing streak, there's a difference between middling and historically bad, see the point spread.
8. Stanford 49. No. 5 Oregon 42, 2001: If Oregon had not imploded in the fourth quarter of this game -- it led 42-28 -- the Ducks would have finished unbeaten and played Miami for the BCS national title. Heck, Joey Harrington might have won the Heisman Trophy. As it was, Stanford turned one of two blocked punts and an interception by Harrington into touchdowns. The Ducks even squandered a huge break, as they led 42-41 with 5:32 left when they blocked a PAT. But on third-and-1 from the Oregon 30, Harrington was hit by safety Tank Williams and the ball was picked off. Stanford then drove for the winning points. The loss ended the Ducks' nation-best 23-game home win streak.
7. Oregon State 31, No. 2 California 28, 2007: Who can forget Kevin Riley's ill-fated -- and ill-thought -- scramble and previously imperturbable coach Jeff Tedford hurling his clipboard to the turf? The Bears, favored by 14, were on the cusp of rising to No. 1 in the nation for the first time in 56 years, but it was not to be. With the ball on the Beavers' 12-yard line with 14 seconds left, Riley couldn't find an open receiver and he tried to run for the end zone, gaining only 2 yards, and the clock ran out before the field goal team could get on the field. This became the first of three consecutive defeats as the Bears crumbled, losing six of their next seven. Though Cal won nine games the next season, you could make a case the Bears never recovered from this loss during Tedford's once-promising tenure.
6. Arizona 42, No. 5 Oregon 16, 2013: This was perhaps the Ducks' worst performance during their sustained rise to the nation's super-elite. It was a four-quarter butt-kicking from a better prepared, hungrier team. Oregon, an 18.5-point favorite, trailed 28-9 at the half and never made a substantial run. Ka'Deem Carey rushed for 206 yards, and Ducks quarterback Marcus Mariota threw two interceptions, his first since the 2012 season. What was clear after this game, which was infelicitously preceded by the Ducks trash-talking the Rose Bowl, was Arizona was going to be in big, big trouble when it visited Autzen Stadium in 2014.
T5. Arizona 31, No. 2 Oregon 24, 2014: There was simply no way Arizona was going to beat the Ducks twice in a row, right? Not only did Oregon have a three-year starter at quarterback in Heisman Trophy candidate Mariota, the Wildcats only countered with redshirt freshman Anu Solomon, who would be making his first road Pac-12 start in the conference's toughest venue. That is why Oregon was favored by 21.5 points. But Oregon made key mistakes -- including a costly, controversial unsportsmanlike conduct penalty in the fourth quarter -- and Arizona made key plays on defense in the season's major upset. This time, however, Oregon recovered from a disappointing loss, whipped the Wildcats in the Pac-12 Championship game and earned a berth in the College Football Playoff.
T5. Washington 16, No. 3 USC 13, 2009: There was a lot to this one, other than it being a 19-point underdog winning. For one, the Huskies had gone winless the previous season. For another, this was a meeting between new Huskies coach Steve Sarkisian and his mentor, Pete Carroll. The game served as a "Hello World" moment for Washington quarterback Jake Locker, as the Huskies had only ended a 15-game losing streak the week before against FBS bottom-feeder Idaho. It's often forgotten that Matt Barkley sat out with an injury, and backup Aaron Corp was overmatched. The Trojans passed for just 110 yards, which is the fewest by a USC team in the Carroll era. Speaking of "eras," this also was the first loss of the season for a Trojans program headed for a decline, including the departure of Carroll to the Seattle Seahawks in the offseason. Hey, who is USC's coach now?
4. No. 14 Stanford 17, No. 2 Oregon 14, 2012: Yes, this was a battle of ranked teams, but don't superimpose the perspective of the Stanford teams that would give the Ducks high-powered offense trouble. Recall that Oregon, an 18-point favorite, had whipped Stanford and Andrew Luck the previous two seasons, so what chance did the Cardinal have in Autzen Stadium with newbie Kevin Hogan behind center? Yet, after the Ducks missed a field goal to open overtime, much-malinged kicker Jordan Williamson hit a 37-yard boot for the victory. Still, the big winner was the Cardinal defense. The Ducks had scored at least 42 points in 13 consecutive games, but they were stymied by Derek Mason's crew.
3. Oregon State 27, No. 1 USC 21, 2008: Sure, Oregon State had upset USC in Corvallis before -- their last meeting in Reser Stadium, in fact -- but this was a much better crew than the 2006 Trojans. The Beavers, 25-point underdogs, rolled behind 186 yards and two TDs from Jacquizz Rodgers in their first win against a top-ranked team in 41 years. USC would go on to finish 12-1, stomping Penn State in the Rose Bowl. It was probably the best team in the nation that season -- it was unquestionably the most talented -- but Oregon State proved that once a giant killer, always a giant killer. What is sometimes forgotten about this game, particularly outside the West Coast, is this was a good Oregon State team. It finished 9-4 and ranked 18th.
2. UCLA 13, No. 2 USC 9, 2006: There are two things here. One, this loss by the Trojans, favored by 11.5 points, knocked them out of their third consecutive BCS title game on the season's final weekend, so it was a big one. Two, this loss by the Trojans came via UCLA, their hated and, at the time, marginalized rival, one that had lost seven consecutive games in the series, including 66-19 the year before. The Bruins would finish 7-6 while USC ended up 11-2, won the Rose Bowl and finished ranked No. 4, but it's debatable which fan based ended up more happy.
1. Stanford 24, No. 2 USC 23, 2007: Simply, this is the biggest upset in college football history, at least if you use the 41-point spread. In 2007, Jim Harbaugh's first season, Stanford was bad. It went 1-11 the previous season and would finish 2007 4-8. The previous weekend, it lost to Arizona State 41-3 to fall to 1-3. Further, starting quarterback T.C. Ostrander, was out due to illness and backup Tavita Prichard was making his first career start. Prichard didn't put up good numbers, but he converted a fourth-and-20 play with a pass to Richard Sherman -- yeah, that Richard Sherman -- and then threw the game-winning TD pass on fourth-and-goal from the 10-yard line to Mark Bradford. The defeated ended USC's 35-game home winning streak. USC was undone by John David Booty, who was ill-advisedly playing with a broken finger, throwing four interceptions, including on the Trojans' desperate final possession.
March, 24, 2015
Mar 24
1:00
PM ET
You remember the three-headed monster, right? It's about returning production that will scare -- terrify! -- opponents. Or not.
On offense, it's elite combinations at quarterback, running back and receiver.
On defense, it's elite combinations of a leading tackler, a leader in sacks and leader in interceptions.
We're breaking it down by division. First up: the offensive three-headed monsters from the North. Both Bay Area schools feature complete returning trios (or more) on this side of the ball, so they earn the top nods. Oregon's reputable track record of reloading offensively comes next. Beyond that, question marks rule the Pacific Northwest.
1. Cal
QB Jared Goff, RB Daniel Lasco, WR Kenny Lawler/Stephen Anderson/Bryce Treggs
The skinny: Yes, that's more of a five-headed monster than a three-headed one. But Cal's returning talent at all offensive skill positions -- and a particularly deep stockpile of it at receiver -- gives the Bears tantalizing punch. Cal already upped its average output from 23 to 38.3 points per game in 2014, so Goff is entering his third season on a promising trajectory. Lasco (5.3 yards per carry) gives him a solid rushing threat, while Trevor Davis can help fill Chris Harper's void alongside Lawler, Anderson, and Treggs -- all of whom finished with around 50 catches last year.
2. Stanford
QB Kevin Hogan, RB Remound Wright/Christian McCaffrey, WR Devon Cajuste
The skinny: Four players here, so my three-headed monster math is still off. But it's important to mention both Wright (nine touchdowns in 2014's final three games) and McCaffrey here, as they may roughly split duties between the red zone and the open field with Barry Sanders. McCaffrey, who averaged 7.1 yards per carry and 10.9 yards per touch in 2014, looks to be the explosive type of player who can thrust Stanford's offense into a new gear. Hogan is one of the most experienced quarterbacks in the nation, and Cajuste -- who averaged more than 15 yards per catch for the second straight year -- will be just one of his tall targets. This is a well-equipped nucleus.
3. Oregon
QB ?, RB Royce Freeman, WR Byron Marshall/Devon Allen
The skinny: The Ducks return a stockpile of offensive skill position talent. They just aren't set on a quarterback to replace Marcus Mariota yet. Regardless of Mark Helfrich's pick, is there anyone who truly expects that Oregon won't be productive next year? The Ducks have developed a reputable track record of reloading to light up the scoreboard. Match dynamic talent with that proven system, and there are bound to be fireworks at Autzen Stadium. The post-Mariota push starts with Freeman (1,365 yards, 19 touchdowns as a true freshman) and the versatile Marshall (over 1,000 receiving yards last year in addition to his rushing totals). Allen and Darren Carrington bring more speed to the outside, and that's just the tip of the iceberg. There are plenty of scorers here; Oregon just needs a point guard to glue it all together.

4. Washington State
QB Luke Falk, RB Jamal Morrow, WR River Cracraft
The skinny: Since running backs in Mike Leach's Air Raid system don't see much work, the focus in Pullman is on the passing components. Falk played in five games last season after Connor Halliday went down, and he'll be counted on to spark an offense that's losing Vince Mayle and Isiah Myers, its top two 2014 receivers. The most productive returner is River Cracraft, who caught 66 passes for 771 yards last year -- but never more than four receptions in a game when Falk was his quarterback. There's work to do in the Palouse.
5. Washington
QB ?, RB Dwayne Washington, WR Jaydon Mickens
The skinny: The quarterback situation certainly wasn't great in 2014. Now that Cyler Miles is on a leave of absence, it's even murkier in Seattle. The player who fills that first question mark -- be it K.J. Carta-Samuels, Jake Browning, or Jeff Lindquist -- will be tasked with sparking an offense that's been rather stale lately. Dwayne Washington came on strong to close the regular season, posting three straight 100-yard efforts. Mickens also developed some consistency as time passed, but the Huskies still need more bite beyond those two weapons.
6. Oregon State
QB ?, RB Storm Woods, WR Victor Bolden
The skinny: It's critical that the Beavers effectively fill the question mark that Sean Mannion left behind. Luke Del Rio, Nick Mitchell, and Seth Collins are the three candidates for the quarterback job. The Beavers aren't devoid of talent elsewhere: Woods will be the featured back as a senior, while Bolden thrived to the tune of 72 catches in Mannion's senior season. Oregon State's new signal caller will be tasked with making the receiver's speed shine again, and the hope in Corvallis is that Gary Andersen's fresh uptempo approach will infuse the proceedings with new vigor.
March, 24, 2015
Mar 24
11:30
AM ET
Just over a year ago, I took a look at each Pac-12 head coach's career and ordered their best individual seasons as decided by each team's final spot in the AP poll. At the time, it seemed like a pretty impressive list.
This year's updated version takes it to another level after four Pac-12 coaches -- Steve Sarkisian, Todd Graham, Jim Mora and Mark Helfrich -- fielded the best teams of their head-coaching careers in 2014. That's not including Gary Andersen, whose most recent Wisconsin team was his best ever, and finished ranked higher than any Oregon State team during Mike Riley's 14-year, two-stint tenure.

In reverse order, here is the updated list. Remember, for consistency and simplicity's sake, each coach's best season is defined by its final ranking in the AP poll.
No. 12 Sonny Dykes, Louisiana Tech, 2012
Dykes' record: 9-3 (4-2, third in WAC)

Final AP rank: unranked

Highest AP rank: 19

Bowl result: no bowl

The team: The Bulldogs finished the season as the country's highest scoring team (51.50 ppg) and top-ranked offense (577.9 ypg). They rose to No. 19 in the AP poll before losing their final two games of the season, including one against Mike MacIntyre-coached San Jose State in the season finale. Louisiana Tech was offered a spot in the Independence Bowl, but it was given away while the school unsuccessfully sought other bowl options. Dykes left for Cal after the season.
No. 11 Mike MacIntyre, San Jose State, 2012
MacIntyre's record: 10-2, (5-1, second in WAC)

Final AP rank: 21

Highest AP rank: 21

Bowl result: Beat Bowling Green in Military Bowl (MacIntyre did not coach)
2014 Pac-12 rank: 10

The team: Two years after coaching San Jose State to a 1-11 record in his first season as head coach, MacIntyre's team became the first in program history to finish in the final AP poll -- although, the Spartans were unranked when MacIntyre accepted the job at Colorado. SJSU didn't beat any ranked teams, but lost just 20-17 to Stanford, which went on to win Pac-12 and Rose Bowl championships. The other loss came to Utah State, which finished No. 16.
No. 10 Steve Sarkisian, USC, 2014
Sarkisian's record: 9-4 (6-3, tied for second in Pac-12 South)

Final AP rank: 20

Highest AP rank: 9

Bowl result: Beat Nebraska 45-42 in the National University Holiday Bowl.
[+] Enlarge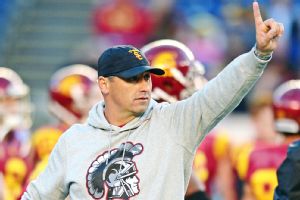 Jake Roth/USA TODAY SportsIn his first season at USC, coach Steve Sarkisian led the Trojans to a 9-4 overall record.
The team: Sarkisian was at No. 11 last year with his 2013 Washington team that finished No. 25, but moves up a spot after his debut season in Los Angeles. It was an underwhelming season by USC's standards, but quarterback Cody Kessler's emergence and an impressive collection of young talent gave the impression the program is trending in the right direction. High point: beating No. 13 Stanford in Week 2 to end the Cardinal's FBS-best 17-game home winning streak. Low point: A 38-20 loss to UCLA to fall out of the Pac-12 South race.
No. 9 Gary Andersen, Wisconsin, 2014
Andersen's record: 10-3 (7-1, first in Big Ten West)

Final AP rank: 13

Highest AP rank: 11

Bowl result: Lost to eventual national champion Ohio State 59-0 in conference championship; beat Auburn 34-31 in Outback Bowl (Andersen did not coach)

The team: In Andersen's second year in Madison after leaving Utah State, the Badgers began the year ranked No. 14 in the AP poll. They dropped their opener in painful fashion against LSU, but a seven-game winning streak to close the regular season had Wisconsin in the College Football Playoff picture. High point: Melvin Gordon set the FBS single-game record with 408 yards rushing against Nebraska (only to see it broken the next week). Low point: The Badgers were no-shows against Ohio State and five days later Andersen was announced as Mike Riley's replacement at Oregon State.
No. 7 (tied) Todd Graham, Arizona State, 2014
Graham's record: 10-3 (6-3, tied for second in Pac-12 South)

Final AP rank: 12

Highest AP rank: 7

Bowl result: Beat Duke 36-31 in the Hyundai Sun Bowl

The team: After an 8-1 start, Arizona State had a clear path the College Football Playoff, but a surprising loss to Oregon State ended any fantasies the Sun Devils were harboring concerning a national title. They remained in position to win the Pac-12 South, but a loss to Arizona in the Territorial Cup prevented an opportunity to play Oregon for the conference title. High point: ASU rose to No. 7 after its blowout-turned-collapse-turned-rout of Notre Dame. Low point: See, Territorial Cup.
No. 7 (tied) Mike Leach, Texas Tech, 2008
Leach's record: 11-2 (7-1, tied for first in Big 12 South)

Final AP rank: 12

Highest AP rank: 2

Bowl result: Lost to Ole Miss in Cotton Bowl

The team: The Red Raiders started the year at No. 12 and moved up to No. 6 after an 8-0 start. They rose to No. 2 after Michael Crabtree's memorable touchdown catch secured a win vs. No. 1 Texas. After two weeks at No. 2, the Red Raiders lost to No. 5 Oklahoma in a game that propelled Sooners quarterback Sam Bradford to the Heisman Trophy. Leach arrived at WSU in 2012.
No. 6 Jim Mora, UCLA, 2014
Mora's record: 10-3 (6-3, tied for second in Pac-12 South)

Final AP rank: 10

Highest AP rank: 7

Bowl result: Beat Kansas State 40-35 in Valero Alamo Bowl

The team: Brett Hundley returned to UCLA for his third year as the starter despite being projected to be one of the earliest quarterbacks off the board in the NFL draft. A trendy national-title pick, UCLA's season lost steam after a 4-2 start, but it remained in the thick of the Pac-12 South race until losing to Stanford in the regular-season finale. Again using the final AP poll as a gauge, it was UCLA's third consecutive season of improvement under Mora.


No. 5 David Shaw, Stanford, 2011
Shaw's record: 11-2 (8-1, second in Pac-12 North)

Final AP rank: 7

Highest AP rank: 3
[+] Enlarge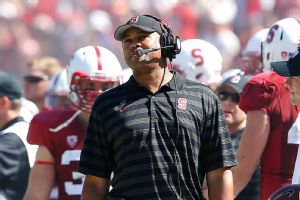 AP Photo/Tony AvelarStanford coach David Shaw's 2011 team, which was led by QB Andrew Luck, finished 11-2 overall.
Bowl result: Lost to No. 3 Oklahoma State, 41-38 OT, in Fiesta Bowl

The team: Andrew Luck's final team did not win the Pac-12 or the Rose Bowl, but it should still go down as a better team than its 2013 counterpart, which won both and also finished ranked No. 7. With the understanding that winning the 2012 Pac-12 title doesn't necessarily mean the same team would have done it in 2011, look at the two teams. Kevin Hogan was great that year, but in a hypothetical game between those Stanford teams, is anyone picking against the version with Luck? Shaw's first team made the program's second of four-straight trips to a BCS bowl where it came this close to beating a very good Oklahoma State team in the Fiesta Bowl.
No. 4 Rich Rodriguez, West Virginia, 2005
Rodriguez's record: 11-1, (7-0 Big East champions)

Final AP rank: 5

Highest AP rank: 5

Bowl result: Beat No. 8 Georgia in Sugar Bowl

The team: Freshmen QB Pat White and RB Steve Slaton were the names of note for the current Arizona coach. West Virginia started the year unranked and its lone loss came to then-No. 3 Virginia Tech. It was the first of three consecutive double-digit win seasons for the Mountaineers, who were undefeated in Big East play and capped the season with a win over No. 8 Georgia in the Sugar Bowl. A strong case can be made that West Virginia had a better team in 2007, when Rodriguez left following the regular-season finale to become head coach at Michigan. The Mountaineers were ranked No. 2 (No. 1 in the coaches poll) going into Rodriguez's final game, but lost to a 4-7 Pittsburgh team in the 100th Backyard Brawl, which cost them a chance to play for the national title. They finished No. 6.
No. 3 Chris Petersen, Boise State, 2009
Petersen's record: 14-0 (8-0, WAC champions)

Final AP rank: 4

Highest AP rank: 4

Bowl result: Beat No. 4 TCU in the Fiesta Bowl

The team: Washington's second-year coach has one of the best resumes in college football. Many consider Boise State's undefeated 2006 team that beat Oklahoma in that's year memorable Fiesta Bowl as the school's best, but three years later the Broncos finished 14-0 and finished a spot higher in the final AP poll. They opened the season at No. 14 and started with a win against No. 16 Oregon in Chip Kelly's first game as head coach. Boise capped the season with a win against undefeated TCU in the Fiesta Bowl. The team's offensive coordinator, Bryan Harsin, is now its head coach and its defensive coordinator, Justin Wilcox, serves in the same capacity at USC.
No. 1 (tied) Mark Helfrich, Oregon, 2014
Helfrich's record: 13-2 (8-1, Pac-12 champions)

Final AP rank: 2

Highest AP rank: 2

Bowl result: Beat Florida State, ranked No. 1 by the AP poll and No. 3 by playoff selection committee, in first College Football Playoff semifinal at the Rose Bowl; lost to Ohio State 42-20 in the championship

The team: Marcus Mariota won the Heisman Trophy, the Ducks won the most competitive Pac-12 in years (ever?) and ended Jameis Winston's career with a loss that would have humbled many others. All that stood between the Ducks and their first national title was Ohio State, which left no doubt in the championship to leave Oregon on the doorstep of history. Among Pac-12 coaches, only Utah assistant head coach Dennis Erickson also knows what it's like to be the head coach of a Heisman winner (Shaw gets an asterisk for 2011).
No. 1 (tied) Kyle Whittingham, Utah, 2008
Whittingham's record: 13-0 (8-0, Mountain West champions)

Final AP rank: 2

Highest AP rank: 2

Bowl result: Beat No. 4 Alabama in Sugar Bowl

The team: In Whittingham's fourth season as head coach, the Utes finished as the nation's lone undefeated team after starting unranked. Utah opened with a win at Michigan -- Rodriguez's first game as the Wolverines' coach -- and went on to beat four teams that finished in the final AP poll, including Alabama (6), TCU (7), Oregon State (18) and BYU (25). Quarterback Brian Johnson threw for 336 yards in a convincing 31-17 win against Alabama in the Sugar Bowl.
March, 24, 2015
Mar 24
10:00
AM ET
You talkin' to me?
Colorado has finished their spring game, so we're in a slight Pac-12 practice lull while basketball is in the spotlight. But the avalanche of 11 other spring games is creeping closer. Here are some links from around the conference:
March, 23, 2015
Mar 23
7:00
PM ET
With spring practice underway at many Pac-12 destinations, it's time to do our annual position-by-position breakdown.
We finish things off with a look at special teams in the North.
California: Gone is James Langford, who made 11 of 17 on field goals in his only year as the Bears' starting kicker, but three-year starting punter Cole Leininger will be back for his senior season. The competition to replace Langford will start with sophomore Matt Anderson, a high school All-American and ESPN.com's No. 11-ranked kicker in the Class of 2013. Noah Beito, Robbie McInerny and Franklyn Cervenka are also listed at kicker. They'll have three experienced kick return options in Tre Watson, Khalfani Muhammad and Trevor Davis, while Davis is a good bet to also field punts.
Oregon: With Aidan Schneider (11-of-12 on field goals) and Matt Wogan (7-of-9) returning, the Ducks have two proven options at kicker. There almost certainly will be an ongoing competition until the fall, and even then there's potential for it to be a week-to-week thing. Ian Wheeler is back at punter for those rare occasions when the Ducks punt. Charles Nelson promises to be one of the most dangerous return men in the country.
Oregon State: Garrett Owens made 11 of 13 attempts last year while splitting time with Trevor Romaine. Romaine is out of the picture, leaving juniors Ryan Cope and Ian Crist and freshman Zach Standish as the only potential competition for Owens. Mitch Seeley, who redshirted as true freshman last year, is the only punter on the roster. Both primary kick returners (Ryan Murphy and Malcolm Marable ) are gone, but Rahmel Dockery returns after leading the team with eight punt returns for 49 yards. Dockery could see additional duty on kickoffs, but with a new coaching staff we'll have to wait to get more clarity.
Stanford: The Cardinal needs to replace its full compliment of special teams players, including kicker Jordan Williamson, punter Ben Rhyne and primary return man Ty Montgomery. Kicker Conrad Ukropina has seen limited action over the past couple of seasons (two made field goals, 12-of-13 on PATs), while punter Alex Robinson did not play during his first two years on the Farm. Christian McCaffrey, who showed flashes of brilliance as a true freshman, should be exciting to watch in the return game.
Washington: The Huskies' primary specialists are all back, so let's start with kick returns because John Ross is just fun to watch. He only took two kickoffs back for touchdowns last year, but seemingly has the potential to do it every time. Dante Pettis took a punt back for a touchdown last year and did a good enough job as a freshman to assume he'll be back there again. Cameron Van Winkle was reliable on field goals (20-of-24) and punter Korey Durkee returns for his senior year.

Washington State: Kicker Quentin Breshears returns after making 9 of 12 field goals in 2014. Breshears and Wes Concepcion were the only kickers to finish the season on the roster, but freshman Matt Abramo could compete for time immediately. Sophomore Jordan Dascalo averaged 41.7 yards per punt last year. The pecking order at kick returner could be a fluid situation, but Jamal Morrow likely gets the first crack at it after leading the team with 22 attempts last year. The Cougs need to replace Rickey Galvin on punt returns, but River Cracraft, who backed up Galvin last year, has the talent to be effective in that role.
Stanford Lands No. 4 QB-PP K.J. Costello
PAC-12 SCOREBOARD
Thursday, 9/3
Friday, 9/4
Saturday, 9/5