October, 30, 2014
Oct 30
6:30
PM ET
CHARLOTTE, N.C. -- ESPN 300 offensive lineman
Brian Chaffin
was presented with his Under Armour All-America Game jersey Thursday morning in a ceremony sponsored by American Family Insurance. The ceremony took place in front of family, friends, teammates, classmates and school faculty on the campus of Charlotte Christian School.
"Oh my gosh, it's a huge honor and I'm really excited," Chaffin said. "There are a ton of great athletes that are selected to play in this game, have already played in this game, and I'm just excited to be a part of it,"
The Under Armour All-America Game is not new to Charlotte Christian School. Chaffin follows Georgia freshman tight end
Jeb Blazevich
as the second player from the Southeast Charlotte-area private school to be selected as one of 90 prospects to participate.
"I think it's a huge deal. It's just a testament to our coaches and the type of players we are putting out. Having back-to-back Under Armour All-Americans, I don't think a lot of schools can say, much less a small private school. It's just a have testament to what we are doing here, and what we are building."
Making the game was a goal for the 6-foot-2, 285-pound Chaffin, who is ranked No. 290 in the ESPN 300.
"When I watched Jeb [Blazevich] at the game last year, I always had the thought in my head that I would really like to play in this game. It was the game I always wanted to play in, and when I called them up and told them after talking to Mr. [Craig] Haubert, they were just so excited."
On the recruiting front, Chaffin will attend Stanford, where he committed in June over offers from Duke, North Carolina, Virginia Tech and several others. While he will be a long way from his East Coast home, it was an opportunity he simply couldn't pass up.
"For me, it was the best combination of academics and athletics I could find. I think Stanford breeds greatness, and if you want to be great, you have to go to a place that produces greatness."
#ESPN300 center & #Stanford commit Brian Chaffin receiving 2015 Under Armour @AllAmericaGame jersey. https://t.co/7WU0ZOafsc

— Gerry Hamilton (@HamiltonESPN) October 30, 2014
Eight questions with Chaffin:
Is there any one player you are looking forward to going up against at the Under Armour Game or practices?
Chaffin:
I don't know a whole lot about the rosters yet. I know there are going to be some beastly D-tackles there. Just going against those guys in practice and testing my skills against them will be fun.
If you were to start a team with any other player in your class, who would it be and why?
Chaffin:
Well it all starts up front, so it would probably be my buddy
Nick Wilson
, who committed to Stanford with me. He's a guard/center combo, so I think the two of us could be a solid start and do some special things.
Who is the best player to ever play in the Under Armour game that you know of?
Chaffin:
Jeb Blazevich. I'm going with my buddy, Jeb Blazevich. I think he's just a special player on and off the field. Obviously, I'm a little biased, but he's a great kid and I think he's going to do big things.
What is your earliest football memory?
Chaffin:
Probably seventh grade. I was starting and it was a seventh and eighth-grade league. The guy I was going against was huge, and that was when I really had to test if this game was for me. I ended up doing really well, not giving up any sacks. That game proved to me that I could go up against bigger and better athletes and still succeed.
Which football player did you idolize or want to be like when you were a kid?
Chaffin:
Growing up, he didn't play my position but I loved Tim Tebow.(Chaffin grew up a Florida fan.) It was just the way he went about the game and the way he went about his business. And the type of guy he is off the field, he was somebody I wanted to be like.
If you could take on any pro player in their sport, who would it be?
Chaffin:
I'd probably golf with Tiger [Woods]. Golf is one of things that is tough. I would like to watch him go about his craft, and he is such a great golfer that it would be fun to go out and compete.
What number do you wear and why?
Chaffin:
I wear 65 in honor of my former offensive line coach, Coach [Jim] Durning. When I came here to Charlotte Christian in eighth grade, he was the first person to take me under his wing and just teach me everything he knew. I think he's a big reason I am the player I am today.
What is one thing people would be surprised to know about you?
Chaffin:
I like to hunt a lot. I'm a big hunter. I'm an outdoors guy.
October, 30, 2014
Oct 30
6:00
PM ET
Welcome to your weekly 6-Pac for the Pac-12. This week, Ted Miller and Chantel Jennings tackle these toughies.
Does UCLA's season come down to Saturday against Arizona?
Miller:
Yes, in terms of living up to preseason expectations, though we are not as quick to write off the Bruins as many seem ready to do. UCLA should be 7-1 right now, losing only to Oregon, so they are only an upset home loss to Utah behind schedule. A 10-2 regular-season finish, even if that doesn't include a South Division title, wouldn't rate a major disappointment, as it likely would include a top-10 ranking. But a third loss crosses the over-under threshold in a negative way. So, absolutely, the Bruins need to beat Arizona at home and stay alive in the South Division race.
Jennings:
I don't know. I agree with Ted that this team should be 7-1 right now, but the difference between a two-loss and a three-loss season isn't that huge. If they lose to Arizona and then run the table with huge wins over Washington, USC and Stanford (going 3-0 against California teams this season), that could still be considered a small success in a disappointing year.
Might Arizona State QB Taylor Kelly have a quick hook if he struggles early against Utah? And is the same true for Utah QB Travis Wilson?
[+] Enlarge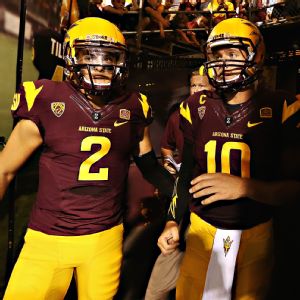 Christian Petersen/Getty ImagesTaylor Kelly (10) could have a relatively short leash if Arizona State struggles. Backup Mike Bercovici (2) led the Sun Devils to wins over USC and Stanford earlier this season.
Miller:
Maybe to both, because both coaches know their prime directive is to scratch and claw and scheme for every inch in order to win this critical South Division game. Kelly is a highly competitive guy, but he's also team-first. If he struggled in the first half Saturday and the Sun Devils offense was ineffective, he probably wouldn't have any problem with coach Todd Graham calling in
Mike Bercovici
from the bullpen. Same with Wilson and
Kendal Thompson
, who came in against UCLA and picked up a victory in relief. Bottom line: Whatever is needed to win.
Jennings:
Best-case scenario, neither struggles. But if we're playing the negative-Nancy card here, I would say that if both struggle, I'd have my money on Kyle Whittingham standing by Wilson longer than Graham would stand by Kelly. Graham has stood by the fact that Bercovici is the backup, no matter what. Whittingham, on the other hand, has this open battle in which neither has really taken the reins. Wilson took a step forward last weekend and I think he's going to try to keep that process moving forward this weekend, even if that means letting him have a bit longer of a leash.
Does Marcus Mariota need to beat Stanford to win the Heisman Trophy and establish his longterm Oregon legacy?
Miller:
Probably, but not necessarily. Probably in that if he goes 0-3 against Stanford in his career, that will diminish his national standing significantly. But what if Oregon loses 42-40 and Mariota throws four TD passes and runs for another? If the Ducks lose this game because their inconsistent defense gets trenched, that shouldn't be on Mariota. But if Mariota puts up the middling-to-poor numbers he did in the previous two games against Stanford, he will have a lot of ground to make up to get invited to New York.
Jennings:
I don't see how Mariota doesn't make it to New York this year. Statistically, he's the best quarterback in the nation. He has 24 touchdown passes and one interception. His touchdowns-to-interceptions ratio is twice as good as the No. 2 guy on the list. But there are always going to be reasons why he's not going to get some people's votes, whether it's because they didn't see his late games or the national perception of the Pac-12 vs. SEC. I don't know if beating or losing to Stanford will change any of that (though the people who wouldn't vote for him certainly will use that in some of their reasoning). And as far as his career stuff, on Tuesday, Oregon coach Mark Helfrich said Mariota needs to do nothing else to cement his spot in Oregon history. I'd agree with that. He could've left after last season and I think he'd still be a player everyone would be talking about for the next decade. Win or lose against Stanford, that doesn't change.
Which struggling team finishes strongest: Cal, Colorado, Oregon State or Washington State?
Miller:
I think Washington State is the best 2-6 team in the nation, so you get that, Cougs. And if Oregon State were healthy, the Beavers would be a seven-win or eight-win team. Colorado is much better than last year, even if it isn't translating to wins. But I think Cal's got a good shot to win two of its final four games and earn bowl eligibility after going 1-11 last year. That is huge. And even of the Bears only go 5-7, that would rate them as one of the nation's most improved teams in Year 2 under Sonny Dykes.
Jennings:
Darn it, Ted. We're too agreeable today. WE NEED SOME DRAMA. But, I'm going with Cal, too. I think the Bears are the most improved team in the league and
Jared Goff
is the most improved player. The more this team plays together and jells, the more it will win. I see them winning two more games this season and bowling by year's end.
Who is going to be this weekend's biggest impact player?
Miller:
Mariota vs. the Stanford defense is the obvious lead item, but I'm going with UCLA quarterback
Brett Hundley
. Touted as a Heisman candidate in the preseason, the campaign hasn't gone the way he imagined it. Yet if he produces a tour de force performance in a win over Arizona, Hundley and the Bruins can quickly right their season. And UCLA won't win without him playing well.
Jennings:
Whatever Utah receiver steps up in
Dres Anderson
's absence. The Utah defense and special teams will show up -- that I'm almost sure of -- however, if the Utes want the win, they have to have someone because a deep field threat for Wilson to target. Running back
Devontae Booker
is going to do his thing, but if the Utes can only rely on a run game, their offense is going to be one-dimensional and Arizona State is going to get them every time. Whether it's
Kenneth Scott
,
Tim Patrick
or
Kenric Young
, one of those guys needs to be the impact player of the weekend if the Utes want the W.
How many Pac-12 teams end up bowl-eligible?
Ted Miller:
Nine. Eight is pretty much a certainty. The ninth will either be Cal or Oregon State.
Jennings:
Ditto, Miller.
I don't know if anyone has ever agreed with Ted so much in 1,000 words.
October, 30, 2014
Oct 30
5:00
PM ET
October, 30, 2014
Oct 30
11:00
AM ET
When contemplating the career arcs of Oregon quarterback
Marcus Mariota
and Stanford quarterback
Kevin Hogan
over the last two years, there has been a "Yeah, but…" element for each.
Mariota is again a Heisman frontrunner and one of the most accomplished quarterbacks ever to grace the green. Yeah, but those Stanford games …
Hogan has led the Cardinal to a couple of Rose Bowls, but has had his struggles with consistency. Yeah, but those Oregon games …
[+] Enlarge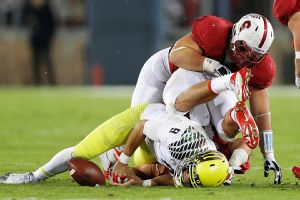 AP Photo/Marcio Jose SanchezMarcus Mariota has one final chance to beat Stanford, Saturday at Autzen Stadium.
When the teams meet Saturday at Oregon in a critical Pac-12 North showdown, Hogan will not be in the secondary when Mariota is on the field. Nor will Mariota be playing linebacker when Hogan is reading the defense. Yet quarterback play has helped define this game over the last couple of years as much as any defensive stand or overtime field goal.
Hogan's legend was born on Nov. 17, 2012, at Autzen Stadium. Still in a post Andrew Luck haze and unsatisfied with the results of Josh Nunes, Stanford turned to Hogan to make his first career start at home against Oregon State. A week later, he made his first road start in Eugene and helped engineer an unlikely 17-14 overtime win over the No. 1 Ducks. It was not a game the Cardinal were expected to win.
A year later at Stanford Stadium, the Cardinal knocked off the No. 2 Ducks 26-20. Again, Oregon was the favorite.
"Kevin has played probably two of the best games of his career against us," Oregon coach Mark Helfrich said.
Against Oregon, Hogan is completing 65 percent of his throws with one touchdown, one interception and a pair of rushing touchdowns.
Conversely, Mariota has completed 57 percent of his throws against the Cardinal with three touchdowns, one interception and zero rushing touchdowns. Stanford -- the only Pac-12 team Mariota hasn't beaten in his decorated career -- has been his Great White Buffalo (said in a whisper).
"Last year Marcus certainly didn't play his best game, nor did everybody around him contribute to his best game," Helfrich said.
Fair to assume, too, that his knee injury had something to do with it.
The quarterbacks once against take center stage this weekend as the No. 5 Ducks look to move up in the College Football Rankings. Stanford, the two-time defending league champs, is looking just to stay in the North Division race.
"It goes without saying our game plans are completely geared around Marcus," Stanford coach
David Shaw
said. "We have that much respect/fear of him. It
is
respect. He is the focal point of what we do and the focal point of what they do. At times we've been able to contain him. We've been able to harass him.
"But in every game, there's a streak where you can't do anything about it. He gets out of the pocket and takes off. He makes a couple of great throws. He moves the team down the field in three plays and scores a touchdown. It's understanding that that's going to happen at some point during the game. And when it does happen, we give respect to a great player and we come back and try to get after him again."
Stanford's best weapon against Mariota the last couple of years has been its offense's ability to sustain drives and the defense's ability to get off the field. In the two previous meetings, Stanford converted 52 percent on third down, while the Ducks converted just 25 percent.
It's that same consistency Hogan has shown the previous two years that Shaw is hoping for out of him on Saturday.
"I think the biggest thing is being opportunistic," Shaw said. "If something was there he was getting the ball out of his hands and throwing it. If nothing is there pulling it down and running it. Being very decisive. Converting on third-downs. Controlling the ball and controlling the clock. It's hard to separate Kevin from the entire offense. But that's pretty much what's been good about what we've done."
Meanwhile, Mariota has gracefully answered all Heisman questions before and during the season, though he has made it quite clear that the stiff-arm is the furthest thing from his mind. Still, many voters -- both of the Heisman and Selection Committee variety -- will look to this game to see if he and the Ducks can cure their recent Stanford woes.
And when we look back on this era of Pac-12 football in a couple of decades, Mariota's accomplishments won't be whisked away. Nor will Hogan's Rose Bowl appearances be redacted. Question is, will we still be saying, "Yeah, but ..."
October, 30, 2014
Oct 30
9:00
AM ET
By
ESPN.com staff
| ESPN.com
Why Stanford will win:
Over the past two seasons, I've picked Oregon to win this game with a strong degree of confidence. And I've been wrong. So, with not much confidence -- the Cardinal already have lost three games and NT
David Parry
is hurt -- I am picking Stanford. Mostly because if I'm going to be wrong, I want to be wrong in a new way. And I want Ducks fans to troll me for it. -- Ted Miller
Why Oregon will win:
The Ducks' offense has looked confident, explosive and efficient since it started to get healthy across the offensive line. The new-look Stanford offense, while maybe better suited for the current personnel, might not be able to sustain those long drives that have worn down Oregon in the past. Stanford's defensive injuries are a concern as well. -- Kevin Gemmell
Why Arizona will win:
Scooby Wright III
and his gang of Wildcats are going to be too much for the UCLA offensive line.
Anu Solomon
,
Nick Wilson
and
Austin Hill
will all have big games for Arizona. Time to start making some sense out of the South. -- Chantel Jennings
Why UCLA will win:
This feels a lot like 2012 -- a surging Arizona team coming to the Rose Bowl vs. a UCLA team that had had a couple of bad games. And we all remember what happened there (UCLA won 66-10). Different year, different players. I get all that. But last week was a wake-up call for the Bruins. This game is put-up or shut-up for them. -- Kevin Gemmell
Why Utah will win:
With matching three-game win streaks, there's plenty to like about both teams, but Utah's
Devontae Booker
could be the difference. In his first year in the Pac-12, the juco transfer has averaged a conference-best 166.3 rushing yards per conference game. -- Kyle Bonagura
Why Arizona State will win:
The Sun Devils have a chance to solve what's been a major weakness at home, and I think their upward trajectory indicates that they'll do just that. ASU's defense had given up over 200 rushing yards in four straight entering the Stanford game Oct. 18, and even Washington ran the ball with success against the Sun Devils last week. So on paper, it's a bad matchup since Devontae Booker has made Utah a successful rushing team, but I have a feeling ASU will capitalize on this big (late) stage to make a statement. Plus,
Taylor Kelly
will have shaken off last week's rust. -- David Lombardi
Unanimous picks
Why USC will win:
Washington State's defense just doesn't have it. That's particularly bad news this week, since
Cody Kessler
delivered a notable performance in the face of Utah's ferocious pass rush during USC's loss last week. Kessler has a bevy of weapons in the passing game, and the Trojans also own balance thanks to running back Buck Allen. They will score plenty of points in Pullman, Washington, and there'll again be too much pressure on
Connor Halliday
's shoulders. -- David Lombardi
Why Cal will win:
Both teams are limping into this game, but I think the Bears' limp is more figurative -- they've lost their past three games after a 4-1 start -- while the Beavers are limping because of injuries physical and mental. Cal also just strikes me as hungrier, though the Bears must contend with a strong Oregon State pass defense. The loser here seems unlikely to become bowl eligible, while the winner will need just one more victory over the homestretch. -- Ted Miller
Why Washington will win:
The Huskies snap their two-game losing streak with a 17-point win over Colorado on the road.
Hau'oli Kikaha
,
Danny Shelton
and
Shaq Thompson
are going to have a huge game for the UW front seven defensively and the offense will take a step forward with more consistent play through four quarters (plus, it'll help that there won't be 95 mph winds, as there were in Seattle last week). -- Chantel Jennings
October, 30, 2014
Oct 30
8:00
AM ET
Don't you draw the queen of diamonds boy, she'll beat you if she's able;
You know the queen of hearts is always your best bet.
Leading off
At this point in the season, any injury to a starter can be crippling. And in the ridiculously competitive Pac-12 South, it can be downright devastating. Earlier in the week we learned that USC
would be without
left tackle Chad Wheeler for the rest of the season. Wednesday, another impact player was lost for the year when Utah announced that wide receiver Dres Anderson would
miss the rest of the season
with a knee injury.
"We feel bad for Dres. It's heartbreaking for that kid. He's a fifth-year senior. He's poured everything he had into this program for five years," Utah coach Kyle Whittingham told reporters after practice on Wednesday. "Nobody's outworked him. Nobody's done more for us than Dres during that period of time. He's taken care of business on and off the field. He's got his degree already in hand."
Here are some reactions:
The Utes, very much in the thick of things in the Pac-12 South -- and even the playoff conversation -- enter one of the toughest stretches in the country. After this week's trip to ASU, they are home to Oregon, at Stanford, home to Arizona and at Colorado to close out the season. According to FPI, the Utes have the second-toughest remaining schedule of the 25 ranked teams and the eighth toughest in the nation.
Heisman update
Catching you up on the Heisman race, which could take a turn this weekend with Stanford heading to Oregon, Ducks quarterback Marcus Mariota is nearly neck-and-neck with Mississippi State quarterback Dak Prescott. In the
latest ESPN.com poll
, Prescott leads Mariota by a single point.
Here's how it shakes out (followed by total points):
Dak Prescott, QB, Mississippi State (45)
Marcus Mariota, QB, Oregon (44)
Melvin Gordon, RB, Wisconsin (18)
Amari Cooper, WR, Alabama (13)
Ameer Abdullah, RB, Nebraska (11)
No other Pac-12 players are receiving votes. Here's guessing that if Mariota can finally get over his Stanford hump, he'll enjoy a nice bump.
Who is your Heisman front-runner? #ChampDrive pic.twitter.com/7iMmc6haht

— College GameDay (@CollegeGameDay) October 27, 2014
News/notes/team reports
Just for fun
I guess yesterday was National Cat Day? To which my
beagle
says, meh. The tweet is still funny, though.
Meowcus #GoDucks RT @GoDucksJoe: Hello? Yes, I did see that coverage breakdown on the last play. #NationalCatDay pic.twitter.com/PC6g68Rj23

— Andy McNamara (@McNamaraUO) October 29, 2014
D.J. Foster bringing his media skills to practice.
ASU running back DJ Foster gets in a question for teammate Taylor Kelly. pic.twitter.com/gnIygvvhVC

— Doug Haller (@DougHaller) October 29, 2014
The hurt doesn't show;
But the pain still grows;
It's no stranger to you and me.
(I know you totally just did the drums in your head!)
Leading off
It's depth chart Wednesday! And the people rejoiced. All 12 teams are in action again, so here are the most current depth charts for each team (except, as you know by now, UCLA, which doesn't do a weekly depth chart). As always, I've made some notes below.
Notes (lots this week)
News/notes/team reports
Just for fun
Happy birthday, coach.
"@OregonIMG: Happy Birthday to our two guests tonight @CoachHelfrich and Charles Nelson!!! pic.twitter.com/YXw6pJC9mJ"

— Andy McNamara (@McNamaraUO) October 29, 2014
October, 28, 2014
Oct 28
8:15
PM ET
If the regular season ended today, Oregon would not be in the first four-team College Football Playoff.
The 12-member playoff selection committee revealed its first Top 25 rankings on Tuesday, and slotted the Ducks at No. 5. However, with several weeks left, the Ducks remain in good position to climb into a playoff spot by the end of the season.
The top four teams are: 1. Mississippi State; 2. Florida State; 3. Auburn; and 4. Ole Miss. Ole Miss and Mississippi State will play each other on Nov. 29.
At No. 12, Arizona led a group of four other Pac-12 teams in the selection committee's Top 25. The Wildcats were followed by No. 14 Arizona State, No. 17 Utah and No. 22 UCLA.
Besides UCLA, which has two losses, all of those teams have a conceivable route to the playoff by winning out. No matter what happens elsewhere, it would be very difficult to leave out a one-loss Pac-12 team, regardless of who it is.
The committee will officially announce the four playoff teams on Dec. 7.
Here's our weekly attempt at mapping out where the Pac-12 teams will end up come bowl season.
College Football Playoff:
Oregon
Fiesta Bowl:
Arizona
Valero Alamo Bowl:
Utah
National University Holiday Bowl:
Arizona State
San Francisco Bowl:
UCLA
Hyundai Sun Bowl:
USC
Royal Purple Las Vegas Bowl:
Stanford
Cactus Bowl:
Washington
Heart of Dallas Bowl*:
Cal
* at-large
October, 28, 2014
Oct 28
7:30
PM ET
Here's another look at random stats pertaining to the Pac-12.
Washington (5-3, 1-3 Pac-12) at Colorado (2-6, 0-5)
Washington (19.6 percent) is the only team in Pac-12 play that is scoring on less than 25 percent of its drives.
When facing a goal-to-go situation, the Washington defense has allowed a touchdown just five of 11 times in Pac-12 play (45.5 percent). That's 16 percent lower than the conference's next best team, USC (61.5).
Washington has scored the fewest points in conference play (18.5 per game), while Colorado has allowed the second most (45.8).
Colorado WR Nelson Spruce (77 catches, 864 yards, 11 touchdown receptions) is the only receiver in the country with at least 60 catches, 800 yards and 10 touchdown receptions.
Among the nine Power 5 teams winless in conference play, Colorado has the closest point margin per game (10.6).
USC (5-3, 4-2) at Washington State (2-6, 1-4)
On trips to the red zone in conference games, opposing teams have scored touchdowns 39.1 percent of the time against USC (9 for 23), which is the lowest in the conference.
USC RB Javorius Allen leads the nation with 846 yards rushing in conference games.
USC (84.5 yards per game) and WSU (75.0) are two of the three most penalized teams in Pac-12 games.
WSU QB Connor Halliday has thrown for 3,833 yards this season. That's more total offense than all but 19 FBS teams.
Four WSU players (Vince Mayle, River Cracraft, Jamal Morrow, Isiah Myers) rank among the top seven in receptions in Pac-12 games.
Stanford (5-3, 3-2) at No. 5 Oregon (7-1, 4-1)
In Pac-12 games, Oregon leads the conference in yards per play (6.95) and Stanford ranks No. 4 (6.06).
After picking up the initial first down of a drive, Oregon scores 64.4 percent of the time. In the same scenario, Stanford's scoring rate is 43.8 percent.
Stanford has allowed 0.89 points per drive this season, the third fewest in the country.
The Cardinal is the only team in the Pac-12 to force opponents to punt more than half the time (53.8 percent).
Stanford held Oregon to 34 points combined over the last two seasons. Only two other teams during those seasons held the Ducks to fewer than 35 in a single game.
California (4-4, 2-4) at Oregon State (4-3, 1-3)
Oregon State has seen an average of 32.5 pass attempts per game on defense in conference play, the fewest in the Pac-12. Cal has averaged 45.5 per game on offense.
Cal has forced teams to go three-and-out 9.8 percent of the time in conference play, the lowest rate the conference.
Oregon State has allowed just 11 passes of 20 or more yards in Pac-12 play (second fewest), while Cal has connected on 33 such plays (most).
Cal QB Jared Goff averages 8.74 yards per attempt, the second most in the conference behind Oregon's Marcus Mariota.
Oregon State QB Sean Mannion needs 194 yards passing to break Matt Barkley's Pac-12 career passing record (12,327)
No. 14 Arizona (6-1, 3-1) at No. 25 UCLA (6-2, 3-2)
Among players with at least 30 carries in Pac-12 play, UCLA RB Paul Perkins is averaging the most yards per carry (8.01). He's averaged 9.34 yards on first down.
Arizona LB Scooby Wright is the only player in the country with at least nine sacks and five forced fumbles.
Arizona QB Anu Solomon is one of six quarterbacks in the country with at least 20 touchdown passes and fewer than five interceptions.
In conference games, UCLA has the second-best yards margin per game in the Pac-12 (plus-63), behind only Stanford (plus-134).
UCLA has out gained Arizona just three times in the the teams' last 10 meetings.
No. 18 Utah (6-1, 3-1) at No. 15 Arizona State (6-1, 4-1)
Utah has registered a first down or scored a touchdown on 23.7 percent of its offensive plays during Pac-12 games, which is the fewest in the conference.
Utah has thrown the ball 33 percent of the time on first down, the lowest in the Pac-12.
In seven games, Utah leads the nation with 35 sacks. No other team which has played just seven games has more than 28.
ASU WR Jaelen Strong has accounted for 32.9 percent of the Sun Devils' receptions this year, the highest percent among Pac-12 receivers.
ASU RB D.J. Foster is averaging 7.55 yards per touch from scrimmage this season, the most of any Pac-12 player with at least 80 touches.
Past weeks
Week 1
Week 2

Week 3
Week 4
Week 5
Week 6

Week 7
Week 8
Week 9
October, 28, 2014
Oct 28
3:57
PM ET
Because of injuries, there's a very real chance that two true freshmen will see significant action for Stanford's defense against Oregon.
Cardinal coach David Shaw ruled starting free safety/nickelback
Zach Hoffpauir
out of Saturday's contest because of an undisclosed injury suffered this past weekend against Oregon State. Senior
Kyle Olugbode
will assume a bigger role at safety in his stead, while true freshman
Terrence Alexander
will bear the brunt of nickelback duties against
Marcus Mariota
's high-powered offense.
Hoffpauir, who's in the midst of his best season, has been an integral part of Stanford's secondary, especially against teams who spread it out offensively. The junior's four pass break-ups rank second on the Cardinal's team, and his 15-tackle performance two weeks ago smothered Washington State in space.
While Hoffpauir's loss is significant, Stanford is still waiting for its most significant injury news. Nose tackle
David Parry
, who suffered a leg injury during the Cardinal's loss at Arizona State, is still questionable for Oregon. Shaw said that Parry's recovery has not yet reached a satisfactory point for Stanford, and a final decision on his game status should come within the next two days.
Parry, who battled through a lower abdominal injury in 2013, has also been enjoying his best career season while playing at full health. Shaw noted that Parry's ability to attract double teams up front is significant for Stanford's defense to operate at full efficiency against run-strong teams such as Oregon.
"You're not going to find somebody that can physically manhandle people [the way Parry can]," linebacker
A.J. Tarpley
said. "He wants to play really bad."
If Parry can't play, Stanford will again turn to 255-pound true freshman
Harrison Phillips
to keep stalwarts
Henry Anderson
and
Blake Lueders
fresh up front. The Cardinal already absorbed a big blow when defensive lineman
Aziz Shittu
went down at practice with a possible season-ending injury.
"Our motto on defense has always been 'next man up is the best man up,'" Tarpley said. "The most important thing is that whoever plays goes 100 percent."
October, 28, 2014
Oct 28
3:00
PM ET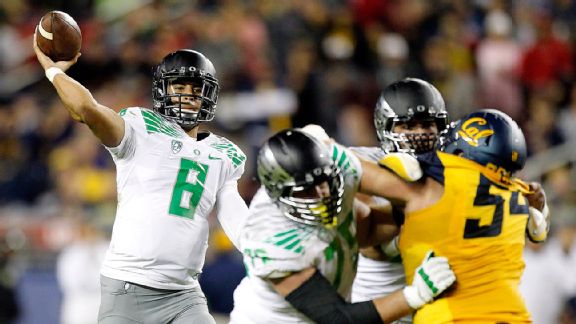 Cary Edmondson/USA TODAY SportsMarcus Mariota passed for 326 yards and five touchdowns in Oregon's win over Cal.
The Pac-12 is loaded with talent at quarterback this season to the point where it seems like the conference is a hoarder and really good QBs are in abundance. But this is the way we like it. And the other conferences can keep hoarding whatever they like as long as the signal-callers stay west.
Every week we'll provide you with a power ranking of the conference's top quarterbacks, heavily considering the QB's most recent game.
Drumroll please...
For Week 8's rankings, click here.
Recruiting Snapshot: Stanford vs. Oregon