September, 22, 2014
Sep 22
4:15
PM ET
By
ESPN.com staff
| ESPN.com
With the Pac-12 schedule beginning in earnest Week 5, we at the Pac-12 blog identified one question that each team has answered thus far in a satisfactory way and one that still needs to be figured out. First up: the Pac-12 North.
Cal
One question that has been answered
: Will Cal be competitive? The Bears have taken the biggest step forward in the conference and can no longer be written off as an automatic win for teams looking up and down their schedule. Saturday's loss to Arizona was a heartbreaker, but the progress is obvious.
One question that hasn't been answered
: Can the defense hold up for four quarters? In its two games against FBS teams, Cal has allowed 13 total points in the first half and 60 points in the second half. That disparity needs to be rectified.
Oregon
One question that has been answered
: Will Oregon be OK without
Josh Huff
,
Bralon Addison
and
De'Anthony Thomas
? The answer is yes, yes, yes -- a resounding yes. And that's nothing against those three players, because they're all very talented. But between the Ducks' three-headed monster at running back (
Royce Freeman
,
Thomas Tyner
and
Byron Marshall
) and their small army of receivers led by
Devon Allen
and
Keanon Lowe
, the Ducks are doing just fine for themselves.
One question that hasn't been answered
: Can the offensive line pull it together and protect
Marcus Mariota
? The Heisman hopeful was sacked seven times Saturday night in Pullman, Washington. SEVEN. TIMES. It is a little more understandable when you consider a true freshman was starting a left tackle and a former walk-on was starting at right tackle. Now, we know the mantra that every backup prepares like a starter, but it's clear the Ducks are struggling after losing
Tyler Johnstone
,
Andre Yruretagoyena
and
Jake Fisher
. Mariota won't be 100 percent by the end of the season if he's sacked seven times a game. That falls on the offensive line.
Oregon State
One question that has been answered
: How will the Beavers try to replace
Brandin Cooks
? "Try" is the key word here, as it'll be nearly impossible to completely replace Cooks' 128-catch, 1,730-yard, 16-touchdown virtuoso performance of 2013. But in its attempt to pick up the slack, Oregon State is running the ball more effectively (
Storm Woods
and
Terron Ward
are averaging more than six yards per carry) and
Sean Mannion
has a new favorite target:
Victor Bolden
, who has 18 catches after only grabbing nine all of last season.
One question that hasn't been answered
: Will Oregon State's rushing defense be better than last year's? Mannion-to-Cooks was great in 2013, but the Beavers floundered to a .500 regular-season record when their defense didn't hold up its end of the bargain. The unit gave up 5.1 yards per rush last season, and the results haven't been particularly promising so far in 2014 (allowing 4.7 yards per carry against Portland State, Hawaii and San Diego State), but a veteran-heavy front seven still has a chance to post significant improvement. USC's Buck Allen will provide a hefty challenge this week.
Stanford
One question that has been answered
: Will the losses of key contributors on defense, including coordinator Derek Mason, hurt Stanford's defense? So far, a resounding "no." The Cardinal are proving that nasty defensive success is more about scheme and cohesion than it is about star power. A finally healthy defensive line duo of
David Parry
and
Henry Anderson
has spearheaded a suffocating unit with no glaring weakness: Stanford has already pitched two shutouts and is surrendering only 4.3 points per game. The Cardinal are also leading the nation by registering a sack on 12.5 percent of opponents' passing attempts.
One question that hasn't been answered
: Who is Stanford's go-to running back in the post-
Tyler Gaffney
era? David Shaw is still going with the four-man committee approach, and receiver
Ty Montgomery
has even received some carries because he's the only one big enough to replicate the 220-plus-pound size Stanford used to enjoy at the position. The Cardinal would probably like to establish an identity soon because their lack of a go-to weapon has contributed to enormous problems in the red zone (No. 124 nationally in scoring efficiency there).
Washington
One question that has been answered
: Will the Huskies be fine at quarterback in the post-Keith Price era?
Cyler Miles
has been solid, though the level of competition ratchets up considerably Saturday with Stanford's vaunted defense paying a visit. Miles has completed nearly 68 percent of his passes and has yet to throw a pick. Meanwhile, the Huskies have introduced a new offensive wrinkle that's allowed backup
Jeff Lindquist
to rush for a pair of touchdowns.
One question that hasn't been answered
: How will Washington's relatively young defensive backfield hold up? Again, so far, so good -- though Georgia State racked up 233 yards of total offense while Washington slept through Saturday's first half. But freshman
Sidney Jones
and the rest of this unit will be tested against the dangerous aerial threats of the Pac-12 North. It does look like veteran
Marcus Peters
is ready to make plays for the Huskies on the back end. He recorded two picks this past week. Washington's nation-best 19 sacks have certainly made life easier for the team's defensive backs, too.
Washington State
One question that has been answered
: Could
Connor Halliday
be smarter with the ball? Now, he hasn't had a flawless season, but if Saturday's close loss against Oregon told us anything, it's that Halliday can really excel in this offense when he, his receivers and his offense line key in. He threw for 436 yards and four touchdowns while completing 68 percent of his passes and not throwing a single pick (just the third time that has happened since the start of the 2012 season) against the No. 2 team in the nation.
One question that hasn't been answered
: Can the Washington State team that showed up against Oregon show up for every game the rest of the season? If the team that challenged Oregon -- the one that sacked Mariota seven times, doesn't throw interceptions, rushes the ball with enough success -- shows up every game, the Cougars will be competitive and have winnable games against Utah, Arizona, Oregon State and Washington. Could they pick up a win over Stanford, USC or Arizona State and still be bowl eligible after their 1-3 start?
September, 22, 2014
Sep 22
11:00
AM ET
The
Socratic smugness
that enveloped me in the wee hours of Sunday morning was a revelation of sorts, though a recognition of futility isn't terribly comforting.
After the tumult of another thrilling weekend, Twitter spun and spun with ostensible wisdom, with Pac-12 and college football philosophers insisting this or that was true based on this or that result. As for me, all I knew is that I knew nothing. Therefore, I am wiser than Twitter, for neither Twitter nor I appears to know anything great and good; but Twitter fancies it knows something, although it knows nothing. In this trifling particular, then, I appear to be wiser than Twitter, because I do not fancy I know what I do not know.
Ya know?
Dominant teams? There may not be any. Florida State, Oklahoma, Alabama, Oregon etc. Each seems to be surviving rather than asserting itself. Same holds true in the Pac-12.
The good news is Socrates also believed an unexamined college football season is not worth following. Further, after four confounding weeks, both nationally and within the Pac-12, we figure to scrape and claw toward more substantial revelations this week, at least on the West Coast. Probably. Maybe.
First, just the facts.
Seven Pac-12 teams remain unbeaten, though hardly unblemished. Three in the North Division: Oregon, Washington and Oregon State. And four in the South: Arizona, Arizona State, UCLA and Utah.
At least one of those will go down before next weekend, as UCLA visits Arizona State in a critical South clash on Thursday. Both teams have looked vulnerable. Both teams have QB questions, with
Taylor Kelly
definitely out for the Sun Devils, and
Brett Hundley
trying to come back from a hyper-extended elbow that knocked him out of the nail-biting win over Texas.
Oregon, the putative top Pac-12 team and favorite to represent the conference in the College Football Playoff, is off this week. The Ducks might be good enough to win the national championship or they might lose three games due to an injury-riddled offensive line or a leaky defense. We've seen Oregon dispatch mighty Michigan State with a dominant second half on both sides of the ball and then cling for dear life at Washington State, the only conference team presently owning a losing record.
Just as UCLA-Arizona State is a separation game in the South, so is Stanford's visit to Washington on Saturday in the North. We have little feeling on the potency of either. Both have flashed potential on both sides of the ball. Yet both also have looked feckless and discombobulated, which is surprising when you consider the reputations of their respective head coaches. The winner becomes the top potential foil for Oregon in the North.
Or might that actually be Oregon State? We don't really know what to make of the Beavers, who visit USC on Saturday, because they haven't played anyone. For that matter, we don't really know what to make of USC either because it was good enough to beat Stanford and bad enough to be humiliated at Boston College.
Things are perhaps just as intriguing -- read: hard to figure -- among the hoi polloi, among the teams not widely viewed as serious threats to win the conference. And by "widely viewed" keep in mind the chattering classes tend to talk themselves into general agreement based their need to wheeze carbon dioxide into the atmosphere, yours truly not exempted by any means.
Colorado's trip to California is a game that matches teams that both said, "We can win this one!" in the preseason. The loser's long shot bowl hopes will take a huge hit. You could probably say the same about Washington State's trip to Utah, though a Utes victory might propel them into the Top 25 and transform them into a popular new dark horse in the South.
In fact, our limited intelligence after four weeks might merely be a confirmation of what most suspected in the preseason: There will be no easy outs this fall, which might be as much a function of the top slipping as the bottom rising. Sure, Washington State is 1-3, but the Cougs pushed Oregon to the brink. A little less brilliance from
Marcus Mariota
and a little more help from the officials and things might have been different. Colorado is 2-2 but it gave Arizona State trouble, the Buffs rushing for 232 yards against the Sun Devils' rebuilt defense. California was a Hail Mary pass away from winning at Arizona and improving to 3-0. Utah won convincingly at Michigan, which might not mean much but it's still a happy ending in the Big House against a team wearing cool winged helmets.
So expect to muddle forward toward clarity, even if we encounter a few false summits along the way. No Pac-12 team appears unbeatable. And no team appears incapable of playing competently. Each fan base should remain hopeful while not ruling out the possibility of eventual despondency.
The good news, as Socrates noted via Plato, is there are two ruling and directing principles in a college football season. It always at least teases our innate desire for pleasure. And, at its end, we acquire grounds to judge excellence.
September, 22, 2014
Sep 22
10:00
AM ET
By
David Lombardi
| ESPN.com
The season's second quarter
Cupcake hour is over. Stanford started the 2014 campaign with three straight games at home. Only one, a 13-10 loss to USC, was competitive.
Now, the two-time defending conference champions emerge from their early bye week to delve into the meat of the schedule -- and it's a doozy. Eight battles loom against what's proving to be a deep Pac-12. The only remaining nonconference contest comes in a visit to formidable Notre Dame two weeks from now. Six of Stanford's final nine regular-season games are on the road.
The initial trip comes this Saturday at Washington. This will be the Cardinal's first time playing in renovated Husky Stadium, a venue where they haven't lost since 2003 -- though Washington did hand Stanford a 17-13 loss at Seattle's CenturyLink Field two years ago while the Huskies' on-campus palace was undergoing renovations.
Stanford faces the test of travel
For the Cardinal, then, these two next games carry the feeling of true litmus tests. When Stanford last faced this road-heavy schedule in 2012, Seattle and South Bend were the locations of the team's only two losses. Josh Nunes was still the starting quarterback then. Stanford was unable to score a single offensive touchdown throughout both games -- though it's a good bet that
Stepfan Taylor
still believes he crossed the plane in overtime at Notre Dame.
The rest was history: Not too long after the losses,
Kevin Hogan
took Nunes' spot as starting quarterback and Stanford ripped off eight straight wins on its way to Rose Bowl glory.
Now the Cardinal return to the spots that tormented them before that magical 2012 run started, and it's Hogan manning the ship instead. His arsenal of weapons --
though effective in new ways
-- is different than Stanford stockpiles of years past. Together, this group is tasked with proving the Stanford offense can, in fact, travel effectively.
The no-touchdown horrors of the 2012 games against Washington and Notre Dame are well-documented, but it's also worth noting that the Cardinal's attack struggled to execute on the road as recently as last season, scoring touchdowns on only 47.8 percent of its trips to the red zone on the road (compared to 65.5 percent of its red-zone chances at home). Of course, this year's epic red-zone struggles at home against USC (10 points in nine trips to the Trojans' 35-yard line) are still freshly emblazoned in memory.
If Stanford proves it can execute at point-blank range against the likes of 340-pound Washington fire hydrant
Danny Shelton
in the midst of roaring crowd noise, this team will find itself in business. If not, the road burden will remain on the Cardinal's defense, and the path to replicate the past two years' success will become considerably steeper.
Defensively speaking
Of course, David Shaw doesn't want his club's 2014 College Football Playoff chances to heavily rely on its defense. But such a scenario might not automatically summon the apocalypse. The Stanford defense, stocked with younger blue-chip talent that credits new defensive coordinator Lance Anderson's simplified schemes for its fast play, is surrendering a nation-best 4.3 points and 204 yards per game. We'll discuss the impact of Stanford's finally healthy defensive line in detail later this week, but some of its effects have been readily apparent: So far, Stanford has sacked an opposing quarterback on a Pac-12-best 12.5 percent of passing attempts, an even better rate than the record-setting "Party in the Backfield" 2012 unit, which corralled throwing quarterbacks 9.4 percent of the time.
It's now time to see if the Cardinal can pack their bags and travel on both sides of the ball, because the comfortable part of this team's 2014 slate is over. Enter the rigorous 2014 stretch, the one in which the Pac-12 will learn a great deal about Stanford's new-look squad.
September, 21, 2014
Sep 21
8:00
PM ET
What did we learn this week, people? The Pac-12's depth is going to make for a fun season and probably a good dose of insanity when trying to sort out the postseason.
For example, two late games Saturday night that ended in dramatic fashion could have bowl implications. When you look at Cal's remaining schedule, are there four wins out there? How about Washington State? Had the Cougars won, you could make a case that, at 2-2, they weren't out of it yet. But what are the odds the Cougars win five of their next eight?
The Bears kick off a stretch of three games against nonranked opponents (Colorado, Washington State, Washington) before closing the season against five of six teams currently ranked in the Top 25. They will need an upset or two along the way. As for Colorado, that Cal game is a huge swing game for the Buffs as well.
Seven Pac-12 teams are still undefeated -- Oregon, Washington, Oregon State, Arizona, Arizona State, UCLA and Utah. We know that isn't going to last. Oregon and Arizona are two wins away from bowl eligibility. Washington needs seven because of the Hawaii rule, and Oregon State, Arizona State, UCLA and Utah are halfway there.
Things are sure to get more interesting in the coming weeks as we plow full steam ahead into conference play.
For now, here are the projections. As always, salt heavily.
College Football Playoff:
Oregon
Fiesta Bowl:
UCLA
Valero Alamo Bowl:
Stanford
National University Holiday Bowl:
Utah
San Francisco Bowl:
USC
Hyundai Sun Bowl:
Arizona State
Royal Purple Las Vegas Bowl:
Washington
Cactus Bowl:
Arizona
Heart of Dallas Bowl*:
Oregon State
*-At large
September, 21, 2014
Sep 21
2:00
PM ET
September, 19, 2014
Sep 19
6:00
PM ET
Happy Friday. This is the Week 4 mailbag, popularly known as the mailbag that appears before the fourth weekend of the season.
Follow me on Twitter here
. It makes it so easy to pass along an insult!
To the notes!
Ben from Los Angeles writes:
I think just about every person watching the USC-BC game last Saturday was wondering why Sark was running the ball. My mom even called to ask me what he was thinking. BC sold out to stop the run, but SC just ran straight into it anyway. How can a squadron of highly paid football coaches not see what the rest of us see? Sark admitted he was stubborn, but doesn't he pay these guys to tell him when he's off the mark?
Ted Miller
: USC rushed 29 times for 20 yards against Boston College. That is awful, even when you consider the 36 yards yielded on five sacks. Meanwhile, the Trojans and QB Cody Kessler complete 31 of 41 passes for 317 yards -- 7.7 yards per attempt -- with four TDs and no interceptions.
So obviously the passing game was working better than the running game against Boston College, a team that isn't known for its athleticism in the secondary, particularly compared to what the Trojans offer at receiver.
In other words: I hear you.
Steve Sarkisian's desire to maintain balance didn't work. While the defense was more of a disaster -- 452 yards rushing surrendered, 8.4 yards per rush, a complete breakdown of scheme and fundamentals -- scoring just seven points in the second and third quarters against a weak defense is pretty baffling.
Yet the bigger picture was most troubling. USC jumped to a 10-0 lead and then seemed to lose its focus and intensity, and BC took advantage. The performance fit in with typical stuff from Sarkisian's critics, most notably his teams' tendency to struggle on the road, even against outmanned teams.
Many jumped the gun on celebrating USC, including the Pac-12 blog, without really looking at the victory over Stanford and being more cautious about its potential ramifications and meaning. Many aspects of that game suggested the Cardinal were the better team; they just couldn't get out of their own way. Or kick a field goal. (In our defense, the lauding of USC as a South Division
contender was more about the schedule
than the Trojans looking like an elite team.)
USC and Sarkisian do have a ready-made excuse: The thinness of the roster because of scholarship limitations. While that is legitimate, that still doesn't cover for losing to a team that will be lucky to become bowl-eligible in the ACC.
Still, just as it was premature to rank USC in the top 10 after it beat Stanford, is it premature to fit Sark for his Lane Kiffin undergarments.
---
SharkDuck from Portland writes:
Since everyone is assuming (outside of Oregon) that the Ducks will implode at some point (OL issues, Mariota injury, etc), if they do run the table to a playoff spot, do they have to win it all to be considered "great," or is the playoff enough? I wait on the edge of my chair, unable to fufill my drone duties until answered.
Ted Miller
: Oregon played for the national title after the 2010 season. The Ducks finished No. 2 in 2012, one of five consecutive final rankings in the top 11, with three in the top five during that span.
Reaching the playoff would be a solid achievement, but the Ducks already have accomplished a similar feat by reaching the BCS title game against Auburn. The only thing the program hasn't accomplished -- the only box that hasn't been checked -- is winning a national title.
To earn legitimacy as "great" or to be considered one of "those" programs, the Ducks must win a national title. Doing so also, by the way, would eliminate the only remaining substantive tweak Washington fans have when going back and forth with Ducks fans.
Success is a harsh mistress, eh? Consider that finishing 11-2 and ranked No. 9 last year was treated as a significant disappointment by many Oregon fans.
---
AnGeLfRoMaBoVe from Heaven Streets of Gold writes:
Who do you think will win the national championship and/or Heisman?
Ted Miller
: Wait, I'll go get my crystal ball out of the closet.
Crystal ball, who wins the Heisman and national title?
Well, that's not very nice. I what? There's no proof of that! You have pictures? Do you want to go back into the closet? You wouldn't!
[Sounds of smashing crystal].
Er, Florida State wins the national title and Oregon QB Marcus Mariota wins the Heisman Trophy.
---
Bruce from Salt Lake City writes:
Ted, with all of the drama going into the first playoff selection, the committee might as well beef it up with a "Bachelorlette" rose-like ceremony where they invite all of the coaches in the top 10, who pull and pick the coaches (teams) one by one. Add in some dramatic music and a few camera confessionals of the coaches not picked, maybe a few heated words between rivals - this could make for some OK, good TV. If not TV, then at least a Frank Caliendo ESPN segment. Thoughts?
Ted Miller
: Adding Frank Caliendo makes just about everything better.
I like your idea. I particularly think it would be fun to have cameras trailing the spurned coaches as they exit in tears and then climb into their limos of shame.
"It just hurts so much," LSU coach Les Miles might say. "I
t's like reading a book and it's sad ... I don't read books, but if I read books, it would be like reading a book. A sad one.
It's not a hammer-and-a nail relationship, though.
I'm proud of our men, anyway. Spectacular group of men. You got to find them, you throw your arms around them and give them a big kiss on the mouth, if you're a girl. Anyway.
I'm the head coach at LSU. I will be the head coach at LSU. I have no interest in talking to anybody else, including you, camera guy. I got a Sugar Bowl to play, and I'm excited for the opportunity of my damn strong football team to play in it. Please ask me after. I'm busy. Thank you very much. Have a great day!"
September, 19, 2014
Sep 19
8:00
AM ET
Happy Friday!
Leading off
This is the final weekend of "mostly" nonconference play. Starting next week, it's a full slate of Pac-12-only games. So say your hellos and goodbyes to the Michigans, Hawaiis and Georgia States of the world this weekend. There are still three dates with Notre Dame and Cal's season finale against BYU. But for the rest of the league, we wrap up the non-league games this weekend.
The nonconference schedule always makes for some interesting picks. The Pac-12 blog
unleashed its picks
on the world yesterday morning. Not a ton of discrepancy, other than a 4-1 decision on the Utah-Michigan game. Besides that one game, the rest of the Pac-12 blog is in agreement.
Here are what others from across the country are picking for Week 4.
(I'm noticing a lot of folks went 7-1 last week ... hmmm, USC...)
Big Board update
When the first two names are called at the 2015 NFL draft, there's a good chance they will both be from the Pac-12.
So says ESPN's Mel Kiper Jr.
, who updated his Big Board. It's an Insider piece, but I'll tell you the new big board is silly with Pac-12 players. Eight players from the league are in his top 25 -- including three in the top 10.
Mel Kiper Jr. drops Winston from 3rd to 25th on Big Board » pic.twitter.com/Kkc8I249al

— ESPN CollegeFootball (@ESPNCFB) September 18, 2014
News/notes/practice reports
Just for fun
I see you have learned to work the Google on the internet machine.
Leading off
The two highest-ranked teams in the Pac-12 -- Oregon and UCLA -- have had some issues along the offensive line three weeks into the season. The Ducks have suffered injuries that have forced some younger or less experienced players into action. The Bruins haven't done a great job protecting their quarterbacks. If either hopes to advance to the College Football Playoff, they are going to have to figure things out up front. That's the premise of Steve Lassen's piece for Athlon Sports, which examines
the offensive lines of both schools so far
.
Lassen on Oregon:
Will Oregon's offensive line woes derail the offense against Washington State or Arizona? Probably not, but a thin offensive line could create more pressure on quarterback Marcus Mariota.
And on UCLA:
The stats from the first three games suggest the offensive line is improving. But what type of impact could a long-term injury to [Malcolm] Bunche hold for this group? And assuming Bunche does return to full strength, can this unit jell and continue to improve after a sluggish start to the season?
UCLA is off this week while Oregon travels to Washington State for its first Pac-12 game of the season. The Bruins will head to Tempe on the 25th to square off with ASU.
Utes & Cats
In
his mailbag this week
, Stewart Mandel of Fox Sports hit on a question about Arizona and Utah and their place in the South Division. Here's an excerpt about the Utes:
This year, with [Travis] Wilson back and currently the nation's No. 2-rated passer, the Utes have clobbered their first two foes, but they were Idaho State and Fresno State. Michigan has certainly proven beatable. If Utah can pull it off on the road, then I'd reevaluate their place in that division.
Mandel says, given the state of the division (injuries to
Taylor Kelly
, a shaky start for UCLA, USC's loss), the Utes might be a good sleeper team to sneak up and steal the division. He doesn't see Arizona as a team ready to make that leap yet. On the field, it won't get settled until the Wildcats make the trip to Salt Lake City on Nov. 22. Might be an intriguing showdown for a couple of teams either looking to reach bowl eligibility or improve their place in the pecking order.
My guess is if Utah wins this weekend, they'll be added to this list.
Notable 3-0 teams that are unbeaten & unranked. pic.twitter.com/kAzFF7oMW6

— College GameDay (@CollegeGameDay) September 17, 2014
News/notes/team reports
Just for fun
If you're a fan of "The Office,"
this is for you
. If you're a fan of Stanford athletics, this is for you. If you're a fan of both, this might be the greatest thing in the world. And if you're a fan of neither, move along. Nothing to see here.
Want to see what the Ducks
saw before their Wyoming game?
Warning: The following video might make you want to go workout.
September, 17, 2014
Sep 17
8:00
AM ET
Come son of Jor-El. Kneel before Zod. Snootchie boochies!
Leading off
It's depth chart Wednesday! There are four teams on bye this week -- Arizona State, Stanford, UCLA and USC -- so we won't update them until next week. Here are the updated depth charts for the other eight.
Some observations:
Mark your calendars
The Pac-12 released
the 2015 schedule
on Tuesday and Kyle Bonagura broke it down last night. You can just scroll down, because it's the post right below this one. Or if you're really lazy, just click
here
.
Some of the key matches that jump out are Michigan's trip to Utah in a rematch of this weekend's game, Arizona State vs. Texas A&M at Reliant Stadium and a rematch of Oregon-Michigan State, with the Ducks traveling to B1G country this time around.
There's the usual matchups of Notre Dame vs. USC and Stanford, plus Oregon State travels to Michigan and Cal heads to Texas. And don't think the Cougars won't have vengeance on their mind when they go to Rutgers.
P-A-C vs. S-E-C
Jon Wilner of the San Jose Mercury News broke down the nonconference performances thus far of the Pac-12 and the SEC to find the answer to the question:
Who is better?
He crunches the results, makes a couple of predictions, and leaves us with this result:
The Pac-12 hasn't outperformed the SEC thus far in Power 5 results and has no discernible advantage going forward in the quantity or quality of its Power 5 games.
News/notes/practice reports
Just for fun
Ever wonder what Mike Leach or Steve Sarkisian would look like if they were the subject of the Mona Lisa? We haven't either, thank goodness
someone has
.
Three times the jinx? We're kidding.
Marcus Mariota is on his third SI cover this week. All 3: pic.twitter.com/59cedWhMvf

— Kyle Bonagura (@BonaguraESPN) September 16, 2014
September, 16, 2014
Sep 16
10:10
PM ET
By
David Lombardi
| ESPN.com
Who cares if the 2014 season is still in its infancy? This is the never-ending college football machine, so it's never a bad time to chop up Stanford's
next
go-round.
The Cardinal has scheduled a quality slate of nonconference games to complement what looks to be another rigorous nine-game jaunt through the Pac-12. The conference released the exact dates of the entire 2015 regular-season schedule Tuesday evening, guaranteeing plenty of spirited fan chatter with an eye on the future. Here are some takeaways from the Cardinal's 2015 slate:
There are no UC Davis-like cupcakes in the nonconference swing this time around. Stanford routed the Aggies, an FCS opponent, in Week 1 this year to make up for the schedule's loss of former regular opponent San Jose State. Northwestern (the Sept. 5 season opener) and Central Florida (the Sept. 12 home opener) have replaced UC Davis and Army on Stanford's slate. Notre Dame is the Cardinal's third and final nonconference opponent, and the Irish visit to conclude the regular season.
Fans vehemently complained about this current 2014 schedule, which features a visit from only one truly marquee opponent (USC, and that came before Stanford students even reported to campus). By contrast, this 2015 slate is absolutely glamorous. It features a mouth-watering line-up of home opponents. The following teams all visit Stanford Stadium: Central Florida, Arizona, UCLA, Washington, Oregon, California and Notre Dame. Six of those games take place with school already in session, as opposed to only three in 2014. Not too shabby.
Why Central Florida? Well, recruiting the Southeast is one of Stanford's top priorities. They've done a remarkable good job harvesting talent from the state of Georgia over the years, so playing the Knights should give the Cardinal program valuable exposure in the Sunshine State. Stanford will visit Orlando in 2019, providing a future opportunity to recruit in one of America's hotbeds of football talent.
It's not happening in Week 2 this time, but Stanford again plays USC early in 2015. That means that the Cardinal and Trojans will square off in September for the third time in four years. The previous two match-ups have (not surprisingly) resulted in sloppy games: In 2012, a patchwork Trojans' offensive line was not ready for Stanford's furious blitz; and just two weeks ago here in 2014, both teams still looked like they were in preseason form as they combined for 18 penalties for 155 yards.
The Cardinal must travel to Oregon State on a short week following their trip to USC. Granted, the Beavers won't enjoy a full week of preparation either, but they'll have a considerably easier test (San Jose State) the week before.
Until this week, 2011 was the last time Stanford had not enjoyed a full mid-season bye week. David Shaw even had to dig through his old practice notes to tailor his team's regimen during this hiatus. The Cardinal, in fact, will enjoy two full bye weeks here in 2014 -- but they'll be back to zero in 2015. There is a weekend off following the October 3 home game versus Arizona, but it'll be consumed by preparation for the following week's Thursday showdown against UCLA.
Stanford and Oregon have squared off in November in every single season since 2010. That will not change this time around. Mark Nov. 14, 2015, for the Ducks' return to Stanford Stadium.
September, 16, 2014
Sep 16
10:00
PM ET
We're three weeks into 2014 ... so let's talk about 2015.
The Pac-12 released the full 2015 football schedule Tuesday, which begins the third cycle of scheduling among conference teams since the 2011 expansion.
We've known about most of these games for awhile, but it's still fun to scan them all in one place. Chris Petersen's return to Boise State, Arizona State's trip to Houston to play Texas A&M and the state of Oregon against the state of Michigan (on the same day) immediately stand out.
10 notable nonconference games
Michigan at Utah
Arizona State vs Texas A&M
Washington at Boise State
Oregon at Michigan State
Oregon State at Michigan
Washington State at Rutgers
BYU at UCLA
California at Texas
USC at Notre Dame
Notre Dame at Stanford
Here is the full schedule:
Week 1
Thursday, Sept. 3
UTSA at Arizona
Michigan at Utah
Saturday, Sept. 5
Arizona State vs Texas A&M, NRG Stadium, Houston
Arkansas State at USC
Virginia at UCLA
Colorado at Hawaii
Eastern Washington at Oregon
Weber State at Oregon State
Washington at Boise State
Portland State at Washington State
Grambling State at California
Stanford at Northwestern
Week 2
Saturday, Sept. 12
Arizona at Nevada
Cal Poly at Arizona State
Idaho at USC
UCLA at UNLV
UMass at Colorado
Utah State at Utah
Oregon at Michigan State
Oregon State at Michigan
Sacramento State at Washington
Washington State at Rutgers
San Diego State at California
Central Florida at Stanford
Week 3
Saturday, Sept. 19
Northern Arizona at Arizona
New Mexico at Arizona State
Stanford at USC
BYU at UCLA
Colorado vs. Colorado State, Sports Authority Field at Mile High, Denver
Utah at Fresno State
Georgia State at Oregon
San Jose State at Oregon State
Utah State at Washington
Wyoming at Washington State
California at Texas
Week 4
Friday, Sept. 25
Saturday, Sept. 26
UCLA at Arizona
USC at Arizona State
Nicholls State at Colorado
Utah at Oregon
California at Washington
Week 5
Saturday, Oct. 3
Arizona at Stanford
Arizona State at UCLA
Oregon at Colorado
Washington State at California
Week 6
Thursday, Oct. 8
Saturday, Oct. 10
Oregon State at Arizona
Colorado at Arizona State
California at Utah
Washington State at Oregon
Week 7
Thursday, Oct. 15
Saturday, Oct. 17
Arizona at Colorado
Arizona State at Utah
USC at Notre Dame
Oregon at Washington
Oregon State at Washington State
Week 8
Thursday, Oct. 22
Saturday, Oct. 24
Washington State at Arizona
Utah at USC
Colorado at Oregon State
Washington at Stanford
Week 9
Thursday, Oct. 29
Saturday, Oct. 31
Arizona at Washington
USC at California
Colorado at UCLA
Oregon State at Utah
Stanford at Washington State
Week 10
Saturday, Nov. 7
Arizona at USC
Arizona State at Washington State
UCLA at Oregon State
Stanford at Colorado
Utah at Washington
California at Oregon
Week 11
Friday, Nov. 13
Saturday, Nov. 14
Utah at Arizona
Washington at Arizona State
Washington State at UCLA
Oregon at Stanford
Oregon State at California
Week 12
Saturday, Nov. 21
Arizona at Arizona State
USC at Oregon
UCLA at Utah
Colorado at Washington State
California at Stanford
Washington at Oregon State
Week 13
Friday, Nov. 27
Oregon State at Oregon
Washington State at Washington
Saturday, Nov. 28
Arizona State at California
UCLA at USC
Colorado at Utah
Notre Dame at Stanford
Friday, Dec. 4
Pac-12 Championship Game, Levi's Stadium, Santa Clara, California
September, 16, 2014
Sep 16
7:00
PM ET
Here's another look at random stats pertaining to the Pac-12.
Hawaii at Colorado
WR Nelson Spruce has accounted for 39.7 percent of Colorado's receiving yards, the second-highest percentage in the conference.
The Buffaloes have picked up 43 first downs from pass plays, second most in the Pac-12.
Colorado is the only team in the Pac-12 that has been outscored this year (minus-25).
Utah at Michigan
Nine of Utah's 14 touchdown drives have taken two minutes or less.
Utah scores on 70 percent of drives where it gets the initial first down.
QB Travis Wilson is one of 10 players in the country with at least six touchdown passes and no interceptions.
Georgia State at Washington
Georgia State, a second-year FBS program, has never beaten a FBS team.
WR John Ross is averaging 37.3 yards per reception on six catches -- half of which have gone for touchdowns.
In two games with Cyler Miles at quarterback, Washington has averaged 51.5 points and 500.5 yards per game.
California at Arizona
Cal has lost 14 consecutive Pac-12 games, the second-longest conference losing streak in the country.
According to VegasInsider.com, Arizona opened as a 17-point favorite, but dropped to as low as nine points Tuesday morning.
Cal ranks third in the Pac-12, converting on 51.5 percent of its third-down chances.
Arizona ranks No. 8 nationally and No. 1 in the Pac-12 on offense, averaging 582.7 yards per game.
Cal ranks No. 1 in the Pac-12 in rush defense (113 yards per game) and Arizona is No. 3 (116.0)
San Diego State at Oregon State
Oregon State has allowed one more rushing first down (11) than via penalty (10).
San Diego State quarterback Quinn Kaehler and Oregon State quarterback Sean Mannion played against each other in the same high school league.
Mannion ranks No. 2 among active FBS quarterbacks with 11,064 career passing yards.
Oregon at Washington State
Oregon has scored at least 14 points in a national-best 68 straight games.
Both teams rank in the top 15 nationally in total offense: 10. Oregon (573.3); 15. WSU (557.0)
Oregon quarterback Marcus Mariota ranks third nationally averaging 11.35 yards per pass attempt.
Oregon safety Erick Dargan, who chose the Ducks over WSU, leads the nation with three interceptions -- tied with four others.
WSU teammates Isiah Myers and Vince Mayle are the only teammates that both rank in the top 15 in receptions -- Myers is No. 5 with 26; Mayle is No. 7 with 25.
National individual leaders
Passing touchdowns
t1.
Connor Halliday
, WSU — 12
t13.
Sefo Liufau
, Colorado — 8
t13. Marcus Mariota, Oregon — 8
t13.
Cody Kessler
, USC — 8
t13.
Anu Solomon
, Arizona — 8
RawQBR
4. Mariota, Oregon — 93.3
6.
Taylor Kelly
, ASU — 92.1
9.
Jared Goff
, Cal — 90.1
11. Travis Wilson, Utah — 87.5
14. Cyler Miles, Washington — 85.2
Rushing yards
3.
D.J. Foster
, Arizona State — 510
4.
Nick Wilson
, Arizona — 449
Rushing touchdowns
t8.
Royce Freeman
, Oregon — 5
t8. Foster, ASU — 5
Receiving yards
4. Isiah Myers, WSU — 423
10. Nelson Spruce, Colorado — 346
Receiving touchdowns
1. Spruce, Colorado — 6
t2. Myers, WSU — 5
Yards from scrimmage
1. Foster, ASU — 649
9. Wilson, Arizona — 470
Sacks
1.
Danny Shelton
, Washington — 6
t3.
Hau'oli Kikaha
, Washington — 5
Defensive touchdowns
1.
Shaq Thompson
, Washington — 2
Field goals
3.
Casey Skowron
, Arizona — 7
Pac-12 team stats
Offensive touchdown drive percentage
1. Oregon — 56.8
2. Utah — 50
3. Arizona State — 45.2
4. Cal — 40.7
5. Arizona — 36.8
6. Washington State — 35
7. Washington — 34.2
8. Stanford — 33.3
9. USC — 30
10. Colorado — 25
11. Oregon State — 23.3
12. UCLA — 23.1
Defensive touchdown drive percentage
1. Stanford — 2.8
2. Oregon — 15.8
3. Arizona — 17.9
4. Arizona State — 18.6
5. Cal — 19.2
6. Utah — 19.4
7. UCLA — 20
8. USC — 20.5
9. Oregon State — 20.7
10. Washington State — 24.4
11. Washington — 26.3
12. Colorado — 35
Offensive 3-and-out percentage
1. Arizona — 5.3
2. Stanford — 6.1
3. Colorado — 10
3. Washington State — 10
5. Cal — 14.8
6. UCLA — 15.4
7. Oregon — 16.2
8. Washington — 18.4
t9. Oregon State — 20
t9. USC — 20
t11. Arizona State — 21.4
t11. Utah — 21.4
Defensive 3-and-out percentage
1. Utah — 45.2
2. Stanford — 38.9
3. Arizona — 35.9
4. Washington State — 31.7
5. Oregon State — 27.6
6. Washington — 26.3
7. UCLA — 25
t8. USC — 23.1
t8. Cal — 23.1
10. Arizona State — 20.9
11. Colorado — 20
12. Oregon — 15.8
Past weeks
Week 1
Week 2

Week 3
September, 16, 2014
Sep 16
11:00
AM ET
The Pac-12 typically has great quarterbacks and good depth at the position, but the 2014 season is particularly stacked behind center. With a few All-American candidates and early NFL draft picks, it's almost difficult to keep up with who's doing what to whom's secondary.
No worries. We've got you covered. Each week, we will provide you a top-five ranking of the Pac-12 QBs.
Now, it won't always be a 1 to 5 ranking according to the expected pecking order at season's end or NFL draft lists. It will react heavily to the preceding week. And we'll try to spread some love.
Honorable mention
:
Jerry Neuheisel
, UCLA;
Taylor Kelly
, ASU: Neuheisel was a great story this week -- in fact,
the
story this week -- after stepping in for an injured
Brett Hundley
and leading UCLA to a win against Texas. His game-winning touchdown pass with three minutes to go won't soon be forgotten, and the Pac-12 Player of the Week honor was justified. If he's forced back into action again, he'll be considered in future weeks. Kelly was his usual self against Colorado -- completing 13 of 21 passes for 195 yards and three touchdowns -- before exiting with an injury.
Inactive Week 2
:
Jared Goff
, Cal;
Sean Mannion
, Oregon State;
Travis Wilson
, Utah
To see last week's rankings, click here.
September, 16, 2014
Sep 16
10:00
AM ET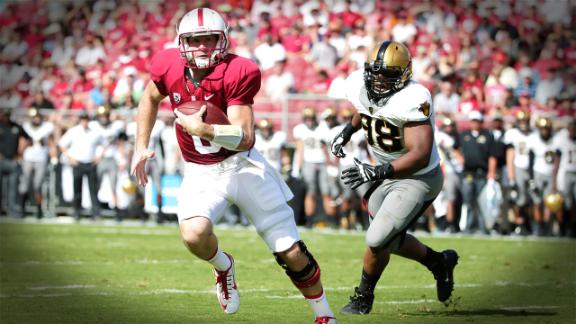 The early weeks of the high school and college football seasons slow things down a bit when it comes to Pac-12 recruiting. Only a handful of official visitors made their way to Pac-12 campuses, while a junior college commitment to Arizona was the first addition to the conference in nearly two weeks. But there were still interesting developments at a number of conference schools as Stanford hosted a huge visitor, UCLA made an important statement, and Colorado looked ahead to the 2016 class.
Pac-12 Weekend Wrap: Sept. 16