September, 4, 2014
Sep 4
11:00
AM ET
Nobody will argue that the Ole Miss-Vanderbilt series has the acclaim or reputation of Alabama-Auburn or Florida-Georgia. It certainly isn't close to being as volatile, either.
But to those around the programs and those invested in these teams, this series is very much a rivalry. Mississippi State and LSU might bring out more passion in Ole Miss fans, and Vandy's followers might have more hatred for Tennessee, but this game resonates with folks in Oxford and Nashville.
Saturday marks the 89th meeting between the schools. They recruit many of the same players out of the Tennessee area and the series has been pretty competitive in its long history. Ole Miss leads the series 48-38-2 but is 27-22-2 in Nashville, where Saturday's game will be played.
[+] Enlarge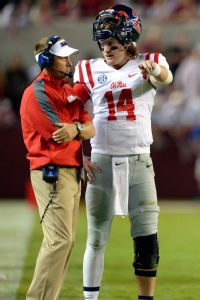 John David Mercer/USA TODAY SportsOle Miss coach Hugh Freeze and quarterback Bo Wallace will try to beat Vanderbilt for the second year in a row.
"They're a tough team because they bring it every time, no matter what," said Ole Miss defensive lineman
Robert Nkemdiche
, who made his college debut in last year's Vandy game. "They're in the SEC, and SEC teams are always good. The Southeastern Conference is a hard conference; I don't care who you play. If you do sleep on a team, you can lose. I don't see us sleeping on no team."
The series has been played annually since 1970. Vandy has won six of the last nine against Ole Miss, including three of the last five in Nashville. Ten of the last 15 meetings have been decided by eight points or fewer, and the last two were decided a combined five points.
The only team that Vandy has played more than Ole Miss (88 times) is Tennessee (108).
"It's always been a fun and exciting game to be a part of," junior Vanderbilt offensive lineman
Spencer Pulley
said. "I know the community and fans have really gotten into it, especially the last couple of years. As far as a rivalry, over the last couple of years it's really turned into a good one."
In 2012, Ole Miss quarterback
Bo Wallace
threw a career-high 403 yards and wide receiver Ja-Mes Logan caught eight passes for 160 yards – both career-highs -- only for the Rebels to blow a 17-point lead. The Commodores scored 14 unanswered points in the third quarter and won 27-26 on a 26-yard touchdown pass from
Jordan Rodgers
to
Chris Boyd
with 52 seconds remaining.
Last year, Ole Miss snapped the Commodores' three-game winning streak with 29 second-half points in a 39-35 victory, capped by an exhilarating 75-yard touchdown run with 1:07 left.
The images of a cutting, darting Scott still plays in the minds of some Vandy players, and it's added a little fuel to Saturday's game.
"It sticks with me, 'cause every time I think about Ole Miss, I think about that last play," Vandy defensive lineman
Adam Butler
said. "And I just think about if we would've stayed with our fundamentals, which is an area that coach said we didn't really stick with in this past game."
Ah, yes, the last game. A comedy of errors for the Commodores. With seven turnovers, seven penalties, less than 280 yards of offense and no points on offense, Vandy was steamrolled in its home opener 37-7 to a Temple team that won just two games last year.
Head coach Derek Mason is embarrassed, and so are his players. But they're motivated by the fact that Ole Miss visits for a late afternoon game at LP Field, just down the road from Vandy's campus.
Mason will be baptized into this rivalry on Saturday, but players filled him in on the importance – and bragging rights – this game holds.
"The veterans got up and talked about the rivalry between the two schools and how tight it's been," Mason said. "That's when your leadership starts to come out and shows you what the scope of this game is. Not only is it an SEC opponent, it's a rivalry game. There's always a little more on these rivalry games, but I think it helps us understand where we need to go, what the level of intensity is going to be."
Ole Miss coach Hugh Freeze is very familiar with this game. He spent three years in it as an assistant at Ole Miss from 2005-2007, when the Rebels went 1-2 against the Commodores. As the head coach he's 1-1, and knows it's dangerous to discount the Commodores.
"We're not going to overlook them," said Freeze, whose 15th-ranked Rebels are coming off a 35-13 victory over Boise State. "We'll get them ready. It's an SEC football game on the road.
"They've always played us tough up there, for whatever reason."
What will add a little more to this game is the atmosphere inside LP Field. With a large contingent of Ole Miss fans residing in and around the Nashville area, there's a chance that this could actually feel like a home game for the Rebels. The short drive from Oxford, Mississippi – roughly 230 miles – should also help pack a lot more red and blue into "Nashvegas."
"This game is going to be a live atmosphere," Ole Miss receiver
Laquon Treadwell
said. "I can't wait."