Monday chat wrap
October, 21, 2013
10/21/13
5:00
PM ET
Another great
SEC chat is in the books
, so if you were too busy dissecting the ending to last night's episode of "The Walking Dead" and missed our award-winning chat here's the recap:
Mitchell (Auburn) [via mobile]
I know what Gary Pinkel has done shouldn't be overlooked but can't you argue what Gus Malzahn has done could be equally if not more impressive?
Edward Aschoff (12:05 PM)
I think they are about equal. Pinkel beat Georgia and Florida in consecutive weeks and blew out both of them. He also blew out Vandy. Malzahn has done a very good job and beat one of the best teams in the country. Maybe if the Tigers didn't start off so poorly against LSU, they'd be undefeated. I think both have done stellar jobs, but you gotta go with the man who is undefeated and could be playing for a national championship if he wins out.
[+] Enlarge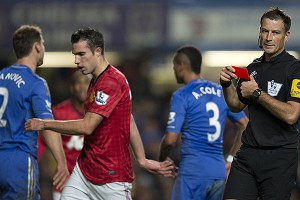 Adrian Dennis/AFP/Getty ImagesCould we see officials use color-coded cards when it comes to the targeting rule?
Scratches (B'more, MD)
Is Ray Drew's ejection in the UGA-Vandy game going to help undo the ejection penalty? Everyone knows that was an absolutely horrible call. Think the SEC will make any comments about it?
Edward Aschoff (12:07 PM)
No shoving allowed!! I can't believe that was a targeting penalty. I just can't believe it at all. I was laughing in the press box at Mizzou when I actually saw it. Truly an embarrassment to the game. The rule has to be changed during the offseason. I like the idea of a yellow card warning and then an ejection for a second offense either later in the game or season.
gatorfan (georgia)
Has the Gator defense thrown in the towel and given up because of the lack of production from the offense?
Edward Aschoff (12:10 PM)
I know people will point that the defense giving up 500 yards to Mizzou and more than 340 rushing yards combined in back-to-back games, but late in the fourth quarter this defense was still trying. It was still hitting hard. But I know defensive players are frustrated. The offense is in shambles and the defense has to stay on the field too long. It's like iFlorida doesn't have a chance unless its defense scores.
david (florida)
With the BCS rankings out now is the SEC still the No. 1 conference, or has the ACC caught up a bit with three top-10 teams?
Edward Aschoff (12:12 PM)
Caught up? No one will "catch up" until they win championships. Not just one. This whole "Oh, the SEC is losing its power because other conferences are playing well" makes no sense. It's like if the conference doesn't make it to the national championship this year that the last seven years won't matter. The ACC has Florida State as its only BCS title contender. I'm not convinced Miami has "it" to win the ACC or make it to the title game. Clemson is out now. Alabama and Mizzou are the SEC's only hopes, but Bama is pretty darn good.
William (COMO)
If Mizzou reaches Atlanta undefeated but comes up short in the SEC championship game, do you think they would still get a BCS Bowl?
Edward Aschoff (12:13 PM)
I still think the Tigers would make it to the Sugar Bowl if that's their only loss. No way the Sugar Bowl passes on a team like that.
Chris, Texas [via mobile]
Do you see the Aggie defense stopping anyone the rest of the year? Will Miles Garrett help? The tackling issues are hard to ignore.
Edward Aschoff (12:15 PM)
I mean he'll help when he gets on campus, but he's of no help to this bad unit right now. This defense ranks 120th nationally and is the worst in the SEC. There is no pressure up front, poor tackling and big plays are killing this secondary. It must truly be a sight to see at practice when the offense goes up against that defense. Ouch