March, 30, 2015
Mar 30
11:00
AM ET
Steve Spurrier is taking the long view of last season.
It was disappointing to finish 7-6, of course, but as the 69-year-old coach of the South Carolina Gamecocks told ESPN.com last week, it's all a matter of perspective.
"Our year could have been worse," he said. "We had a winning season and won a bowl game. That's not a terrible year at all. In fact, I call it a decent year. It had only happened three times in school history prior to 10 years ago."
[+] Enlarge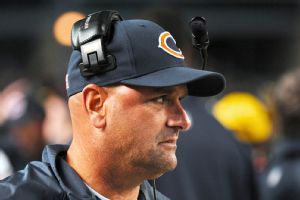 George Gojkovich/Getty ImagesJon Hoke, who spent the past six seasons as the Chicago Bears' defensive backs coach, will try to improve South Carolina's defense this season.
At the same time, Spurrier isn't aiming for decent. He's not content to finish fifth in the SEC East again.
Without necessarily beating himself up over last season, he has been willing to make changes. The message, Spurrier said, is that the team needs to invest more: "Team speed, effort, all those kinds of things weren't as good as they needed to be."
For his part, Spurrier brought in longtime NFL assistant Jon Hoke, the older brother of former Michigan head coach Brady Hoke, as his co-coordinator on defense. Hoke will share that title with Lorenzo Ward, who was the lone defensive coordinator from 2012-14.
Since there can be only one person who calls the plays, Spurrier said it will be Hoke, who hopes to turn around a unit that finished in the bottom three of the SEC in yards per game, rushing yards per game, and third-down and fourth-down conversion percentage in 2014. The Gamecocks had the fewest sacks (14) by an SEC squad since 2011.
"Lorenzo Ward has done an excellent job here," Spurrier said. "We just had one of the worst defenses in school history last year and we had to do something different."
In Hoke, Spurrier is looking for more than just a fresh set of eyes.
"We hope to have better effort," Spurrier said. "Sometimes you have to change. It's not necessarily the guy before's fault. Auburn got rid of their coordinator, SMU got rid of theirs. We just sort of shifted ours over, and I really think Lorenzo Ward is looking forward to the new challenge."
Spurrier added that he hopes the defense tackles better, is more fundamentally sound and disguises better with Ward and Hoke tag-teaming practice.
"We hope we look like a good defense," Spurrier said with a chuckle. "We all know what good defenses look like and we all know what sorry defense looks like."
In the end, though, last season's defensive drop is something the Gamecocks should have seen coming, he said, noting how the season before they rode a top defense that featured first-team All-SEC defensive linemen Jadeveon Clowney and Kelcy Quarles to an 11-2 record.
"We had a false sense we were going to continue to play pretty good defense," Spurrier said. "In preseason, we had one defensive player make third-team all-conference, our safety Brison Williams. And then we were picked to win the division by the same media guys. I said, 'Man, they're picking us to win, but they don't think we have many good ball players.'"
While it's tough to predict how many Gamecocks will dot this season's preseason all-conference teams, it's safe to say expectations will be lower with a bunch of new faces on defense, a new quarterback and a new starting tailback.
But change, when you go from ninth in the AP preseason poll to unranked by the end of the 2014 season, isn't necessarily a bad thing.
"We've been coming off an 11-2 record three years in a row and now we're coming off 7-6," Spurrier said. "So maybe complacency set in last year, I don't know. But there is a little sense that, 'We need to get better, fellas.'"