September, 17, 2014
Sep 17
11:00
AM ET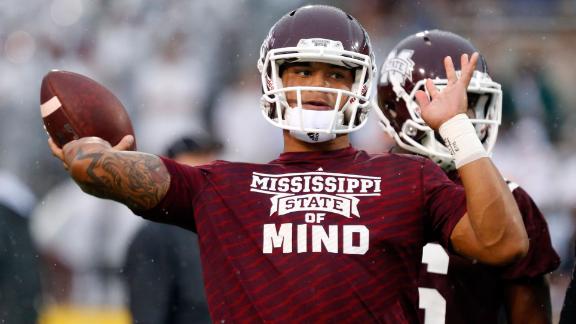 STARKVILLE, Miss. -- "You're not going to Mississippi State unless you can tell me why," Peggy Prescott said to her son late one night during his senior year of high school.
Dak
, her youngest, wanted to play college football in Starkville, but he was only 17 years old at the time. Because of that, he couldn't sign his own letter of intent. Mom held the keys to his future and she wasn't going down without a fight.
Raising three boys on her own in Louisiana, Peggy needed to be heard. Her whistle, how it cut through the crowd from the bleachers to the football field below, is still ringing in her sons' ears today, 11 months after she passed away from a year-and-a-half-long bout with cancer.
She loved football and was there for every one of her sons' games. Before she passed, she broke down and got her first tattoo: a football on her ankle with the number three written inside it for her boys.
"With the cannon going off on the football field and people yelling you could still hear my mom's sharp whistle over everybody," Tad, her eldest, recalled. "She was not the mom that sat under a blanket and kept her mouth shut the entire game. You could hear her screaming, 'Hit him! Get your hands off him!'"
[+] Enlarge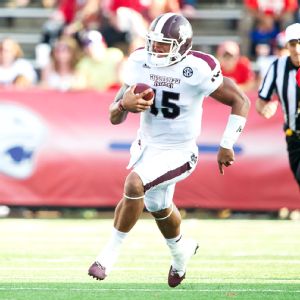 Michael Chang/Getty ImagesDak Prescott knows he has something to prove on Saturday against LSU.
It was how she felt about Mississippi State, too. Starkville wasn't allowed to have Dak, she thought. The seven-and-a-half-hour drive across state lines was too much for her. The two-and-a-half hour trip to LSU felt much more reasonable.
Besides, it was LSU that recruited Peggy the hardest, 10 times harder than Dak, he said.
"They knew whatever Mom said was going to matter," Dak said. "They battled her and battled her, but I wanted to be an honest guy, and when I give my word I'm committed."
That decision didn't come easily. Dak had to keep his mother up until 2 a.m. to finally convince her why Mississippi State and coach Dan Mullen were the right choice.
"I didn't want to go to a team that had already won a championship and had been in the top 10 every year," Dak explained. "I wanted to help a team grow and be a part of something special, and I thought Mississippi State had the best chance at the time."
LSU, he felt, was telling him what he wanted to hear. Mullen said redshirting his first year on campus was a possibility while Miles told him he wanted him to play right away, he said.
"I feel like I'm a smart guy and I can see through bull crap," Dak said.
"I wanted to get to where LSU and all those other schools were and beat them."
On Saturday, he'll have that chance.
If only Peggy could be in Baton Rouge to see it.
For the first time in a long time, there's hope among Mississippi State fans that beating LSU is a real possibility. The Tigers have won 14 consecutive times in the series, after all.
But the Bulldogs are 3-0 themselves, the defense is as deep as it's ever been and Dak is quietly building a case for the Heisman Trophy. He's an outsider at this point, but his numbers speak volumes: 43 of 72 passing for 696 yards and nine touchdowns. He's rushed for 273 yards and two touchdowns. And for good measure, he's also caught a touchdown pass.
Between his number (15) and his charismatic leadership, there have been comparisons to Tim Tebow. Mullen, after all, was Tebow's offensive coordinator at Florida when he won the Heisman in 2007.
"He's evolved," said safety
Jay Hughes
, who hosted Dak and his mother on their official way back when. "Just his knowledge and understanding of the game have gone to another level."
"I don't even think he knows how good he can be," he added.
But while putting up big numbers against LSU would surely catapult Dak into the Heisman conversation, Mullen doesn't want him thinking that way.
"There will be plays he has to make to win the game for us, but not every play," Mullen said. "Disperse the ball, get it to the playmakers, lead the offense, and then when there are plays to be made go make them."
Dak insists he's ready to do just that. He knows Tiger Stadium will be loud, but he's excited for it. With more than 20 family members expected to be on hand, he knows, "All eyes will be on us and LSU this time."
The same quarterback who turned down LSU and convinced his mother it was the right decision is now returning to his home state with hopes of an upset. Mississippi State is ready to break through, he thinks. Now is the time to prove it.
"There's nothing like starting 1-0," he said. "Starting off against a top-10 opponent would be a great chance to put ourselves ahead and let the nation know."
And in some way, it would let Dak know, too.
A win would do more than lift Mississippi State in the SEC West. A win would do more than lift Dak's Heisman chances.
A win would make Dak right about that 2 a.m. conversation so many years ago. A win would be the perfect way to say to his mother that leaving home and helping build something in Starkville was well worth it.