October, 1, 2014
Oct 1
11:00
AM ET
All week, we're discussing Saturday's terrific slate of games in the SEC West. We looked at which games we'd
pay the most to see
. We debated which team
has the most to prove
. Now it's time to talk about the quarterbacks.
The question is simple. With the game on the line, which quarterback would you want leading your team? The answer? Not so easy, but our SEC writers take a stab at it anyway.
[+] Enlarge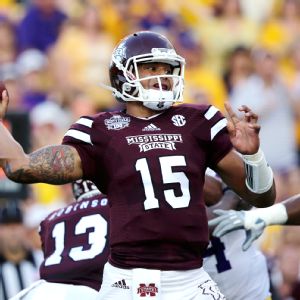 AP Photo/Gerald HerbertIf the Bulldogs were to find themselves behind in a game, QB Dak Prescott is the player many would prefer to see leading the charge.
Edward Aschoff:
I'm taking Mississippi State's
Dak Prescott
. If I need plays made late in the game, I'm going with someone who can not only fire the ball around but can take off and get plenty of yards with his feet. I'm so new-school in that respect. Give me a mobile quarterback any day over a statue pocket passer. Look at what Prescott did against LSU, in Baton Rouge no less. You're telling me I can have someone who strutted into the intimidating confines of Tiger Stadium and got a win with 373 total yards and three touchdowns? Yeah, sure. Sign me up.
David Ching:
There are some good choices here, but I'll take Mississippi State's Prescott.
Kenny Hill
is an impressive talent with a bunch of weapons at his disposal at Texas A&M.
Nick Marshall
makes some incredible plays while leading Auburn's prolific offense.
Blake Sims
and
Bo Wallace
aren't bad, either. Give me Prescott. I had a front-row seat to watch his improvisational skills occasionally embarrass LSU's defense two weekends ago and came away impressed. He's got his work cut out on Saturday to keep up with Hill and Texas A&M's high-scoring offense, but I'll take my chances with Prescott any time.
Alex Scarborough:
What if I say Sims and have him throw screen after screen to
Amari Cooper
-- the equivalent of an extended handoff? No? That's cheating, you say? OK, fine. If I'm forced to choose, give me Prescott. Something about his intangibles tells me he can win a close game for me. He's a better pure passer than Marshall, he's a more explosive and physical runner than Hill, and he's less Dr. Jekyll and Mr. Hyde than Wallace when it comes to turning over the football. Sims, on the other hand, has never played a meaningful snap on the road, and that gives me pause.
Jeff Barlis:
Hands down, Auburn's Marshall is the best clutch quarterback in the SEC. Coach Gus Malzahn said it himself last week: "If you compare him to all the other quarterbacks around the country when the game's on the line, we've got the best guy." Marshall proved it time and time again during the Tigers' miracle run last season, but that was done mostly with his legs. This season, he's shown improvement as a passer as evidenced by the Tigers'
huge road win
at Kansas State when he started 5-of-13 passing for 56 yards and closed out the game by going 12-of-18 for 175. Marshall will have to come through one more time for Auburn to beat LSU.
Greg Ostendorf:
Don't sleep on Wallace. He's much better at home. I was at the LSU game last season when he went 8-of-11 for 71 yards on the final drive to set up Ole Miss for the game-winning field goal. With that said, I'm going to have side with Jeff on this one. Marshall isn't the best quarterback in the SEC. He might not even be in the top three. But when the game is on the line, nobody is better. He orchestrated game-winning drives against both Mississippi State and Texas A&M last season; he threw the touchdown to
Sammie Coates
that made the kick-six possible in the Iron Bowl; and more recently, he made the clutch third-down throw to put away Kansas State on the road. The kid is as cool as the other side of the pillow.
Sam Khan:
I don't think there are very many wrong choices here. I like Prescott and Marshall a lot. Heck, I even like LSU freshman
Brandon Harris
, though he'll need some more experience before I can fully trust him in that situation. Today, give me Hill. He's as cool a customer as they come and that's what you need with the game on the line -- someone who is poised. Hill showed those characteristics last week, with his team down by 14 points in the fourth quarter. After struggling through three quarters, Hill made every throw he had to make and compiled 204 passing yards and three touchdowns in the fourth quarter and overtime, including a perfectly-thrown dart for the game-winner to
Malcome Kennedy
in OT. He has come up big in A&M's two biggest games so far. You have to be darn good to earn the tag of "Trill" in Texas.