October, 22, 2014
Oct 22
3:10
PM ET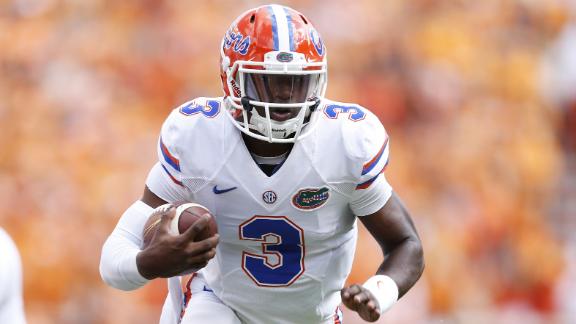 GAINESVILLE, Fla. -- Too little, too late?
Florida coach Will Muschamp is fighting for his job and faces the gargantuan task of getting his Gators back on track before what could be a career-deciding game against Georgia on Nov. 1 in Jacksonville.
Muschamp announced Wednesday that true freshman
Treon Harris
will
start at quarterback
, replacing junior
Jeff Driskel
. It's an obvious move because there is little else this team can do to reverse the tailspin that dates back to the 4-8 season of 2013.
The discord has only grown this season, as Florida (3-3, 2-3 in the SEC) is looking at another dysfunctional offense and another poor record.
[+] Enlarge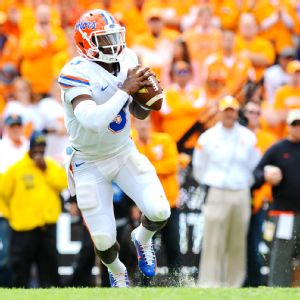 Randy Sartin/USA TODAY SportsFlorida freshman Treon Harris, who will replace Jeff Driskel at quarterback, is 12-of-18 passing for 263 yards and three touchdowns this season.
Even legendary Florida quarterback Tim Tebow, as positive a voice as can be found in his role as an analyst for the SEC Network,
criticized his alma mater's lack of heart and lack of identity
on offense.
Muschamp agreed and said his players are circling the wagons.
"We've just tried to control the controllables. We repeat that to our players a lot," he said. "The things that we can control -- we need to play better, that's the bottom line. We need to coach better. So those are the things we need to focus on -- improving ourselves and finding an identity offensively in what we can do and what we can do well.
"And block out as much as you can. You're going to hear it. That's part of it playing at a place like the University of Florida."
Irate fans booed Driskel and chanted "Fire Muschamp" during Florida's
42-13 homecoming loss to Missouri
on Saturday. Their frustrations boiled over as the Gators committed six turnovers after having three in each of the previous three games.
Muschamp said he didn't hear the chants but seems to understand what caused them, calling the game "an embarrassing performance, coaching-wise and playing-wise."
Under Muschamp's direction, Florida's offense has consistently ranked among the worst in the FBS: 105th in 2011 (averaging 328.69 yards per game), 103rd in 2012 (334.38 YPG), 115th in 2013 (316.7 YPG) and 101st through six games this season (368.0 YPG).
Florida's offense has been going in the wrong direction this season, averaging 462.3 yards per game in the first three contests and 273.7 YPG in the last three.
"Fifteen turnovers in the last four games has been a killer for us," Muschamp said. "We can't afford to turn the ball over. We've lacked production and explosive plays at the quarterback position. I think couple all those things together, we've struggled."
Hence the move from Driskel, who has completed 53.0 percent of his passes, to Harris, who has a completion percentage of 66.7.
The offense has rallied around Harris before. In fact, the 19-year-old led Florida to its only points against Tennessee and Missouri.
Now Florida players must rally to save their season, to save their coaches' jobs, and to save Florida's image.
"[Athletic director Jeremy] Foley said earlier that [Muschamp] is here and he's staying here," senior center
Max Garcia
said after the Missouri game. "We're going to play that way.
"We're not going to give up on him. We're not going to give up on the team. We don't have any quitters on this team."
Foley
reiterated his support
on Monday, saying he will continue to "evaluate the season as it plays out."
Muschamp, whose team has lost 10 of its last 13 and eight of its last 10 SEC games, said he appreciated the gesture and hopes team pride will turn things around.
"I think Jeremy sees a lot of the things that are going on in our program, and certainly a huge part of that is winning games, and that's not what we've done," Muschamp said. "But academically, socially, all the things we've done within our program in changing the culture have been outstanding."
Without positive results, will it be too little and too late for Muschamp?