October, 21, 2014
Oct 21
2:00
PM ET
TUSCALOOSA, Ala. --
Reggie Ragland
was a four-star prospect. He was 6-foot-3, 245 pounds and ran the 40-yard dash in less than 4.7 seconds. SEC coaches fell over themselves chasing after him. He was the No. 2-rated inside linebacker in the country, according to ESPN, and was invited to the Under Armour All-Star Game where he stood out just as much as future teammates
T.J. Yeldon
,
Amari Cooper
and
Landon Collins
.
When Ragland set foot on Alabama's practice field for the first time, he continued to impress. He didn't look like a freshman, his legs as thick as tree trunks. Considering his background, his build and his athleticism, he was someone you circled on the roster to watch.
That was three years ago.
[+] Enlarge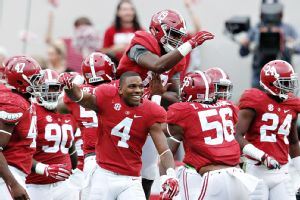 Marvin Gentry/USA TODAY SportsAlabama's Reggie Ragland, top, is congratulated by teammates after his interception vs. Texas A&M.
When Ragland had "former blue-chip prospect" in front of his name, everything changed. Reality set in. The rigors of the college game caught up with him, as they have so many. Nick Saban's defensive system wasn't a quick study. He was buried on the depth chart by Nico Johnson, C.J. Mosley and
Trey DePriest
. He looked the same physically, but he wasn't noticeable any longer. Eleven of his 17 tackles as a sophomore came on special teams.
There were glimpses of Ragland's potential during those first two years on campus, but concrete evidence was hard to come by. While Yeldon, Cooper and Collins emerged as stars, Ragland wondered whether he would ever regain the confidence he possessed as one of the most sought after high school athletes in the country.
Turning to Collins this season, he expressed doubt. Johnson and Mosley were gone and a starting job was all but guaranteed to him, but all he could feel was uncertainty.
"I've been out for years," he told Collins.
"Brother, just ball," the All-SEC safety responded. "You've been doing it for how many years? All you have to do is go out there, play your game and just ball."
It wasn't a quick process, but Ragland eventually found his footing. The anxiety he felt dissipated, and he started playing in a way that lived up to his high billing as a freshman: fast, physical, aggressive.
Through seven games, he trails only Collins for the team lead in tackles. He has made five stops behind the line of scrimmage, defended three passes and recovered two fumbles. Against Texas A&M on Saturday, he made one of the plays of the game, leaping high into the air for his first career interception.
"The first game for me I overthought everything," Ragland said. "Because I hadn't played in a couple of years, everything was fast. But as the weeks went on, everything started slowing down for me and I could see it."
He no longer needs the safeties to tell him what to do, he said. Reading the line of scrimmage and the quarterback's eyes, he is seeing things before they happen.
Playing fast and confident again, he is a big reason Alabama's defense ranks third in the nation, giving up 262.1 yards per game.
"Reggie has gotten better and better with every game," Saban said prior to Alabama's 14-13 win against Arkansas two weeks ago. "I think he's another one of those guys that didn't have a whole lot of experience before, so as you play and as you gain experience, you realize what it takes to play well.
"You've got to prepare what you've got to look at, how you've got to understand your game plan. You understand that every mental error you make has a consequence in the game. You really focus on paying attention to detail, doing the little things right. You become a lot better, more efficient player and Reggie has certainly done that."
Living by Saban's words -- "Relax, let loose and have fun" -- Ragland has become a rising star in the SEC.
If the rest of Alabama's former four- and five-star athletes learn to play the same way, watch out.
"If everybody can get together, the sky's the limit for us," Ragland said.
He should know.