October, 30, 2014
Oct 30
12:00
PM ET
No Todd Gurley for two more weeks and no spot in the top 10 of the College Football Playoff rankings for Georgia? Have no fear, Bulldogs, our Edward Aschoff is here with a pep talk.
Hey Georgia Bulldogs, lift those chins up and poke those chests out. You've got a playoff run to make.
[+] Enlarge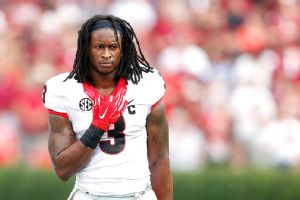 Joe Robbins/Getty ImagesHey Georgia, it's on you to win the next two games. If you are able to do that, you'll get this guy back for the big one against Auburn.
The past few days haven't been very kind to you guys at all. It started with hope, as rumors swirled that star running back Todd Gurley would be back in time to help trample the Gators in Jacksonville. He was even reportedly taking first-team reps.
Then, the first tattered domino fell Tuesday night. The College Football Playoff committee wasn't very impressed with you. Couple that bad, early-season loss to a less-than-impressive South Carolina team with what the committee must have thought was a soft first-half slate, and you debuted in the
College Football Playoff Rankings
at No. 11. I even agree that the best win Georgia has is against Clemson, which just happens to be ranked No. 21, but come on. Eleventh? This team is better than that.
However, that wasn't the most disheartening news. On Wednesday, you found out that Gurley will have to sit out
two more games
for accepting more than $3,000 in cash from multiple individuals for autographed memorabilia. The NCAA then arrogantly boasted that it could have made things even worse for Gurley, adding a little gasoline to the already effervescent flame dancing on the program.
But fear not, Dawgs. Grab those hoses, because there's plenty of time to prove the committee wrong.
Don't like the committee or Twitter tell you that you aren't a beautiful butterfly. Don't let esteemed ESPN colleague Andrea Adelson try and steal your shine! (I heard what she said about you guys on our Spreecast, too.) You guys are the real deal, right now, and you have a chance to really impress the committee with what you have ahead in November.
Plus, you'll start the month without Gurley. Yes, he's out against a struggling Florida team and a Kentucky team still looking to grow, but
Nick Chubb
will once again have to carry the rushing load with
Keith Marshall
and
Sony Michel
sidelined. Hey, if he keeps trucking along without help, the committee will have to take that into account. This kid is a true freshman, yet he's dazzling fans and punishing defenders barely removed from his senior prom. Not to add anymore pressure to his already piled plate, but he does look like a young Gurley.
People want to trash your schedule? You know, the one you were dealt and had no control over this season? Well, you still have No. 3 Auburn (at home), and chances are you're headed to Atlanta for the SEC championship game, unless you get really sloppy. I understand that the East is, well, like an old horror movie, but that's not your fault. Don't beat yourself up because there is no real East challenger at the moment. Just take care of business, and the committee will start to come around. A win over Auburn will have you skyrocketing up the rankings.
Even though people aren't impressed with your early state, you're a better team now than you were after the South Carolina game.
I was wrong about this defense not having what it took to sustain success through the entire season. The secondary still doesn't exactly wow me, but the front seven is playing better than I thought it would, thanks to new defensive coordinator Jeremy Pruitt deciding to go with a more aggressive plan by getting those linebackers more involved in the backfield. The defensive line has been disruptive at the right times this season.
This is a defense that is getting better each week. Do not dwell on what happened during the second half of the Arkansas game. I get it, you built a commanding 38-6 halftime lead and coasted in the second half. Hey, it happens. Look at Alabama against Tennessee for crying out loud.
Before that game, you shut out Missouri 34-0 on the road in the first of two games without Gurley.
I've learned that this team doesn't need to stretch the ball with the deep pass because it runs so well.
Hutson Mason
would like to chuck it around, but he hasn't had to, yet, even though he's getting more comfortable with his receivers. And once Gurley gets back for the Auburn game, Mason might be able to do even more with Gurley and Chubb helping out.
The SEC and the Playoff are both there for the taking, Georgia. So ignore the Twitter tough guys. Shake off the hatin' committee. Just continue to do what you're doing, and people will come around.
I know I did.