March, 31, 2015
Mar 31
1:00
PM ET
BATON ROUGE, La. -- The greatest lesson Jermauria Rasco has learned over the past few months has been one in humility.
The former LSU defensive end has started to realize that starting 26 straight games for one of the SEC's best defenses doesn't necessarily mean that an NFL future is a certainty.
[+] Enlarge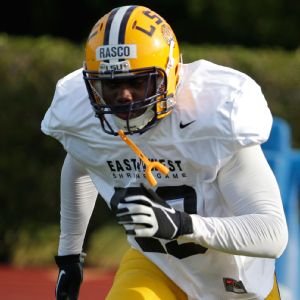 Chris O'Meara/AP PhotoFormer LSU DE Jermauria Rasco says he's staying positive about his prospects at playing in the NFL.
As a senior, Rasco led the Tigers in sacks and quarterback hurries for the second straight season -- he had four sacks and eight hurries both seasons -- and yet he was not one of the 300-plus prospects invited to the NFL scouting combine.
"Not getting invited, it humbled the hell out of me and made me want to work even harder," Rasco said last Friday after completing his workout at LSU's pro day. "I feel like that's what I did today."
The combine snub came on the heels of a practice week at the East-West Shrine Game where he got off to a slow start. Rasco admittedly struggled early on at defensive end and in linebacker drills, but recovered to have what NFL Network analyst Charles Davis described as a "very nice week" during the game telecast.
"The first day, I got my [rear end] tore up, but other than that ... the first day I didn't do like I wanted to, but after that first day, I was back in a groove and by the end of the week, I was feeling more confident," Rasco said. "I was back to myself and doing what I normally do."
But will that be enough to get him drafted? That's the question that will plague Rasco for the next month until the draft, which runs from April 30-May 2.
He doesn't possess the physical measurables or raw tools that have helped former teammate Danielle Hunter turn scouts' heads despite lackluster sack totals. And he is not necessarily a dynamic playmaker off the edge. But Rasco does possess a combination of football IQ and on-field consistency that might help him find a home on some NFL roster.
That's the goal -- even if it means he must sign with a club as an undrafted free agent instead of getting selected somewhere in the draft's seven rounds. That's the route that former LSU players Craig Loston (Jacksonville) and Anthony Johnson (Miami) took last season, and both players remain on those teams' rosters.
"You just never know what's going to happen," Rasco said. "That's what I was kind of thinking, if you go undrafted, you do get to hand pick which team you want to go to, but at the same time you've got to be real careful that you pick the right situation."
Overall, Rasco seemed to believe he helped himself at LSU's pro day. He ran a 4.73-second time in the 40-yard dash and did fine in the other drills, except for the bench press, where he said a mishap -- not the shoulders he had surgically repaired after the 2012 and 2013 seasons -- allowed him to complete only 12 reps.
"On the bench press, the bar slipped out of my hand," Rasco said. "I'm real discouraged about that because I had a lot more in me, but when that happened, it just messed up the whole momentum."
It's unlikely to be a deal breaker for an NFL club, though. As Rasco mentioned, his best chance of making it is to find the right situation.
He's something of a 'tweener. Maybe a late-round pick, maybe an undrafted free agent. Maybe a 4-3 defensive end, maybe an outside linebacker in a scheme that could use a smart player who can function in a few different roles.
Even if he didn't get to show what he could do at the combine, Rasco said he will try to stay optimistic over the next month in hopes of getting a chance in some team's camp and battling his way onto a roster.
"I feel pretty good about it. Everybody knows the draft is really tricky, so you never know where you get picked up, or even if you get picked up," Rasco said. "So I'm not even worried about it. If it's for me, it's for me, but at the end of the day, I'm just playing the waiting game right now."