September, 29, 2014
Sep 29
7:00
PM ET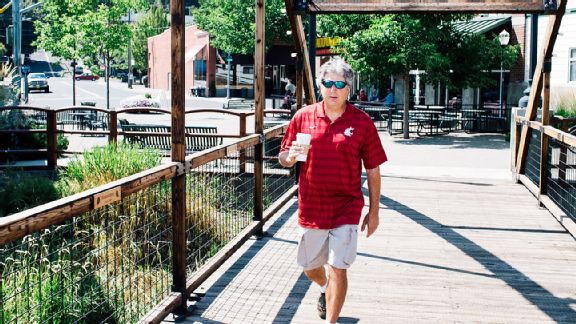 Jose Mandojana for ESPNMike Leach doesn't like what advances in technology have done to human interaction.
Warning: if you're reading this on a mobile device, Mike Leach is worried about you.
It was just another Monday, but then Washington State coach Mike Leach had to go out and predict the end of human kind. Because of course he did.
Via Jacob Thorpe
of the Spokesman-Review, Leach detailed how technology is eliminating real human interaction and how eventually "it's going to be tough to perpetuate the species." It's really just better to read his comments and let them soak in:
"I'm not really good with technology. All this button pushing and whatnot. I mean, you can just imagine based on what's happened in the last 15 years. Conversations won't happen 10 years from now. There aren't going to be people to talk to, it's going to be this (mimics pushing buttons). 'Do you want to go out on a date with me?' 'I don't know, what do you look like?' 'Well I look kind of like this.' 'OK, what are your interests?' 'Well, what do you think my interests are? Looking to this thing and typing into this just like yours are.' 'Yeah, no kidding, that's what everybody's doing.' 'Well, where do you want to go?' 'Well, what difference does it make? Because all we're going to be doing is looking into machines anyways.' Well, that's true and in the end, it's going to tough to perpetuate the species. There's no question about that. So we're all going to look in this box and eventually be extinct. That's how it ends."
It's like he was talking about Tinder without knowing (probably) of its existence.
From anyone else, this would be off-the-wall bizarre, but coming from Leach, it's pretty much par for the course. The man who
treks through a field of garbanzo beans
to work every day has a well-documented history when it comes to technology and dating. You may remember this goodie from years ago, when at Texas Tech he offered first-date guidance for a freshman at the school:
"Well you want some place casual to begin with because you don't want something real formal in the beginning so some place casual -- I recommend Cagle Steakhouse, which is very casual. The other thing that's great about it is that there's very little salad there at Cagle's so the girl will be forced to eat in front of you which is something women hate. But if you can make them do it, the earlier the better, the more than they'll conversate and show their true self. I'm a big movie guy. If you want to do it more like I did when I was your age, you could go to the Stars and Stripes Drive-In Theater because that's what they had in Cody, Wyoming. Otherwise, the movie theater is pretty good, but then you want to end at somewhere like some cool coffee shop type of place where there is bizarre-looking characters going in and out so if the conversation isn't going well you can reference some of the different characters you see coming and going from the place. And if it's a huge night and you're really having a good time then you can trade computer schemes and e-mails and all that mischief that people are up to now-a-days that I know nothing about."
This man is a treasure.