March, 3, 2015
Mar 3
11:30
AM ET
CORVALLIS, Ore. -- When Gary Andersen took the head coaching job at Oregon State in December, he handed a sheet of paper to his wife, Stacey.
The sheet contained a dream list of hires that Andersen wanted to bring with him to Corvallis.
"You're crazy, those guys aren't going to go anywhere in the country with you," he remembers her saying.
The names on the sheet were mostly those of men that Andersen had coached with before. The two that Stacey Andersen didn't know were wide receiver coach Brent Brennan, whom Andersen hoped to retain from Mike Riley's staff, and running back coach Telly Lockette, who had the same position at South Florida.
[+] Enlarge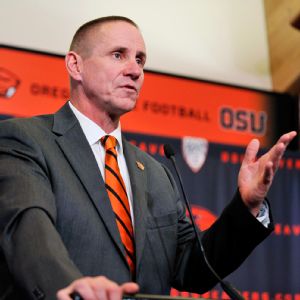 Susan Ragan/USA TODAY SportsGary Andersen has brought the band back together at Oregon State, as many of his assistant have worked with him at other stops.
But Stacey knew the rest well.
Defensive coordinator Kalani Sitake had been Gary Andersen's running back/tight end coach at Southern Utah in 2003, then was brought to Utah to coach the linebackers when Andersen was promoted to assistant head coach/defensive coordinator of the Utes.

Offensive coordinator Dave Baldwin had been Andersen's OC at Utah State from 2009-12.

Defensive line coach Chad Kauha'aha'a was Andersen's defensive line coach at Utah State (2009-10) and then again at Wisconsin (2013-14).

Quarterback coach Kevin McGiven coached quarterbacks during Andersen's first season at Utah State (2009).

Defensive back coach Derrick Odum coached the Utah secondary from 2000-02 while Andersen was working with the Utes' defensive tackles and special teams. Andersen then brought Odum to Utah from 2005-07 to work with the safeties.

Linebacker coach Ilaisa Tuiaki was Andersen's defensive graduate assistant at Utah in 2008 and then worked with him again at Utah State from 2009-11.

Offensive line coach T.J. Woods worked with tight ends and special teams and then the offensive line during Andersen's head coaching tenure at Utah State. Andersen brought him along to Wisconsin from 2013-14 to coach the OL again.

Strength and conditioning coach Evan Simon met Andersen during the 2006 season at Utah, when he was an assistant director of strength and conditioning. When Andersen left for Utah State in 2009 and Wisconsin in 2013, he brought Simon along to be the director of strength and conditioning both times.
It was a pretty ambitious list, and the Andersens knew that.
"She said, '... they're in good spots, they've got great jobs.' And I said, 'Well, I'm going to see,' " Gary Andersen remembered.
The staff looked very different from his coaching staff at Wisconsin, but it was a dream team, all the best guys hand picked from different points of Andersen's coaching life.
"I told the coaches as we kept going through it I was like, 'We're like an '80s band getting the band back together and going on tour,' " Andersen said. "But it has been awesome to be able to get everyone here."
Unlike an '80s band, there doesn't have to be a whole lot of retuning with this group. Because Andersen had remained pretty consistent throughout his coaching career -- he has a handbook he developed early on and has used at every stop since -- most of the coaches know the way he works, the lingo they'll use, and how everything will get done.
Each defensive assistant has spent at least four seasons with Andersen. Though Kauha'aha'a was the only defensive coach who was with Andersen at his two most recent spots, this feels like very little turnover to Andersen, which should help the fact that the Beavers have to replace nine defensive starters.
The offensive side of the ball is a little different. Lockette and Brennan need to learn the language, but it should help that Baldwin, McGiven and Woods were all on Andersen's staff during the 2009 season.
Baldwin said that he has already felt more comfortable in the first season of this job than he has anywhere else (he has coached at 13 other schools). He said it was nice to have a Day 1 in which there really didn't need to be any introductions to other staff members.
"You're not worried 'Do you have a tie on or slacks or suit coat?" Baldwin said of his first day in Corvallis. "I came in my coaching sweats because we weren't impressing anybody, we knew each other."
So while the entire Beavers roster will spend the spring getting to know the new staff, the new staff doesn't feel too new to one another. It feels like a reunion of the school of Andersen.