October, 24, 2014
Oct 24
10:30
AM ET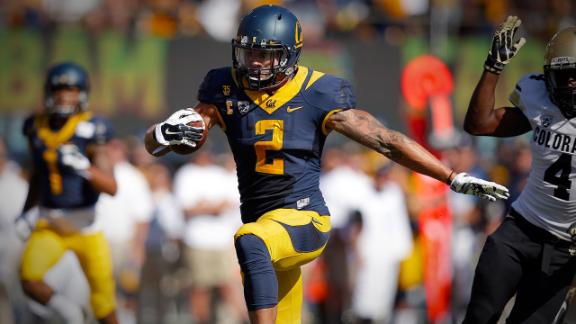 BERKELEY, Calif. -- Tony Franklin is a fan of Tuesdays. He likes that it's still dark when he leaves his home in downtown Berkeley around 6 a.m., and begins his walk to work. He usually stops at Starbucks and often to speak with some of the city's homeless, including a local legend known as "Pink Cloud."
"[Pink Cloud] told me to Google him once," said Franklin, who is in his second season as Cal's offensive coordinator. "He's been on the streets for 20-something years and he'll always have interesting insights into what's going on with not only football, but with the world and our players."
Another man, whose name Franklin kept confidential, used to heckle him as he walked by, yelling "Portland State, Portland State," in reference to Cal's only win last season. But after hearing it for two weeks, Franklin decided enough was enough.
"I finally stopped and introduced myself and he goes, 'I know who you are … Y'all stink,'" Franklin said. "And I said, 'You're right.' So we got to be friends after that."
[+] Enlarge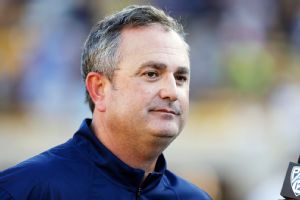 Kelley L Cox/USA TODAY SportsCal went 1-11 in Sonny Dykes' first season. The Bears are 4-3 heading into Friday's game against No. 6 Oregon.
In Berkeley, that's not unusual. And after a lifetime spent in the South, the 57-year-old Franklin somehow feels right at home. He appreciates the city's eclectic nature, and says he has more friends than anywhere he's ever lived "and they don't care anything about football."
"It's so uniquely different here than any place I've ever been because nobody really knows who I am and they don't care," he said. "So [walking home from games] you get to listen to them talk about the game without them having any idea that you're right beside them.
"That's always fun."
Cal football is becoming fun again, too. At 4-3, and averaging 41.6 points per game, the Bears head into Friday's game against No. 6 Oregon at Levi's Stadium in Santa Clara infinitely more watchable than a season ago. They're a few plays from being 6-1 and a few more from 1-6, but it's clear the program, under Sonny Dykes' leadership, and with Franklin's offense, is headed in the right direction.
Dykes and Franklin's relationship dates back to 1997, when they were on Hal Mumme's staff at Kentucky. Dykes was a first-year graduate assistant and Franklin, a longtime high school coach, was in the first year of his collegiate coaching career as the Wildcats' running backs coach.
"I was about 40 and he was probably 26 or 27," Franklin said. "He was single, having a good time in life, enjoying bachelorhood and learning to become a coach."
They remained friends over the years, and shortly after being named head coach at Louisiana Tech before the 2010 season, Dykes called Franklin to gauge his interest in becoming the Bulldogs' offensive coordinator.
Franklin wasn't really looking to move on after one year as the offensive coordinator at Middle Tennessee. His offense was set to return 10 starters, including the starting quarterback.
"I told him I could be bought," Franklin said. "And when he was able to offer significantly more money that I was making at Middle, I told him I'd come."
Franklin still had his reservations. He wasn't keen on the concept of being the offensive coordinator for a head coach with an offensive background. He's very particular about his process and only feels comfortable with complete control, and he made that known right away.
"I started off the first day and gave him a piece of paper and said 'This is who I am,'" Franklin said. "I'm not easy to get along with. I'm hard to work with. I'm stubborn. It has to be my way or else it won't work and if it won't work the best thing to do is just fire me and let's move on and maybe we can still be friends and maybe we won't be.
[+] Enlarge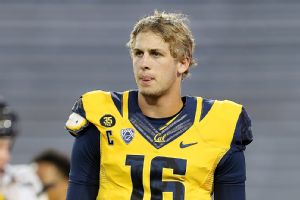 Christian Petersen/Getty ImagesSophomore QB Jared Goff has thrown for 2,482 yards and 24 touchdowns in seven games this season.
"I said there's a good chance at the end of this we won't be friends because it's hard to have that relationship. So we were probably better friends when we weren't coaching together than we are now."
Dykes said he knew who he was hiring when he brought him aboard at Louisiana Tech, but felt Franklin was the best coach to lead the offense. And it is Franklin's offense. He does the game planning, he calls the plays and he spends a lot of time alone figuring out what he wants to do. Occasionally Dykes will pop in with a few ideas, but his input is limited.
"I'm an offensive guy and it's kind of been hard to give up some of that just because it's what I've done for so long, but we think alike and we're on the same page," Dykes said. "That's better for him if I do that. If I go in and give him a lot of input, I don't think that'd be healthy for him or for us working together."
It's an odd dynamic, but it's working.
The Bears rank fifth in the Pac-12 in total offense (496.6 yards per game), fourth in yards per play (6.52) and sophomore quarterback
Jared Goff
, with 24 touchdown passes and four interceptions, is playing like one of the best quarterbacks in the country.
With five difficult games left, the Bears are no lock to reach the six-win plateau to become bowl-eligible, but the fact that they're in contention in late October signifies an important step in the right direction.