September, 17, 2014
Sep 17
6:15
PM ET
On the surface, Arizona's schedule over the first third of the season is notably weak. The Wildcats whipped overmatched UNLV, just as they did last year, outlasted UTSA, another team that prefers to go by its initials, and survived a fourth-quarter challenge from Nevada. Up next is a visit from California, which went 1-11 last year.
If your audience were patient, you could attempt to explain how that schedule was reasonably solid. UNLV was a bowl team last year, UTSA is the nation's most experienced team and Nevada was coming off a win over Washington State. Cal? It's already won at Northwestern and has looked nothing like the easy out it was in 2013.
[+] Enlarge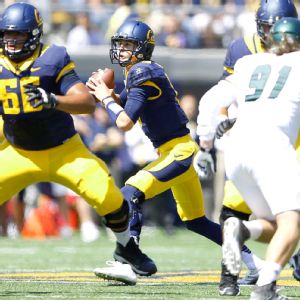 Bob Stanton/USA TODAY SportsThe Arizona defense will have to pressure Cal's Jared Goff -- who has 510 passing yards and 7 touchdowns in two games this season.
You could also make an esoteric argument that Arizona deserves some respect for negotiating a schedule of teams that is good enough to beat you but not good enough in terms of pedigree to naturally captivate the focus of a crew of 18 to 23-year-old players.
But who has time to listen to that?
In other words, Arizona is aiming to become the least glamorous 4-0 team in the nation this weekend. There's only a remote shot the Wildcats will earn a top-25 ranking with a victory. A loss? They'd immediately be voted off Relevancy Island by the unforgiving college football cognoscenti.
A year ago, Arizona also started 3-0 against an ostensibly -- OK, an actually -- weak nonconference schedule. It then got bricked at Washington and lost at USC. Thereafter they never really became a major factor in the South Division race.
Most observers, Pac-12 or otherwise, are taking a wait-and-see approach with the Wildcats. We'll see when they visit Oregon on Oct. 5, a week that will feature the Ducks denying any revenge angle for the shocking whipping they took in Tucson a year ago. We'll see when USC comes to town on Oct. 11 and during back-to-back road games at Washington State and UCLA.
So it probably won't be until the end of October that we will have an idea if Rich Rodriguez is going to produce something special in his third season in Tucson. Yet it's also worth nothing the Wildcats are seemingly in a better spot, at least offensively, than they were a year ago.
Freshman running back
Nick Wilson
has so far produced Ka'Deem Carey-like numbers (149.7 yards per game; 6.8 ypc). Redshirt freshman quarterback
Anu Solomon
ranks seventh in the Pac-12 in passing efficiency with a rating that is more than 45 points higher than B.J. Denker's number after three 2013 starts. While the points are slightly down after three games -- 39.7 ppg versus 43.7 -- the total yards and yards per play are way up.
Rodriguez can be pretty stingy with compliments, but he's tipped his cap to Wilson and Solomon, noting that Wilson is "way advanced mentally" and Solomon is "harder on himself than we would be." If you know Rich Rod, that is the highest of praise. For one, it's difficult to imagine any QB being harder on himself than Rodriguez, who is perennially the bad cop for offensive coordinator
Rod Smith
.
The jury, however, is out on the Wildcats defense. They dominated the early schedule a year ago -- 8.7 ppg through three games -- and ended up as the Pac-12's most improved unit last year. That included turning in a Stanford-like performance against the Ducks offense.
The defense, with some notable losses from the 2013 unit, has struggled against the pass so far this year -- yielding a 64.6 completion rate -- and in the redzone, where foes have scored touchdowns on seven of 11 drives inside the 25-yard line. Nevada quarterbackCody Fajardo completed 29 of 39 passes for 321 yards with three touchdowns and no interceptions in Arizona's 35-28 win last weekend.
"Defensively, we didn't do a good job getting off blocks, and we blew a couple coverages which was uncharacteristic of us," Rodriguez said. "That allowed them to control the ball and limit our possessions. We have to get better defensively."
He then added, "No question we've got to shore things up in a hurry because we've got some great throwing teams [in Pac-12], including one coming in this weekend."
Cal has a passing attack that can give any defense some trouble, particularly if quarterback
Jared Goff
gets time to throw. Seeing that the Wildcats don't have a dominant pass-rusher, it's likely they will have to use a variety of blitzes to disrupt Goff, whose so far been on point as a true sophomore. That is a high-risk, high-reward strategy that the Bears likely are anticipating.
Cal will land in Tucson with a lot of confidence. The Bears view last year as an unfortunate alignment of the football planets, one that created an injury-plagued disastrous anomaly. Even then, they played Arizona tough a year ago, using a late touchdown to only lose at home by five points, their closest conference game.
We don't yet know a lot about Arizona. Cal's visit might prove to be a more revealing matchup that it appeared to be in the preseason.