Early Offer: Where do Irish turn now?
June, 6, 2014
Jun 6
5:30
AM ET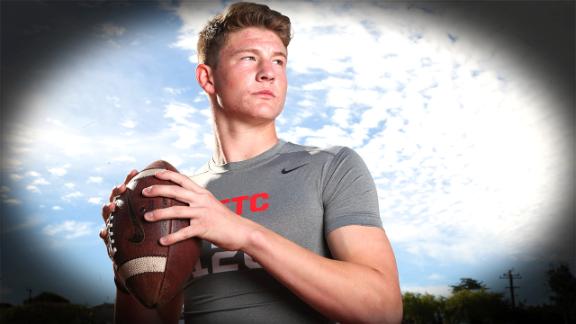 The Early Offer is RecruitingNation's regular feature, giving you a dose of recruiting in the mornings. Today's offerings: Notre Dame's recruiting efforts for 2015 suffered a major setback when ESPN 300 quarterback Blake Barnett decommitted. So where do the Irish turn now at the quarterback spot? Plus, could Oklahoma, Oklahoma State and Texas' loss be Arkansas' gain?
To continue reading this article you must be an Insider
Insider
Golson Shines In Notre Dame Return
Everett Golson accounted for five touchdowns in his return with Notre Dame, leading the Irish to a 48-17 win over Rice.
Golson Shines In Notre Dame Return
VIDEO PLAYLIST
FIGHTING IRISH NATION RECRUITING NEWS
NOTRE DAME FB RECRUITING SCORECARD
Adidas Men's Notre Dame Fighting Irish Navy 2013 Football Schedule T-shirt Shop »
Matt_Fortuna

Matt Fortuna


Belated bravo to the #NotreDame fan with this creative "Ireland" license plate tonight. http://t.co/lJnPOQiNM4
about an hour ago

JustinTuck

Justin Tuck


Hey everyone give my man @lilcorey_trill a follow. Very inspirational. http://t.co/2W3bT5L2X5
about an hour ago

BrianHamiltonSI

Brian Hamilton


Tanner McEvoy: "It's 90 yards to a TD, we got a full tank, half a Melvin Gordon, it's dark, and we're wearing sunglasses."[car explodes]
about an hour ago

BrianHamiltonSI

Brian Hamilton


ESPN crew offering an answer on the Why Not Joel Stave question: Coaches think he's still not healthy. Certainly debatable.
about an hour ago

BrianHamiltonSI

Brian Hamilton


Les Miles' mutant power is absorbing your strengths and making them his own. #WISvsLSU
about 2 hours ago

BGInews

Blue and Gold News


Visit http://t.co/bMLr8Yy78k for comprehensive coverage from #NotreDame Stadium: game story, analysis, videos & more. http://t.co/hE1ICZ4IPx
about 2 hours ago

BrianHamiltonSI

Brian Hamilton


Had a feeling before fourth quarter #Wisconsin needed one more big play/score to hold off #LSU. Now looks 100% true.
about 2 hours ago

Matt_Fortuna

Matt Fortuna


College GameDay will visit a team from Michigan next Saturday ... #MSU. Sparty-Ducks.
about 2 hours ago

BGI_AndrewOwens

Andrew Owens


My column from #NotreDame's 48-17 romp of Rice: Talent, youthful mistakes should make for an exciting season: http://t.co/X4PDSQfcFn (VIP)
about 2 hours ago

TJamesNDI

Tyler James


.@EHansenNDI's gamer (http://t.co/6KFdEOvO1W) and notebook (http://t.co/N7Ibk3k6XX) from #NotreDame's victory over Rice. @ND_Insider
about 2 hours ago

Matt_Fortuna

Matt Fortuna


#USC running a record 104 plays is awesome. How in the world they continue that pace w/ a roster of 62 scholarship players is another matter
about 3 hours ago

JamieMottram

Jamie Mottram


Rece Davis called Jameis' TD run "smoother than drawn butter," which may be the slyest crab legs reference yet.
about 3 hours ago

TomLoy247

Tom Loy


Talking Points — @BGI_DanMurphy @BGI_LouSomogyi @BGI_AndrewOwens discuss #NotreDame's 48-17 victory over Rice. http://t.co/FdrjxDmTWm (VIP)
about 3 hours ago

BGInews

Blue and Gold News


Talking Points — @BGI_DanMurphy @BGI_LouSomogyi @BGI_AndrewOwens discuss #NotreDame's 48-17 victory over Rice. http://t.co/hbE2MK0PfU (VIP)
about 3 hours ago

AnishESPN

Anish Shroff


Tonight's game between Idaho- and Florida has been "terminated due to unsafe and unplayable field conditions and inclement weather."
about 3 hours ago

joeschmidtiv

Joe Schmidt IV


@Matt_Fortuna @mikerothstein @NDatRivals one of the more ridiculous outfits I've seen. Very southern summer outfit... He rocked it
about 3 hours ago

BGInews

Blue and Gold News


#NotreDame Post-Game Player Interviews with Riggs, Fuller and Schmidt. http://t.co/H7Vh0pssdG via @BGInews (FREE) http://t.co/Kg6n7SEVEP
about 3 hours ago

SportsCenter

SportsCenter


It's been that kind of 2nd half for the Seminoles so far. http://t.co/97YN5wxdqM
about 3 hours ago

Matt_Fortuna

Matt Fortuna


@mikerothstein @NDatRivals There is video evidence with @joeschmidtiv. He can vouch.
about 3 hours ago

Matt_Fortuna

Matt Fortuna


#Humble #Hungry RT @NDatRivals: More fearless today. Greg Bryant for fielding that punt or @Matt_Fortuna for wearing pink seersucker blazer.
about 3 hours ago

Matt_Fortuna

Matt Fortuna


#Syracuse HC Scott Shafer issues statement on QB Terrel Hunt's ejection Friday night: http://t.co/S3R4tHCPTe
about 3 hours ago

BGI_DanMurphy

Dan Murphy


For at least a night #NotreDame's off-field issues faded into the shadows of a dazzling performance by Everett Golson http://t.co/LiT00hupM6
about 4 hours ago

Matt_Fortuna

Matt Fortuna


I do wonder what this #Clemson fan was like in the fourth quarter ... #CLEMvsUGA http://t.co/l8uS6IfRXJ
about 4 hours ago

CMertz19

Chris M.


My favorite thing in the @NDfidm ICON video is the student section's homogenous reaction to CJ's TD @NDFootball
about 4 hours ago

NDfidm

FIDM


And final content from us tonight - @NDFootball post game player interviews - http://t.co/rdiK29n5OE - more content to come on Sunday!
about 4 hours ago

NDfidm

FIDM


A diff look at @NDFootball big plays vs. Rice - and who gets the game ball from Coach Kelly? #ICON is back - http://t.co/PIrvlPlqbJ
about 4 hours ago

BGI_AndrewOwens

Andrew Owens


An MCL strain kept #NotreDame captain Austin Collinsworth out of the Rice game and could sideline him for 2-4 weeks: http://t.co/ikH0OHlr8A
about 4 hours ago

BGInews

Blue and Gold News


Video: #NotreDame QB Everett Golson all smiles after victory over Rice. http://t.co/BAuNo2HesL (FREE) http://t.co/Zus6tJrS1f
about 4 hours ago

NDfidm

FIDM


Our first #ICON from Rice will be posted soon. First of several moments from the game to be compiled over the next two days...
about 4 hours ago

JustinTuck

Justin Tuck


The homie yoyo584 and I checking out @teamalphamale #177. #ringside #teamEMPOWER @ramseynijem… http://t.co/qwUI5ZhRSv
about 4 hours ago

Matt_Fortuna

Matt Fortuna


#NotreDame safety Austin Collinsworth out 2-4 weeks with Grade 2 MCL sprain http://t.co/lmJV0jqMCb via @ESPNCFB http://t.co/J95nd2pA8s
about 4 hours ago

NDfidm

FIDM


Full video archive of @CoachBrianKelly @NDFootball post game press conference - http://t.co/VsFLYTOfIr
about 4 hours ago

JustinTuck

Justin Tuck


"@markAcarrillo: Just think I saw @JustinTuck at #UFC177"hi
about 4 hours ago

JustinTuck

Justin Tuck


"@jayr8r: @JustinTuck We see u at the UFC fights!"hi
about 4 hours ago

TJ_Realtree

Tyler Jordan


Got ya covered @JustinTuck http://t.co/BDFTtwi0rK
about 4 hours ago

JustinTuck

Justin Tuck


"@TJ_Realtree: Got ya covered @JustinTuck http://t.co/avyoYSOit0"yes sir
about 4 hours ago

BGInews

Blue and Gold News


#NotreDame head coach Brian Kelly discusses Saturday's victory over Rice. http://t.co/OmmYT2gpei via @BGInews (FREE)
about 4 hours ago

BrianHamiltonSI

Brian Hamilton


The most interesting fact I'd like to know about #LSU freshman Leonard Fournette is what other freshmen he eats to maintain his strength.
about 4 hours ago

SBNationGIF

SB Nation GIF


This throw is kind of unreal. http://t.co/FE5fKcM4ro
about 5 hours ago

NDfidm

FIDM


Game highlights from @NDFootball victory over Rice today - http://t.co/kT3EGKE81V
about 5 hours ago

Matt_Fortuna

Matt Fortuna


#NotreDame 48, #Rice 17: Three things we learned http://t.co/7CfoWogGnk http://t.co/MovTY8jaYS
about 5 hours ago

TNNDN

The New ND Nation


The wave! @Leplegion https://t.co/RLgwW8oq6Y
about 5 hours ago

KatieTriolo

Katie Triolo


"@TNNDN: 1812 from leprechaun legion @leplegion https://t.co/jtGnxcNzVe" 😍😍😍🍀🍀🍀
about 5 hours ago

Matt_Fortuna

Matt Fortuna


Catching up on scores. Old #NotreDame QB Andrew Hendrix nets 364 yards, 3 TDs in 42-27 loss to good Marshall team. Props to him/Chuck Martin
about 5 hours ago

FightingIrish

The Fighting Irish


Highlights from @NDFootball vs Rice are up on @WatchND http://t.co/Iw9uimhuW2#GoIrish
about 5 hours ago

BrianHamiltonSI

Brian Hamilton


Is that a ball or a gall bladder loose on the field at #Georgia, let's go to the videotape #UGAvsCLEM
about 5 hours ago

NDfidm

FIDM


Our on-field interview right after the @NDFootball victory with @joeschmidtiv - http://t.co/UjhaBKTGKB
about 5 hours ago

BGI_DanMurphy

Dan Murphy


#NotreDame QB Everett Golson on the biggest difference between 2012 and Saturday: "My confidence"
about 6 hours ago

FightingIrish

The Fighting Irish


.@Medifast is giving away 2 lbs of food for every sack recorded. 2 sacks = 4 lbs. Enter to win http://t.co/rJDIp6020i http://t.co/cxRp4OXLRj
about 6 hours ago

NDFootball

Notre Dame Football


Everyone wants to talk to the winning QB. Golson tied a school record by a QB with three TD runs today. http://t.co/iQ2rPDqD5E
about 6 hours ago

Matt_Fortuna

Matt Fortuna


#NotreDame CB Cody Riggs: I wasn't used to a stadium being that full that early. At Florida they don't fill it up till kickoff.
about 6 hours ago

FightingIrish

The Fighting Irish


Everett to Fuller is leading the @tire_rack Play of the Game vote, but Golson to Prosise is sneaking up. You decide- http://t.co/mgPObpocnA
about 6 hours ago

FightingIrish

The Fighting Irish


.@NDfidm's post-game show w/ @NDJackNolan & @RegBrooks40 is ready to go! Tune in http://t.co/3T4l8Cq5qr http://t.co/IOHbfxnrAj
about 6 hours ago

Matt_Fortuna

Matt Fortuna


Harry Hiestand made game-time decision to start Conor Hanratty at LG over Matt Hegarty. #NotreDame
about 6 hours ago

Matt_Fortuna

Matt Fortuna


BK: Cody Riggs was gassed...He didn't play that much at #UF. But Greg Bryant is fearless and doesn't know how to fair catch. #NotreDame
about 6 hours ago

BGI_AndrewOwens

Andrew Owens


Brian Kelly says Cody Riggs was "gassed" and had to come out as the punt returner. Jokes that Greg Bryant doesn't know what a fair catch is.
about 6 hours ago

Matt_Fortuna

Matt Fortuna


#NotreDame's Brian Kelly on Golson/Bryant weird TD play: "I'd rather not tell you who went the wrong way. We'll call that a trick play."
about 6 hours ago

FightingIrish

The Fighting Irish


There's a 3-way tie right now on the @tire_rack Player of the Game vote. Have YOU voted? http://t.co/mgPObpocnA
about 6 hours ago

BGI_AndrewOwens

Andrew Owens


Brian Kelly said Everett Golson carried himself with confidence the past few days in directing the offense.
about 6 hours ago

BGI_DanMurphy

Dan Murphy


Austin Collinsworth strained his MCL in Thursday's practice. Out 2-4 weeks.
about 6 hours ago

Matt_Fortuna

Matt Fortuna


Grade 2 MCL sprain for Austin Collinsworth. 2-4 weeks. Was in 2-min drill Thurs, came down awkwardly, tightened next play. #NotreDame
about 6 hours ago

WatchND

WatchND by @stjoemed


The ND vs. Rice highlights are now up for your viewing pleasure #NowOnWatchNDhttp://t.co/7bxBAiubi5
about 7 hours ago

Matt_Fortuna

Matt Fortuna


Joe Schmidt "is an extension of Coach VanGorder on the field," #NotreDame HC Brian Kelly says.
about 7 hours ago

NDFootball

Notre Dame Football


With 5 TDs on the day it's no surprise Everett Golson received today's game ball. #NDvsRICE http://t.co/VsPWZIXvZX
about 7 hours ago

FightingIrish

The Fighting Irish


Game Wrap Up Graphic for @NDFootball vs Rice.Next up- Michigan. #GoIrish #BeatMichigan http://t.co/u8P2WdyzUS
about 7 hours ago

Matt_Fortuna

Matt Fortuna


So if he lost a 3rd straight game do you think they'd have at least let Saban resign before firing him? He's done all right there #WVUvsBAMA
about 7 hours ago

FightingIrish

The Fighting Irish


Choice 4 for @tire_rack Play of the Game- Matthias Farley's interception http://t.co/mgPObpocnA #Vote
about 7 hours ago

FightingIrish

The Fighting Irish


Choice 3 for @tire_rack Play of the Game- Golson to Prosis for 53 yards http://t.co/mgPObpocnA
about 7 hours ago

FightingIrish

The Fighting Irish


Choice 2 for @tire_rack Play of the Game- Everett's TD Scramble http://t.co/mgPObpocnA
about 7 hours ago

FightingIrish

The Fighting Irish


Here are the nominees for @tire_rack Play of the Game- http://t.co/mgPObpocnA1) Golson to Fuller TD
about 7 hours ago

Matt_Fortuna

Matt Fortuna


Truer words have never been spoken RT @McMurphyESPN: Nick Saban to @TomLuginbill: "The big thing is: it is what it is, we are what we are"
about 7 hours ago

Matt_Fortuna

Matt Fortuna


When Cam McDaniel's your fifth-leading rusher YOU MUST FEED HIM THE ROCK! #NotreDame
about 7 hours ago

FightingIrish

The Fighting Irish


What play was YOUR @tire_rack play of the game? VOTE- http://t.co/mgPObpocnA
about 7 hours ago

Matt_Fortuna

Matt Fortuna


Brian Kelly and Louis Nix, just like old times #NotreDame http://t.co/hmq5nAQCPa
about 7 hours ago

BrianHamiltonSI

Brian Hamilton


Most deadly Todd since: http://t.co/tb4XayxsAS#UGAvsCLEM
about 7 hours ago

FightingIrish

The Fighting Irish


Your @NDFootball vs Rice Game Wrap Up! Next up- Michigan. #GoIrish #BeatMichigan http://t.co/tOKjLSfjQd
about 7 hours ago

FightingIrish

The Fighting Irish


.@NDFootball wins! ND 48 - Rice 17.Tune in to the Post Game Show on @WatchND- http://t.co/3T4l8Cq5qr http://t.co/zuZD6TVQ7S
about 7 hours ago

BGI_DanMurphy

Dan Murphy


Golson shines in his return, a 48-17 win for #NotreDame: http://t.co/LiT00hupM6 http://t.co/PqYuITMK3k
about 7 hours ago

FightingIrish

The Fighting Irish


#NDQuickPlays Zaire's run and Bryant's TD- http://t.co/xyE9Oc2I9N#GoIrish
about 7 hours ago

FightingIrish

The Fighting Irish


There it is #CrazyTrain
about 7 hours ago

FightingIrishND

FightingIrishND


With 3:30 left in the fourth, ND up 48-17. #footballseason #notredame #goirish
about 7 hours ago

NDFootball

Notre Dame Football


That was Greg Bryant's first career touchdown.
about 7 hours ago

FightingIrish

The Fighting Irish


Scoring drive capped off by a Zaire run and a Bryant TD #GoIrish http://t.co/YcKAoE5CsQ
about 7 hours ago

Matt_Fortuna

Matt Fortuna


Just when you thought #NotreDame escaped Week 1 without any controversy ...
about 7 hours ago

TomLoy247

Tom Loy


#NotreDame LB commit Josh Barajas helps Andrean hold on to the victory of their local rival. http://t.co/kQJawVp9gJ via @BGInews (VIP)
about 7 hours ago

ruthriley00

ruth riley


Looks like our @NotreDame students are getting a workout today 💪💪💪 Getting those push-ups in!! 41-10 #NDvsRICE #GoIrish 🏈🍀
about 7 hours ago

NDsidBertschy

Michael Bertsch


Golson is third Irish QB to rush for three TDs in a game. He joins Jarious Jackson (vs. Stanford in 1998) and Paul Hornung (vs. UNC in 1956)
about 7 hours ago

Matt_Fortuna

Matt Fortuna


Kyle Brindza from 29 makes it 41-10 #NotreDame with 7:47 left. Gotta think that's it for Everett Golson. Canton's calling.
about 7 hours ago

FightingIrish

The Fighting Irish


We like the commentary! "@NotreDameRadio: @FightingIrish Love the graphics. Here was the call: "Magical Again!" https://t.co/BNestp4a9w"
about 7 hours ago

Vyskcomm

VYSK


@Vyskcomm on the field in South Bend #NDvsRICE #NotreDame #riceowls #GoIrish http://t.co/mfE1daHFbD
about 7 hours ago

FightingIrish

The Fighting Irish


We like that! "@ryankeithturner: 5 TD's for #5 so far. Go Irish! #ND #NDvsRICE"
about 7 hours ago

NDSportsBlogger

Aaron Horvath


Can I have your attention please! https://t.co/GRfC7OH1Sh
about 7 hours ago

BrianHamiltonSI

Brian Hamilton


RIP Christion Jones
about 8 hours ago

BGI_DanMurphy

Dan Murphy


Last #NotreDame QB to have three rushing TDs in a game was Jarious Jackson in 1998. (hat tip to @NDsidBertschy)
about 8 hours ago

Matt_Fortuna

Matt Fortuna


10 more rushing yards and Everett Golson will match what Andrew Hendrix is doing today. #NotreDame
about 8 hours ago

FightingIrish

The Fighting Irish


#AllThePushUps #FutureIrish "@NDcoachPenny: It's the most wonderful time of the year! #ndfootball #TouchdownIrish http://t.co/p3sfUauii8"
about 8 hours ago

FightingIrish

The Fighting Irish


Scoring drive, capped with Everett Golson's 3rd rushing TD of the game #GoIrish http://t.co/Pgi1QfG7gz
about 8 hours ago

BCFootballNews

BC Football News


The Eagles start the 2014 season 1-0 after a 30-7 victory over Massachusetts http://t.co/IPOqqolCm4
about 8 hours ago

Matt_Fortuna

Matt Fortuna


Everett Golson confuses Greg Bryant, 11 opposing players, runs it in for 4-yard TD. 38-10 #NotreDame, :17 left in 3rd.
about 8 hours ago

FightingIrish

The Fighting Irish


3 TDs for Everett Golson. Not too shabby for the first game back #GoIrish
about 8 hours ago
2014 FBS Indep. STANDINGS
FBS INDEP. SCOREBOARD
Saturday, 8/30
Friday, 8/29
BLOG ARCHIVE:
CATEGORIES: