A wild week for the West's best
January, 31, 2014
Jan 31
11:00
AM ET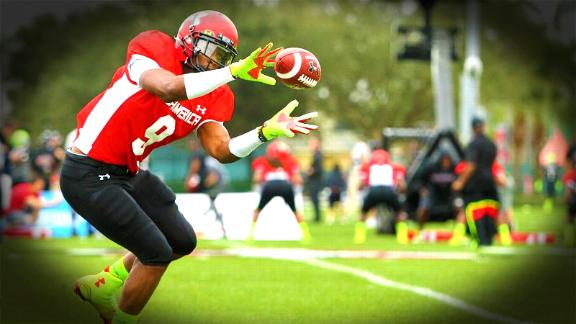 Plenty of attention will be paid to the West on signing day, as four of the region's top eight recruits are set to announce their commitments on Wednesday. That number -- which includes the top-ranked uncommitted prospect in
Adoree' Jackson
(Gardena, Calif./Serra) -- dwarfs that of the top eight prospects in any of the other regions.
But before each makes a huge statement on signing day, all made some noise this week, as this region and the Pac-12 conference sets up for a very interesting day on Feb. 5.
To continue reading this article you must be an Insider
Insider
First Month Standouts and Surprises
Heather Dinich and Toni Collins look at the surprises and lingering question marks after the first month of the college football season, plus a look ahead to a big weekend of games.
First Month Standouts and Surprises
VIDEO PLAYLIST
FIGHTING IRISH NATION RECRUITING NEWS
NOTRE DAME FB RECRUITING SCORECARD
Sportsbeat960

Darin Pritchett


Im told the rain could start and stop throughout SAT afternoon. It is lake effect so hard to judge. No lightning or downpours though
7 minutes ago

Sportsbeat960

Darin Pritchett


Slight change to the #NotreDame / #Stanford Gameday forecast from @WSBT -- Partly Sunny, Lake Effect Rain Showers Possible with a High of 50
7 minutes ago

NDfidm

FIDM


Our Stanford @NDFootball game preview with @RegBrooks40 and @rscamden - http://t.co/FJcxqUYI5m
15 minutes ago

FightingIrish

The Fighting Irish


Light up Grace Hall! "@NCAA: New No. 1! @NDMenSoccer take over top spot in @NSCAA men's #NCAASoccer rankings: http://t.co/QkYBOV3mPY"
22 minutes ago

InsideUSC

InsideUSC


Arizona State QB Taylor Kelly is not expected to play against #USC
24 minutes ago

TomMendozaTalks

Tom Mendoza


This Chicago Tribune article details what the process is the ND students are facing in academic probe. http://t.co/Dai8X0HOkC
25 minutes ago

FightingIrish

The Fighting Irish


Who's coming to @NDmenSoccer vs VCU tonight at 7:30 pm ET?Reserve your @NDTix- http://t.co/iPGcN4FiFc#ComeByAlumni http://t.co/DFDW9tIvsN
26 minutes ago

BrianHamiltonSI

Brian Hamilton


Best Team Never to Win a Title? The @SInow experts weigh in this time. (Hint: None of us went to Illinois.)http://t.co/RmH3Vo5w2M
45 minutes ago

Matt_Fortuna

Matt Fortuna


And here's ESPN's latest Heisman Watch, topped by Todd Gurley (#NotreDame QB Everett Golson at No. 6) http://t.co/xk9Uh0xCDV
45 minutes ago

Matt_Fortuna

Matt Fortuna


Here's @CFBHeather with views from the CFP selection committee http://t.co/drF9KMPWw9 and Week 6 playoff implications http://t.co/TAHvsxs4Sw
47 minutes ago

LombardiESPN

David Lombardi


Wow. When Stanford lost to Notre Dame at goal line in 2012, Kevin Hogan says game was replaying on plane TVs on way home. Team re-lived loss
about an hour ago

FightingIrish

The Fighting Irish


New @NDFootball in the NFL!See how your favorite former players are doing this season- http://t.co/Tf82VhRDEC#NDFamily
about an hour ago

dennisdoddcbs

Dennis Dodd


Alabama, ND and tOSU are the only 3 teams in AP top 25 not to have played a true road game and/or ranked opponent.
about an hour ago

Matt_Fortuna

Matt Fortuna


Reminder for #NotreDame folks interested in #Stanford/Pac-12 stuff to follow the latest addition to the WWL, @LombardiESPN.
about an hour ago

Matt_Fortuna

Matt Fortuna


Oh boy RT @LombardiESPN: Stanford coach David Shaw on Notre Dame QB Everett Golson: "He reminds you of Russell Wilson."@Matt_Fortuna
about an hour ago

TomLoy247

Tom Loy


#NotreDame's Brian Kelly on Stanford, Golson's struggles on Saturday, the WR position and Joe Schmidt's development http://t.co/olOr8aXYoQ
about an hour ago

BGInews

Blue and Gold News


Video: #NotreDame's Brian Kelly discussed matchup with Stanford and much more during his presser http://t.co/IK1VZWV8tT @BGInews (FREE)
about an hour ago

BrittCorl

Brittany Corl


@Matt_Fortuna @ESPNCFB Here's our story we did this past weekend: http://t.co/VJLpk7np4S
about an hour ago

BrianHamiltonSI

Brian Hamilton


Young journos may ask, "How do you write with one kid sick on the couch and the other puking at preschool?" You're in luck I'LL LET YOU KNOW
about 2 hours ago

NDgroundscrew

Notre Dame Grounds


Well, fall is definitely here. http://t.co/DmELZcdckk
about 2 hours ago

NDfidm

FIDM


Miss @CoachBrianKelly presser? You can listen here - http://t.co/pUQAiYI9h5 or here http://t.co/O3WsOlgafn - video archive to come..
about 2 hours ago

WatchND

WatchND by @stjoemed


The premiere for Onward Notre Dame: ND in Indy is quickly approaching. Here is a little teaser to tide you over http://t.co/HlH3czkNky
about 2 hours ago

FightingIrish

The Fighting Irish


Our SAotW (Week 5) runner up is @NDFootball's Will Fuller for his 2 TDs vs Syracuse this weekend! #GoIrish http://t.co/COCPmYXLJk
about 2 hours ago

Matt_Fortuna

Matt Fortuna


The house where Knute Rockne lived hits the market http://t.co/hzd0yY7MW2 via @ESPNCFB #NotreDame http://t.co/WmdFnKmTvw
about 2 hours ago

FightingIrish

The Fighting Irish


Dougie Barnard went 3-0 in singles at the Vredevelt Invite to win the singles title. He bested Xavier's Gabriel Chaves Araujo,to win!
about 2 hours ago

FightingIrish

The Fighting Irish


The votes are in and with 70% of the vote, @NDMensTennis's Dougie Barnard is your Week 5 Student Athlete of the Week http://t.co/LhPsNSwFh5
about 2 hours ago

WatchND

WatchND by @stjoemed


So thats what happens to it RT @NDSportsBlogger: The BK Presser @Gatorade IS MINE!!!!! #bwahahaha #TeamParched https://t.co/MRtH0p0o69
about 2 hours ago

hansenNDInsider

Eric Hansen


That works out great. Im free after 6 so anytime after 6 EDT would be perfect.
about 3 hours ago

BGI_AndrewOwens

Andrew Owens


Brian Kelly discussed injuries, Stanford, the Frozen Five, concussion protocol & more at his Tuesday presser: http://t.co/FFEJhwnAGT
about 3 hours ago

FightingIrish

The Fighting Irish


Ultimate #TrickShotMonday is Purdue 2011- @JGolic88 for the win!The TSM that took the #2 spot on @SportsCenter- http://t.co/Exy66jSdyF
about 3 hours ago

Matt_Fortuna

Matt Fortuna


#NotreDame's Brian Kelly on if ACC sked affects Stanford series: "1 we'll try to protect at all costs." Swarbrick talks with Pac-12 about it
about 3 hours ago

Matt_Fortuna

Matt Fortuna


Will Brian Kelly be at hearings for suspended #NotreDame guys? "I'd rather not get into the specifics. That's between me and the players."
about 3 hours ago

D_Farmer

Douglas Farmer


Could some of the players separated from the team play Saturday? Depends if there is some time to learn the game plan for Stanford
about 3 hours ago

D_Farmer

Douglas Farmer


Kelly asked if he will go to hearing with any players: "I'd rather not get into specifics of that. That's between me and the players."
about 3 hours ago

D_Farmer

Douglas Farmer


Kelly on the personal foul on Okwara: "If you knew Romeo, Romeo didn't know what he did. There's no malice or intent with Romeo."
about 3 hours ago

Matt_Fortuna

Matt Fortuna


#NotreDame HC Brian Kelly's reaction says all that needs to be said about Romeo Okwara's personal foul Sat. "Romeo didn't know what he did."
about 3 hours ago

Matt_Fortuna

Matt Fortuna


#NotreDame HC Brian Kelly re-iterates Amir Carlisle is cleared for everything. Will do everything but 1-on-1 today.
about 3 hours ago

D_Farmer

Douglas Farmer


Kelly didn't expect Carlisle to be full-go yet but he is "cleared for everything today." Will give him about 50% of usual practice reps.
about 3 hours ago

D_Farmer

Douglas Farmer


#NotreDame had 34 defensive mental mistakes vs. Michigan. Kelly says that number has not fluctuated much since. Technique is better, however
about 3 hours ago

BrianHamiltonSI

Brian Hamilton


There's another new No. 1 in @martinrickman Power Rankings, thanks to Marty rolling his 120-sided dice again. http://t.co/2PSDm3Uo4V
about 3 hours ago

Matt_Fortuna

Matt Fortuna


#NotreDame HC Brian Kelly smiles and shakes head when asked if he ever considered yanking Everett Golson during rough points Saturday.
about 3 hours ago

D_Farmer

Douglas Farmer


Brian Kelly with a Bill Belicheck-esque scoff when asked if he considered putting in Zaire for Golson on Saturday.
about 3 hours ago

D_Farmer

Douglas Farmer


#NotreDame HC Brian Kelly says he feels Golson handled the spike/fumble/whistle correctly since Golson heard a whistle.
about 3 hours ago

D_Farmer

Douglas Farmer


#NotreDame HC Brian Kelly on Stanford's stringent defense: "We won't win if we don't get big chunk plays."
about 3 hours ago

Matt_Fortuna

Matt Fortuna


#NotreDame HC Brian Kelly, on concussed guys sneaking back in for ND: "I haven't even seen an indication that that could possibly occur."
about 3 hours ago

D_Farmer

Douglas Farmer


Could a concussed player slip back onto the field? "I haven't seen an indication that could possibly occur." - #NotreDame HC Brian Kelly
about 3 hours ago

D_Farmer

Douglas Farmer


Kelly on concussion protocols: "Our trainers and our doctors control who goes back int he game. It's out of the hands of the coaches."
about 3 hours ago

Matt_Fortuna

Matt Fortuna


#NotreDame's Brian Kelly asked about injury protocol in light of Hoke/UM: Says head trainer Rob Hunt has spotters watching players on field
about 3 hours ago

D_Farmer

Douglas Farmer


Kelly on #NotreDame evaluating injuries: "Someone is responsible for spotting any injuries that happen on the field. That's their job."
about 3 hours ago

Matt_Fortuna

Matt Fortuna


#NotreDame HC Brian Kelly reveals his coaches poll ranking method: By preseason, and then slotting by week's wins and losses. Don't we all.
about 3 hours ago

Matt_Fortuna

Matt Fortuna


Is #NotreDame a top-10 team. Brian Kelly: "I really don't know. I don't spend much time thinking about those things."
about 4 hours ago

D_Farmer

Douglas Farmer


Kelly a few minutes ago said he expects Ben Councell to be involved in the "different defensive schemes" and rotations employed by BVG.
about 4 hours ago

D_Farmer

Douglas Farmer


Kelly adds he does not know how/when he will be informed or when the five players separated form the team will be informed.
about 4 hours ago

Matt_Fortuna

Matt Fortuna


#NotreDame HC Brian Kelly on suspension hearings, etc: "I think my wife asked me, she did. I really don't know."
about 4 hours ago

D_Farmer

Douglas Farmer


Kelly on investigations/hearings of academic situation: "My wife asked me. I really don't know. I have no idea what the process is."
about 4 hours ago

D_Farmer

Douglas Farmer


Kelly on Grace "Jarrett Grace is a day-to-day situation. I don't think our trainers could tell you when that day is that he breaks through."
about 4 hours ago

D_Farmer

Douglas Farmer


On injuries: Amir Carlisle will practice today. Austin Collinsworth is "expected" to contribute this weekend.. Jarrett Grace is "day-to-day"
about 4 hours ago

Matt_Fortuna

Matt Fortuna


#NotreDame HC Brian Kelly: Carlisle to practice today. Collinsworth expected to help Sat. Jarrett Grace day-to-day. Trainers can't say when.
about 4 hours ago

Matt_Fortuna

Matt Fortuna


#NotreDame HC Brian Kelly told team Everett Golson won independent P.O.W. "He wasn't too fired up about that." EG thinks others deserved it.
about 4 hours ago

D_Farmer

Douglas Farmer


Kelly says Golson "wasn't too fired up about" being named FBS Independent Offensive Player of the Week. Felt it should have gone elsewhere.
about 4 hours ago

D_Farmer

Douglas Farmer


Kelly downplays the long-term importance of the 2012 victory over Stanford. "Another step for us in a long season of close victories."
about 4 hours ago

Matt_Fortuna

Matt Fortuna


Asked about Joe Schmidt not having offers, #NotreDame's Brian Kelly mentions recruiting JJ Watt at Central Mich when Watt was underrecruited
about 4 hours ago

BrianHamiltonSI

Brian Hamilton


#Michigan HC Brady Hoke on relationship with Dave Brandon: "We're very supportive of each other."
about 4 hours ago

BrianHamiltonSI

Brian Hamilton


#Michigan HC Brady Hoke on overnight Shane Morris statement: "I'm not going to add anything to that statement today."
about 4 hours ago

D_Farmer

Douglas Farmer


Kelly describes Stanford dynamo Ty Montgomery as "one of the best skill players, best special teams players in the country." He's not wrong.
about 4 hours ago

D_Farmer

Douglas Farmer


#NotreDame HC Brian Kelly opens by describing Stanford as "an incredible challenge, a championship football team."
about 4 hours ago

Matt_Fortuna

Matt Fortuna


Brian Kelly to speak in a few. Yesterday's piece on his message to #NotreDame, & its reaction: http://t.co/vsmlw1UPlP http://t.co/StQ5ImJ6Fs
about 4 hours ago

BGInews

Blue and Gold News


Or, if you prefer to hop off Twitter and onto our board, watch http://t.co/H6eZjdmEBy for updates throughout the press conference.
about 4 hours ago

FightingIrish

The Fighting Irish


Time for @NDFootball's Weekly Press Conference. Tune in on @WatchND- http://t.co/Xfmc48o9Rg#GoIrish #BeatCardinalhttp://t.co/3qkYpyaIv6
about 4 hours ago

gamedayND

Notre Dame Game Day


Planning your trip to South Bend and need some parking advice? We've got you covered! http://t.co/aItKVp2Inw #heretohelp #NDgameday
about 4 hours ago

TomLoy247

Tom Loy


We're at #NotreDame for Brian Kelly's press conference. Check out this thread for live updates! http://t.co/RtzJhj5aux via @BGInews (FREE)
about 4 hours ago

D_Farmer

Douglas Farmer


Lunch Hour with Brian Kelly is minutes away. Updates here and/or @BGInews
about 4 hours ago

WatchND

WatchND by @stjoemed


Tune in right now for the pre-presser run down show followed by the Brian Kelly presser live from the Gughttp://t.co/X9pbK9oLqh
about 4 hours ago

FightingIrish

The Fighting Irish


Tune in early to the @NDFootball presser to watch @RegBrooks40 and @rscamden's pre-show show- http://t.co/Xfmc48o9Rg#GoIrish
about 4 hours ago

BGI_AndrewOwens

Andrew Owens


Amir Carlisle (MCL strain- missed Syracuse game) is listed as the starting slot receiver for #NotreDame against Stanford.
about 4 hours ago

BGI_AndrewOwens

Andrew Owens


Austin Collinsworth is listed as Max Redfield's backup again this week on the depth chart. Collinsworth did not play vs. Syracuse.
about 4 hours ago

gamedayND

Notre Dame Game Day


This week we're taking the @NDFootball Pep Rally to the Compton Family Ice Arena at 5:45 pm. Get your 4-0 #Irish ready for #NDgameday!
about 4 hours ago

FightingIrish

The Fighting Irish


#ComeByAlumni tonight at 7:30 pm ET to cheer on @NDmenSoccer vs VCU. @NDTix- http://t.co/G0OoHn5dDv#GoIrish #NDvsVCU
about 5 hours ago

BrianHamiltonSI

Brian Hamilton


.@McMurphyESPN Someone forgets to send the memo that department Donut Day has been moved up to accommodate the Halloween social
about 5 hours ago

NDfidm

FIDM


Did you miss #TrickShotMonday last night? Guys did a throw back to the first public trick shot in 2011 - http://t.co/7O9mpUtIBa
about 5 hours ago

BGI_AndrewOwens

Andrew Owens


Irish in the Pros, Week 4: A recap of how former #NotreDame players are faring across the league: http://t.co/8WRBS7lwNl
about 5 hours ago

FightingIrish

The Fighting Irish


.@NDmenSoccer boys are at it again with their unique promo video stylings- http://t.co/p82nDF9zz6#ComeByAlumni #NDvsVCU
about 5 hours ago

NDFootball

Notre Dame Football


Hope to see you there! RT @gamedayND: This week we're taking the @NDFootball Pep Rally to the Compton Family Ice Arena at 5:45 pm.
about 5 hours ago

gamedayND

Notre Dame Game Day


This week we're taking the @NDFootball Pep Rally to the Compton Family Ice Arena at 5:45 pm. Get your 4-0 #Irish ready for #NDgameday!
about 5 hours ago

TimODonnell25

Tim O\'Donnell


Unbelievable stat via @philsteele042: #Texas is a double-digit underdog at home for 1st time ever in the Big 12 era. Currently #Baylor -16.
about 5 hours ago

NDfidm

FIDM


Another great way to enjoy the @NDFootball victory - Slo Mo Saturday, Syracuse edition - http://t.co/ZWduEaK811
about 5 hours ago

BrianHamiltonSI

Brian Hamilton


.@Andy_Staples @dnld_nrmn But if you fire two guys at once, do you get a free ticket to a game?
about 5 hours ago

aadelsonESPN

Andrea Adelson


NC State coach Dave Doeren apologizes to Jimbo Fisher for fake injury accusation. http://t.co/QchuYeIb1N
about 6 hours ago

gamedayND

Notre Dame Game Day


As you plan your #NDgameday, we hope you'll include a Grotto visit, like this visiting athlete http://t.co/LiHS93qrLm http://t.co/iqw0gWqIJo
about 6 hours ago

gamedayND

Notre Dame Game Day


As you plan your #NDgameday, we hope you'll include a Grotto visit, like this visiting athlete http://t.co/LiHS93qrLm http://t.co/drpTeQtzUT
about 6 hours ago

BrianHamiltonSI

Brian Hamilton


Only conclusion I have: Brady Hoke didn't want to know. Or maybe - maybe - Michigan didn't want him to know.
about 6 hours ago

BrianHamiltonSI

Brian Hamilton


Yet, somehow, even though Shane Morris is diagnosed with a concussion Sunday, the head coach at Michigan didn't know that by Monday.
about 6 hours ago

BrianHamiltonSI

Brian Hamilton


Every Sunday, Brian Kelly has a 1pm ET call with Notre Dame media. By then, he routinely had info on players injured Saturday. Big program.
about 6 hours ago

BrianHamiltonSI

Brian Hamilton


My thoughts on Michigan fiasco: To say Brady Hoke had no idea about the concussion by Monday strains every fiber of believability.
about 6 hours ago

NCAA

NCAA


The first men's #NCAASoccer RPI of the season is out and the @FightingIrish are No. 1: http://t.co/MIYOrtRS2L http://t.co/q7JQc2VBwg
about 6 hours ago

FightingIrish

The Fighting Irish


You've seen The FIX! now submit your vote for this week's Student Athlete of the Week!Who gets your vote? http://t.co/h3Rr9HAMnY#GoIrish
about 6 hours ago

FightingIrish

The Fighting Irish


It's The FIX! with Hannah Bowen- http://t.co/30ntNcFJgCCatch up with all of the weekend's Irish action #GoIrish http://t.co/VvMYADHip0
about 6 hours ago

gamedayND

Notre Dame Game Day


Experience the rush @NDFootball players get as they run on to the field with free tunnel tours this Friday from 10-5! http://t.co/PTpBFD07ht
about 6 hours ago

FightingIrish

The Fighting Irish


We proudly present, the 3rd Anniversary Edition of #TrickShotMonday- http://t.co/HPjuLrU8jO#GoIrish #NDFamily
about 6 hours ago

FightingIrish

The Fighting Irish


Have you voted for the Ultimate #TrickShotMonday yet? Visit http://t.co/gxvJDMNNUL, review our favorite TSMs, and then vote!#GoIrish
about 6 hours ago
2014 FBS Indep. STANDINGS
FBS INDEP. SCOREBOARD
Friday, 10/3
Saturday, 10/4
BLOG ARCHIVE:
CATEGORIES: