Scout's Take: Tyler Luatua to Notre Dame
December, 16, 2013
12/16/13
10:20
AM ET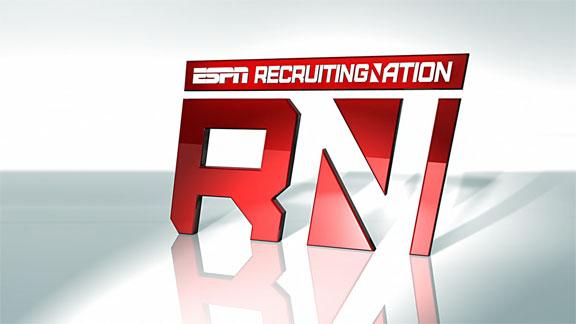 Tyler Luatua
(La Mirada, Calif./La Mirada), the No. 76 player in the ESPN 300, committed to Notre Dame on Monday morning, announcing his decision on Twitter. As the nation's No. 1 tight end, Luatua should have a big-time impact on the offense in South Bend.
How will Luatua fit in Brian Kelly's system? Let's break it down:
To continue reading this article you must be an Insider
Insider
Golson Shines In Notre Dame Return
Everett Golson accounted for five touchdowns in his return with Notre Dame, leading the Irish to a 48-17 win over Rice.
Golson Shines In Notre Dame Return
VIDEO PLAYLIST
FIGHTING IRISH NATION RECRUITING NEWS
NOTRE DAME FB RECRUITING SCORECARD
Matt_Fortuna

Matt Fortuna


A QB, a RB, a WR, a LB and a safety earn Week 1 helmet stickers in the ACC. We spread the wealth here. http://t.co/V6VpQYLJ62
about 4 hours ago

Matt_Fortuna

Matt Fortuna


That's a wrap on Week 1. Here's who stood out the most in the ACC: http://t.co/V6VpQYLJ62 http://t.co/iJF5mGIkqM
about 4 hours ago

Matt_Fortuna

Matt Fortuna


So which is more jarring: Brenden Motley getting ONE preseason ACC POY vote, or Miami being the collective Coastal favorite? #MIAvsLOU
about 4 hours ago

Matt_Fortuna

Matt Fortuna


Phenomenal sign #MIAvsLOU http://t.co/GYwRg2cWmy
about 4 hours ago

CoachBrianKelly

Brian Kelly


You've got to love the process of preparation... http://t.co/eI0qBBhpHX
about 5 hours ago

TJamesNDI

Tyler James


#NotreDame LB target. RT @TevonConey: Graduating Early 😎😎
about 6 hours ago

rowrunpt

Kathy


@LepLegion Arrogance = UM. Their stadium is just a big hole in the ground. And their athletes major in gen. Studies.#HateMichiganWeek
about 6 hours ago

tturley90

Trista Turley


@LepLegion Michigan fans hit the "reply all" button. #MichiganHateWeek
about 6 hours ago

FightingIrish

The Fighting Irish


Are you wearing your ND gear proudly for @NDFootball v Michigan? Everything you need is at the online store http://t.co/QqY9jmU2uv#GoIrish
about 7 hours ago

olo567

Brendan Mahoney


@LepLegion Ann Arbor's finest dining is an Arby's. #MichiganHateWeek
about 7 hours ago

notredamegrad04

notredamegrad04


@LepLegion Sitting in the BIG house for 4 hours is a true living hell only to then hear then the BOOM BOX chicken song.#MichiganHateWeek
about 7 hours ago

TJamesNDI

Tyler James


15 #NotreDame commits were in action this weekend. An @ND_Insider Premium ($) recap led by @TheLifeofCeej's 5 TDs. http://t.co/q4o2evpKKu
about 7 hours ago

Matt_Fortuna

Matt Fortuna


Thanks for the pregame meal, @scat1202. #MIAvsLOU http://t.co/KU7fuUnYVS
about 7 hours ago

Dcare24

D


FOR ALL THE WINS. INFINITE GOLD STARS RT @mini_dixie: #MichiganHateWeek http://t.co/aCzmKognd0
about 7 hours ago

TomLoy247

Tom Loy


Highlights: #NotreDame 4-star CB commit Shaun Crawford from his game against Gilman. http://t.co/XhCcvH4qTQ via @BGInews (VIP)
about 7 hours ago

TomLoy247

Tom Loy


Video Interview: @BGInews caught up with 4-star CB and #NotreDame commit Shaun Crawford after Sunday's game. http://t.co/OuoQvH7sYZ (VIP)
about 7 hours ago

TomLoy247

Tom Loy


My Take: #NotreDame CB commit Shaun Crawford is a shutdown corner and will continue that in South Bend. http://t.co/cxIgb7GfUg (VIP)
about 7 hours ago

Matt_Fortuna

Matt Fortuna


@JShankerESPN "It's not your fault ..."
about 7 hours ago

the_J_train_8

JW


@LepLegion Forcier, Robinson, Gardner, Howard, Chicken Dance #MichiganHateWeek
about 7 hours ago

gamedayND

Notre Dame Game Day


Want to tailgate without bringing a car and all of the gear & food? Buy a pass to the Ultimate Irish Tailgater! http://t.co/LOd1XAx36Y
about 7 hours ago

DaltonShetler10

Dalton Shetler


#michiganhateweek because hey still hit a banner like all high schools do @LepLegion
about 7 hours ago

Matt_Fortuna

Matt Fortuna


It may be me vs @JShankerESPN for picks perfection tonight, but @aadelsonESPN is your follow for all things #MIAvsLOU http://t.co/ix6qElaRWv
about 7 hours ago

indyhaze77

AJ Hazel


Two things from Michigan that suck and are always overrated: U of M and Derek Jeter @LepLegion #HateMichiganWeek
about 7 hours ago

Txdomer97

J.Mata


@LepLegion Entering through mid-field is pointless and lazy. #MichiganHateWeek
about 7 hours ago

BryonySigrun

Bryony


It's #HateMichiganWeek! Why do I hate Michigan? I got stuck in their stupid state for 3 hours in traffic! @LepLegion
about 7 hours ago

JCGibby_81

Joshua Gilbert


Michigan fans sing One Direction all day because their football team is mediocre at best. @LepLegion #HateMichiganWeek #WeAreND
about 8 hours ago

MrsTruj

MrsTruj


Michigan smells bad #MichiganHateWeek
about 8 hours ago

SupermanTDJesus

SupermanTDJesus


Michigan fans don't approve of bacon consumption. #MichiganHateWeek
about 8 hours ago

_austin_reid

Austin Crehan


Michigan wears cargos #MichiganHateWeek
about 8 hours ago

TheVanGorder

BVG


Walmart Wolverines #MichiganHateWeek
about 8 hours ago

Kyle_J_Murphy

Murph


#michiganHateWeek Michigan Still says Yo ***** jokes @LepLegion
about 8 hours ago

CTWillz

Christian Williams


@LepLegion Michigan still checks myspace #michiganhateweek
about 8 hours ago

turell_nidd

alex turell


@BillisKing msu helmets for saturday Just Announced Helmets For The Game This Saturday! http://t.co/6aAUCigG2Q
about 8 hours ago

DaltonShetler10

Dalton Shetler


Outfit for tomorrow #michiganhateweek @LepLegion http://t.co/CQHqzg0EJE
about 8 hours ago

Stan_Cherry

Iceberg


Because Michigan is better known by their legal names of #Fichigan and #scUM #MichiganHateWeek @LepLegion
about 8 hours ago

mrmayhem75

Mayhem


Michigan fans laugh at the end of Bambie. #MichiganHateWeek
about 8 hours ago

Rocknes_Ghost

Knute Rockne


@LepLegion Michigan fans still send out Farmville requests. #MichiganHateWeek
about 8 hours ago

Irishfootball11

jared


BECAUSE MICHIGAN IS DRACO MALFOY #michiganhateweek
about 8 hours ago

Kyle_J_Murphy

Murph


Michigan still uses VHS tapes #MichiganHateWeek @LepLegion
about 8 hours ago

b_fry13

Brandon


@LepLegion Michigan sells their apparel at Walmart 😂😂😂😂
about 8 hours ago

MichaelManziel

Barney


Michigan fans listen to nickleback and wear cargos @LepLegion #HateMichiganWeek #GoND
about 8 hours ago

HLS_Whisky

WhiskyPoet


Ann Arbor is a morally corrupt woman. #michiganhateweek
about 8 hours ago

SupermanTDJesus

SupermanTDJesus


Michigan sucks because they exist #MichiganHateWeek
about 8 hours ago

HLS_Whisky

WhiskyPoet


Michigan stole the "winged helmet" design. #michiganhateweek
about 8 hours ago

Irishfootball11

jared


BECAUSE THEY ARE THE SCUM OF THE EARTH JUST LIKE USC #michiganhateweek
about 8 hours ago

SupermanTDJesus

SupermanTDJesus


Ann Arbor will give you her number and not text back #MichiganHateWeek
about 8 hours ago

Givesyouhale

Thorne


Putrid yellow and bloated blue #MichiganHateWeek
about 8 hours ago

TheVanGorder

BVG


Maybe you hate michigan just because. That's good enough. #MichiganHateWeek
about 8 hours ago

mrmayhem75

Mayhem


Michigan. The part of Canada nobody wanted. #MichiganHateWeek
about 8 hours ago

JaylonDreads

Jaylon's Dreads


Because they took Prince Shembo's bike seat... #MichiganHateWeek @LepLegion
about 8 hours ago

TK975

Paul Grush


@LepLegion Walmart Wolverines, enough said. #MichiganHateWeek
about 8 hours ago

callme_Yosh

Josh Bradley


@LepLegion Michigan drives 53 mph in the far left lane#MichiganHateWeek
about 8 hours ago

Gonya2016

Logan Gonya


@LepLegion #MichiganHateWeek What kind of name is "The Big House"?
about 8 hours ago

WattsND

Eric Watts


Well, @LepLegion, Michigan kind of reminds me of how WalMart smells. #MichiganHateWeek
about 8 hours ago

wrigley32

SOC


"@LepLegion:scUM fans didn't back-up bets when we crushed them in '98 after they won the Natty in '97 #MichiganHateWeek
about 8 hours ago

Kyle_J_Murphy

Murph


Michigan Prefers No Crust. #MichiganHateWeek @LepLegion
about 8 hours ago

BearclawBR

Jason Greasemore


@LepLegion Arrogance and the fans are annoying. #MichiganHateWeek
about 8 hours ago

irishlaughman

Herb Laughman


"@LepLegion They were the main reason ND didn't join the Big Ten in the 1920's.Yost hated ND. Now I return the favor.#HateMichiganWeek
about 8 hours ago

TheElPadre

Matt


@LepLegion I don't like their helmets. Looks nothing like a wolverine on those idiotic helmets #MichiganHateWeek
about 8 hours ago

theACCfootball

ACC Football


Coin for tonight's @CanesFootball vs @UofLFootball coin toss! #MIAvsLOU http://t.co/iZi9wpON3e
about 8 hours ago

pwand03

Patrick Wand


@LepLegion #MichiganHateWeek Because Maize is a food. Also "Fielding" is a stupid name.
about 8 hours ago

LepLegion

Leprechaun Legion


Do you hate Michigan? We sure do. Tweet us your reason why you hate Michigan using the hashtag #MichiganHateWeek We will RT the best!
about 8 hours ago

FightingIrish

The Fighting Irish


Get your @NDFootball vs Michigan downloads from @GameDayND- http://t.co/Gqh6KB9nimEnjoy!#GoIrish #BeatMichigan
about 9 hours ago

D_Farmer

Douglas Farmer


Due to absences injury & investigation, the #NotreDame defense, esp. the line, needs its freshmen more than ever: http://t.co/hr9J9MB09u
about 9 hours ago

NDFootball

Notre Dame Football


A very challenging #TrickShotMonday cup placement for Michigan week, but @joeschmidtiv came through. http://t.co/hQhZ2ppTvP
about 9 hours ago

NDfidm

FIDM


#TrickShotMonday, Michigan week: http://t.co/4Qq2OvirqO - the crew challenged themselves this week - @joeschmidtiv @RomeoND45 @THunterJr
about 9 hours ago

BrianHamiltonSI

Brian Hamilton


After another head injury for David Ash, @Andy_Staples says #Texas QB must be tough enough to walk away: http://t.co/2nvpImdBdg
about 9 hours ago

Matt_Fortuna

Matt Fortuna


Haven't played fantasy since HS, but I do make exceptions for Grantland's Bad QB league. Top pick this year. Foolish not to take CLE, right?
about 10 hours ago

WatchND

WatchND by @stjoemed


All is right in the world when #TheFix is back. A new episode is #NowOnWatchND and you might notice a differencehttp://t.co/8QErA1zpFa
about 10 hours ago

NDFencing

Notre Dame Fencing


Day 1 of practice and the year's first session with @NDstrength #HereComeTheIrish #ExcellenceIsAHabit http://t.co/z9ZYeolHmC
about 10 hours ago

Matt_Fortuna

Matt Fortuna


"Happy Labor Day, everybody," says the random man entering Starbucks. "At the end of the day, get money." Touche, bro.
about 10 hours ago

BGI_AndrewOwens

Andrew Owens


Former ND teammates Harrison Smith & Robert Blanton will start alongside each other at safety for the Vikings: http://t.co/uJCA7iFXIL
about 10 hours ago

BGI_AndrewOwens

Andrew Owens


Here's an update on former #NotreDame players in the NFL after teams finalized their 53-man rosters over the weekend: http://t.co/uJCA7iFXIL
about 10 hours ago

BruceFeldmanCFB

Bruce Feldman


SOURCE Bryce Petty has 2 cracked transfer processes in his back. Day-to-day & can play when pain is tolerable. 1st report by @dennisdoddcbs
about 10 hours ago

Sportsbeat960

Darin Pritchett


SBEAT LIVE with #NotreDame / Rice recap starting at 507pm(ET) on 96.1fm / streamed live at http://t.co/ppZpzawY7X
about 10 hours ago

BrianHamiltonSI

Brian Hamilton


Week 1 Heisman Watch: Can Todd Gurley snap QB-only streak? (via @ZacEllis)http://t.co/anMGtvQtxm http://t.co/IQMAnHKDIk
about 10 hours ago

Matt_Fortuna

Matt Fortuna


Tennessee has @DustinDopirak making case for best H-T writer addition. Ole Miss rises w/ @HKellenbergerCL, Maryland to B1G w/ @ChrisKorman.
about 11 hours ago

Matt_Fortuna

Matt Fortuna


Teddy Bridgewater's still got it in #Louisville http://t.co/2b4oGuYxBe #MIAvsLOU
about 11 hours ago

NDfidm

FIDM


The final #ICON from the Rice game - a look back at Golson's 3 TD runs from several different angles - http://t.co/jThk9EOLQ2
about 11 hours ago

Matt_Fortuna

Matt Fortuna


New one: Complaint on predictions lacking final scores, as that doesn't allow you to evaluate me at my job. Because I must work in Vegas ...
about 11 hours ago

NDfidm

FIDM


Did you miss @theshirtND 25th anniversary retrospective late last week? http://t.co/FOdTYkcF52
about 11 hours ago

NDfidm

FIDM


School has started - #TheFIX returns to recap the weekend in Notre Dame Athletics - http://t.co/6oNnCZgwm1
about 11 hours ago

AlliHayesSports

Allison Hayes


Hoke says Jabril Peppers didn't practice Sun, has been in treatment for ankle injury but expects him to play vs Notre Dame @BigTenNetwork
about 12 hours ago

AlliHayesSports

Allison Hayes


UM QB Devin Gardner says "it sucks" that ND series has to end & that everyone doesn't appreciate the rivalry. http://t.co/ZO0dtNAaUS
about 12 hours ago

NDfidm

FIDM


This was fun! In a new feature, SloMo Saturdays, relive @NDFootball's victory Rice in 120 frames per second. http://t.co/indhCy3mN8 #GoIrish
about 12 hours ago

CameronHanes

Cameron Hanes


I enjoyed the article on @therealjustintuck91 and his passion for bowhunting in the new Sports Illustrated. Check... http://t.co/jFmaHJvyoI
about 12 hours ago

Matt_Fortuna

Matt Fortuna


Running some numbers for a story and my goodness was this game glorious during that spectacular 2007 season http://t.co/fcVkkI5Xr3
about 12 hours ago

ZacEllis

Zac Ellis


Injury to David Ash not what Charlie Strong hoped for in Year 1 at #Texas http://t.co/7WkWYOCKfc
about 12 hours ago

gamedayND

Notre Dame Game Day


Register for the #ShamrockSeries5k today, tweet us that you're in and we'll pick 15 of you who will get #NDgameday shades in their race bag
about 13 hours ago

BrianHamiltonSI

Brian Hamilton


Innovative @mikebroeker RT @SInow: Marquette doesn't have a team but Sports Authority sells Marquette Football shirtshttp://t.co/BEQ95sNQHE
about 13 hours ago

NDfidm

FIDM


The first Inside Notre Dame Football full video archive is posted - http://t.co/UnHe0L5Lkl - recapping the @NDFootball victory over Rice
about 13 hours ago

FightingIrish

The Fighting Irish


Next ICON clip from @NDFIDM- http://t.co/gNgy3QZP3SBehind the scenes of @NDFootball's pre-game experience.#GoIrish
about 14 hours ago

gamedayND

Notre Dame Game Day


Everyone is asking, "What's the song played during the #PlayerWalk ?" It's American Land by Bruce Springsteen. Favorite of @CoachBrianKelly
about 14 hours ago

hansenNDInsider

Eric Hansen


Good news for poncho salesmen: Weather forecasters are as reliable as sports writers when it comes to long-term predictions.
about 14 hours ago

hansenNDInsider

Eric Hansen


Bad news for poncho salesmen: 0 percent chance of rain for Saturday's #NotreDame-Michigan football game in South Bend. High 70, Low 52.
about 14 hours ago

BrianHamiltonSI

Brian Hamilton


Gary Andersen sheds light on Melvin Gordon mystery: Hip flexor issue indeed limited #Badgers RB vs. LSU. (h/t @jessetemple)
about 14 hours ago

AlliHayesSports

Allison Hayes


Hoke says Jabril Peppers didn't practice Sun, has been in treatment for ankle injury but expects him to play vs Notre Dame @BigTenNetwork
about 14 hours ago

FightingIrish

The Fighting Irish


Irish connection- The West Wing's "President Jed Bartlet" and "Danny Concannon" are (fictional) @NDAlumni http://t.co/GkAG0wR46H
about 14 hours ago

FightingIrish

The Fighting Irish


.@NDFootball vs Michigan Week would be complete without this little gem from the The West Wing- http://t.co/GkAG0wR46H#GoIrish
about 15 hours ago

chengelis

angelique


Devin Gardner on the UM-ND game going away:: "It sucks that it has to go"
about 15 hours ago
2014 FBS Indep. STANDINGS
FBS INDEP. SCOREBOARD
Friday, 8/29
Saturday, 8/30
BLOG ARCHIVE:
CATEGORIES: