Scout's Take: Tyler Luatua to Notre Dame
December, 16, 2013
12/16/13
10:20
AM ET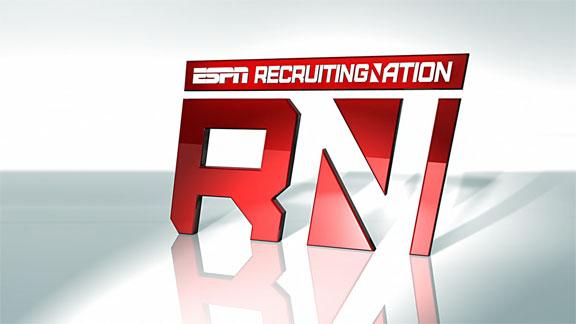 Tyler Luatua
(La Mirada, Calif./La Mirada), the No. 76 player in the ESPN 300, committed to Notre Dame on Monday morning, announcing his decision on Twitter. As the nation's No. 1 tight end, Luatua should have a big-time impact on the offense in South Bend.
How will Luatua fit in Brian Kelly's system? Let's break it down:
To continue reading this article you must be an Insider
Insider
The latest from Gustin at The Opening
ESPN 300 athlete Porter Gustin (Salem, Utah/Salem Hills) took time out to talk recruiting and more with WeAreSC's Garry Paskwietz on Tuesday at The Opening.
The latest from Gustin at The Opening
VIDEO PLAYLIST
FIGHTING IRISH NATION RECRUITING NEWS
NOTRE DAME FB RECRUITING SCORECARD
adidas Women's Notre Dame Fighting Irish Navy Tri-Blend Football T-Shirt Shop »
Matt_Fortuna

Matt Fortuna


Take 2: Will #NotreDame help or hurt the ACC? http://t.co/axt4lfPMED http://t.co/Auv9BCmfVg
13 minutes ago

RustySHall

Rusty S. Hall


@Matt_Fortuna no need to be discreet. Embrace SEC football. Don't be scared. WDE!!
14 minutes ago

TJamesNDI

Tyler James


#NotreDame's headed back to Culver, so of course Al Lesar knows who to talk to about past experiences. #NDInsider: http://t.co/GM1Rfo1ZCf
about 7 hours ago

TJamesNDI

Tyler James


'15 #NotreDame RB target Aca'cedric Ware. RT @ware_cedI've verbally commited to USC #fighton #trojans
about 8 hours ago

Matt_Fortuna

Matt Fortuna


Here I was trying to be discreet taking a photo of Auburn fan at B1G media days, only for him to find me on Twitter later.
about 9 hours ago

RustySHall

Rusty S. Hall


@Matt_Fortuna Enjoyed every minute of my visit to Big10 media day. Thanks for the love. WDE!!!
about 9 hours ago

BrianHamiltonSI

Brian Hamilton


Elevator pride, Dominate Canada and selfies: James Franklin's energy can help #PennState make noise. Column: http://t.co/ZhxNQB88Oy #PSU
about 9 hours ago

BGInews

Blue and Gold News


Our own @TomLoy247 just put in a BIG #CrystalBall prediction on 4-star CB Ykili Ross to #NotreDame. Details: http://t.co/h4PeSSFBus (VIP)
about 9 hours ago

TomLoy247

Tom Loy


#CrystalBall: Four-star CB Ykili Ross to #NotreDame. — Complete details behind the prediction. http://t.co/qYIBWv9Yq7 via @BGInews (VIP)
about 9 hours ago

TomLoy247

Tom Loy


Put in a #CrystalBall prediction for #NotreDame regarding a recruit that is perceived to be a "lock" elsewhere http://t.co/4DXSwmakuY (VIP)
about 9 hours ago

ItsMikeHill

Mike Hill


I think I could eat @ChipotleTweets every night.
about 9 hours ago

TJamesNDI

Tyler James


This is where #NotreDame S commit Nicco Fertitta plays HIGH SCHOOL football. MT @BishopGormanFBNew field is complete http://t.co/emRV9Iinzu
about 10 hours ago

Matt_Fortuna

Matt Fortuna


CAN'T WAIT RT @FreezeOurYouth: Where's @LeGrottoPodcast? @jdubs88 welcomes @Matt_Fortuna to talk @NDFootball first thing tomorrow am!
about 10 hours ago

FightingIrish

The Fighting Irish


Help @NDTheLeprechaun & @Cuse's Otto challenge @JimmyFallon to a Lip Sync Battle on @FallonTonight. Tweet your support with #ACCvsFallon
about 11 hours ago

TerrellThomas24

Terrell Thomas


Im so thankful for the Seattle Seahawks giving me an opportunity to continue my dream. Can't wait to hit the field with my new teammates!
about 11 hours ago

NastyGear

Gear Central


RT if you like and would wear @JustinTuck facemask! http://t.co/pAVgdApCz5
about 11 hours ago

BrianHamiltonSI

Brian Hamilton


Elevator pride, Dominate Canada and selfies: James Franklin's energy can help #PennState make noise now. Column: http://t.co/ZhxNQB88Oy
about 11 hours ago

BGI_AndrewOwens

Andrew Owens


Brian Kelly singled out Colin McGovern for the improvements he made during spring ball. Player projection: http://t.co/i10ayR4AVs (VIP)
about 11 hours ago

RavensInsider

Aaron Wilson


Kapron Lewis-Moore, who missed his rookie season with a torn ACL, is lining up with starting defense at end with Chris Canty sidelined
about 12 hours ago

BGInews

Blue and Gold News


ICYMI @BGInews broke some news earlier about 2016 5-star QB Shea Patterson setting up his #NotreDame visit. http://t.co/pru1xGt8Hw (FREE)
about 13 hours ago

FightingIrish

The Fighting Irish


DYK @NDTheLeprechaun & @Cuse's Otto challenged @JimmyFallon to a Lip Sync Battle? Tweet at @FallonTonight to make it happen #ACCvsFallon
about 13 hours ago

Matt_Fortuna

Matt Fortuna


Will #NotreDame football help or hurt the ACC? @aadelsonESPN and I debate as season nears http://t.co/axt4lfPMED http://t.co/qJmdtjueoi
about 13 hours ago

NDHockey

Notre Dame Hockey


Here it is everyone the 2014-15 @NDHockey season schedule! http://t.co/KDQKNmhiZE
about 13 hours ago

TomLoy247

Tom Loy


#Bolt: North Little Rock, Ark., four-star WR K.J. Hill will take an official visit to #NotreDame. http://t.co/5mhH9vSmjN via @BGInews (FREE)
about 13 hours ago

Matt_Fortuna

Matt Fortuna


#CFBRank. We rank the top 100 players this week. Nos. 100-81, with a familiar #NotreDame face http://t.co/EA6IExZmEL http://t.co/MerClBnkNp
about 14 hours ago

JayHayesNY

Jay Hayes


I hope my Mom is ok! Pray for her please! She tweaked her knee. I just want her to be ok.
about 14 hours ago

BrianHamiltonSI

Brian Hamilton


From #B1GMediaDay, Urban Meyer and #OhioState ready to move past bitter end to last season. Via @ChrisDJohnsonn: http://t.co/I5Im82xb77
about 14 hours ago

BrianHamiltonSI

Brian Hamilton


From #B1GMediaDay, Urban Meyer and #OhioState ready to move past bitter end to 2014. Via @ChrisDJohnsonn: http://t.co/I5Im82xb77
about 14 hours ago

LTorbin

Leigh Torbin


@hansenNDInsider I believe you plan to break some hockey news tonight as well...
about 14 hours ago

hansenNDInsider

Eric Hansen


If you're tired of Big Ten Media Days clogging your tlmeline, we're back talking #NotreDame FB on SportsBeat (http://t.co/UMXIIH32LE).Now!
about 15 hours ago

FightingIrish

The Fighting Irish


Would YOU like to see @NDTheLeprechaun & @Cuse's Otto take on @jimmyfallon & the Panda in NYC? @FallonTonight #LipSyncBattle #ACCvsFallon
about 15 hours ago

FightingIrish

The Fighting Irish


Thats a @Spotify playlist waiting to happen "@NDTheLeprechaun: @jimmyfallon Should we start picking our songs? #ACCvsFallon @FallonTonight"
about 15 hours ago

BrianHamiltonSI

Brian Hamilton


How a rare syndrome nearly cost college hoops' best three-point shooter, Micah Mason, his career, by @thedangreene: http://t.co/SdAkbUGuad
about 15 hours ago

FightingIrish

The Fighting Irish


We know who we'd take if @jimmyfallon & the Panda threw down in a Lip Sync battle vs @NDTheLeprechaun & @Cuse's Otto #TeamACC #FallonTonight
about 15 hours ago

NDTheLeprechaun

The Leprechaun


Hey @jimmyfallon Otto and I will be in NYC 9/27 for ND v. Cuse. We challenge you to a 2 on 2 Lip Sync Battle with the Panda. #FallonTonight
about 16 hours ago

NDfidm

FIDM


In Zimbabwe, @NDMenSoccer encountered a different style of soccer. Relive their first 2 games overseas. http://t.co/9oS66Gs3ur #NDInAfrica
about 16 hours ago

TJamesNDI

Tyler James


Our #NDInsider 2014 season preview for the iPad has a five-star rating in iTunes. Download and buy for $4.99. https://t.co/pCBFEIf7Rg
about 16 hours ago

Matt_Fortuna

Matt Fortuna


Jim Delany on if exceptions may be made to schedule FCS games: "I can think of one game in the B1G, that was the first game telecast by BTN"
about 16 hours ago

BrianHamiltonSI

Brian Hamilton


#B1G commish Jim Delany on new NCAA governance model: "I think it'll pass. The list of autonomous issues will be sufficient."
about 16 hours ago

BrianHamiltonSI

Brian Hamilton


#B1G commish Jim Delany: "We need a system that works. There's no doubt NCAA enforcement has struggled over the last couple years."
about 16 hours ago

TJamesNDI

Tyler James


'15 DE target Keisean Lucier-South names top five without the Irish, and he tells me he's scratched his planned #NotreDame official visit.
about 16 hours ago

BrianHamiltonSI

Brian Hamilton


#B1G commish Jim Delany reiterates that NCAA enforcement is 'overmatched,' but won't echo Bowlsby opinion that it pays to cheat.
about 16 hours ago

BrianHamiltonSI

Brian Hamilton


#B1G commish Jim Delany on bowl process: "Going forward, bowls will make selections and the conference will make approvals." #B1GMediaDay
about 16 hours ago

andyymac_

MAC DREW


Srsly going to buy me a @JustinTuck raiders jersey💯🏈😎
about 16 hours ago

FightingIrish

The Fighting Irish


.@NDTix are available for @NDFootball vs Rice! We can't wait to see you at Notre Dame Stadium http://t.co/0fKBwljUON http://t.co/iXwNIlpWNn
about 16 hours ago

BrianHamiltonSI

Brian Hamilton


James Franklin on #PennState frosh QB Michael O'Connor, Ottawa native: "We want to create a pipeline and dominate Canada." #DominateCanada
about 16 hours ago

Matt_Fortuna

Matt Fortuna


Michael Kelly of the @CFBPlayoff says some would say the playoff dream's been alive for 40 years ... then plays Rudy commercial. #NotreDame
about 17 hours ago

FightingIrish

The Fighting Irish


.@NDTix are available for @NDFootball vs Rice! We can't wait to see you at Notre Dame Stadium http://t.co/0fKBwljUON http://t.co/iXwNIlpWNn
about 17 hours ago

Matt_Fortuna

Matt Fortuna


Best of James Franklin http://t.co/V5U7JNCLtX #PSU #PennState #Lions
about 17 hours ago

Matt_Fortuna

Matt Fortuna


Best of Urban Meyer http://t.co/FrNUkRhVK7 #OSU #Buckeyes
about 17 hours ago

Matt_Fortuna

Matt Fortuna


Pat Fitzgerald: No more unified program in the country than #Northwestern after union push http://t.co/J6bfLmfJAm http://t.co/PTpZILs33c
about 17 hours ago

NDFootball

Notre Dame Football


Our new field is almost done. Can't wait to play on it 8/30 before consecutive sellout No. 238! http://t.co/siNL8Be1mS
about 17 hours ago

BrianHamiltonSI

Brian Hamilton


James Franklin: "Our job is to do everything within the rules to give #PennState a recruiting advantage." #PSU
about 17 hours ago

Matt_Fortuna

Matt Fortuna


#PSU HC James Franklin says #NotreDame, #Navy equipment staffs have been a huge resource in helping prep for Week 1 Ireland trip.
about 18 hours ago

gamedayND

Notre Dame Game Day


The #ShamrockSeries5k medals are so cool! Can't wait to show them to y'all! Reserve your spot and medal: http://t.co/jnQmHCg3bS #NDrunsIndy
about 18 hours ago

FightingIrish

The Fighting Irish


.@NDSportsBlogger teamed up w/ @UpperDeck to create custom ND baseball cards. Here's the story of Father Doyle's card http://t.co/9CAbyuKiLj
about 18 hours ago

BrianHamiltonSI

Brian Hamilton


RB Ameer Abdullah on #Nebraska offense: "It's like a storm."What kind of storm?AA: "What storm are you most afraid of?"
about 18 hours ago

Matt_Fortuna

Matt Fortuna


Complete 180 in tone/environment with Urban Meyer from this year's B1G media days (shaky OL) to last year's (too many arrests). Good. #OSU
about 18 hours ago

BrianHamiltonSI

Brian Hamilton


#Nebraska WR Kenny Bell on fake haircut picture: "If I'd have known the wildfire it would spread into, I never would have done it."
about 18 hours ago

BrianHamiltonSI

Brian Hamilton


#MichiganState QB Connor Cook concluded long anecdote thusly: "Coach Dantonio is human after all and does like to have fun."
about 18 hours ago

Matt_Fortuna

Matt Fortuna


Asked #Terps HC Randy Edsall if he kept eye on ACC media days in GBoro: "I was in St. Thomas & I was enjoying the heck out of St. Thomas."
about 18 hours ago

Matt_Fortuna

Matt Fortuna


RT @NicoleAuerbach: Michigan State's Rose Bowl championship ring http://t.co/jBedbAOmhv
about 18 hours ago

GeorgeSchroeder

George Schroeder


Bo Pelini: "First of all, my cat is enjoying a nap up in the room. He is here in Chicago, enjoying the Windy City."
about 18 hours ago

FightingIrish

The Fighting Irish


.@NDmbb's Jerian Grant returns to the team this fall. Check out Part 1 of @NDFIDM's feature on Grant- http://t.co/bJy0IyIyyt#NDFamily
about 19 hours ago

TJamesNDI

Tyler James


#Rivalry. MT @DavidFox615 UM DE Frank Clark on visiting ND: "I've never seen so many middle fingers. I thought that was a Christian school."
about 19 hours ago

Matt_Fortuna

Matt Fortuna


This is a man in an #Auburn shirt, at B1G media days, taking a photo of #MSU's Mark Dantonio. Thanking him, I'm sure. http://t.co/GWsVBrm3W4
about 19 hours ago

Matt_Fortuna

Matt Fortuna


"Questions I Never Thought Would Be Asked": #MSU's Dantonio on how to keep fire vs. UM after winning 5/6: "I continue to live in Michigan."
about 19 hours ago

TJamesNDI

Tyler James


Today for '15 RB target Aca'cedric Ware. RT @ware_ced: My decision day has been moved to monday..catch me on fox 4 for my big day
about 19 hours ago

ChristopherHine

Chris Hine


Michigan's Frank Clark on his first trip to #NotreDame: "I didn't think there would be so many people flipping me off in front of Mary."
about 19 hours ago

Matt_Fortuna

Matt Fortuna


So true RT @KegsnEggs: I could listen to Jerry Kill talk all day. Could be a book-on-tape machine.
about 19 hours ago

BrianHamiltonSI

Brian Hamilton


#Michigan DE Frank Clark says he wants the team to be built into something indestructible, like the Titanic: "But we're not going to sink."
about 19 hours ago

BrianHamiltonSI

Brian Hamilton


Just shook #Wisconsin RB Melvin Gordon's hand after a quick interview, and I think one-tenth of one bone in my hand remains functional.
about 19 hours ago

Matt_Fortuna

Matt Fortuna


That said, I'm sad to see it go, for purely sentimental reasons.
about 20 hours ago

Matt_Fortuna

Matt Fortuna


Agree with most tweeting me, re: #NotreDame/#Michigan. A rivalry, yes, but it does little for ND, given other scheduling options for them.
about 20 hours ago

hansenNDInsider

Eric Hansen


ESPN is ranking the top 100 CFB players. Have now revealed 81-100. #NotreDame's @JaeeSmiff9ENT is No. 91 on the list: http://t.co/VmJ8cmQzNA
about 20 hours ago

Matt_Fortuna

Matt Fortuna


#Rutgers HC Kyle Flood starts off by thanking media. Wonder what his boss thinks of that ...
about 20 hours ago

FightingIrish

The Fighting Irish


Congrats to @VinnieCox, winner of the @UnderArmour Gold Box! Check out his winning tweet- http://t.co/iv9xCFXEDu#GodCountryNotreDame
about 20 hours ago

BruceFeldmanCFB

Bruce Feldman


#Michigan QB Devin Gardner says his foot has been 100% since start of summer & he's up to 218 lbs. Told me he played at 204 last yr
about 20 hours ago

BrianHamiltonSI

Brian Hamilton


#Wisconsin T Rob Havenstein on line not hanging in same place all the time: "We are very large men. That'd have to be a convention center."
about 20 hours ago

Matt_Fortuna

Matt Fortuna


The #NotreDame fans acting "too cool" for #Michigan/saying it's not a rival look foolish given the ticket prices for Week 2 (Not all of you)
about 20 hours ago

BrianHamiltonSI

Brian Hamilton


#Wisconsin RB Melvin Gordon: "If we can go undefeated -- that's the goal." #Badgers
about 20 hours ago

Matt_Fortuna

Matt Fortuna


On Day 1 of the Big East/AAC clambake ... #Rutgers Kyle Flood, former #Pitt HC Dave Wannstedt chat at B1G media day. http://t.co/HcFzw9ZwZC
about 20 hours ago

Matt_Fortuna

Matt Fortuna


#Michigan HC Brady Hoke says last #NotreDame game will be an emphasis: "It's a national rivalry. It's a shame that that series is over with"
about 20 hours ago

Matt_Fortuna

Matt Fortuna


#Michigan HC Brady Hoke still doesn't know about potential hardship waiver for #USC transfer Ty Isaac.
about 20 hours ago

AIAusa

Athletes In Action


Want to make the right choices in life? @JustinTuck figured out an easy way to do it and you can read how http://t.co/80MwqAuVO9 as well.
about 20 hours ago

Matt_Fortuna

Matt Fortuna


3rd question to Brady Hoke's about Man U-Real Madrid game at Big House. Not sure what that says about #Michigan. (He'd love to go but can't)
about 20 hours ago

FightingIrish

The Fighting Irish


Halfway though our #NDDayInTheLife on Instagram. Follow us- thefighingirish to see @NDcoachGumpf train for Pan-Mass! http://t.co/7SCYk5awm2
about 20 hours ago

FightingIrish

The Fighting Irish


A little video of @NDCoachGumpf telling you about her training and what she's riding for… http://t.co/e4dk5lJlxJ
about 20 hours ago

Matt_Fortuna

Matt Fortuna


RT @McMurphyESPN: Paul Johnson on conference realignment: "You either grow or you die on the vine"
about 20 hours ago

BrianHamiltonSI

Brian Hamilton


#Northwestern HC Pat Fitzgerald: "I've learned a lot of new hashtags on Twitter from #Nebraska fans. They're very creative."
about 20 hours ago

FightingIrish

The Fighting Irish


Let's get our #NDDayInTheLife profile of @NDcoachGumpf started! Like us on Instagram thefightingirish to participate #NDFamily
about 21 hours ago

dandakich

Dan Dakich


This is so great and so true...Cubs fans, cubs prospects, video of cubs fans talking about fake prospects http://t.co/E2TxO3zHjU
about 21 hours ago

Matt_Fortuna

Matt Fortuna


#Purdue's Darrell Hazell high on summer's 2-hour/week rule for coaches. He's the first coach I've heard say that all offseason. The first.
about 21 hours ago

BrianHamiltonSI

Brian Hamilton


Typical Mizzou/NU envy, Forde RT @YahooForde: I just introduced myself as Pat Fitzgerald to Pat Fitzgerald. Oops. Microphone failure.
about 21 hours ago

TomLoy247

Tom Loy


#Bolt: 2 #NotreDame players listed on the Top Underclassmen list by http://t.co/KJbGfvW4EL, including @DaVarisDaniels http://t.co/i4faplOYX0
about 21 hours ago

NDFootball

Notre Dame Football


.@NDTix for our season opener vs Rice are still available!Help us kick off the season right- http://t.co/gjASAGE2Er#GetYours #GoIrish
about 21 hours ago

Matt_Fortuna

Matt Fortuna


Early candidate for best-dressed. (#Michigan's Jake Ryan, not @BennettESPN) http://t.co/6Hp4ZQK226
about 21 hours ago

Matt_Fortuna

Matt Fortuna


B1G media days at the Hilton Chicago, where I'm hoping to avoid Dr. Charles Nichols' fate at the end of The Fugitive http://t.co/iu72kPeBYL
about 22 hours ago

FightingIrish

The Fighting Irish


ICYMI @NDFootball will be at Culver Military Academy this year for the Acclimation period of Fall Camp. Learn more- http://t.co/0cNP8hdDO1
about 22 hours ago

BrianHamiltonSI

Brian Hamilton


Greetings from #B1GMediaDay. Remember to keep your arms inside the ride at all times and to always punt inside the 50.
about 22 hours ago
2014 FBS Indep. STANDINGS
FBS INDEP. SCOREBOARD
Friday, 8/29
Saturday, 8/30
BLOG ARCHIVE:
CATEGORIES: