Irish still good without RB Hood
August, 20, 2013
8/20/13
4:00
PM ET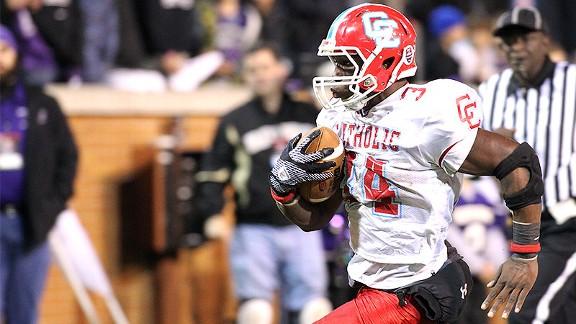 No coaching staff wants to lose its top commitment, and running back is a position where a team often needs two or even three quality players at the spot.
However, if
Notre Dame is going to lose its top player in the 2014 class
, running back is the one position where the Fighting Irish can afford to take a hit. The Irish lost RB
Elijah Hood
(Charlotte, N.C./Charlotte Catholic), No. 47 in the ESPN 300, who decommitted Tuesday, according to 247Sports.com.
To continue reading this article you must be an Insider
Insider
The latest from Gustin at The Opening
ESPN 300 athlete Porter Gustin (Salem, Utah/Salem Hills) took time out to talk recruiting and more with WeAreSC's Garry Paskwietz on Tuesday at The Opening.
The latest from Gustin at The Opening
VIDEO PLAYLIST
FIGHTING IRISH NATION RECRUITING NEWS
NOTRE DAME FB RECRUITING SCORECARD
adidas Men's Notre Dame Fighting Irish Navy Sideline Coaches Polo Shop »
chaunceytuck

SneakerBaseGawd


I could go a for a @JohnnieWalkerUS Blue splash of coke, withe three cubes, what you think @JustinTuck #Cheers
about 3 hours ago

TJamesNDI

Tyler James


#NotreDame football recruiting news and context from the last week-plus. #NDInsider notebook: http://t.co/lX6Lc8VZtu
about 6 hours ago

Matt_Fortuna

Matt Fortuna


Hey, a top-10 passer in ND history, a playing surface that has people misty, a $22B company and a great reporter. Not bad company, actually.
about 6 hours ago

Matt_Fortuna

Matt Fortuna


How do you really feel? RT @OhMichaelJwhy Got rid of Tommy Rees, natural grass, Adidas and Alex Flanagan, why can't get rid of Matt Fortuna?
about 6 hours ago

Matt_Fortuna

Matt Fortuna


Today's #CFBRank: Nos. 40-31 http://t.co/2esf36Nu9F and Nos. 30-21 http://t.co/0Aa2einV1m
about 8 hours ago

BGI_AndrewOwens

Andrew Owens


Cam McDaniel looks to build on a 2013 in which he led #NotreDame in rushing. Player Projection: http://t.co/3tV4pTYKxv (VIP)
about 8 hours ago

BrianHamiltonSI

Brian Hamilton


Never idle, #Auburn and Gus Malzahn prepared to evolve offensively. @ZacEllis story: http://t.co/XyBp6ijqpB
about 9 hours ago

mattrmattr

matt rosenberg


Well written http://t.co/LI8pynbbab
about 9 hours ago

FightingIrish

The Fighting Irish


The voting is still going strong for @NDTheLeprechaun's #ACCvsFallon challenge song http://t.co/JPxBrKysUC Have you voted?
about 9 hours ago

BGInews

Blue and Gold News


Six players have set #NotreDame official visits in 2015 — 3 for #Michigan and 3 for #Stanford. Full list: http://t.co/J7Mvuc7j2F (FREE)
about 10 hours ago

BGInews

Blue and Gold News


Major news from @TomLoy247. A top #NotreDame defensive target has set his South Bend official visit. Details: http://t.co/u21TCViwHS (FREE)
about 10 hours ago

TomLoy247

Tom Loy


Another top target is locked in for an official visit for #NotreDame-#Michigan on Sept. 6. Story coming shortly at http://t.co/rDIFbcGvUM
about 10 hours ago

Matt_Fortuna

Matt Fortuna


Brian Kelly talks at noon tomorrow to unofficially kick 2014 off. Three pressing #NotreDame questions entering camp: http://t.co/szxxwGk33N
about 11 hours ago

JustinTuck

Justin Tuck


"@GavinNewsom: .@JustinTuck, I'm waiting for you to catch up with me"ha
about 11 hours ago

SInow

Sports Illustrated


Breaking down Tyler Ulis' impact at Kentucky, Theo Pinson's at UNC and morehttp://t.co/RoxkYh6W2T http://t.co/wy5O2XbUQe
about 11 hours ago

richarddeitsch

Richard Deitsch


ESPN has released its college football announcing teams for the 2014 season: http://t.co/n6D8h6dNUO
about 12 hours ago

BrianHamiltonSI

Brian Hamilton


Very amused that I was zero percent aware the baseball trade deadline was today until like 10 minutes ago.
about 12 hours ago

NotreDame

Notre Dame


Summer skies are one of the best backdrops for Our Lady! See more photos like this at http://t.co/QG4KI9DHUl http://t.co/ySe15ybvCz
about 12 hours ago

Matt_Fortuna

Matt Fortuna


Talking college football at the ol' stomping grounds, @ESPNRadio1450.
about 12 hours ago

NDfidm

FIDM


Joey Getherall!! @Isamund #FunWithGIFs http://t.co/zI0ndMjSy0
about 12 hours ago

Matt_Fortuna

Matt Fortuna


Georgia Tech fall camp is underway. One player extremely happy about that? Isaiah Johnson http://t.co/tzvvTGSw4z http://t.co/w32uKYidJR
about 12 hours ago

FightingIrish

The Fighting Irish


The @NDSportsBlogger breaks down @NDFootball's #17 ranking- http://t.co/CHNfZHgxTJ #GoIrish
about 12 hours ago

Matt_Fortuna

Matt Fortuna


A special Hall of Fame-themed #tbt http://t.co/ttSwnEqcAG
about 13 hours ago

TomLoy247

Tom Loy


#NotreDame RB @CoachTonyAlford has made a great, early impression on the nation's No. 1 running back. Story: http://t.co/9XNSGHqE6p (VIP)
about 13 hours ago

BrianHamiltonSI

Brian Hamilton


The end of Cinderella? Where Group of Five teams sit in new college football playoff system, via @SIPeteThamel: http://t.co/27MQtKfGs8
about 13 hours ago

FightingIrish

The Fighting Irish


So close. @NDFootball #GoIrish http://t.co/8noajvLrN0
about 14 hours ago

BGI_AndrewOwens

Andrew Owens


Source: #NotreDame is no longer recruiting Kansas transfer Andrew White. Details: http://t.co/Ejz2yT12Kx (VIP)
about 14 hours ago

hansenNDInsider

Eric Hansen


#NotreDame football has some weird/dubious history when it comes to being ranked in preseason polls: http://t.co/e6sgnbytKn
about 14 hours ago

FightingIrish

The Fighting Irish


Are you ready for the 2 Minute Drill on the Fighting Irish Tumblr?The @JrNDbloggers introduce you to @NDHockey- http://t.co/P6rxXu7cFS
about 14 hours ago

Matt_Fortuna

Matt Fortuna


Virginia Tech opens camp Monday. No. 1 on Frank Beamer's agenda? Finding a starting QB http://t.co/UgUc3gdPfj #Hokies http://t.co/HQnaW6ibId
about 15 hours ago

NDsoftball

Notre Dame Softball


The 2014 #NDSB Season In Photos is now posted at http://t.co/hPDQERbfJm! Link below #tbtpt2http://t.co/kU4kHgYqa3 http://t.co/DgvwUrXQMH
about 15 hours ago

gamedayND

Notre Dame Game Day


Tailgating is near! Send your fav #NDgameday tailgating & game watch recipes to gameday@nd.edu! #IrishEverywhere http://t.co/mU58fgT9eX
about 15 hours ago

TomLoy247

Tom Loy


The nation's top running back in 2016, Kareem Walker, is feeling the love from #NotreDame. Story: http://t.co/9XNSGHqE6p via @BGInews (VIP)
about 15 hours ago

TomLoy247

Tom Loy


5-star RB Kareem Walker discusses today's conversation with #NotreDame RB coach Tony Alford and his visit plans http://t.co/9XNSGHqE6p (VIP)
about 15 hours ago

NDTheLeprechaun

The Leprechaun


#ACCvsFallon Standings- Can't Touch This leads with 38%, followed by Proud Mary 31%. Vote- http://t.co/TkxIaclyym @FallonTonight
about 15 hours ago

Matt_Fortuna

Matt Fortuna


ACC links: #UNC kicks off camp Friday down 4 more players, bringing offseason scholarship departures to 15 http://t.co/JjH5uvGVhP
about 15 hours ago

FightingIrish

The Fighting Irish


.@NDTheLeprechaun picked his final 4, now the fans pick his song if @JimmyFallon accepts. VOTE- http://t.co/JPxBrKysUC #ACCvsFallon
about 15 hours ago

Matt_Fortuna

Matt Fortuna


#FSU No. 1 in coaches' poll http://t.co/SpZZykMwzO
about 15 hours ago

NDsidBertschy

Michael Bertsch


Amway Preseason Coaches Poll came out this afternoon and @NDFootball checks in at #17. Irish play five ranked in top-25 and three more RV
about 16 hours ago

BrianHamiltonSI

Brian Hamilton


The preseason Amway/USA Today coaches poll is out. Indignation: ENGAGE. http://t.co/c277e559VH
about 16 hours ago

BQ9

Brady Quinn


"@jacobu: Even a USC Trojan is excited about @FOXSports adding Brady Quinn @3rd_Goal to our roster of analysts http://t.co/ON5MdVb4CL" haha
about 16 hours ago

Matt_Fortuna

Matt Fortuna


Frank Beamer, David Cutcliffe, Larry Fedora, Jimbo Fisher, Al Golden, Paul Johnson, Dabo Swinney, Brian Kelly & yes, Bob Diaco, among voters
about 16 hours ago

TheRecordNJ

The Record


Congrats to @michaelstrahan on being inducted into the Hall of Fame! Get your collage of the defensive end today! http://t.co/PqOXqI4JaI
about 16 hours ago

Matt_Fortuna

Matt Fortuna


#UNC is the lone ACC Coastal team in coaches' poll (23). #NotreDame at 17, #Clemson 16. #FSU, of course, is No. 1 http://t.co/OEO3kvhNX2
about 16 hours ago

McMurphyESPN

Brett McMurphy


Brady Hoke: "It's shame Notre Dame rivalry has to end. It's too good of a rivalry in college football to end"
about 16 hours ago

BGI_AndrewOwens

Andrew Owens


#NotreDame is ranked No. 17 in the preseason Coaches Poll: http://t.co/vZvvnuPHVc
about 16 hours ago

FightingIrish

The Fighting Irish


.@NDTheLeprechaun is having fans vote today on which song he sings if @JimmyFallon accepts the challenge. #HitPlay http://t.co/4EkXivwlrk
about 16 hours ago

Matt_Fortuna

Matt Fortuna


#FSU WR Jesus "Bobo" Wilson pleads no contest to two misdemeanors http://t.co/TSWiDkHMcL via @aadelsonESPN
about 17 hours ago

FightingIrish

The Fighting Irish


Coming to ND Stadium this fall? Have you ordered your seat cushions? http://t.co/pM6vIxMFspPrice goes up Friday! http://t.co/SBwJIvNL4h
about 17 hours ago

kevin_reiss

Kevin Reiss


WaPo Letter to the Editor of the day http://t.co/L3NnApPKc3
about 17 hours ago

BGInews

Blue and Gold News


Check out some photos of #NotreDame Stadium's turf after the final installation: http://t.co/CAxxd5VpB8 http://t.co/m53SNIiw8n
about 18 hours ago

GoIrishGlory

Sgt Shamrock


ICYMI Notre Dame Fall Camp Primer http://t.co/0KFRpdUS7i on @DwnTheTunnel
about 18 hours ago

BobWienekeNDI

Bob Wieneke


From last night, former #ND Heisman winner Johnny Lujack "doing great" following surgery. http://t.co/Jv1cm7nPKB
about 18 hours ago

tnoieNDInsider

Tom Noie


Final pre-vacation #NotreDame hoops chat today at noon. Last one until September. Here: http://t.co/CeyY92QXxg
about 18 hours ago

PeteByrneWSBT

Pete Byrne


#NotreDame AD Jack Swarbrick talks turf & 2014 expectations for @NDFootball. WSBT EXCLUSIVE: http://t.co/MZwPA3MfVQ
about 18 hours ago

BGInews

Blue and Gold News


Have you missed any of our 2014 player projections? Find them all here: http://t.co/yk4OJZecFr (VIP) (via @BGI_DanMurphy & @BGI_AndrewOwens)
about 18 hours ago

FightingIrish

The Fighting Irish


Here is the full @NDFIDM feature on @NDmbb's Jerian Grant http://t.co/Mxv4HA6uiDHappy to have you back on campus, JG! #GoIrish
about 18 hours ago

NDfidm

FIDM


Originally split into 3 parts, here is the @ThatGrant22 return to @NDmbb feature full video - http://t.co/Wb15DiDPbH
about 19 hours ago

NDfidm

FIDM


A late work day link from yesterday - our final ND Stadium Turf Installation Time Lapse - http://t.co/aTATocIcBF @NDFootball
about 19 hours ago

FightingIrish

The Fighting Irish


Here it is, the complete Notre Dame Stadium Field Turf Time Lapse- http://t.co/0xjlMamSFDReady for @NDFootball? #GoIrish
about 19 hours ago

FightingIrish

The Fighting Irish


.@NDTheLeprechaun & @Cuse Otto are right- tonight's @FallonTonight Hashtag SHOULD be #ACCvsFallon. What do you say @jimmyfallon? #Challenge
about 19 hours ago

NDTheLeprechaun

The Leprechaun


.@Cuse's Otto and I think #ACCvsFallon should be tonight's hashtag. "@FallonTonight: TONIGHT: new Tonight Show Hashtags!"
about 19 hours ago

SInow

Sports Illustrated


Marquette guard Todd Mayo is leaving the school to pursue a pro career: http://t.co/x4lBRKO6Q5 http://t.co/qFIcBnfr3j
about 20 hours ago

SInow

Sports Illustrated


Cowboy Christmas: 'Tis the season for pro rodeo riders' by @SamEifling via @SI_Longform http://t.co/RMuFTENjUO http://t.co/xWecsHhRLU
about 20 hours ago

BQ9

Brady Quinn


#BVD: 2 Peter 1:4
about 21 hours ago

nicekicks

Nice Kicks


.@JustinTuck makes our All-22 team highlighting the NFL's top sneakerheads -> http://t.co/FcSRAUoiao http://t.co/U1IQXIZ35e
1 day ago

JJStankevitz

JJ Stankevitz


On Finebaum tomorrow: "Hey Pawl. The best way to stop a Sharknado is by re-assembling the 2012 Bama O-Line with coach Saban commanding them"
1 day ago

BobWienekeNDI

Bob Wieneke


Johnny Lujack, former #ND Heisman winner, "doing great" after surgery http://t.co/Jv1cm7nPKB
1 day ago

LoriPuccinelli

Lori Puccinelli


@JustinTuck @DHendrickson41 @PeterAikenStern WE HEART TUCK!!!
1 day ago

FightingIrish

The Fighting Irish


SHARKNADO 3. http://t.co/rMXK1ZVdtT
1 day ago

Matt_Fortuna

Matt Fortuna


10 minutes, $17 and four people later ... Dig in! http://t.co/H4UjEwGijU
1 day ago

Matt_Fortuna

Matt Fortuna


Sharknado 2? Close. #Cubs with @JJStankevitz and @bendenkin http://t.co/RWZ0JrEik9
1 day ago

FightingIrish

The Fighting Irish


Great job Kyle! "@kylebrindza: Student-Athlete Handbook & Planners are in! Made by yours truly. Thanks @NotreDameSWD http://t.co/dXg8NEt0Ci"
1 day ago

NDMonogram

ND Monogram Club


So fresh, so clean. RT @NDAthEquipment: From concept to reality, the first @UnderArmour uniforms have arrived! http://t.co/VQlvnPY1zb
1 day ago

NDJackNolan

Jack Nolan


6:08 pm, July 30 2014. ND Stadium looking good! http://t.co/tUvzPUrCbq
1 day ago

FightingIrish

The Fighting Irish


Check out the songs that ND fans suggested for the @FallonTonight lip sync battle on @NDTheLeprechaun's @Spotify playlist #ACCvsFallon
1 day ago

hansenNDInsider

Eric Hansen


Notre Dame live chat returned today. Here's the Memorex version, so to speak via transcript: http://t.co/bpwH7vhIDw
1 day ago

FightingIrish

The Fighting Irish


ICYMI @theACCDN did a story on @NDTheLeprechaun and @Cuse's Otto's challenge to @JimmyFallon today- http://t.co/z0Cb2qNrbc#ACCvsFallon
1 day ago

FightingIrish

The Fighting Irish


Don't forget, free shipping on orders over $50 this week at the online store, and 25% off shoes & backpacks http://t.co/NdERXqySfe#GetYours
1 day ago

BrianHamiltonSI

Brian Hamilton


Whoa. #Marquette announces that Todd Mayo has left program to pursue pro career. Averaged 11 a game as a junior.
1 day ago

BQ9

Brady Quinn


"@JeremyBloom11:Talking @Olympics, @nfl,startup life & the lessons learned along the way#MozCon - http://t.co/dp8ZbCVyiv"Jbloom crushing it!
1 day ago

CoachBrianKelly

Brian Kelly


30 days till @NDFootball officially starts. Our tunnel run will be a little different. #GoIrishhttp://t.co/n1FaoN56Gj
1 day ago

BenGolliver

Ben Golliver


John Calipari sandwich at USA Basketball http://t.co/Bw7FcJMi0v
1 day ago

NDfidm

FIDM


Our final Notre Dame Stadium FieldTurf installation time lapse - field looks ready to go! http://t.co/aTATocIcBF @NDFootball
1 day ago

NDfidm

FIDM


Our final Notre Dame Stadium FieldTurf installation time lapse - field looks ready to go! http://t.co/aTATocIcBF @NDFootball
1 day ago

NDAthEquipment

Notre Dame Equipment


Custom cleats in for @NDSoccer to end the day. @UnderArmour hooked it up with Hybrid and FG ClutchFit's! #footwork http://t.co/77ku3yHftl
1 day ago

TJamesNDI

Tyler James


#NotreDame still in consideration for five-star LB John Houston. RT @Official_John10: My Top 13 school http://t.co/eOvQ9cbAxn
1 day ago

NDTheLeprechaun

The Leprechaun


.@JimmyFallon and Hashtag- Do you accept @Cuse Otto and my @FallonTonight Lip Sync Challenge? http://t.co/ooekws6fWP #ACCvsFallon
1 day ago

TomLoy247

Tom Loy


#Bolt: #NotreDame makes the recent cut for a Five-Star linebacker from the West Coast. Details: http://t.co/nKdOkd5o8s via @BGInews (FREE)
1 day ago

BrianHamiltonSI

Brian Hamilton


Devin Gardner feels he's been at #Michigan "like 98 years." He'll try to make a last one count, via @ChrisDJohnsonn: http://t.co/F4AUXAjwkY
1 day ago

TomLoy247

Tom Loy


#Bolt: Top #Irish defensive back target sets #NotreDame official visit. http://t.co/wiUjHWuaAk via @BGInews (VIP)
1 day ago

theACCDN

ACC Digital Network


What does this guy have to do with @jimmyfallon? Get all your answers here on #ACCNow--> http://t.co/C808nkeXas http://t.co/OqS7XOAIYY
1 day ago

FightingIrish

The Fighting Irish


.@NDAthEquipment released pics of @NDSoccer's new @UnderArmour uniforms! What do you think? #TeamUA http://t.co/IvBgvkUNRe
1 day ago

NDFootball

Notre Dame Football


Exactly one month from right now we'll be running out of this tunnel onto our new field! #GoIrish http://t.co/YYq1HBZdS3
1 day ago

NDmbb

Notre Dame MBB


Did you miss @NDMikeBrey's 1st pitch at the @Silver_Hawks game last night?We have you covered!CLICK:http://t.co/ayL6FfxKAb
1 day ago

BruceFeldmanCFB

Bruce Feldman


#Michigan QB Devin Gardner elaborates on the changes new #Wolverines OC Doug Nussmeier has made: http://t.co/I2XsTOPWCF
1 day ago

Matt_Fortuna

Matt Fortuna


Four #NotreDame practices open to media, starting with Monday's opener at Culver. Brian Kelly speaks this Friday.
1 day ago

NDfidm

FIDM


Follow us all next week with exclusive @NDFootball daily practice reports from Culver Military Academy. The 2014 season begins!
1 day ago

NDfidm

FIDM


It is official - @CoachBrianKelly will kick off @NDFootball fall camp with a press conference live on @WatchND at Noon ET on Friday, Aug. 1
1 day ago

BGI_DanMurphy

Dan Murphy


Brian Kelly will meet with the media to open the 2014 #NotreDame football season at noon this Friday (Aug. 1).
1 day ago
2014 FBS Indep. STANDINGS
FBS INDEP. SCOREBOARD
Friday, 8/29
Saturday, 8/30
BLOG ARCHIVE:
CATEGORIES: