Alex Anzalone sticking with Notre Dame
November, 5, 2012
11/05/12
9:43
PM ET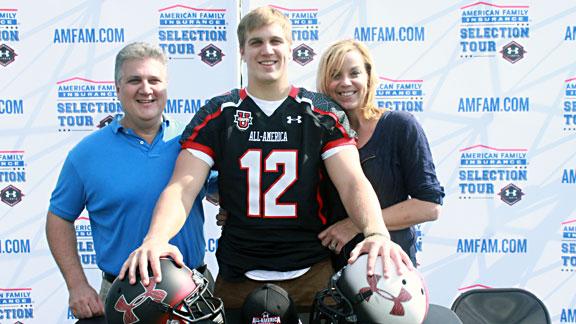 Technically nothing changed, but Notre Dame coaches are thrilled with the decision Wyomissing (Pa.) area senior
Alex Anzalone
made Monday.
The ESPN 150 outside linebacker reaffirmed his commitment to the Irish after leaving South Bend following an unofficial visit that took place Sunday into Monday.
To continue reading this article you must be an Insider
Insider
The latest from Gustin at The Opening
ESPN 300 athlete Porter Gustin (Salem, Utah/Salem Hills) took time out to talk recruiting and more with WeAreSC's Garry Paskwietz on Tuesday at The Opening.
The latest from Gustin at The Opening
VIDEO PLAYLIST
FIGHTING IRISH NATION RECRUITING NEWS
NOTRE DAME FB RECRUITING SCORECARD
adidas Men's Notre Dame Fighting Irish Navy Sideline Coaches Polo Shop »
FightingIrish

The Fighting Irish


How did @NDmbb's Jerian Grant stay in touch with the team while he was away?Part 2 of @NDFIDM's 3 part series- http://t.co/9NEUYPchIz
9 minutes ago

NDBaseball

ND Baseball


Read all about the impressive technology that the Irish have in their hitting facility ... Notre Dame was the... http://t.co/T73TynaokD
30 minutes ago

Matt_Fortuna

Matt Fortuna


I mean, has a fake Twitter account ever been so completely responsible for someone's image makeover the way it has with Bo Pelini?
35 minutes ago

Matt_Fortuna

Matt Fortuna


Happy to be back with @jdubs88 on @LeGrottoPodcast talking #NotreDame as camp approaches http://t.co/rpIUwZfQrt
54 minutes ago

gamedayND

Notre Dame Game Day


#Irish fans: Retweet if you want to see @NDTheLeprechaun take on @Cuse's Otto in a lip sync battle on @FallonTonight #ACCvsFallon
about an hour ago

NDTheLeprechaun

The Leprechaun


Hey @jimmyfallon Otto and I will be in NYC 9/27 for ND v. Cuse. We challenge you to a 2 on 2 Lip Sync Battle with the Panda. #FallonTonight
about an hour ago

FightingIrish

The Fighting Irish


DYK @NDTheLeprechaun & @Cuse's Otto challenged @JimmyFallon to a Lip Sync Battle on @FallonTonight? Tweet them your song ideas #ACCvsFallon
about an hour ago

ralphDrussoAP

Ralph D. Russo


Cincinnati QB Munchie Legaux says he hasn't been cleared to play, but he can participate in team activities and expects to play his season.
about an hour ago

TJamesNDI

Tyler James


For the record, @JerryTillery is out in Las Vegas visiting fellow #NotreDame commit @NFsoCrucial.
about an hour ago

NDTheLeprechaun

The Leprechaun


.@Cuse's Otto & I are challenging @JimmyFallon to a @FallonTonight Lip Sync Battle. What should we sing? Tweet me your pick! #ACCvsFallon
about an hour ago

Matt_Fortuna

Matt Fortuna


RT @schadjoe: Dabo Swinney says the talent level between the SEC and ACC is "splitting hairs."
about 2 hours ago

NDFootball

Notre Dame Football


Please keep #NDFBalum, and @HeismanTrophy winner, Johnny Lujack in your thoughts- http://t.co/847OCM1YFN#NDFamily
about 2 hours ago

FightingIrish

The Fighting Irish


Don't want to miss any @NDHockey fun? Make sure you are following their team account, @NDhockeysk8guy and @NDCFIA on Twitter #NDFollow
about 2 hours ago

Matt_Fortuna

Matt Fortuna


Oh my RT @TedMillerRK Steve Addazio & Ed Orgeron were on same staff at Syracuse in late '90s. Can you imagine intensity of OL vs. DL drills?
about 2 hours ago

BobBlakeSBT

Bob Blake


A @NDFootball legend, Johnny Lujack, the 1947 #Heisman winner, has been taken to the #MayoClinic. @SBTribune story: http://t.co/rd0z4mdd5H
about 2 hours ago

Matt_Fortuna

Matt Fortuna


And our Top 25 ACC countdown continues today with Nos. 20-16 http://t.co/DwIrdsGpyf #CFBRank
about 2 hours ago

Matt_Fortuna

Matt Fortuna


Tuesday's ESPN #CFBRank: Nos. 80-71 http://t.co/hphGFtTce4 Nos. 70-61 http://t.co/DKsnURWRAy
about 2 hours ago

FightingIrish

The Fighting Irish


To celebrate @NDHockey releasing their schedule, #HitPlay on their Straight Outta Compton @Spotify playlist http://t.co/xRlWAVyg9Z#GoIrish
about 3 hours ago

FightingIrish

The Fighting Irish


DYK @NDHockey announced their upcoming schedule? http://t.co/QWrQnmYLkc We look forward to seeing you at @NDCFIA this season #GoIrish
about 3 hours ago

NDAthEquipment

Notre Dame Equipment


157 boxes in this morning from @UnderArmour ! Looks like it's all Men's custom pulse trainer 2's. #footwork http://t.co/vPo4DfNyfd
about 3 hours ago

FightingIrish

The Fighting Irish


This week get free shipping at the online store on $50+ orders & 25% off Back To School backpacks and shoes http://t.co/vZGhNxNsxU#GetYours
about 4 hours ago

Matt_Fortuna

Matt Fortuna


#PennState HC James Franklin says he doesn't actually like media days, social media, etc., but may as well have fun with it. (Sure)
about 4 hours ago

BobWienekeNDI

Bob Wieneke


Quad-City Times update on Johnny Lujack, who has been airlifted to Mayo Clinic for neurological examinationhttp://t.co/raNL2JobfJ
about 4 hours ago

Matt_Fortuna

Matt Fortuna


Nebraska WR Kenny Bell, in all of his afro-wearing, pink-suspenders-donning glory http://t.co/nSM2Sm4fRt
about 5 hours ago

Matt_Fortuna

Matt Fortuna


#MSU's Shilique Calhoun, on growing up in Jersey: "I thought #Rutgers was freakin' #Alabama."
about 5 hours ago

Matt_Fortuna

Matt Fortuna


Funniest part? Calhoun, a N.J. native, saying he didn't know #UM, #MSU were two different schools before recruiting.
about 5 hours ago

Matt_Fortuna

Matt Fortuna


#MSU Shilique Calhoun absolutely loving all the #UM questions. Speechless/laughing multiple times, tho credited Devin Gardner for staying in
about 5 hours ago

BrianHamiltonSI

Brian Hamilton


Elevator pride, Dominate Canada and selfies: James Franklin's energy can help #PennState make noise. http://t.co/ZhxNQB88Oy #B1GMediaDay
about 6 hours ago

NDfidm

FIDM


Part 2 of the @ThatGrant22 return feature, focuses on his time away from @NDmbb - http://t.co/UZ4ZUZ79Fe - final segment comes tmrw
about 6 hours ago

NDTheLeprechaun

The Leprechaun


Hey @jimmyfallon, @Cuse Otto and I've been talking format for our Lip Sync Battle. We're thinking duets #ACCvsFallon @FallonTonight
about 6 hours ago

Matt_Fortuna

Matt Fortuna


Take 2: Will #NotreDame help or hurt the ACC? http://t.co/axt4lfPMED http://t.co/Auv9BCmfVg
about 7 hours ago

RustySHall

Rusty S. Hall


@Matt_Fortuna no need to be discreet. Embrace SEC football. Don't be scared. WDE!!
about 7 hours ago

TJamesNDI

Tyler James


#NotreDame's headed back to Culver, so of course Al Lesar knows who to talk to about past experiences. #NDInsider: http://t.co/GM1Rfo1ZCf
about 14 hours ago

TJamesNDI

Tyler James


'15 #NotreDame RB target Aca'cedric Ware. RT @ware_cedI've verbally commited to USC #fighton #trojans
about 15 hours ago

Matt_Fortuna

Matt Fortuna


Here I was trying to be discreet taking a photo of Auburn fan at B1G media days, only for him to find me on Twitter later.
about 16 hours ago

RustySHall

Rusty S. Hall


@Matt_Fortuna Enjoyed every minute of my visit to Big10 media day. Thanks for the love. WDE!!!
about 16 hours ago

BrianHamiltonSI

Brian Hamilton


Elevator pride, Dominate Canada and selfies: James Franklin's energy can help #PennState make noise. Column: http://t.co/ZhxNQB88Oy #PSU
about 16 hours ago

BGInews

Blue and Gold News


Our own @TomLoy247 just put in a BIG #CrystalBall prediction on 4-star CB Ykili Ross to #NotreDame. Details: http://t.co/h4PeSSFBus (VIP)
about 16 hours ago

TomLoy247

Tom Loy


#CrystalBall: Four-star CB Ykili Ross to #NotreDame. — Complete details behind the prediction. http://t.co/qYIBWv9Yq7 via @BGInews (VIP)
about 16 hours ago

TomLoy247

Tom Loy


Put in a #CrystalBall prediction for #NotreDame regarding a recruit that is perceived to be a "lock" elsewhere http://t.co/4DXSwmakuY (VIP)
about 16 hours ago

ItsMikeHill

Mike Hill


I think I could eat @ChipotleTweets every night.
about 16 hours ago

TJamesNDI

Tyler James


This is where #NotreDame S commit Nicco Fertitta plays HIGH SCHOOL football. MT @BishopGormanFBNew field is complete http://t.co/emRV9Iinzu
about 17 hours ago

Matt_Fortuna

Matt Fortuna


CAN'T WAIT RT @FreezeOurYouth: Where's @LeGrottoPodcast? @jdubs88 welcomes @Matt_Fortuna to talk @NDFootball first thing tomorrow am!
about 17 hours ago

FightingIrish

The Fighting Irish


Help @NDTheLeprechaun & @Cuse's Otto challenge @JimmyFallon to a Lip Sync Battle on @FallonTonight. Tweet your support with #ACCvsFallon
about 18 hours ago

TerrellThomas24

Terrell Thomas


Im so thankful for the Seattle Seahawks giving me an opportunity to continue my dream. Can't wait to hit the field with my new teammates!
about 18 hours ago

NastyGear

Gear Central


RT if you like and would wear @JustinTuck facemask! http://t.co/pAVgdApCz5
about 18 hours ago

BrianHamiltonSI

Brian Hamilton


Elevator pride, Dominate Canada and selfies: James Franklin's energy can help #PennState make noise now. Column: http://t.co/ZhxNQB88Oy
about 18 hours ago

BGI_AndrewOwens

Andrew Owens


Brian Kelly singled out Colin McGovern for the improvements he made during spring ball. Player projection: http://t.co/i10ayR4AVs (VIP)
about 18 hours ago

RavensInsider

Aaron Wilson


Kapron Lewis-Moore, who missed his rookie season with a torn ACL, is lining up with starting defense at end with Chris Canty sidelined
about 19 hours ago

BGInews

Blue and Gold News


ICYMI @BGInews broke some news earlier about 2016 5-star QB Shea Patterson setting up his #NotreDame visit. http://t.co/pru1xGt8Hw (FREE)
about 20 hours ago

FightingIrish

The Fighting Irish


DYK @NDTheLeprechaun & @Cuse's Otto challenged @JimmyFallon to a Lip Sync Battle? Tweet at @FallonTonight to make it happen #ACCvsFallon
about 20 hours ago

Matt_Fortuna

Matt Fortuna


Will #NotreDame football help or hurt the ACC? @aadelsonESPN and I debate as season nears http://t.co/axt4lfPMED http://t.co/qJmdtjueoi
about 20 hours ago

NDHockey

Notre Dame Hockey


Here it is everyone the 2014-15 @NDHockey season schedule! http://t.co/KDQKNmhiZE
about 20 hours ago

TomLoy247

Tom Loy


#Bolt: North Little Rock, Ark., four-star WR K.J. Hill will take an official visit to #NotreDame. http://t.co/5mhH9vSmjN via @BGInews (FREE)
about 20 hours ago

Matt_Fortuna

Matt Fortuna


#CFBRank. We rank the top 100 players this week. Nos. 100-81, with a familiar #NotreDame face http://t.co/EA6IExZmEL http://t.co/MerClBnkNp
about 21 hours ago

JayHayesNY

Jay Hayes


I hope my Mom is ok! Pray for her please! She tweaked her knee. I just want her to be ok.
about 21 hours ago

BrianHamiltonSI

Brian Hamilton


From #B1GMediaDay, Urban Meyer and #OhioState ready to move past bitter end to last season. Via @ChrisDJohnsonn: http://t.co/I5Im82xb77
about 21 hours ago

BrianHamiltonSI

Brian Hamilton


From #B1GMediaDay, Urban Meyer and #OhioState ready to move past bitter end to 2014. Via @ChrisDJohnsonn: http://t.co/I5Im82xb77
about 21 hours ago

LTorbin

Leigh Torbin


@hansenNDInsider I believe you plan to break some hockey news tonight as well...
about 21 hours ago

hansenNDInsider

Eric Hansen


If you're tired of Big Ten Media Days clogging your tlmeline, we're back talking #NotreDame FB on SportsBeat (http://t.co/UMXIIH32LE).Now!
about 22 hours ago

FightingIrish

The Fighting Irish


Would YOU like to see @NDTheLeprechaun & @Cuse's Otto take on @jimmyfallon & the Panda in NYC? @FallonTonight #LipSyncBattle #ACCvsFallon
about 22 hours ago

FightingIrish

The Fighting Irish


Thats a @Spotify playlist waiting to happen "@NDTheLeprechaun: @jimmyfallon Should we start picking our songs? #ACCvsFallon @FallonTonight"
about 22 hours ago

BrianHamiltonSI

Brian Hamilton


How a rare syndrome nearly cost college hoops' best three-point shooter, Micah Mason, his career, by @thedangreene: http://t.co/SdAkbUGuad
about 22 hours ago

FightingIrish

The Fighting Irish


We know who we'd take if @jimmyfallon & the Panda threw down in a Lip Sync battle vs @NDTheLeprechaun & @Cuse's Otto #TeamACC #FallonTonight
about 22 hours ago

NDTheLeprechaun

The Leprechaun


Hey @jimmyfallon Otto and I will be in NYC 9/27 for ND v. Cuse. We challenge you to a 2 on 2 Lip Sync Battle with the Panda. #FallonTonight
about 23 hours ago

NDfidm

FIDM


In Zimbabwe, @NDMenSoccer encountered a different style of soccer. Relive their first 2 games overseas. http://t.co/9oS66Gs3ur #NDInAfrica
about 23 hours ago

TJamesNDI

Tyler James


Our #NDInsider 2014 season preview for the iPad has a five-star rating in iTunes. Download and buy for $4.99. https://t.co/pCBFEIf7Rg
about 23 hours ago

Matt_Fortuna

Matt Fortuna


Jim Delany on if exceptions may be made to schedule FCS games: "I can think of one game in the B1G, that was the first game telecast by BTN"
about 23 hours ago

BrianHamiltonSI

Brian Hamilton


#B1G commish Jim Delany on new NCAA governance model: "I think it'll pass. The list of autonomous issues will be sufficient."
about 23 hours ago

BrianHamiltonSI

Brian Hamilton


#B1G commish Jim Delany: "We need a system that works. There's no doubt NCAA enforcement has struggled over the last couple years."
about 23 hours ago

TJamesNDI

Tyler James


'15 DE target Keisean Lucier-South names top five without the Irish, and he tells me he's scratched his planned #NotreDame official visit.
about 23 hours ago

BrianHamiltonSI

Brian Hamilton


#B1G commish Jim Delany reiterates that NCAA enforcement is 'overmatched,' but won't echo Bowlsby opinion that it pays to cheat.
about 23 hours ago

BrianHamiltonSI

Brian Hamilton


#B1G commish Jim Delany on bowl process: "Going forward, bowls will make selections and the conference will make approvals." #B1GMediaDay
about 23 hours ago

andyymac_

MAC DREW


Srsly going to buy me a @JustinTuck raiders jersey💯🏈😎
about 23 hours ago

FightingIrish

The Fighting Irish


.@NDTix are available for @NDFootball vs Rice! We can't wait to see you at Notre Dame Stadium http://t.co/0fKBwljUON http://t.co/iXwNIlpWNn
about 23 hours ago

BrianHamiltonSI

Brian Hamilton


James Franklin on #PennState frosh QB Michael O'Connor, Ottawa native: "We want to create a pipeline and dominate Canada." #DominateCanada
about 23 hours ago

Matt_Fortuna

Matt Fortuna


Michael Kelly of the @CFBPlayoff says some would say the playoff dream's been alive for 40 years ... then plays Rudy commercial. #NotreDame
1 day ago

FightingIrish

The Fighting Irish


.@NDTix are available for @NDFootball vs Rice! We can't wait to see you at Notre Dame Stadium http://t.co/0fKBwljUON http://t.co/iXwNIlpWNn
1 day ago

Matt_Fortuna

Matt Fortuna


Best of James Franklin http://t.co/V5U7JNCLtX #PSU #PennState #Lions
1 day ago

Matt_Fortuna

Matt Fortuna


Best of Urban Meyer http://t.co/FrNUkRhVK7 #OSU #Buckeyes
1 day ago

Matt_Fortuna

Matt Fortuna


Pat Fitzgerald: No more unified program in the country than #Northwestern after union push http://t.co/J6bfLmfJAm http://t.co/PTpZILs33c
1 day ago

NDFootball

Notre Dame Football


Our new field is almost done. Can't wait to play on it 8/30 before consecutive sellout No. 238! http://t.co/siNL8Be1mS
1 day ago

BrianHamiltonSI

Brian Hamilton


James Franklin: "Our job is to do everything within the rules to give #PennState a recruiting advantage." #PSU
1 day ago

Matt_Fortuna

Matt Fortuna


#PSU HC James Franklin says #NotreDame, #Navy equipment staffs have been a huge resource in helping prep for Week 1 Ireland trip.
1 day ago

gamedayND

Notre Dame Game Day


The #ShamrockSeries5k medals are so cool! Can't wait to show them to y'all! Reserve your spot and medal: http://t.co/jnQmHCg3bS #NDrunsIndy
1 day ago

FightingIrish

The Fighting Irish


.@NDSportsBlogger teamed up w/ @UpperDeck to create custom ND baseball cards. Here's the story of Father Doyle's card http://t.co/9CAbyuKiLj
1 day ago

BrianHamiltonSI

Brian Hamilton


RB Ameer Abdullah on #Nebraska offense: "It's like a storm."What kind of storm?AA: "What storm are you most afraid of?"
1 day ago

Matt_Fortuna

Matt Fortuna


Complete 180 in tone/environment with Urban Meyer from this year's B1G media days (shaky OL) to last year's (too many arrests). Good. #OSU
1 day ago

BrianHamiltonSI

Brian Hamilton


#Nebraska WR Kenny Bell on fake haircut picture: "If I'd have known the wildfire it would spread into, I never would have done it."
1 day ago

BrianHamiltonSI

Brian Hamilton


#MichiganState QB Connor Cook concluded long anecdote thusly: "Coach Dantonio is human after all and does like to have fun."
1 day ago

Matt_Fortuna

Matt Fortuna


Asked #Terps HC Randy Edsall if he kept eye on ACC media days in GBoro: "I was in St. Thomas & I was enjoying the heck out of St. Thomas."
1 day ago

Matt_Fortuna

Matt Fortuna


RT @NicoleAuerbach: Michigan State's Rose Bowl championship ring http://t.co/jBedbAOmhv
1 day ago

GeorgeSchroeder

George Schroeder


Bo Pelini: "First of all, my cat is enjoying a nap up in the room. He is here in Chicago, enjoying the Windy City."
1 day ago

FightingIrish

The Fighting Irish


.@NDmbb's Jerian Grant returns to the team this fall. Check out Part 1 of @NDFIDM's feature on Grant- http://t.co/bJy0IyIyyt#NDFamily
1 day ago

TJamesNDI

Tyler James


#Rivalry. MT @DavidFox615 UM DE Frank Clark on visiting ND: "I've never seen so many middle fingers. I thought that was a Christian school."
1 day ago

Matt_Fortuna

Matt Fortuna


This is a man in an #Auburn shirt, at B1G media days, taking a photo of #MSU's Mark Dantonio. Thanking him, I'm sure. http://t.co/GWsVBrm3W4
1 day ago

Matt_Fortuna

Matt Fortuna


"Questions I Never Thought Would Be Asked": #MSU's Dantonio on how to keep fire vs. UM after winning 5/6: "I continue to live in Michigan."
1 day ago

ChristopherHine

Chris Hine


Michigan's Frank Clark on his first trip to #NotreDame: "I didn't think there would be so many people flipping me off in front of Mary."
1 day ago
2014 FBS Indep. STANDINGS
FBS INDEP. SCOREBOARD
Friday, 8/29
Saturday, 8/30
BLOG ARCHIVE:
CATEGORIES: