Alex Anzalone sticking with Notre Dame
November, 5, 2012
11/05/12
9:43
PM ET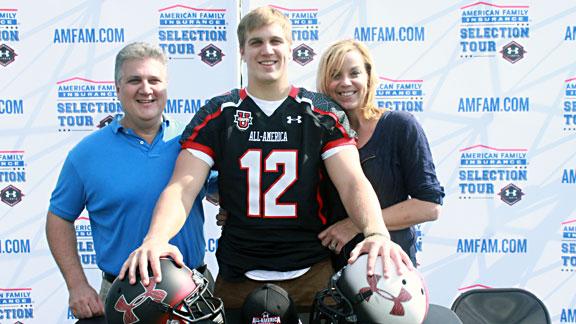 Technically nothing changed, but Notre Dame coaches are thrilled with the decision Wyomissing (Pa.) area senior
Alex Anzalone
made Monday.
The ESPN 150 outside linebacker reaffirmed his commitment to the Irish after leaving South Bend following an unofficial visit that took place Sunday into Monday.
To continue reading this article you must be an Insider
Insider
Golson Shines In Notre Dame Return
Everett Golson accounted for five touchdowns in his return with Notre Dame, leading the Irish to a 48-17 win over Rice.
Golson Shines In Notre Dame Return
VIDEO PLAYLIST
FIGHTING IRISH NATION RECRUITING NEWS
NOTRE DAME FB RECRUITING SCORECARD
hansenNDInsider

Eric Hansen


Former Penn High and #NotreDame center Braxston Cave happy to be out of limbo and in Washington: http://t.co/rQQrD6AtiR
32 minutes ago

hansenNDInsider

Eric Hansen


#NotreDame FB notes: Reality check in the trenches for both teams; personnel updates & surprising recruiting Nos.: http://t.co/PkkAGV300k
34 minutes ago

BarakaBouts

ND Women's Boxing


Attention Norte Dame women boxers! Come learn more about Baraka Bouts and our upcoming season TOMORROW 5PM in the Pit! #BarakaBouts #GoIrish
about an hour ago

Matt_Fortuna

Matt Fortuna


Speak for yourself, @CoachBrianKelly. http://t.co/exMmZQwFCc
about an hour ago

CoachBrianKelly

Brian Kelly


Caught a lot of flack from the media today about my jacket... They just don't know what good style looks like. http://t.co/4ptX6RCmkg
about an hour ago

CoachBrianKelly

Brian Kelly


Caught a lot of flack from the media today about my jacket... They just don't know what good style looks like. http://t.co/4ptX6RCmkg
about an hour ago

TomLoy247

Tom Loy


#Bolt: #NotreDame and four others to receive an official visit from elite safety Marvell Tell. http://t.co/bHgcx7zIUk via @RyanBartow (FREE)
about an hour ago

gamedayND

Notre Dame Game Day


Need a ride around campus on #NDgameday? Catch a lift on a pedal cab! They're operated by student clubs. All tips go directly to the clubs!
about an hour ago

FightingIrish

The Fighting Irish


We send our very best wishes to @NDcoachBarnes on his next steps. Thank you for everything you gave to @NDwSwimming and ND #NDFamily
about 2 hours ago

NDwSwimming

Notre Dame Swimming


Brian Barnes has resigned after six years as the head coach of the Notre Dame women's swimming and diving program. http://t.co/N8ahCakzxN
about 2 hours ago

FightingIrish

The Fighting Irish


Taking your little ones to @NDFootball this weekend? Make sure our #FutureIrish are ready to cheer on the Irish- http://t.co/rAQjvAipjj
about 2 hours ago

FightingIrish

The Fighting Irish


.@NDMensGolf's Patrick Grahek is making a SAotW run for his performance at the ND KickOff… Will he pull an upset? http://t.co/1W2989rttx
about 3 hours ago

Matt_Fortuna

Matt Fortuna


Congrats @aadelsonESPN @Ivan_Maisel @MattBrownCFB and many talented colleagues past and present honored by @TheFWAA http://t.co/ijYTSNhwQ3
about 3 hours ago

NDWomensLax

Notre Dame W Lax


3.2 dinner to celebrate our 16 student athletes from 2nd semester last year #sorryforthecutofffaces… http://t.co/3rPu3N7q12
about 3 hours ago

FightingIrish

The Fighting Irish


Coming to @NDFootball vs UM? Take the experience to another level, http://t.co/B1nneswkAC to make your experience truly VIP #GetYours
about 3 hours ago

JustinTuck

Justin Tuck


"@MizzU01: @JustinTuck hey Tuck you plan on doing any bow hunting this fall?"would love to get out more but football dominates my fall
about 3 hours ago

NDSportsBlogger

Aaron Horvath


If you're a @NotreDame student looking for a job, stop by @NDfidm booth at Student Activities Night and talk to Nate! http://t.co/On1AcdFDpU
about 3 hours ago

FightingIrish

The Fighting Irish


Coming to @NDFootball vs UM? Take the experience to another level, http://t.co/B1nneswkAC to make your experience truly VIP #GetYours
about 3 hours ago

Matt_Fortuna

Matt Fortuna


.@CoachHawk: "It's like taking Seinfeld off the air....There are some things that should go on eternally & #NotreDame-Michigan is 1 of them"
about 3 hours ago

NDSportsBlogger

Aaron Horvath


If you're a @NotreDame student looking for a job, stop by @NDfidm booth at Student Activities Night and talk to Nate! http://t.co/On1AcdFDpU
about 4 hours ago

FightingIrish

The Fighting Irish


Will the Student Athlete of the Week have completed 5 touchdowns or made 8 tackles? Vote for @NDFootball- http://t.co/h3Rr9HAMnY#GoIrish
about 4 hours ago

drose18__

droseQ


Ayyyyy my boy @JustinTuck at subway 😂😻 #beastRDE 💪🏈 http://t.co/MzCFZYsAeE
about 4 hours ago

BGInews

Blue and Gold News


Some insight into the timeline of a typical Honor Code Committee hearing, via @D_Farmer ($): http://t.co/4sgXG7L5oS
about 4 hours ago

BraxstonCave52

Braxston Cave


Excited to be a part of the @Redskins Organization!
about 4 hours ago

FightingIrish

The Fighting Irish


Will it be a game winning goal from @NDmenSoccer or a co-championship from @NDmensGolf? VOTE- http://t.co/h3Rr9HAMnY
about 4 hours ago

LepLegion

Leprechaun Legion


It's Student Activities night! Head on over and look for the Legion table if you are interested in joining the Legion http://t.co/xaHvT4BSkw
about 4 hours ago

D_Farmer

Douglas Farmer


Over @BGInews, some insight into a TYPICAL Honor Code Committee hearing -- emphasis on typical ($): http://t.co/U6UCzc2cQQ
about 4 hours ago

FightingIrish

The Fighting Irish


Voting for the Student Athlete of the Week goes until Wednesday 12 pm ET. Who has your vote? http://t.co/h3Rr9HAMnY#GoIrish
about 4 hours ago

BrianHamiltonSI

Brian Hamilton


Texas A&M QB Kenny Hill says he prefers to be known as 'Kenny Trill':http://t.co/dGi3iWdkzF http://t.co/cgfavxxhWr
about 5 hours ago

NDTIX

ND Ticket Office


A @NDFootball home game week means ND Stadium tour times change... More info at http://t.co/tg49UUdJWB #GetYours http://t.co/muQeuD71Oh
about 5 hours ago

D_Farmer

Douglas Farmer


The Linebacker Shuffle - oft seen at the Linebacker Lounge - has forced Tranquill, Councell & Onwualu into forefront: http://t.co/emb8wG6UT5
about 5 hours ago

Matt_Fortuna

Matt Fortuna


No ACC punishment for #Syracuse QB Terrel Hunt http://t.co/3VSUoik8iU (per @Stephen_Bailey1 report) http://t.co/9fgKr9ICZ5
about 6 hours ago

Gil_Brandt

Gil Brandt


Got a call from Bob Knight, Said he hit a cow in Cody, WY returning from fishing. Totaled his suburban. Tossed chairs do less damage.
about 6 hours ago

BQ9

Brady Quinn


VIDEO:103-year-old sprinter"Golden Bolt" says he'd welcome a race against Usain Bolt http://t.co/ijJVOK5jos http://t.co/ROiCV1piXU" Legend!
about 6 hours ago

FightingIrish

The Fighting Irish


Can you believe the #ShamrockSeries is next week? Haven't ordered your @NDTix yet? Do it before you leave work- http://t.co/NGlptOLv5J
about 6 hours ago

TomLoy247

Tom Loy


#NotreDame's Brian Kelly talks victory over Rice and previews the upcoming matchup against Michigan. http://t.co/f5kLMMMDtY @BGInews (FREE)
about 7 hours ago

Matt_Fortuna

Matt Fortuna


#UCLAvsUVA RT @Ryan_Kartje: OL coach Adrian Klemm: "That was 1 of the sh*ttiest performances I've ever been a part of as a player or coach."
about 7 hours ago

BGInews

Blue and Gold News


From yesterday: An update on how former #NotreDame players are faring in the NFL: http://t.co/XqpzfYZCwV
about 7 hours ago

Matt_Fortuna

Matt Fortuna


@JShankerESPN Smedium?
about 7 hours ago

Matt_Fortuna

Matt Fortuna


Also, I believe @AschoffESPN's shirt size is medium. Can you confirm, Edward? RT @JOENOLES: Now taking orders...@ me. http://t.co/yGaGqMBByy
about 7 hours ago

Matt_Fortuna

Matt Fortuna


If I know anything about SEC fans, they'll let this one go peacefully ... RT @JOENOLES: Now taking orders...@ me. http://t.co/yGaGqMBByy
about 7 hours ago

BGI_AndrewOwens

Andrew Owens


RT @Redskins: #Redskins sign OL Braxston Cave and LB Jackson Jeffcoat to the practice squad: http://t.co/3OKwi3qKHk http://t.co/jdzW6Qfdqe
about 7 hours ago

JJStankevitz

JJ Stankevitz


Former #NotreDame center Braxston Cave has been signed to the Washington Redskins' practice squad.
about 7 hours ago

NDMensGolf

Notre Dame Mens Golf


Senior @trickgrahek is up for Notre Dame student athlete of the week after his win this week. Let's… http://t.co/XgCnIffP7v
about 7 hours ago

FightingIrish

The Fighting Irish


How much do you <3 @NotreDame? Follow us on @WeHeartIt- http://t.co/MBnQx63Gvb#LoveND
about 7 hours ago

NDfidm

FIDM


Here is the full video archive of @CoachBrianKelly @NDFootball preview press conference - http://t.co/8yKVC5rwwy
about 8 hours ago

FightingIrish

The Fighting Irish


You know the nominees, now vote for the first Student Athlete of the Week- http://t.co/h3Rr9HAMnYResults announced Weds, 12 pm ET #Vote
about 8 hours ago

Matt_Fortuna

Matt Fortuna


Post-Week 1 Heisman Watch? You bet. And look who notched a pair of 5th-place votes... http://t.co/2BJPS2ilfe (Hint: He plays for #NotreDame)
about 8 hours ago

Matt_Fortuna

Matt Fortuna


Nonleague schedule grades, committee's rankings and MSU's big task highlight Week 2 of playoff puzzle http://t.co/6dypdNp211 via @CFBHeather
about 8 hours ago

BrianHamiltonSI

Brian Hamilton


I am as proud and disturbed as I have ever been at one time RT @lindsapple It's Zubaz Tuesday at @SInow http://t.co/keGX3vKPxF
about 8 hours ago

FightingIrish

The Fighting Irish


Last but def not least, @NDFootball's Joe Schmidt has a case for SAotW with his team record 8 tackles- http://t.co/h3Rr9HAMnY #Vote
about 8 hours ago

FightingIrish

The Fighting Irish


Will @NDFootball's Everett Golson be named SAotW for his 336 yards of total offense and five touchdowns? http://t.co/h3Rr9HAMnY
about 8 hours ago

FightingIrish

The Fighting Irish


Does @NDmensGolf's Patrick Grahek get your SAotW vote for being co-champion of the ND Kick-Off Challenge? http://t.co/h3Rr9HAMnY
about 8 hours ago

SWiltfong247

Steve Wiltfong


#NotreDame the nation's top class in 2016? Three five-star @247CrystalBall picks for the #Irish including Malik Henry http://t.co/UbwmaoBgSL
about 8 hours ago

FightingIrish

The Fighting Irish


Will @NDMenSoccer's Leon Brown get your SAotW vote for his game winning goal over Marquette? http://t.co/h3Rr9HAMnY #Vote
about 8 hours ago

FightingIrish

The Fighting Irish


Our first Student Athlete of the Week Fan Poll is up!Vote- http://t.co/j7gGcasBc1Go Irish!
about 8 hours ago

NDGoldGang

Gold Gang


On 9/5/14, a new era of #NotreDame will begin. Will you be ready? #GoIrish http://t.co/NY9Ng8NYX6
about 9 hours ago

InsideUSC

InsideUSC


#USC QB Cody Kessler was hospitalized and underwent toe procedure for staph infection http://t.co/I0pKYr0MIw
about 9 hours ago

MaxJimerson10

Maximiliano


@LepLegion How many University of Michigan freshman does it take to change a light bulb? None, it's a sophomore course #HateMichiganWeek
about 9 hours ago

PhillipDaniels

Phillip Daniels


Really would like to know why the delay by #NotreDame. Our kids are enrolled in school but are not allowed to practice. Hard to understand!
about 9 hours ago

FightingIrish

The Fighting Irish


Looking for a room in South Bend/Mishawaka for a game? Check out @visitsouthbend's website for each game- http://t.co/vfpfQ9HroD#WeHeartSB
about 9 hours ago

hansenNDInsider

Eric Hansen


#NotreDame football moves up one spot to No. 16 in the latest AP poll. Michigan unranked but receiving votes: http://t.co/djIz2JgB9A
about 9 hours ago

FightingIrish

The Fighting Irish


Looking for a room in South Bend/Mishawaka for a @NDFootball game? Check out @visitsouthbend for availability http://t.co/K2PxvhHkfS
about 9 hours ago

LTorbin

Leigh Torbin


Starting the RB behind door number 3 RT @TedMandell: @NDFootball Lovin BK's tribute to Monty Hall..or is it Digger? http://t.co/YuWKfpudwm
about 10 hours ago

BrianHamiltonSI

Brian Hamilton


http://t.co/HGlkaaVxpp RT @TeddyGreenstein: One B1G coach used word "unexcusable" and talked about foe as "a quality component."
about 10 hours ago

BGI_AndrewOwens

Andrew Owens


Also: Hunter & Grace injury updates & why #NotreDame might be more prepared for Michigan's defense than in the past: http://t.co/3VWzboueXu
about 10 hours ago

BGI_AndrewOwens

Andrew Owens


#NotreDame's Brian Kelly said he has not been updated on the five players involved in the academic investigation: http://t.co/3VWzboueXu
about 10 hours ago

TNNDN

The New ND Nation


RT"@dkurtenbach: Who wore it better? http://t.co/4MGpfsL1NO&#8221;Winner: Brian Kelly.
about 10 hours ago

BrianHamiltonSI

Brian Hamilton


Who is No. 1 in @martinrickman College Football Power Rankings? (Related: RIP Martin's mentions column) http://t.co/eeByJClDLd
about 10 hours ago

NDfidm

FIDM


Miss any of the @NDFootball vs. Rice action? Full game archive now on WatchND: http://t.co/ECsAwSVAvi
about 10 hours ago

NDsidBertschy

Michael Bertsch


.@NDFootball played 57 different players in the victory over Rice, including 10 true freshman. Twenty players in all made their Irish debut.
about 10 hours ago

FightingIrish

The Fighting Irish


.@NDFootball game v Michigan is our Under The Lights game at ND Stadium. #HitPlay on our special @Spotify playlist- http://t.co/pMrLD6uceC
about 10 hours ago

Matt_Fortuna

Matt Fortuna


@mikerothstein You may have a point
about 10 hours ago

Matt_Fortuna

Matt Fortuna


Who wore it better:Brian Kelly or me? Go. #NotreDame http://t.co/UMcjipzhsa
about 11 hours ago

Matt_Fortuna

Matt Fortuna


So no, Brian Kelly won't say ending #Michigan series is a good idea. But it does open opportunities for #NotreDame (and Michigan).
about 11 hours ago

SethDavisHoops

Seth Davis


My latest installment of Summer School features Wichita State coach Gregg Marshall. How has his recruiting changed? http://t.co/MfCMFGjOil
about 11 hours ago

BGInews

Blue and Gold News


RT @D_Farmer: And so ends your weekly "Tuesday Lunch with Coach" session.
about 11 hours ago

BGInews

Blue and Gold News


Kelly says the "silver lining" of Michigan series ending is the opportunities it opens up with our schools: Texas, Georgia.
about 11 hours ago

BGInews

Blue and Gold News


Kelly on punt returner: "I think we'll continue to use both. (Riggs) is taking a lot of snaps, and we want to be sure to keep him healthy."
about 11 hours ago

NDsidBertschy

Michael Bertsch


So Doug took @BGI_DanMurphy spot with @BGInews but he even took his seat at today's @CoachBrianKelly presser http://t.co/5JRw7kjKhX
about 11 hours ago

BGI_AndrewOwens

Andrew Owens


#NotreDame HC Brian Kelly notes that Sheldon Day plays with a high energy level. Trying to build # of snaps he can play from 50 vs. Rice.
about 11 hours ago

D_Farmer

Douglas Farmer


Kelly describes sophomore RB Tarean Folston as "elusive." "The players like to watch him run."
about 11 hours ago

BGInews

Blue and Gold News


Kelly on pass rush: "I would think we'd have a little bit more a variety of schemes for (Michigan QB Devin) Gardner."
about 11 hours ago

BGInews

Blue and Gold News


Kelly on Stanley, a second-year starter, leading the line: "The room heats up when he's in there. You know Ronnie's in the room."
about 11 hours ago

Matt_Fortuna

Matt Fortuna


#NotreDame HC Brian Kelly won't use UM finale as motivation "as much as this is a great opportunity. You may not see #Michigan for awhile."
about 11 hours ago

BGInews

Blue and Gold News


BK on the last scheduled Michigan game: "I don't think I would use that as a form of motivation as much as this is a great opportunity."
about 11 hours ago

Matt_Fortuna

Matt Fortuna


#NotreDame HC Brian Kelly on view of ND/UM/MSU rivalries from other stops: "We played in the cloud, we were in the shadow of those games."
about 11 hours ago

BGInews

Blue and Gold News


BK: "It definitely is a game that's exciting to play for me. Michigan, Mich. St., those games were the big games when I was at GVSU."
about 11 hours ago

PeteByrneWSBT

Pete Byrne


#NotreDame ranked 15th in the coaches poll. up two spots from last week.
about 11 hours ago

BGInews

Blue and Gold News


Kelly re: Steve Elmer moving from guard to RT, the biggest difference between the two is at guard, "you're working in tandem."
about 11 hours ago

osmattmurschel

Matt Murschel


You'll like what you see, I guarantee it. RT @angdicarlowndu: Amazing outfit from Brian Kelly today. http://t.co/0odHACVwDh
about 11 hours ago

BGInews

Blue and Gold News


3 ingredients to good returns: The surface, the fearlessness, the great effort. "Those three things were hit or miss in the last few years."
about 11 hours ago

D_Farmer

Douglas Farmer


Kelly again cites the newly-installed Field Turf as part of why the punt return game excelled against Rice.
about 11 hours ago

BGInews

Blue and Gold News


Kelly on special teams success: "I think we're probably getting too much credit for it, and probably too much defending it in years past."
about 11 hours ago

Matt_Fortuna

Matt Fortuna


"She died like she lived: Surrounded by the people she answered phones for." RT @ChristopherHine: @Matt_Fortuna She was an astronaut!
about 11 hours ago

BGInews

Blue and Gold News


Former WR James Onwualu's toughness and "innate ability to attack and shed blockers" led to his shift to LB, according to Kelly.
about 11 hours ago

Matt_Fortuna

Matt Fortuna


Still the first thing that comes to mind whenever I hear "Blankenship." Grant hopes to change that soon. #NotreDame http://t.co/4JBooZRKKl
about 11 hours ago

BGInews

Blue and Gold News


Kelly on #NotreDame LT Ronnie Stanley moving from RT: "First of all, you have to have somebody who is a really good athlete."
about 11 hours ago

hansenNDInsider

Eric Hansen


Encouraging progress on injury front with both WR Torii Hunter (groin) and LB Jarrett Grace (leg). Hunter may be ready to play next week.
about 11 hours ago

BGInews

Blue and Gold News


#NotreDame occasionally calls a play in practice and intentionally has Golson leave the pocket to give the WRs practice with those rules.
about 11 hours ago
2014 FBS Indep. STANDINGS
BLOG ARCHIVE:
CATEGORIES: