Alex Anzalone sticking with Notre Dame
November, 5, 2012
11/05/12
9:43
PM ET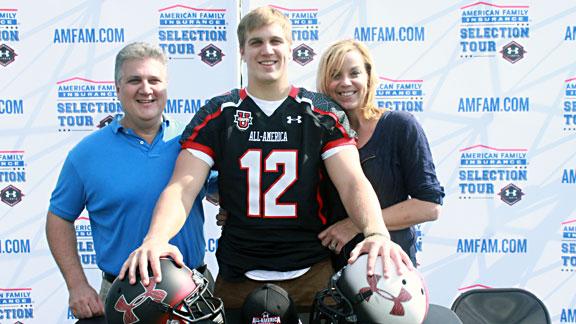 Technically nothing changed, but Notre Dame coaches are thrilled with the decision Wyomissing (Pa.) area senior
Alex Anzalone
made Monday.
The ESPN 150 outside linebacker reaffirmed his commitment to the Irish after leaving South Bend following an unofficial visit that took place Sunday into Monday.
To continue reading this article you must be an Insider
Welcome
!
We see that you are not an ESPN Insider. Upgrade today and gain access to our exclusive coverage.
ESPN The Magazine subscribers

Need more information?
Top Returning Players: AAC and Notre Dame
Top Returning Players: AAC and Notre Dame
VIDEO PLAYLIST
Top Returning Players: AAC and Notre Dame

Top Returning Players: AAC and Notre Dame

Notre Dame Begins Spring Football Practice

Notre Dame Begins Spring Football Practice

Notre Dame Film Room

Notre Dame Film Room
FIGHTING IRISH NATION RECRUITING NEWS
NOTRE DAME FB RECRUITING SCORECARD
adidas Women's Notre Dame Fighting Irish Navy Tri-Blend Football T-Shirt Shop »
FightingIrish

Notre Dame Athletics


30 mins until game time for @NDmbb!Check out Coach @NDMikeBrey's @TheACC Tournament Preview to get ready http://t.co/ioSiLOGh8U#GoIrish
about 5 hours ago

hansenNDInsider

Eric Hansen


RT @DraftCountdown: I think even @RichEisen ran a 4.3 at the UCLA Pro Day. #FastTrack
about 6 hours ago

Matt_Fortuna

Matt Fortuna


Tough to picture a tourney w/ no 1 from Indiana, but may have lost its best shot w/ IPFW's loss tonight to ND ST. Likely 1st time since 2005
about 6 hours ago

ChiTribHamilton

Brian Hamilton


North Dakota State in the Dance. Reminder that @SINow has all auto bid winners, and how they got there, listed here: http://t.co/GBw6Rtl6xD
about 6 hours ago

BGInews

Blue and Gold News


RT @BGI_AndrewOwens: Brey to Farrell's father: "I'm not recruiting your son to be a role player. I'm recruiting him to be my point guard." …
about 6 hours ago

BGInews

Blue and Gold News


RT @BGI_AndrewOwens: How Matt Farrell's grandfather helped the 2014 point guard decide to commit to #NotreDame tonight: http://t.co/rI2MDOE…
about 6 hours ago

irishbuzztap

Notre Dame Buzz


Blue and Gold >> ND Remains In Front For Barajas http://t.co/Mv5UzvXbm9
about 7 hours ago

irishbuzztap

Notre Dame Buzz


Notre Dame Fighting Irish (Official Site) >> W. Lacrosse. Fortunato Named Brine Player of the Week http://t.co/NbOkla8k8g
about 7 hours ago

irishbuzztap

Notre Dame Buzz


In The Paint >> The Impossible is Possible http://t.co/5HIHkuNvOq
about 7 hours ago

irishbuzztap

Notre Dame Buzz


Irish Eyes (Scout) >> Williams changes up favorites http://t.co/BoNYCpUEPL
about 7 hours ago

irishbuzztap

Notre Dame Buzz


In The Paint >> @NDwbb's Thursday Night Obsession – Scandal http://t.co/a7KJdAy1T1
about 7 hours ago

irishbuzztap

Notre Dame Buzz


Irish UNDerground >> Ad Astra Per Aspera http://t.co/S5LDCcBgRb
about 7 hours ago

irishbuzztap

Notre Dame Buzz


Irish UNDerground >> The 2014 Class – In One Word … And Then A Few More http://t.co/4gw9FdDR6q
about 7 hours ago

irishbuzztap

Notre Dame Buzz


Blue and Gold >> Column: Slow Grinding Progress http://t.co/5JHmqPluzx
about 7 hours ago

irishbuzztap

Notre Dame Buzz


Notre Dame Fighting Irish (Official Site) >> Fencing. Notre Dame To Send 10 Fencers to 2014 NCAA Championships http://t.co/wK8C0TRhFh
about 7 hours ago

Matt_Fortuna

Matt Fortuna


RT @StuartScott: Hey TWEEPS...if you want more insight into my cancer fight, read this #NewYorkTimes article by @RichSandomir http://t.co/…
about 7 hours ago

irishbuzztap

Notre Dame Buzz


Irish Illustrated (Rivals) >> Irish like versatile Williams http://t.co/pvsxbuY1yj
about 7 hours ago

irishbuzztap

Notre Dame Buzz


Irish Illustrated (Rivals) >> Simmons keeps in contact http://t.co/Al77R0oTO3
about 7 hours ago

irishbuzztap

Notre Dame Buzz


Inside the Irish (NBC Sports) >> Kelly rolls the dice again with position switches http://t.co/TXaUDTJ0OP
about 7 hours ago

irishbuzztap

Notre Dame Buzz


Irish Insights >> Notre Dame's McBride, McGraw earn ACC honors http://t.co/7EkCDV1UhU
about 8 hours ago

irishbuzztap

Notre Dame Buzz


Blue and Gold >> St. Brown To Visit Notre Dame Soon http://t.co/tWvklvXEJ0
about 8 hours ago

irishbuzztap

Notre Dame Buzz


Blue and Gold >> ACC Tournament Primer http://t.co/YWLr7jujqT
about 8 hours ago

irishbuzztap

Notre Dame Buzz


Blue and Gold >> Five To Watch: ND In California http://t.co/35DoHW5Cnw
about 8 hours ago

ChiTribHamilton

Brian Hamilton


As expected [note: not expected], Mt. St. Mary's and Milwaukee sew up NCAA bids. @SINow post via @martinrickman: http://t.co/bw3JEEeLTX
about 8 hours ago

irishbuzztap

Notre Dame Buzz


Notre Dame Fighting Irish (Official Site) >> M. Basketball. Ambition and Resiliency http://t.co/eLsiseLhID
about 8 hours ago

irishbuzztap

Notre Dame Buzz


Notre Dame Fighting Irish (Official Site) >> W. Lacrosse. Fortunato, Murray Named ACC Women's Lax Players of the http://t.co/SjSHhf4IaF
about 8 hours ago

irishbuzztap

Notre Dame Buzz


Irish Eyes (Scout) >> Spring Hiatus: Defense http://t.co/JtrtXQwejz
about 8 hours ago

irishbuzztap

Notre Dame Buzz


Irish Illustrated (Rivals) >> Reid on track for ND visit http://t.co/bPpEMIFxl6
about 8 hours ago

irishbuzztap

Notre Dame Buzz


Irish Illustrated (Rivals) >> Projecting the ACC tournament http://t.co/6Kz27zvHOC
about 8 hours ago

ChiTribHamilton

Brian Hamilton


Wisconsin-Milwaukee goes from 8-23 to the NCAA tournament in one year. Fairly sizable turnaround.
about 8 hours ago

irishbuzztap

Notre Dame Buzz


Notre Dame Fighting Irish (Official Site) >> Softball. Details From The Diamond: Spring Break Edition http://t.co/BbiAb3K2bl
about 8 hours ago

Matt_Fortuna

Matt Fortuna


Top seed Robert Morris falls to Mount St. Mary's in NEC title game. No tourney for player of year Karvel Anderson. http://t.co/10rzCulLOA
about 8 hours ago

FightingIrish

Notre Dame Athletics


Coming in for @NDFootball Blue-Gold? Visit https://t.co/JLjuErmLIX, hit LIKE, and enter to win a Blue-Gold Package, including hotel room.
about 8 hours ago

irishbuzztap

Notre Dame Buzz


Irish UNDerground >> Tuesday's T.I.F.I. – Irish Dominate ACC Awards, Selfies, Lee Once Again, @NDmbb Trivia & http://t.co/tUqFMgSShC
about 8 hours ago

JustinTuckNYG91

Justin Tuck


RT @AdamHoge: Justin Tuck had 11 sacks, 25.5 knockdowns and 14.5 hurries last year. All three numbers would have led the #Bears. Just sayin…
about 9 hours ago

irishbuzztap

Notre Dame Buzz


Notre Dame Fighting Irish (Official Site) >> W. Basketball. ACC Coaches Name McBride Player Of Year, McGraw Coach http://t.co/szo09xYvTa
about 9 hours ago

irishbuzztap

Notre Dame Buzz


Notre Dame Fighting Irish (Official Site) >> Monogram Club. Strong of Heart: Terri & Sherri Vitale http://t.co/c1w9a6YSoN
about 9 hours ago

hansenNDInsider

Eric Hansen


RT @tnoieNDInsider: Early SBT story on point guard Matt Farrell committing to #NotreDame....updated story with quotes to follow. Here: http…
about 9 hours ago

BGInews

Blue and Gold News


RT @BGI_AndrewOwens: Story: #NotreDame adds point guard Matt Farrell as the third member of the 2014 recruiting class: http://t.co/Figx89A4…
about 9 hours ago

irishbuzztap

Notre Dame Buzz


Blue and Gold >> Position Switch: Amir Carlisle http://t.co/OmUjTQUlnd
about 9 hours ago

hansenNDInsider

Eric Hansen


RT @TJamesNDI: RT @tnoieNDInsider: #NotreDame hoops has picked up commitment from PG Matt Farrell (Point Pleasant, N.J.). Story coming soon…
about 9 hours ago

BGInews

Blue and Gold News


RT @BGI_AndrewOwens: 2014 point guard Matt Farrell commits to #NotreDame. First reported by @tnoieNDInsider. http://t.co/5pWyiXfAXr Story c…
about 9 hours ago

irishbuzztap

Notre Dame Buzz


Irish Eyes (Scout) >> Ofodile sets Notre Dame visit http://t.co/3FKbGbpmX2
about 9 hours ago

FightingIrish

Notre Dame Athletics


ICYMI New @NDFIDM ICON: @NDwbb Win @theACC Championship! http://t.co/zOCl7dLFZw#GoIrish
about 9 hours ago

BGInews

Blue and Gold News


RT @BGI_AndrewOwens: 2014 PG Matt Farrell (Point Pleasant, N.J.) has committed to #NotreDame. Story coming @BGInews. Irish offered Mon.
about 9 hours ago

BGInews

Blue and Gold News


Preview and prediction: #NotreDame faces Wake Forest in round one of the ACC tournament Wednesday: http://t.co/xBjvu8ivlU
about 9 hours ago

irishbuzztap

Notre Dame Buzz


One Foot Down >> OFD Films: Brian VanGorder's Defense Against the Option http://t.co/j2sjTLTCRO
about 10 hours ago

FightingIrish

Notre Dame Athletics


Make sure you have the @adidashoops gear to cheer on @NDmbb & @NDwbb during their post-season- http://t.co/5D3yXK4SJc#MadeInMarch #GoIrish
about 10 hours ago

irishbuzztap

Notre Dame Buzz


Inside the Irish (NBC Sports) >> Early signing period could help (and hurt) Irish http://t.co/BUOd9mMEze
about 10 hours ago

irishbuzztap

Notre Dame Buzz


Inside the Irish (NBC Sports) >> Junior Day kicks off 2015 recruiting cycle http://t.co/3Bk8LUr0KC
about 10 hours ago

irishbuzztap

Notre Dame Buzz


Inside the Irish (NBC Sports) >> Schedule tweaks make for unique spring http://t.co/t35HQ7DJHi
about 10 hours ago

irishbuzztap

Notre Dame Buzz


Inside the Irish (NBC Sports) >> Spring Practice: Day Two report breakdown http://t.co/DGOJOLlgcT
about 10 hours ago

irishbuzztap

Notre Dame Buzz


Inside the Irish (NBC Sports) >> Kelly committed to fixing special teams http://t.co/pdSDDD1cKv
about 10 hours ago

irishbuzztap

Notre Dame Buzz


Inside the Irish (NBC Sports) >> Spring Practice: Day One report breakdown http://t.co/rMDXFcysqa
about 10 hours ago

irishbuzztap

Notre Dame Buzz


Inside the Irish (NBC Sports) >> Golson returns to the practice field http://t.co/lB3CsOMXln
about 10 hours ago

irishbuzztap

Notre Dame Buzz


Inside the Irish (NBC Sports) >> Winter workout report breakdown http://t.co/DU1O7PZh8P
about 10 hours ago

irishbuzztap

Notre Dame Buzz


Inside the Irish (NBC Sports) >> Position switches help depth chart come into focus http://t.co/3OdTvDh5HP
about 10 hours ago

irishbuzztap

Notre Dame Buzz


Inside the Irish (NBC Sports) >> Kelly kicks off spring practice http://t.co/VN7upl2Su9
about 10 hours ago

irishbuzztap

Notre Dame Buzz


Her Loyal Sons >> Notre Dame Football Back On Track in 2014 http://t.co/sEhYKPR53j
about 10 hours ago

irishbuzztap

Notre Dame Buzz


South Bend Tribune >> Pro baseball: Manship battling for roster spot http://t.co/Dio6IaW8fL
about 11 hours ago

irishbuzztap

Notre Dame Buzz


South Bend Tribune >> Notre Dame softball: Winter earns ACC honor http://t.co/eB7lBpxnrO
about 11 hours ago

irishbuzztap

Notre Dame Buzz


South Bend Tribune >> Notre Dame golf: Irish men 6th http://t.co/QqXHbvo4r8
about 11 hours ago

irishbuzztap

Notre Dame Buzz


One Foot Down >> The Week in Notre Dame Athletics: 2 Big Tournament Wins http://t.co/n4D9IXFW8H
about 11 hours ago

irishbuzztap

Notre Dame Buzz


Irish Illustrated (Rivals) >> A whole new ball game http://t.co/ZEuGKwWE5J
about 11 hours ago

irishbuzztap

Notre Dame Buzz


Irish Illustrated (Rivals) >> RCS Analysis - Equanimeous St. Brown http://t.co/CM6aIblLQh
about 11 hours ago

irishbuzztap

Notre Dame Buzz


Irish Illustrated (Rivals) >> Irish offer Tennessee commit http://t.co/ZCN6ZUJqHO
about 11 hours ago

irishbuzztap

Notre Dame Buzz


Irish Illustrated (Rivals) >> Irish seek fresh start in Greensboro http://t.co/wBQap3ehgY
about 11 hours ago

irishbuzztap

Notre Dame Buzz


Irish Illustrated (Rivals) >> In the film room...Chris Clark http://t.co/AzBx5xWRiZ
about 11 hours ago

irishbuzztap

Notre Dame Buzz


Irish Illustrated (Rivals) >> BC awaits in league quarterfinals http://t.co/4gQwmBwIbe
about 11 hours ago

irishbuzztap

Notre Dame Buzz


Irish Illustrated (Rivals) >> ND's man for all things kicking http://t.co/KDOGNZsZkD
about 11 hours ago

irishbuzztap

Notre Dame Buzz


Irish Illustrated (Rivals) >> RCS Analysis - Blake Barnett http://t.co/WYrccga5Qj
about 11 hours ago

irishbuzztap

Notre Dame Buzz


Irish Illustrated (Rivals) >> Patrick plans ND visit http://t.co/rjPlBvOd4n
about 11 hours ago

irishbuzztap

Notre Dame Buzz


Irish Illustrated (Rivals) >> RCS Analysis - Cordell Broadus http://t.co/Qp7aW3cTOm
about 11 hours ago

irishbuzztap

Notre Dame Buzz


Irish Illustrated (Rivals) >> Hinostroza makes his mark http://t.co/AXB3M3KEoV
about 11 hours ago

irishbuzztap

Notre Dame Buzz


Irish Illustrated (Rivals) >> Can ND do damage in ACC tourney? http://t.co/i5mt2dlHDB
about 11 hours ago

irishbuzztap

Notre Dame Buzz


Irish Illustrated (Rivals) >> Sanders adds Irish offer http://t.co/nKntnyg1Qm
about 11 hours ago

irishbuzztap

Notre Dame Buzz


Irish Illustrated (Rivals) >> ND's backfield standard-bearer http://t.co/MrUOmo4UOV
about 11 hours ago

irishbuzztap

Notre Dame Buzz


Irish Illustrated (Rivals) >> Putting PairWise aside http://t.co/hS34b5FluK
about 11 hours ago

irishbuzztap

Notre Dame Buzz


Irish Illustrated (Rivals) >> In the film room...Miles Boykin http://t.co/klQw9iW5SE
about 11 hours ago

irishbuzztap

Notre Dame Buzz


Irish Illustrated (Rivals) >> Podcast: Spring changes http://t.co/B9JL3X6eer
about 11 hours ago

irishbuzztap

Notre Dame Buzz


Irish Illustrated (Rivals) >> New system, new position http://t.co/ucJmfDeeOt
about 11 hours ago

irishbuzztap

Notre Dame Buzz


Irish Illustrated (Rivals) >> ND's undisputed, underrated leader http://t.co/cDJ7SsToBN
about 11 hours ago

irishbuzztap

Notre Dame Buzz


Irish Illustrated (Rivals) >> Jefferson hopes MVP award leads to offers http://t.co/vPFsdUPppO
about 11 hours ago

ChiTribHamilton

Brian Hamilton


The coaching carousel has begun. @SIPeteThamel and I compiled a list of assistants primed for first head gig: http://t.co/KNZJ3v7a5l
about 11 hours ago

gamedayND

Notre Dame Game Day


RT @manello37: @ChadSpringer thanks for the tweet. We will defeat cancer! $44k for #44a - Ace is lookin down on all of us! Until we find a …
about 11 hours ago

ChiTribHamilton

Brian Hamilton


McDermott, Parker and three AAC guards...your http://t.co/FdcnSjdaF5 All-America team. (Plus all our ballots to rip.) http://t.co/o3TaES5d0e
about 11 hours ago

FightingIrish

Notre Dame Athletics


RT @WatchND: Don't forget to listen to @NDBaseball take on Appalachian State at 6 PM ET on WatchND: http://t.co/jrXXWWbgZd
about 11 hours ago

FightingIrish

Notre Dame Athletics


Good luck to @NDBaseball in their game with Appalachian State!#GoIrish
about 11 hours ago

hansenNDInsider

Eric Hansen


RT @ClaytonESPN: So far 26 unrestricted free agents have moved to different teams in the first 90 minutes of free agency
about 11 hours ago

irishbuzztap

Notre Dame Buzz


In The Crease >> Two Routes, One Destination http://t.co/JOHdmQkezy
about 12 hours ago

FightingIrish

Notre Dame Athletics


RT @NDFencing: 10 Irish fencers selected to compete in next week's NCAA Championships in Columbus, OH; full story: http://t.co/owc3lMBpXb #…
about 12 hours ago

FightingIrish

Notre Dame Athletics


RT @NDWomensLax: The Irish win! Final score 13-6 #Allin #Ballin http://t.co/hSBMx8mUP4
about 12 hours ago

ChiTribHamilton

Brian Hamilton


VIDEO: @SI_MaggieGray, @bjschecter & @DavidGardnerSI on the impact of Joel Embiid's injury on Kansas' tourney chanceshttp://t.co/aBiBlKZP9V
about 12 hours ago

FightingIrish

Notre Dame Athletics


.@NDSportsBlogger's Tuesday's T.I.F.I. – Irish Dominate ACC Awards, Selfies, Lee Once Again, @NDmbb Trivia & More! http://t.co/YuNK3q4NIr
about 12 hours ago

irishbuzztap

Notre Dame Buzz


In The Paint >> MADE IN MARCH – Postseason Gear http://t.co/Hj2QZqU3eR
about 12 hours ago

irishbuzztap

Notre Dame Buzz


In The Paint >> End of an Era http://t.co/gWhgdsKmpH
about 12 hours ago

irishbuzztap

Notre Dame Buzz


In The Paint >> Senior Day Stockings http://t.co/N7xui0K9fk
about 12 hours ago

ChiTribHamilton

Brian Hamilton


Presenting the http://t.co/FdcnSjdaF5 All-America teams, led by Doug McDermott and Jabari Parker: http://t.co/o3TaES5d0e
about 13 hours ago

BGInews

Blue and Gold News


RT @BGI_DanMurphy: Wrote a column today. An early signing day for football has been a long time coming, but that's a good thing(VIP): http:…
about 13 hours ago

irishbuzztap

Notre Dame Buzz


Strong and True >> Spring (Practice) Has Sprung http://t.co/GNYadePiJT
about 13 hours ago
2013 FBS Indep. STANDINGS
FBS INDEP. SCOREBOARD
Saturday, 12/21
Monday, 12/23
Tuesday, 12/24
Thursday, 12/26
Friday, 12/27
Saturday, 12/28
Monday, 12/30
Tuesday, 12/31
Wednesday, 1/1
Thursday, 1/2
Friday, 1/3
Saturday, 1/4
Sunday, 1/5
Monday, 1/6
BLOG ARCHIVE:
CATEGORIES: