The Early Offer: Irish still in good shape
August, 21, 2013
Aug 21
5:30
AM ET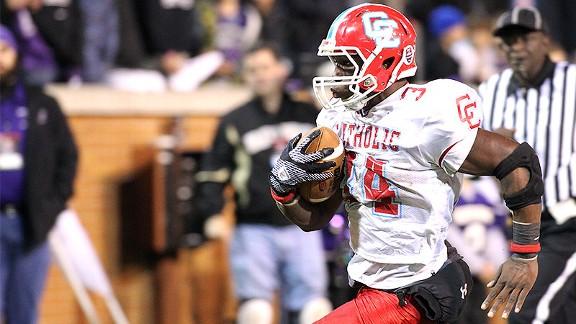 The Early Offer is RecruitingNation's latest feature, giving you a daily dose of recruiting in the mornings. Today's offerings: Notre Dame losing ESPN 300 running back
Elijah Hood
stings but things will be just fine, could
Cameron Sims
pull the recruiting shocker of the year and turn down Ole Miss and Alabama, and how are some non-BCS programs that are in talent-rich areas doing on the trail.
To continue reading this article you must be an Insider
Welcome
!
We see that you are not an ESPN Insider. Upgrade today and gain access to our exclusive coverage.
ESPN The Magazine subscribers

Need more information?
Report: Notre Dame To Play In Pinstripe Bowl
ESPN Notre Dame reporter Matt Fortuna breaks down the Fighting Irish's decision to accept a bid to the Pinstripe Bowl at Yankee Stadium.
Tags:
Notre Dame
Report: Notre Dame To Play In Pinstripe Bowl
VIDEO PLAYLIST
Report: Notre Dame To Play In Pinstripe Bowl

Report: Notre Dame To Play In Pinstripe Bowl

ESPN Notre Dame reporter Matt Fortuna breaks down the Fighting Irish's decision to accept a bid to the Pinstripe Bowl at Yankee Stadium.

Tags: Notre Dame

Kelly: Notre Dame To Readmit Golson

Kelly: Notre Dame To Readmit Golson

Recruiting Storylines: Big Ten - Nov. 22

Recruiting Storylines: Big Ten - Nov. 22

Tom VanHaaren breaks down the Big Ten recruiting storylines to watch this weekend, including decommitments at Purdue and Northwestern, as well as Michigan's efforts to flip an SEC commit.

Tags: Drue Tranquill

,

Dareian Watkins

,

Jhonathan Williams

,

Tyler Wiegers

,

Purdue Boilermakers

,

Notre Dame Fighting Irish

,

Northwestern Wildcats

,

Ohio State Buckeyes

,

Michigan Wolverines

,

Rutgers Scarlet Knights

,

RecruitingNation

,

ESPN 300

,

football recruiting
FIGHTING IRISH NATION RECRUITING NEWS
NOTRE DAME FB RECRUITING SCORECARD
FightingIrish

Notre Dame Athletics


RT @NDvolleyball: Just announced: JR Jeni Houser has earned AVCA East Coast all-Region honors! She has now earned all-region... http://t.co…
31 minutes ago

FightingIrish

Notre Dame Athletics


RT @NDcoachGumpf: Team shopping trip for kids who are fighting for their lives. #givesmiles #beatcancer http://t.co/fKh2NPkMSC
33 minutes ago

FightingIrish

Notre Dame Athletics


.@NDSoftball Accepting Registration For January 19 Clinic http://t.co/GiCvfOKt2fLooking forward to seeing your kids on campus #GoIrish
38 minutes ago

irishbuzztap

Notre Dame Buzz


Notre Dame Fighting Irish (Official Site) >> M. Basketball. Fighting Irish To Battle The Bison On Wednesday http://t.co/M1dWdfa3XL
about an hour ago

irishbuzztap

Notre Dame Buzz


Irish Illustrated (Rivals) >> Kelly keeps open mind on staff http://t.co/pLBDQCiBeJ
about an hour ago

irishbuzztap

Notre Dame Buzz


Irish Illustrated (Rivals) >> UCLA adds to already strong class http://t.co/BMzzHEujvv
about an hour ago

irishbuzztap

Notre Dame Buzz


Irish Illustrated (Rivals) >> Around the Midlands: LSU's big weekend http://t.co/eU06rr0mdF
about an hour ago

irishbuzztap

Notre Dame Buzz


Irish Illustrated (Rivals) >> Numbers Crunch: Hail to the SEC http://t.co/ODydh4fKpJ
about an hour ago

irishbuzztap

Notre Dame Buzz


Irish Illustrated (Rivals) >> AL-MS All-Star Notebook: Humphrey close? http://t.co/IqDTQYjeAe
about an hour ago

irishbuzztap

Notre Dame Buzz


Irish Illustrated (Rivals) >> Sykes back from first official visit http://t.co/TRXPHPspDD
about an hour ago

irishbuzztap

Notre Dame Buzz


Irish Illustrated (Rivals) >> Recapping the rest of the Chicago Elite Classic http://t.co/YN8uGbG7xm
about an hour ago

irishbuzztap

Notre Dame Buzz


Irish Illustrated (Rivals) >> Johnson sees recruiting pick up http://t.co/eJ9ShDvw5p
about an hour ago

irishbuzztap

Notre Dame Buzz


Irish Illustrated (Rivals) >> Around the West: Changes shaking things up http://t.co/8BUZW3l1nA
about an hour ago

irishbuzztap

Notre Dame Buzz


Irish Illustrated (Rivals) >> West Mailbag: Where does Arizona go next? http://t.co/MRsg7Xeh75
about an hour ago

irishbuzztap

Notre Dame Buzz


Irish Illustrated (Rivals) >> Notre Dame trip tightens Schultz's recruitment http://t.co/3LNWwi2oGb
about an hour ago

FightingIrish

Notre Dame Athletics


From the @NDWomensLax Family to yours- http://t.co/xhGfOiJJMxHappy Holidays!
about an hour ago

gamedayND

Notre Dame Game Day


RT @adam_nd_myers: Packing the cold weather trunk for the @PinstripeBowl #NYCchristmas #IrishInNYC http://t.co/Mpxqj8ln5r
about an hour ago

irishbuzztap

Notre Dame Buzz


Notre Dame Fighting Irish (Official Site) >> M. Lacrosse. Jim Marlatt And Stephen O'Hara To Captain The Irish http://t.co/lf3Dn9DpeY
about 2 hours ago

irishbuzztap

Notre Dame Buzz


Notre Dame Fighting Irish (Official Site) >> W. Volleyball. Houser Earns AVCA East Coast All-Region Honors http://t.co/WOcg9xVMIF
about 2 hours ago

irishbuzztap

Notre Dame Buzz


Notre Dame Fighting Irish (Official Site) >> M. Swimming. Stephens, Coumos Named ACC Weekly Award Winners http://t.co/LEdLbfIYF5
about 2 hours ago

irishbuzztap

Notre Dame Buzz


Irish Illustrated (Rivals) >> Around the Southwest: A&M's roll continues http://t.co/GOMez2CRx6
about 2 hours ago

irishbuzztap

Notre Dame Buzz


Irish Illustrated (Rivals) >> Southwest Mailbag: The Robinson watch http://t.co/fHq2BRMzUq
about 2 hours ago

irishbuzztap

Notre Dame Buzz


Irish Illustrated (Rivals) >> USC bridges the gap for McQuay http://t.co/CztRIkyrEL
about 2 hours ago

hansenNDInsider

Eric Hansen


RT @CecilHurt: Day before Heisman ceremony. RT @DanWolken: Family of Jameis Winston accuser is having a press conference Friday morning in …
about 2 hours ago

LepLegion

Leprechaun Legion


RT @NDmbb: Hey @LepLegion! Get to Purcell early tomorrow night because the first 250 students get free 'za! Final @GothamClassic game @ ND …
about 2 hours ago

FightingIrish

Notre Dame Athletics


New In The Paint blog- "Team Facilitator" http://t.co/Imr5dn3TRu By @JrNDBloggers Mike Franz#GoIrish
about 2 hours ago

FightingIrish

Notre Dame Athletics


RT @NDTop10: The winner of this week's #NDPotW is @hodinho18 from @NDMenSoccer! Good luck this weekend at the College Cup! #GoIrish
about 2 hours ago

FightingIrish

Notre Dame Athletics


RT @ACCSwimDive: Notre Dame Captures Four ACC Weekly Awards | http://t.co/Y1w7TTspVi http://t.co/Zo5gtpl8eu
about 3 hours ago

gamedayND

Notre Dame Game Day


RT @NDLibraries: #50Milestones: The 'Word of Life' mural is meant to anchor the structure of the library http://t.co/xd9VnVpTTF http://t.co…
about 3 hours ago

BGInews

Blue and Gold News


RT @SportsCenter: UPDATE: Mack Brown denies report he is stepping down. (via @Horns247) /// The latest: http://t.co/65p6u9WxSx
about 3 hours ago

FightingIrish

Notre Dame Athletics


RT @NDwSwimming: Another week brings more honors for ND WSD…Emma Reaney & Lindsey Streepey were honored by the ACC today for their awesome …
about 3 hours ago

irishbuzztap

Notre Dame Buzz


Irish Sports Daily >> Irish Pinstripe Parade http://t.co/tVtuoer1X1
about 3 hours ago

FightingIrish

Notre Dame Athletics


RT @NDMenSoccer: Bag tags are in! #RoadToPhilly http://t.co/OUjPmUw3ZO
about 3 hours ago

FightingIrish

Notre Dame Athletics


TUESDAY'S TIFI – Talkin' Pinstripe Bowl, Gotham Classic, ACC Hoops, No Sleeves In Cold Weather http://t.co/mDBEHl8JqP by @NDSportsBlogger
about 3 hours ago

hansenNDInsider

Eric Hansen


RT @AP_Top25: Former Rutgers basketball player sues, says he was subjected to abuse by now-fired coach Mike Rice behavior http://t.co/fXjt5…
about 3 hours ago

hansenNDInsider

Eric Hansen


RT @slmandel: RT @ChipBrownOB High-level sources tell Orangebloods that Mack Brown will step down as coach at Texas after 16 years.
about 4 hours ago

gamedayND

Notre Dame Game Day


RT @PinstripeBowl: @NDFootball Coach Kelly: "Christmastime in New York City is a reward our team is very excited about" #PinstripeBowl http…
about 4 hours ago

irishbuzztap

Notre Dame Buzz


Irish Sports Daily >> In the Film Room: Payton Hendrix http://t.co/unfTV5jeMy
about 4 hours ago

FightingIrish

Notre Dame Athletics


RT @NDTop10: Voting is tight, so we're giving you another BONUS HOUR of voting! Be sure to get your vote in for #NDPotW! http://t.co/fKFWbH…
about 4 hours ago

hansenNDInsider

Eric Hansen


RT @dcrist10: Haha! Thanks buddy. Hope all is well! "@mckillenmusic: OK, LinkedIn. I will. Atta boy, @dcrist10. http://t.co/laAYqbuzI8"
about 4 hours ago

FightingIrish

Notre Dame Athletics


The vote is close! Bonus chance to vote in the @NDTop10 Play of the Week! Watch http://t.co/gBboLTyuU1Vote A, B, or C#GoIrish
about 4 hours ago

hansenNDInsider

Eric Hansen


RT @BobWienekeNDI: http://t.co/TMHEJJq59K calling for a high of 45 degrees with rain in the afternoon in New York for day of Pinstripe Bowl.
about 5 hours ago

irishbuzztap

Notre Dame Buzz


Irish Illustrated (Rivals) >> Podcast: Bowl bound and down? http://t.co/OPgTUyZlK0
about 5 hours ago

hansenNDInsider

Eric Hansen


RT @SWiltfong247: Flipped my Crystal Ball from #OleMiss to #NotreDame for Top100 LB Nyles Morgan. All the reasons here: http://t.co/fQiCvPY…
about 5 hours ago

hansenNDInsider

Eric Hansen


RT @jflyntnd518: Tuned in for part of the Pinstripe Bowl press conference, secretly hoping Coach Kelly would end with "So, how 'bout those …
about 5 hours ago

irishbuzztap

Notre Dame Buzz


Irish Sports Daily >> Nelson Excited To See ND http://t.co/7f1BbKpg4Y
about 5 hours ago

irishbuzztap

Notre Dame Buzz


Strong and True >> ND Rank: #65-70 http://t.co/eSS0iHXFP2
about 5 hours ago

FightingIrish

Notre Dame Athletics


RT @NDFootball: Friday is the annual #NDFB awards show, The Echoes, 8 pm ET on @WatchND- http://t.co/EdIsjiCOfJ#GoIrishhttp://t.co/G6yLlG…
about 5 hours ago

JustinTuckNYG91

Justin Tuck


"@Urirx98: @JustinTuckNYG91 sending some prayers your way, need some to, wife is delivering baby girl, our next big @Giants fan!"congrats
about 5 hours ago

FightingIrish

Notre Dame Athletics


.@NDMenSoccer's Harrison Shipp is up for the MAC Hermann Trophy http://t.co/eyG6KYtbANCast your vote (you can only vote once) #GoIrish
about 5 hours ago

FightingIrish

Notre Dame Athletics


One hour left to vote for the @NDTop10 Play of the Week!Watch- http://t.co/gBboLTyuU1Vote- A, B, or C#GoIrishhttp://t.co/JqwlfFEdyy
about 5 hours ago

ChiTribHamilton

Brian Hamilton


FTFY RT @ChrisKuc: Couldn't figure out why I kept getting endless awestruck stares and autograph requests. http://t.co/nblJq93Bch
about 5 hours ago

irishbuzztap

Notre Dame Buzz


Irish Illustrated (Rivals) >> UCLA adds to already strong class http://t.co/vPKftnAyY6
about 6 hours ago

irishbuzztap

Notre Dame Buzz


Irish Eyes (Scout) >> Know Your Foe: Rutgers http://t.co/fonbhNpgIe
about 6 hours ago

ChiTribHamilton

Brian Hamilton


Proudest moment of your life. RT @ChrisKuc: Ohhhhh, the indignity. #Blackhawks http://t.co/wpPZGA3bCA
about 6 hours ago

FightingIrish

Notre Dame Athletics


A little Christmas music, courtesy of @NDSoftball? #HitPlay on their @Spotify playlist http://t.co/V4E1mMkkQF #HappyHolidays
about 6 hours ago

FightingIrish

Notre Dame Athletics


Have you cast your vote for the @NDTop10 Play of the Week yet? http://t.co/gBboLTyuU1 Reply with A, B, or C #GoIrish
about 6 hours ago

LepLegion

Leprechaun Legion


RT @NDCFIA: Hey @LepLegion, we have hot chocolate, cookies, candy canes, Christmas music, and more at Student Skate tonight! http://t.co/8E…
about 6 hours ago

gamedayND

Notre Dame Game Day


RT @PinstripeBowl: NYY COO Lonn Trost with @RFootball Coach Kyle Flood, @NDFootball Coach Brian Kelly, and NYY President Randy Levine http:…
about 6 hours ago

JustinTuckNYG91

Justin Tuck


Asking for prayers for the Tuck family today. My pops is undergoing neck surgery this morning
about 6 hours ago

JustinTuckNYG91

Justin Tuck


"@ryan_ok21: good morning @JustinTuckNYG91 wish me luck on this final"luck wished
about 6 hours ago

JustinTuckNYG91

Justin Tuck


RT @TerrellThomas24: Come join myself justinpugh67 & @justintucknyg91 next Tuesday at Garden State Plaza for free… http://t.co/X63LRErDFG
about 6 hours ago

irishbuzztap

Notre Dame Buzz


Irish Illustrated (Rivals) >> Tranquill settles in with Irish http://t.co/l2Zh0YthUX
about 7 hours ago

irishbuzztap

Notre Dame Buzz


Irish Illustrated (Rivals) >> Rutgers by the numbers http://t.co/ap6capxPud
about 7 hours ago

irishbuzztap

Notre Dame Buzz


Irish Illustrated (Rivals) >> Numbers Crunch: Hail to the SEC http://t.co/mlI4sVEuZT
about 7 hours ago

BGInews

Blue and Gold News


The Latest On Nyles Morgan: 247Sports and http://t.co/VKv0GEbLWt have the latest on four-star linebacker and Ar... http://t.co/M5dGU9LSb8
about 7 hours ago

BGInews

Blue and Gold News


What I'm Hearing: Isaiah McKenzie: Here's the latest on Fort Lauderdale (Fla.) American Heritage four-star wid... http://t.co/WJoLlm015m
about 7 hours ago

gamedayND

Notre Dame Game Day


RT @PinstripeBowl: #NotreDame appearance in New Era #PinstripeBowl marks 100th anniversary of first ND-Army game at #YankeeStadium in 1913
about 7 hours ago

gamedayND

Notre Dame Game Day


RT @NDsidBertschy: Jack Swarbrick says fitting @NDFootball returning to NYC on the 100th anniversary of the famous victory over Army in 191…
about 7 hours ago

gamedayND

Notre Dame Game Day


RT @NDFootball: The weblink for the live press conference at Yankee Stadium announcing the @PinstripeBowl is now active. http://t.co/s5IhHF…
about 7 hours ago

gamedayND

Notre Dame Game Day


RT @NDsidBertschy: All the parties have arrived .. @PinstripeBowl @NDFootball http://t.co/jjOuvXtToN
about 7 hours ago

irishbuzztap

Notre Dame Buzz


Strong and True >> Irish In The NFL – Week 14 http://t.co/N2nxKWkaXP
about 7 hours ago

FightingIrish

Notre Dame Athletics


Supporting @NDmenSoccer in Philly? Get tix for their Fri game vs New Mexico- http://t.co/qs2few7TfZ Promo code: CC13 for $5 off #GoIrish
about 7 hours ago

irishbuzztap

Notre Dame Buzz


Notre Dame Fighting Irish (Official Site) >> M. Soccer. #3 Irish Face #7 Lobos In First College Cup Appearance http://t.co/vCfK2mqx2X
about 7 hours ago

irishbuzztap

Notre Dame Buzz


Blue and Gold >> The Latest On Nyles Morgan http://t.co/bqTTyoow2h
about 7 hours ago

irishbuzztap

Notre Dame Buzz


Blue and Gold >> What I'm Hearing: Isaiah McKenzie http://t.co/LKTUrjlzLa
about 7 hours ago

gamedayND

Notre Dame Game Day


#NDvsMSU @MatthiasFarley snagged an interception and returned 29 yds to the #Irish 48 vs MSU. #ND2013fav http://t.co/zSSZdjKwEL
about 8 hours ago

BGInews

Blue and Gold News


RT @TomLoy247: Nothing but positive vibe from the #NotreDame fans for Isaiah McKenzie regarding this morning's update http://t.co/jNMH4u03u…
about 8 hours ago

irishbuzztap

Notre Dame Buzz


Irish UNDerground >> TUESDAY'S T.I.F.I. – Talkin' Pinstripe Bowl, The Gotham Classic, ACC Hoops, No Sleeves In http://t.co/WLecJnhQkm
about 8 hours ago

FightingIrish

Notre Dame Athletics


.@NDmbb Rolls Past Bryant, 70-59- Jerian Grant scores 23 points and dishes out nine assists.Highlights: http://t.co/5bOfWkrJJP#GoIrish
about 8 hours ago

gamedayND

Notre Dame Game Day


RT @PinstripeBowl: Check out our New Era #PinstripeBowl Press Conference this morning at 11 AM on @YESNetwork and streamed live at http://t…
about 8 hours ago

gamedayND

Notre Dame Game Day


RT @kylebrindza: So it's 5 degrees out, is is socially acceptable to wear a ski mask to class?
about 8 hours ago

gamedayND

Notre Dame Game Day


#NDvsMSU Unforgettable energy from the students on this #NDgameday when the frosh joined in on cheers. #ND2013fav http://t.co/A13tZ0c2UV
about 8 hours ago

BGInews

Blue and Gold News


The latest from @TomLoy247 on four-star WR Isaiah McKenzie and #NotreDame. http://t.co/UQDPKDF1AB via @247Sports #IRISH
about 8 hours ago

FightingIrish

Notre Dame Athletics


RT @NDMenSoccer: This is fantastic! Thanks @NDSoftball! RT With College Cup coming up, we have a surprise coming for @NDMenSoccer http://t.…
about 8 hours ago

irishbuzztap

Notre Dame Buzz


UHND >> Notre Dame Tops Bryant, Connaughton Beats 1st Half Buzzer http://t.co/U1PqIRor8H
about 8 hours ago

gamedayND

Notre Dame Game Day


RT @NDFootball: The @PinstripeBowl Press Conference will be held at 11 am ET. Tune in here- http://t.co/iIm33UjkIu#GoIrish
about 8 hours ago

irishbuzztap

Notre Dame Buzz


Irish Eyes (Scout) >> Brown exploring his options http://t.co/Pl5iN1x40M
about 9 hours ago

irishbuzztap

Notre Dame Buzz


One Foot Down >> ND Offense Recruiting Big Board- 12.10.13 http://t.co/qAkaruD3DW
about 9 hours ago

irishbuzztap

Notre Dame Buzz


Inside the Irish (NBC Sports) >> Priorities clear for Irish in bowl game http://t.co/vXQjktwkLg
about 9 hours ago

irishbuzztap

Notre Dame Buzz


In The Paint >> Team Facilitator http://t.co/3fkZmTlZEO
about 9 hours ago

irishbuzztap

Notre Dame Buzz


Irish Sports Daily >> Should Tuitt Stay Or Go? http://t.co/uiUq6FOjtI
about 9 hours ago

irishbuzztap

Notre Dame Buzz


Irish Sports Daily >> 2015 GA LB Grabs ND Offer http://t.co/LVh0EFDuma
about 9 hours ago

FightingIrish

Notre Dame Athletics


In case you missed it, it's @NDFIDM's The FIX! with Katherine DudasCheck it out- http://t.co/I4tgC1WcuH#GoIrish
about 9 hours ago

Matt_Fortuna

Matt Fortuna


BC Heisman finalist Andre Williams' takeaway from watching Anchorman is gold. Pure gold: http://t.co/WBIt4jN3FD
about 10 hours ago

FightingIrish

Notre Dame Athletics


Today's Irish Sports Schedule- @PinstripeBowl Press Conference will be held at 11 am ET. Stream it here- http://t.co/8GOQ908Ter#GoIrish
about 10 hours ago

irishbuzztap

Notre Dame Buzz


One Foot Down >> Around the ACC - Halfway to Conference Play http://t.co/hMaFiWzHHA
about 10 hours ago

irishbuzztap

Notre Dame Buzz


One Foot Down >> The Week in Notre Dame Athletics: Men's Soccer to the Semifinals http://t.co/ZL4HSwPfKO
about 11 hours ago

irishbuzztap

Notre Dame Buzz


South Bend Tribune >> Notre Dame women's basketball: Irish are welcome guests at ACC's 'party' http://t.co/QOY8sGajSy
about 12 hours ago

JustinTuckNYG91

Justin Tuck


RT @DHendrickson41: RT @ScoutNYGiants Justin Tuck playing like the Tuck of old http://t.co/TMY7fJ6gmX
about 12 hours ago
2013 FBS Indep. STANDINGS
BLOG ARCHIVE:
CATEGORIES: