January, 30, 2015
Jan 30
3:00
PM ET
What he brings
: The versatile
Iman Marshall
is the complete package at the corner position. He brings size, ball skills and athleticism that could project at different positions throughout the secondary. He possesses great transitional quickness for a perimeter defender with his frame and closing speed to shut down receivers in man coverage. He also has the big frame and physicality, range and ball-hawking skills to add value at safety. We expect this competitive and instinctive athlete to compete for early playing time at the next level.
January, 30, 2015
Jan 30
3:00
PM ET
In the 100 days leading up to signing day 2015, RecruitingNation will be looking back at our ESPN recruiting rankings from 2006 to the present and counting down the best player of the past 10 years at each ranking position, No. 100 to No. 1.
Jaylon Smith, No. 7 in 2013 class
Smith was the most heavily recruited linebacker in the country in the 2013 class coming out Bishop Luers High in Fort Wayne, Indiana. While his brother Rod Smith was a running back at Ohio State, Smith was more partial to in-state schools and chose Notre Dame in June 2012. He headlined a Fighting Irish class that included
Tarean Folston
,
Max Redfield
,
Cole Luke
,
William Fuller
and several others, including current UCLA defensive lineman
Eddie Vanderdoes
, who was released from his letter of intent.
Smith was a star from Day 1 in South Bend. He started all 13 games at outside linebacker as a freshman in 2013, making 67 tackles, 6.5 tackles for loss, three pass breakups and one interception, earning several Freshman All-America honors following the season. His 67 tackles were the third most ever by a freshman by a Notre Dame player.
If Smith's freshman campaign wasn't impressive enough, his sophomore season in 2014 could be tabbed as dominant. In 13 starts, he made a team-leading 112 tackles with nine tackles for loss, seven quarterback hurries and 3.5 sacks, earning AP second-team All-America honors.
Headed into his junior season, he is virtual lock to be on every major All-America preseason list, as well as several preseason college football awards lists.
He's already considered a near-lock to be a first-round selection in the 2016 NFL draft.
Honorable mention:
Robert Woods
, No. 7 in 2010 class. Woods picked USC coming out of Junipero Serra High in Los Angeles. After an All-Pac-12 and All-America three-year career for the Trojans, Woods entered the 2013 NFL draft and was selected in the second round (No. 41 overall) by the
Buffalo Bills
. He has 105 catches and eight touchdowns in two seasons.
January, 28, 2015
Jan 28
2:00
PM ET
In the 100 days leading up to signing day 2015, RecruitingNation will be looking back at our ESPN recruiting rankings from 2006 to the present and count down the best player of the past 10 years at each ranking position, No. 100 to No. 1.
Andrus Peat, No. 9 in 2012 class
Coming out of Corona Del Sol in Tempe, Arizona, Peat's recruitment was considered a toss-up with many predicting Nebraska early on because his brother, Todd Peat, played for the Cornhuskers at the time. While Peat officially visited Nebraska, his recruitment actually came down to Stanford, USC and Florida State along with Nebraska. Peat was part of a terrific offensive line class for Stanford with
Joshua Garnett
,
Kyle Murphy
and
Nick Davidson
.
Peat made his mark as a freshman for the Cardinal, playing in 13 games. He rotated at left tackle in 2012, playing more snaps as the season moved along.
As a sophomore in 2013, Peat began showing that he had a NFL future. He started all 14 games at left tackle, earning All-Pac-12 second-team honors from the league coaches, as well as Stanford's Most Outstanding Sophomore Deswarte-Ellar Award.
Peat's junior season would prove to be his best. After starting every game at left tackle for a second consecutive season, he was tabbed All-Pac-12 first team by the league coaches as well as numerous All-American teams by media outlets, including second team by the AP.
Peat chose to forgo his senior season and enter the 2015 NFL Draft, where he is expected to be drafted in the first round.
Honorable mention:
Jimmy Clausen
, No. 9 in 2007 class. Clausen played at Notre Dame and was drafted in the second round (No. 48 overall) in the 2010 NFL Draft by the
Chicago Bears
.
Jelani Jenkins
, No. 9 in 2009 class. Jenkins starred at Florida and was drafted in the fourth round (No. 104 overall) by the
Miami Dolphins
in the 2013 NFL Draft.
Matt Elam
, No. 9 in 2010 class. Elam played a Florida and was drafted No. 32 overall in the 2013 NFL Draft by the
Baltimore Ravens
.
Derrick Henry
, No. 9 in 2013 class, and
Adoree' Jackson
, No. 9 in 2014 class are both starring in college and expected to be drafted in the next two years.
January, 26, 2015
Jan 26
10:00
PM ET
1. Phil Steele, my Championship Drive podcast colleague and the guru of college football numbers, already has
posted on his website
the number of returning starters at every FBS school for 2015. The leader is Appalachian State with 20. The leader among Power 5 schools is Notre Dame with 19. The leader among division/conference champions is Baylor with 17. And the leader among the four playoff teams is Ohio State, the national champion, with 15 (that includes only one quarterback). The teams with the fewest returning starters? South Alabama and UTSA, each with five.
2. The Sports Business Journal reported that the NFL is discussing the addition of a wild-card playoff game on the Monday night in January that the College Football Playoff has claimed through the 2025 season. NFL playoff expansion is not a done deal, but the idea that the league would horn in on the college game's biggest night is appalling. The NBA doesn't play on Final Four Monday unless forced to. The Portland-Brooklyn game, postponed Monday night because of the blizzard, will be played April 6, Final Four Monday, at 7 p.m. That means it will end as the college championship tips off. Does anyone seriously think the NFL would play a wild-card game at 5 p.m. on a Monday night in January? Me neither.
3. Vince Dooley retired as Georgia head coach in 1988 and as athletic director of the Dawgs in 2004. But that's not to say that Dooley, 82, has retired. In the Fall 2014 edition of The Georgia Historical Quarterly, Dooley wrote a history of football on the Athens campus during World War II. Not only did the 1942 Bulldogs win a share of the national championship, but they shared the campus with the U.S. Navy Pre-Flight "Skycrackers," one of five such teams established across the country during the war. The Skycrackers included a few professional players, and an assistant coach, 28-year-old Paul "Bear" Bryant, who would go on to bigger and better things, too.
January, 26, 2015
Jan 26
11:30
AM ET
What if the ACC penned a letter to Notre Dame now that their first year as football scheduling/bowl partners is complete? How would it read? My tongue-in-cheek attempt at imagining such a letter ...

Dear Notre Dame,

We have a complicated relationship, don't we? Maybe convoluted is the better word. In any case, we love having you around. We really do.

But here's the thing. When we agreed to our football partnership, we kinda, sorta hoped that 8-5 seasons were oh, you know, a thing of the past. Because this scheduling partnership works best for us when you're really good, and can help improve our teams' strength of schedule.

Starting off 2014 unbeaten and ranked was awesome! But almost beating Florida State? :( Then falling in the tank after that loss and dropping four of the next five? Including a game to a bad Northwestern team? :(

Needless to say, we were greatly disappointed. Instead of being praised for playing a tough nonconference schedule, Florida State was knocked for barely beating a good-not-great Notre Dame team that fell off the rails.

Those were nerve-wracking final weeks for us, as we watched one person after another rip on the state of your program, and, in turn, the state of our signature program. We had to sweat out Florida State making the first College Football Playoff because its close wins over "average" teams were not viewed as all that impressive.

Then, there was the bowl selection process. At 8-5 there was no hope for a playoff spot or a spot in a New Year's Six game. So as part of our agreement, you get to be in our bowl rotation. With you in the mix, we upgraded our bowl lineup. So thanks!

But … here comes the word complicated again. Notre Dame in the Tier I bowl mix meant NC State was bumped down to Tier II and went to the Bitcoin Bowl. And we had to scramble to find a bowl home for Pitt.

All headaches that may have been avoided with a better season. Now, we are not suggesting you should have beaten Florida State. Ha! Heavens, no! We still need OUR teams to be playoff contenders. But what we are saying is 10-win seasons, 11-win seasons, those are optimal. We know you agree! More wins benefit you; they benefit us. (So long as they're not against our playoff contenders!)

This was only Year 1 of our arrangement, so trial and error is expected. We did get our marquee team into the playoff; and you ended up beating LSU in the Franklin American Mortgage Music City Bowl, so everything worked out.

But a few more wins can't help but make us both look much better.

Thanks in advance for the consideration,

The ACC
January, 26, 2015
Jan 26
9:30
AM ET
In the 100 days leading up to signing day 2015, RecruitingNation will be looking back at our ESPN recruiting rankings from 2006 to the present and counting down the best player of the past 10 years at each ranking position, No. 100 to No. 1.
Golden Tate, No. 11 in 2007 class
Tate came out of John Paul II in Hendersonville, Tennessee, as a gifted athlete who projected to wide receiver, but he didn't receive the gaudy number of offers as many other Top-10 level prospects. With that said, he committed to Notre Dame over Alabama, South Carolina and Ole Miss in December of 2006 in a recruitment that was expected to go the way of the Fighting Irish as long as he made the SAT/ACT test score needed. Tate was a member of the Notre Dame 2007 class that included
Jimmy Clausen
,
Harrison Smith
, Armando Allen, and others.
Tate was a role player as a freshman for the Fighting Irish. He saw action in 12 games, making two starts. He had six receptions for 131 yards, and returned 15 kickoffs for a 21.7-yard average.
As a sophomore in 2008, Tate became one of college football's most dangerous receivers. In 13 starts for the Fighting Irish, he caught 58 passes for 1,080 yards and 10 touchdowns. He also finished the season with 1,754 all-purpose yards and 11 total touchdowns.
Tate's junior season would be his best in South Bend. The 5-foot-11, 195-pound playmaker had 93 catches for 1,496 yards and 15 TDs, rushed for 186 yards and two scores, and returned a punt for a TD. He totaled 1,915 all-purpose yards and 18 TDs, earning First-team All-America honors and winning the Biletnikoff Award.
Tate decided to forgo his final year of eligibility and enter the 2010 NFL draft. He was selected in the second round (No. 60 overall) by the Seattle Seahawks. He was selected to the 2015 NFL Pro Bowl.
Honorable mention:
Jeff Luc
, No. 11 in 2010 class. Luc signed with Florida State and played sparingly for two seasons before transferring to Cincinnati. He had 134 tackles and 6.5 sacks in 2014 as a senior, placing him on the map of NFL teams headed into the 2015 NFL draft.
Eli Apple
, No. 11 in 2013 class, and
Jalen Tabor
No. 11 in 2014 class. Both cornerbacks have the look of future NFL draft prospects at Ohio State and Florida, respectively.
January, 23, 2015
Jan 23
8:12
PM ET
Associated Press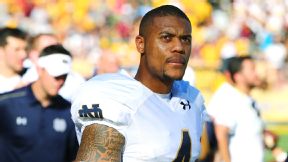 Mark J. Rebilas/USA TODAY SportsEilar Hardy has one season of eligibility left after not playing as a freshman and sophomore.
SOUTH BEND, Ind. -- Notre Dame will allow safety Eilar Hardy to transfer after he missed the first eight games of the 2014 season while the university investigated him and four other players for possible academic dishonesty.
Team spokesman Michael Bertsch said Hardy plans to graduate in May and transfer. He has one season of eligibility left after not playing as a freshman and sophomore. He played in five games this past season, finishing with nine tackles, and started two games in 2013. He was the only one of the five players investigated allowed to return this past season.
Cornerback KeiVarae Russell and defensive lineman Ishaq Williams have said they plan to return to school in June. Linebacker Kendall Moore has no eligibility remaining. Receiver DaVaris Daniels declared for the NFL draft.
January, 22, 2015
Jan 22
11:00
PM ET
The shockwaves from Texas A&M quarterback commitment
Kyler Murray
's unofficial visit to Texas on Wednesday were still being felt Thursday because he's such an important target for both schools.
To continue reading this article you must be an Insider
January, 20, 2015
Jan 20
10:48
AM ET
January, 16, 2015
Jan 16
10:00
AM ET
The deadline for underclassmen to declare for the NFL draft has passed. Now let's take a quick look at the biggest draft deadline winners and losers across the ACC:
Winners
Clemson:
The Tigers did lose an underclassman: punter
Bradley Pinion
. Head-scratching, yes. But the reason the Tigers are winners this year is that they held on to all their top offensive talent. While nobody was in position to declare early, it still is notable that this is the first time Clemson has not had an underclassman on offense turn pro since 2010. That could very well change once these freshmen start growing up, but for now, it is good to be co-offensive coordinators Jeff Scott and Tony Elliott.
Duke:
The Blue Devils had only one player who could have potentially left early: safety
Jeremy Cash
. When he announced he would return to school, there must have been a huge sigh of relief. Not only does the Duke secondary now return all its starters, it returns its best player. Cash had 111 tackles, 10.5 tackles for loss, 5.5 sacks, 2 interceptions and 4 forced fumbles this past season. With linebacker
Kelby Brown
(ACL) expected healthy for 2015, Duke potentially has two of the best defensive players in the ACC.
Notre Dame:
So the Irish have only one toe in the ACC football waters, but they did end up a huge winner, and that is something teams with Notre Dame on the 2015 schedule need to know. All underclassmen who could have returned did: defensive lineman
Sheldon
Day, left tackle Ronnie Stanley, center/guard Nick Martin and quarterback Everett Golson (at least for now). Stanley was the biggest surprise because some had projected him as a first-round pick on a few early mock drafts. While Golson's status remains unclear, getting Day, Stanley and Martin back means expectations will again be high in South Bend, Indiana.
Losers
Florida State:
The Seminoles might be the biggest draft-deadline loser in the country, with five players turning pro early this year: quarterback
Jameis Winston
, cornerbacks
P.J. Williams
and
Ronald Darby
, defensive tackle
Eddie Goldman
and defensive end
Mario Edwards Jr
. Of that group, Winston and Goldman are listed on the first Mel Kiper Jr.
mock draft
. Losing players to the draft is nothing new for the Seminoles, but they have taken heavy losses from their underclassmen in the past three years: 12 in all. Add to that losses from a terrific senior group, including
Rashad Greene
,
Nick O'Leary
and
Karlos Williams
, and 2015 might end up being a bit of a rebuilding year for the Seminoles as they get a boatload of young guys ready to play. On the bright side, kicker
Roberto Aguayo
and linebacker
Terrance Smith
announced they would return to school.
Louisville:
Many expected safety
Gerod Holliman
to leave after he tied an NCAA record with 14 interceptions, despite some questions about his pro potential. But losing defensive backs
Charles Gaines
and
James Sample
has to be a blow the Cardinals were not quite expecting. Louisville, which ranked No. 5 in the nation in pass efficiency defense, must now replace five of its top six defensive backs in 2015. Put another way, Louisville is losing players responsible for 21 of the 26 interceptions it had last season.
Miami:
While we all expected running back
Duke Johnson
to leave, losing him is still tough for a Miami offense that revolved heavily around him in the past three seasons. Johnson leaves as the school's all-time career all-purpose yards and rushing yards leader. Add the departure of offensive tackle
Ereck Flowers
and now Miami has to replace its two best underclassmen, plus top seniors
Clive Walford
and
Denzel Perryman
.
January, 16, 2015
Jan 16
9:01
AM ET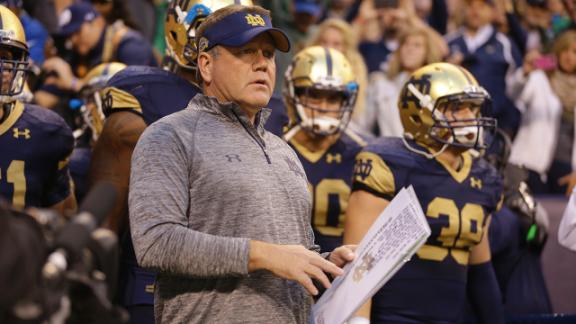 Notre Dame has lured the nation's top tight end
Alize Jones
from UCLA. Let's check out how he impacts the Irish class:
To continue reading this article you must be an Insider
January, 15, 2015
Jan 15
11:00
PM ET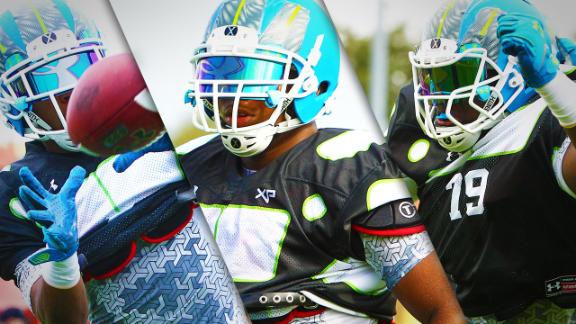 Few recruiting battles are more intriguing than the ones going on in Texas for high-profile players such as
Daylon Mack
,
Soso Jamabo
and
Chris Warren III
. What schools they pick could tilt recruiting supremacy in the Lone Star State moving forward
To continue reading this article you must be an Insider
January, 15, 2015
Jan 15
5:12
PM ET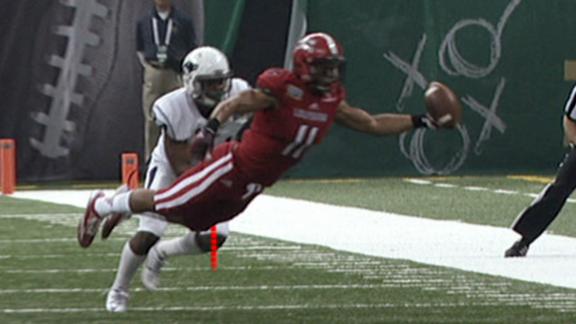 Ohio State became the first team to win the College Football Playoff after running over Alabama in the semifinal and then Oregon in the championship game.
It should be no surprise that the Buckeyes are well represented on ESPN.com's All-Bowl team with four selections. Leading the way is tailback Ezekiel Elliott, who ran for a combined 476 yards with six touchdowns against the Crimson Tide and Ducks.
Quarterback Cardale Jones, linebacker Darron Lee and safety Tyvis Powell also made the team.
Elliott was one of four running backs to make the squad, along with Georgia's Nick Chubb, Wisconsin's Melvin Gordon and LSU's Leonard Fournette, who was an all-purpose selection.
Here's the ESPN.com All-Bowl team:
OFFENSE
Quarterback
Cardale Jones, Ohio State
Irish Flips Top TE Jones, Back In Top 10