September, 18, 2014
Sep 18
6:54
PM ET
September, 15, 2014
Sep 15
4:15
PM ET
Notre Dame completed its sixth Shamrock Series this past weekend. This year's stop for the Irish's home-away-from-home game series was Indianapolis.
There were several academic functions held in the area. There was the game morning Mass, at Saint John the Evangelist. There were three community service projects, including a restoration of a high school.
And, of course, there was a football game at Lucas Oil Stadium, where the Irish beat Purdue 30-14 to improve to 3-0.
[+] Enlarge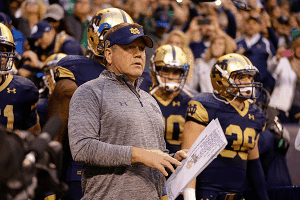 AP Photo/Michael ConroyCoach Brian Kelly has led Notre Dame to a 3-0 start despite being without three starters and two other lineup regulars.
They did this without four players who have been suspended from games and practices for a full month, since news of an internal academic investigation became public Aug. 15. (A fifth player was suspended 13 days later.) The investigation was launched by the Office of the General Counsel on July 29, when the compliance office was given evidence. Coach Brian Kelly said Aug. 28 that the investigation was complete. He said Sunday that, as of this past Friday, the five players had not yet had honesty committee hearings to voice their responses to whatever the findings were.
Kelly has said he does not know much. Anyone with a Twitter account can tell that those being investigated are also in the dark. They are far from alone.
This is fine and all, assuming business is being taken care of in a proper, timely manner behind the scenes. And there is no reason to think that it is not. But as the Irish enter their bye week with little clarity regarding if or when they will get any of those suspended players back — and as those players continue to attend classes with their fate at the school still hanging in the balance — it begs the question of how long is too long when it comes to dealing with this matter. At what point do these kids, however innocent or guilty they may be, deserve an answer that could have major implications for their academic and athletic futures?
There is no set public blueprint for this, to be clear. Yes, Notre Dame men's basketball coach Mike Brey, who lost leading scorer Jerian Grant for the spring semester last season because of an academic mishap, said recently that the entire honor-code process with Grant took about three weeks. But these cases are often apples and oranges: Grant's ordeal presumably took place with classes still in session last fall, while Notre Dame fall classes this year did not start until Aug. 26, 11 days after the investigation into the football players became public. Grant's case was also not as widespread as with the football players.
To Kelly's credit, he has been remarkably diplomatic publicly, going through the season's first three games without three starters and two other potential contributors to a football team he is paid handsomely to coach to success, and doing so without complaint.
"This is separation from church and state in the sense," he said Thursday. "This is the deans, and they have their domain and that's their business, and it truly is their business, and I respect that. They don't give me advice about play calling, and that's the truth of the matter. Whether that's a poor analogy or not, they handle academic honesty and they handle those things, and that's their domain and that's their world, and I want my guys back. But I get it, and they work and that's their job, and so I really don't have any say on it."
Notre Dame is about more than athletics; we know. Athletes and nonathletes will receive the same treatment; we get it. But the idea that this whole ordeal cannot be completed too soon for fear of unequal treatment or misguided priorities is a bit much, especially in light of another successful Shamrock showcase of Notre Dame in a major metropolitan area.
"The Shamrock Series has activated our city," Indiana Sports Corporation spokesman John Dedman
told the school's athletic website
. "Notre Dame has made this so much more than an athletic event. The university has been involved in service projects in the city, and there have been academic events, and the city has embraced it. It's just been great for Indianapolis."
More than an athletic event, but only possible because of athletics. Those are still pretty important, too. And there's no shame in acknowledging that.
September, 14, 2014
Sep 14
8:00
PM ET
The ACC makes no sense right now. Virginia Tech thumps Ohio State on the road, then loses to East Carolina at home. Boston College coughs up 214 rushing yards to James Conner one week, then holds USC to 20 yards on the ground the next. Georgia Tech is 3-0, but has hardly looked impressive yet. Oh, and there's that little matter of the conference's top two teams facing off this coming Saturday.

For now, we're doing the best we can with a fluid situation, so fair warning that these projections are a moving target at this point in the season.
College Football Playoff:
Florida State
Orange Bowl:
Clemson vs. Notre Dame*
Russell Athletic Bowl:
Virginia Tech
Franklin American Mortgage Music City Bowl:
Pittsburgh
Belk Bowl:
Duke
Hyundai Sun Bowl:
Miami
New Era Pinstripe Bowl:
Louisville
Military Bowl presented By Northrop Grumman:
Virginia
Duck Commander Independence Bowl:
North Carolina
Quick Lane Bowl:
Boston College
BITCOIN St. Petersburg Bowl:
Georgia Tech
*Note: Notre Dame is eligible for a bid to any ACC tie-in game unless it is selected for a New Year's Six game, which can include playing an ACC team in the Orange Bowl.
September, 14, 2014
Sep 14
1:31
AM ET
INDIANAPOLIS -- Remarkably, Purdue gave Notre Dame a good game. Again. This one was in doubt until the fourth quarter before the No. 11 Fighting Irish pulled away with a
30-14
win to improve to 3-0 and remain undefeated in Shamrock Series games. They now enter a bye week before facing Syracuse on Sept. 27 in East Rutherford, N.J.
Here are the biggest takeaways from Saturday night at Lucas Oil Stadium:
[+] Enlarge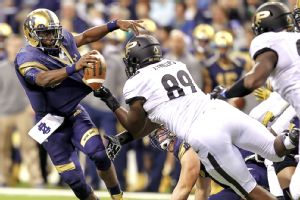 Michael Hickey/Getty ImagesDespite being sacked four times, Everett Golson was able to make big plays with his arm and his legs against Purdue.
1) The Irish handle "adversity" well.
Yes, that was the buzzword following a 16-point win, appropriate or not. In the context of the number of injuries Notre Dame's secondary suffered, that will work, as starting cornerback
Cole Luke
left the game with what coach Brian Kelly said was a neck injury and safety
Nicky Baratti
left with yet another shoulder injury. The unit was already down safety and captain
Austin Collinsworth
because of a Grade 2 MCL sprain. The Irish also lost receiver
Amir Carlisle
early in the game with an MCL sprain, were without defensive end
Andrew Trumbetti
, who was still banged up from the Michigan game, and did not use starting right guard
Christian Lombard
, still nursing a high-ankle sprain. That doesn't include the five players suspended due to the academic probe.
But seven penalties did not help matters, especially with starting safety
Max Redfield
getting ejected in the second quarter for targeting, further depleting a thin secondary. Hats off to true freshman
Drue Tranquill
, a former Purdue commit who was thrust into plenty of meaningful action and performed well.
"He did great," Kelly said. "He doesn't know what he's doing, but he's awesome. He's running around there. I say that kiddingly because he does know what he's doing. But we're trying to really keep it simple for him out there. He was such a locked-in kid. We're able to do some things with him, and he's only been here, what, eight, 10 weeks? Where would we be without that young man? It's really pretty incredible."
2) Everett Golson's still got it going.
At times, Notre Dame's offense looked like it went with the gameplan of "let Golson dance around and make something happen." More often than not, he did just that, hitting running back
Greg Bryant
for his first career catches -- a pair of 17-yarders off broken plays -- and finishing 25 of 40 for 259 yards with two touchdowns and, most importantly, no turnovers. Golson also was the Irish's leading rusher, notching 56 yards on the ground and another touchdown despite being sacked four times being hurried six times by the Boilermakers. His leaps will continue to be a big storyline all season long, and he now boasts a 13-1 record as a Notre Dame starting quarterback (.929), second to only Johnny Lujack (20-1-1, .932).
He has said and done all the right things off the field as well.
"I also missed a wide-open pass, I don't know if y'all watched the film," Golson said, critiquing his 15-yard touchdown run. "I definitely missed a pass. Yeah, it was good for us, we got a touchdown, but as far as me, I want to be more of a pocket-passer. I missed the pass. I just have to execute better."
3) Paging the offensive line.
Far too early to hit the panic button here, but the play up front could use some improvements before Stanford comes to town Oct. 4. To be fair, the unit was missing its fifth-year senior in Lombard (
Matt Hegarty
replaced him), and though only one of the Irish's five offensive penalties came from a lineman (a
Steve Elmer
false start), Golson was sacked four times by Purdue. That number probably could have been higher if not for Golson's mobility. Notre Dame averaged just 3.7 yards per rush after averaging just 1.7 yards per rush in last week's rout of Michigan. Take away the quarterback on Saturday and that average against the Boilermakers drops to 3.46 yards per rush. Again, it is very early, but if there's one unit that needs to pick up its play as Notre Dame readies for the meat of their schedule, it is the offensive line.
"We're not sustaining," Kelly said. "I mean, we're in position. We're falling off a block here. We miss a fit here. And maybe it's just the continuity took us a little bit longer. It's nothing big, but it's everything.
"It's going to get better. They will get better. It's just we're not where we need to be. We're going to keep working, keep grinding. We'll get there. We're just not there yet. We're on the 3-yard line, we're running a double-team into the B-gap, we slip and fall. Somebody fires through the B-gap. Little things like that. They got to get cleaned up before we get to where we want to be offensively."
September, 13, 2014
Sep 13
11:21
PM ET
Associated Press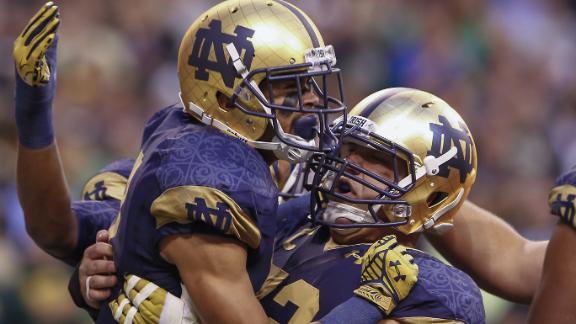 INDIANAPOLIS -- Everett Golson threw two touchdown passes and ran for another score as No. 11 Notre Dame scored the final 20 points Saturday night and beat Purdue 30-14.
The Irish are 3-0 for the second time in three years.
Purdue (1-2) has lost seven straight in this series, which has been played every year since 1946. The two teams will not meet again until 2020.
But this game didn't follow the expected script.
Golson's 15-yard TD run with 13 seconds left in the first half erased Notre Dame's only deficit of the season. Golson closed it out by throwing a 15-yard TD pass to Corey Robinson late in the third and leading the Irish to two fourth-quarter field goals.
He was 25 of 40 for 259 yards and rushed 18 times for a season-best 56 yards.
September, 12, 2014
Sep 12
10:00
AM ET
No. 11 Notre Dame "hosts" in-state rival Purdue in Indianapolis. Do the Boilermakers have a shot?
How Purdue can win:
For all the talk of the end of the Notre Dame-Michigan rivalry as we know it last week, this is also marks the final Irish-Boilermakers matchup for six years, ending a 69-year streak of matchups between the Indiana schools. This game seems to brings out the best in Purdue, and they certainly will try to catch Notre Dame off guard as the Irish ride high off a shutout over the Wolverines. Take chances. Hit them hard, fast and first. Try to establish a ground game, the thing Purdue has succeeded most at through two games. If
Danny Etling
starts under center, continue to let him loose a little, to try to keep the Irish defense honest. And hope for the Irish to lay an egg, on top of all that.
How Notre Dame can win:
Show up early and don't let the pesky Boilermakers hang around. That's the easiest formula for an Irish W. As for what would look like progress, let
Everett Golson
continue his magic, and try to get as many receivers involved as possible.
Chris Brown
, for one, could use a little love his way. Don't abandon the ground game, either, as there is a plethora of talented backs who surely were glad to see Brian Kelly continue to trust them last week, even when things weren't going so smoothly in that department. Defensively, the safeties can build off last week's success.
Breakout player:
Amir Carlisle
has certainly looked the part the last two weeks, but we'll go with him here as he faces his father's team. (Duane Carlisle
is Purdue's director of sports performance
.) Last year's trip to West Lafayette is when things began to come apart for Carlisle last year, with a late-game fumble. But he has turned things around after converting to slot receiver from running back, giving the Irish another dimension in the passing game.
Prediction:
Notre Dame 35, Purdue 10. Purdue has played Notre Dame ridiculously close the last two years, but the Boilermakers were also facing Irish teams that had some questions on offense. The 2014 version of Golson brings a different dynamic to Notre Dame.
September, 11, 2014
Sep 11
7:40
PM ET
SOUTH BEND, Ind. — The waiting game continues for No. 11 Notre Dame as it approaches its third game of the season still without answers regarding the five players being held out amid an internal academic investigation.
Coach Brian Kelly said Thursday that he still has not been updated on the status of the suspended players since he last shared information on the matter with reporters. Whether he was referring to
his comments on Sept. 4
that none of the players had been through honesty committee hearings yet is unclear. What remains clear, though, is that Kelly and the Irish would welcome the players back for Saturday night's game against Purdue if they were cleared Friday.
[+] Enlarge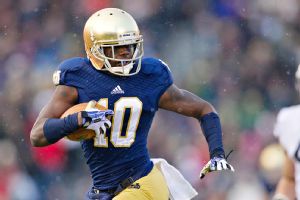 Matt Cashore/USA TODAY SportsDaVaris Daniels and four other Notre Dame players remain suspended as an academic investigation continues.
"We'd get them down there as quickly as we could and welcome them and put them in the uniform," Kelly said, two days before the Irish face the Boilermakers in Indianapolis. "Whether we could get them to know what we're doing offensively, defensively and special teams, who knows about that? But they would certainly be welcomed as part of our football team."
Kelly reiterated that he does not know much about the process that has been going on for nearly a month now, after the school announced Aug. 15 that it was withholding
DaVaris Daniels
,
Ishaq Williams
,
Kendall Moore
and
KeiVarae Russell
out from practices and games as it investigated academic misconduct. The school later announced, on Aug. 28, that
Eilar Hardy
would be withheld as well, and Kelly said that same day that the investigation was complete, meaning only hearings and potential appeals remained.
The players attend classes and have been welcomed back in the football complex, eating with teammates and working out with strength and conditioning coach Paul Longo, though Kelly has chosen to hold them out of team meetings.
The school had said that the Office of General Counsel initiated an immediate investigation when the compliance office was referred to evidence July 29.
Kelly said Thursday that he is anxious, that the players are anxious and that reporters are anxious, but that he does not know much, choosing to let the academic arm of the school conduct matters as it sees fit.
"This is separation from church and state in the sense," Kelly said. "This is the deans and they have their domain and that's their business, and it truly is their business, and I respect that. They don't give me advice about play-calling and that's the truth of the matter. Whether that's a poor analogy or not, they handle academic honesty and they handle those things and that's their domain and that's their world, and I want my guys back but I get it, and they work and that's their job and so I really don't have any say on it."
Notes:
Kelly said that former Irish and NFL player and current graduate assistant Kyle McCarthy has not missed a day of practice despite undergoing chemotherapy treatments for cancer. The NCAA allowed the school to hire former player Pat Eilers as a GA in light of the matter, but Kelly said Eilers cannot coach a unit during practice while McCarthy is still there.
"Incredible," Kelly said of McCarthy. "His resolve and his [desire] to be out at practice, just [a] pretty inspirational young man. It's been awesome to be around him and to get to know him even more, it doesn't surprise me why he's been such a favorite around here. He's a pretty inspirational kid."
Kelly also said
Torii Hunter Jr.
(Grade 3 groin tear) will not play Saturday despite showing progress throughout the week.
September, 11, 2014
Sep 11
3:30
PM ET
With all the attention last week focused on the ending of the Michigan-Notre Dame series, it was easy to forget that another long-running rivalry involving the Irish and the Big Ten is going on a break.
Purdue and Notre Dame will meet for the 86th time overall and the 69th straight time on Saturday in Indianapolis. Their series is tied for the fourth-longest continual rivalry in the FBS. But after this weekend, the Shillelagh Trophy goes in storage until 2020, as this game is another casualty of the Irish's ACC arrangement.
[+] Enlarge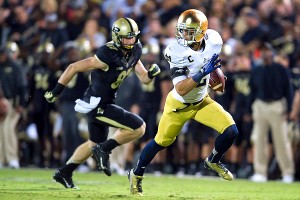 Matt Cashore/USA TODAY SportsNotre Dame and Purdue will play for the 86th time overall and the 69th straight time on Saturday.
The Notre Dame series means much more to Purdue than it does to Michigan, as it's an in-state series that offers the Boilermakers a measuring stick most years.
"It's big for a lot of reasons," Purdue head coach Darrell Hazell told ESPN.com this summer. "This has been a rivalry that's gone on for a long time, and it has helped elevate what people think about this game. It's such a healthy rivalry, in the state with two really good programs. It's unfortunate that it's going to go away for a few years."
If the series won't be missed much by those outside of the Hoosier State, that's due in large part to its recent one-sidedness. Notre Dame has won six straight over its counterparts from West Lafayette, and after Purdue's 38-17 home loss to Central Michigan last week, the Irish are enormous favorites this time around as well.
But don't underestimate how the heat of a rivalry can light up the Boilers. Two years ago, a mediocre Danny Hope-coached team lost by only three points in South Bend. Last year, in the midst of a miserable 1-11 first season under Hazell, Purdue fired all its bullets in leading 10-3 at halftime before eventually falling just 31-24 at home. It was far and away the team's best performance of the year.
Hazell said he expects a great energy level from his players when they take the field at Lucas Oil Stadium. Earlier this week, he showed them highlights of the best plays in the history of the series. The message: go add yourselves to that reel.
"I think we can go win this game with the mentality that no one expects us to win," Hazell said.
Still, the Boilermakers have many issues to overcome, including a major talent gap and a hot Irish team that just destroyed Michigan. And now you can add the quarterback position to that list. Hazell pulled starter
Danny Etling
in the second half of the Central Michigan game for
Austin Appleby
and reopened the competition this week in practice. As of Wednesday night, he had not named a starter.
"They've got to just relax," Hazell said. "They're putting way too much pressure on themselves and are too uptight. They've just got to go out there, go through their reads and cut the ball loose. Stop making the game more than it is."
There's no question that Purdue sees this week's game as more than just another one on the schedule. The Boilers must give it their best shot, because they won't get another chance at the Irish for a while.
September, 11, 2014
Sep 11
9:30
AM ET
SOUTH BEND, Ind. --
Elijah Shumate
was heartbroken that his first career touchdown was called back. The Notre Dame safety's teammates had always dogged him about his days as a prep running back, and when he finally got to show off his speed off during a 61-yard return, it went for naught.
Officials ruled that
Max Redfield
roughed
Devin Gardner
, the score was nullified, the Irish took a final knee and then went on to celebrate their shutout victory anyway.
Perhaps no moment better underscores the turnaround Shumate and his fellow safeties experienced from Week 1 to Week 2. Coach Brian Kelly was none too pleased with their communication issues coming off a season-opening win over Rice, and they responded appropriately.
There was
Matthias Farley
drilling
Dennis Norfleet
2 yards behind the scrimmage and jawing throughout the game. There was Redfield notching his first career interception on the second half's first drive. And there was Shumate, picking off Gardner on what was going to be the game's final play, racing down the near sideline for what looked like the final score of the final meeting between Notre Dame and Michigan.
"I wasn't sure if Elijah -- did he think we were losing?" linebacker
Joe Schmidt
said after the game. "He was moving so fast."
Shumate joked that he was upset at Redfield for the penalty that wiped the six points away, but the two were clearly happy with how things had been unfolding, laughing together on the sideline afterward.
"He just told me that he hit him, he hit him hard," Shumate said. "I didn't know the call at first. I really wasn't too upset. I was just happy that we were able to end the game like that."
Shumate entered his junior campaign with four starts to his name but was behind Redfield and captain
Austin Collinsworth
on the Week 1 depth chart. A Collinsworth MCL sprain two days before the opener threw him into the fire early, and Kelly said the day after the game that neither starter picked up the slack.
Fast-forward to the minutes after throttling the Wolverines, and the fifth-year Irish coach was singing a different tune.
"They knew that it was their time to step up and lead back there," Kelly said. "They were put in that position by virtue of an injury, and the circumstances, and they were not going to let their teammates down. It's a very close group of guys. That, in itself, motivates this group to do things that is really outside their comfort zone. They're not great communicators as it is. They're very quiet kids, but they did a nice job on Saturday."
Kelly suggested it was the best game Shumate had played for the Irish so far. Shumate gave plenty of credit to Collinsworth, saying that the fifth-year senior has been on him from the get-go.
"You've got to learn everything on the defense," Shumate said. "You've got to learn what the linebackers, what the linemen, what the cornerbacks have to do, and you've got to know where you've got to be at. Basically just getting everybody lined up, being the quarterback of the defense."
Farley, a redshirt junior who transitioned from receiver three years ago, knows that being loud and firm as the director of the unit's back-end goes a long way toward making plays on Saturdays. He saw a more relaxed Shumate on Saturday after ample time to adjust to his role.
"He's incredibly talented, it's unbelievable," Farley said. "The big thing with him is just, he's just gained a whole bunch of confidence. When you put that talent with confidence, it's a very lethal combination, it's hard to stop. When you get him believing in himself and you get everyone believing and trusting it really makes a huge difference."
September, 11, 2014
Sep 11
9:00
AM ET
By
ESPN.com staff
| ESPN.com
Reports of the Big Ten's death are greatly exaggerated. Look, they're still playing games in Week 3 and everything.
Why West Virginia wins:
Maryland crushed West Virginia 37-0 last year in Baltimore, but Dana Holgorsen brings a much better team to College Park. Quarterback
Clint Trickett
looks like a different player so far, and the Mountaineers seem much more competent on defense. The Terrapins have been a bit sloppy so far (seven turnovers in two games) and it will cost them in a close one. West Virginia 31, Maryland 28.
-- Adam Rittenberg
Why Maryland wins:
A lot of concerns remain on a West Virginia defense that was among the worst in the nation last season. So the Mountaineers can score -- but can they stop the Terps? Granted, Maryland didn't look great in the last outing, but there's simply too much firepower here for the offense to stay down. WR
Stefon Diggs
is an elite talent, and the defense is at least average. Maryland 31, West Virginia 24.
-- Josh Moye
r
Why Penn State will win:
The Scarlet Knights turned heads by flying across the country and knocking off Washington State. But the Cougars followed that up by losing to Nevada. That leaves Rutgers as somewhat of a mystery, and while it will have a raucous home crowd and plenty of motivation for a rivalry game in its Big Ten debut, the Nittany Lions suddenly have even more to play for after their NCAA postseason sanctions were repealed this week. Penn State QB
Christian Hackenberg
is throwing for 386.5 yards per game, which could be trouble for a Rutgers defense that has allowed more yards than any team in the conference through two weeks. Still, this should be an entertaining game. Penn State 35, Rutgers 31.
-- Austin Ward
Why Rutgers will win:
Rutgers' shaky pass defense certainly concerns me against Hackenberg. But Penn State hasn't been dominant, either, and the Scarlet Knights' defensive front seven could pose some problems for the Nittany Lions' offensive line and mostly invisible run game. I expect this one to come down to the wire in an emotional game for both sides. The home-field advantage and Rutgers' desire to prove itself on a B1G stage cause me to go with the mild upset. Rutgers 28, Penn State 27.
-- Brian Bennett
Unanimous decisions
Indiana over Bowling Green, 31-21:
A rested Hoosiers team comes out firing against a Falcons squad that was blown out by Western Kentucky and lost its starting QB.
Michigan over Miami (Ohio), 48-7:
The Wolverines take out some frustration from last week's Notre Dame fiasco against the overmatched RedHawks.
Ohio State over Kent State, 38-3:
The Buckeyes work out their own frustrations against another MAC pushover.
Washington over Illinois, 44-31:
The Illini keep it interesting behind
Wes Lunt
's arm, but their defense isn't yet good enough to slow the Huskies.
Iowa over Iowa State, 21-17:
It's a slugfest, and offensive lineman
Brandon Scherff
's injury limits the Hawkeyes' offense enough to keep this one close.
TCU over Minnesota, 17-13:
Another low-scoring, defensive slog; the Gophers' lack of a passing attack (especially with gimpy QB
Mitch Leidner
) dooms them.
Nebraska over Fresno State, 34-24:
The Huskers get a scare, but they finally pull away in the fourth quarter behind RB
Ameer Abdullah
.
Notre Dame over Purdue, 37-17:
The Boilermakers just don't have the talent to hang with QB
Everett Golson
and the Irish.
Our records:
Austin Ward: 21-5
Brian Bennett: 20-6
Adam Rittenberg: 20-6
Mitch Sherman: 20-6
Josh Moyer: 19-7
September, 10, 2014
Sep 10
11:00
PM ET
Notre Dame coach Brian Kelly has put together a top 15 recruiting class that should only get better as we head toward signing day, and Rutgers has a real chance to slow down Penn State's recruiting momentum in New Jersey this weekend.


September, 9, 2014
Sep 9
11:00
PM ET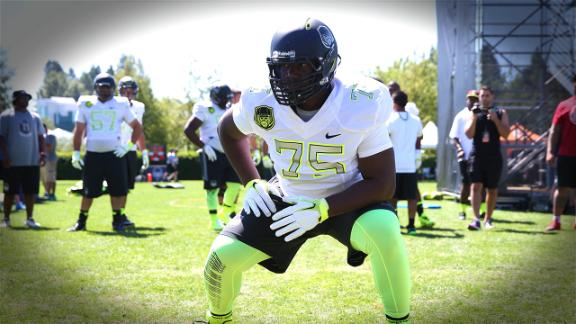 To win at the highest level in the SEC,
Ole Miss
coach Hugh Freeze knows he has to recruit well in Memphis, Tennessee, and Charlie Strong's job of returning
Texas
to the top just got more difficult after the loss to
BYU
this past weekend.
To continue reading this article you must be an Insider
September, 8, 2014
Sep 8
9:00
AM ET
SOUTH BEND, Ind. -- So often during last year's nine-win season, and even in the 12-win campaign before that, an exasperated Brian Kelly would emerge from the locker room, seemingly having to defend another strenuous triumph and reaffirm that all was well with the state of Notre Dame.
Notre Dame would beat USC 14-10. The Irish would beat Michigan State 17-13. They would beat Michigan 13-6. A win is a win is a win -- 37 in all through his first four seasons, best start ever by a Notre Dame coach -- and Kelly would remind everyone, including his own players at times, that you take it and move on.
The Irish stand 2-0 following Saturday's shutout of Michigan, halfway through the "manageable" first third of their schedule. And while the competition level through two weeks can be debated, and while all that premature Heisman talk is, well, premature, it is a whole lot easier this time around to look down the road and envision the tantalizing possibilities that could await these Irish if all comes together.
[+] Enlarge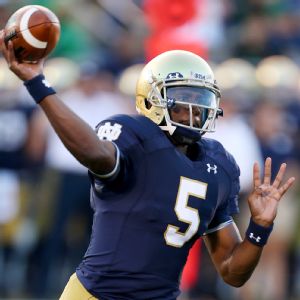 Brian Spurlock/USA TODAY SportsNotre Dame couldn't ask for a better start than it's gotten from QB Everett Golson, who has completed 66 percent of his passes and accounted for eight TDs.
Notre Dame's 31-0 win over Michigan will go down in history as the game that ended the nation's longest streak without being shut out. And yet so much of the discussion in the game's aftermath was about the offense. More specifically, its quarterback.
This was far from an overnight revelation for Kelly. It has, nonetheless, breathed new life into a program amid a new era of scheduling (ACC deal) and postseason possibilities (playoff/access bowls).
"When I came to Notre Dame, I didn't think it would take us five years to kind of get to the offense that we wanted to run," Kelly said Sunday. "It's just the circumstances have been such. But we're starting to evolve into the kind of offensive and defensive structure that allows us to play fast and play aggressive, play the kind of style of football we want to play. It's taken some time to get there, and we've still got a long way to go. But it's obviously been a good start."
It begins with
Everett Golson
, the once-beleaguered signal-caller who has bounced back from a season-long suspension to do everything asked of him and then some through two games. He has completed 37 of 56 passes for 521 yards, tallying eight total touchdowns and avoiding a single turnover. He has shown much more command of the offense and a better understanding of the game as a whole, zipping passes before defenses can get to him and making something out of nothing when under duress. He has done all this despite being the victim of a number of drops, despite missing his best target in
DaVaris Daniels
, one of five suspended players whose status perplexingly remains unclear.
"I think they also use him well," said Michigan coach Brady Hoke, whose team forced Golson out of action two years ago before being picked apart by him the second time around, Saturday.
"I think Brian does a good job. There's a lot of three-step game in it, a lot of slants. I think that he's matured. I think I said that this week coming in, he's a much better quarterback than he was two years ago. Just watching the Rice game, I would say the same thing after watching our game."
The Stanford vulnerabilities that an undermanned USC squad revealed Saturday make the Irish's Oct. 4 matchup with the Cardinal look all the more winnable. Notre Dame may very well be favored now in its next four games and, frankly, should win those next four games.
The math isn't all that difficult, not with that Oct. 18 date at the national champs' house standing out a little bolder than the rest: Can Notre Dame enter Tallahassee with a 6-0 record?
Who knew three weeks ago, when news of the school's internal academic investigation broke, that that would be a question asked so soon? Who knew that Kelly and Golson would be fielding Heisman Trophy questions two games into the season?
"Avoid the noise," Golson said, "avoid the noise."
"Yeah, let's put him up for it," Kelly was cracking minutes earlier. "Sure. Throw him in there."
The novelty of a new season has brought on new questions through two games. And the man answering most of them no longer looks worse for the wear.
Official Visit: Imminent ESPN 300 Decisions