December, 12, 2013
Dec 12
12:30
PM ET
Notre Dame defensive coordinator Bob Diaco
became the head coach at Connecticut
, something that came as a surprise to most of the commitments and even current players.
To continue reading this article you must be an Insider
December, 12, 2013
Dec 12
12:00
PM ET
Knicks-Bulls just didn't have quite the same punch to it this time around.
December, 12, 2013
Dec 12
9:00
AM ET
Kyle Flood was answering a question about his depleted staff on Tuesday when Brian Kelly chipped in a few minutes later with his unsolicited take.
[+] Enlarge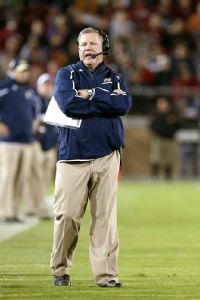 Kelley L Cox/USA TODAY SportsDespite losing both coordinators, the Irish are in good hands with Brian Kelly.
"And just to add on to Kyle's situations with his staff," the Notre Dame coach said at Yankee Stadium. "I just want to let him know he's got too many staff members. When I was at Cincinnati, we had three staff members and we coached in the bowl game against Western Michigan, so you've got way too many. And we won that game, so I think he's fine. I don't think you have to worry about him having not enough coaches."
At this rate, it would be easy to say that the concerns now fall on Kelly, who lost his second coordinator to a head-coaching job in an eight-day span Wednesday when Bob Diaco
accepted the UConn post
. That came in the wake of Chuck Martin
packing his bags for Miami (Ohio)
. The moves hamstring the Irish staff as it readies for Rutgers on Dec. 28's New Era Pinstripe Bowl, and as it gears up for the mad dash to national signing day in the 39 days following the 2013 finale.
The initial reaction across players and fans, per routine, was overreaction. Tweets
decrying Diaco
for looking out
for himself
were soon deleted, eventually giving way to
more
and
more
congratulatory remarks for a man whose next career step was only a matter of time.
Make no mistake, this is far from the situation that is taking place in Piscataway, N.J., where Flood, the second-year head coach,
let go of three assistants
after an underwhelming 6-6 campaign. The Scarlet Knights step into the Big Ten next season. And this is far from the case that Kelly was referencing in that bowl press conference, as he had just taken the Cincinnati job and had only three of his Central Michigan assistants with him by the time the Bearcats faced, and defeated, Western Michigan in the International Bowl nearly seven years ago.
"It certainly creates a little bit of a challenge," Flood said of Rutgers' situation, "but I'm confident that people are put in positions where they can be successful, and that's really my job as the head football coach, to make sure we got a coach assigned at every position and in all three phases and the coordinator role."
Kelly's challenge is considerably smaller. This is Notre Dame, after all.
Initial reaction among recruits speaks to that
, with most youngsters recognizing that much of what they were promised remains in place so long as Kelly is at the forefront. If Diaco does not bring along other Irish assistants with him to Storrs, Conn., Kelly will have a much easier time filling the holes on his staff. Kerry Cooks, let's not forget, has also been the co-defensive coordinator these past two years, and he will probably take on Diaco's responsibilities for (at least) the rest of the month.
The fact this Notre Dame team went 8-4 and had its top two assistants get hired to run their own shows speaks volumes about where the program is now. Jimbo Fisher lost seven assistants in a season that ended with Florida State winning the Orange Bowl, and the Seminoles have turned out oh-so fine in the year since. This is a good problem to have,
and as IrishIllustrated's Pete Sampson said
, one coordinator leaving right after the other could trigger an eventful race back to South Bend to occupy Kelly's office whenever he should depart.
That's down the road. For now, the calendar has 19 days remaining in a year that began with a letdown against Alabama in the national title game and will likely end with a win against Rutgers -- with plenty of embarrassment (Manti Te'o, Everett Golson) and departures (
Gunner Kiel
, two receivers) sandwiched in-between.
As they did in this past year, the Irish will enter 2014 hoping to close whatever gap remains toward a national title. And while
Jameis Winston
isn't walking through that door, the two most important elements of that chase, Kelly and Golson, still are.
December, 11, 2013
Dec 11
9:38
PM ET
ESPN.com news services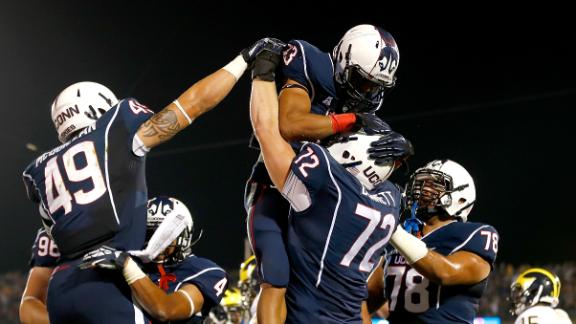 Notre Dame defensive coordinator Bob Diaco has agreed to a five-year deal to become the new head coach at Connecticut, the school announced Thursday.
CBSSports.com reported that the deal starts at $1.5 million per year.
The 40-year-old Diaco, the recipient of the Frank Broyles Award in 2012 as the nation's top assistant, coached a Notre Dame defense that finished second nationally in scoring during its run to the national title game that season, surrendering less than 13 points per contest and giving up only 15 offensive touchdowns. Diaco will be introduced as Huskies coach at a news conference at 3:30 p.m. ET Thursday.
The Cedar Grove, N.J., native has drawn plenty of attention the past two years for his work with the Irish, including interviewing for the Boston College head-coaching job last year. He was highly popular with his Notre Dame players, many of whom took to Twitter on Wednesday night to voice their frustrations when news of his reported departure broke.
Diaco spent the past four seasons leading the Fighting Irish's defense. In 2009, he was defensive coordinator at Cincinnati before moving to Notre Dame with head coach Brian Kelly.
With Diaco gone, and with offensive coordinator Chuck Martin taking the Miami (Ohio) job, Kelly now must replace both coordinators.
Earlier Wednesday, Michigan State defensive coordinator Pat Narduzzi, the 2013 Broyles winner, said he had withdrawn from consideration for the Huskies' job.
UConn fired Paul Pasqualoni in September after an 0-4 start and a 10-18 record in two-plus seasons at the school.
December, 11, 2013
Dec 11
12:00
PM ET
OK,
now
I wish Notre Dame picked a warm-weather bowl site.
December, 11, 2013
Dec 11
10:30
AM ET
SOUTH BEND, Ind. -- The warm-weather edict kept the Big Apple off Notre Dame players' radars in the week after their regular season finale. But as the New Era Pinstripe Bowl persisted -- Brian Kelly joked that former Irish player and current bowl exec John Mosley wouldn't leave him alone -- Yankee Stadium began to look like more of a reality. And if Kelly needed to do an extra bit of convincing, all he had to was stand before the seats of the Gug auditorium and point to the projector behind him.
[+] Enlarge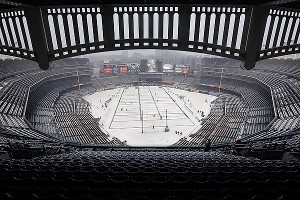 Nate Shron/Getty ImagesNotre Dame will again enjoy the unique setting of playing football at Yankee Stadium.
"When I was standing here in front of this big screen, I put up the PowerPoint, I went from talking about the Pinstripe Bowl, had my guys' attention," Kelly said. "They came out of their chairs when I showed them the bowl package. I didn't get that popular in a very short period of time. They were very excited about the things they were going to get from the bowl package. And it's New York. It's New York at Christmastime. Just the ability to do a lot of things. A lot of these guys haven't been to New York at that time. They were pretty excited about it."
Players later revealed they will receive PlayStation 4s. They will also use the New York Giants' practice complex in East Rutherford, N.J. Trips to Ground Zero and other area landmarks are also on the docket.
Shorts and flip-flops might be replaced by winter coats and boots, but the impending matchup with Rutgers and all that surrounds it has the Irish much more intrigued than initially anticipated.
"I guess you hear so much about the other bowls, we didn't think that the Pinstripe Bowl was one of the options we would have," receiver
TJ Jones
said. "So when we heard it, it wasn't a shock but it was, Oh, we didn't know that bowl was in our options. But now, after we realized what we'd already be able to do in New York, be it Rockefeller Center, the venues that we'll be able to see and also playing in Yankee Stadium again, and we're definitely excited to play."
The San Diego County Credit Union Poinsettia Bowl looked like an option, but it would have required some extra legwork, which ultimately became doomed once Northern Illinois lost the Mid-American Conference title game Friday night. (Reports surfaced about the Irish going to New York earlier that day.) The Sheraton Hawaii Bowl was desirable, too, but its Christmas Eve date made things extremely difficult on a group whose final exams end just four days before.
So it's back to the Bronx, where the current senior class beat Army in the 2010 Shamrock Series. That group remembers the Jumbotron that it lacks in their six home contests, and it remembers playing in the first football game at the new Yankee Stadium, which is hosting its fourth bowl game.
"We had the Yankees locker room, being there and getting ready in those guys' locker room and being out," left tackle
Zack Martin
said. "The whole baseball field, the way it's set up is pretty cool, and then playing a team like Army, it's kind of a special moment."
Martin, a two-time captain, reasoned that a four-loss team such as Notre Dame cannot get upset at anyone for not playing in warm weather, and that the team is happy with its new destination.
For Notre Dame's eight players from New York and New Jersey, it is a welcome change to be home for the holidays.
"A lot of my family and friends, close followers, support back from home didn't really get a chance to come to a lot of the games," said captain
Bennett Jackson
, a Raritan, N.J., native. "Now I'll get a chance to see them. I can stay after the game in New Jersey a little longer and see my family. But it's really great to be able to play at home, my last game in front of all my family."
December, 10, 2013
Dec 10
12:00
PM ET
About time the Bears recognized that Ditka guy, no?
December, 9, 2013
Dec 9
12:00
PM ET
December, 9, 2013
Dec 9
9:00
AM ET
SOUTH BEND, Ind. -- Brian Kelly likely spoke for a lot of people when he said that Louis Nix in New York would be "cool." But the gregarious redshirt junior will not be in the Bronx to face Rutgers with his Notre Dame teammates after signing with an agent.
Kelly made it clear Sunday that he was not involved in the agent conversations with Nix, whose decision to go to the NFL was expected, but just maybe not
this
soon.
"There's a lot of factors that are involved there," Kelly said. "I think the most important choice he made was coming to Notre Dame and getting his degree. The rest of those, you know what I mean, they're splitting hairs. We'll find out, right? You're taking a gamble no matter what. But the most important decisions he had to make, I thought he got them right. That was coming to Notre Dame, getting his degree. I think he hit a home run on those."
Nix would have missed the New Era Pinstripe Bowl anyway because of surgery to repair a meniscus tear in his left knee, which kept him out of the Irish's last two games.
The 6-foot-3, 342-pound nose guard is expected to graduate this month with a degree in film, television and theatre. He
reportedly signed with Todd France and Brian Ayrault
.
"He had an injury and wouldn't be able to play. He did what was best for him," left tackle
Zack Martin
said. "Wish him all the best of luck. He's a great player and know he's going to do great things."
Notes
Stephon Tuitt
remains undecided about his Notre Dame future, Kelly said. … Left guard
Chris Watt
's MCL sprain will keep him out of his final Notre Dame game. … Kelly will visit Everett Golson on Monday in the quarterback's Myrtle Beach, S.C., home. Golson may visit his girlfriend in New York around Christmas and could meet the team there, provided he pays his own way. … Mike Denbrock is the offensive coordinator and Kelly will coach the quarterbacks with Chuck Martin off to become head coach at Miami (Ohio), but Kelly remains undecided on how he will handle Martin's vacant position moving forward, saying any new hire would come after the bowl game.
December, 8, 2013
Dec 8
9:40
PM ET
Dec. 28, noon ET, Bronx, N.Y. (ESPN)
RUTGERS SCARLET KNIGHTS BREAKDOWN
[+] Enlarge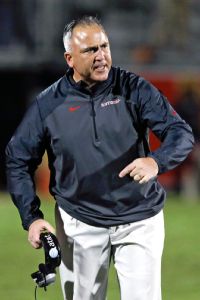 AP Photo/John RaouxKyle Flood hopes to finish his second season at Rutgers on a positive note.
Kyle Flood will get a chance to rewrite the ending to what has been a disappointing second season at Rutgers. The Scarlet Knights routed USF in the regular-season finale Saturday to snap a three-game losing streak and clinch bowl eligibility. Awaiting the future Big Ten school in the New Era Pinstripe Bowl? Future partial ACC member Notre Dame, in a bowl that just happens to feature Big Ten and ACC ties moving forward.
The Scarlet Knights clinched a share of the Big East title last season and looked in position to achieve similar success in their final year in the American Athletic Conference after a 4-1 start, with the only loss coming in overtime at Fresno State in the season opener.
But they dropped five of their next six games before winning Saturday, with
Chas Dodd
starting the final two contests at quarterback in place of
Gary Nova
. Dodd was mediocre in a loss at UConn before turning a strong outing on senior day, and he received a great performance from his defense.
But that was an outlier in a season that ended up costing coordinator Dave Cohen his job on Sunday. Rutgers surrendered 50-plus points three different times, and 40-plus points five times. The post-Christmas matchup with the Irish will be the program's final tune-up before it moves on to the Big Ten next season, and though AD Julie Hermann gave Flood a vote of confidence, Rutgers has shown little sign this season that it is ready for the step up in competition.

vs.

NOTRE DAME FIGHTING IRISH BREAKDOWN
An 8-4 season was not what Notre Dame had in mind after running the table in the regular season in 2012. But the Irish are hoping that the New Era Pinstripe Bowl can give their senior class a chance to go out on a high note.
[+] Enlarge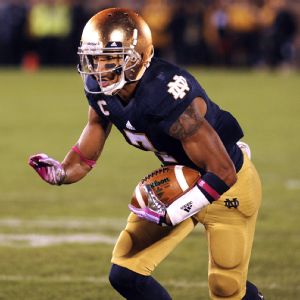 AP Photo/Joe RaymondT.J. Jones and the Fighting Irish will try to put a winning spin on what turned out to be a somewhat disappointing season.
The winningest senior class in nearly two decades is credited in large part with helping turn the program around, making eight-win seasons such as this one a bigger disappointment than they had been. And despite losing four games, the class helped Notre Dame win some notable contests this season.
The Irish were the only team to beat Michigan State in the regular season. Their victory over Arizona State grew more impressive by the week. So, too, did their victory over USC, as they missed
Tommy Rees
for much of the second half because of injury, but their defense stepped up to shut out the Trojans over the game's final 30 minutes. It was Notre Dame's third victory over its rival in the teams' past four meetings.
The biggest steps back for Notre Dame this season came from the running game and defense. The backfield wasn't consistently productive and the defense missed four starters from last year much more than initially anticipated. Season-ending injuries to
Louis Nix
,
Jarrett Grace
and
Ben Councell
did not help, and
Stephon Tuitt
and
Sheldon Day
were rarely healthy at the same time as Nix, rendering the defensive line thin.
Still, with the return of suspended quarterback Everett Golson imminent, a victory in the New Era Pinstripe Bowl could initiate some momentum toward a promising future.
December, 8, 2013
Dec 8
7:41
PM ET
With college coaches out and about visiting schools and prospects, a number of players in the 2015 class from the Atlanta area have seen their stock quickly rise. One of those is junior
Adonis Thomas
(Lawrenceville, Ga./Central Gwinnett).
The 6-foot-4, 212-pound outside linebacker is the No. 207-ranked prospect in the ESPN Junior 300 and has seen his stock skyrocket in December with offers from some heavy hitters nationally.
To continue reading this article you must be an Insider
December, 8, 2013
Dec 8
3:27
PM ET
ESPN.com news services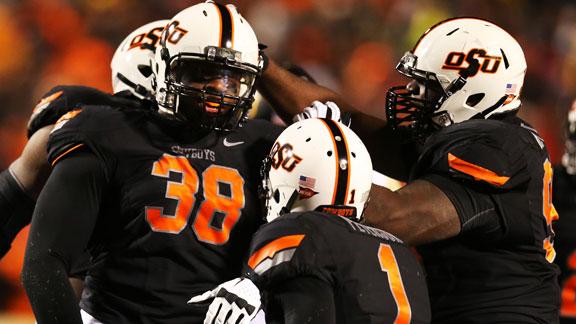 Wisconsin will play South Carolina in the Capital One Bowl on Jan. 1, in Orlando, Fla.
The No. 19 Badgers (9-3) are playing in a non-BCS bowl for the first time in three seasons following three consecutive appearances in the Rose Bowl. Wisconsin lost those games, though, and will be looking for its first bowl win under coach Gary Andersen.
South Carolina (10-2) won its final five games of the season, including a double-overtime victory against then-unbeaten Missouri.
The Gamecocks are making their second Capital One Bowl appearance in three seasons, having beaten Nebraska in 2012.
South Carolina is also the only team to beat Fiesta Bowl-bound UCF, rallying in the final three quarters to claim a three-point victory.
It is the first meeting between the schools.
SEC runner-up Missouri is headed to the Cotton Bowl, where the No. 8 Tigers will play No. 13 Oklahoma State on Jan. 3.
Missouri (11-2) is coming off a 59-42 loss to Auburn in the SEC championship game in only its second season in that league.
Oklahoma State (10-2) was on track for a Big 12 title and a spot in the Bowl Championship Series before a 33-24 loss to Oklahoma on Saturday.
SEC teams have won the last five Cotton Bowls, and nine of the last 10, over Big 12 teams. The lone exception was the 2008 game when Missouri, then in the Big 12, beat Arkansas 38-7.
December, 8, 2013
Dec 8
2:36
PM ET
ESPN.com news services
SOUTH BEND, Ind. -- Notre Dame coach Brian Kelly says nose guard Louis Nix III has signed with an agent and will forgo his final year of eligibility to enter the NFL draft, where he is projected by many to be a first-round draft pick.
Nix's season came to an end Nov. 21 when he underwent season-ending surgery to repair a torn meniscus in his left knee. The 6-foot-2, 349-pound senior also had been slowed by tendinitis in the same knee.
Nix, who didn't play as a freshman, told media at the time he was undecided about whether he would return, saying his focus was on getting healthy. He is expected to graduate from Notre Dame this month.
Nix is currently No. 4 on Scouts Inc.'s list of draft-eligible players. He is No. 10 on Mel Kiper Jr.'s Big Board, as well.
The Jacksonville, Fla., native has been an instrumental force in the middle of the Irish's defense this season, displaying a rare blend of quickness and size that makes him coveted at the next level.
Nix tweeted a message Friday of an emoticon crying and an Instagram photo taken from a car pulling away from Notre Dame with the Golden Dome reflected in the side driver's side mirror.
Information from ESPN.com's Matt Fortuna and The Associated Press was used in this report.
UConn Names Bob Diaco Head Coach