Recruit and return: North Carolina
March, 25, 2014
3/25/14
10:00
AM ET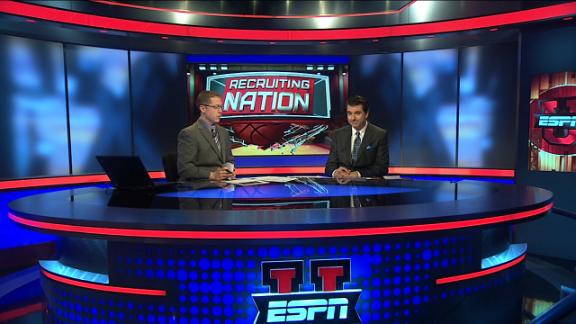 In order to return to the NCAA tournament, a team needs contributions from both returning players and incoming recruits. Here's a look at
North Carolina
and its chances of dancing again in 2015.
Quick references
2013-14 roster
2014 recruiting
Possible 2014-15 starting five:
G:
Marcus Paige
G:
Justin Jackson
F:
James Michael McAdoo
F:
Brice Johnson
F:
Kennedy Meeks
To continue reading this article you must be an Insider
Insider
ABOUT THIS BLOG

C.L. Brown
Brown joined ESPN.com in 2013. He spent 13 years at the Louisville Courier-Journal and along the way covered Indiana and Louisville. Now, he's set up shop on Tobacco Road. Follow C.L. on Twitter: @clbrownespn.
UNC_Basketball UNC Basketball
Friday's Inside Carolina Basketball podcast w/ Roy Williams & @JonesAngell: http://t.co/yxNzOqjvNO #UNCBBall
52 minutes ago

UNC_Basketball UNC Basketball
Marcus Paige is a second-team Academic All-America for the 2nd year in a row: http://t.co/R4Yqj7qK5n #UNCBBall http://t.co/sWxkgtvzR9
about 14 hours ago

UNC_Basketball UNC Basketball
Carolina heads to Miami for a Saturday afternoon matchup with the Hurricanes. Preview: http://t.co/jbUO5Qekmd #UNCBBall
about 14 hours ago

UNC_Basketball UNC Basketball
http://t.co/Gk6LA2anB8
about 21 hours ago

UNC_Basketball UNC Basketball
So how many hours until we get to Miami to play the Canes? #GoHeels #Snowmuchfun http://t.co/KRfHf27wal
about 21 hours ago

UNC_Basketball UNC Basketball
Today's Inside Carolina Basketball podcast w/ Roy Williams & @JonesAngell: http://t.co/yxNzOqjvNO #UNCBBall
about 23 hours ago

UNC_Basketball UNC Basketball
Go Out And Do Something: Turner Walston on how we can honor Dean Smith's legacy. http://t.co/CuFw2mhMI7 #UNCBBall http://t.co/p52wXDWjFF
1 day ago

UNC_Basketball UNC Basketball
Today's Inside Carolina Basketball podcast w/ Roy Williams: http://t.co/yxNzOqjvNO #UNCBBall
2 days ago

UNC_Basketball UNC Basketball
Adam Lucas on the loss to North Carolina State last night: http://t.co/DFkjOOvTnE #UNCBBall http://t.co/TziCaxJDsV
2 days ago

UNC_Basketball UNC Basketball
Postgame quotes from the loss to N.C. State: http://t.co/cB3gG2xDsT #UNCBBall
2 days ago

UNC_Basketball UNC Basketball
Postgame notes from the loss to North Carolina State: http://t.co/ZxSxxTfORw #UNCBBall
2 days ago

JonesAngell Jones Angell
Coach Williams after loss to NCSU https://t.co/5ftJ2Bf6eT via @audioBoom
2 days ago

jadamlucas Adam Lucas
Rapid reactions on a very disappointing @UNC_Basketball loss to NC State: http://t.co/zmuhyfZJad
2 days ago

UNC_Basketball UNC Basketball
Box score: http://t.co/aSK9pH0EXx
2 days ago

UNC_Basketball UNC Basketball
UNC shot 34.5 percent for the game, including 28.0 percent in the first half and 40.0 in the second.
2 days ago

UNC_Basketball UNC Basketball
Carolina's 46 points are the fewst it has scored in any Smith Center game.
2 days ago

UNC_Basketball UNC Basketball
FINAL: N.C. State beats Carolina, 58-46. Tar Heels fall to 19-9, 9-6 ACC and return to action at Miami on Saturday.
2 days ago

UNC_Basketball UNC Basketball
Final media timeout (3:46). NCSU still leads Carolina, 48-43. Marcus Paige has four points after scoring 23 in Raleigh last month.
2 days ago

UNC_Basketball UNC Basketball
Jackson has hit 2 three-pointers, his first game with multiple threes since Jan. 18 vs. Va. Tech.
2 days ago

UNC_Basketball UNC Basketball
Justin Jackson's 16 points are his most since scoring 17 at Wake Forest on Jan. 21.
2 days ago

UNC_Basketball UNC Basketball
Media timeout at 6:43. NCSU leads, 45-41. Tar Heel ball after the break.
2 days ago

UNC_Basketball UNC Basketball
Double-double for Kennedy Meeks with 12 and 11. First double-double in almost six weeks (since Jan. 14 at NCSU).
2 days ago

UNC_Basketball UNC Basketball
Carolina is shooting 58.3 percent this half (7 for 12). NCSU is 25.0 percent (3 for 12).
2 days ago

UNC_Basketball UNC Basketball
Carolina's on a 12-0 run. N.C. State has missed 6 of its last 7 shots.
2 days ago

UNC_Basketball UNC Basketball
Carolina now within four at 36-32 at 12:19. N.C. State calls its third timeout of the half.
2 days ago

UNC_Basketball UNC Basketball
After trailing by 16 earlier this half, Carolina is back within 8 at 36-28 at 13:40. Second timeout this half for N.C. State.
2 days ago

UNC_Basketball UNC Basketball
North Carolina State leads, 36-24, and calls timeout with 14:59 to go.
2 days ago

jadamlucas Adam Lucas
Pretty easy first half description: @UNC_Basketball shot 3 of 10 in the paint.
2 days ago

UNC_Basketball UNC Basketball
Stat leaders for both teams in the first half: http://t.co/GAYkCVOf6G
2 days ago

UNC_Basketball UNC Basketball
Carolina's first-half stats http://t.co/EHtzyuPC1j
2 days ago

UNC_Basketball UNC Basketball
Carolina missed its last 7 shots and was 7 for 25 in the half (.280). One FG attempt for Marcus Paige.
2 days ago

UNC_Basketball UNC Basketball
Carolina didn't score in the final 3:38 of the half.
2 days ago

UNC_Basketball UNC Basketball
HALTIME: NCSU leads Carolina, 29-18. Carolina's lowest-scoring half of the season (previous: 24 in 2nd at Louisville)
2 days ago

JonesAngell Jones Angell
Lowest scoring half of the year for Carolina is 24 in the second half at Louisville. Heels have just 16 with 3:38 in the first.
2 days ago

UNC_Basketball UNC Basketball
N.C. State still leads, 24-16, at the final media timeout (3:38) of the half. Both teams shooting under 40% with Carolina at 33%.
2 days ago

UNC_Basketball UNC Basketball
Carolina is shooting 4 for 15, has 1 offensive board and is being out-rebounded 15-8 overall.
2 days ago

UNC_Basketball UNC Basketball
Over 12 minutes into the game, Carolina has 10 points. UNC trails NCSU, 16-10, at the 7:43 timeout.
2 days ago

UNC_Basketball UNC Basketball
Second media timeout (11:04) - still 8-7 NCSU.
2 days ago

UNC_Basketball UNC Basketball
Carolina has missed 6 of its first 9 shots. Five points from Justin Jackson leads all scorers so far.
2 days ago

UNC_Basketball UNC Basketball
At the first media timeout (13:27), North Carolina State leads Carolina, 8-7.
2 days ago

GoHeels UNC Tar Heels
Coming to the game? Be on the lookout for our social media team.They'll have selfie sticks & photo booth props. http://t.co/vhMqCWYhzI
2 days ago

JonesAngell Jones Angell
pregame conversation with Coach Williams part 1 https://t.co/8sB8Puw3yh via @audioBoom
2 days ago

UNC_Basketball UNC Basketball
UNC starters vs. North Carolina State: Paige, Jackson, Tokoto, Johnson, Meeks. #UNCBBall
2 days ago

UNC_Basketball UNC Basketball
Watch tonight's game vs. North Carolina State with WatchESPN http://t.co/5C0WrNLr4u #UNCBBall
2 days ago

UNC_Basketball UNC Basketball
Special transportation & parking details for tonight's game vs. N.C. State: http://t.co/xUGuUm6plt #UNCBBall
2 days ago

GoHeelsTV GoHeelsTV
Almost 2 years ago to the day @marcuspaige5 had the 1st of his many big games vs. NC State in the Dean Smith Center: https://t.co/aGthX7JyU3
2 days ago

UNC_Basketball UNC Basketball
ACC Network affiliates for tonight's game vs. North Carolina State: http://t.co/N8GlXYM8ra #UNCBBall
2 days ago

UNC_Basketball UNC Basketball
Dean Smith named one of the top NCAA Tournament coaches of all-time: http://t.co/wBoF1G8BVD #UNCBBall
2 days ago

UNC_Basketball UNC Basketball
Special adverse weather parking details for tonight's game vs. North Carolina State: http://t.co/xUGuUlOOtV #UNCBBall
2 days ago

UNC_Basketball UNC Basketball
Tonight's game between Carolina and N.C. State will be played at 8pm as scheduled, despite snowy weather. http://t.co/modSMGRtup #UNCBBall
2 days ago

UNC_Basketball UNC Basketball
Nice feature here on Tar Heel George Karl, now the head coach of the Sacramento Kings: http://t.co/ZvXS8YujaK #UNCBBall
2 days ago

UNC_Basketball UNC Basketball
In a 1989 episode of his TV show, Dean Smith breaks down a win over N.C. State: http://t.co/22j4UzyjLP #UNCBBall http://t.co/7WwuYnSi2X
2 days ago

UNC_Basketball UNC Basketball
Happy birthday today to 1993 NCAA Final Four MVP Donald Williams. #UNCBBall http://t.co/cnotv69PDk
2 days ago

UNC_Basketball UNC Basketball
Looking for their 20th win of the year, the Tar Heels host North Carolina State tonight at 8pm. Preview: http://t.co/eU8Hgp56lC #UNCBBall
2 days ago

UNC_Basketball UNC Basketball
Several hoops links & a great photo of Julius Peppers dunking in today's Rundown: http://t.co/Zq2i2ARMaH #UNCBBall
3 days ago

si_vault SI Vault
Julius Peppers dunks over Lonny Baxter RT @carderlabrake: @si_vault Athletes playing a sport that is not theirs. http://t.co/tckVvsqTZN
3 days ago

UNC_Basketball UNC Basketball
Preview tonight's game with Know Your Opponent: North Carolina State http://t.co/bOuvaH8Edl #UNCBBall
3 days ago
BLOG ARCHIVE:
CATEGORIES: